If you have grey floors in your home, then you're in the fortunate position of being able to choose almost any color of the rug because grey is a color that works well with a wide range of other colors.
The color of the rug you choose can change the way the room feels because grey is often a neutral tone that is influenced by other shades. Here we look at the best rug colors for grey floors and which colors will work to create the atmosphere you want to achieve in your home.
Best Colors of Rug for Grey Flooring
Neutrals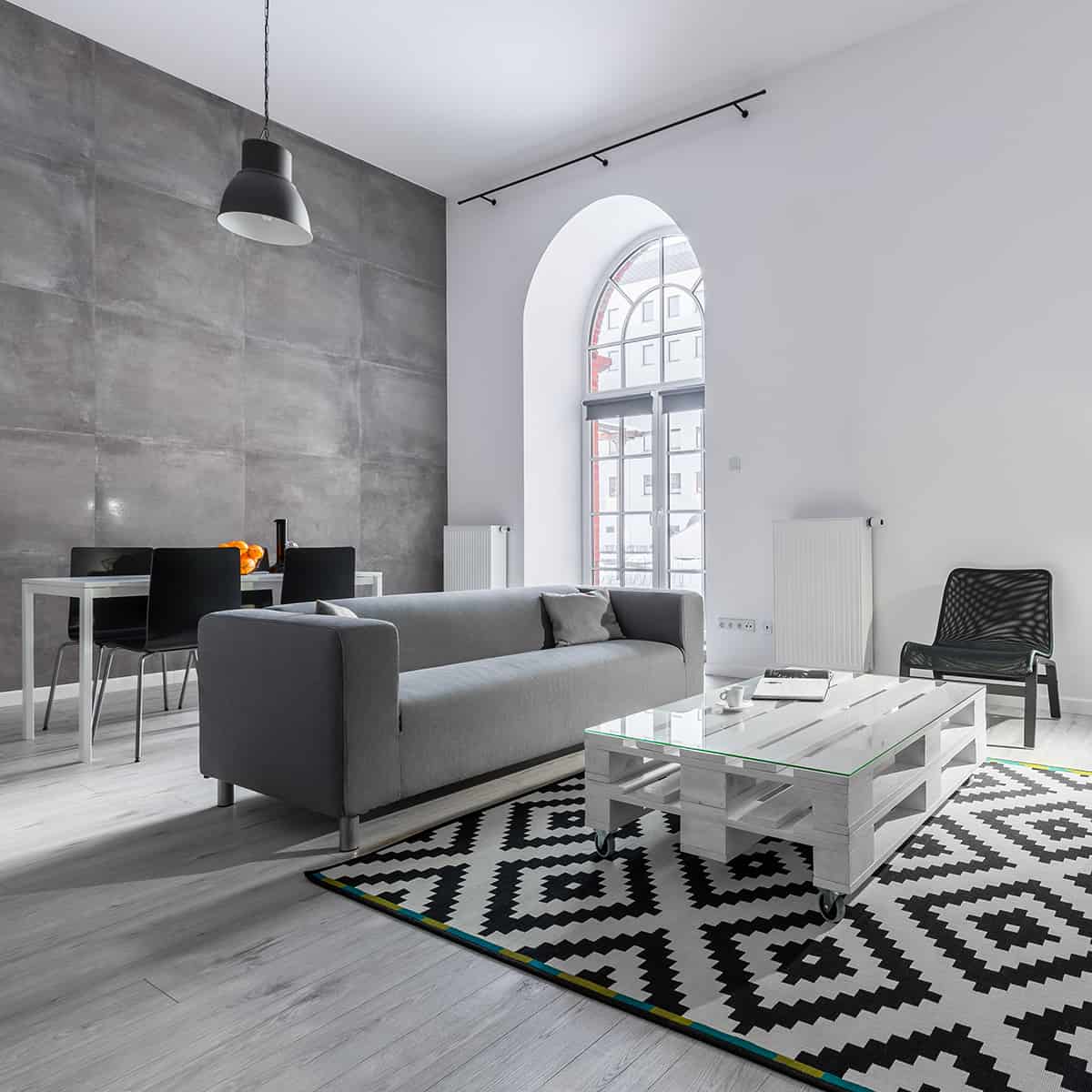 The other colors in your space will play a large part in helping to decide which color rug you should choose to go on your grey flooring. If you have predominantly neutral shades in the room, then you could choose a neutral-colored rug to help it blend into the space. For example, if you have beige sofas, you could get a beige rug so that the rug ties into the color theme in the room.
Neutral colors such as taupe and beige will create a calming and relaxed feel alongside grey when used in interior design, so these are a good option if this is the atmosphere you are going for.
Neutral colors are also the easiest rug color choices that work well alongside wooden floors and other types of floors.
White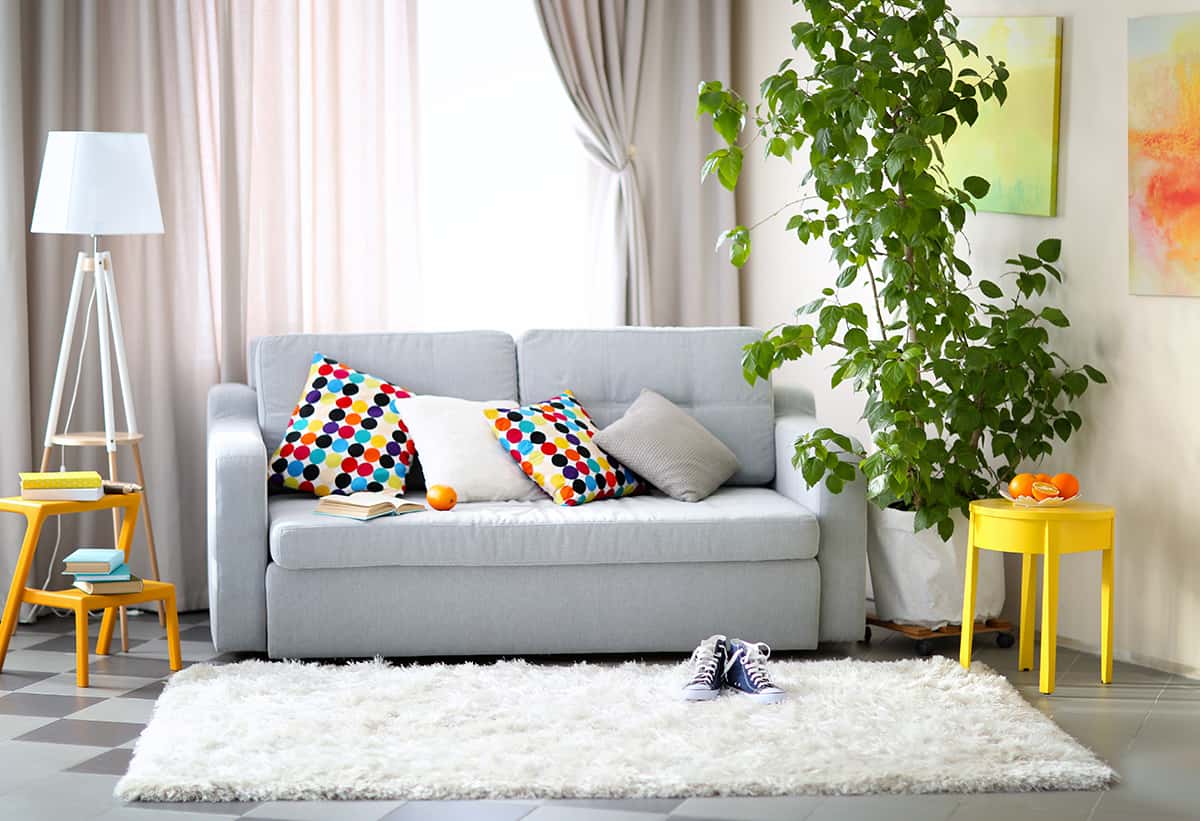 A white rug on a grey floor looks sophisticated and elegant. A wool rug or faux fur rug in white will also add texture which contributes to a feeling of luxury. If your flooring is in a pale gray shade, then the white will look classy, or on a dark gray floor, the white rug will be bold and dramatic.
If you want monochromatic decor, then a white rug will be ideal on a grey floor, creating a defined theme. The drawback of white rugs is that they can be hard to keep clean, so bear this in mind before opting for a white rug, and consider the placement of it in your home and how heavy the foot traffic is likely to be.
Black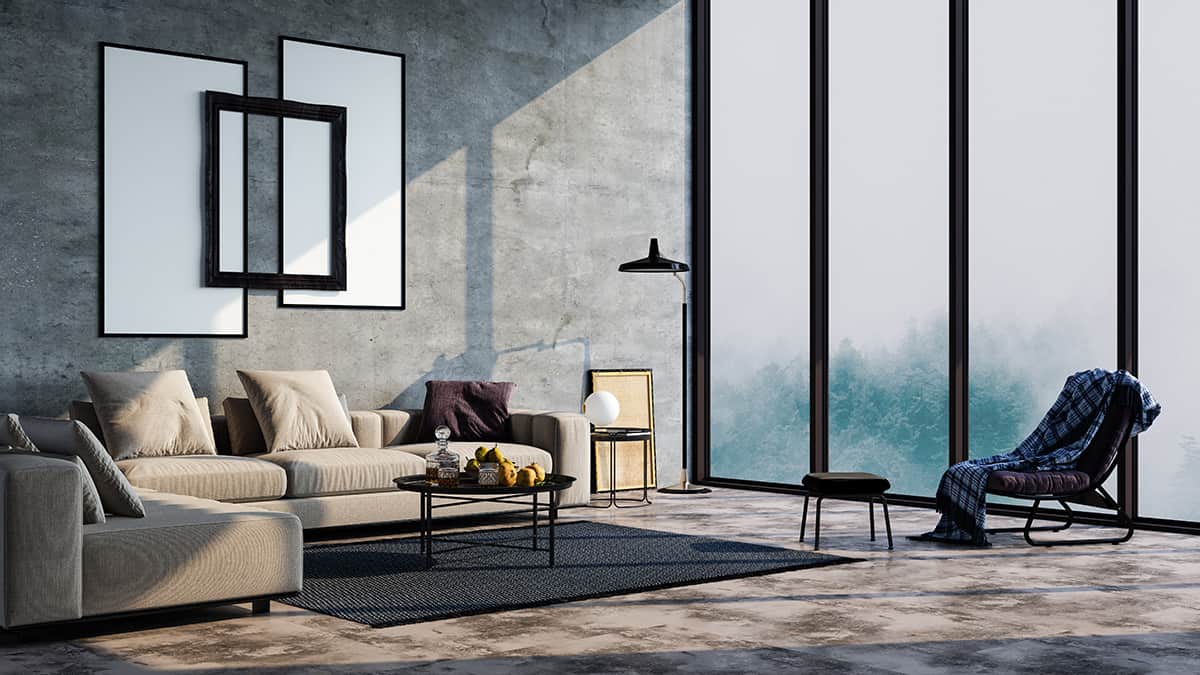 Black and grey work well together, but the shade of grey on your flooring will make a big difference in how much of an impact a black rug creates. On a medium to dark grey floor, a black rug will not stand out too much and instead provide a softer and more comfortable area of the room.
On a pale grey floor, a black rug will make a much bolder impact. In this scenario, you could use the black rug to make a style statement, as well as define a certain area of the room.
A black rug will help to ground the space on a pale grey floor and create a pleasing contrast. If you think a plain black rug will look too intense, choose a patterned rug with a black background to achieve a similar effect.
Yellow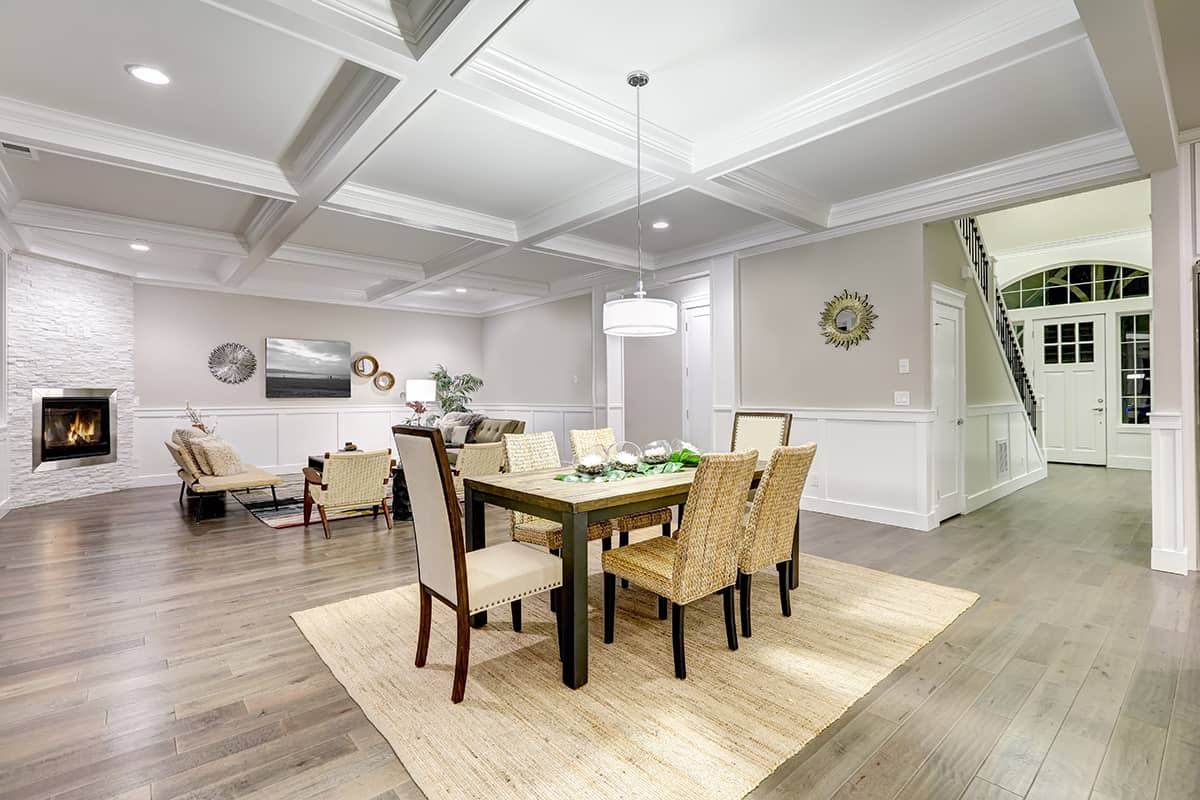 Grey and yellow are a match made in heaven. These two colors help to bring out the best in each other. Grey, which is often thought of as a bland or boring color, is brought to life in the presence of yellow. Meanwhile, yellow, a bold and sunny color, is toned down slightly by gray so that it doesn't feel so intense.
These colors together give off a very modern vibe which can look really stunning in any area of the home. If you have grey flooring, you can set it off by choosing a yellow rug to go with it and pick out the same shade in other parts of the room to tie it all together. For example, add some yellow throw cushions to the sofa or place a few yellow candles around the space.
Any shade of yellow rug will work with grey floors, from bright canary yellow to mustard yellow and pale lemon yellow. If a totally yellow rug sounds too bold, choose a black or white rug with a yellow pattern on it to introduce this happy color in smaller doses.
Orange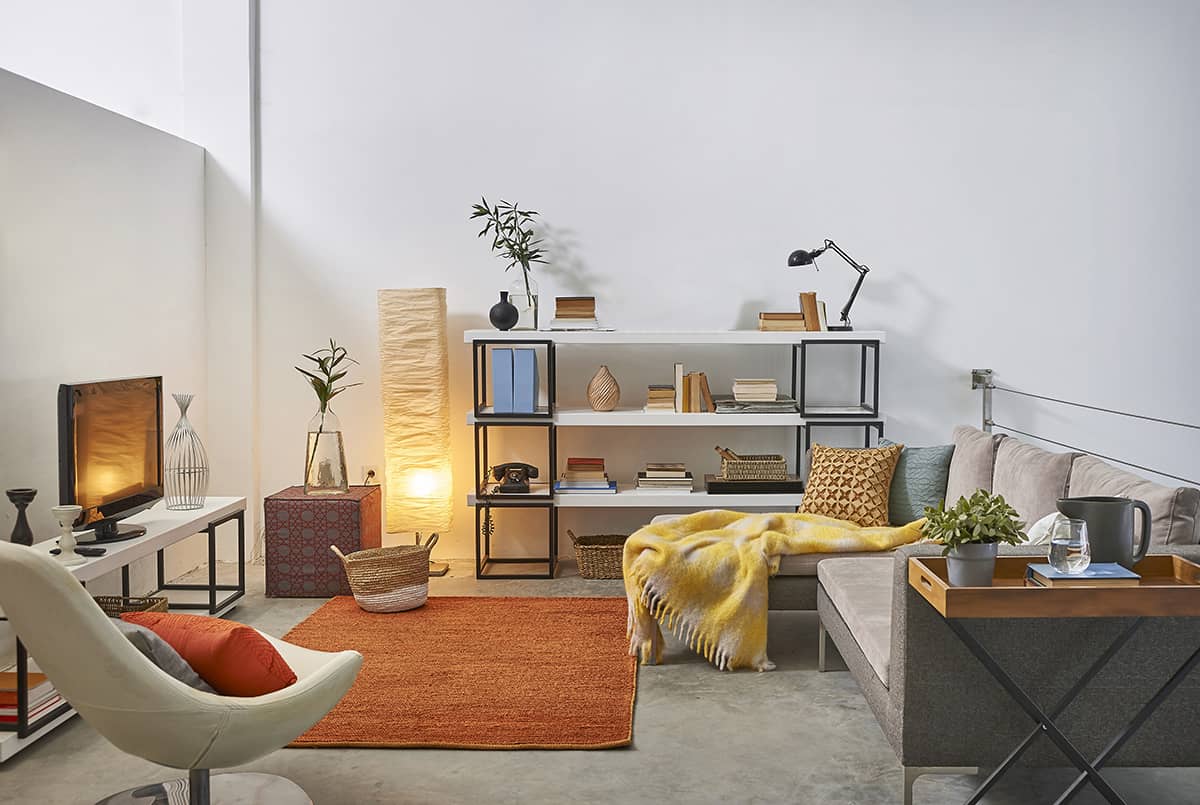 Orange is another color that looks beautiful with any shade of grey. A burnt orange rug on a grey floor will bring a feeling of warmth to a space. If your flooring is a cool shade of grey, then pairing it with orange accents will help the room feel more comfortable and welcoming because orange is an inviting, vibrant color.
For a modern and edgy look, choose a bright tangerine orange for your grey floor, or for a more muted and mature design that feels warm and cozy, opt for a rug in deep shades of honey orange or rust orange.
Blue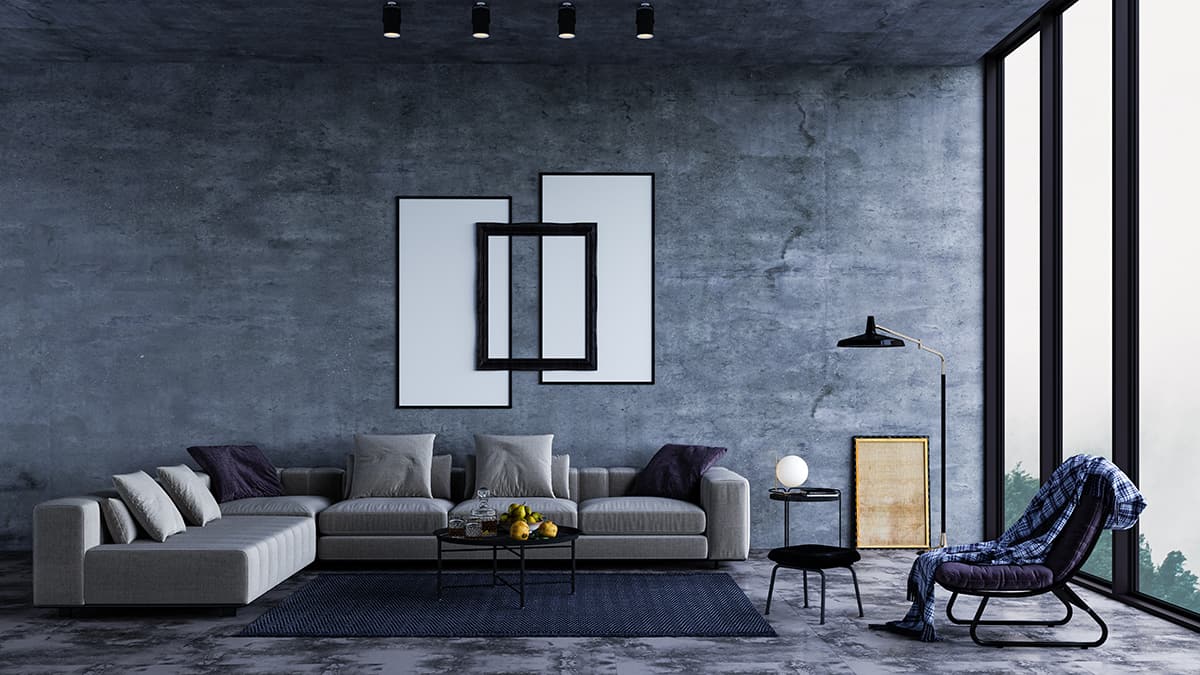 Blue and grey are a classic color combination that can work in a variety of ways. For a coastal vibe, grey flooring would look great with a navy blue and white striped rug, or a bright azure rug would also provide a fun beachy feel.
The texture of the rug will also play a key part in defining the style. For example, a plush blue rug on grey flooring could look elegant and timeless, while a blue rope rug would have a more casual appeal.
Green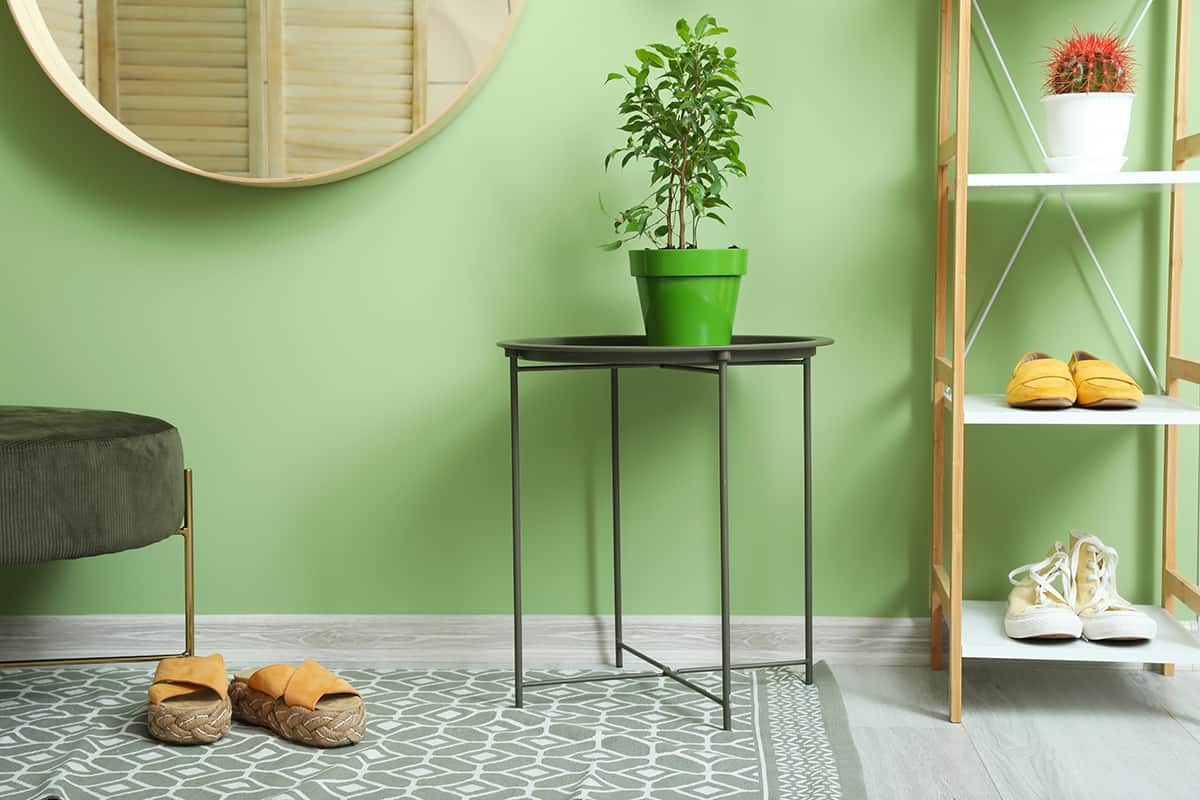 Green is a very fresh and natural color, so if you want to bring elements of nature into the home, then this is a good color choice. Deep moss shades of green provide a homely and earthy atmosphere, while pear or lime greens are more energizing and refreshing.
Any shade of green will work well alongside grey, but for the most impact, choose a green rug that is several shades lighter or darker than your grey floor. For example, a pale grey floor would pair nicely with an olive green rug, while a slate grey floor would work well with a pistachio green.
Grey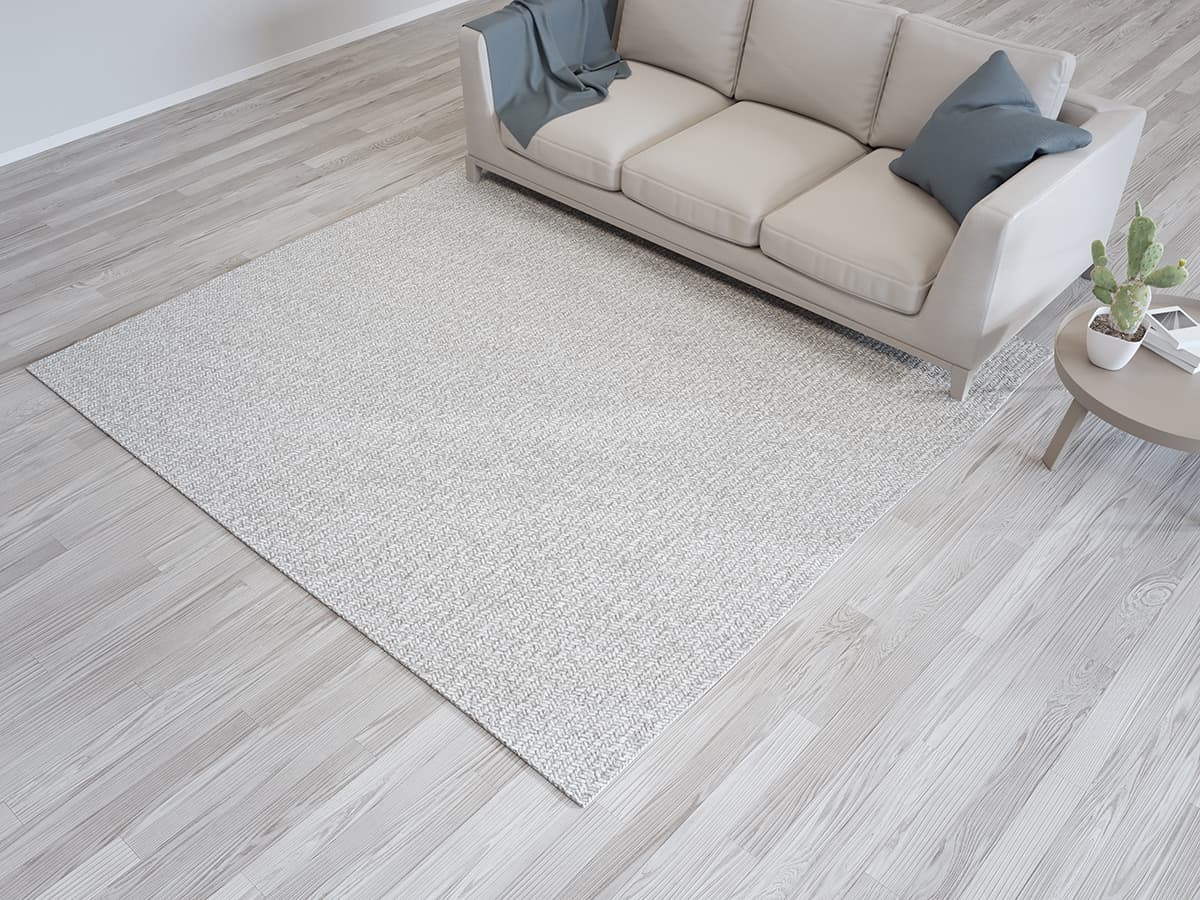 If you love grey interiors, there's no reason why you can't match a grey rug with your grey floor, but try to use contrasting shades to create some balance and prevent the room from looking too flat.
If the grey rug blends in too easily with the grey floor, then you should try a different shade. A dark grey floor can be lightened up with a pale silver-grey rug, or you can ground the space using a charcoal-colored rug on a soft grey floor.
When using multiple shades of grey in a space, you should aim to keep them in the same palettes with the same undertones so that they don't jar.
Grey shades can be cool or warm depending on their undertones, so a warm grey floor would work best with a warm grey rug and vice versa.
Pink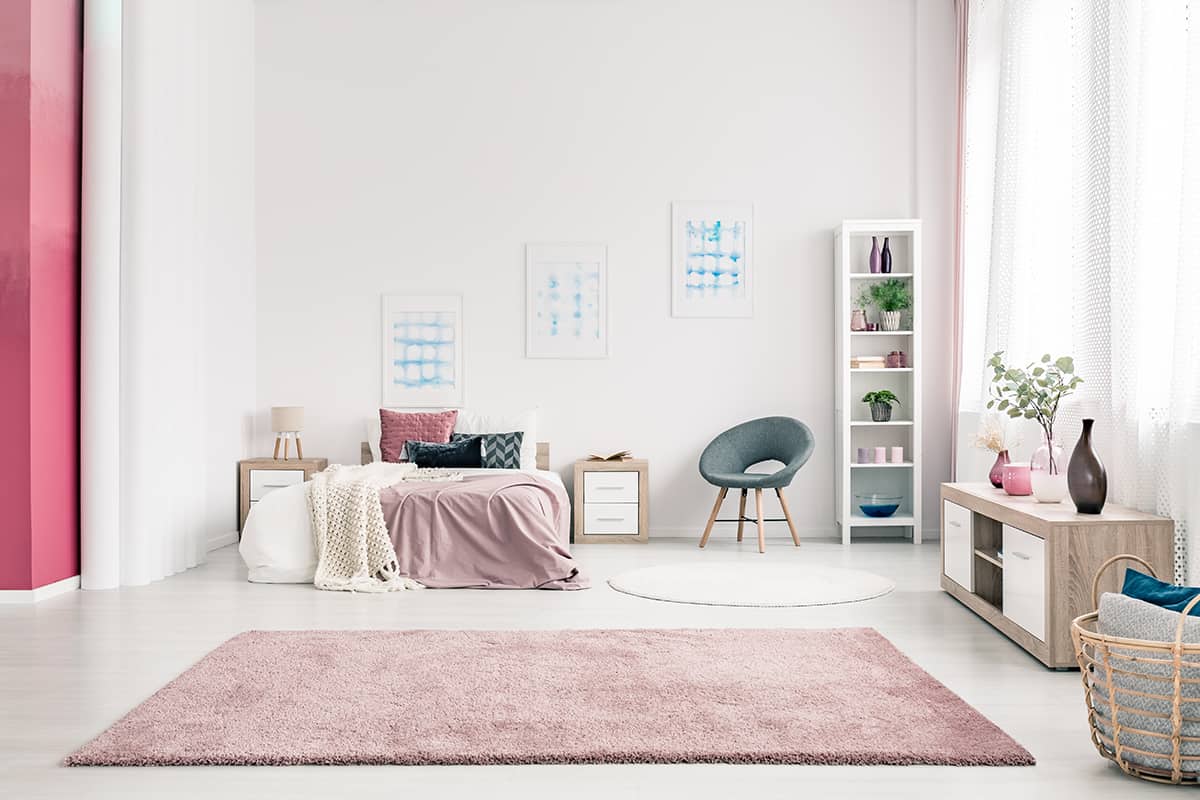 Pink and grey were a popular color duo in the 1970s, and they are once again enjoying a revival. The grey and pink combination have been reimagined with rich shades of grey paired with dusky shades of blush pink. Grey flooring can be made to feel pretty and feminine or sultry and romantic when used in conjunction with a pink rug.
Traditionally pink has been a color that is reserved for bedrooms, but when used alongside grey, it can be very stylish in kitchens, dining rooms, and living rooms.
Encourage an atmosphere of glamor or intimacy by adding touches of pale pink into a room with a grey floor. Use a pink rug and pick out a few home decor items in the same shade and dot them around the room to tie in the color scheme.
Deep rich greys are set off by soft rose pinks, while pale shades of grey look stunning alongside coral shades of pink. If you want to introduce a brighter shade of pink into the room, then this is achievable with grey flooring.
Choose a type of rug with splashes of hot pink in it rather than a solid bright pink rug, as this will result in a more designer-inspired high-end look.