When you have light wood floors in your home, a great way to highlight their beauty is to add a rug. Not only are these floor coverings functional, but they are also aesthetically appealing. Rugs help protect the wood floors from damage caused by pets or young children, thus an ideal option for bedrooms, hallways, dining rooms, and living rooms.
However, selecting the right rug color that goes with light wood floors can be a little confusing as you need to consider the wood's tone in order to achieve a cohesive design.
There is no hard rule to say you can't pair a light color rug with light wood floors, but it pays to get a little creative and choose a unique color combination. Come and explore our best examples of rug colors that work with light hardwood floors right here to get some inspiration.
Best Rug Colors that Work with Light Hardwood Flooring
Green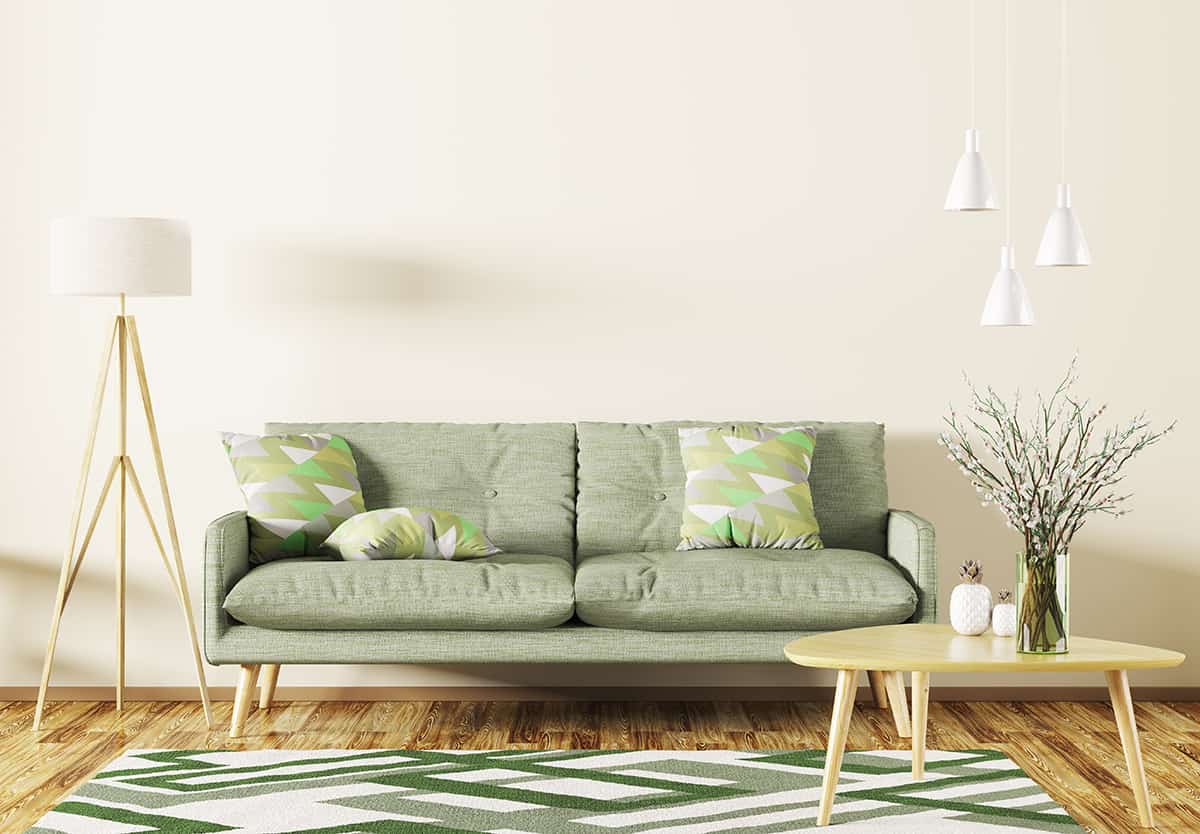 A green rug may not be the first color that pops to mind, but this idea can look stunning on light wood floors. In both a modern and traditional interior, a green rug brings out the natural beauty of the wood and highlights its texture.
We think light green works better than dark green on light wood floors. But you may even pick a patterned green rug like the one shown in this example.
A green rug adds a natural element to a home with wood flooring as it evokes a sense of calm and the outdoors. Furthermore, if you have lots of foliage in your home, this idea can be the perfect addition to incorporate into your living space.
Gray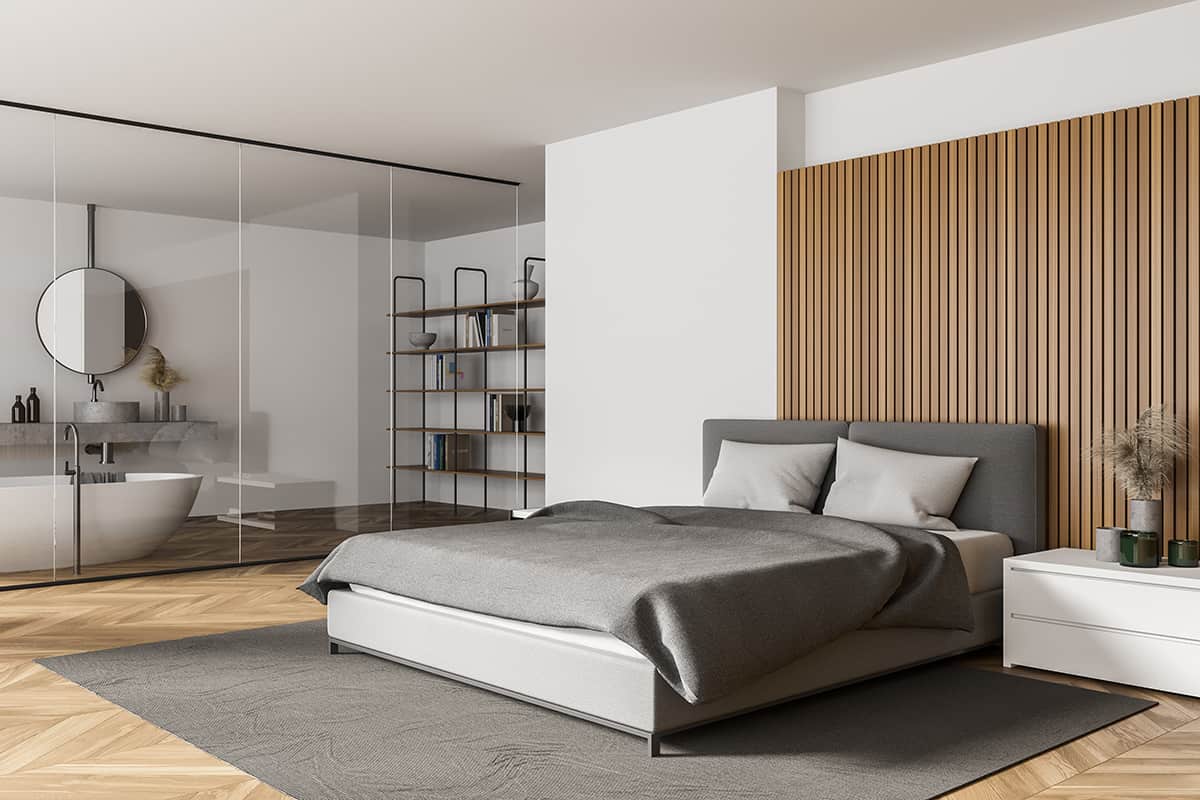 As an incredibly versatile color, a gray rug is a modern addition to wood floors. Whether you have light wood floors in the living room or bedroom, adding a dark gray rug brings a calming effect to the space. This idea works well with light hardwood floors as adds a softer feel to the room.
In this modern bedroom example, the gray rug matches the bedding, with the light wood flooring well-coordinated with the wall paneling. It is easy to see why a gray rug is so popular as it oozes elegance and sophistication.
Blue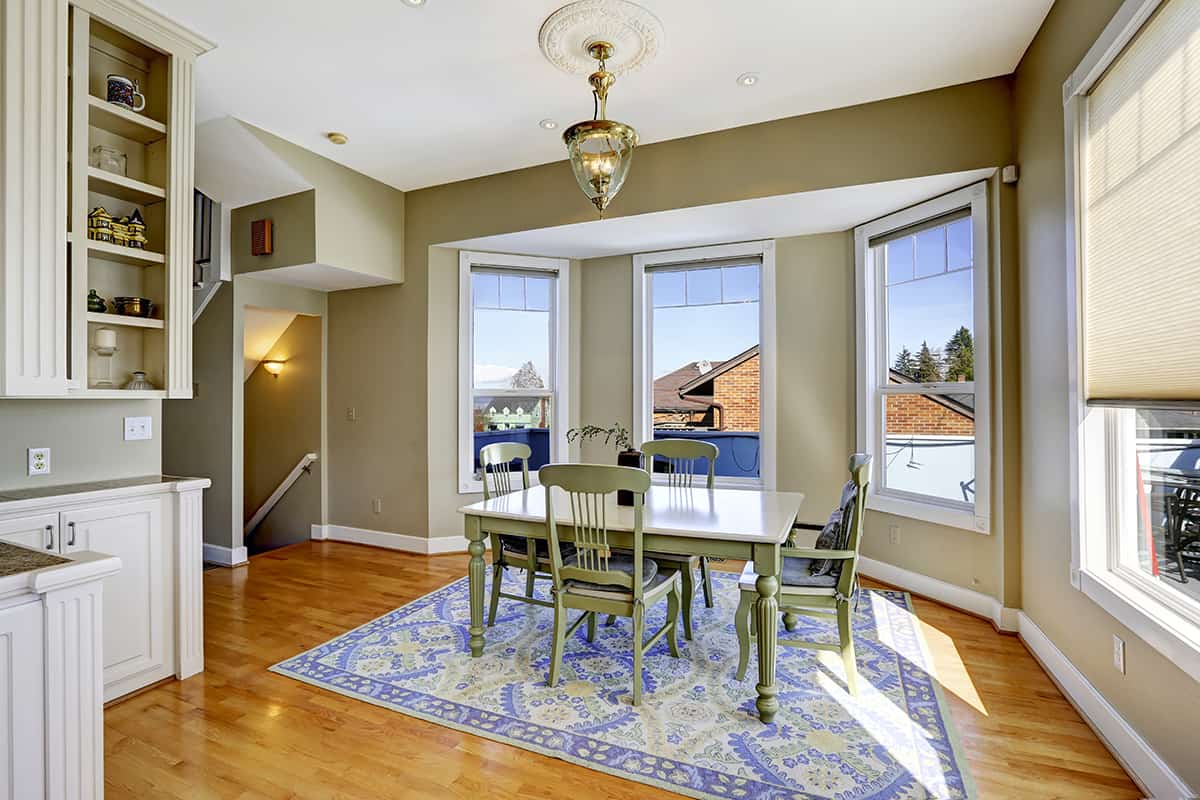 Light blue rugs are a refreshing option for light wood floors. When they are mixed with other pastel colors like greens or yellows, they can bring out the contrast in your light hardwood floor.
In a cozy dining room like the one shown here, the soft, light blue rug complements the overall decor of the room. This rug color goes especially well with taupe or tan walls as these are neutral colors that lean closest to natural wood.
We love the eye-catching contrast of this light blue rug, which makes the entire dining room feel brighter and more spacious. The olive green furniture goes beautifully with the soft blue rug and pine flooring while keeping the rug the focus of attention.
Purple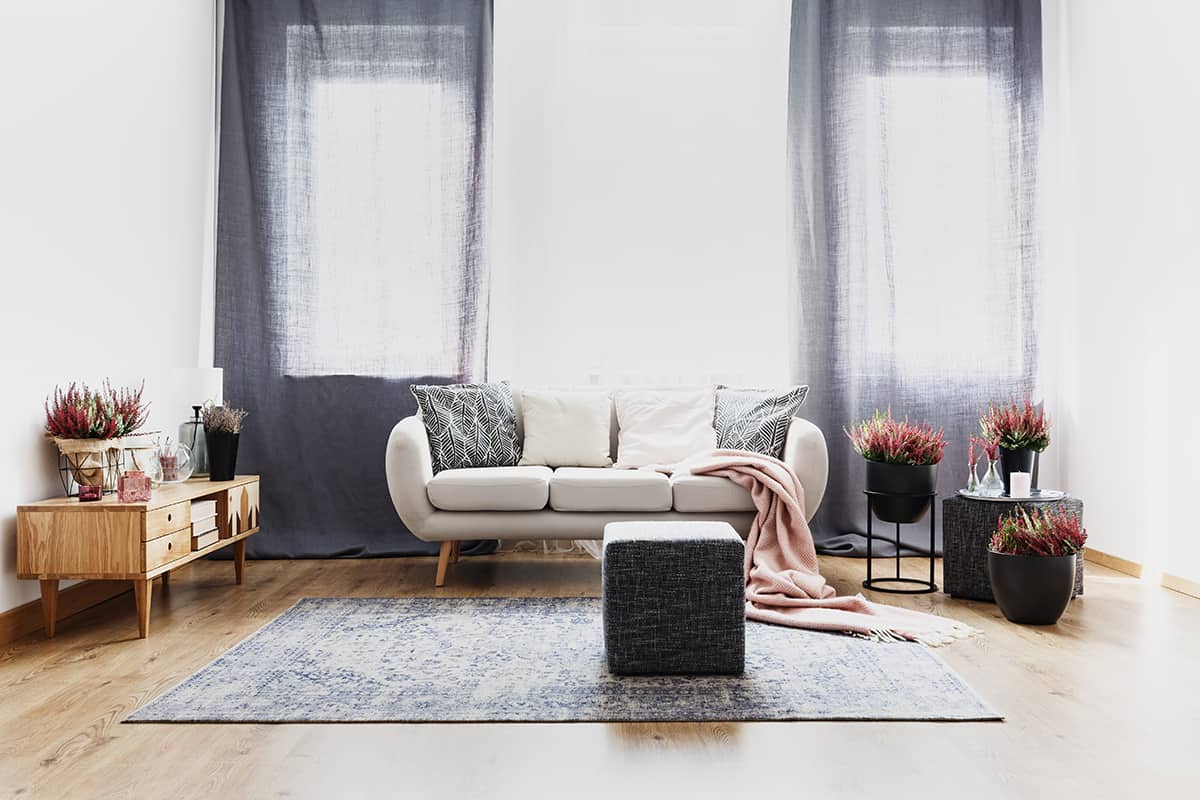 As a very bold and daring color for a room with light hardwood flooring, purple is worth a try as nothing can make a statement quite like this rug color.
A bright purple rug on light wood flooring can look super stylish in a traditional or modern interior. Purple is a direct contrast to light wood, hence it makes such a great pairing to bring out the wood grain's richness. This striking combination is sure to grab attention and stand out in any room of the house.
As an accent color, the classic purple will never go out of style, no matter which shade you choose for your rug. But remember the lighter your wood flooring, the more impact you can make by selecting a darker purple rug.
Here, the purple rug on pine wood flooring is matched with the sheer purple curtains and cream couch. This combination works particularly well with natural wood furniture.
Red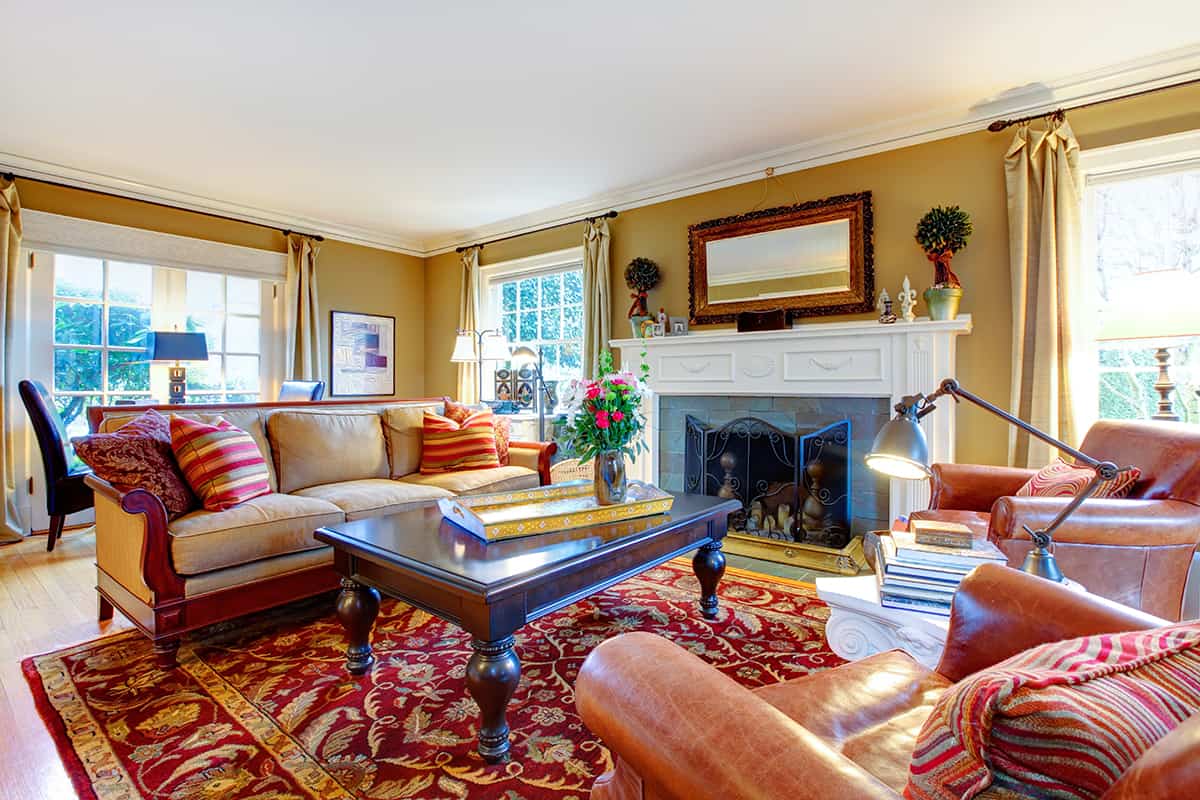 Red rugs work on most flooring colors, especially on light wood. The energizing contrast between the red and light wood color adds elegance to any room.
Persian rugs, for example, are predominantly red so they make a great choice for a room with light hardwood flooring. This is the ultimate color to inject some excitement and passion into your living space.
In this classic living room, the inviting feel of the red rug matched with throw pillows has created drama and a sense of welcomeness.
The red colors stand out nicely among the rest of the furniture so much so that you hardly notice the light wood floors. To tone down the red, you may add beige throw pillows instead of red ones.
Black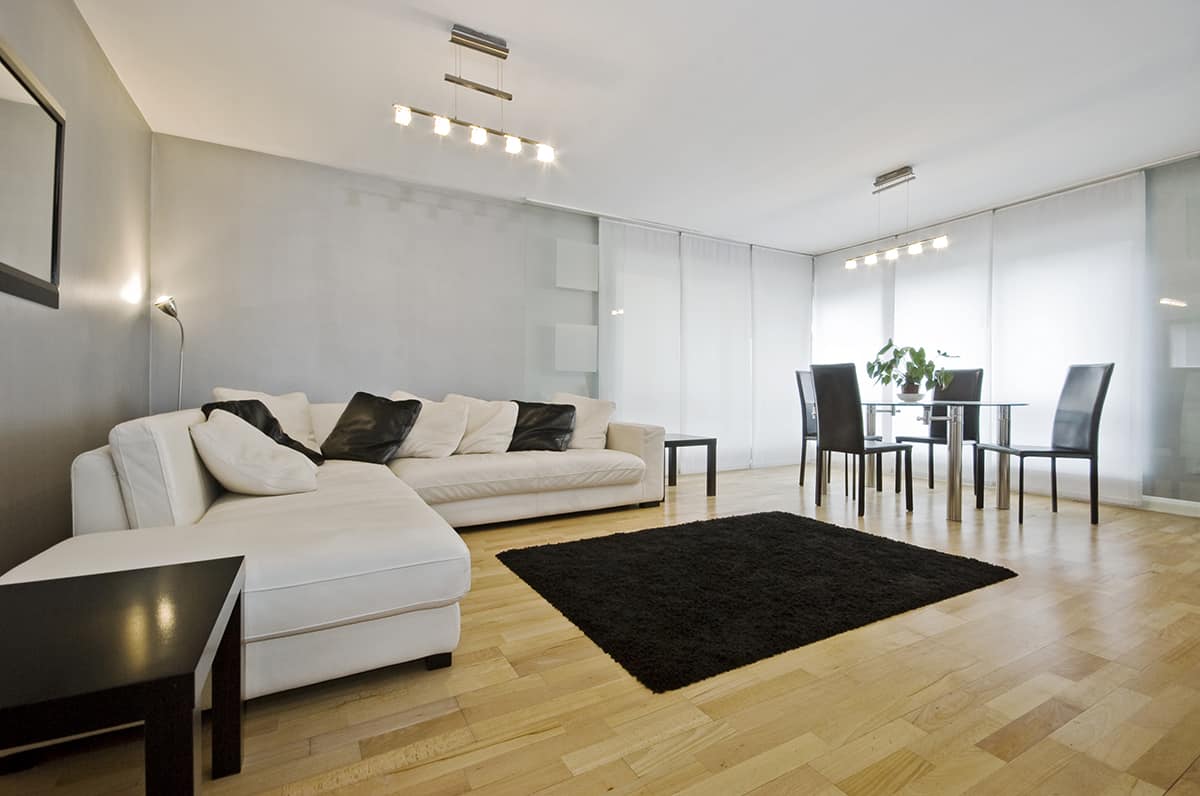 Now, how about a bolder and more dramatic rug color than red? Black is an impressively stylish color in a neutral setting. When paired with light wood floors, a black area rug adds a luxurious feel to a modern living room.
Although black can be paired with just about any other color, there is undoubtedly something special about light hardwood floors and a black rug. This combination brings richness and depth to a neutral living space.
Earthy Tones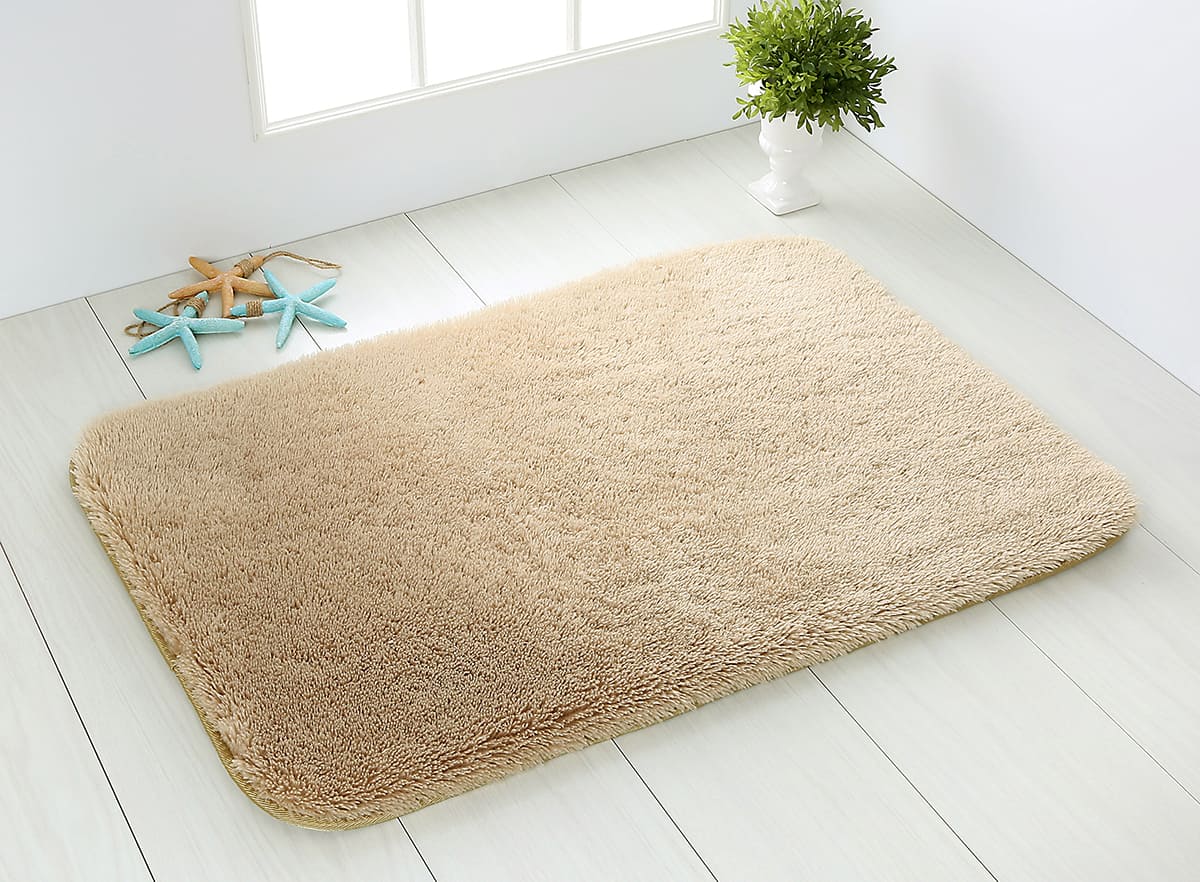 As an alternative to bold rug colors, consider earthy tones like browns. This is an elegant color that can transform your space. When you lay a brown rug over light hardwood flooring, the earthy tones of the rug and the wood stand out.
There are endless varieties of brown shades, including solid, patterned, light, and dark-toned designs, which can be paired with light hardwood floors as a beautiful match.
Brown is a versatile (and popular) color that can be used in almost any interior style. Solid brown rugs are by far the most preferred option as they can be matched with any decor.
In addition to adding elegance to contemporary living spaces, brown rugs on light hardwood floors are the highlight of rustic interiors. This combination is simple and natural, which is a great way to bring the outdoors to your home.
There is no denying the warmth and character of brown, so it makes sense to pick this rug color for your light hardwood floors. It is not only visually appealing but brown can also make your room appear larger as well as bring out the earthy tone of the wood floor.
Whether you have light hardwood floors in the kitchen, bedroom, dining room, or living room, a solid or plain brown rug will showcase the natural wood flooring.
Beige/Cream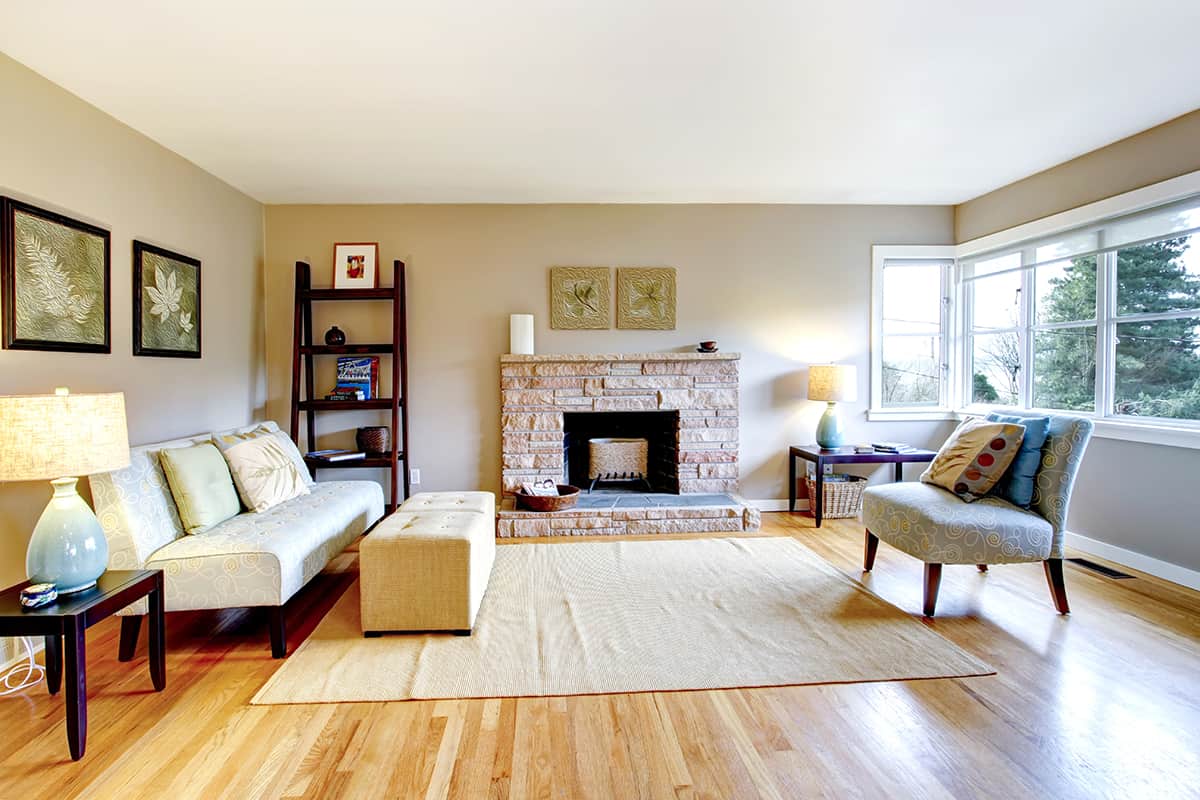 As a neutral rug color, you might think that cream or beige will look bland or lost on your light wood flooring. But this idea keeps the overall interior decor subtle and bright as you can see in this image.
Beige or cream can be paired with any color without overwhelming the room so it's worth considering if you want to keep your interior airy and neutral.
See how warm and inviting this bright living room looks thanks to the creamy beige rug and the light hardwood floors. The furniture and wall colors also match the floor covering, hence the reason we believe this neutral color scheme works beautifully with light hardwood floors.
Orange
Whether you're after a muted, bright, or pastel orange shade, such a rug color can certainly look stunning on light hardwood floors. After all, looking at an orange rug is more fun than boring white walls, don't you think?
Adding a bit of color to your living space can make it feel cheery and warmer, especially when you have light hardwood floors and neutral walls. An orange area rug or a fluffy shaggy design with stripes of black and orange will definitely stand out on a light color wood flooring.
Patterned Rugs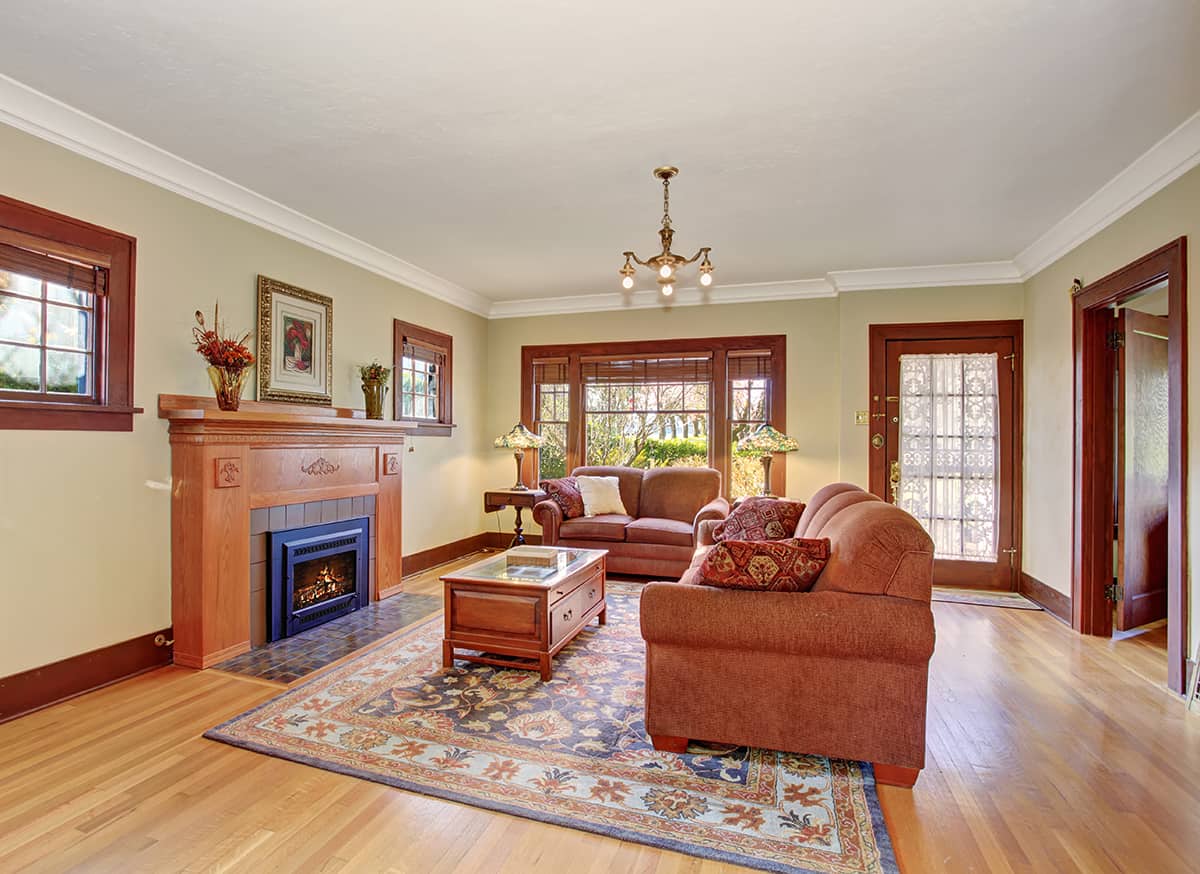 Patterned rugs in any color or shape can make a living room with light hardwood flooring pop. With this idea, you can freely choose any pattern you like without worrying about the living room looking too busy.
Since your hardwood floors are in a light color, a patterned rug will work great thanks to the clear distinction between the wood and the rug.
We love the classic style of this traditional family room with its subtly patterned rug and pine flooring. The furniture and trim are completely in sync with the flooring and the rug, which makes the room even more attractive. This is the ideal color scheme for farmhouse or cottage-style living rooms!
There are also many hardwood floor and wall color combinations that you want to see.