The size of your entryway rug will be determined in part by the size of your entryway. You will also need to consider other factors, such as the type of rug you want and how much floor space you want to be showing.
Here we'll look at the types of entryway rugs available, the standard sizes they come in, and how you can make an entryway rug work best in your space.
Types of Entryway Rugs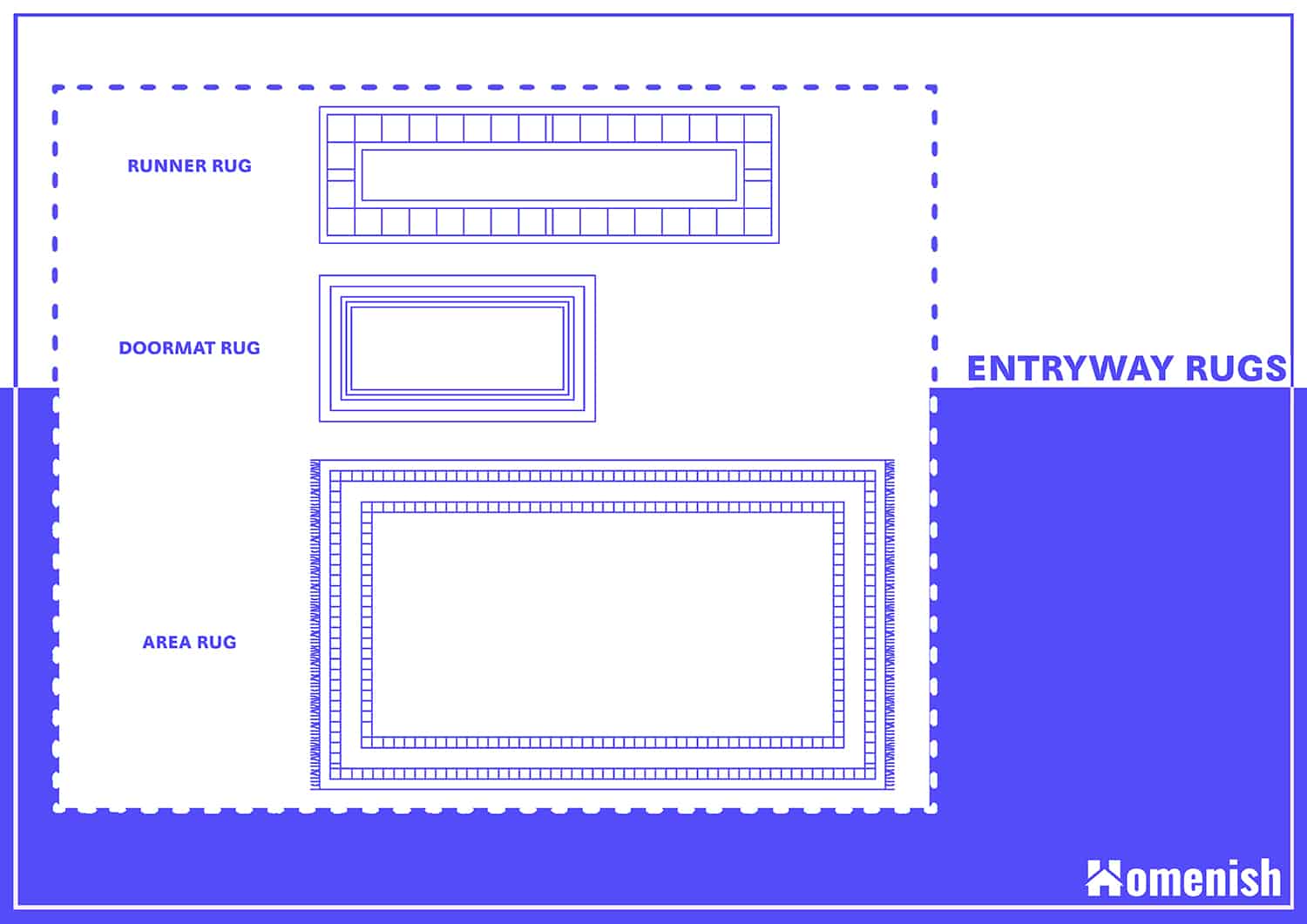 Runner Rug
Runners are designed for homes that have a long and narrow entryway like a hallway. The runner will have a long length but be small in width. Most commonly, they will be no more than three feet wide but could have a length of anywhere up to 14 feet.
The idea of a runner rug is to protect the floor surface underneath in an area of the home which sees a lot of foot traffic. While they serve this purpose well, they are also used to create a softer and more homely feel, as soft furnishings work to make a space feel more cozy and comfortable.
If you have a very wide doorway at the entrance to your home, for example, a double front door or a glass surround around your front door, you could use a runner placed widthways across the floor as a sort of doormat. If your front door opens directly into a room, such as a living room, then you can use a runner rug to designate that area as a type of entryway.
Doormat Rug
A doormat rug is typically fairly small and rectangular. These are positioned right in front of the entryway door so that when you step into the home, you land on the doormat rug. These rugs protect the floor in an area of the home where foot traffic is high, limiting scuffs and scrapes where people take off their shoes.
These kinds of rugs also pick up the dirt and mud which comes into the home on a person's shoes, preventing it from being spread on the flooring around the rest of the home. It is much easier to shake out a muddy rug or indeed replace it than it is to clean or replace a muddy carpet.
A doormat rug also provides a designated area for visitors to remove their shoes, and in fact, encourages people to remove their footwear upon entering a property without having to be reminded so that you can keep a neater and cleaner home.
As a rule of thumb, a doormat rug should cover at least 80% of the door frame or more. The standard doormat size for a single door and a door with sidelights is 18 by 30 inches and 24 by 36 inches respectively.
Area Rug
An area rug is a type of large rug that is reserved for large entryways. These are the types of rugs that you would ordinarily see in a living room or bedroom, and they cover quite a lot of floor space. If you are fortunate enough to have a spacious entryway, then a runner rug or doormat rug would look dwarfed and out of place.
Instead, choose an area rug to help fill the floor area and make the room feel more welcoming and comfortable. As entryways can be an awkward area to furnish, an area rug in a large foyer can make the room more appealing by making it less stark and more decorative.
How Much Floor Should Be Visible Around an Entryway Rug?
The answer to this question depends on which type of rug you opt for and the shape and size of your entryway area. If you want a doormat rug, then this should be, at a minimum, the same width as the door itself. If the actual entryway isn't much wider than the door, then it's perfectly acceptable for the rug to stretch from one wall to the opposite wall, covering all of the floor across the threshold of the home.
Houses with wide foyers can have doormat rugs that extend from wall to wall, but this is not essential. Instead, concentrate on ensuring that the rug is the same width or wider than the doorframe. For a runner rug or area rug, you will want to center these in the middle of your entryway. They look most appealing when there is a fair amount of floor showing around the edges of the rug, so ensure you measure your space before purchasing a rug.
Ideally, you want around 6 inches between the edge of the rug and the wall. If you have an attractive floor you want to show off, then you can allow more clearance around each edge of the rug, up to a maximum of around 18 inches. Any more than this, and the rug will start to look too small for the space. The idea is to create a balance where there is a small amount of floor around the rug so that it looks made for the space and fits snugly, without appearing too big or small for the room.
Choosing an Entryway Rug:
Height
This is a consideration that many people forget about when buying a rug and don't realize until they position the rug in front of the door that it causes a problem. The height of the rug pile is very important for entryway rugs, more so than any other type of rug, because it needs to allow for the front door to be able to open over it.
Most types of rugs are not positioned near doors, so it isn't something you would ordinarily need to consider. However, most entryway rugs will need to have a low enough pile to allow the front door to open over it, and some may also need for the hallway door to also be able to open over it. Check the height of any entryway rug before you buy it and compare this to the positioning of any doors it may come into contact with.
Durability
Most entryway rugs are chosen to protect the flooring in the foyer or hallway because this is usually the most high-traffic area of the home. If you use your front door as the main entrance to your house, then everyone who enters or leaves the property will be coming through the entryway.
If you want your entryway rug to adequately protect your flooring, then its durability is important. You should also look at the durability of an entryway rug because it is likely to suffer from more footfall than other types of rugs, and therefore needs to be tough enough to stand up to wear and tear.
Size
The size of an entryway rug is one of the most important considerations because if it is too small, it will look strange in the space, and if it is too big, it simply will not fit on the floor without curling up against the walls.
Style
An entryway rug is not just a functional component of a foyer but also a design element. The style of an entryway rug can help to define the interior theme of your home, especially as the foyer is usually the first impression of your interior style that any visitors will have. Choose a rug that is in keeping with your color scheme and interior style. For example, a blue and white striped entryway rug would work well in a nautical-themed home, or a floral patterned rug may be appropriate in a traditional-style home.
Cleaning
If you have children coming into the home with muddy boots or dogs with muddy paws, then you'll probably need to clean your entryway rug quite often. Look out for a rug which can be thrown into the washing machine or one made from a durable twine that can be hung outside and beaten with a broom to loosen up any trapped dirt. Avoid pale colors and gentle fabrics if you are concerned about your entryway rug looking dirty.