A bathroom rug has both a practical and aesthetic purpose, as it is there to absorb moisture from our feet when we emerge from a bathtub or shower and therefore preventing us from slipping over or causing puddles of water on the bathroom floor, and it also adds a soft texture to make the space feel more inviting, as well as adding color to the room and helping to define a color scheme or style.
When you think about all of these points, you may realize that choosing a bathroom rug is actually more complex than you initially thought. Consider the points below if you want to make the right decision for your bathroom rug color.
Bathroom Color Scheme
The color scheme of your bathroom is going to be the biggest deciding factor when it comes to choosing a color for your bathroom rug. Your rug should complement the other colors in your bathroom or coordinate with them.
The easiest way to choose a bathroom rug color is to simply select one of the colors you are already using in your room and find a rug in the same shade.
For example, if your bathroom is black and white monochrome, then your bathroom rug could be either black or white, and it would blend in nicely.
If you would prefer a rug that stands out, then you should choose a color that contrasts and compliments the color scheme in your bathroom.
For example, if your bathroom is predominantly gray, then you could choose a bathroom rug in bright yellow for a pop of color. In this instance, the most stylish look would be created if you also match your accent rug color to other items in the room, so for example, you would also need a yellow towel or a yellow soap dispenser so that the rug didn't look odd or out of place.
Floor Color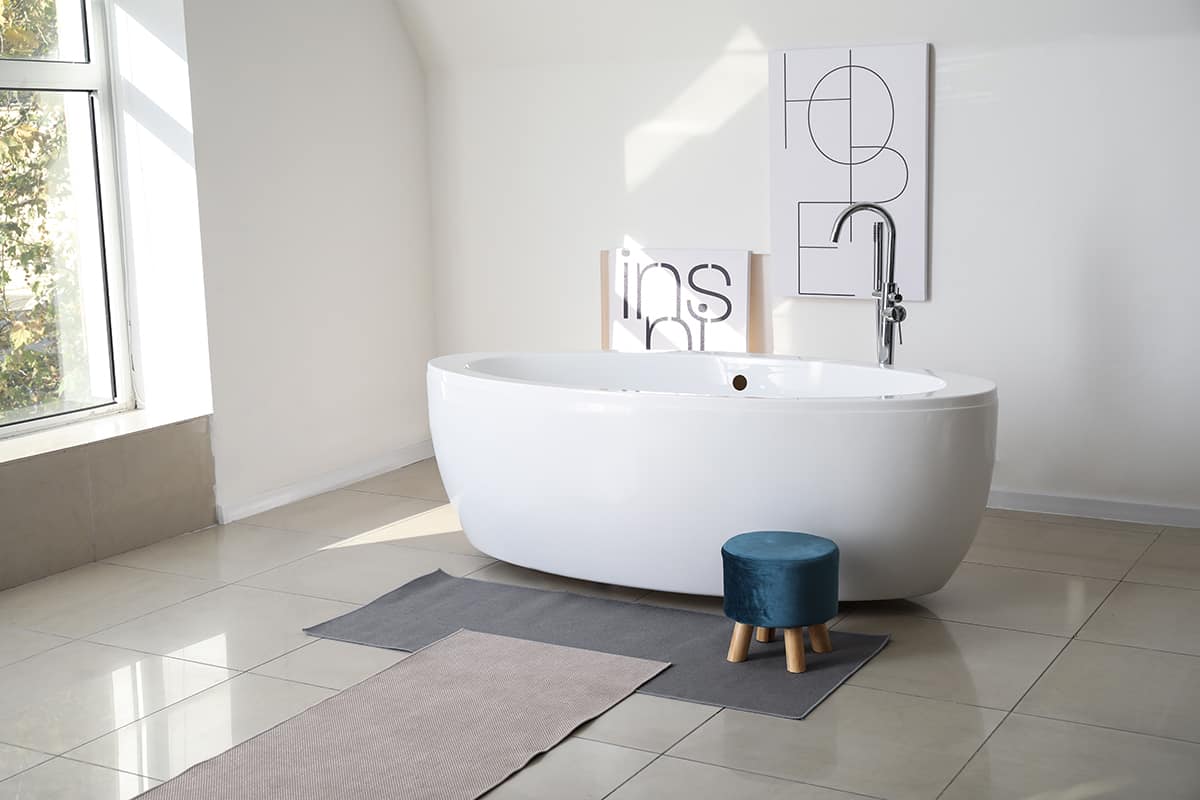 The color of your floor will help you to decide which color your bathroom rug should be. Most designers recommend that your bathroom rug stands out from your flooring, so you should choose a color that contrasts against it. For example, a blue tile floor would contrast with a coral-colored bathroom rug.
Alternatively, you can create a contrast with shading rather than color, which can result in a stylish contemporary feel. For example, if your bathroom floor color is pale gray, then contrast this with a dark gray bathroom rug.
Using the same color for your flooring area and rug can work well as long as there is a shade difference of several levels. If the shades are too similar, then this can make for a bland look.
Towel Color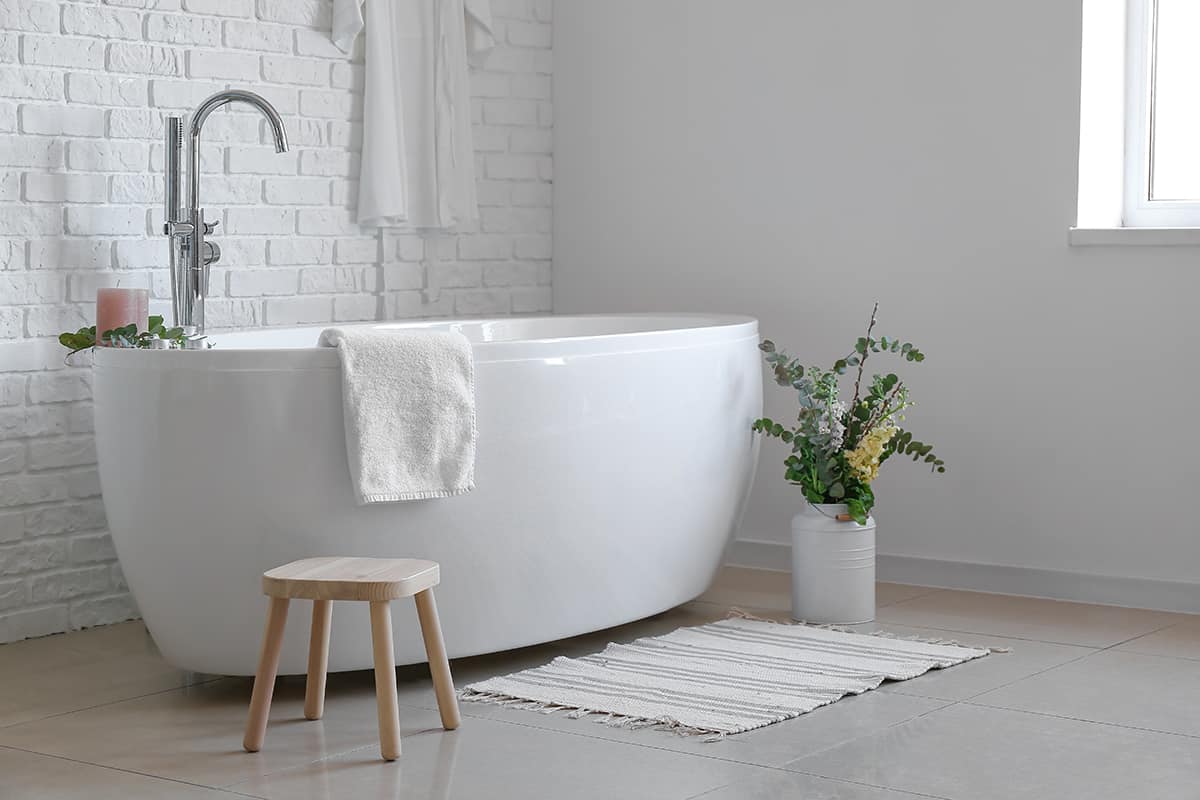 Most bathroom towels you can buy in stores come in matching sets which will include hand towels, bath sheets, and bathroom rugs. Buying a whole matching set is an easy way to ensure that your bathroom rug coordinates with other items in your room, and it results in a clean, finished look.
However, don't fall into the trap of thinking that your bathroom rug has to match your towels. Instead, you could opt to coordinate them rather than have them entirely match. For example, you could have blue towels coordinated with a blue and white striped rug, or a green and pink floral towel could coordinate with a solid green rug.
The other option is for the bathroom rug and bathroom towels to be completely different colors yet still work within the color scheme of the bathroom.
For example, in a bathroom that has white floor tiles and blush pink painted walls, your bathroom rug could be blush pink, and the towels could be white. A quirky, bohemian look could also be achieved with a less structured color scheme where the towels and the bathroom rug do not match.
In a dark gray bathroom, you could add bold splashes of various colors, for example, a bright fuchsia pink rug, a vivid teal window blind, and lime green towels. Although these colors do not match or fall into a matching color scheme, they complement each other in the sense that they are all bright and lend themselves well to a fun and unusual style.
Accessories Color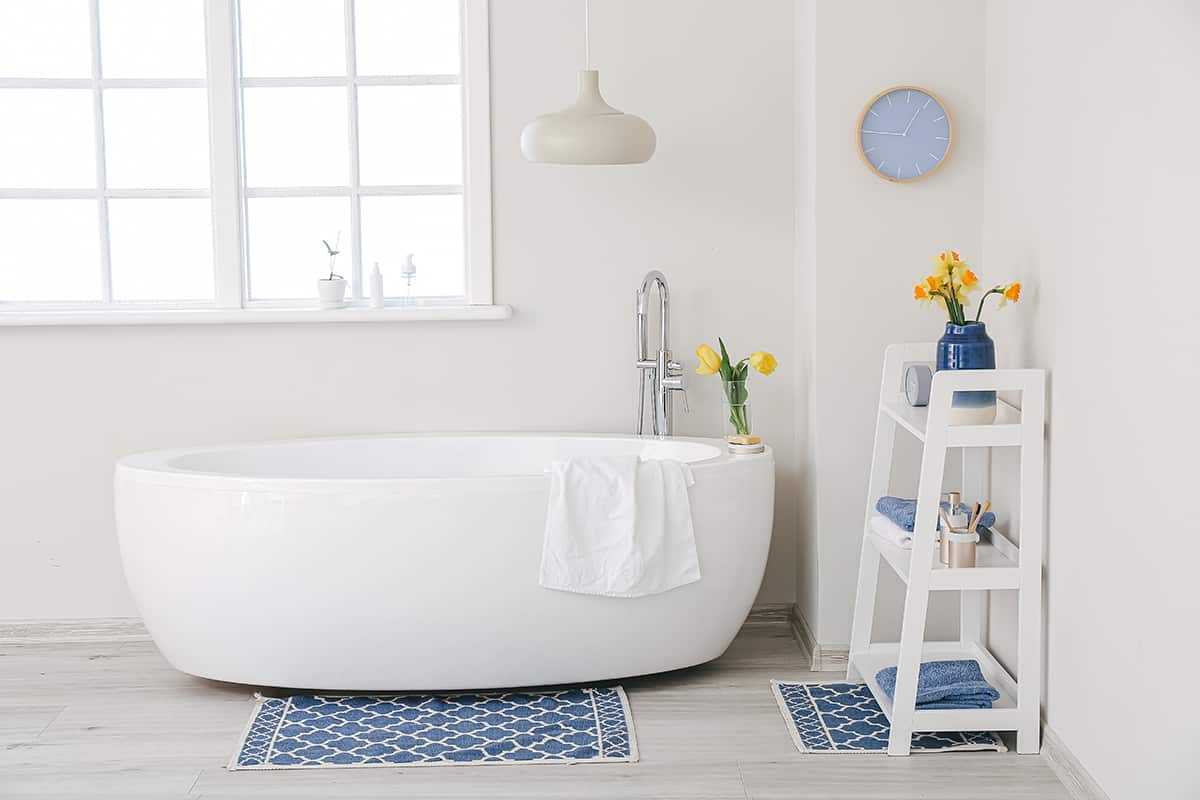 The color of other accessories in your bathroom can be used as a guide to help you choose your bathroom rug color. Some common accessories people have in a bathroom include soap dispensers, toothbrush holders, toilet brushes, candles, fragrance diffusers, framed art, and trash cans.
You could decide to match your bathroom rug to anyone, or all, of these accessories. For example, if your soap dispenser and toothbrush holder are navy blue, then you could coordinate your bathroom rug by choosing one which is a solid navy blue color or one which has navy blue accents in it, such as a white rug with navy blue polka dots.
Matching the color of your bathroom rug to some of your accessories will help to ensure that the rug looks like it fits seamlessly within the color scheme of the space and will result in a more stylish room.
Home Style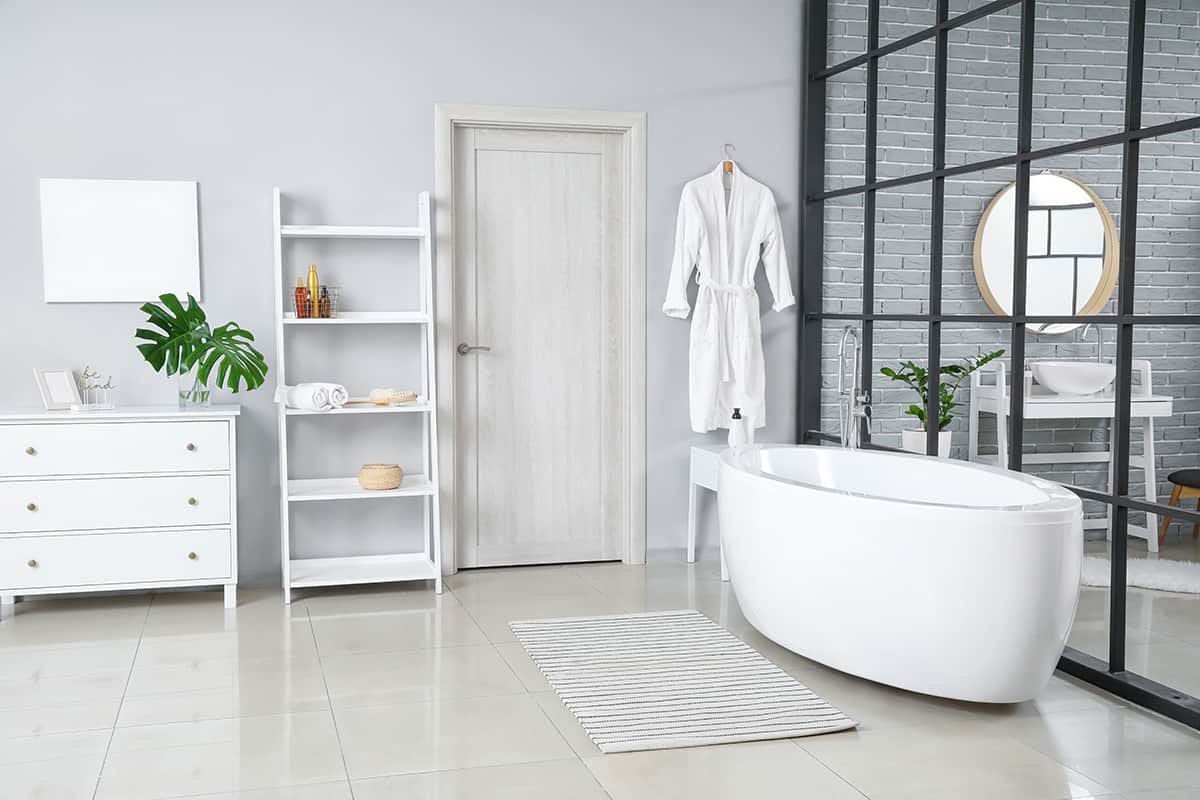 The style of your home, and ultimately of your bathroom, will affect the color and type of bathroom rug that you choose.
If your home is styled in a traditional and neutral decor, then a bright red bathroom rug is going to seem out of place and at odds with the atmosphere in the rest of your house. Try to choose a color for your bathroom rug that creates a sense of continuity of style within your home.
Bathroom Color Schemes
Red, white and blue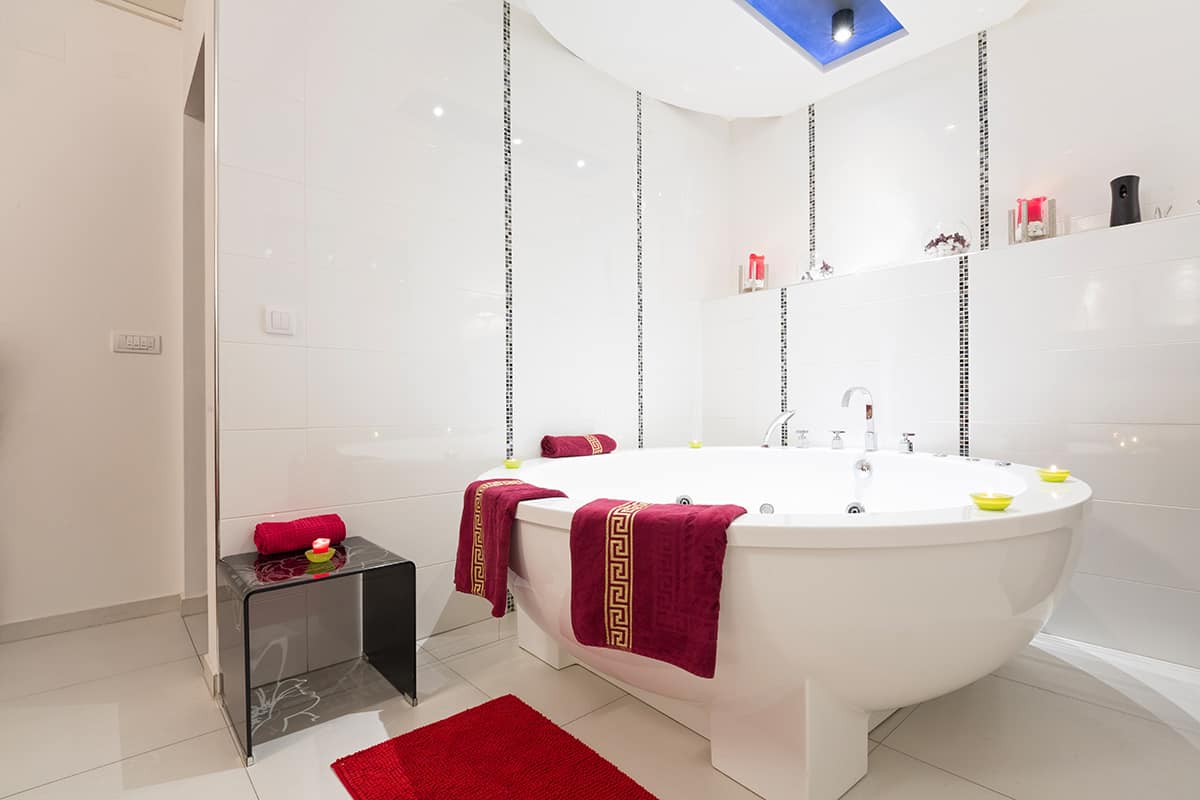 These colors work well in a bathroom that has a coastal vibe or an Americana style. Use white and blue as your main shades and red as the contrasting or accent color. This will result in a calm and soothing bathroom with a distinctive personality.
Consider painting walls in dark blue with wall tiles and floor tiles in pure white. Your towels and bathroom rug could be red if you want your accent color to make a bold impact, or alternatively choose blue towels and a rug and then use smaller hits of red such as red candles and a red frame hanging on the wall.
Gray, yellow, and white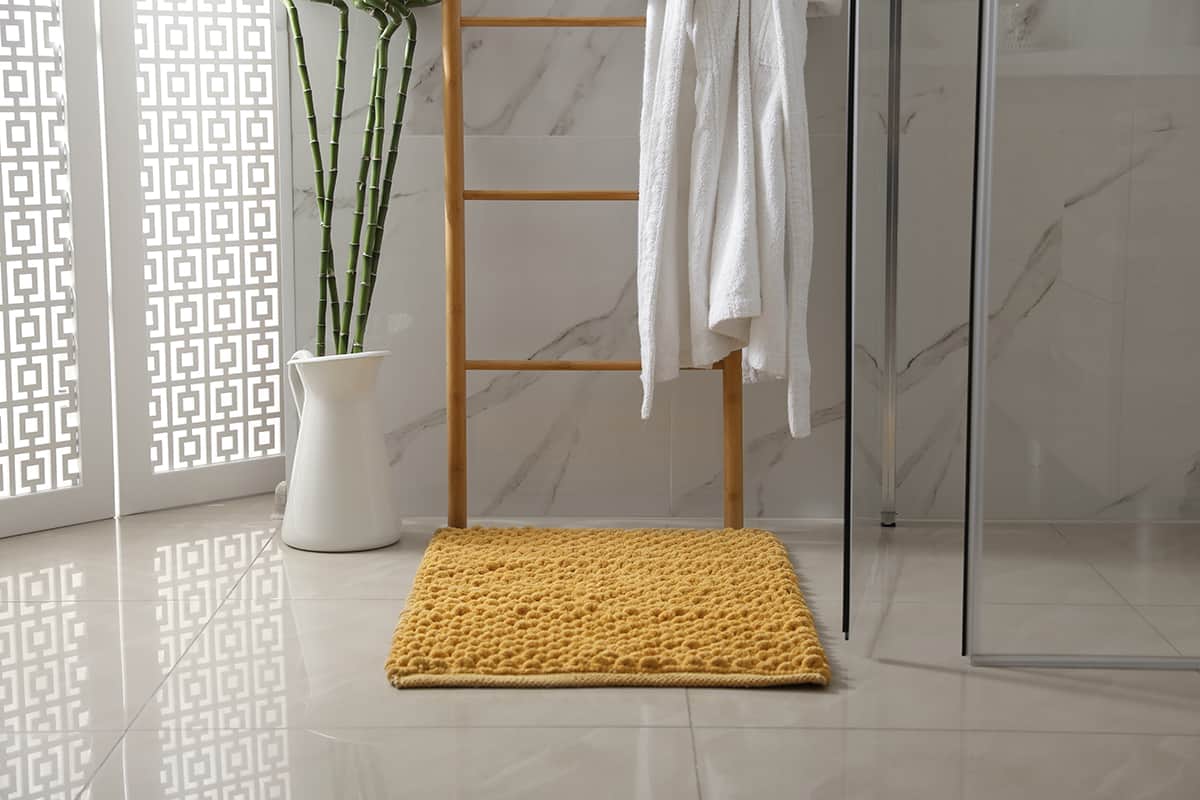 In this color scheme, you can use gray and white as the main colors to achieve a cool and clean look, with yellow as an accent color to bring a hint of cheerfulness to the room. Alternatively, yellow makes a nice choice for the main color in a bathroom, where it will feel joyful and refreshing.
Consider painting the walls white with gray floor tiles and then adding personality with a yellow bathroom rug and a yellow soap dispenser.
The towels could also be yellow to match, or they could be gray to match the flooring. Alternatively, paint the walls yellow and have white bathroom floor tiles. In this room, dark gray towels and a dark gray rug will help to ground the space and also ensure it looks modern and stylish.
Brown and beige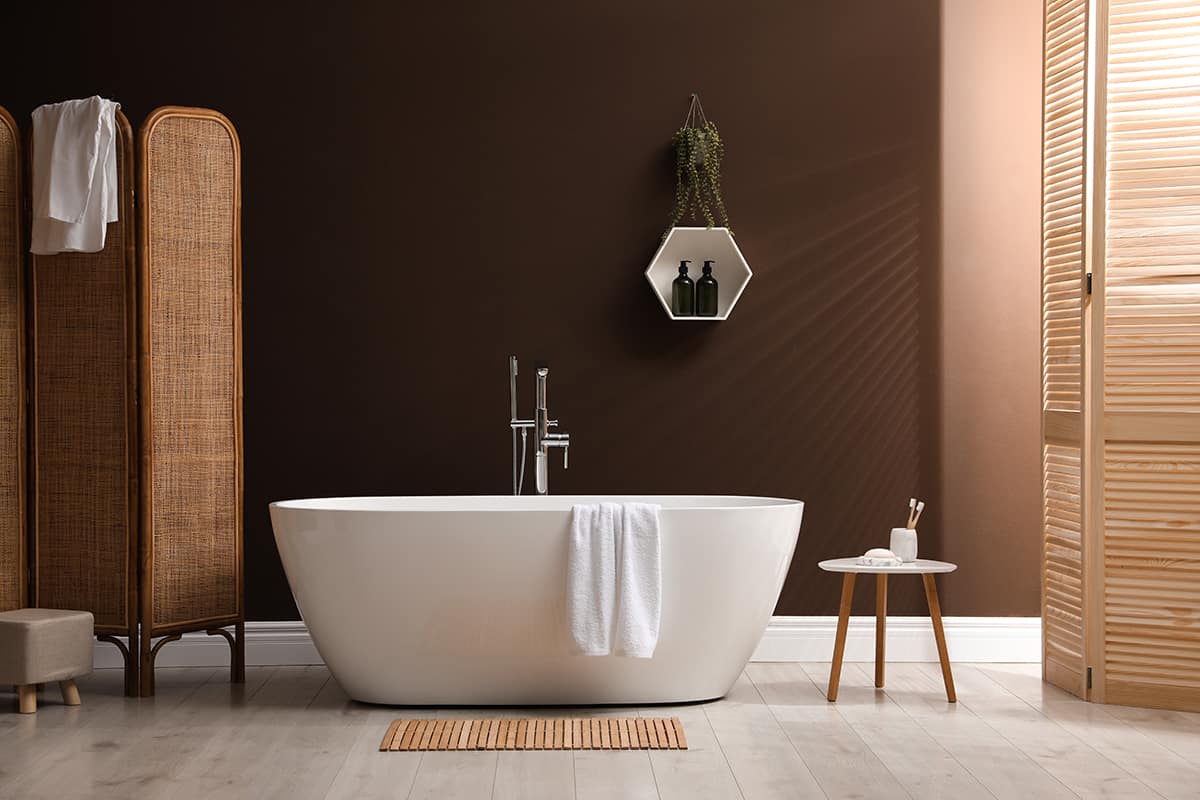 Brown and beige are neutral colors that can feel very luxurious and spa-like in a bathroom. You can also use this color scheme to recreate the style of a high-end hotel bathroom.
Choose deep beige-colored floor tiles and a lighter beige paint color for the walls. Then add in fluffy dark chocolate brown towels and a chocolate brown bathroom rug for a cozy and comfortable style.
This color scheme will benefit from plenty of lights such as spotlights in the ceiling and wall sconces at either side of the bathroom mirror to prevent the brown and beige colors from making the room feel drab. Alternatively, this color scheme is ideal for a bathroom that benefits from lots of natural light.
Olive green, tan, and blush pink
This is a color scheme that blends natural and luxury styles together by using earthy olive green and tan with contrasting and glamorous blush pink. This will work really well when blush pink is used as the accent shade, so opt for tan-colored floor tiles, olive green painted walls, towels, and a rug in blush pink.
Alternatively, choose tan-colored towels and match a blush pink rug to a row of blush pink candles or vases on the windowsill. You can also consider using pink and beige as your main colors, with olive green as the accent shade. This works well for bringing a more neutral and natural look to a feminine pink space.
Paint the walls in blush pink and choose an olive green bathroom rug that coordinates with other accessories in the room, such as olive green hand towels or an olive green hanging planter with a trailing houseplant.
You can also combine the colors by finding a bathroom rug featuring both shades, for example, a rug which is striped with blush pink and olive green, coordinated with olive green towels.