Orange furniture is making a comeback in the world of interior design. This cheery, bright shade is an excellent choice for creating warm and inviting spaces. Since orange is associated with fun and joy, it's no wonder the shade is becoming popular for living room furniture as it can be used to bring a happy vibe to the space.
When you have chosen a powerful furniture color like an orange couch, you'll want to use complementary colors that blend in with orange. A rug is one of those must-have floor coverings that should accentuate your orange couch without taking the spotlight from it.
If you're wondering what color rug complements an orange couch, here we have compiled some awesome options for you to consider.
Best Rug Colors that Go with an Orange Couch
Red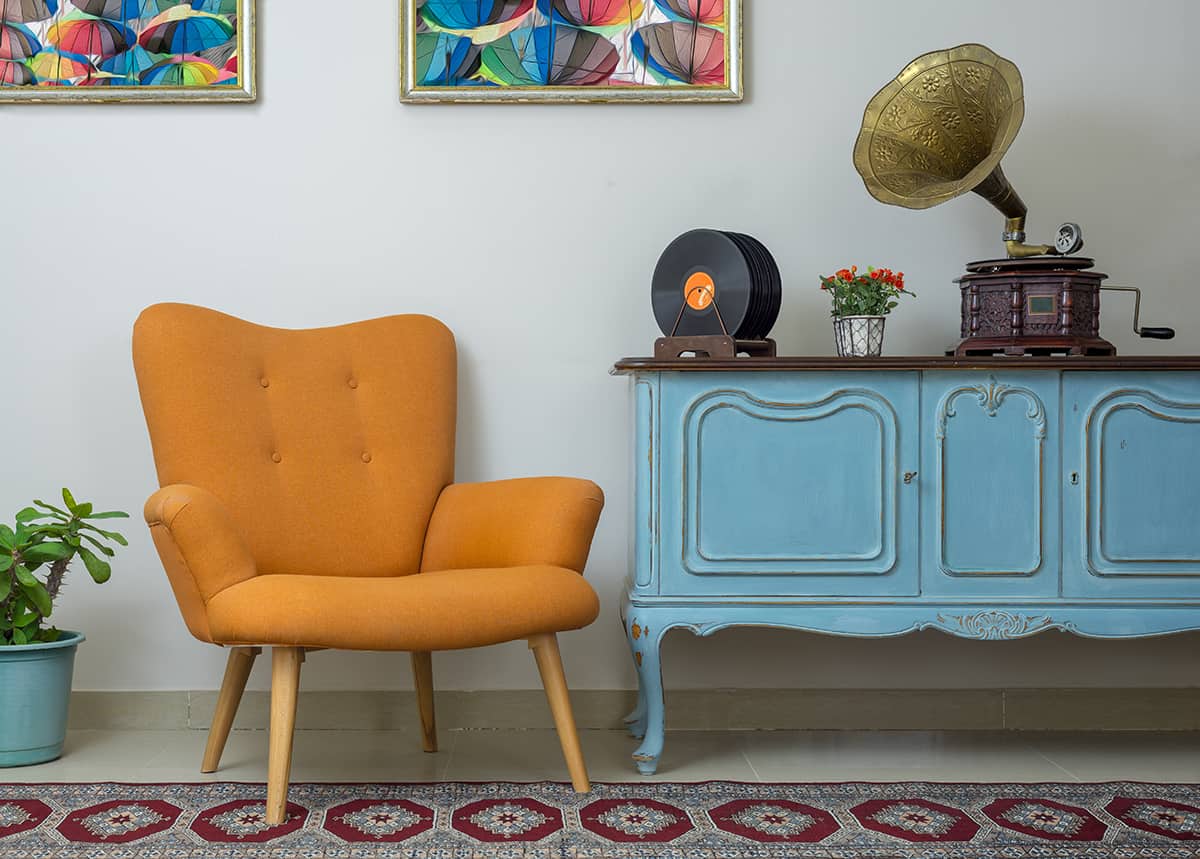 A bright, warm red tone is one of the most dramatic rug colors to pair with an orange couch. A combination of bright orange and vivid red rugs in a rustic or retro interior is sure to brighten up your space, especially if your red rug is heavily patterned. Alternatively, you can add red throw blankets or pillows to match the accents with the rug color.
White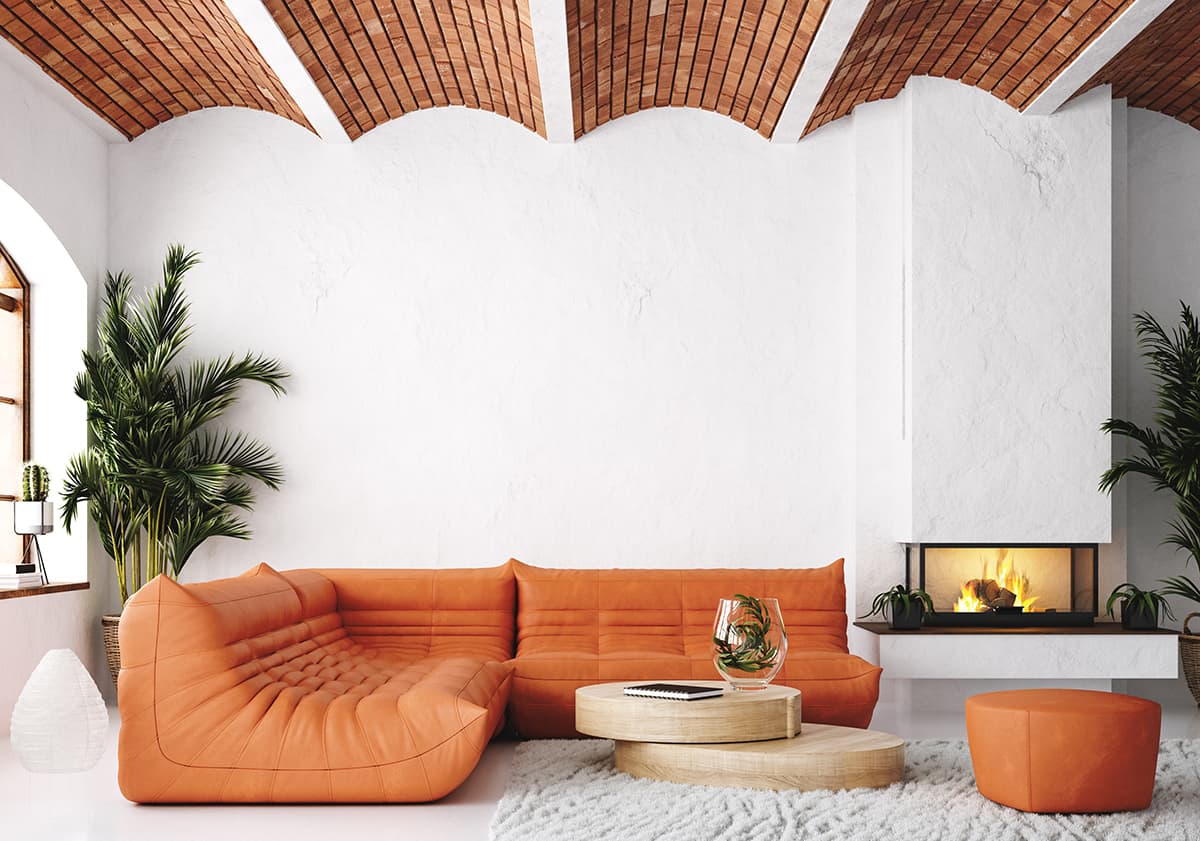 For a softer and subtle option, why not try a fluffy white rug with a bright and bold orange couch? White fluffy rugs bring a glam look to a modern living room, which blends in nicely with the vibrant flair of the orange couch.
By pairing a white rug with your orange couch, you can make your seating furniture stand out and bring more excitement to your living space. Furthermore, a neutral rug color like bright white is the perfect base for adding other bold decor or furniture colors around your orange couch.
Orange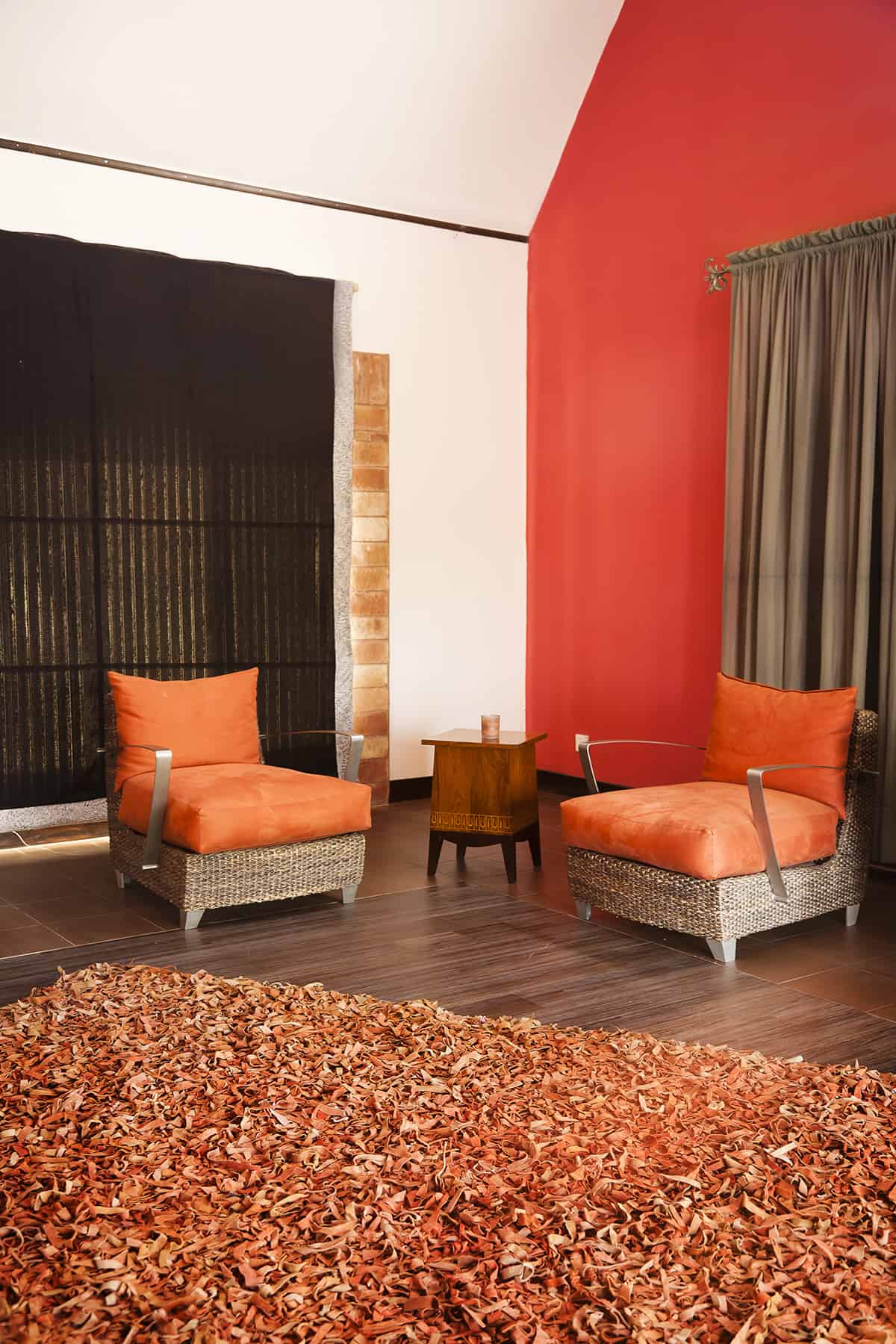 For those who want to enjoy a seamless color scheme in their modern living room, we recommend a monochromatic design like an orange rug to go with the orange couch.
This simple approach brings a tranquil vibe to the space, even if you pick the exact same shade as the couch for the rug.
Note: the other decor or furniture items that you select around the orange couch and orange rug shouldn't be in bold colors as this will make your space feel cramped and small.
For example, patterned orange rugs with a bright couch should be paired with neutral accessories for a cozy, welcoming aesthetic. Soft white walls and beige or tan curtains feature both warm and cool hues, which work beautifully with bright orange rugs and sofas.
Brown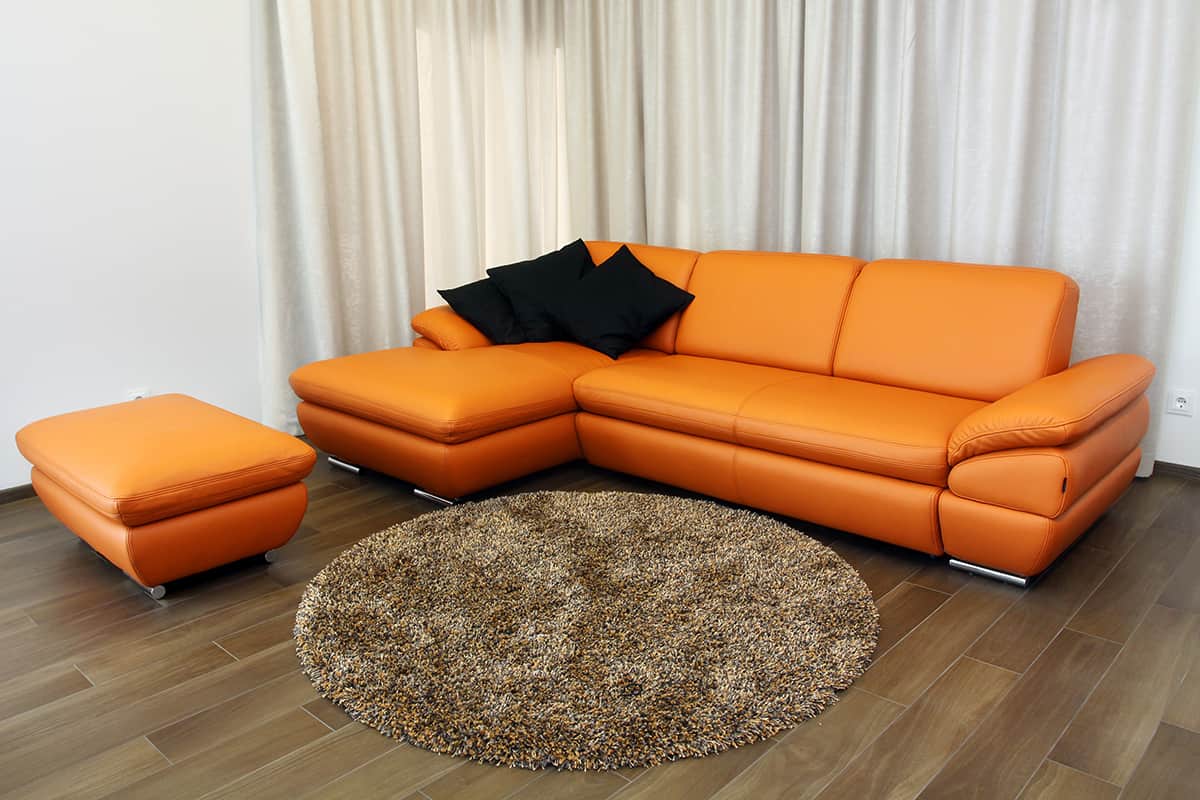 Did you know an earthy brown tone has a lot of similarities with muted orange hues?
When paired together, they bring a harmonious vibe to a modern living room. In fact, you'll often see brown rugs with orange furniture in luxury interiors as using this color combination results in a calm, natural look that balances out the living room space.
The muted orange couch flawlessly blends in with the rest of the room's decor, while the brown rug adds an earthy, elegant vibe. Orange is also among the rug colors that pair well with other couch colors like brown.
Gray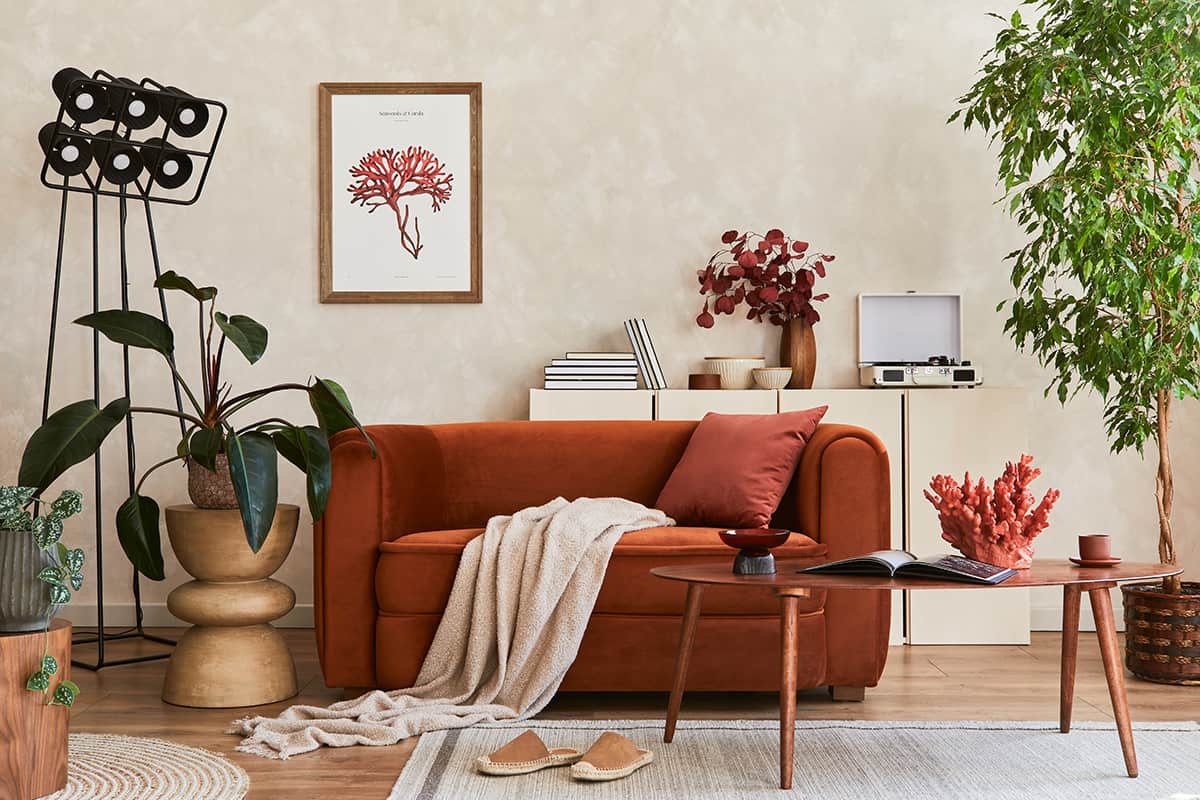 As a cool-toned rug color, gray is a stylish composition next to an orange sofa. With similar effects to brown, this modern rug color also adds an elegant vibe to the living room – no matter whether your interior style is in retro, modern or vintage design.
By choosing a gray rug with your orange couch as the design foundation, you can get creative with your room's other focal points.
Blue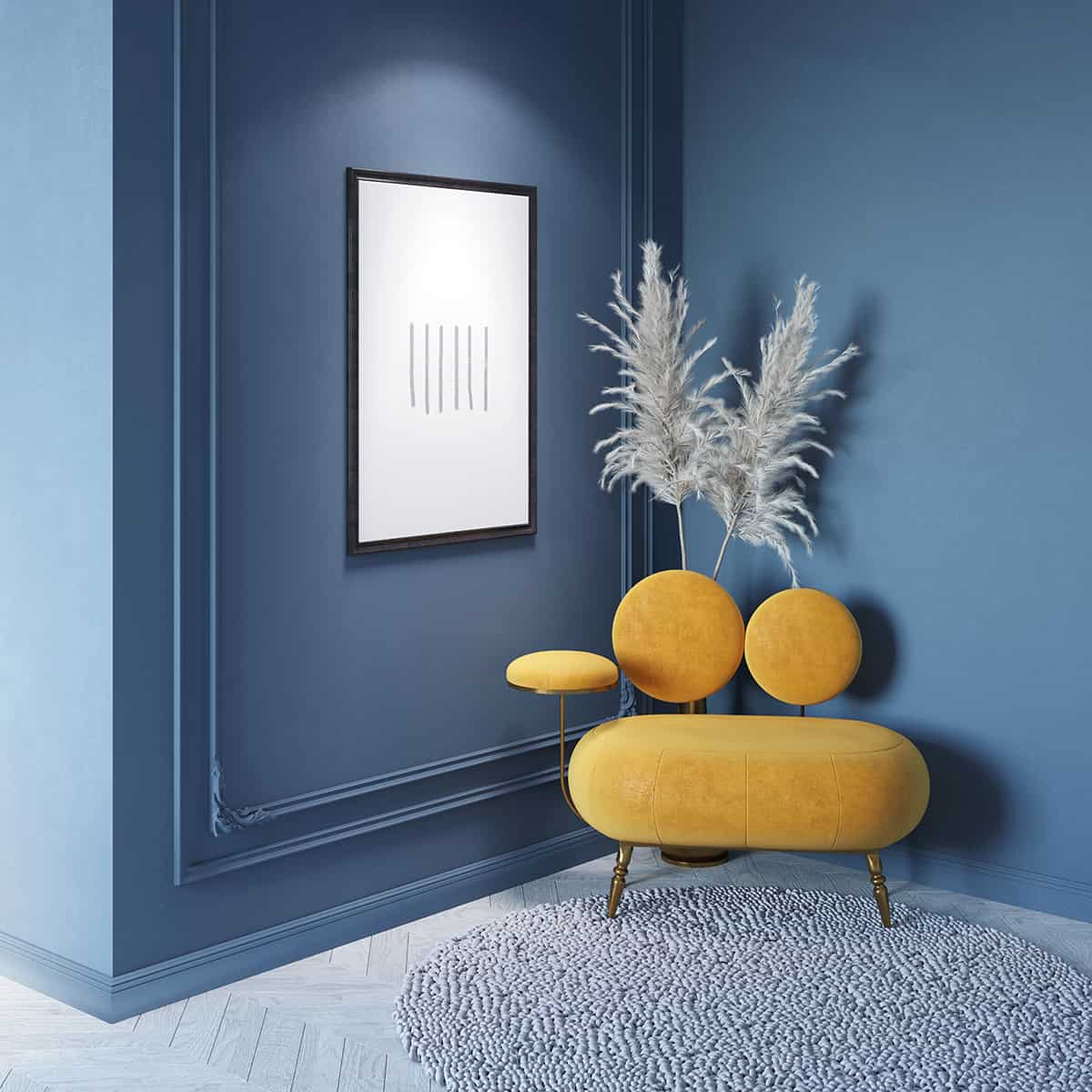 As one of the best complementary options to an orange couch, blue is on the opposite color wheel, yet it works very well with this vivid, bright color.
A blue rug can help highlight the cheery vibe of the orange sofa as you can see in this example. The dark blue walls provide a modern classic look to the orange furniture and blue rug. The deep tone of the dark blue wall used here helps bring balance between the cool-toned rug and warm-toned orange.
When thinking of specific blue shades to pair with an orange couch, we think light, soft tones like aqua or sky blue work best here. These cool tones bring a natural, fresh vibe that helps balance the warmth of the sofa. With this combination, you're sure to create an eye-catching space just like the example shown here.
Purple
A unique rug color that can be used with orange is a bold shade of purple. This amazing color adds a stylish statement to a space with orange seating furniture. In fact, area rugs in vivid purple and orange sofas are often seen in luxury living rooms as they are both analogous colors.
This means purple and orange are on the same color wheel, hence their popularity in modern interiors. The only consideration you should bear in mind when adding a purple rug to your room with an orange sofa is to avoid using this rug color on dark flooring.
This is because the purple rug can look lost on dark flooring so it'll be difficult to distinguish. Purple rugs work best on natural wood or light-color tile flooring.
Beige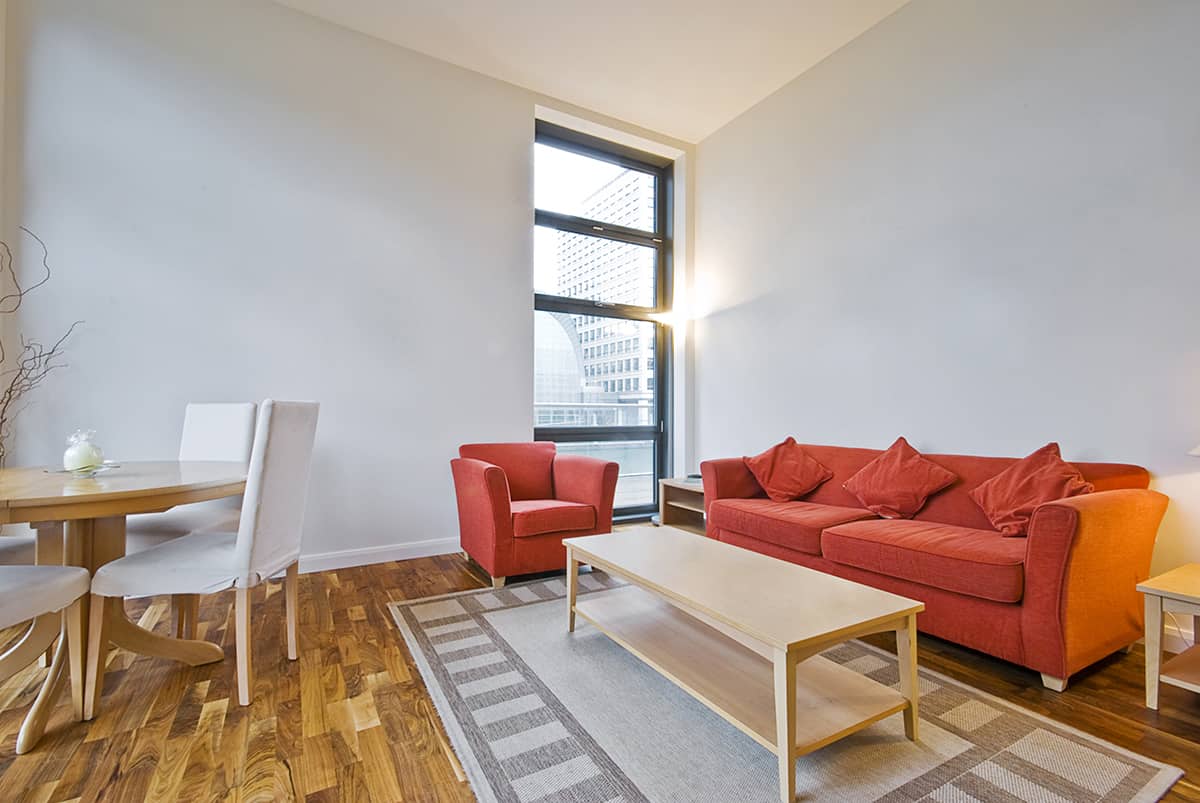 If you want to keep your orange sofa the centerpiece of your modern living room, then opt for a neutral rug shade like beige. This simple rug color won't take the attention away from the orange couch, but it can still look attractive in a bright and open living room.
Both beige and orange are warm-toned colors; thus, they go very well together to bring an inviting and cozy vibe to your living space.
How Do I Decorate Around My Orange Couch?
When decorating around your orange couch, balance is key. After all, you'll want your orange couch to take center stage, so it makes sense to include dark wood accents and bold decoration items to tone down this bright shade.
That said, the color choice for decorating around your orange couch depends on the shade of orange you're working with. For example, a dark-toned orange couch is best paired with gold-framed mirrors or muted orange rugs.
On the other hand, a muted shade of orange can be paired with pumpkin or burnt orange backdrops to let the couch shine. This can be done by painting the wall behind the orange couch or by adding curtains in muted orange hues. As an alternative to these orange shades, beige or gray also work very well as neutral backdrops.
So far, we've talked about the best colors to decorate around your orange couch, but how about the couch itself? While you want the space around your orange sofa to look great, the seating item itself should also look inviting. To dress the orange sofa, consider adding a few white or brown throw pillows and blankets.
If your style is retro, layer the couch with textured or patterned pillows. For minimalist style interiors, use small, square-shaped pillows in neutral colors or soft blue tones.
Finally, don't forget to add some ambient lighting on the wall behind the couch to keep the spotlight literally on the orange couch!
What Colors Complement Orange?
The best colors that complement orange are actually the ones that sit on the opposite color wheel. Blue is one such color that's a natural complementary pair with orange.
Any shade of blue will work with both bright and muted orange hues, in particular navy. This dark blue color highlights the orange couch and lets it stand out.
Other colors that complement orange include lime or mint greens, browns and grays. Since orange is a warm-toned color, it can be combined with other warm hues like yellows and reds for an energetic look.
Yellows and reds enhance the warmth of orange, so you can add some pale yellows and deep reds to your room with an orange couch to spruce up the space. Neutral colors like beige and white also work nicely with any shade of orange.
In Closing
An orange couch can be an attractive centerpiece of any living room, especially when it's paired with a complementary rug color. In rustic or vintage style interiors, an orange couch is often combined with a matching rug color or an ornately designed Persian rug in a rich red color.
In modern or retro style interiors, on the other hand, you'll find orange sofas paired with light, neutral rug colors in order to keep the couch the center of attention. We hope our above ideas have inspired you to pick the right rug color for your room with an orange sofa.