If you have wooden floors in your home, you can add a rug to help create a warm and soft texture underfoot and also to protect your flooring. Rugs can also help to define an interior style or be used to highlight a color scheme. As wooden floors typically have a range of shades visible in the grain, it can be tricky to know which color rug you should choose to go with your flooring.
Here we look at the best options for both dark wood flooring and light wood flooring to help you understand which color rugs go with wood floors.
Dark Wood Flooring
Dark wood floors make a room feel cozy and intimate, but they can also have the effect of making a room feel smaller than it actually is or contributes to a heavy or dull mood. For this reason, rugs in lighter shades work well on dark wood flooring because they create a brighter atmosphere and help to uplift the feel of the space.
Light rugs on dark floors also offer a contrast that is pleasing to the eye. This can be especially useful if you are using a rug to define a space. F
or example, in an open-plan apartment, it is common for a rug to be positioned under the sofas and a coffee table to help designate the sitting area and separate it from the remainder of the space, which might feature a dining area or kitchen. Having a rug in a light color on a dark wood floor in this instance will make the definition of the space more obvious.
If you have a dark wood floor but have your heart set on a dark-colored rug, this can work too, but be warned it can make the room feel like it is closing in, so it is best done in larger spaces. Dark rugs on dark wood floors, when done correctly, can help to create a cozy atmosphere or add warmth and intimacy.
The best colors of rugs on dark wood floors include:
White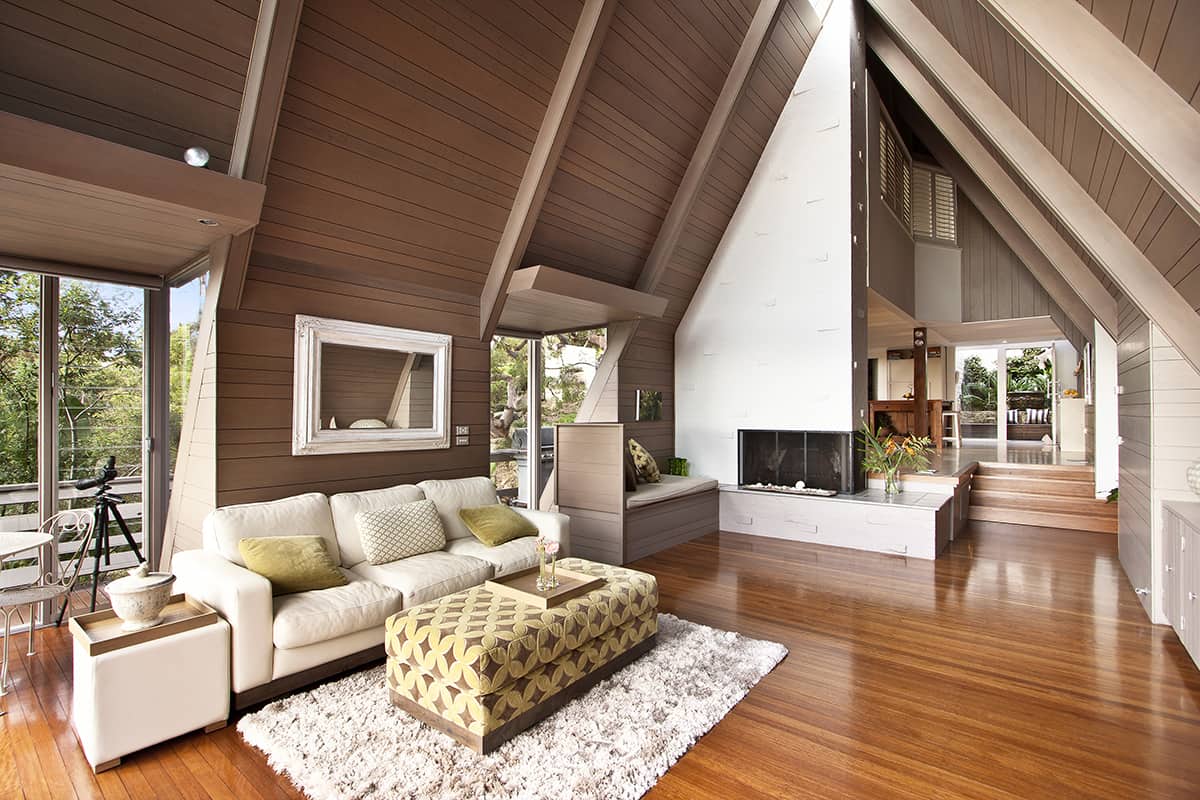 If you're not worried about your rug getting dirty, for example, if you don't have pets or small children, then a white rug will look elegant and sophisticated on a dark wood floor. White rugs on wood flooring look very modern and stylish, especially if the remainder of the room is decorated in a monochromatic design.
The texture of the white rug will also play a key part in defining the style. For example, a sheepskin or faux fur white rug will add a comfortable and cozy ambiance to the room, while a low pile white wool rug will look chic and minimalist.
You can also choose a two-tone colored rug like black and white, white and gray, which can fit either a light or dark-colored room.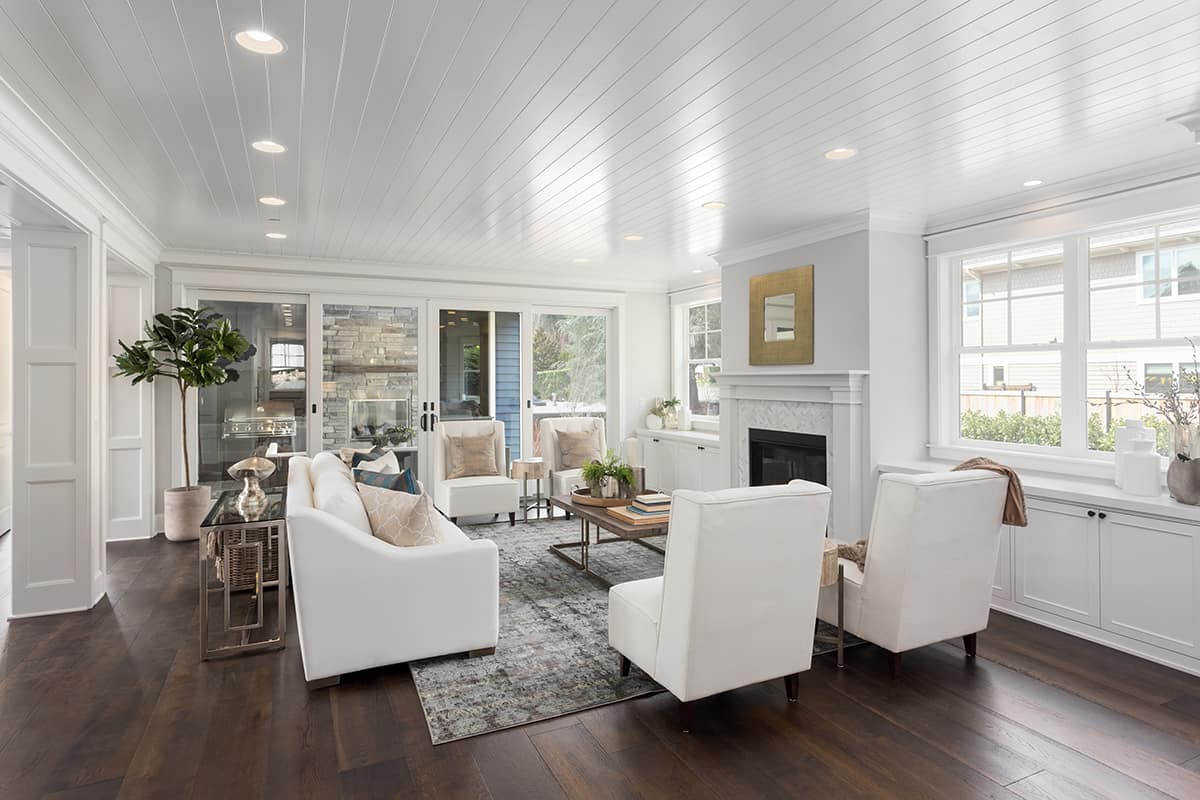 Beige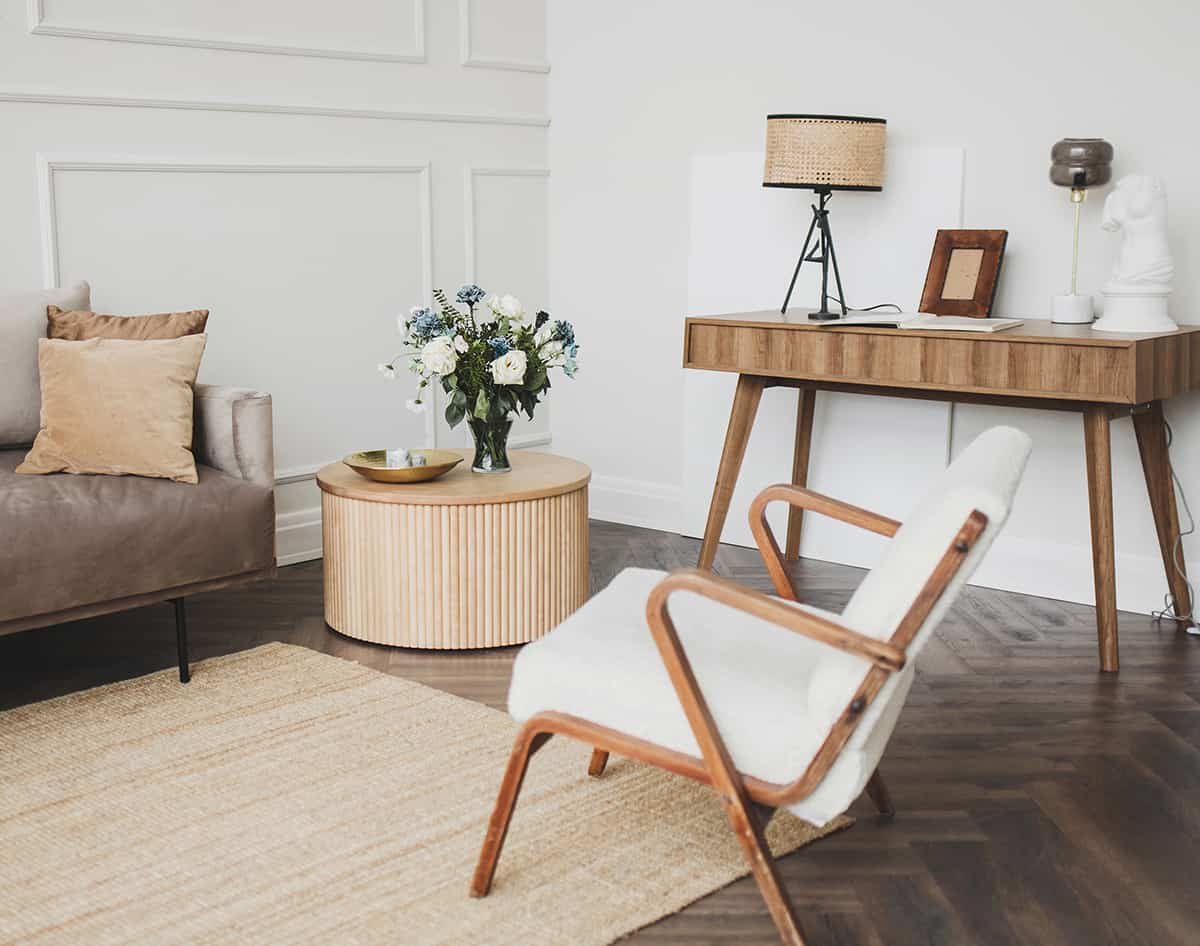 If you struggle to match colors together, then a light beige rug is always a safe bet on a dark wood floor. It can be tricky to find a color that works well with wood because there are so many tones in a dark wood, including red tones, brown tones, and black tones. Because of this, it is possible that a colored rug will clash with the flooring.
Beige is a risk-free choice to go with a dark wood floor because it has natural tones, which means it will work well in any color scheme. For a casual vibe, choose a beige rug in jute fabric, or for a more luxurious feel, choose a beige faux fur rug.
Pale Pink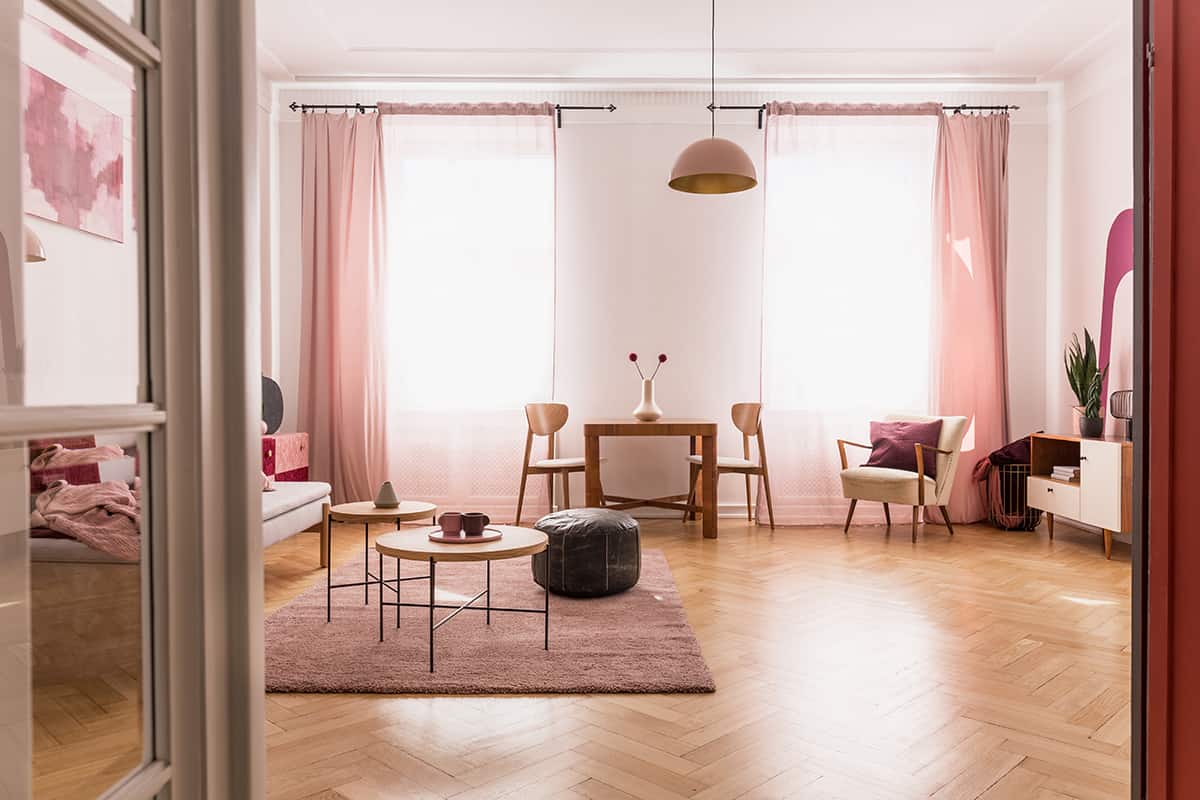 If your dark wood has brown, gray, or black tones running through it, then a pale pink rug will work well on it. However, if your dark wood flooring has red base notes, such as mahogany or cherry wood, then pink rugs will not be the best choice.
Dark wood flooring can look harsh or cold, especially in rooms that you want to feel plush and comfortable, such as a bedroom. To counteract this, choose a feminine shade such as a pale dusky pink for your rug. This will soften the space and create a warm atmosphere you want to relax in. Tie the pink rug in by selecting some matching pink cushions for the bed or pale pink lamp shades.
Light Green or Blue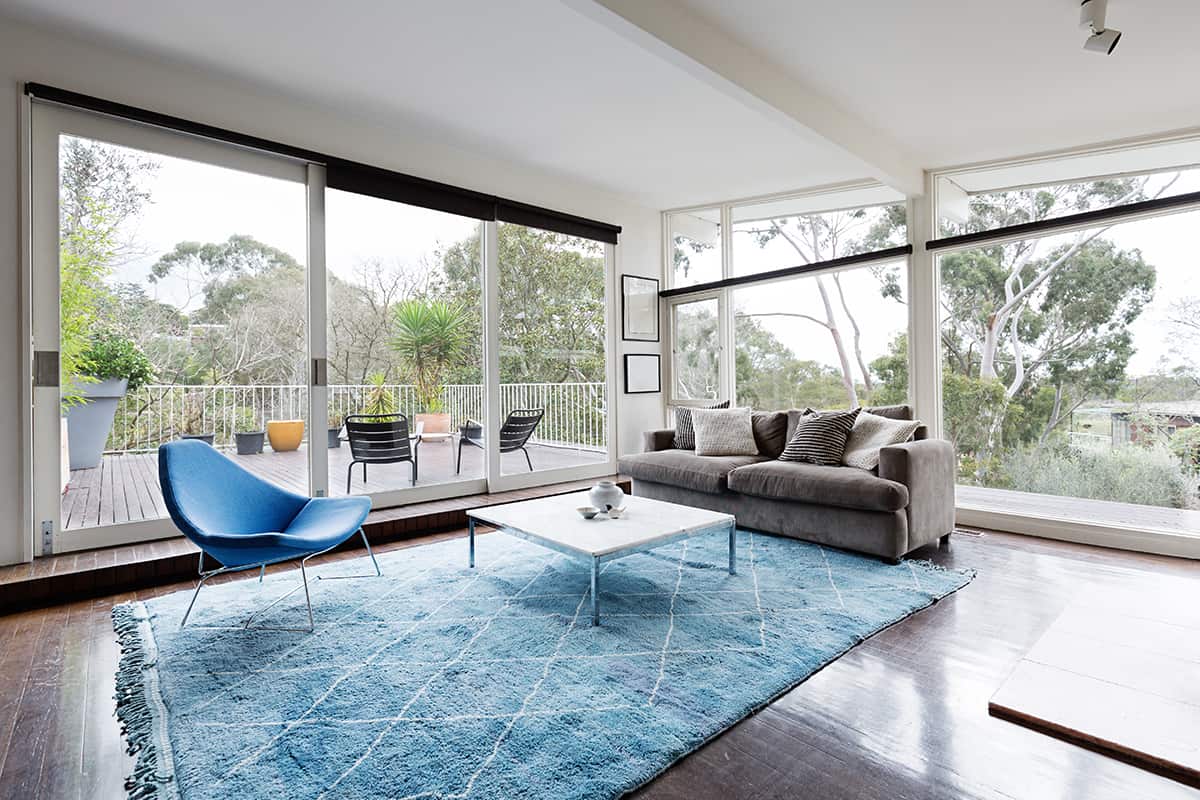 If you are going for a more natural style, then light green will work well with dark wood flooring because it mimics the colors and tones found in nature.
Otherwise, choose a light blue rug; this mimics the light blue sky that blends greatly with the trees/wood materials. Choose a pale olive green for a subdued, muted color palette or a light lime green for a more energetic atmosphere.
Light Wood Flooring
Light wooden floors are great for creating an open and airy feel in a room. Light-colored flooring helps to draw our eyelines to the outer edges of the room and has the effect of visually extending the space to make it seem bigger than it really is.
However, an expanse of light wood flooring can also have the effect of making a room feel stark or bare, so using a rug to break it up slightly is a good tactic for making it feel more homey and welcoming.
When it comes to choosing a color of rug for light wood flooring, you have more options available to you that will work compared to if you have a dark wood floor.
This is because you can choose from dark colors, bright colors, rich colors, and neutrals. For a contrasting look, you should choose a dark shade or a rich shade with your light wood flooring, which will draw attention to the rug and the area it inhabits. This will also help to ground the space.
Matching the color of your rug to the accent color in your interior decor will also ensure it works well in the space, for example coordinating plum-colored throw cushions with a plum-colored rug.
If you have a light wood floor, you also have the option of choosing a light-colored rug. This can work especially well in small rooms because it will create a feeling of extended space while also adding a texture and warmth that cannot be achieved with wooden flooring. If you are choosing a light-colored rug alongside light wood floors, try to choose a color that still creates a slight contrast.
Pale oak flooring can work nicely with white faux fur rugs, or for white wood floors, choose a pale gray or pale pastel color for your rug. This helps to ensure that the rug doesn't blend into the floor and fade from sight.
Some of the best contrasting colors of rugs to use with light wood floors are:
Blue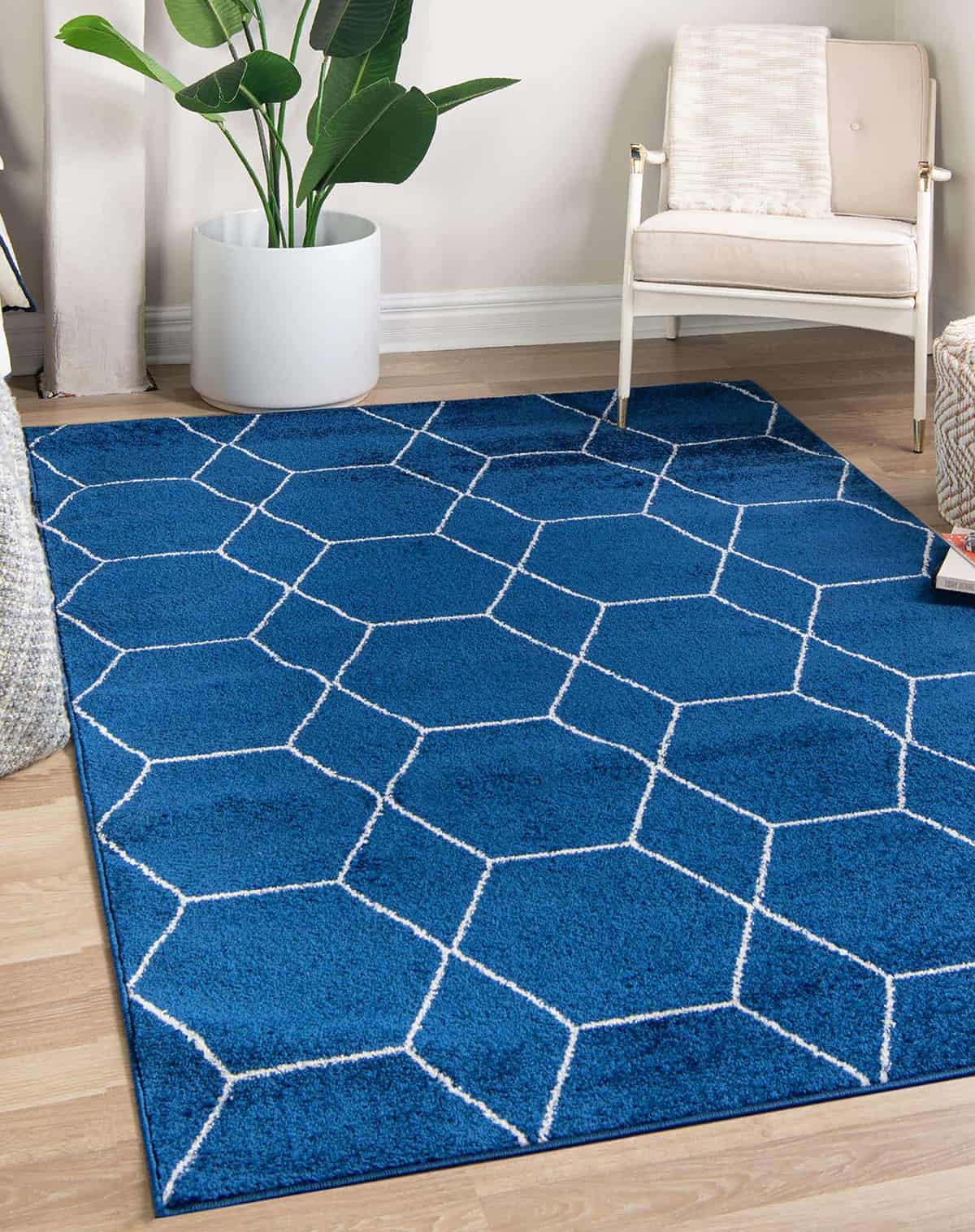 For a chilled vibe in your room, choose a bright blue rug alongside a light wood floor. An intense cobalt blue will bring vibrancy to the space, while a gray-blue will create a more modern, laidback character.
You could also choose a navy blue rug if you want to add drama to your light wood floors, or this could also work well in a nautical-themed space. Blue is a cool color, so it works well in a room where you want to achieve a relaxed and breezy ambiance. If your light wood flooring has yellow-orange tones, white tones, or gray tones, then a blue rug will compliment it perfectly.
Purple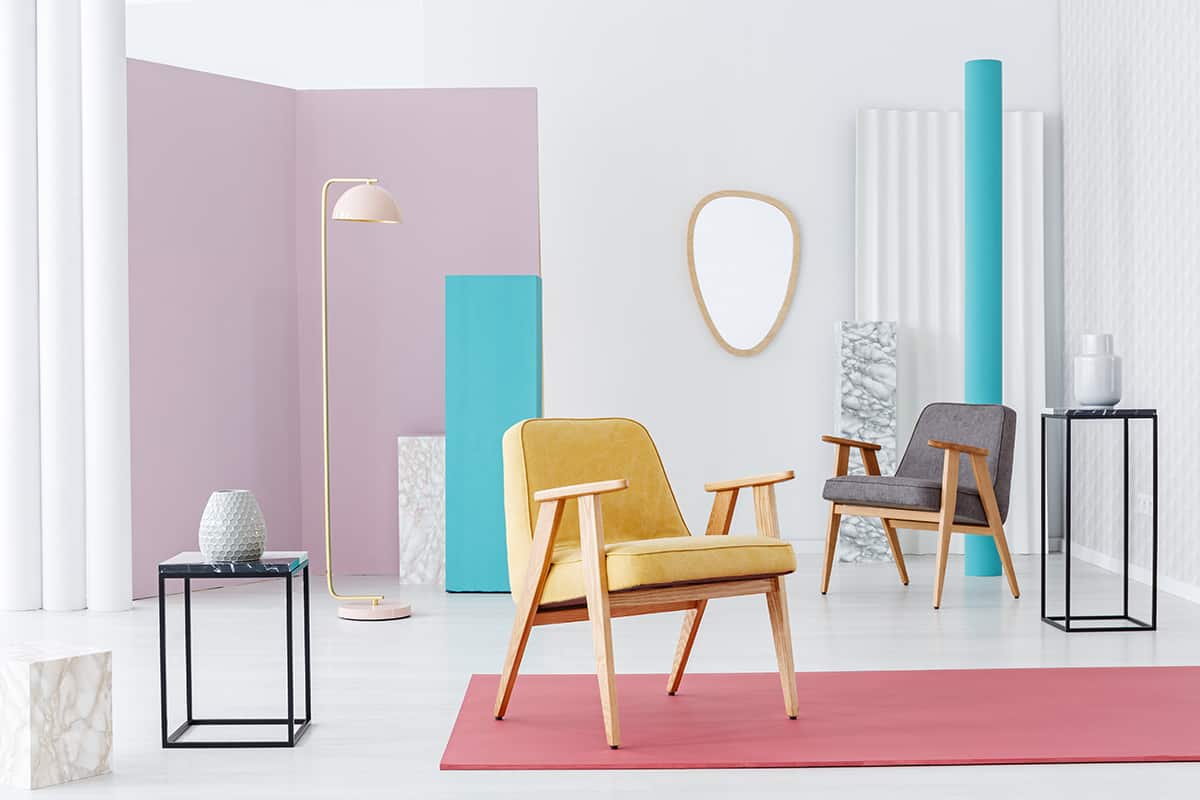 If you want to add depth and exuberance to your room, then a dark purple rug would be a great option. Deep purple shades emanate grandeur and create a sense of regality. This color is associated with power and luxury, so it can be used in sumptuous bedrooms, extravagant living rooms, and intimate dining rooms.
For the best effect, use a deep purple rug in combination with purple walls or large purple accents such as a purple velvet sofa or purple upholstered bed frame. Purple is a complementary color of yellow and orange on the color wheel, so it will be brought to life against light wood floors with yellow or orange undertones.
Black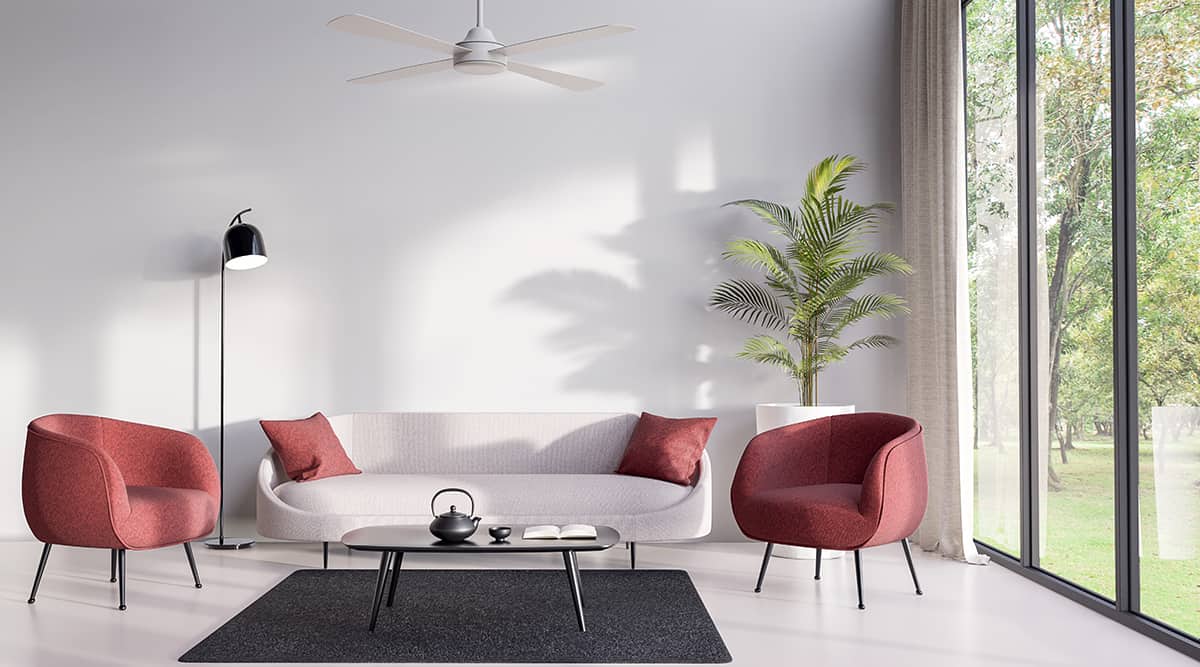 If your light wood floor is pale gray, whitewashed, or has creamy undertones, then a black rug can look very bold and create a modern style. This would be further enhanced with white walls and other black accents such as black curtains and picture frames.
A monochromatic look can be minimal and contemporary or stylish and luxurious, depending on the types of textures you choose. A black rug is great in terms of practicality because it doesn't show dirt, and therefore won't suffer from stains or other marks.
Black rugs help to ground a space while still allowing the room to feel large and open because of the pale-colored flooring visible around the edge of a room. The stark contrast between a light wood floor and a black rug can help to visually define a space while also adding elegance and depth.
If an entirely black rug sounds too intense for you, you could choose a patterned rug with black as the background and other colors as details, or choose a dark shade of gray such as charcoal, which won't feel quite as harsh as black.
Gray
If black can be a great choice for the light-colored wooden floor, gray is another perfect option. With a lighter tone than black, depending on the shades of gray you choose, a more black tone gray color can contrast lightly with the light floor; meanwhile, a white-inclined gray color will blend well with the light-colored floors.
If you don't like the contrasting rug color and the wood floor, here are some of the light rug colors that match light wood well.
White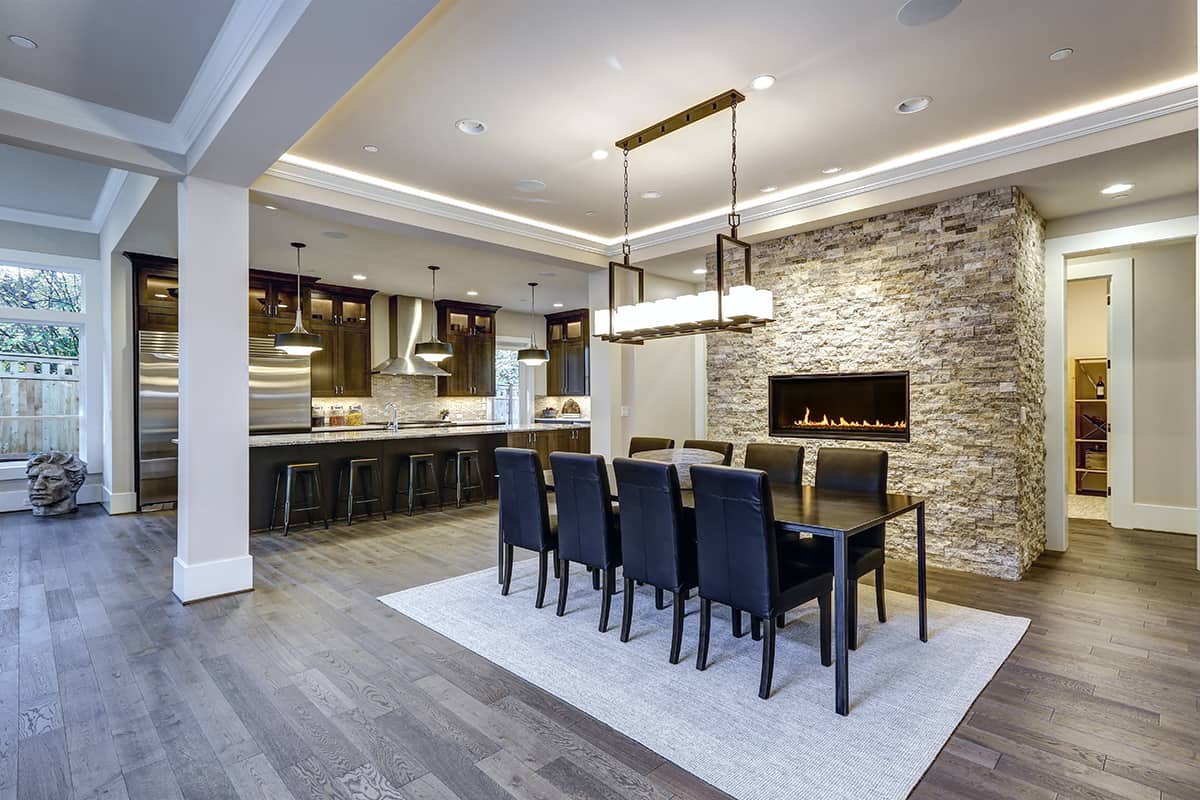 An always safe color to go with light wooden floors is white. As said, one of the downsides is it is easy to get dirty; so be sure to get it clean often. If you worry that your rug might get stained over time, don't get an all-white rug; choose a patterned white rug or white-black, white-gray rugs instead.
Beige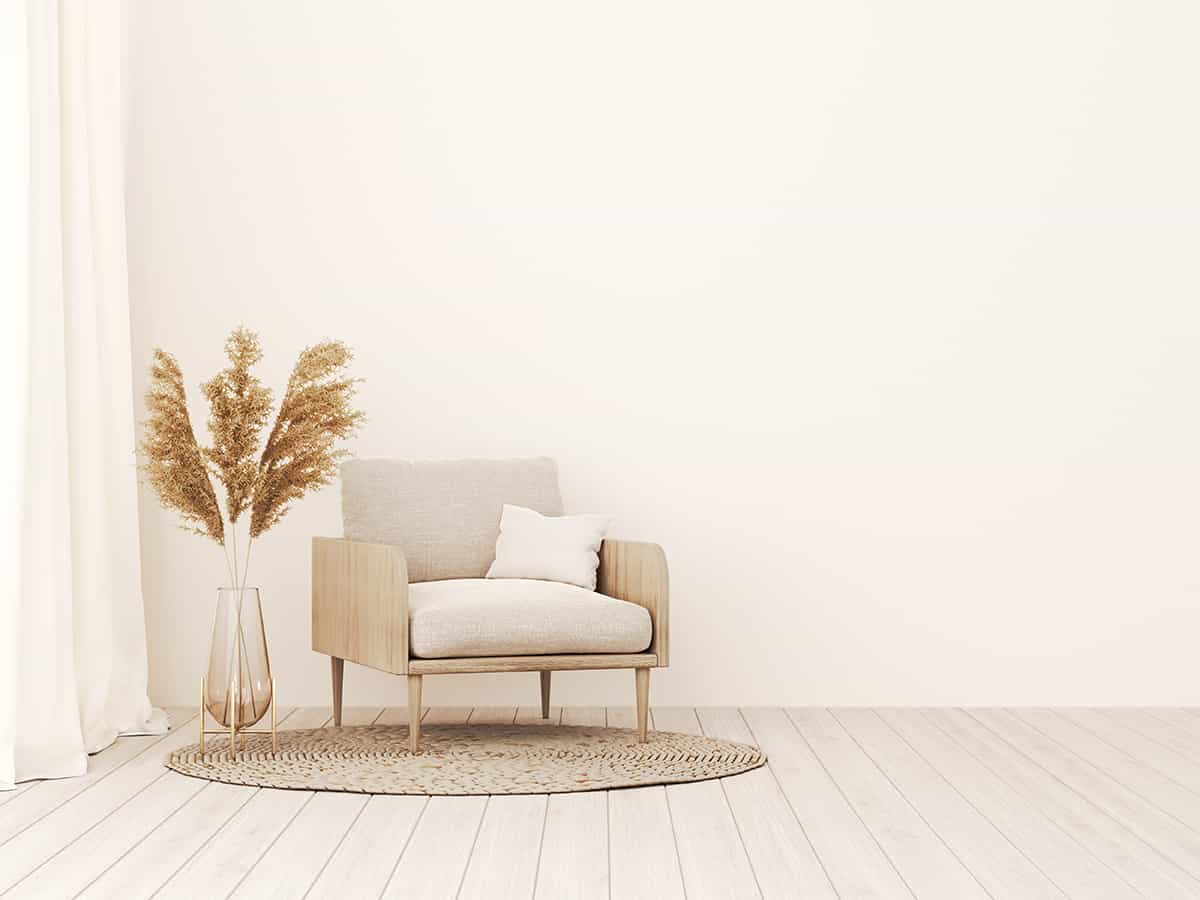 As a neutral color, beige goes greatly with light wooden floors. It blends well with the beige or light gray wooden color of the floors, creating a chilling and comfortable atmosphere for the room.