Without a doubt, a rug is an essential element in the home décor playbook. Rugs serve many purposes, including drawing the eye to a specific section of a room, protecting your floors, cushioning your footsteps, or providing a cozy place to sit or lounge. Choosing a new rug can be a daunting task, though.
The sheer number of materials, styles, and designs can leave you confused. It also helps to keep in mind the different carpeting needs for each room in your house. This handy guide tries to clear the air and make finding the right type of rug a little easier.
Choosing the Right Rug Material
Rugs can be made with various natural and synthetic materials, and each has its pros and cons. Some withstand wear-and-tear better than others or feel more comfortable, or are more sustainable and ethical. The material you choose ultimately boils down to personal preference (and budget, of course).
Common materials used to produce rugs are wool, silk, cotton, natural grass, animal hides, and synthetic threads. Let's take a closer look at each one.
Wool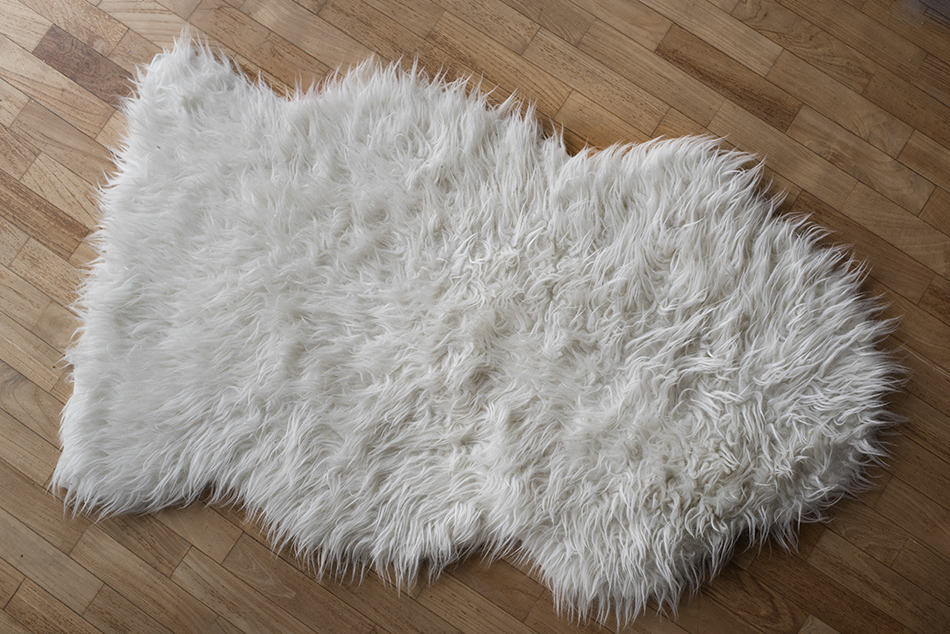 Wool is one of the most popular carpeting materials, and rugs made from wool are desired for their ability to bring a sense of warmth and homely comfort to a room.
Wool also ticks eco-friendly and sustainability boxes because it is harvested from sheep during the summer and naturally grows back year after year. New Zealand and Australia produce some of the finest wool, which is used to create high-quality rugs.
Rugs made from wool are durable and can last up to 60 years, depending on how they are made. The fibers are remarkably resilient, retaining their shape when they are pulled or stretched.
Plus, they are stain and water-resistant, thanks to the natural lanolin that coats the surface of the strands. Additionally, wool's fire-resistant properties make it safe to use in homes. Overall, a wool rug is an excellent floor covering that not only beautifies a room but is soft to walk and sit on.
Silk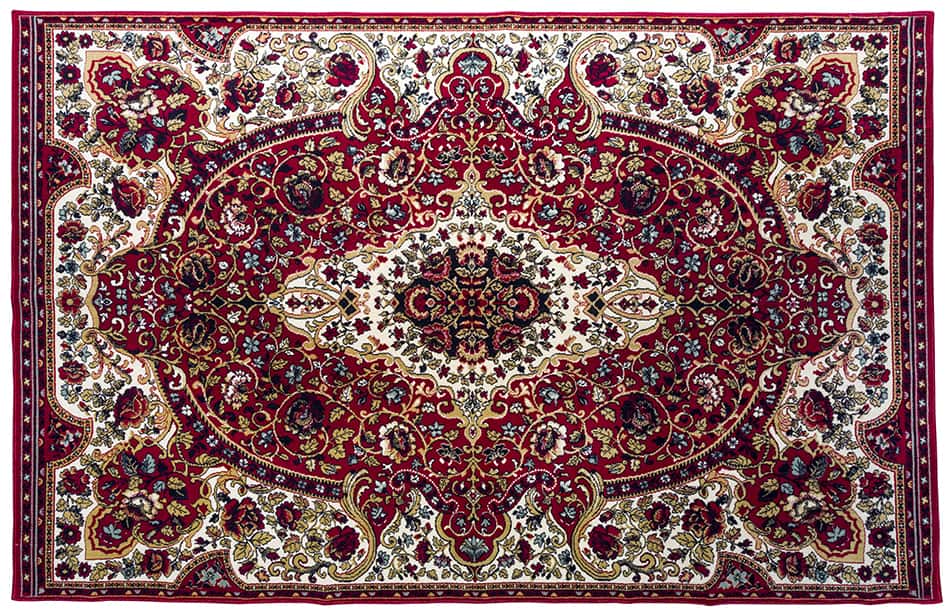 Some of the most luxurious carpets, such as Persian and Oriental rugs, are made from silk. Silk's smooth texture and beautiful luster make it ideal for making rugs that are works of art and stunning decorative pieces.
Lower in density than wool, silk rugs require more knots per square inch and take longer to complete. Silk rugs are known for showcasing intricate patterns, and since the natural fiber holds dye well, its colors fade beautifully as the rug ages.
As beautiful as silk rugs can be, they are also incredibly delicate and can quickly lose their shape if mishandled or poorly stored. If you're shopping around for a carpet, it will come as no surprise that those made from silk are significant investments with hefty price tags.
They also require specialized professional cleaning and maintenance, which adds to the cost. It's best to keep a silk rug in your private study or as a statement piece displayed on a wall as it is not suited for areas with high foot traffic.
Cotton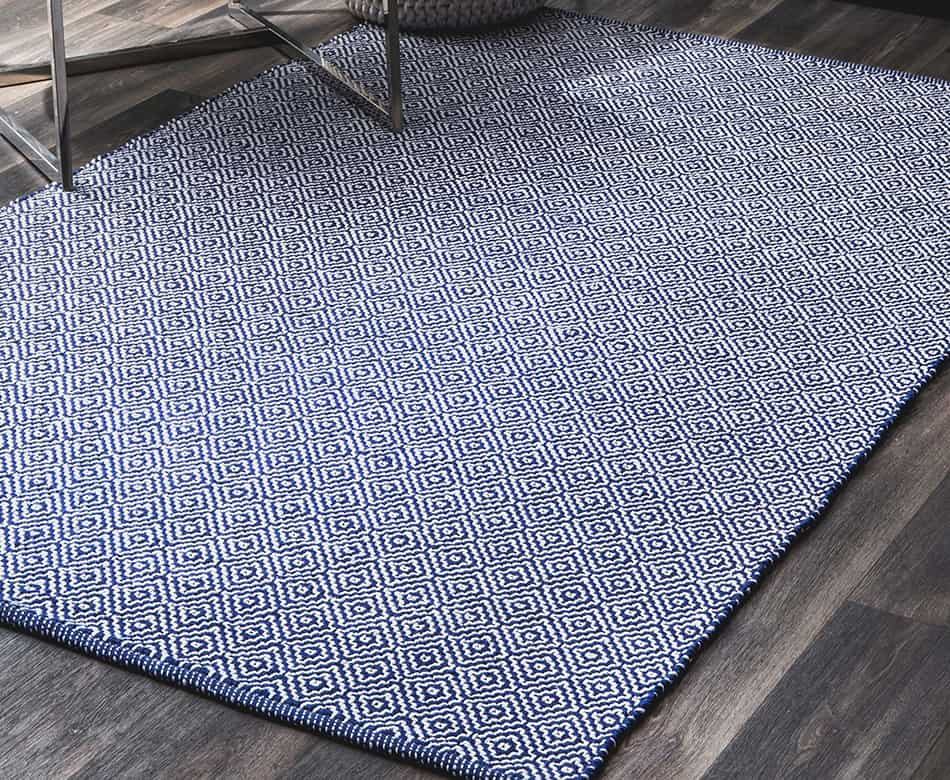 Cotton rugs are great in kitchens, bedrooms, dining rooms, and hallways. They are among the most versatile type of rug, coming in countless variations, weaves, colors, and designs. As one of the most affordable rug types to buy, they make it easy for you to instantly change the appearance of any room without breaking the bank.
Cotton rugs are also a practical option if you're looking for low-maintenance and easy-to-clean carpeting. All they need is regular vacuuming, and they are machine washable, too, so stains are a cinch to remove. Depending on how well you take care of it, you can expect your cotton rug to last for a few years; however, it will show wear and tear much sooner than a rug made with a more resilient material such as wool.
Natural Grasses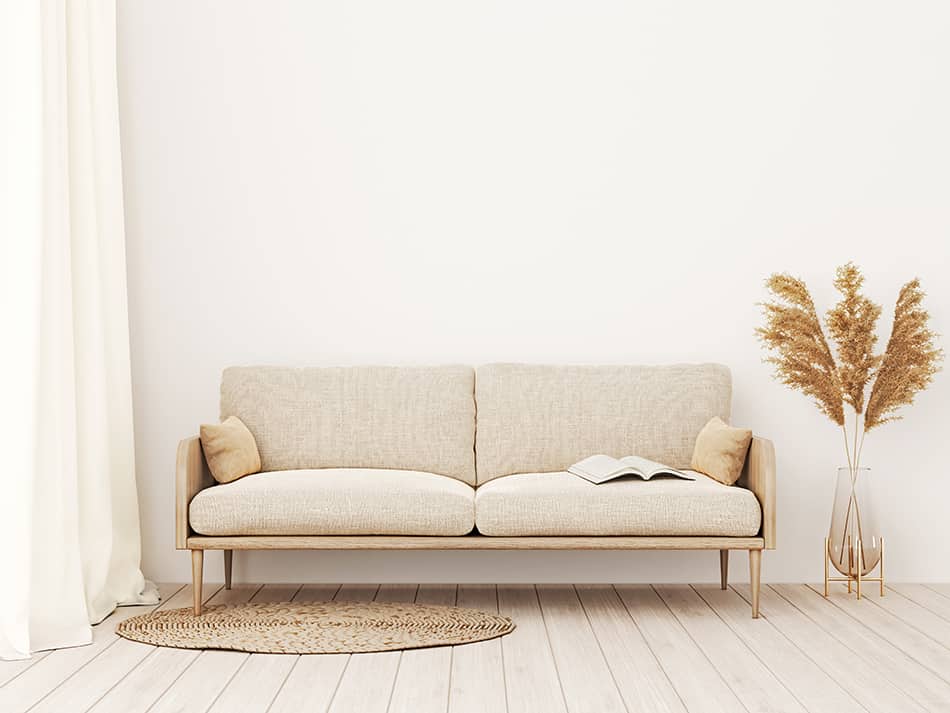 Grass rugs are eco-friendly, sustainable, and made with fast-growing plant fibers. Popular options are jute, bamboo, sisal, hemp, and seagrass. Loved for their warm, neutral look, grass rugs lend a rustic, casual style to rooms. Depending on the design, they can work well in any room with heavy foot traffic, but they shine when used on outdoor porches and patios.
They are also among the simplest rug type to clean and only need to be shaken out or lightly vacuumed to remove dust and dirt. You'll need to be quick with blotting liquid spills, though, to avoid permanent staining as the material tends to absorb spills. A downside of grass rugs is that they can be rough and offer little cushioning, so they are not ideal for sitting on for long periods.
Animal Hides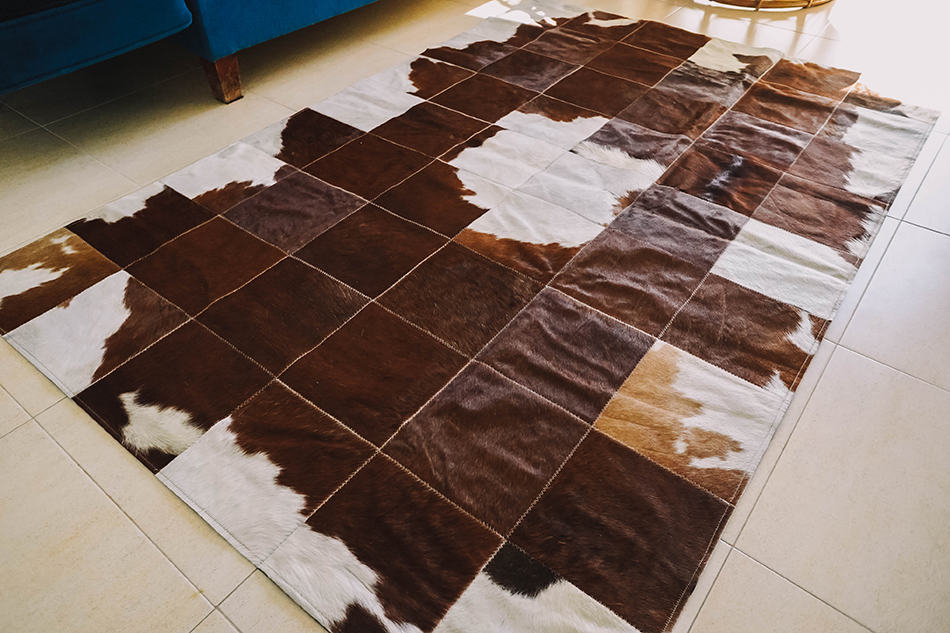 Animal hides like sheepskin or cowhide are a natural material that is a by-product of the food industry. The skins undergo a curing and tanning treatment, like the process used for producing leather, to remove any odor and prevent the hair or fur from shedding. From an ethical perspective, rugs made from animal skin don't appeal to everyone but some may argue that repurposing the skins into rugs is a lesser evil than throwing them away entirely.
Fans of animal hide rugs like the uniqueness of each design, which depends on the breed and natural markings of the animal, so no two are alike. As with those made from wool, rugs made from shaggy animal hides are water-resistant because of their natural oil coating. They are also durable in the same way leather is and can stay in good condition if looked after well.
Luckily, their upkeep is as simple as a regular vacuum and spot-cleaning with a special detergent to remove stains and keep the hide glossy. Animal hide rugs hold up well in areas with high foot traffic, but you may need a large room or ample wall space to show them to their full effect. A cowhide rug is sure to be the talk in any room when displayed in its full size and natural shape.
For people who like the appearance of animal skin rugs, but want a more ethical option, faux hides made with synthetic materials like plastics or nylon may be the solution. The downside is that they don't feel like the real thing and typically won't last as long.
Synthetic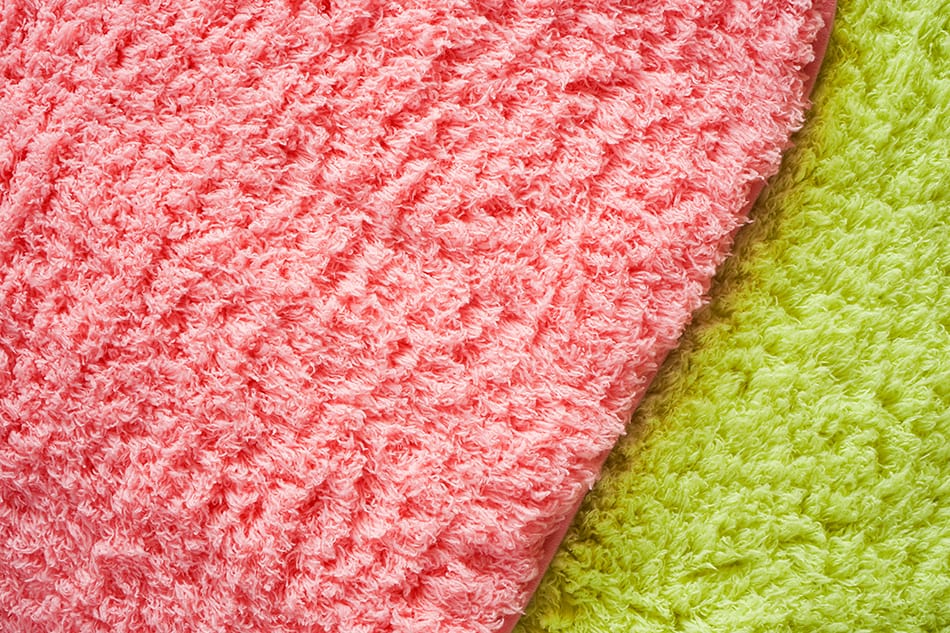 Synthetic rugs are made from artificial fibers but don't think that they feel fake and plasticky. Many synthetic fibers mimic the look and feel of natural materials, and semi-synthetic fibers are produced by extracting cellulose from plants. Common materials used to make synthetic rugs are polypropylene, microfiber, polyester, viscose, and nylon.
Rugs made from synthetic materials don't offer the same resilience and durability as those made from natural materials but make up for that in affordability, the breadth of design variations available, and ease of maintenance. They hold their color well, and some are engineered to be resistant to stains, moisture, and insects.
Choosing a Rug Style
When shopping for a new rug, you may prefer choosing a style as a starting point. Thinking about your home's décor theme or architectural style can help you figure out how you want to finish its look. There are three rug styles – traditional, transitional, and contemporary.
Traditional Style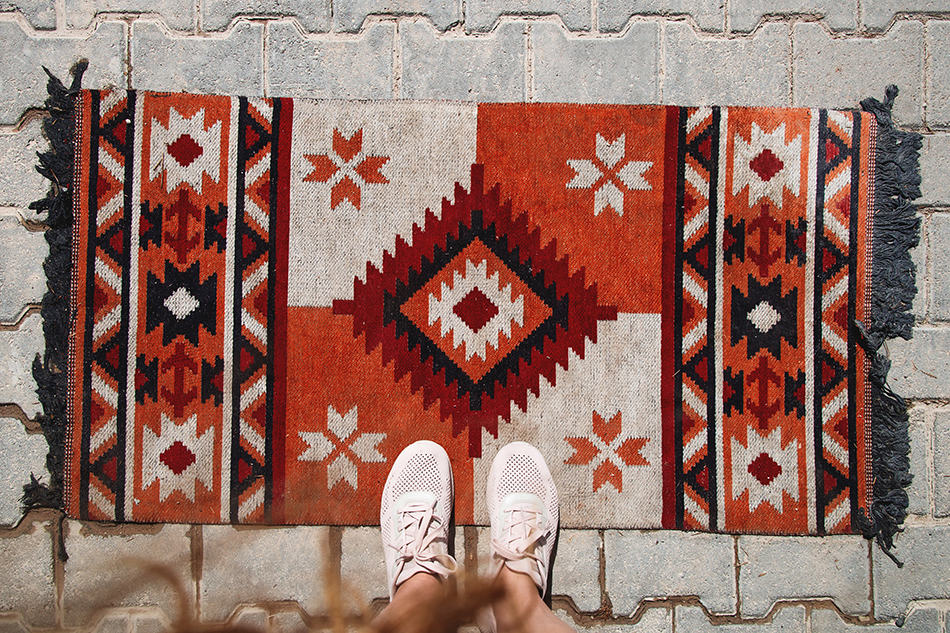 Traditional rugs are made according to time-honored techniques and practices. Many cultures have rug-making traditions, but perhaps the most well-known is Asian and Oriental rugs. These beautiful carpets highlight craftsmanship carried from one generation to the next, and some even feature centuries-old patterns.
A classic Oriental rug design is usually dominated by an intricate floral pattern, bordering and a central medallion, usually a geometric shape like a diamond, hexagon, or octagon.
While they come in various colors, they are often found in classic and muted palettes of deep reds, navy blue, browns, and gold. Authentic Oriental rugs are hand-woven, using premium materials like silk to showcase the beauty of the design. This rug style is generally formal and best paired with classic décor and furnishings.
Other traditional rugs are kilims, originating from Turkey, North Africa, Central Asia, and dhurries from India. These distinctive rugs boast eye-catching and bold tribal patterns in beautiful colors, so they stand out in rooms decorated with minimalist décor. Kilims and dhurries are usually handmade and feature a flat weave.
They are typically made from wool – or wool and cotton blend – then colored with natural dyes. They are a great alternative if you don't have an Oriental rug budget but still want a high-quality traditional rug.
Transitional Style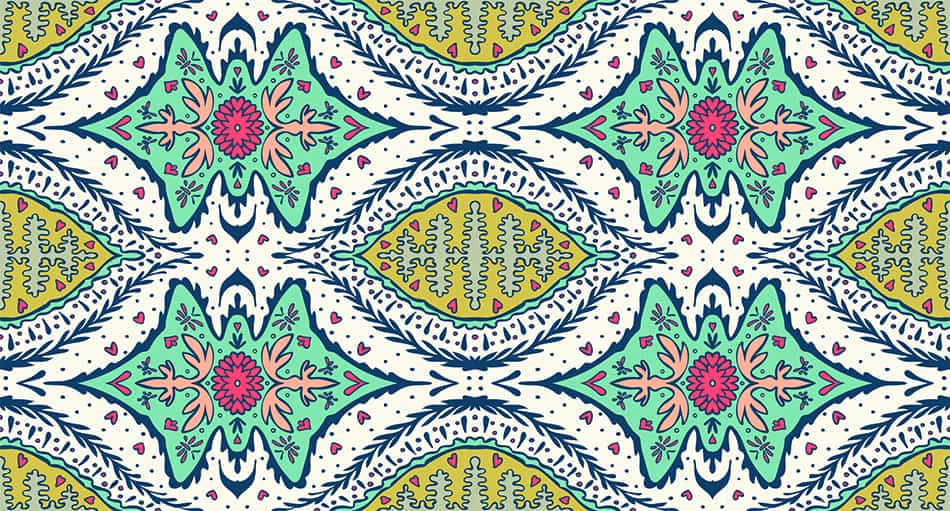 Transitional rugs lie somewhere in between traditional and contemporary styles and offer the best of both worlds. Carpet-makers achieve a harmonious old-meets-new balance by featuring the floral or medallion motifs found in traditional rugs but using the bright or atypical colors closely associated with contemporary styles.
The reverse also applies – the muted tones used on traditional rugs are combined with bold geometric patterns to achieve the look. Transitional rugs have been very trendy in recent years due to their versatility. They are not as formal as traditional rugs and won't look out of place in any room in your house since they feature one or more style elements that will always be in fashion.
Transitional styles can also help bring together a room where classic furniture clashes with modern pieces and can soften overly modern rooms, whose minimalist designs and angular lines come across as too cold.
Ikat rugs are an excellent example of the transitional rug style. Originating from East Asia (mainly Indonesia) and South American cultures, Ikat refers to a unique technique for dyeing the threads used to make the rug that works similarly to tie-dyeing. When woven together, the threads create a blurred and jagged design, with swathes of bold color.
The technique for producing Ikat rugs is centuries-old, so they can be considered a traditional style. However, rug designs that feature bright and vibrant colors or a distressed look and abstract patterning would fit perfectly in any modern space.
Contemporary Style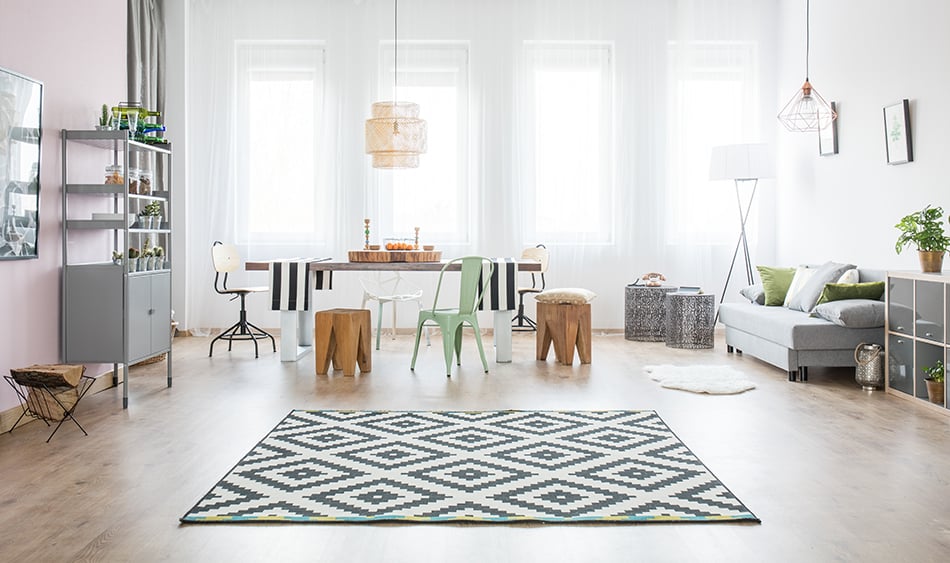 With contemporary rug styles, the elements found in the modern architectural design stand out. Contemporary rugs favor bold graphics, geometric and abstract patterns, and stark, contrasting colors instead of the highly detailed patterns found in traditional carpets.
There is almost no limit to the shapes, colors, and designs used in modern rug designs meaning that every homeowner can find one that suits their taste.
They work well in casual rooms with laidback décor and can be made with a broad range of natural and synthetic materials, making them affordable and accessible. However, depending on how you intend to use the rug, you should pay careful attention to the quality of its construction.
Choosing a Rug Based on How It's Made
In the past, carpets were primarily handmade by highly skilled artisans, using time-honored knotting, tufting, and weaving techniques.
As rugs became more fashionable and widely available, larger-scale production with machines became necessary to meet demand. Handmade carpets never really went out of style, though, and are still highly sought-after.
Hand-knotted Rugs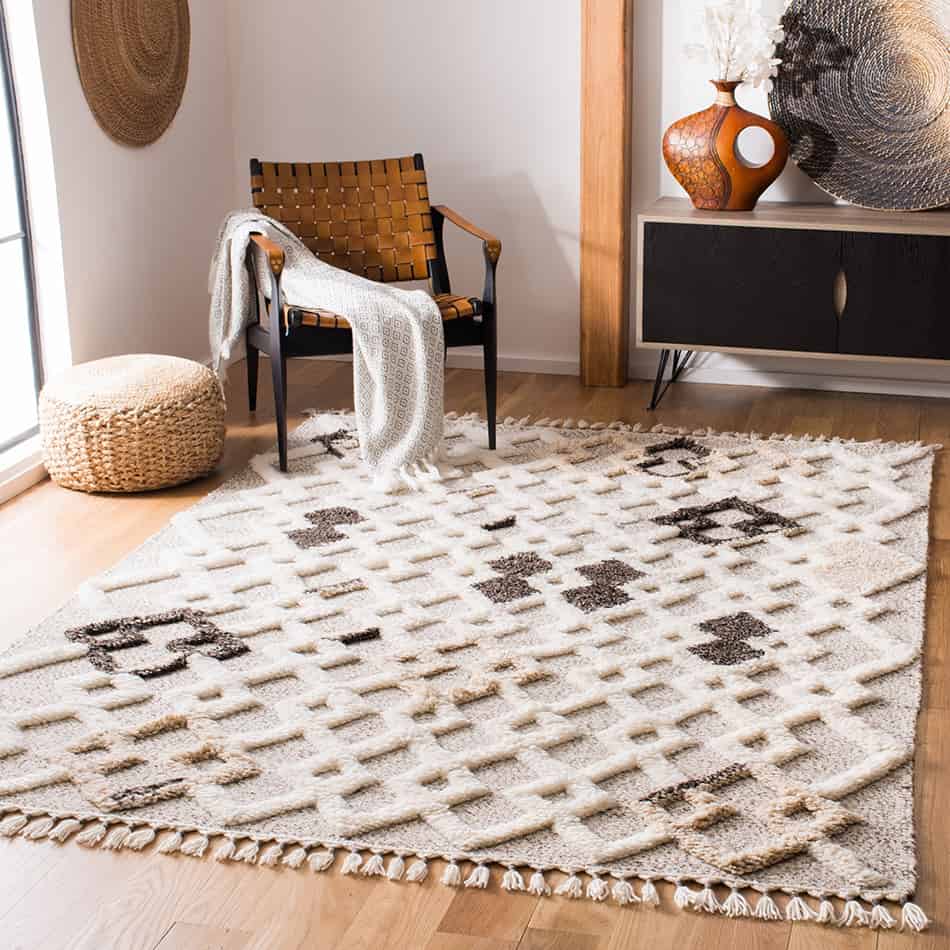 Hand-knotting is the slowest and most expensive way to make a rug. It's one of the oldest methods of making a rug and dates back over 2000 years. Making a rug using this technique can take anything from a few months to a few years. Hand-knotting requires a specially designed machine called a loom.
The production process involves tying vertical threads, or warps, to the loom, then intertwining them with horizontal threads, called wefts. A carpet weaver then takes yarn, threads it around the warp thread, tightens it to create the knot, then cuts off the excess string. The knots make the carpet pile.
Hand-knotting is time-consuming and can sometimes involve weaving intricate designs, which can need as many as 1000 knots per square inch, resulting in well-crafted rugs. Many traditional rugs are made this way with the skill often passing from one generation to the next.
Hand-tufted Rugs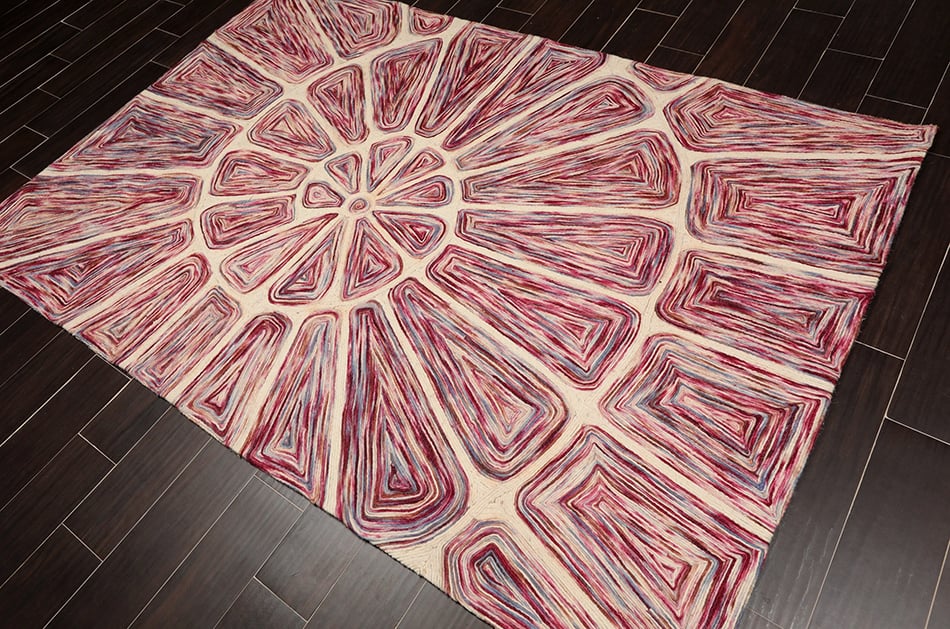 A hand-tufted rug is entirely handmade, but the weaver also uses a device called a tufting gun in the production process. Making hand-tufted rugs takes less time than hand-knotting because there are no knots involved. Instead, the rug's pile is created by looping a thread of yarn through the rug's canvas backing using the tufting gun, then pulling it.
Once a row has been installed, the tops of the loop on the rug's face are cut. The design is printed on the backing and is used by the weaver as a guide. After the design is finished, extra layers are added to the backing to finish it. Hand-tufting is the fastest method for hand-making a rug.
Hand-woven Rugs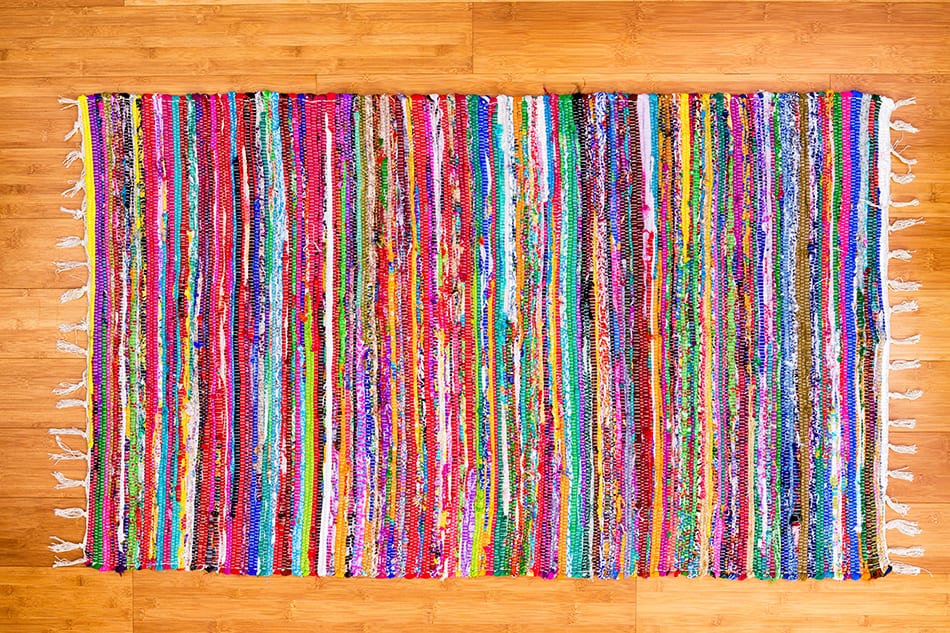 Like hand-knotted rugs, hand-woven ones are also made on a loom, following the same process of interweaving warp and weft threads. However, knots are not formed, so there's no pile, and they lie flat on the ground, which is why they are also referred to as flat-weave rugs.
You can usually see the weave on hand-woven rugs on both sides, so they are conveniently reversible. Flat-weave rugs can also be machine-made.
Machine-made Rugs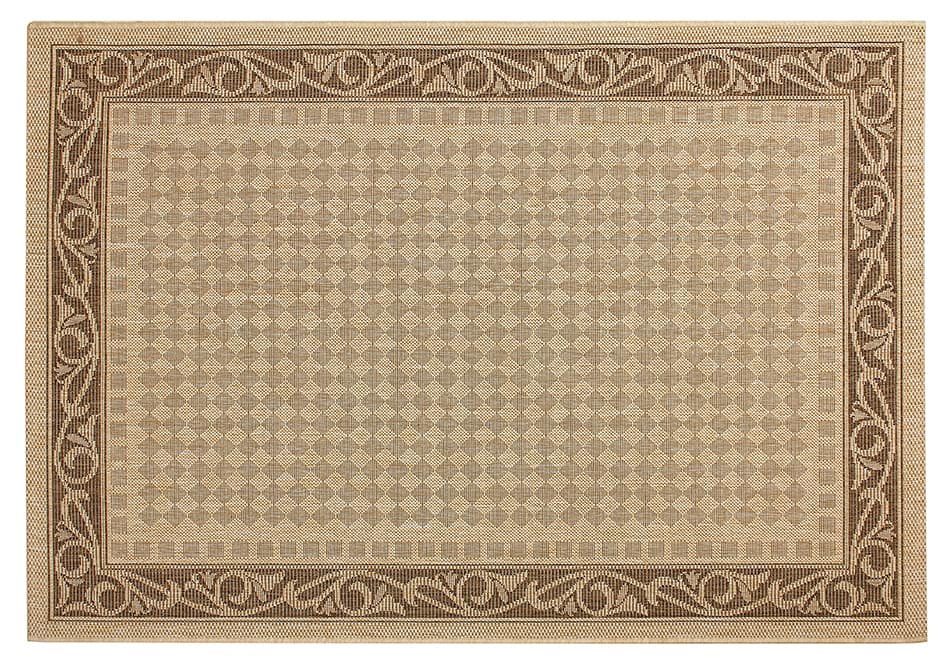 Machine-made rugs are manufactured using enormous power looms, which can churn out hundreds of rugs a day. It's less labor-intensive than hand-making, and the rugs are also less expensive.
The machine-making process mirrors the hand-knotting method but speeds it up significantly. Rugs with or without piling can be made on a power loom.
Hooked Rugs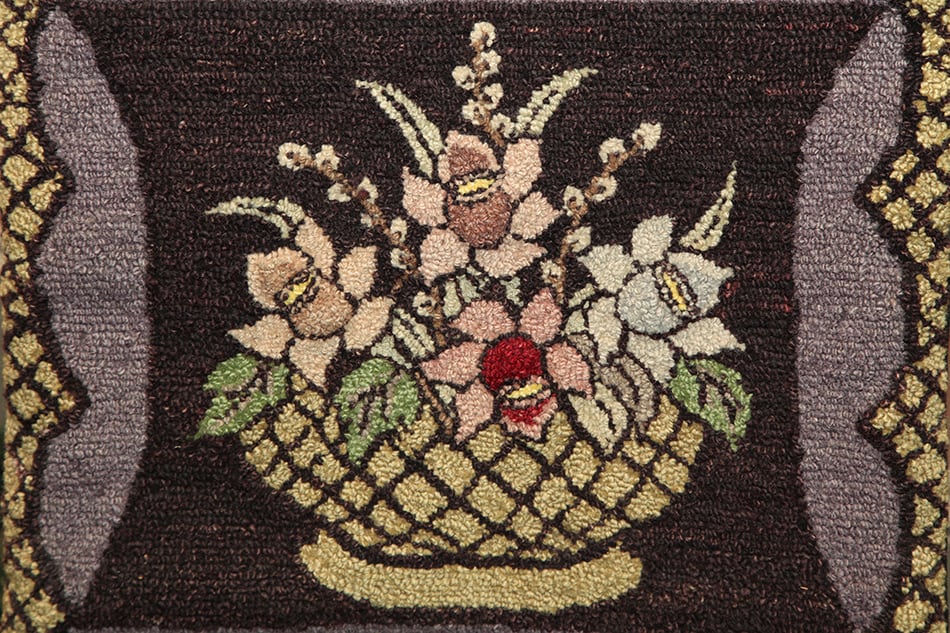 Hooked rugs are like tufted rugs and use the same looping technique. The only difference between the two is that the loops on the face of a hooked rug are kept intact instead of cutting them off to create a flat pile as is done with tufting.
Braided Rugs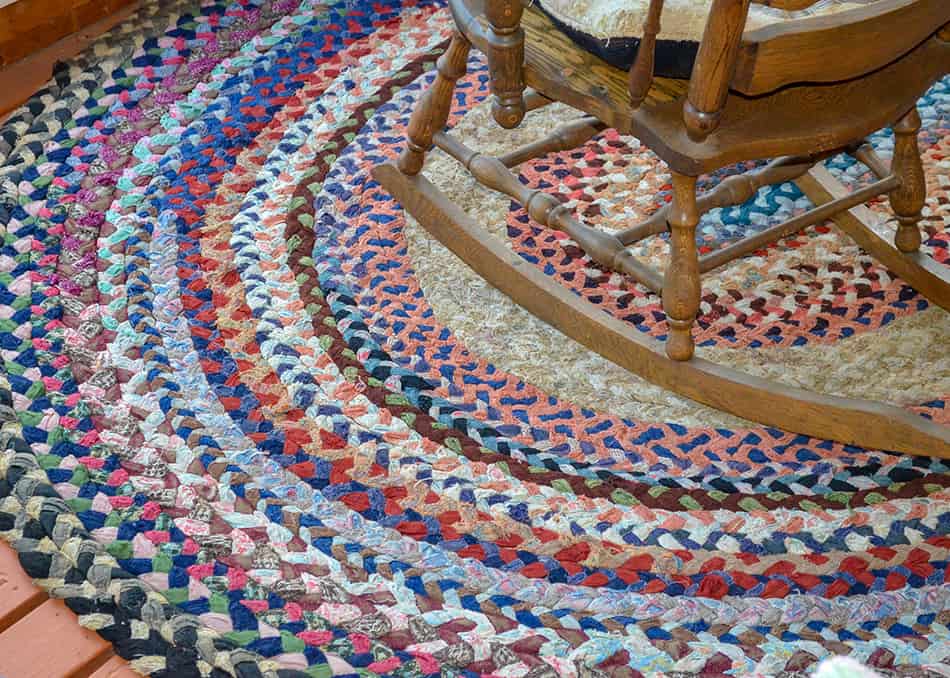 Braided rugs are made by interweaving three strips of material or bunches of thread. It's a relatively straightforward process and one of the quickest methods of producing a carpet. Braided rugs can be hand or machine-made.
Choosing a Rug Based on the Rooms in Your House
When trying to decide on a new rug, it may be helpful – and probably less overwhelming – to think about how each of your home's spaces is used. Are you looking for a rug to soften the sound of footsteps outside your bedrooms? Do you want a carpet for your toddler's room that's comfortable to sit and play on but also safe?
Is your room bare and begging for a statement-making decor item? Answering these questions can help you choose the best type of rug based on how you intend to use it in each room.
Living Room & Bedroom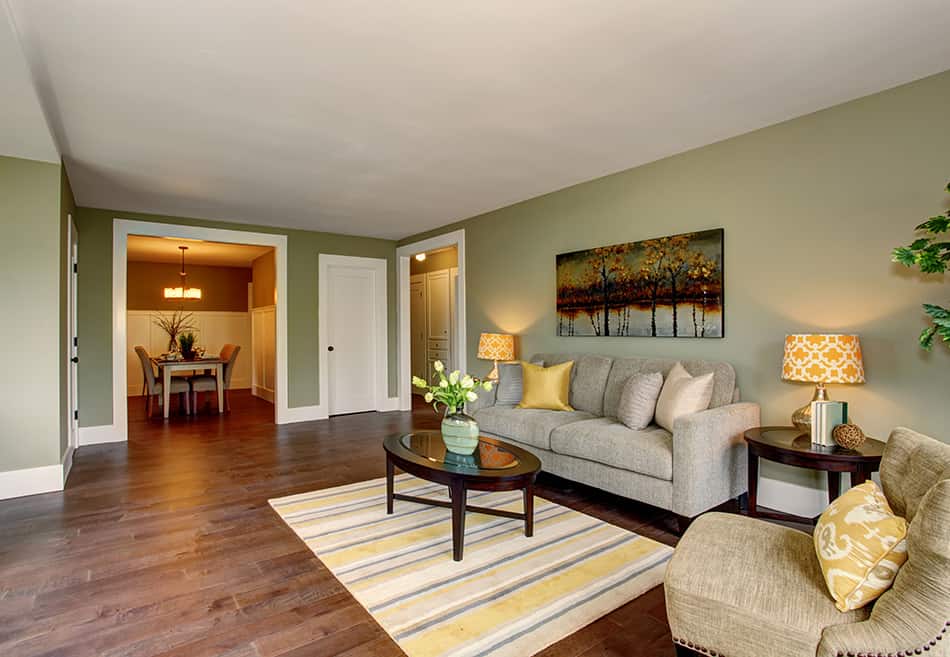 The large size of an area rug makes it a great alternative if you like the idea of having a carpet but don't want the whole floor to be covered. Area rugs can bed placed under a large bed in a bedroom, or living room, especially when placed under key furniture items like a couch, dining table, or bed.
They can also be used to define different zones in a large room and complement its decor. Area rugs can be made with natural and synthetic materials, and the one you choose will depend on whether the room has high or low foot traffic.
Hallways & Stairs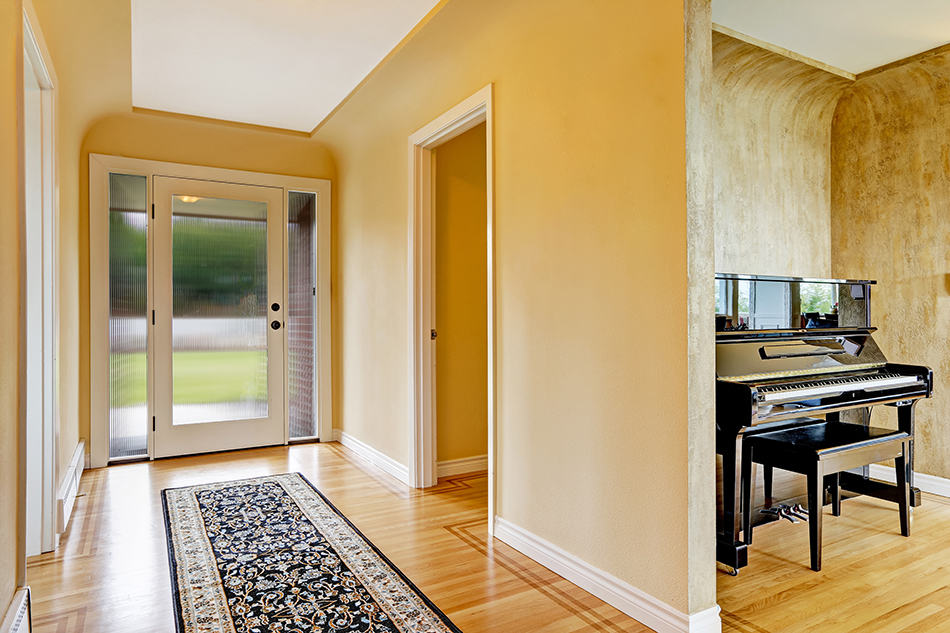 Runners are an easy way to beautify narrow spaces, like hallways and stairs. In small apartments or houses, they can make a cramped space look longer than it is and add instant character to a dull or sparse area, especially if you go for one with an eye-catching design. They're a fantastic way of breaking up an open-plan space and showing where one "room" starts or ends.
Since this type of rug is placed in high-traffic areas, it's important to choose one that can protect the floor it's laid on from dirt and damage while also being comfortable to walk on. Rugs made from materials like wool, cotton, and acrylic are sturdy and durable options.
Outdoor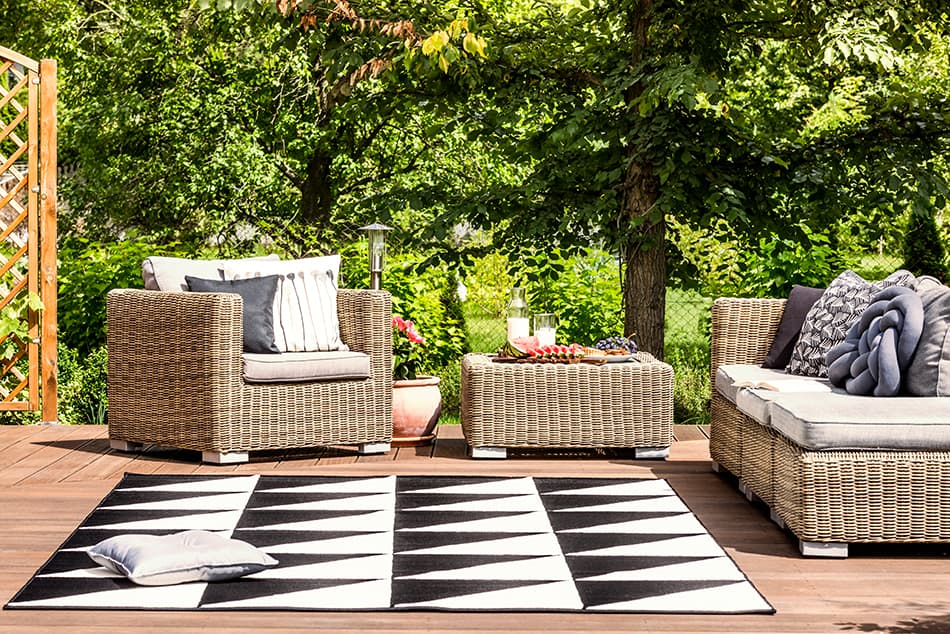 Outdoor rugs need to be resilient and able to withstand the elements. They are mainly used to protect your feet in outside spaces, but they can do much more than this primary function. If you pay careful attention to your style and design choices, your outdoor rug can extend your home's design aesthetic and connect your outdoor and indoor living spaces.
Rugs made with natural grasses are an obvious option, but wool or animal hide rugs can be striking on a patio or deck as their water-resistant properties make them an excellent choice.
Kitchen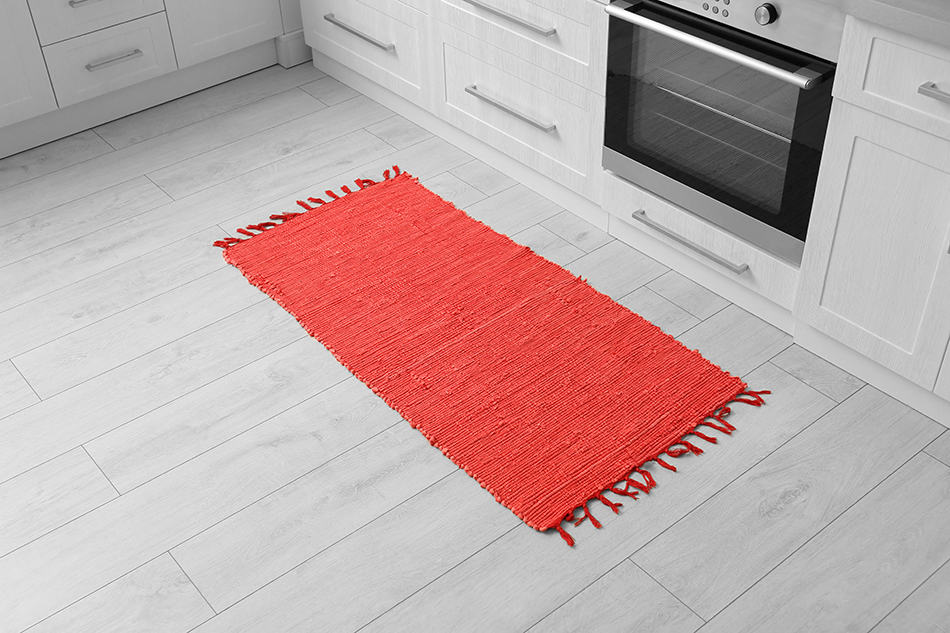 Many modern kitchens are nothing short of decorative masterpieces, but sometimes they lack in the warmth department. Other kitchens are sorely in need of a spruce up, but the redecorating budget is non-existent. Getting a new kitchen rug may be a quick and easy fix to transform a dull, old, or clinical kitchen into a warmer, brighter space or highlight an already beautiful kitchen.
Because of hygiene concerns, you'll want to be able to clean it often, so don't make your life hard by getting a carpet with piling. Opt for one with a flat weave, ideally made with wool, cotton, or synthetic material that can easily be vacuumed or cleaned with a store-bought carpet detergent.
Kid's Room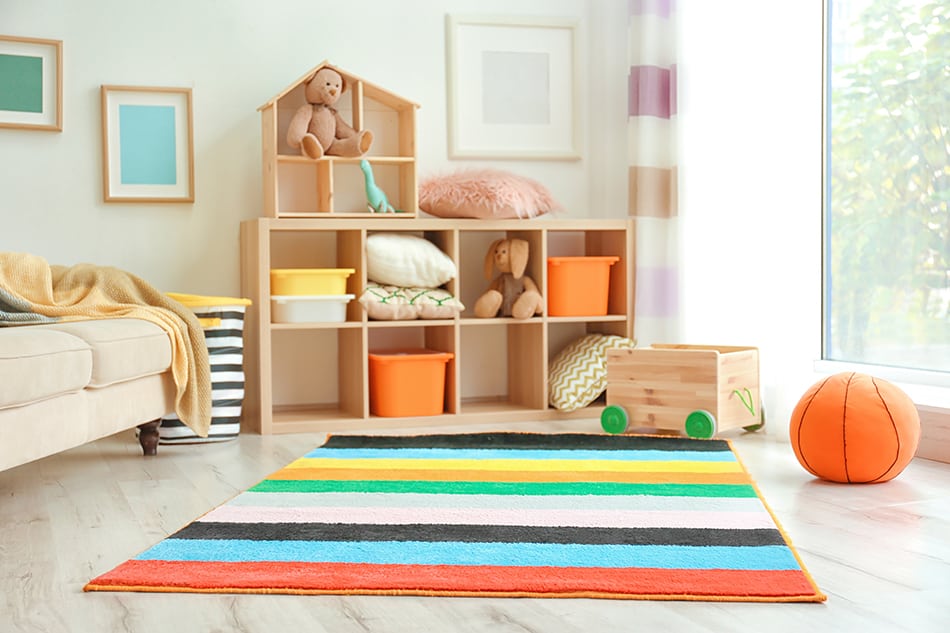 The rug in your child's room has to put up with a lot! Not only will it be walked on, but it will also be crawled, rolled, jumped, and spilled on too. A hard-wearing carpet that's moisture and stain-resistant is a necessity. Safety is also a significant consideration when deciding on a rug for your kid's room.
You'll want one with a low or no pile to limit the chances of tripping, and ideally, one made with fire-resistant material—a low pile or flat-weave rug ticks all the right boxes. A rug made with viscose or nylon would also do the job, but you might need to replace it sooner than wool.
Conclusion
Finding the right rug should be a fun and exciting process, not a drawn-out and complicated one that leaves you feeling defeated. And now, you hopefully have everything you need to make an informed choice to give every room in your home or apartment the carpet it deserves.