Looking for a tranquil, soft color that injects personality into your home without overpowering it? Do you think neutrals are just too bland and bold colors are too bright? For a subtle shade in between, how about periwinkle?
You might be wondering what is periwinkle and is it a suitable color for your interiors? Not everyone's heard of this unique color so it's only natural that you'll want to know more about it. Here we will describe the color, the different shades of periwinkle as well as the complementing colors that go with it.
By the end of the article, you'll be able to determine where and how to use this soft and serene shade in your home.
What is Periwinkle?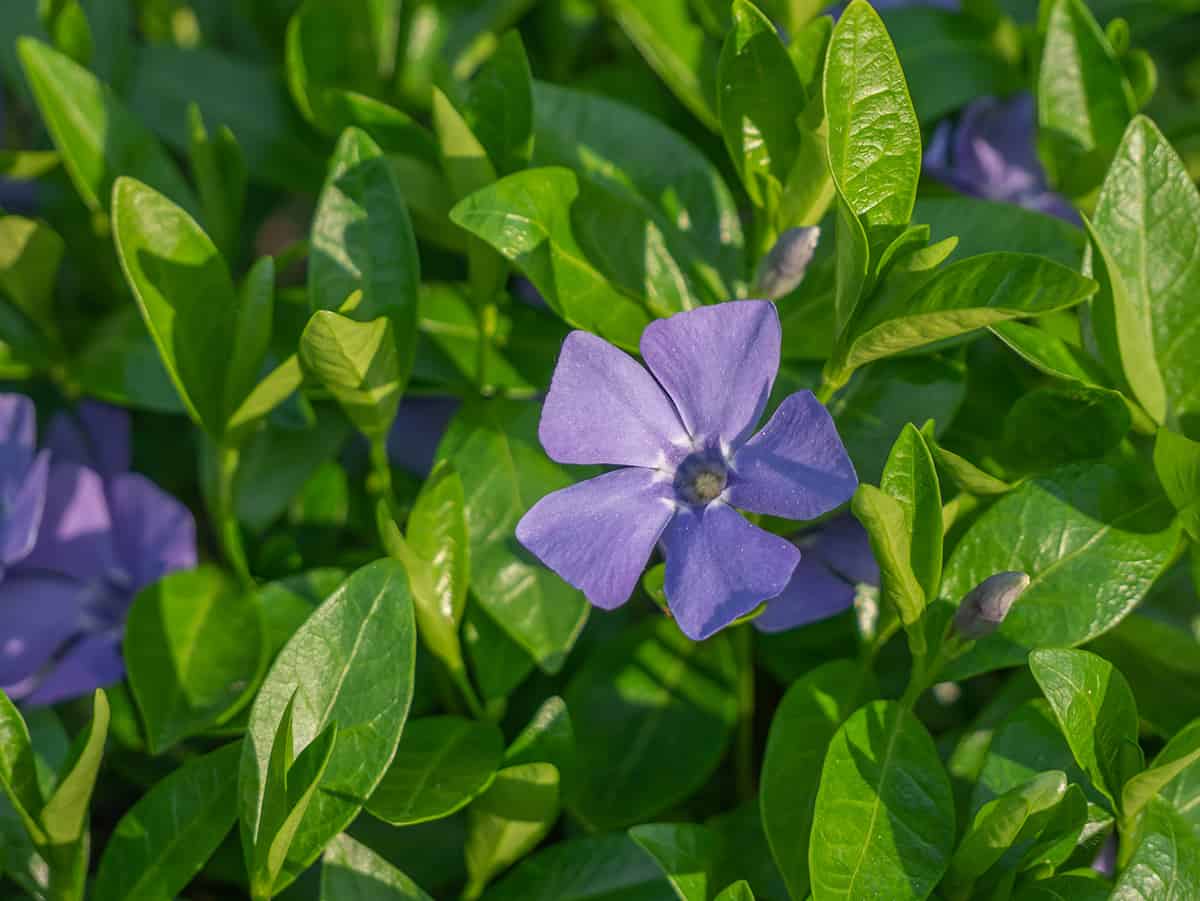 Periwinkle is a light and subtle indigo color that takes its name from a flower of the same name. As a primarily blue color with shades of purple combined, periwinkle sits between the two in the color spectrum. The flower of death has petals in the same color, but it comes with a dark past unlike the periwinkle color itself.
This unique hue is a complementary color when used with bold, vibrant colors like greens and oranges. But it can also work well with neutrals and blues in many types of interior designs.
Quick History of Periwinkle Color
As we mentioned in the last paragraph, the color periwinkle takes its name after a flower. The Romans referred to this flower as Pervinca, which later became known as periwinkle.
The flower features small, starry-shaped blooms in colors ranging from lavender, blue and white. The purple-hued periwinkle was used to symbolize the Virgin Mary in the old English churches until 1922 when it was officially used by interior designers to describe a color.
Shades of Periwinkle
True Periwinkle

Belonging to the blue and violet color family, this is the most common periwinkle, which is a darker version than the rest. True spring colors often remind us of this periwinkle shade, hence most homeowners prefer using it for their bedroom walls and window dressings.
Lavender Blue

As a much lighter shade than true periwinkle, lavender blue is considered a pale tint of purple. This light shade is ideal for formal living room interiors and bathroom tiles due to its calming effect.
Periwinkle Blue

This shade is dominantly blue and very similar to true periwinkle, except it looks more blue than purple. It is most preferred in coastal-themed bedrooms and as furniture color in white-walled living rooms.
Light Lavender

This shade contains less blue and more purple as it's simply a pure light lavender color. It is often seen in bedroom furnishings and bathrooms.
Light Periwinkle

This is a light shade of blue, and in fact the lightest of periwinkle shades with equal parts purple and blue. It is primarily a blue color that is commonly seen in living rooms or dining rooms.
Periwinkle Tint

This shade of periwinkle has subtle hints of green to it, which leans more towards mint green than blue or purple. The color is ideal for bedding and window treatments in the living room.
Periwinkle Grey

This is a dark blue and light grey color scheme that's ideal for bedrooms. It belongs to the color family of Sky Blue pastels.
Dark Periwinkle

This shade is primarily a blue magenta periwinkle color that's bright and dark. As a wall color, it creates a perfect backdrop to brighter color furniture without overpowering them. The shade looks almost indigo as it contains more violet color than any other periwinkle hue.
Periwinkle Powder

This is a soft version of blue periwinkle color that goes very well with other soft hues. Ideal for rustic style interiors or children's bedrooms, this truly unique blue periwinkle color is often seen as wall paint color or window treatments.
Periwinkle Color Psychology
Periwinkle is a type of color that evokes a sense of peace and serenity. This indigo-blue color symbolizes friendship, true love and loving memories. When you use periwinkle in your home, it can make the interiors feel clean and fresh. In fact, you'll often come across this color in doctors' offices because of the calming effect of the green-blue-purple hues of periwinkle.
Since periwinkle is a soft color, you can use it abundantly throughout your interiors. That said, the color is vibrant enough to stand out against a neutral or contrasting wall color. In fact, this is a perfect shade for any style room. Specifically, master bedrooms, nurseries and living rooms will look stunning with any shade of periwinkle for their furnishings or walls.
What Paint Colors Do You Mix to Make Periwinkle?
To make periwinkle, you must first create a pink base using white and red paint. Add a little light blue to create lavender. If you wish to darken the shade to get a violet hue, just add more blue to the mix. However, be sure not to add too much blue as your periwinkle will end up sapphire blue or eggplant color. The best practice is to mix the colors very slowly and only add blue a little at a time.
What Colors Complement Periwinkle?
To make periwinkle, you must first create a pink base using white and red paint. Add a little light blue to create lavender. If you wish to darken the shade to get a violet hue, just add more blue to the mix. However, be sure not to add too much blue as your periwinkle will end up sapphire blue or eggplant color. The best practice is to mix the colors very slowly and only add blue a little at a time.
Since periwinkle is a color between blue and purple, it's best used in conjunction with neutral and primary tones. The subtle hues of this color make it perfect in both formal and informal interiors, plus it can be used in large quantities.
So whether you want to paint your walls in periwinkle as the focal point in your room or furnish your bed with periwinkle bedding, you are sure to inject some personality into your interior.
Because periwinkle is a combination of purple and blue hues, it goes with a variety of color schemes so you won't need to worry about your violet-blue walls or furnishings clashing with other colors. Now let's take a look at the best complementing colors to pair with periwinkle:
Navy
Periwinkle is a nice color that naturally goes with navy since it's a dark blue hue and in the same color spectrum. When navy is paired with periwinkle, the latter will soften the boldness of the dark blue, but it can also bring out the light blue hues of periwinkle. If you want to create a sophisticated interior, consider using navy and light periwinkle as the perfect color match.
Salmon
This popular shade of pink goes well with most periwinkle shades because of its soft, muted appearance. In fact, a periwinkle tint or grey is just what the salmon color needs to enhance the beauty of the interior.
Sage Green
Another match made in interior design heaven is sage green with periwinkle. Any shade of periwinkle goes well with sage green, but the ones that are closer to green work especially well as a natural look. Soft periwinkle and a vivid shade of green like sage certainly make a dynamic duo!
Mint Green
As a less bright alternative to sage, mint green can be paired with periwinkle as a complementary color. The two provide a relaxing contrast and look cohesive in a living room or bedroom.
Yellow
In general, any warm tone like yellow will work well with a cool periwinkle shade. Shades of yellows, such as lemon, mustard, gold or banana complement periwinkle beautifully without taking the spotlight away from this blue-violet color or clashing with it.
White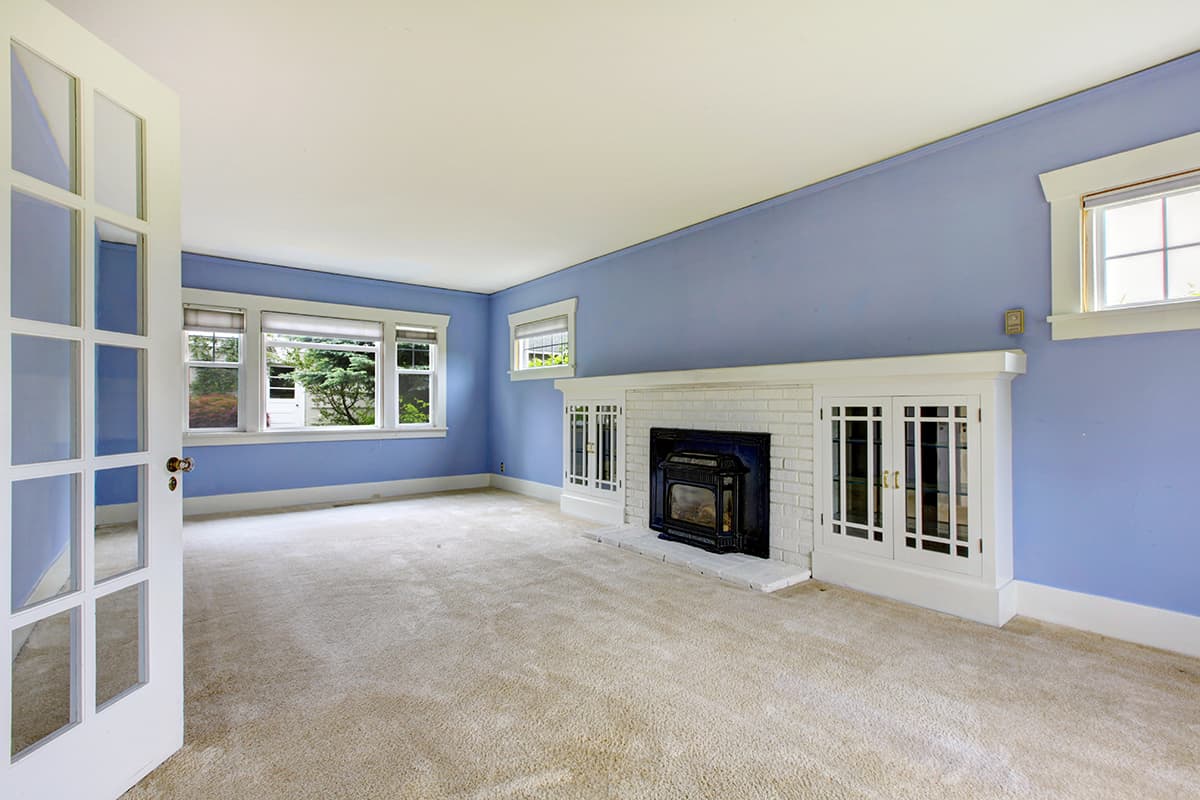 A pure and neutral white color matches perfectly with periwinkle. If you have a periwinkle wall, you can add the white tones in the ceilings, trims, floors, sofas, fireplace, etc. – this will create a cozy and soothing atmosphere for the space.
Grey or Silver
Grey or silver are neutrals that work perfectly with periwinkle grey. Since both grey and periwinkle are cool colors, they can be fun to work within an industrial style or minimalist interior. You may even use periwinkle as an accent wall color next to your grey interior decor.
Wooden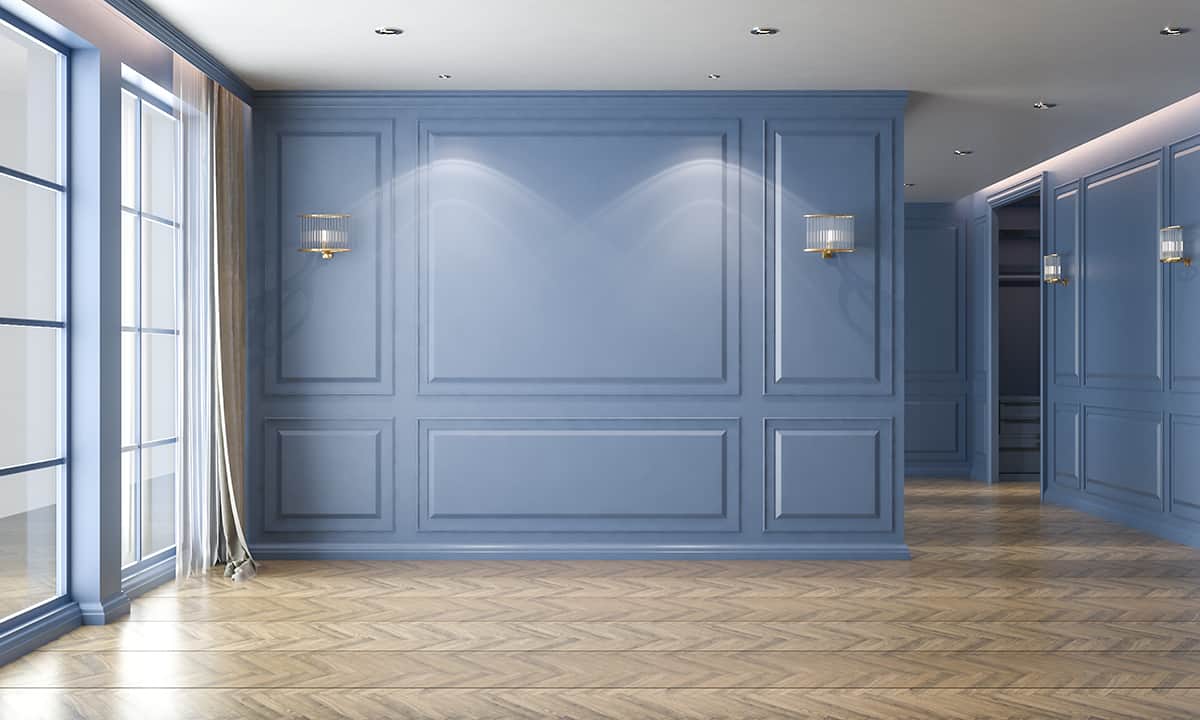 As the color of nature from a periwinkle flower, this color will go well with wood paneling and any wooden and tree materials. You will never go wrong using some light shades of wood on the floors or the walls to pair with the periwinkle color in the room.
Periwinkle Vs. Lavender, what is the Difference?
The main difference between periwinkle and lavender lies in their base color. Periwinkle is bluish purple with a blend of dark blue and red, while lavender is purely purple. Most people often mistake periwinkle for lavender, but the two shades are not the same.
In Closing
Periwinkle isn't quite blue nor purple. As a toned-down version of lavender, this stunning shade of violet-blue has a calming effect that's ideal for bedroom interiors and nurseries.
The soft indigo hue of periwinkle can easily be more purple or blue depending on your preference, thanks to the versatility of its base colors.
In fact, periwinkle is such a subtle color that it can be used in large quantities in any style room. At the same time, it is bold enough to stand out against a neutral or contrasting backdrop. Since it has an amazingly tranquil effect, it makes an excellent choice for living rooms, bedrooms, or just anywhere in a home.