Purple is an interesting color because it can have vastly different effects on a person's feelings and emotions depending on the specific shade of purple used. Pastel shades of purple such as lilac and lavender have a distinctly feminine, relaxing feel, which makes them ideal colors to use in bedrooms and areas which you want to provide a calming retreat.
Conversely, some deep and dark shades of purple can elicit feelings of negativity, so these need to be used carefully alongside complementary colors, which can balance out the sadness in purple. Bright purple has long been associated with nobility, which makes it a good color choice for luxurious interior design themes.
Though purple can be a tricky color to work with, there is an abundance of colors that go well with purple, so it is a reasonably popular color in both fashion and interiors. Here we take a closer look at colors that go with purple and how to make them work in particular interior settings.
Pink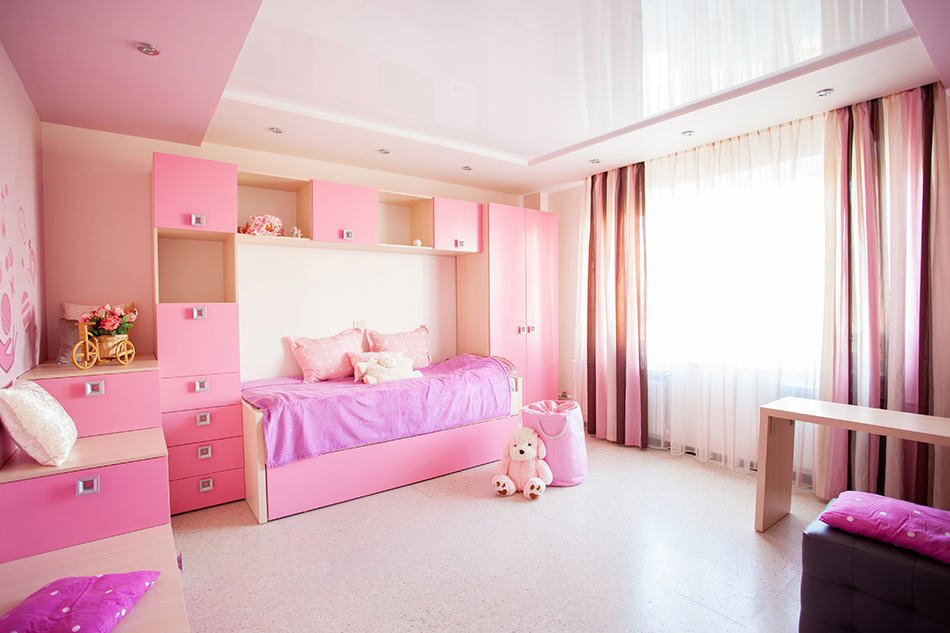 Pink and purple may initially seem like a color combo that you would ordinarily see in a young girl's journal, but actually, when done correctly, it can look stylish and glamorous. Pair a deep shade of eggplant with a pale dusky pink to achieve an intimate and sophisticated style that works particularly well in bedrooms and dining rooms.
These two colors work well together to create a seductive yet glamorous vibe, especially when eggplant is used as the dominant color, for example, on the walls, and pale pink is used as an accent color. Be sure to use a rich and heavily pigmented shade of eggplant to create a strong contrast against the pale pink, and select sensory fabrics which are a pleasure to touch. The pretty playfulness of pink helps to balance out the moodiness of eggplant.
Yellow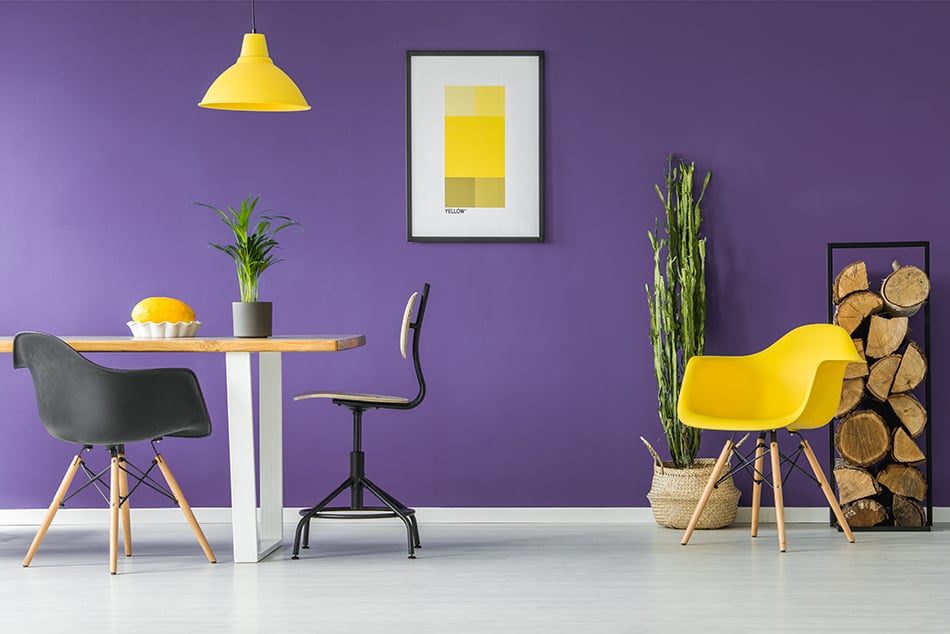 Yellow and purple balance each other out perfectly, so they're a great choice in both fashion and interior design. If you want a royal look, then pair a deep shade of purple with rich mustard yellow. These two colors together look regal and stylish, a vibe that can be further emphasized by using sumptuous and heavy textures such as velvet and even corduroy. For a more playful and feminine feel, use a pale pastel yellow with lilac.
These two sweet shades would be ideal for a nursery or child's bedroom if you want it to be cute and delicate. Embrace petite floral patterns or checked prints in both of these pastel shades. To tone down the contrast between yellow and purple, you can add in a third neutral color, such as magnolia or white, though these are two colors that can successfully be used as a duo.
Blue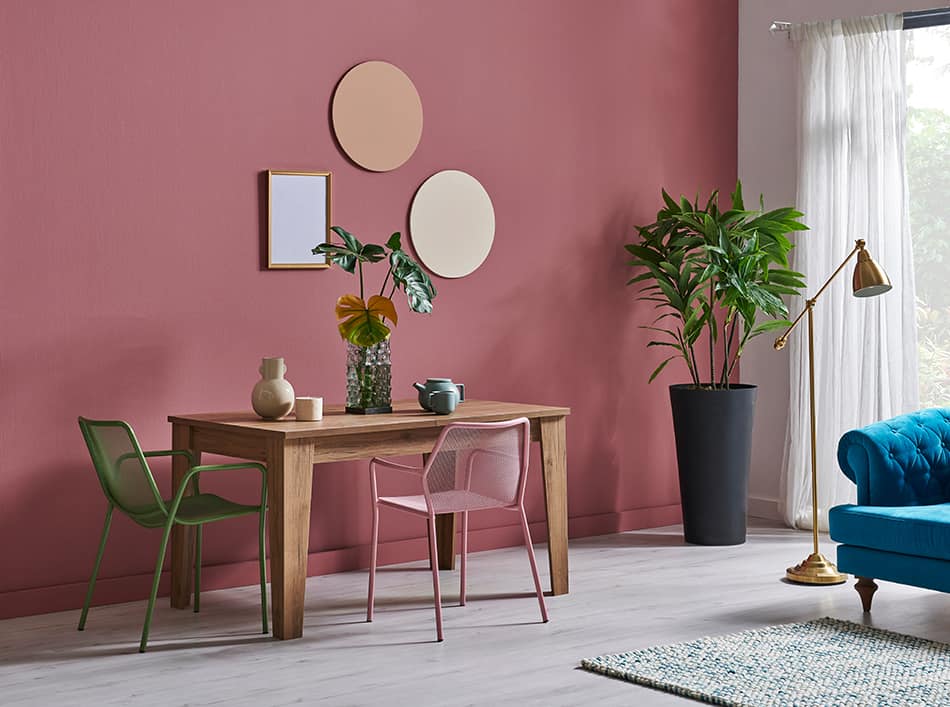 There are so many shades of blue that work with purple. It's almost hard to go wrong when using these two colors together in interior design. Starting with the darkest blues, navy blue looks elegant next to a dark purple shade when offset by a further pale color, such as pastel pink or a very light gray.
Royal blue also looks good with purple, but in this instance, choose a paler shade of purple so that the colors are not competing too heavily for attention. You could paint a room in a pale dusty purple shade with a hint of gray in it and add accessories in bright pops of royal blue. Baby blue or a pale cornflower blue looks good alongside a bright medium shade of purple and helps to balance it out by adding a feeling of calm and serenity.
Green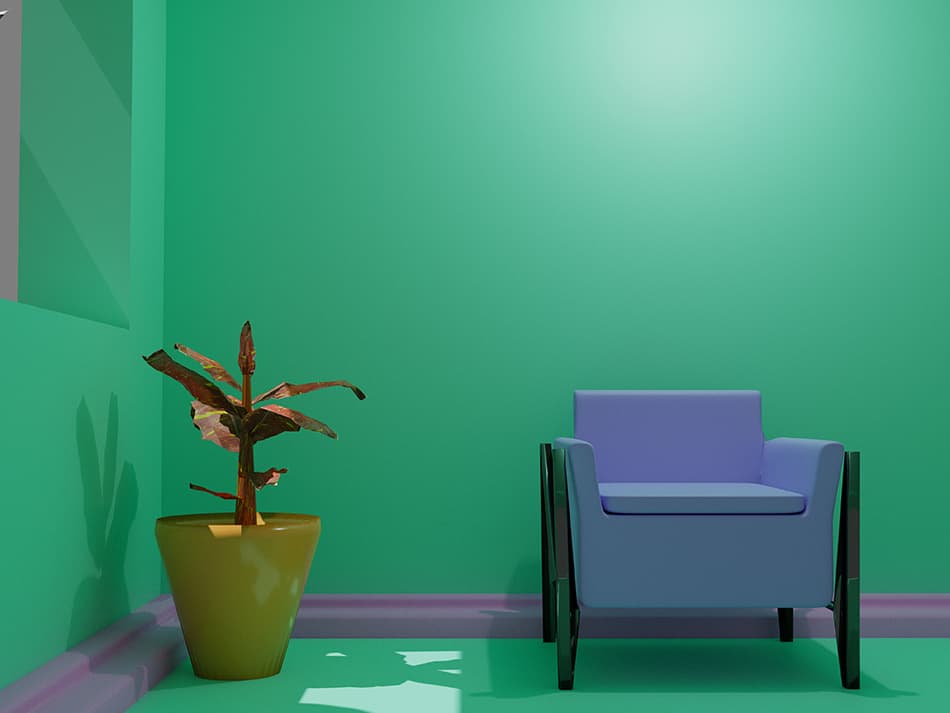 Green and purple are complementary colors on the color wheel, so it makes sense that these two should be paired together. Lime green looks lively and vivid when paired with bright purple, though if you choose these colors, be sure to also introduce a third muted color such as cream or white; otherwise, the space will feel too loud and overwhelming.
Emerald green looks stunning with lilac, but this jewel-tone can also work well with a dark shade of purple such as amethyst. Sage green or mint green will also look dreamy with lavender shades of purple, giving a refreshing yet cozy atmosphere. This color combination can work well in any room in the home, as well as within almost any style of interior decor you are drawn to, including contemporary, country house, shabby chic, or mid-century modern.
Brown
Dark brown and purple look regal and stately when paired together. Choose a rich, royal shade of purple and use it on soft furnishings alongside dark walnut wood surfaces. These colors can work nicely in a kitchen for a sophisticated yet unusual choice. Opt for a dark wood countertop surface and paint kitchen cabinet doors in eggplant. This is a color pairing that would look stylish in an office or library area if you want it to feel professional yet stylish with a touch of femininity. When using purple and brown together, stay away from tan browns unless you are going for more of a retro theme.
White
White, as a neutral color, technically goes with any color you can think of; however, it does look particularly good next to pale shades of purple, such as lilac. White and pastel lilac together create a delicate feel in a space that works great in traditional-style bedrooms where you want to achieve a refreshing yet relaxing feel. Verging slightly away from stark white will help the room feel more welcoming and less intense, so consider painting the walls in shades of off-white such as ivory, porcelain, or vanilla.
White can be a surprisingly hard color to get right when pairing it with purple because some shades of purple will have more of a gray-blue tone, while others may have more of a pink-red tone. Depending on which tones you want to highlight in your purple, you'll want to choose an off-white with yellow or blue undertones. Remember to use a tester pot on the wall in question before you commit to painting the whole room, as the type of light in the space will have a big influence on how the final color appears.
White and bright purple also work well together if you want to create a lively and energetic space, while a deeper and darker shade of purple can be toned down by pairing it with white to prevent it from becoming too consuming.
Black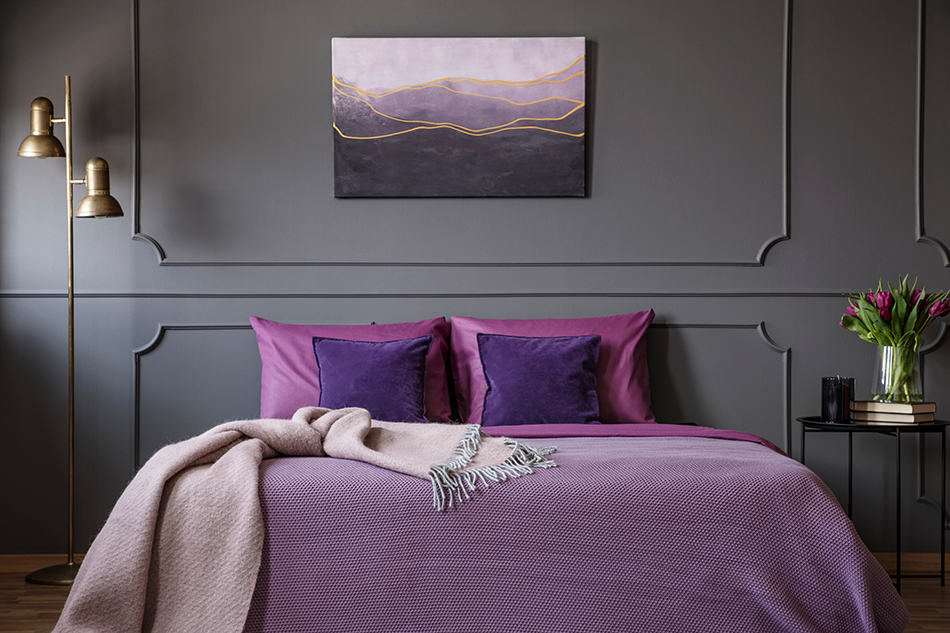 Black and purple go nicely together when a third color is added to the mix, such as gray or pale pink. For a sophisticated and high-end styling in a room, follow the 60-30-10 rule, using purple as the main color at a ratio of 60%, gray or pastel pink at 30%, and black for the remaining 10%. A nice way to add black touches and keep a classy look is to choose artwork mounted in black frames and arrange these on a feature wall.
You can also choose furniture or decor items with elements of black metal, such as a sofa with black legs or table lamps with black bases. In some instances, black and purple can work well together without a third color among them, particularly if you want to create a sensual boudoir feel in a bedroom or an intimate feel in a dining area. Paint the walls in black or deep purple, and then accent the space with the opposite color.
Rather than stick to just one shade of purple, you could incorporate accessories in varying purple hues, such as eggplant and magenta. Introducing textures and layers will also go a long way in creating an intimate appeal in a space, so you should also think about soft furnishings in sumptuous fabrics to pull the black and purple theme together.
Gold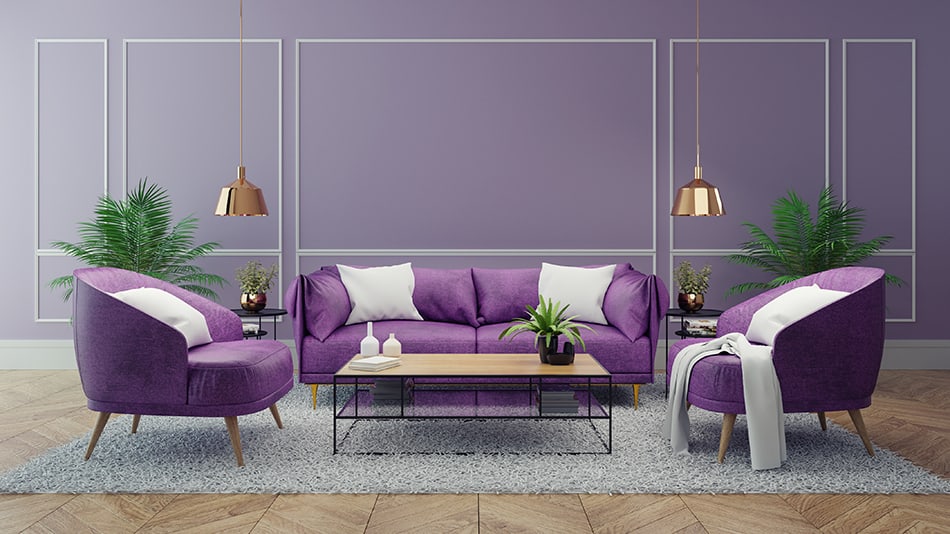 As a color that is synonymous with royalty, purple naturally pairs well with gold. Any shade of purple will feel glamorous and elegant alongside gold, so you can't really go wrong when using this color combination in interior design or fashion. If you want to achieve a more grown-up style, then opt for a deep shade of purple, such as mulberry or wine, and accent this with gold accessories such as a satin gold throw blanket and an elaborate gold-trimmed mirror.
More muted shades of purple, such as periwinkle, also pair perfectly with gold, and these colors will result in a more feminine style interior space. This can work well in a living room or dining room, as well as a bedroom. It can be a good color option for a teenager's room when you want to achieve a space that reflects their desire to grow up without having their room be too adult-like.
Lavender and lilac shades work beautifully with gold, as this is much like lavender and yellow taken one step further. If you like purple and yellow together but find this pairing too childish, then purple and gold will give a similar feel but with a more sophisticated elevation.