Wood paneling is often seen on the walls of traditional living rooms and bedrooms. It can make a home feel more welcoming thanks to its vintage look. But did you know this type of wood wall paneling is now becoming the preferred choice for homeowners who want to enhance the beauty of their rooms?
Even modern homes nowadays feature wooden wall panels made from laminate or oak. While it's common to paint over the wood, it may be best to keep the natural appearance of the panels and, instead, paint the surrounding walls in complementing colors.
To prevent your home from looking too dark, it is important to choose the right colors that go with wood paneling. Even the colors of accessories in the room, such as furniture and wall decor matter in order to highlight the wood panel's beauty. To help you pick the best colors for your wood tones, spend a few minutes reading our guide right here.
How to Pick the Best Colors that Go with Wood Paneling
Consider the Wood Panel's Color and Pattern
– Every type of wood has its own unique characteristics, which include grain pattern and color. Although the color tone of wood can be changed with stain, most people prefer to leave the wood trim in its natural appearance.
– Light-colored wood has made a comeback in modern interior design, and it is often accompanied by light color walls.
– Medium-colored wood can also be paired with light or neutral wall colors and furnishings.
– For honey-colored wood, however, it can be a little challenging to find the right color match as this tone was once popular in the 90s before fading out.
– The most common wood-tone color is dark brown, which emits a feeling of richness in the room. Any wall colors will complement dark wood panels.
– When deciding on the best wall colors, don't forget the fabrics and furnishings that can enhance your wood panels. Take into account the dominant tones that provide high drama to your color scheme.
For example, warm neutral colors such as khaki green or dark grey bring out the richness of the dark brown wood panels. When paired with medium brown furniture, it will create a comforting vibe. The key is to keep the colors low profile by not going overboard with too many dark furnishings.
Use Contrast to Draw Attention
Contrasting wall colors with your wooden paneling can make them more distinct in a room. Dark wooden tones, such as walnut, oak, or mahogany, stand out against neutral or light wall colors like white or light blue. In the same way, light wood tones tend to show up boldly against strong wall colors.
If you want to get a better idea of the best wall colors that work with your wood paneling, see the following examples with pictures:
Colors that Work with Wood Paneling
White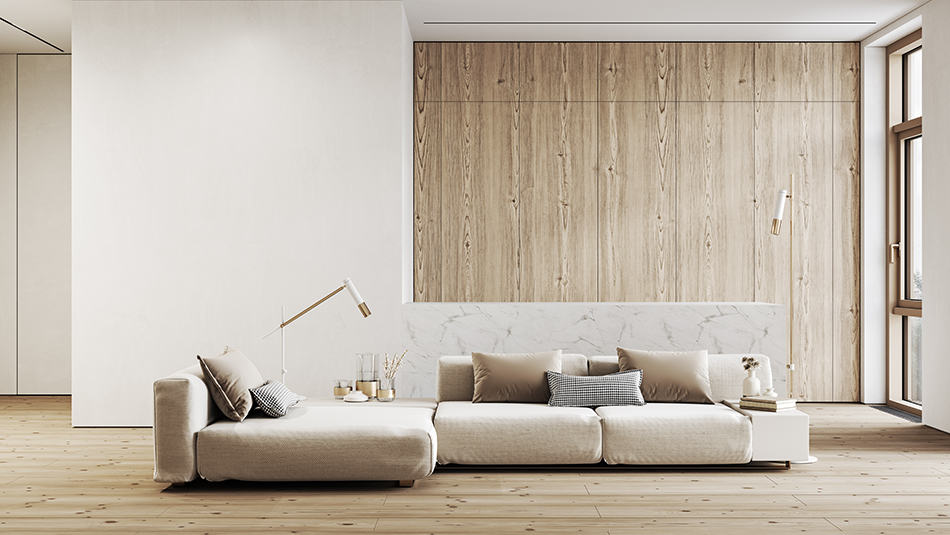 White is, without a doubt, one of the most popular wall colors. This neutral paint color goes with any wood paneling tone, and it helps brighten up a dark living space. By pairing your wood panels with a warm white undertone, you will achieve a modern feel.
In this minimalist living room, the natural-wood stained panels next to the white wall have made this modern space feel warm and homely.
Off-White or Cream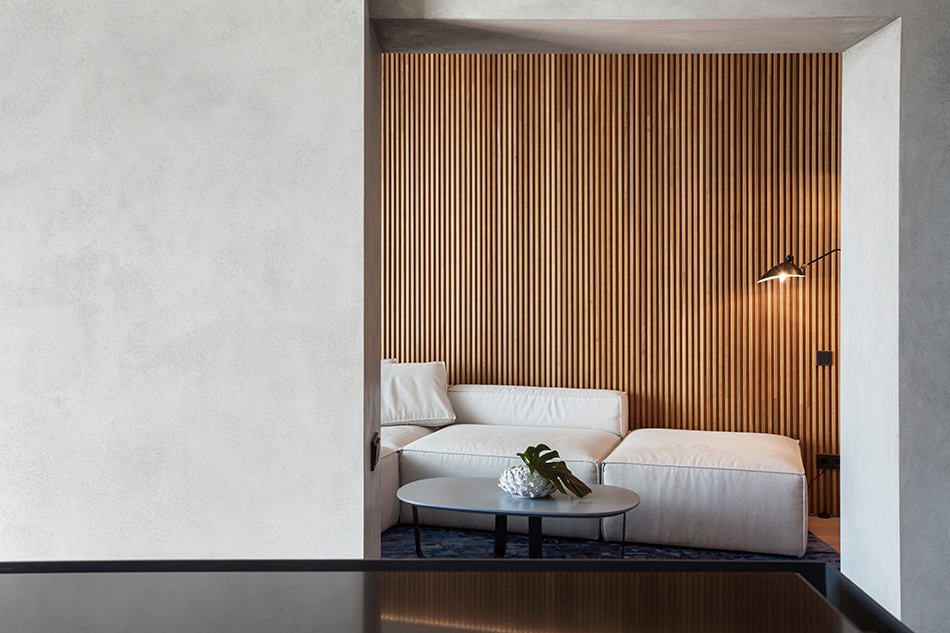 For a slightly warmer variation to white paint, how about off-white or cream? This won't appear too stark next to your wooden paneling. Off-white has a grey undertone, while cream has a white base with a yellow or brown undertone. These colors pair well with many wood color variations, from medium brown, blonde and dark brown to honey.
As a warmer alternative, you may choose beige paint for your wall. Beige has a brown undertone, which makes it a perfect option for pairing with all wood paneling colors. A beige with some grey in it is also a top choice for the walls so whether you want to go for off-white, cream, or beige, you are sure to make a statement as these are the trendiest paint colors around.
This narrow-cut wooden paneling certainly stands out in the neutrally decorated modern living room. This is a perfect example of how any wood trim color can be paired with neutral wall paint.
Yellow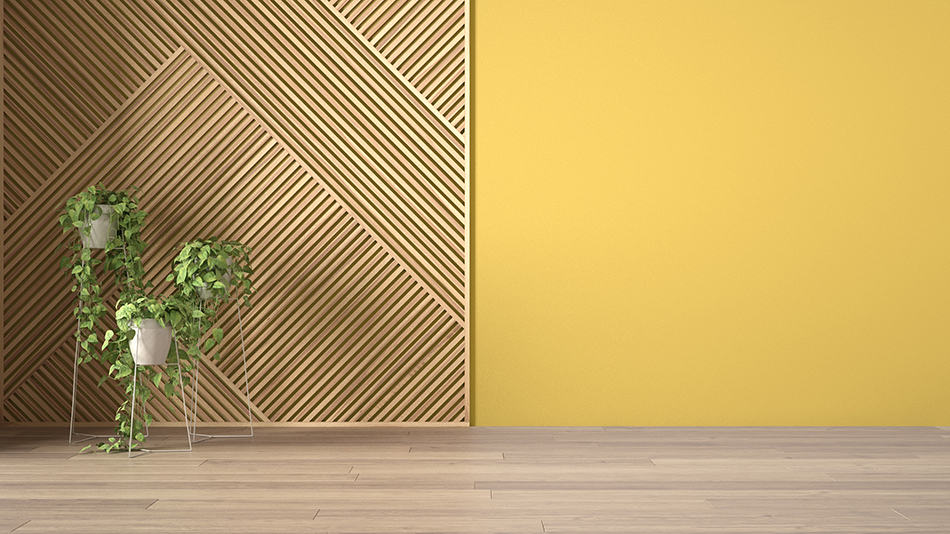 Yellow paint goes beautifully with both light and dark wood panels as it echoes the warm undertone of the wood.
A bright and sunny shade of yellow is a welcoming color next to an interestingly patterned wood paneling like the one shown here. While muted yellow-like mustard will work well in a modern kitchen or bedroom.
Grey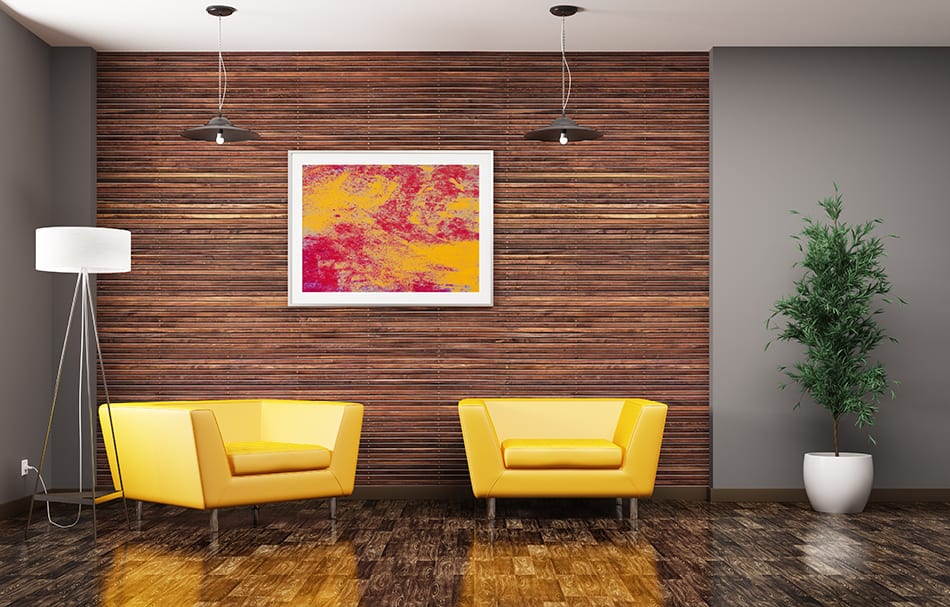 Grey paint color has to be the big daddy of them all. But rather than going with a cool grey tone, consider greige, which is a combination of warm beige and grey. This paint color for the walls will help tone down the dark wood panel's trim and transform your living room into an updated space.
In this example, we have a dark brown wooden paneling next to dark grey, which has created a warm and cozy feel in this modern living room.
Blue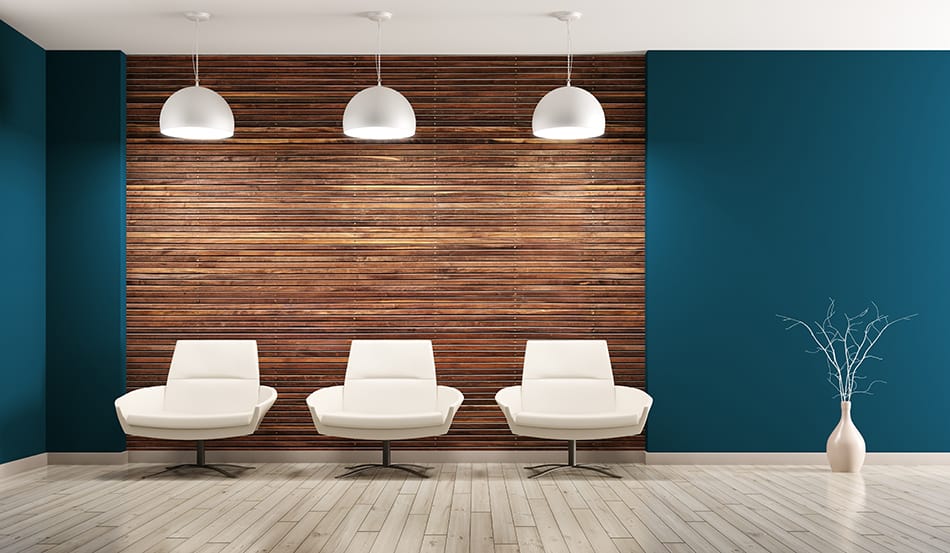 Blue is a great wall paint choice for a home with wood paneling. There are many nice shades to choose from that range from azure to teal. In a modern interior, a dark shade of blue like teal would look beautiful next to medium-brown or dark wood paneling. Whether you want the same look for your bedroom or living room, this color combo can bring out the beauty of your modern space.
For the children's bedroom, a brighter shade of blue next to wood paneling will bring a pop of color. While most blue shades have a cool undertone, you may opt for a slightly purple-blue undertone to create warmth in your room.
Green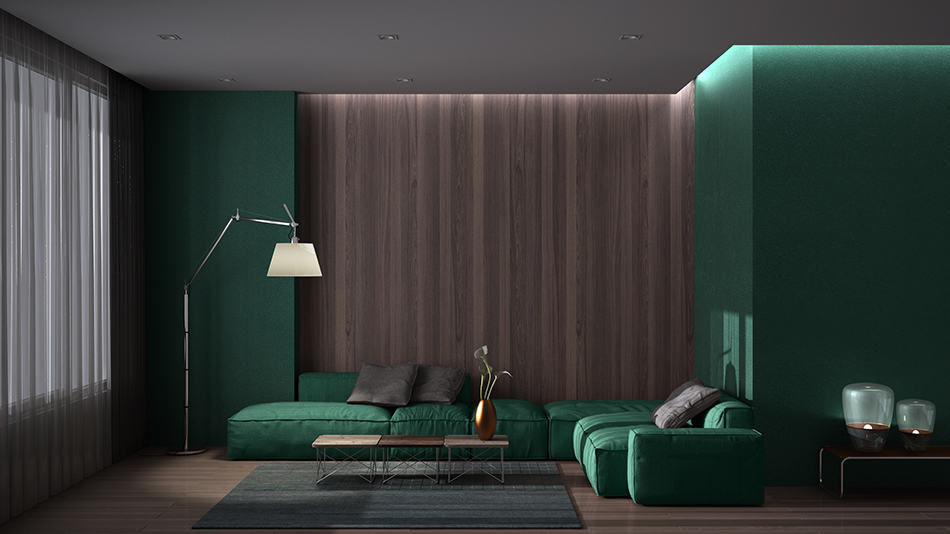 Any shade of green will work against wood paneling, including hunter green, sage, or mint. But to be more specific, for medium or dark wood, go for a darker shade of green, such as turquoise as shown here. Dark greens also work well with blonde wood panels.
Is Wood Paneling Still in Demand Today?
Wood paneling was extremely popular in the mid-20th century before going out of style for some decades. However, it is now back and seen in a variety of modern interior styles.
The best thing about wood paneling is that you can use your creativity and experiment with many colors to pair with your wall and ceiling panels. Wood paneling fits perfectly into a modern space, whether the panels are in narrow strips, geometric patterns or cut into wider planks.
You can easily add visual interest to your bedroom or living space by changing the direction of your wood panels. For example, wider panels can be used on the wall, while narrower planks for the ceiling.
Wood paneling doesn't have to look outdated when you coordinate it with your furnishing and wall colors. In fact, these panels can make a space feel more modern when used right. So the answer to the question, if wood paneling is still in demand today, has to be a big yes!
How Do I Make My Wood Paneling Look More Modern?
Paint the panels: to update your old wooden panels, simply add a fresh coat of paint to them. A bright white, for example, is a popular choice as it can brighten up the room quickly. For the more adventurous homeowner, bold colors like blue or green can be just as attractive.
Use the whitewash technique: to brighten up your room while retaining the wood grain texture of your panels, consider using the whitewashing technique.
This involves applying a full coat of pure white paint to your panels. Start by watering down the white paint before brushing it on the panels. Wipe after application and repeat the process until your panels look totally whitewashed.
Continue the paneling to the ceiling: who said wood panels are limited to just walls? Take them to new heights by also installing the panels on the ceiling. Extending the panels from the walls to the ceiling will instantly make your living room or bedroom look bigger.
Add texture: to make your room look more modern, add a little texture by installing rough-cut wooden panels. There are circle-sawn, plane, or band-sawn textures to pick from.
The first type is ideal for anyone who wants an authentic appearance in their living room as the circle-sawn panels feature the roughest texture. The plane planks are the smoothest of the three but are still highly attractive.
The band-sawn planks are less rough in texture as they are fabricated using a band saw with straight teeth rather than circular markings. Any of these three types of plank textures will give your living space a modern feel.