Typically, chairs have four legs, one elevated surface for sitting, and one back support and are designed to seat just one person. However, the parts of a chair vary based on the chair's function. Everyone wants a chair that offers the optimum comfort for whatever lifestyle they lead. This means that sometimes a chair would have more parts than is common to ensure the comfort of the user.
For instance, there are adjustable office chairs designed to be extremely comfortable for workers who spend long hours sitting in the office or luxurious loungers often kept in the cinema hall. Long story short, the parts of a chair varies depending on the unique function and purpose of the chair.
The different types of chairs and their parts are explained below.
We also include diagrams for the most common types of chairs and a big diagram at the bottom of this article. Hope you like it.
Parts of a Task Chair (Desk Chair)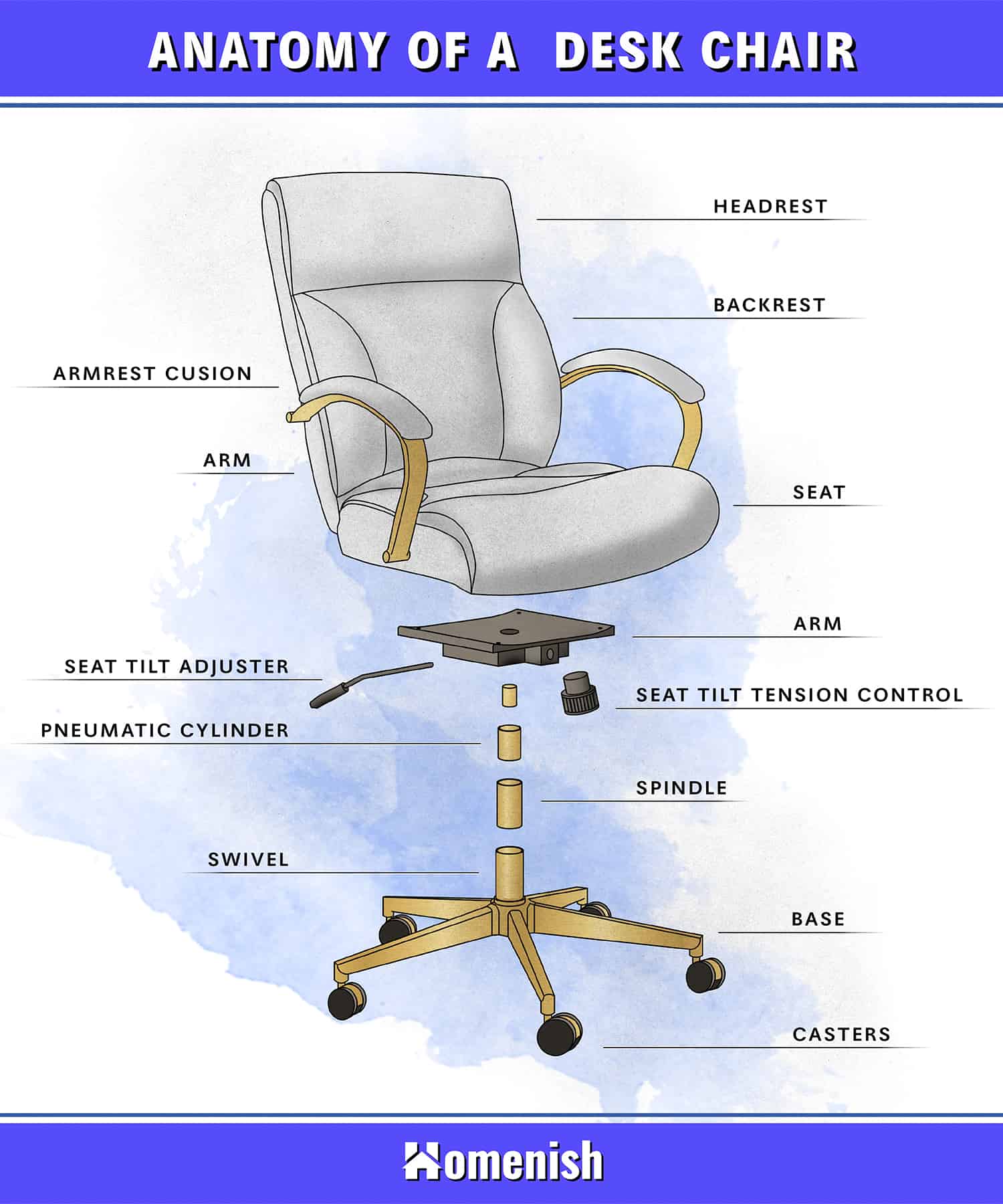 Task chairs, also sometimes called office chairs or desk chairs, are often used by people who work on a desk. Task chairs also include such chairs as dental chairs or some dining chairs. It allows the user to recline when necessary to make their job a lot easier. People who sit for long hours every day at the office often need quality seats that not only support their entire body but also improves posture, offer pain relief, and support workers who have special needs. From the headrest of a task chair down to its base, you'll find supportive features that differentiate them from others. They are built to be exceptionally functional and ensure maximum comfort and productivity. For this reason, task chairs are made up of several parts; these parts include:
The Base: This part is also called the foundation of the chair. Chair bases are often made from aluminum, wood, steel, or other similar materials. Typically, task chairs have five legs. The legs also have a caster typically extending from a central column. To offer more support and stability, office chairs can have as many as seven legs.
The Seat: The sole function of a chair is to provide a space for seating, so no chair would be complete without a seat. Task chairs typically have comfortable seats designed to be big enough to fit people of various sizes and also adjustable to suit individual body types.
Most task chair seats can be pulled up to make them taller or pulled down to make them shorter. They can also be tilted in different directions to accommodate individual needs. Task chair seats are either covered in leather or some kind of fabric to offer more comfort, visual appeal, and ease of cleaning.
The Back: The back of a task chair is the part where you rest your entire body frame to relieve tension from your body. Good task chairs have great lumbar support for the lower spine and are often padded to make them a lot more comfortable. Just like seats, backs can also be adjusted depending on the chair brand. Many task chairs come with a tilt lock that enables you to control just how far back you want your chair to recline and also allows you to lock the back in place when tilted to your preferred position. This tilt lock would help you decrease or increase the incline whenever your seating needs to change. This is a great way to always customize your chair to what your body needs at all times to avoid fatigue all day long.
The Arms: The most comfortable task chairs come with adjustable armrests to cater to every kind of body size or type. Task chairs with no arms and those with immobile arms still exist, but the best ones have arms that can be adjusted to offer improved comfort to different individuals. Some also come with the option of letting you swing the armrests out of the way if they are obstructing you from doing your work at any time.
Headrest: This is the upper part of a chair, attached to the chair's back, and it serves the function of supporting one's head.
Armrest Cushion: Padding on the armrest to make it a lot more comfortable. Not every task chair has cushioning on its armrest.
Seat Tilt Adjuster: This part of the chair allows you to tilt the seat of the chair backward. It also locks the seat in place when you're done with the adjustments.
Seat Tilt Tension Control: This part of the chair regulates the ease with which the seat can be tilted.
Casters: This is simply another name for wheels. Wheels on task chairs enable people to slide around on their seats without having to stand. They also help to provide more balance for the chair. Most modern task chairs have about five wheels.
Pneumatic Cylinder: This is the part of the chair that allows it to be adjusted upward and downward.
Spindle: This part of a chair connects the pneumatic cylinder to the base of the chair.
Swivel: This part allows the chair to spin around at a complete 360°.
Parts of an Armchairs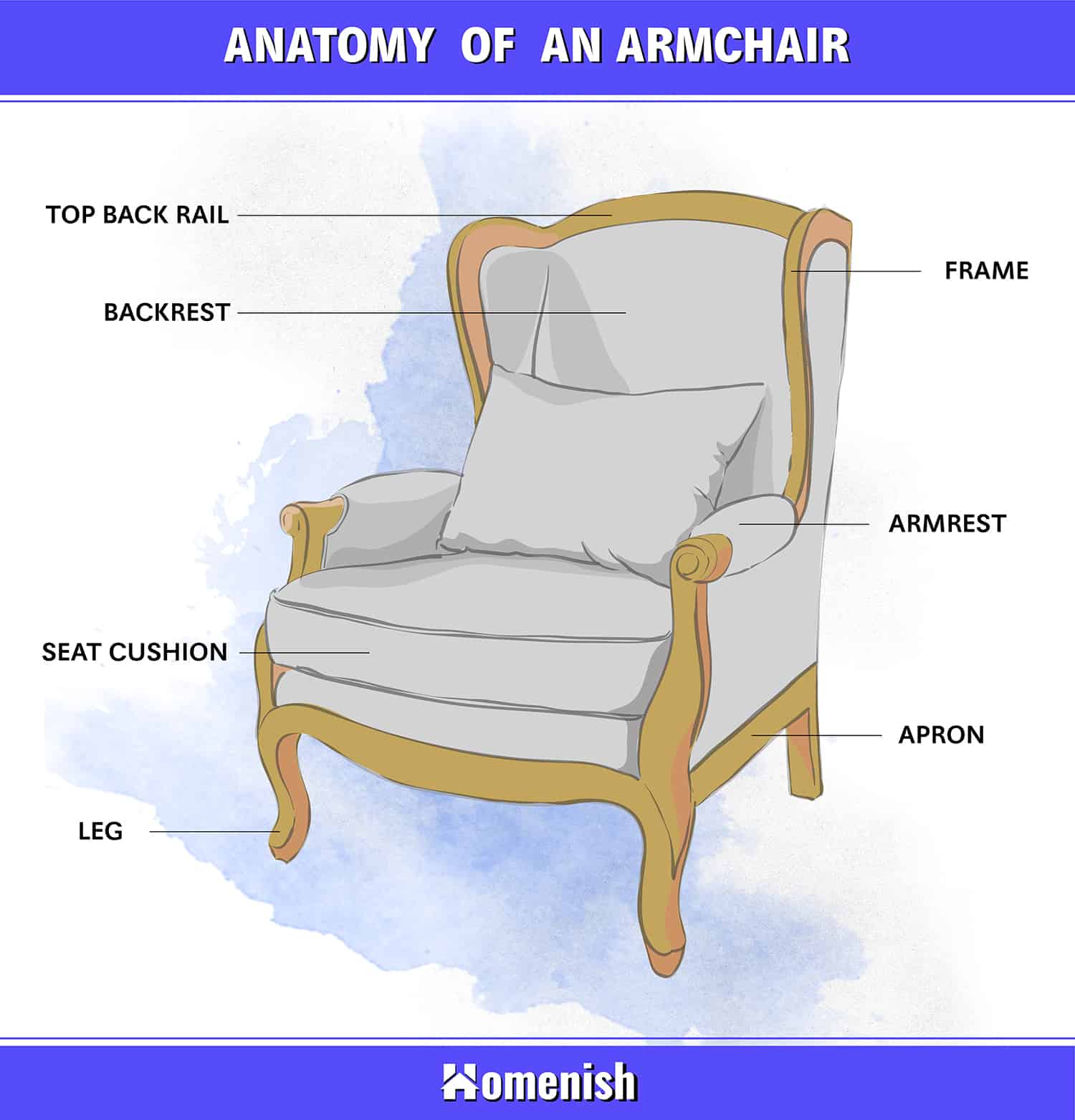 You'll know an armchair by its arms. But more than that, they are cushioned and comfortable, with arms on both sides. Some are just big enough to seat one person at a time, while others could seat two or three people. Some have enough space that you could curl up and sleep in them. Most armchairs offer support for your arms and your back and are often upholstered to give a more relaxing feel. Couches and sofas are categorized as armchairs.
Armchairs are a complex design. They're made up of a basic frame, upholstery, outer fabric, arms, legs, and cushioning. The parts of an armchair and explained below.
Backrest: This is the part of the armchair for resting your back. It's pretty uncomfortable to sit for long on a chair without a backrest.
Seat Cushion: Armchair seats are usually cushioned with soft materials to make the seats more comfortable.
Legs: Legs keep the armchair firmly positioned on the ground; they keep the seat from sitting directly on the ground.
The Frame: The frame is the foundation of the armchair. The kind of frame a chair has would determine its design, structure, and durability.
Top Back Rail: This part connects the chairs back to the side rails.
Apron: This connects the legs of a chair to the seat surface.
Armrest: This is the part for resting your arms.
Parts of a Stools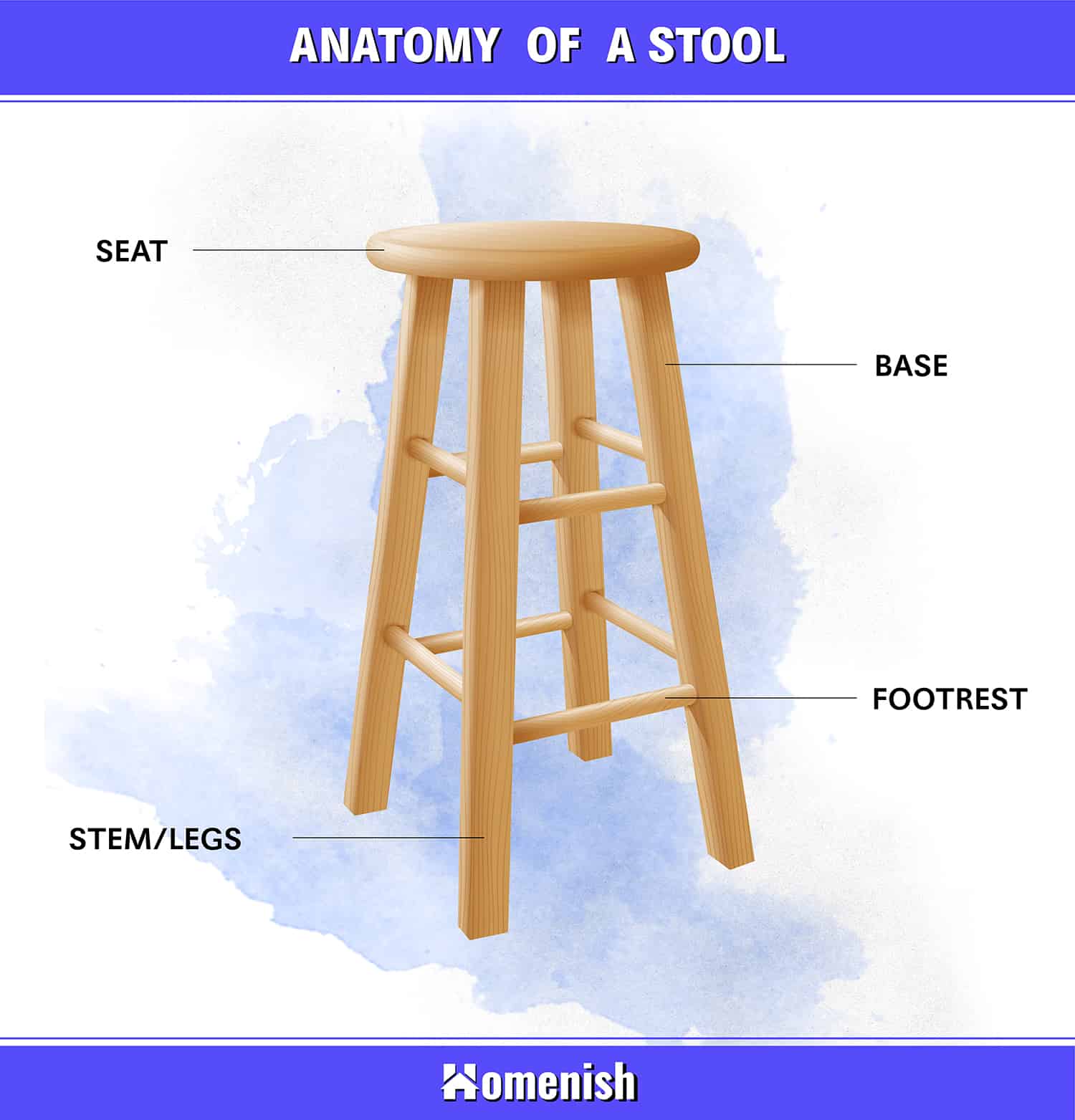 A stool has a different structure than an armchair. For one, they have no arms and are often made of a completely different material. Also, stools are typically narrow and tall, and you'll often found them at counters or a bar. A stool is one of the oldest types of seat furniture.
They are typically made up of a single seat to seat just one person at a time. The earliest stools had no backrest and armrests. You can differentiate stools from armchairs because they have no back and armrests. Also, they could have one, two, three, or four legs. Stools can sometimes be folded up into flat positions when not in use. Contemporary stools are made up of the following parts.
Base: The base of a stool is the part that connects to the ground, stool bases vary in size and design, and they help keep the stool stable. Most bases have a flat or conical base. Modern stool bases are often incorporated with floor protectors.
Stem or Legs: A stem is a long, often iron stalk that connects a stool's base to its seat. Stems can often be adjusted to be longer or shorter depending on the preferences of the person using the stool. Stools have either stems or legs but not both. A stool can have anything from one to five legs.
Footrest: It's uncomfortable to sit on a stool with your legs hanging in the air; this is why many modern stools have a footrest attached to their stems.
Seats: Stools are topped out by seats; these seats are often covered in leather or fabric upholstery to make them more comfortable for seating.
Parts of a Benches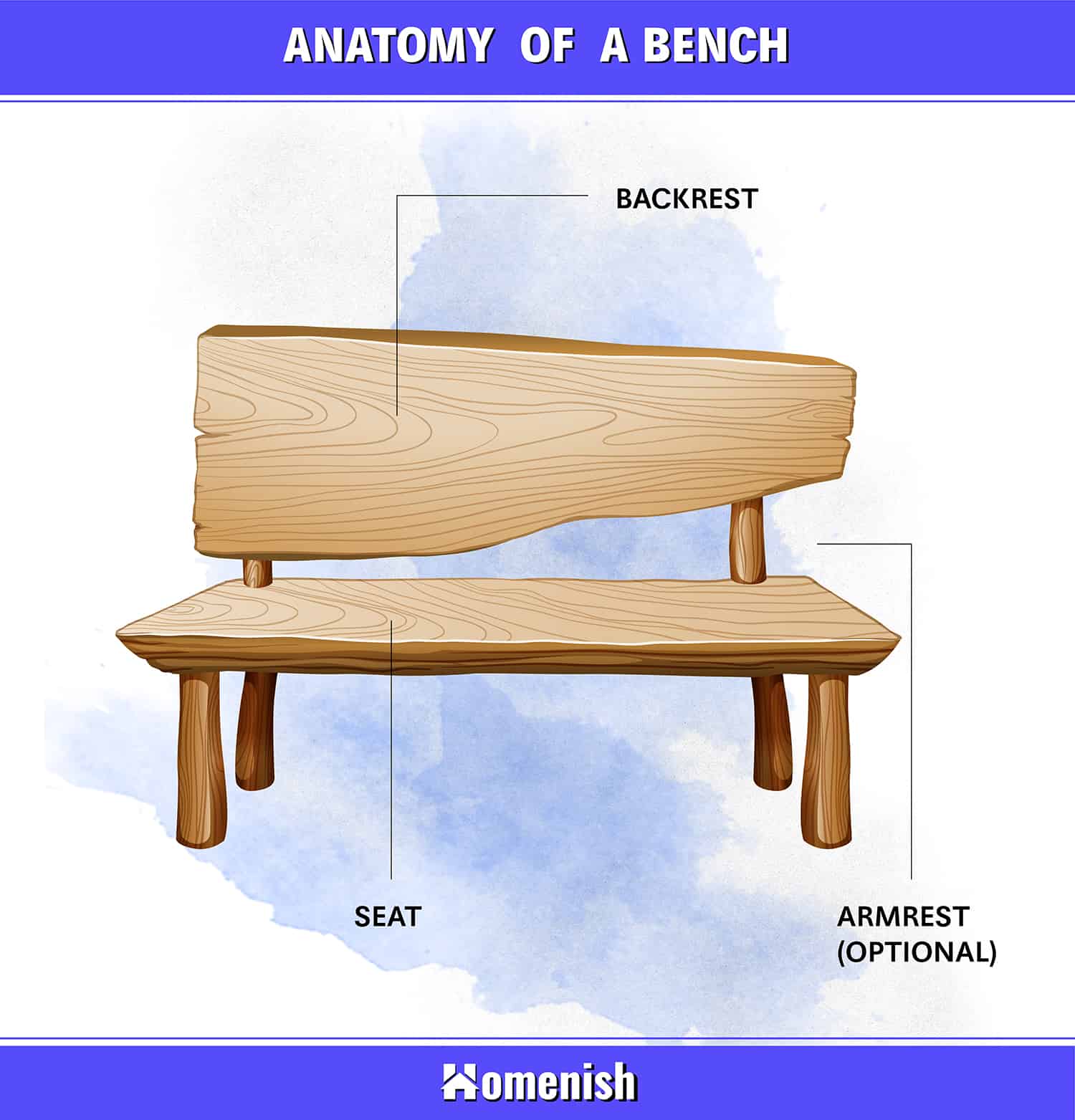 A bench is typically designed to seat more than one person at a time, making them a lot more different than other kinds of chairs. They are very functional and provide an easy solution for seating in crowded places such as waiting rooms, bus stops, and parks. Benches help maximize available space. Some benches are built to have backs, leg rests, and upholstered seats just to provide maximum comfort.
The common types of benches include park benches, storage benches, garden benches, etc. They could be made of wood, plastic, aluminum, fiberglass, etc. The parts of a bench are as follows:
Backrest: Many benches come with backrests to make them more comfortable for users.
Seats: Benches have seats that offer a great place for people to relax, especially when out in public. Some pack benches have two seats separated by an armrest in the middle.
Armrest: As the name implies, armrests are a place for people to rest their arms while sitting on the bench.
Here is an infographic that explains every part of each kind of chair.