One of the most important remodeling projects started by first-time homeowners is a complete bathroom remodel. This makes a lot of sense from almost every direction in which you look at it. The bathroom is the most private of all your spaces, so nobody would ever begrudge it for trying to adapt it to your absolute comfort.
So if you are in the middle of choosing tiles and sink models, why not add a new shower bench too? A nice, ample shower bench rarely comes included in a standard bathroom package. However, these are very easy to install on any corner of your shower once you determine the right size.
What Is a Shower Bench?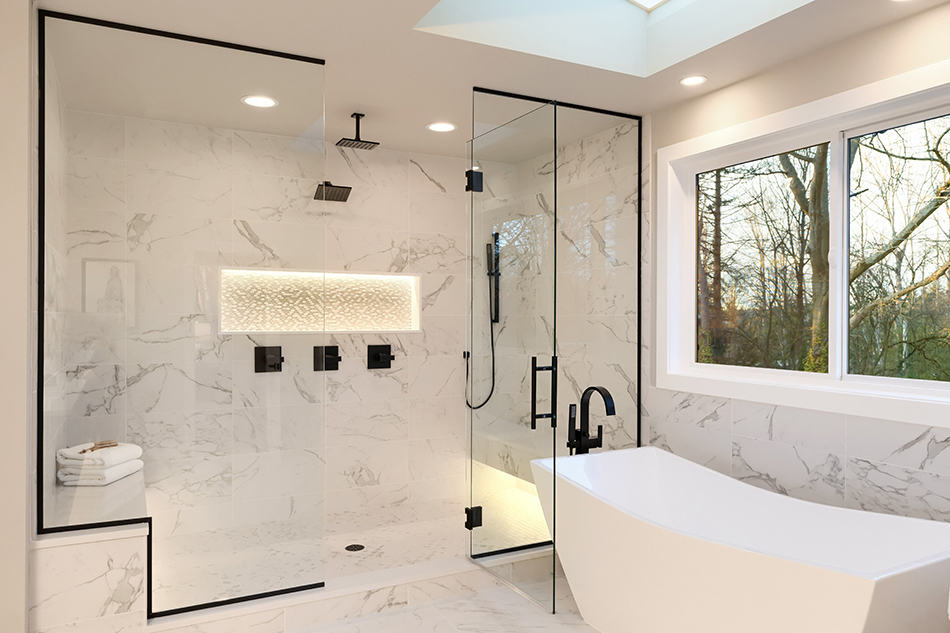 A shower bench or seat is anything inside your shower meant to let you sit while you enjoy the extra pure rain. Technically, they can be of any material and of any model – even a low old plastic stool that used to be in your backyard.
That being said, a shower bench will be inside your shower, constantly exposed to water. Because of this, good shower benches should be made of a water-resistant material that is easy to clean or sanitize. Some models use a series of wooden planks appropriately varnished to resist moisture. However, most shower benches are usually built into the walls and covered with the same tiles as the shower walls.
How to Choose the Right Shower Bench Dimensions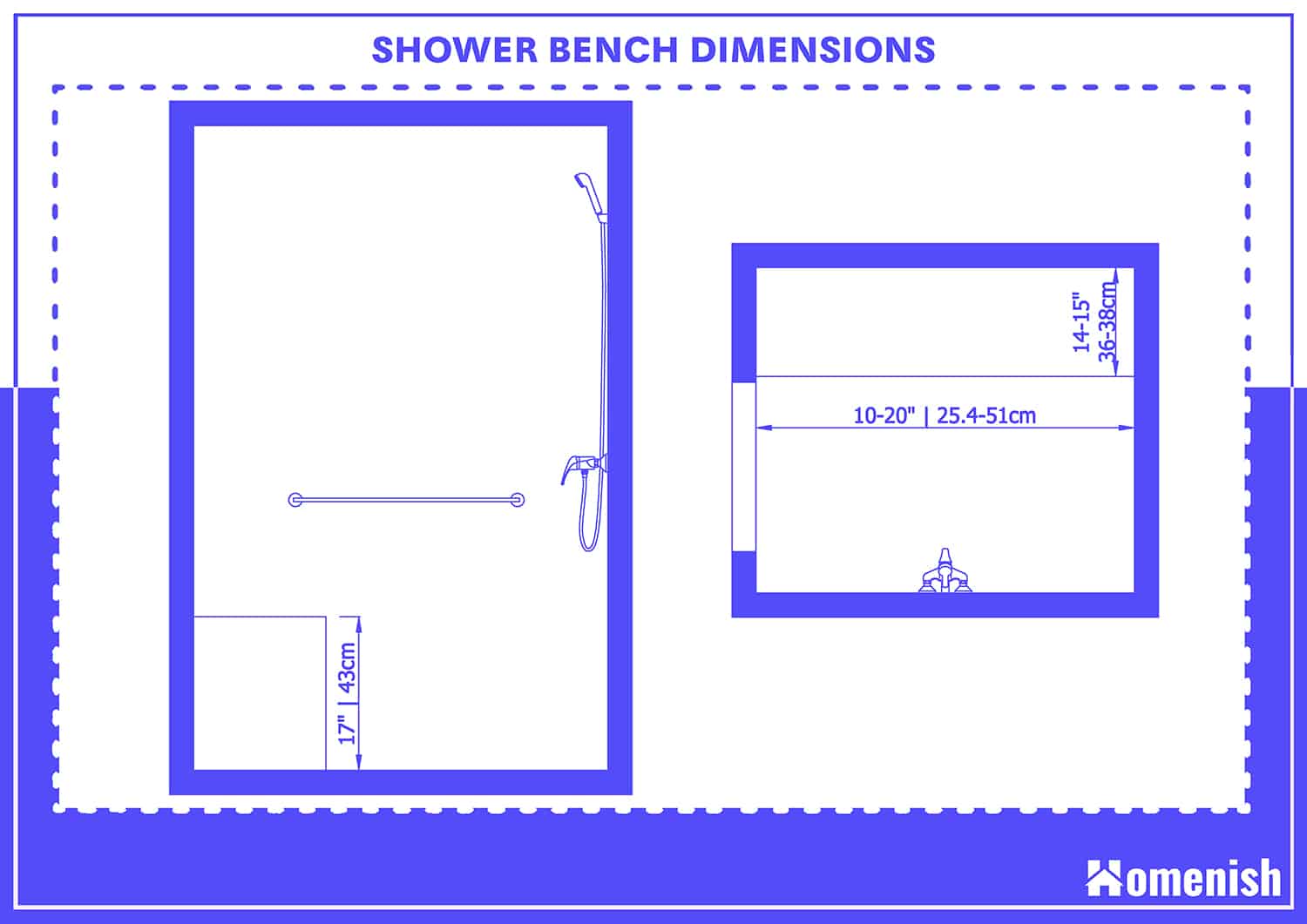 There are two main characteristics to keep in mind when choosing your shower bench dimensions: first, the overall size of your shower, and second, your own comfort when sitting on the bench.
The size of your shower speaks for itself: any built-in shower bench must be small enough to fit inside and to still allow you to stand right next to it while closing the shower door comfortably. This will be remarkably easier if your shower has sliding doors.
As long as the bench fits, you shouldn't be too concerned about losing shower space to the shower bench. Most shower benches are short enough that they won't get in the way of your arms and elbows while you are showering. Once there is enough space for you to stand next to the bench while keeping your head at a safe distance from the showerhead, you'll be good.
Next, you need to figure out the height, depth, and width of your shower bench:
Shower Bench Height
In order to measure the height, aim for an inch below the back of your knees (or the knees of the shortest person who will be using that bathroom). Usually, this should be around 17 inches tall.
Shower Bench Width
The shower bench only needs to be wide enough to fit your own buttocks, so you can sit comfortably without feeling like you are about to slide on the side. This means the width can range anywhere from 10 to 20 inches.
Shower Bench Depth
Finally, the depth is the only shower bench measurement subject to some sort of regulation: according to the Americans with Disabilities Act, a shower bench should be 14 to 15 inches deep
If you have enough space, you may also want to add a separate footstool, which can double as a small step for any child in the house. Footstools are usually about 10 to 13 inches.
Why Should I have a Shower Bench?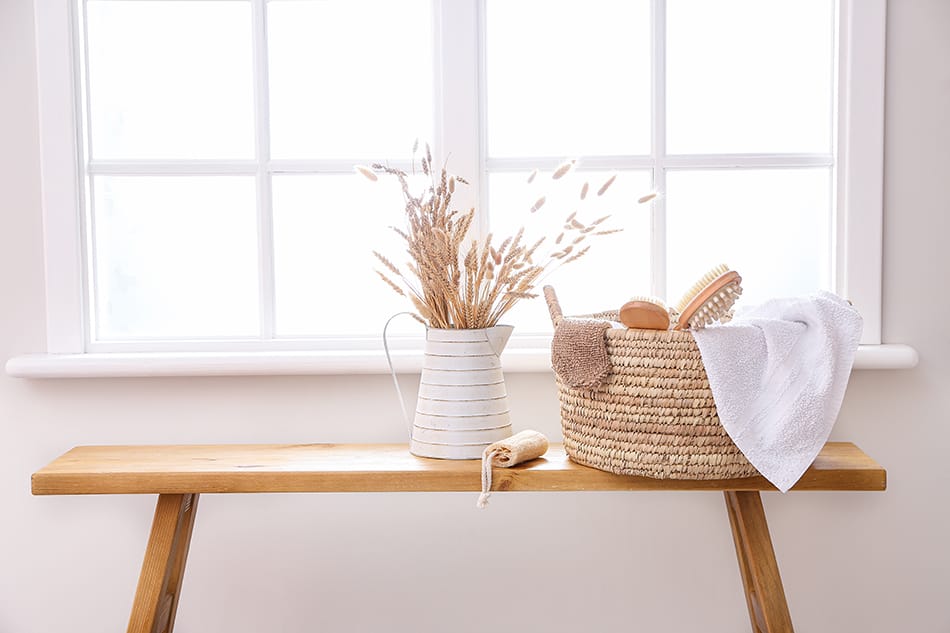 If you are still on the fence about whether to include a shower bench in your new bathroom remodeling plans, take a moment to consider all the different advantages and uses that they have.
Shower benches are usually considered a necessity for families or households where somebody has problems with mobility or a physical disability. In these cases, they can provide an invaluable contribution to everybody's safety and independence.
If this is your case, consider installing a shower bar next to the bench and including anti-skid sections on top of the bench. Now, even if there is no physical reason pushing you to sit down while you shower, you can still reap additional comforts from your shower bench.
Storage Space
Depending on the model, your shower bench can offer extra space underneath it to hold your loofahs, sponges, and your collection of scented body wash.
Hydro Massage Showers
If you have a hydro massage shower or are planning to get one, you may not be able to enjoy its full benefits without a shower bench. As relaxing as targeted streams of high-pressure water may feel on your back, you may end up feeling too tired to enjoy for too long.
Instead, a shower bench will allow you to sit and enjoy a longer massage and steam session.
Assisting with Personal Grooming
If you usually like to exfoliate or shave your legs while in the shower, a shower bench will help you do it much more comfortably. This way, you won't have to be standing on the floor, or using the toilet as a footstool, in order to reach every spot behind your calf.
Extra Shelving Space
While this is rarely by design, a shower stool often provides an easy-to-reach extra shelf inside the shower. As it lacks the wires and corners of regular shower caddies, shower benches are usually more sanitary and easier to clean: if properly built, they won't leave a lot of room for mold to develop. As they are below eye level, you would be able to spot any dirty corners in your shower bench much more quickly than on a standard shower caddy.
Conclusion
A shower bench can add comfort and functionality to your custom-built bathroom. If you take the time to design it properly, it can blend wonderfully with the other architectural elements within your shower.
In order to make the most of it, you should also measure your future bench's dimensions carefully. Make sure they adapt to your size, not those of the catalog: just like with any other chair, the right height and width will be determined by the body types of its users. Finally, if you or one of your loved ones have impaired mobility, make sure to add an additional stool, bar, or anti-skid stickers to make it safer.