Desks are one of the more common furniture pieces in the world. You can find one at the office and school. And chances are, you have one at home.
The word 'desk' is believed to come from the Latin word 'desca,' which can be translated to 'table to write on.' Desks are said to have been around since the 14th century.
And through the centuries, different desk variations have been invented to address the different needs of its users. Desks were traditionally for writing and storing documents. However, as you would learn after reading this article, desks can also serve a variety of purposes.
Learning the different types of desks and their parts can help you determine which one is for you, especially if you're shopping for one. Below are some of the more common types of desks:
1. Writing Desk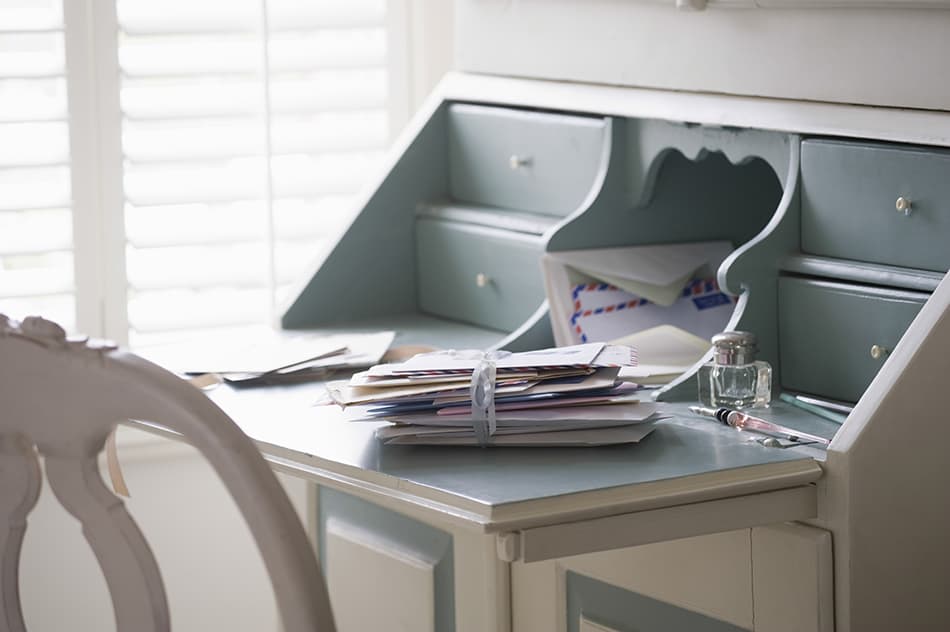 You can argue that any surface can work as a writing desk, whether it's a dining table or a mattress. But let's face it- a writing desk provides a more stable and comfortable space to write a letter or even pen a novel. It's also versatile and can be used for other purposes like working on projects and crafts. And it can be the centerpiece of your workspace.
With its flat surface, a writing desk provides a basic and distraction-free space both for writing and typing on your PC. The size of desks may vary, but most models are about 24 inches deep and 36 inches wide. Styles also differ from sleek modern ones to those made of rustic barn wood. Most writing desks have thin legs because these are not primarily for supporting lots of storage.
2. Secretary Desk
Now, if you want a desk where you can store lots of paperwork and other office essentials, then you should get a secretary desk.
The secretary desk has gone through changes through the years. The traditional secretary desk looks like a combination of a desk and a dresser. It is filled with compartments, cubbies, and drawers behind a panel that acts as a desktop when opened. These days, modern secretary desks are smaller and less bulky compared to their predecessors. Many models have hidden cubbies and drop-down covers upfront.
But the presence of covers upfront makes secretary desks inappropriate for use or storage of desktop computers and printers. Smaller ones, though, may have space to accommodate a laptop and a mouse.
3. Computer Desk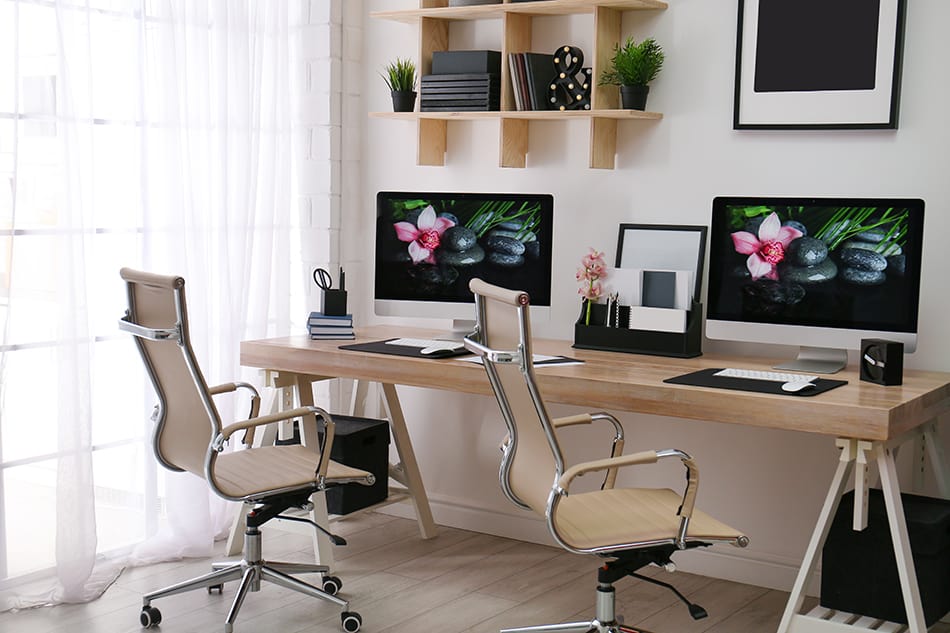 The computer desk is similar to a writing desk, although its main difference is the presence of additional space for the computer, printer, keyboard, and other hardware components; there's a keyboard tray as well as a storage space for the CPU.
In terms of size, the computer desk is slightly bigger than the writing desk but smaller compared to an executive desk.
With more people shifting to the use of mobile devices such as smartphones and tablets, the popularity of large desktop computers has significantly gone down. Still, you can use a computer desk for working on your tablet or even when writing something in your notebook.
4. Executive Desk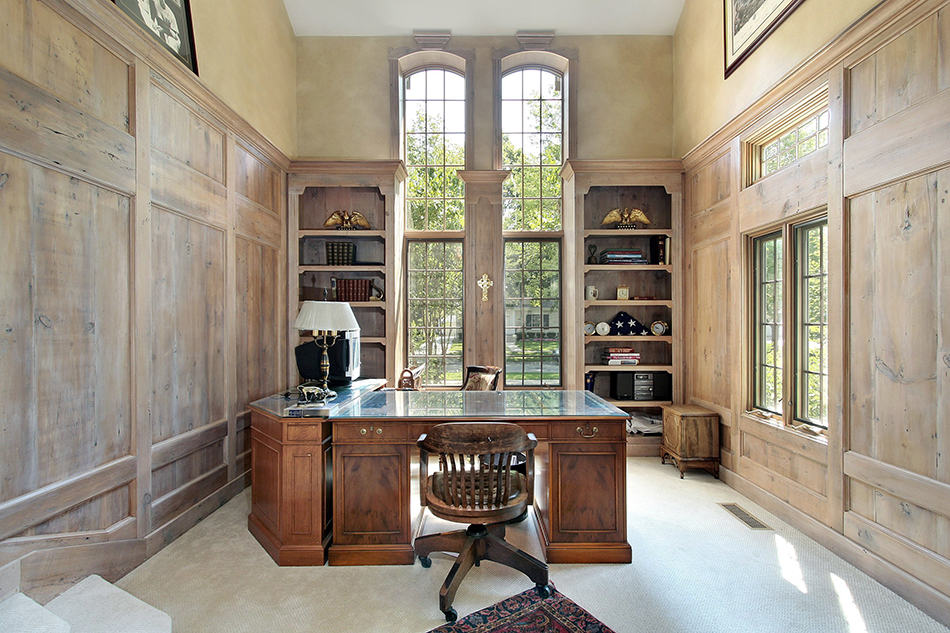 Arguably the most prominent piece of home office furniture, the executive or office desk provides tons of storage and writing surface. It does have a massive footprint, though, which means you'll have to allow a significant amount of space should you buy one for your home office.
Executive desks can be categorized into three: L-shaped, U-shaped, and open-plan desks. The L-shaped desk is best suited for placement in corners and large areas. It is connected by a perpendicular wing called the 'bridge.' It offers lots of surface space for multitasking as well as for the placement of various office tools.
Another advantage of an L-shaped desk is that it has enough space for your home or office decor. You can put books, photo frames, and even plants on it. Moreover, it has extra file cabinets where you can keep your papers. You may even add a keyboard tray to leave more room for other things like pencil holders.
The U-shaped desk, meanwhile, is similar to the L-shaped desk in the sense that its bridge connects a couple of desks to form a wrap-around design. It is intended for placement in large areas and provides enough space for home or office supplies and equipment. The design of the U-shaped desk also makes it possible for you to have your things within arm's reach and therefore enhances your productivity.
Finally, open-plan desks are rows of desks without any divider. Unlike the two other types of desks, it is composed of one desk sans any accompanying furniture piece. It has widely become popular in the corporate world, though, because many employers believe that an open-plan desk arrangement fosters teamwork and close coordination among employees.
5. Trestle Desk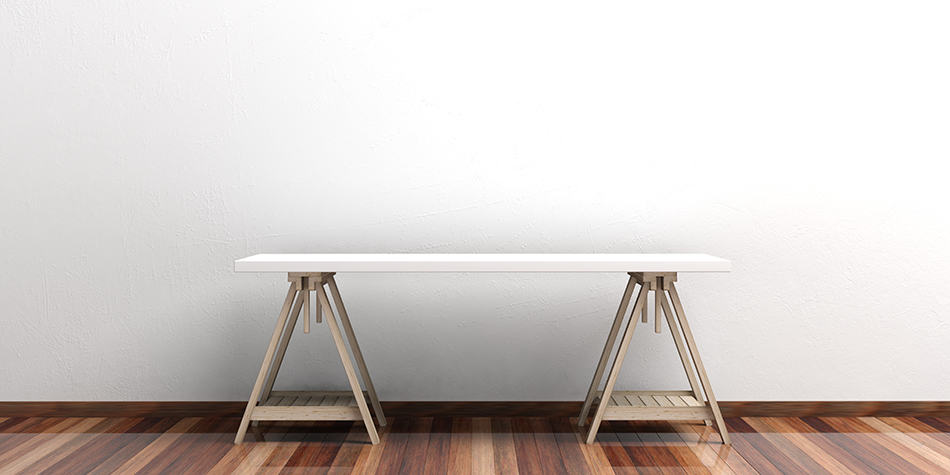 The trestle desk is a modern and smaller variation of the writing desk. It combines a spacious work surface with a contemporary, lightweight, and compact design. Its cool, trendy, and modern look has made it a favorite in millions of households in Europe.
The trestle desk is a plank of wood placed on two trestles. Portable and practical, this type of desk is ideal for small houses. It is commonly paired with a short and rolling filing cabinet for storage space.
6. Floating Desk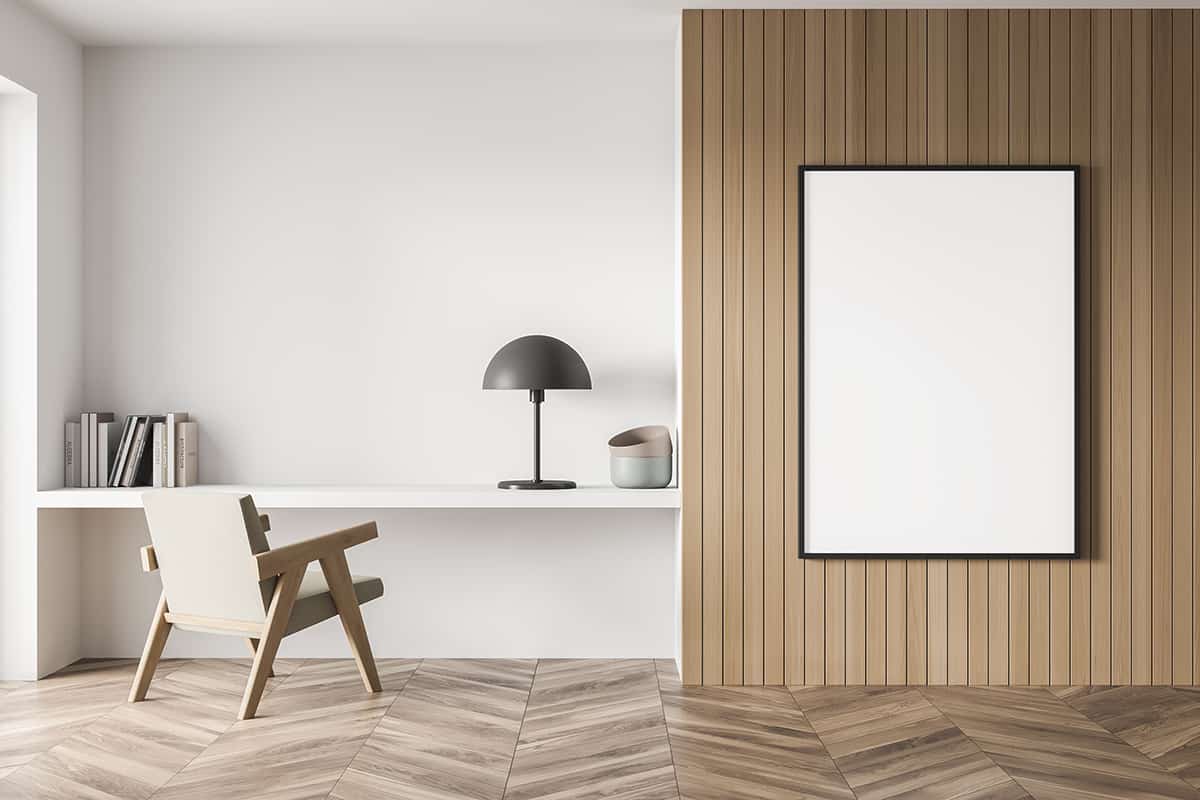 Like the trestle desk, a floating desk is designed for use or installation in small rooms or houses. Also referred to as an on-wall desk, it has no legs because it is attached or mounted on the wall.
A floating desk can be installed in the smallest spots of your place. It can provide you with the workspace you need for writing or typing on your laptop. And when you're done working, you can fold it up and get it out of the way.
7. Treadmill Desk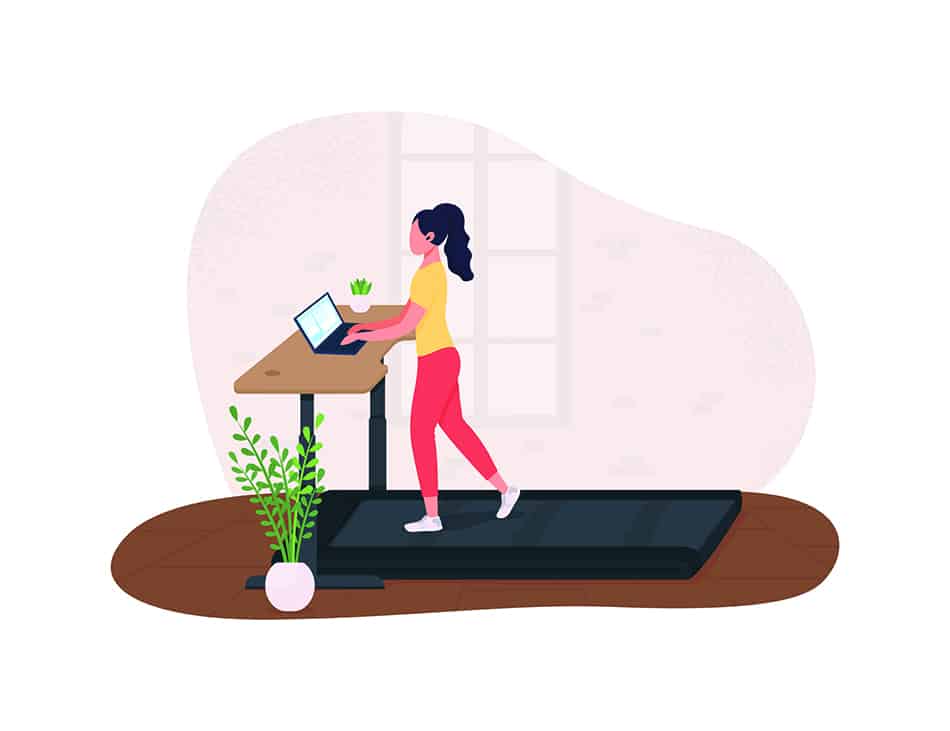 Some quarters dismiss treadmill desks as a trendy desk design that would soon go away. But with many health-conscious people these days, it's hard to bet that the treadmill desk will eventually be forgotten.
As the name suggests, a treadmill desk is a combination of a treadmill and a desk. The latter is usually a height-adjustable standing variety. The treadmill, on the other hand, is under the desk. This set-up or arrangement lets you work out while you simultaneously work on your computer, whether it's sending emails or composing memos.
Still, there's no denying that a treadmill desk can lessen your sedentary time at work. Studies have also shown that regular use of a treadmill desk can increase productivity and focus while working.
8. Lap Desk
If you're the type of person who prefers to work on the couch or in bed, then you'd love having a lap desk. A lap desk offers a sturdy surface and height to let you work from your couch, bed, or anywhere in your home office. The height of the lap desk is adjustable, so you won't strain your neck and back while working.
You'd be surprised to learn that lap desks have been around for centuries. US founding father and former President Thomas Jefferson is said to have a lap desk made of mahogany which he used in writing parts of the Declaration of Independence. His lap desk even had a built-in drawer where he could store his ink.
These days, most modern lap desks have features like padding and ventilation. If you want to keep your smartphone near you while working, it would be wise to have a lap desk that has storage space for it.
9. Butler's Desk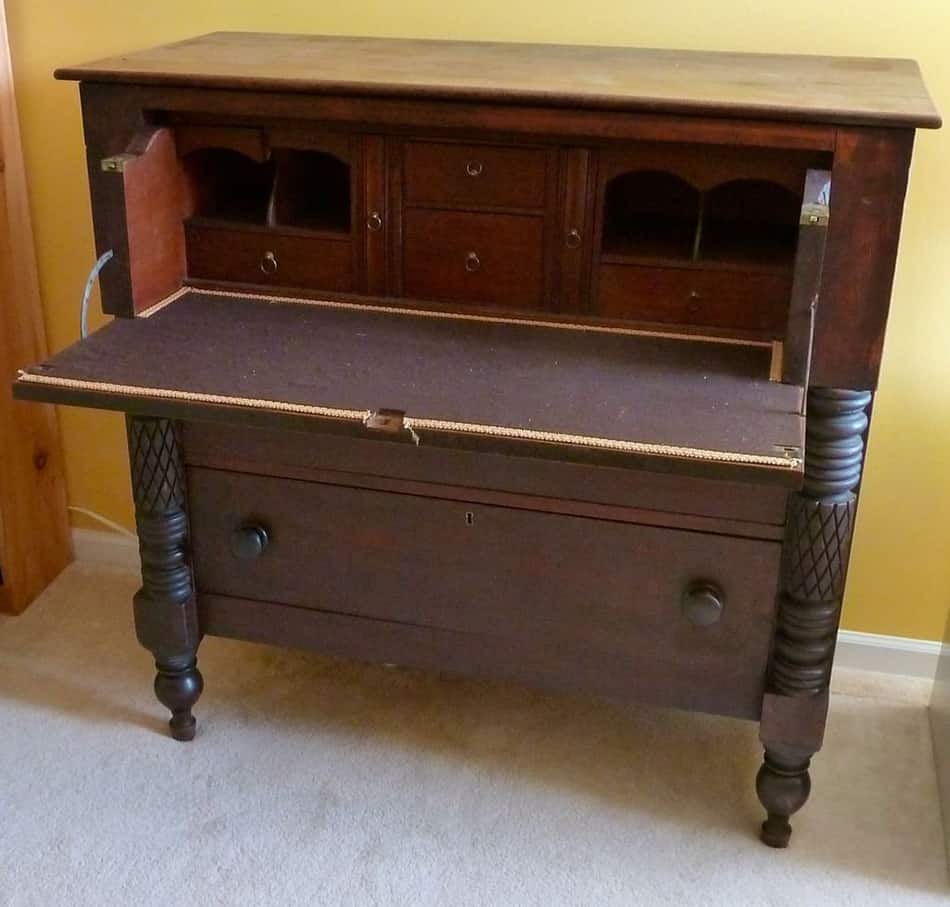 Credit to Mikehelms
The butler's desk is not as contemporary as the two previous desk types. But it could be a piece of furniture that can add flair and elegance to your home. The butler's desk was designed to be used by the head servant of a household back in the 18th century. It is used to hold documents and records. Back then, it was a high desk intended for the use of a standing individual.
It is a drop-front desk that's quite short and compact yet heavy and square-shaped. It features several small drawers and letter slots around a central door. The lower half of the desk often has three to four drawers and shelves behind a couple of doors. It's common for this desk to have secret drawers or areas for storing valuable documents.
10. Hallway Desk
When you have a big house, and you want to fill the space at the end of a hallway, then you would need a hallway desk.
In essence, a hallway desk is a minimalist piece of furniture. It's slim enough to fit at the end of a hallway. One can argue that a hallway desk is not designed for writing or working on a computer. That's partly true, but a hallway desk is still valuable, especially if you have decors that you'd want to display.
It also has minimal storage, with some models having one or two drawers at the most. But this is not surprising as the hallway desk, after all, is intended more for aesthetic purposes.
11. Coffee Table Desk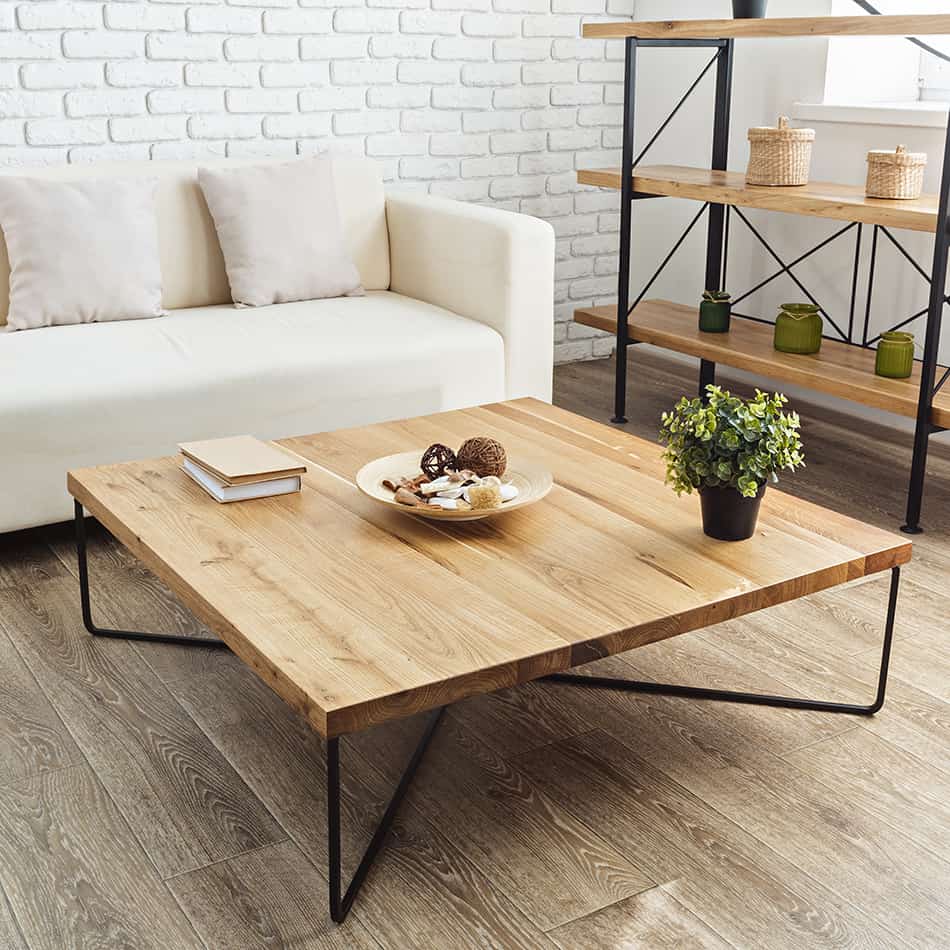 Like the hallway desk, the coffee table desk is not designed to provide a surface for you to write or work on. Instead, this low table, often placed in front of a sofa, serves to hold items like magazines and remote controls. It can also be a place for you to serve snacks or refreshments for your guests. Along with the sofa, the coffee table desk can be the centerpiece of your living room.
Coffee table desks have different features. Some models have a lift top, usually through a hinged mechanism. This feature gives more storage space or surface area to the coffee table desk. Others have bins, drawers, and shelves where you can store magazines, newspapers, and similar items.
Other coffee table desks have short stools for additional seating options. These stools can also be easily stored under the table. And other coffee table desks have casters or rolling legs for enhanced mobility.
12. Bedside Table/Desk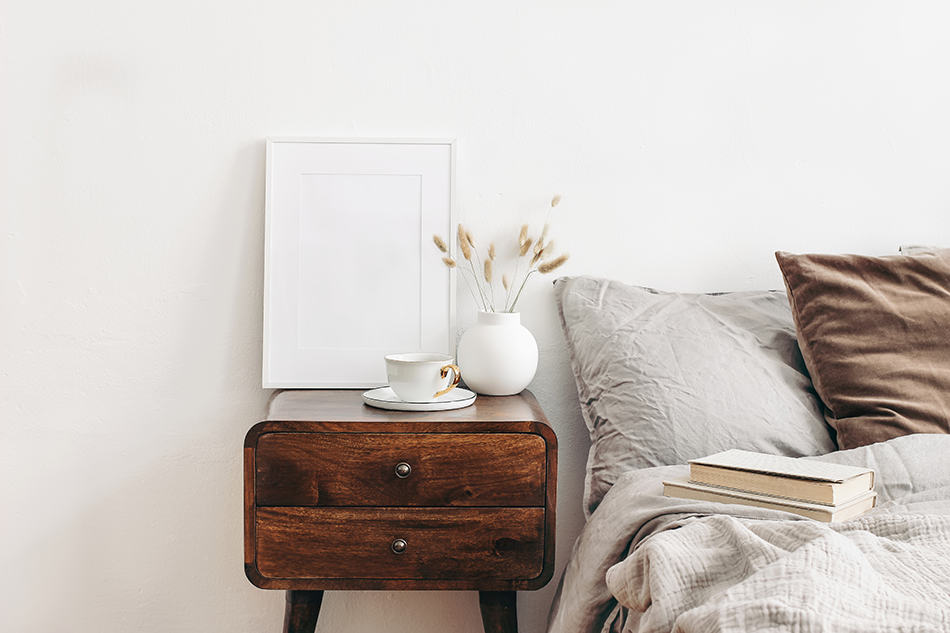 The bedside table may be one of the more underrated additions to your bedroom. Sure, it isn't as necessary or important as, say, a bed or even the wardrobe. But wouldn't you want a place where you can put your alarm clock? Or a desk where you can place your lamp? And let's face it, you want a table or desk where you can place whatever else you want to reach from your bed.
A bedside table doesn't provide a generous surface area as, say, a computer desk. But it has ample space to accommodate bedroom essentials like alarm clocks and table lamps. Most bedside table designs, though, incorporate drawers and shelves for storage of other bedroom necessities.
13. Armoire Desk
If you're looking for a desk that can store a lot of items but won't take up a lot of space in your home, consider getting an armoire desk.
The armoire desk is said to be the forerunner of today's computer desk. The word armoire comes from the French word 'armaire,' which pertains to a closet or set. It refers to a kind of storage place.
An armoire desk is a combination of a writing table and a large cabinet. Its height may vary from 1.5 to 2 meters. Two to four doors enclose the cabinet. This type of desk is commonly placed against a wall.
14. Lectern Desk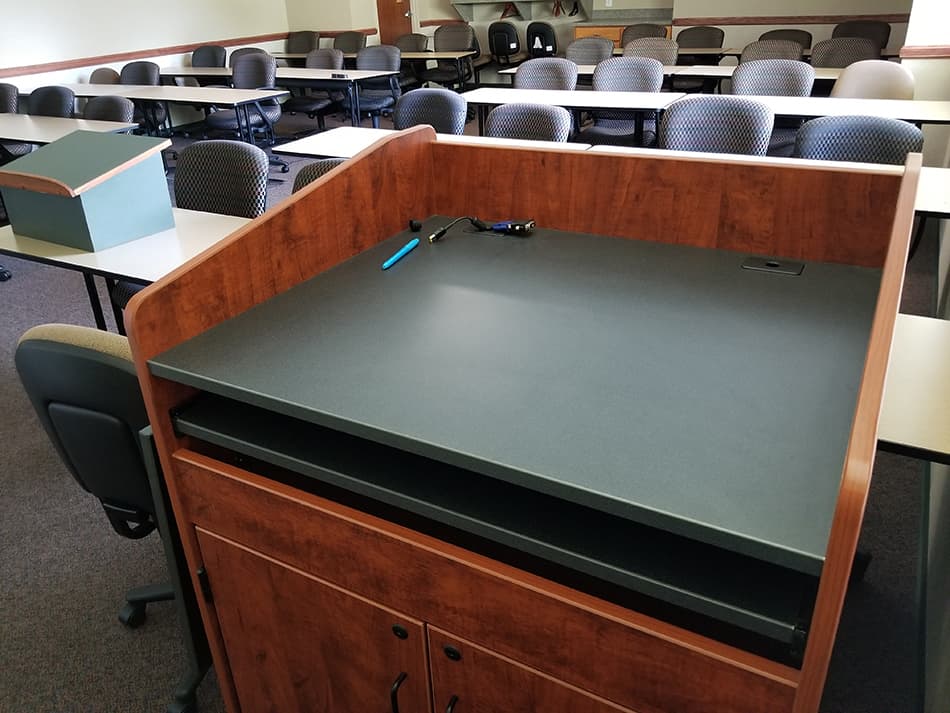 Unlike the other types of desks previously mentioned, the lectern desk is not commonly found in homes and even offices. It's a specialized desk designed for people who are giving a speech or presentation. This is a small and elevated desk that can hold notes while the user is in front of an audience. These days, a lectern desk often comes with a laptop or screen mount.
Aside from its small footprint, one of the best features or characteristics of a lectern desk is its portability. Some models can be folded and placed in a case for easy storage and transport; others have retractable legs. You may also find lecterns with special carry bags. Also, lecterns have accessible shelves for convenient storage of presenters' stuff like pointers, papers, and computers.
15. Bargueño Desk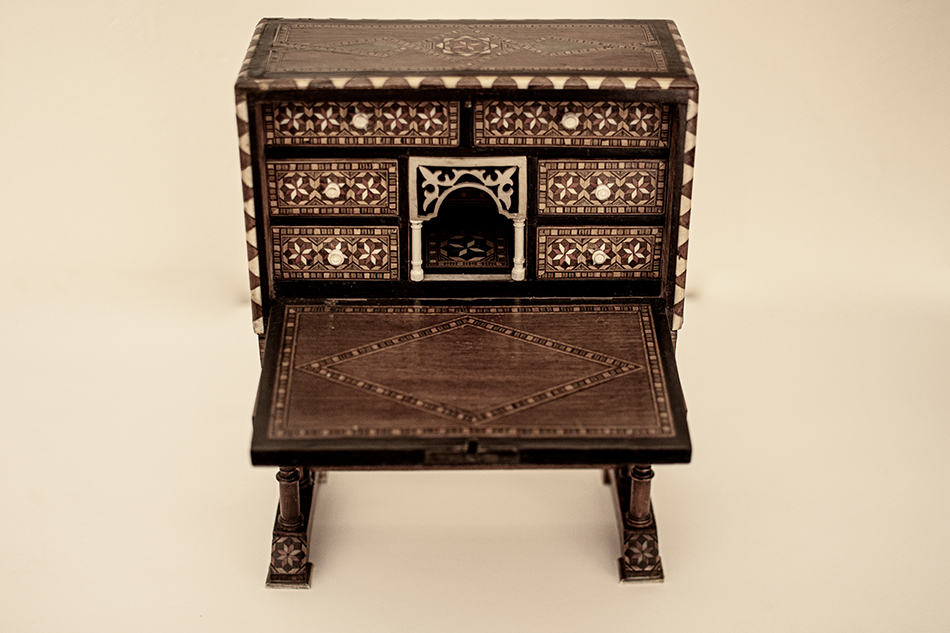 This is another traditional type of desk that, while not as common as it was once, remains coveted for its aesthetic value.
The Bargueño desk is a kind of portable desk consisting of two chests. The bottom chest usually has drawers, while the chest on top of it has a hinged surface. This also serves as a side-mounted lid. The interior of the desk consists of small drawers and pigeonholes where various small items can be stored.
It first became popular during the Renaissance Period in Spain. The Bargueño desk was typically made of wood. This wooden desk type has sturdy iron handles placed on each side to make transport easy.
These days, the Bargueño desk is valued more for its aesthetic value. It is often placed in the living room, bedroom, and entrance hall of a house. It can also be used in storing valuable items such as jewelry.
16. Telephone Desk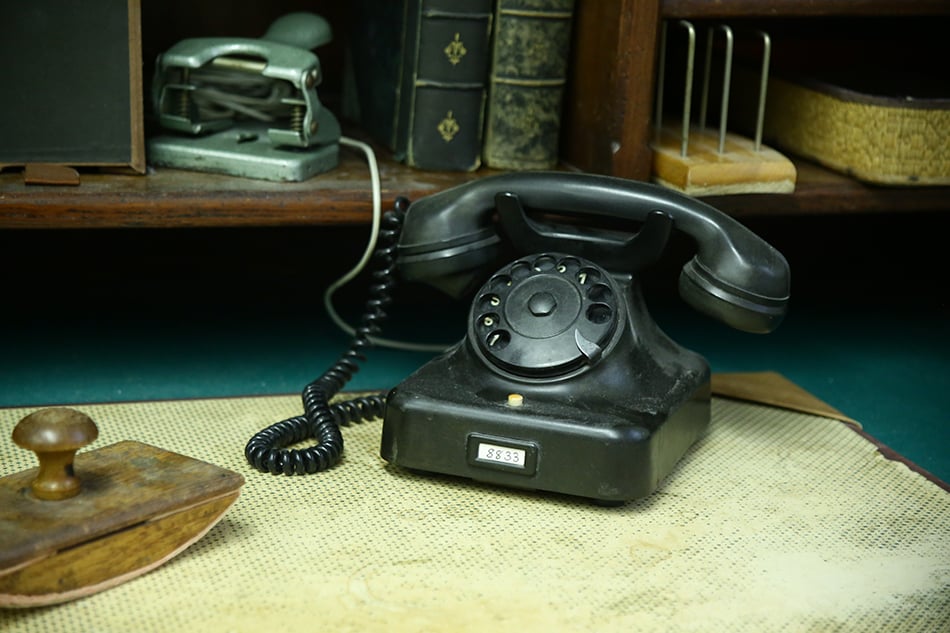 The telephone desk is yet another type of desk that can already be considered an antique. This fixed desk is small and designed to provide a surface for writing notes while the user speaks on the telephone.
It was widely popular during the 19th and 20th centuries. However, with the traditional telephone becoming obsolete, the telephone desk has become less visible these days.
17. Standing Desk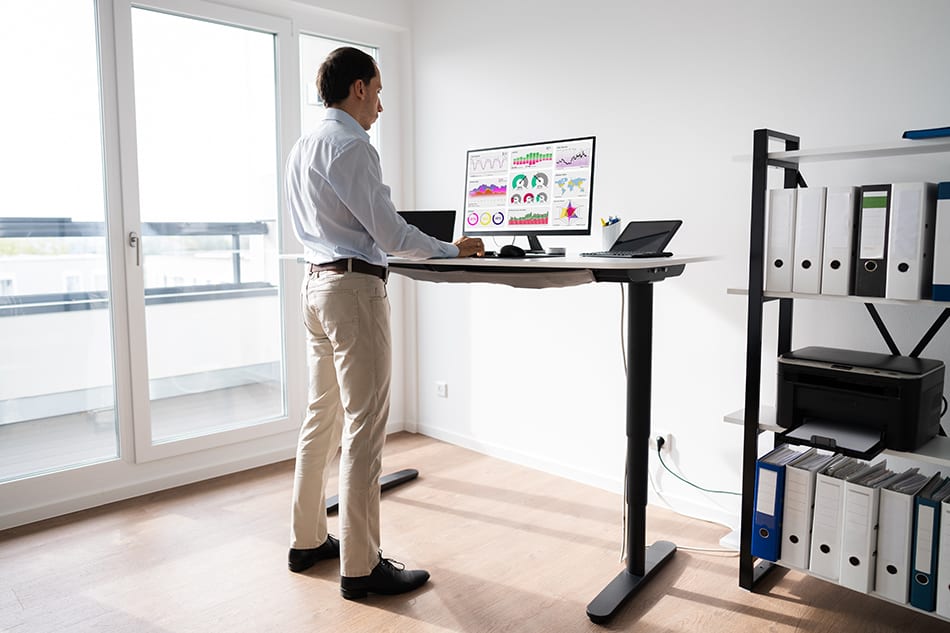 This is similar to the treadmill desk in the sense that it forces the user to remain standing while working or writing something. The standing desk can be considered one of the solutions to sitting down for hours at the workplace.
However, it doesn't mean that you can only use this desk while standing. You may even sit while using this desk as standing for many hours doesn't seem good for your health, so having an office chair nearby.
There are manual or electric standing desk options for height adjustability. This height-adjustable desk lets the user find the right height so that he or she won't be forced to slouch. But you'll be surprised at the number of other impressive features of standing desks. Some models have a sit/stand reminder that tells users when it's time to sit or stand. Others have LED display that shows the exact desk height.
One popular variation of this desk is a standing desk converter. It can be easily placed on your existing desk and can be adjusted for a sitting or standing position while working.
18. Credenza Desk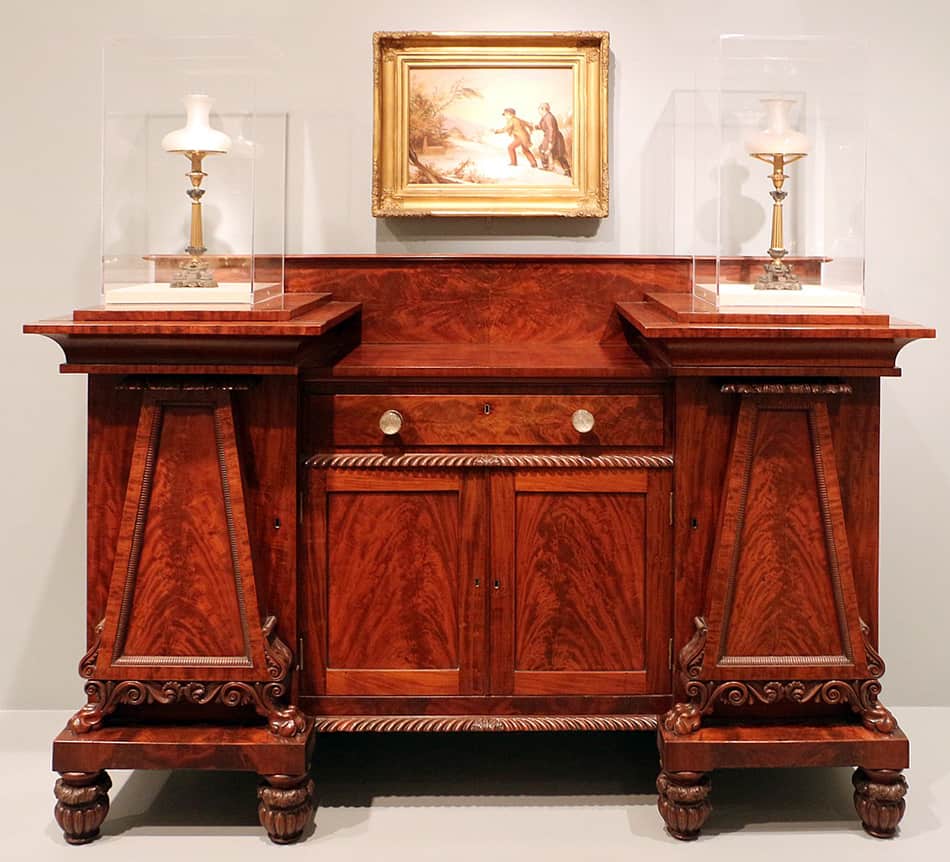 This is a modern form of desk often placed next to a wall. It serves as a secondary surface to another desk in a typical office.
Credenza desks usually have numerous drawers where you can put your documents, pens, and other work materials. Moreover, this type of desk provides enough knee space and legroom, just like standard desks.
19. Corner Desk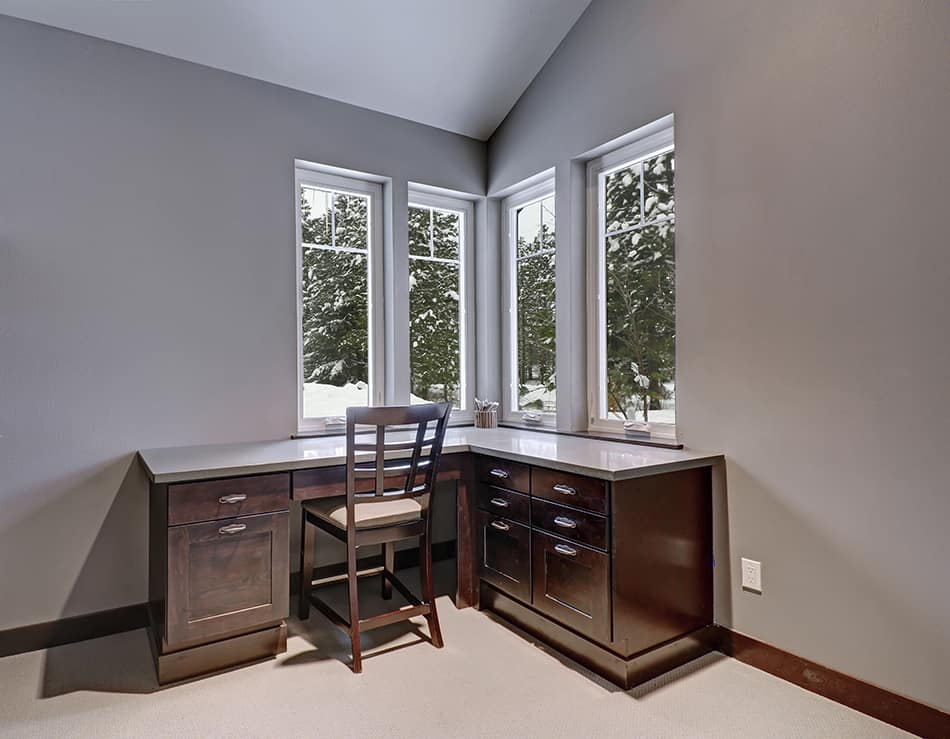 As the name suggests, a corner desk is meant to place in the corner. Many users like these L-shaped desks as they help them have a spacious working space where he or she can comfortably place several computer screens and documents on both sides without having to stretch much.
Now that you've learned about 19 different types of desks, you can start shopping for one that best addresses your needs—whether it's for a sufficient working surface or one that can add a touch of elegance to your home or office.