A garage door makes up one-third of a home's exterior design, so the color you choose will significantly impact the overall look of your home. Your garage door is the most noticeable feature of the home's exterior; thus, it's important to pick the right color.
If you have a white exterior, then there are lots of color options. Since white is a neutral color, it can serve as the backdrop to any other color. Therefore, the best garage door colors for a white house include:
Cool, bold Colors
Warm, bright colors
White
Black and grey
Wood Tones
Now let's take a look at the examples we've compiled for inspiration:
Garage Door Colors for a White House
Classic White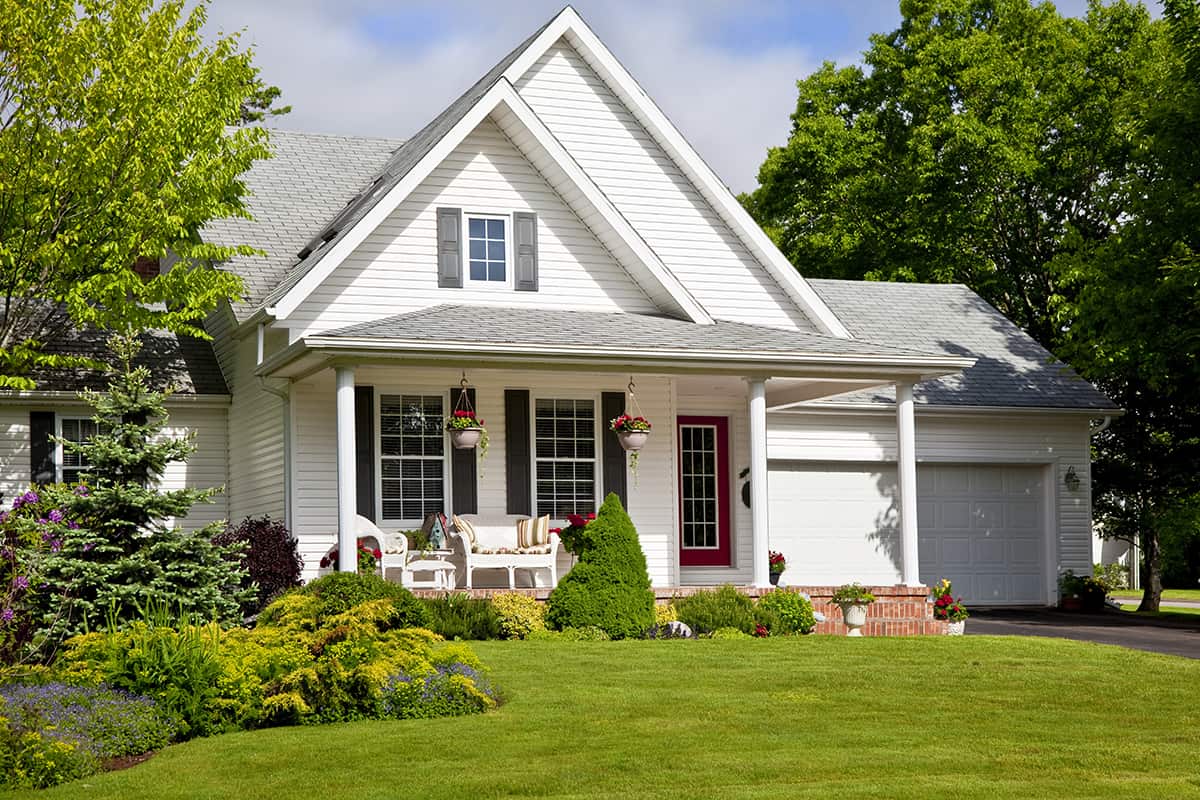 A white garage door is a classic choice for a white house as it's a) readily available, b) most homebuyers are drawn to its simplicity, and c) white matches everything!
A white house exterior with a matching garage door can be paired with colorful trim to make it pop. Most modern and traditional homes feature white garage doors thanks to their clean, simple design.
Whether you choose a solid white vinyl door or one with a wood grain texture, your white house can look authentic with a traditional vibe. In fact, a bright white house with a white garage door is sure to draw the attention of the passerby.
For added style, pick bold trim colors, just like in this photo of a Suburban house featuring gray shutters and red door trim.
Black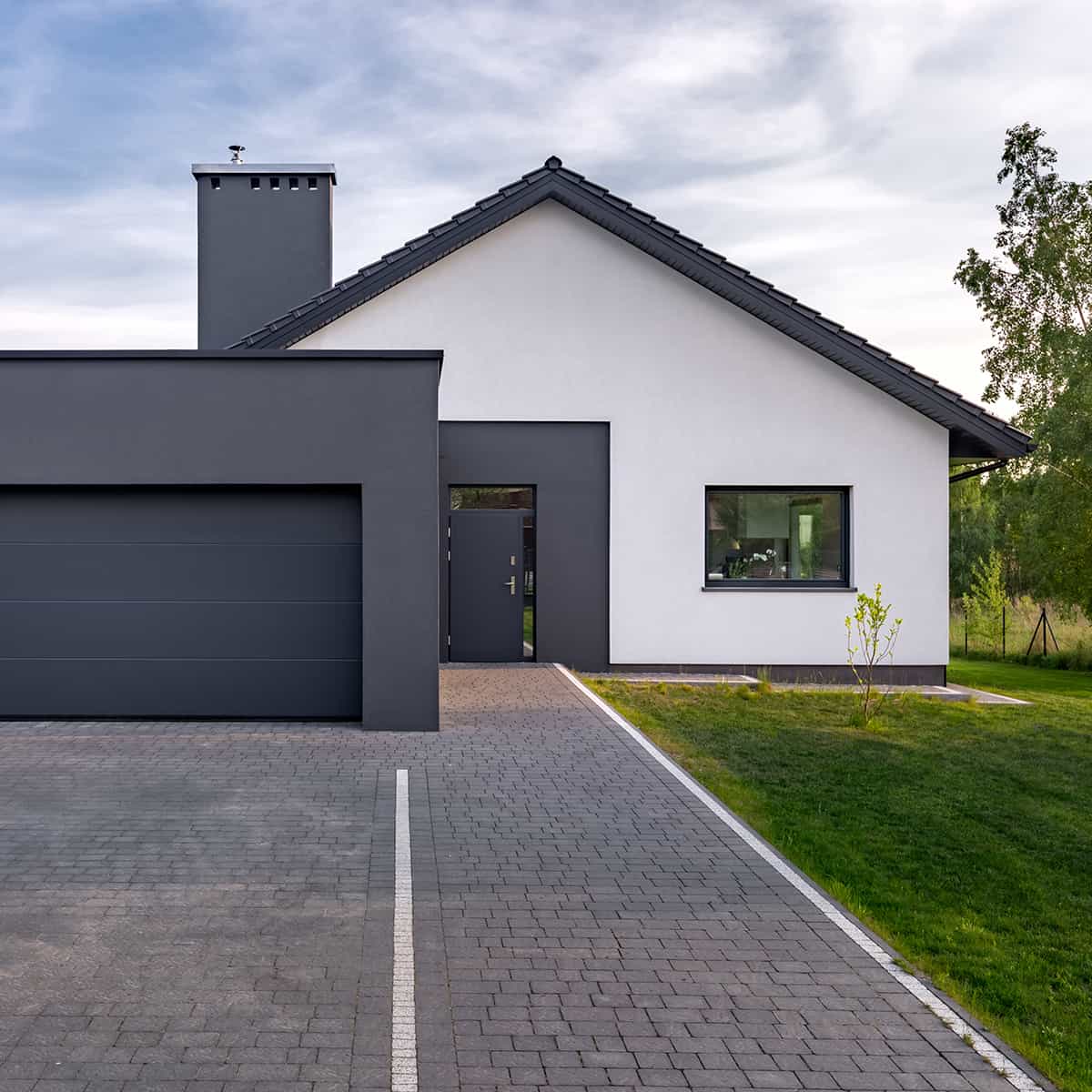 Just like the timeless beauty of white, black is another appealing color for a white home's garage door. This stylishly striking color never goes out of style and looks particularly attractive in contemporary homes. A white house with a contrasting garage door color creates a formal elegance that's sure to turn heads!
Black garage doors are growing in popularity, from deep jet black to charcoal shades. This solid color is the perfect choice to make a statement with. And as for the trim, go with vivid colors like yellow or blue and a black front door to pair with your white home's black garage door.
Red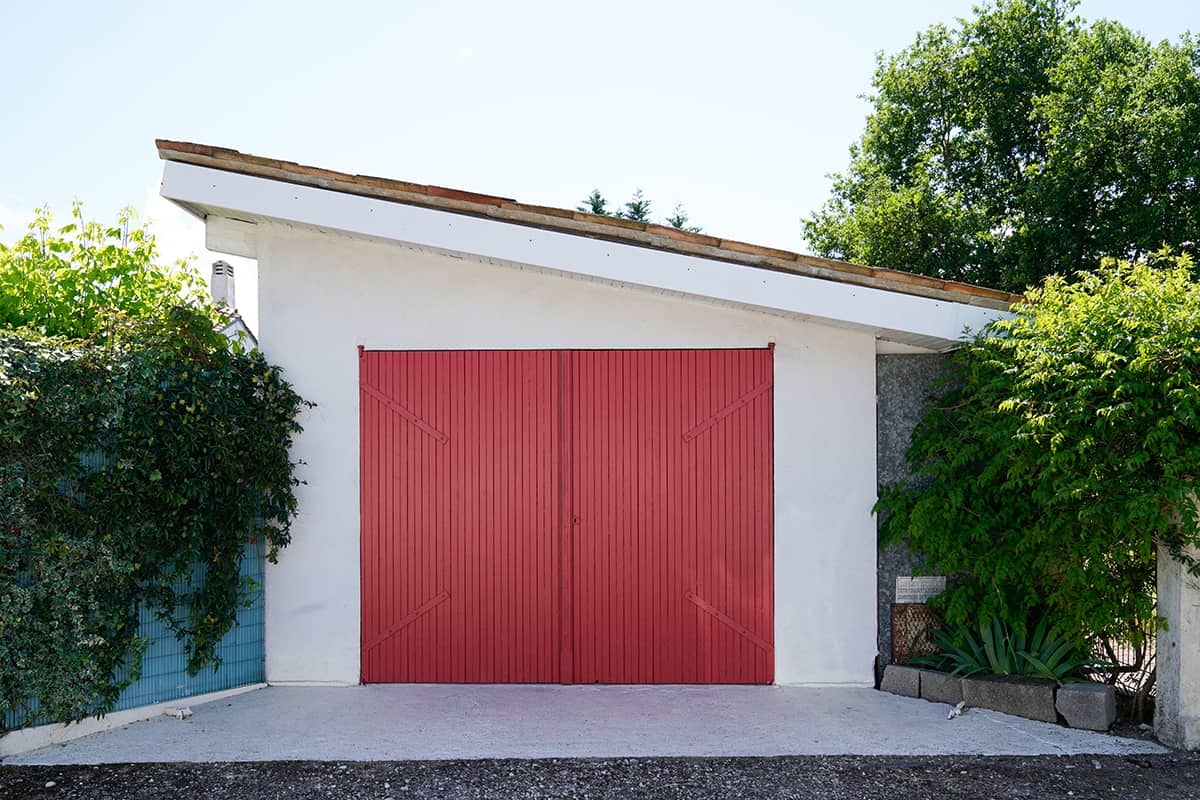 To bring intensity to your white home's exterior, opt for a vibrant red garage door. This characteristic color makes a powerful impression and emits a welcoming feel. When matched with a red front door, you're sure to create an intense visual interest.
A red garage door is an ideal color that stands out from a white background and other features of your home.
Aside from fiery red and cherry shades, there are less intense hues like maroon, burgundy, and crimson, which work particularly well for traditional-style homes. Pair your red garage door with earth-toned trim for an ultra-warm and welcoming feel.
Beige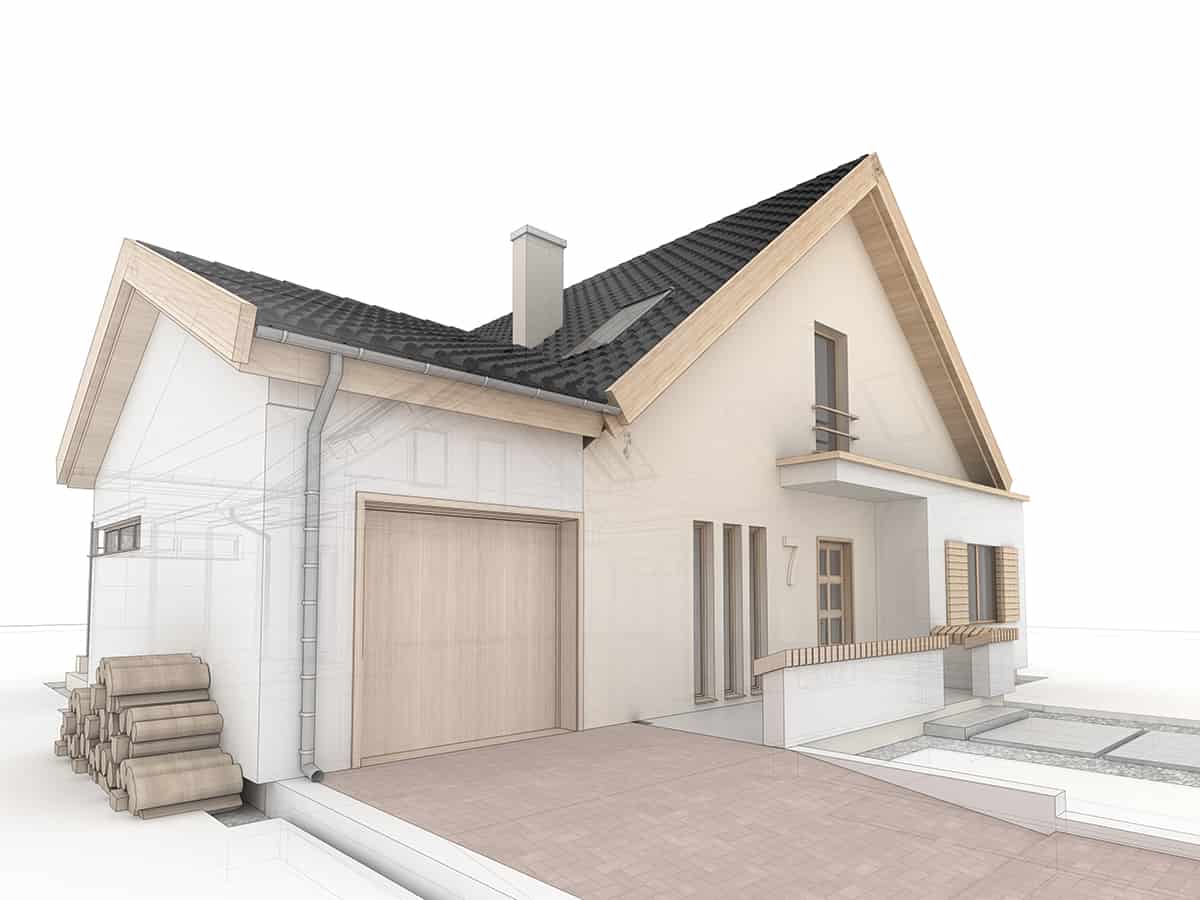 From tan, sand, almond, taupe, and oatmeal, beige is a soft hue that makes a top choice for a garage door. A traditional white house with a beige garage door can be perfectly matched with other neutral details.
A beige garage door blends harmoniously with any other soft or bold color. Since beige is a warm color, it allows the other neutral or bold architectural elements to stand out. If you have a white house with a gray roof, beige makes an especially attractive color for the garage door.
Yellow
As a brighter alternative to a neutral beige, consider a vibrant, warm yellow garage door for your white exterior. This cheery color is an ideal option for those who want their garage door to be the focal feature of their home. A yellow garage door will highlight the white house and let it stand out.
Whether you choose a bright shade or a soft, pale yellow, this color can make a subdued contrast to the bright white exterior. We particularly love canary yellow as it's a daring color scheme for a garage door and front door. But if you want to tone it down a little, pair your yellow garage door with blue or gray trim.
Yellow is an interesting color option that will cheer up your guests and illuminate the exterior of your home. Pick any shade you like to achieve the desired look.
Gray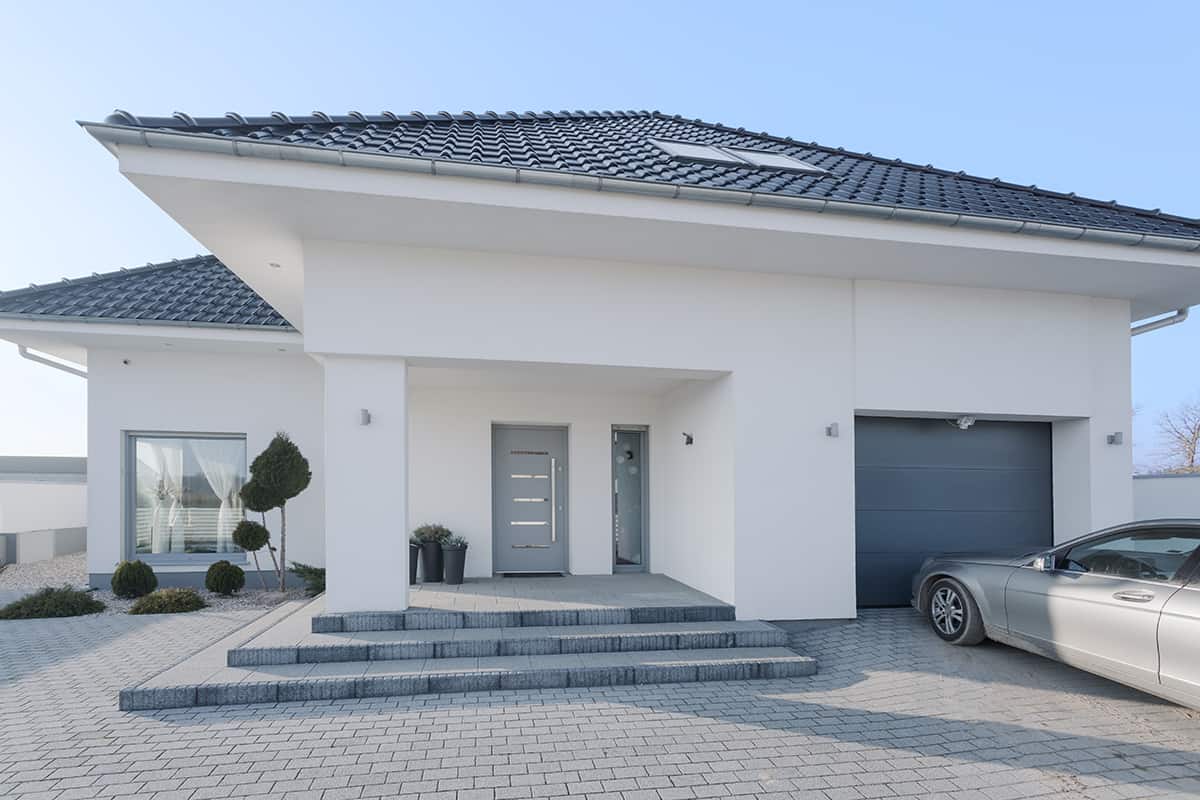 A gray garage door is a neutral yet highly trendy design option for a white house. This is the perfect hue for those who don't want a plain white or an intense black garage door.
Whether your white home is a modern or contemporary style, opting for trendy neutral palettes is a no-fail approach. A gray garage door balances the white exterior, and it can be paired with a front door that's a shade lighter or darker than the garage door.
Just like you can see in this photo, the cool gray garage door is coordinated with a light gray front door and roof shingles. This stately house, with its crisp white exterior, looks sleek and ultra-modern.
Gray is also a very popular used for house exteriors & sidings. Want to see a combination between gray house exteriors and some garage door colors? Follow our page on what color garage door goes and contrasts with a gray house.
Purple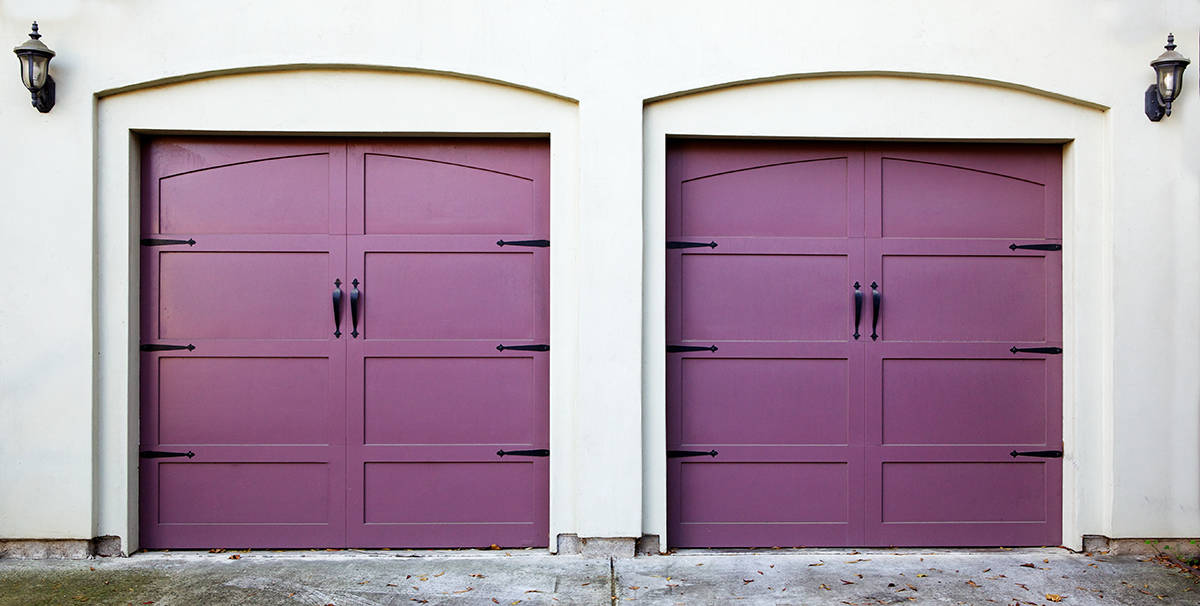 The rich, sophisticated flair of a purple garage door is enough to increase curb appeal. If you want to enjoy driving up to your driveway and seeing a bright purple garage door, then this dramatic color may be right for you.
Purple goes particularly well with white exteriors and red trim. It also works for both modern and traditional style homes. While purple isn't the first color choice for a garage door, it is sure to add a charming touch to your white exterior.
Wood Tones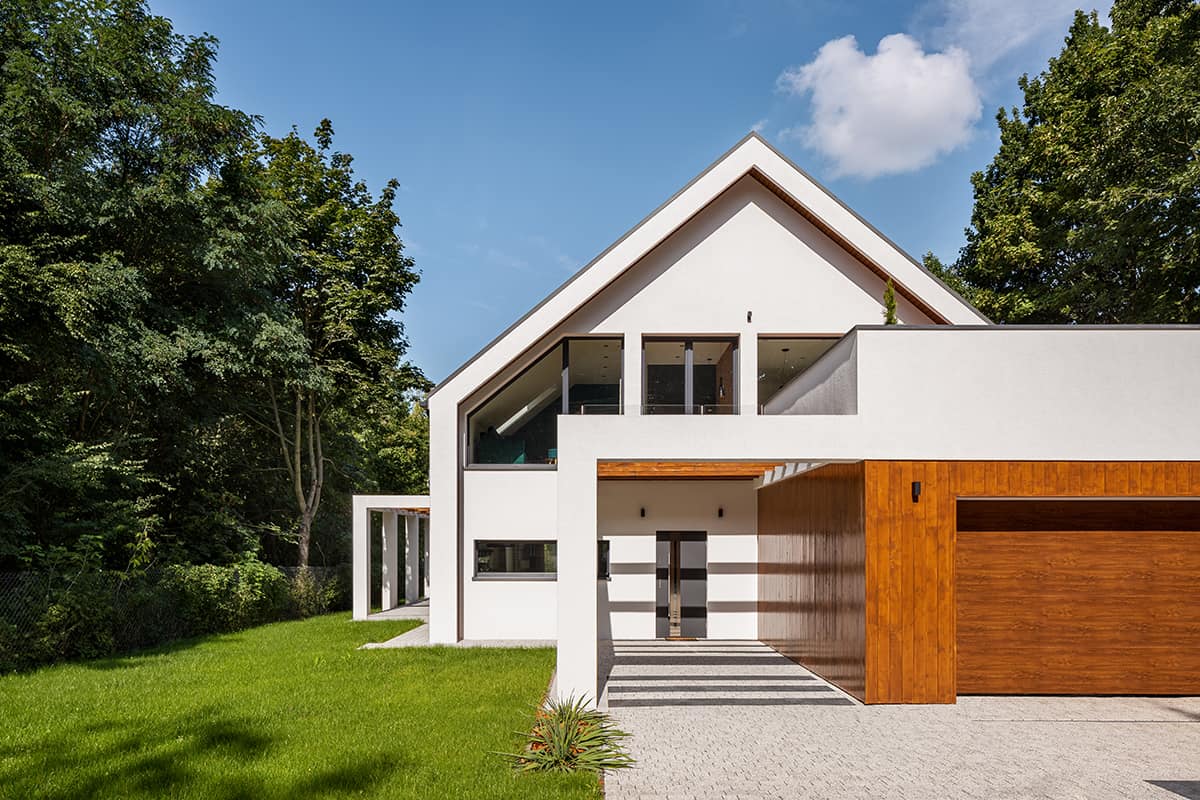 Our final idea for a white home's garage door color is a wood tone, which is the favorite of many! A light brown or deep chocolate stain garage door gives a white house a luxurious appeal.
You can add a wooden garage door to any house style, together with other natural wood elements, including shutters and front door trim. Even a white brick house will look stunning with a wood-tone garage door. Follow our post on the garage door for a red brick house for more color inspirations.
Whether you prefer real wood or composite, a garage door in a deep brown hue or a light golden color can certainly be a head-turning choice.
To prove it, here is an example of a modern house with a wood-tone brown garage door, which stands out beautifully from the rest of the exterior.
Tips on Selecting the Right Garage Door Color
Choose a complementing color based on the door material: when selecting a garage door, make sure it's compatible with the door material. Wood finishes usually look good in brown stain, while vinyl and steel garage doors can benefit from bold and bright colors.
Make the garage door stand out: the front door is always the focal point of the house, but what if you want your garage door to stand out instead?
Your front door doesn't have to steal the spotlight from the garage door if you use a matching color. You may even prefer a brighter and more intense color for your garage door. Either way, the garage door, and front door colors should stand out from the rest of the exterior.
Think of curb appeal: when it comes to boosting the resale value of your home, the garage door color can play a role. The safest option is to pick a neutral tone, like gray or white. These clean, classic colors are most home buyers' preference so you're more likely to help increase the value of your home by boosting curb appeal.
Opt for a timeless color over trendy: there are many colors that come and go, but a neutral garage door color will retain its beauty for many decades. Colors such as brown, black, gray, white, and beige are timeless, so they never go out of fashion.
Don't forget about the surrounding landscape: if you have lots of greenery or foliage around your garage, take their color scheme into consideration when picking a door color.
The last thing you want is for your garage door color to clash with your front lawn! Tip: bluish gray, beige, brown, and white go nicely with a green landscape.
Conclusion
Painting your home's exterior a neutral color like plain white means you'll have numerous options for your garage door color. While it's easy to get carried away with so many color options, the general rule is to make your garage door stand out without causing imbalance.
If you prefer to keep it neutral, go for gray, beige, or simply white. Bolder colors include purple, red, and yellow, as shown in our examples. Feel free to select a color that suits your personal taste as well as your white home's architectural details.