The exterior remodeling of your brown home is only complete once you've decided on the right garage door color. The paint color you choose must coordinate with the rest of your home's exterior. Plus it will be a big selling point when it comes to attracting potential buyers, not to mention increasing curb appeal!
When picking the best garage door color for a brown house, try matching the color with your trim. Since brown is a warm, earthy tone, it must be paired with complementing colors, including:
White or beige: to balance and complement the brown exterior and other trim colors.
Light gray: not as bright as white, but still just as trendy.
Bold, vivid tones: to create a polished feel next to the brown siding.
Stained brown wood: for a cohesive exterior design, brown exterior walls provide a monochromatic feel next to brown stained wood.
Other factors to consider when selecting a paint color for your garage door include:
Coordinating tones: while it's not recommended to match the facade color of your home with the garage door, it is best to opt for coordinating colors instead. For example, a black garage door may look lost on a brown house, but it does work aesthetically with brown brick walls.
Contrasting tones: when deciding on a contrasting color, opt for lighter hues, such as yellow or light blue as this will make your home exterior stand out.
Now that you have a basic idea on how to coordinate garage door colors with your home's brown exterior, let's take a look at our examples with images:
Examples of Garage Door Colors for a Brown House
White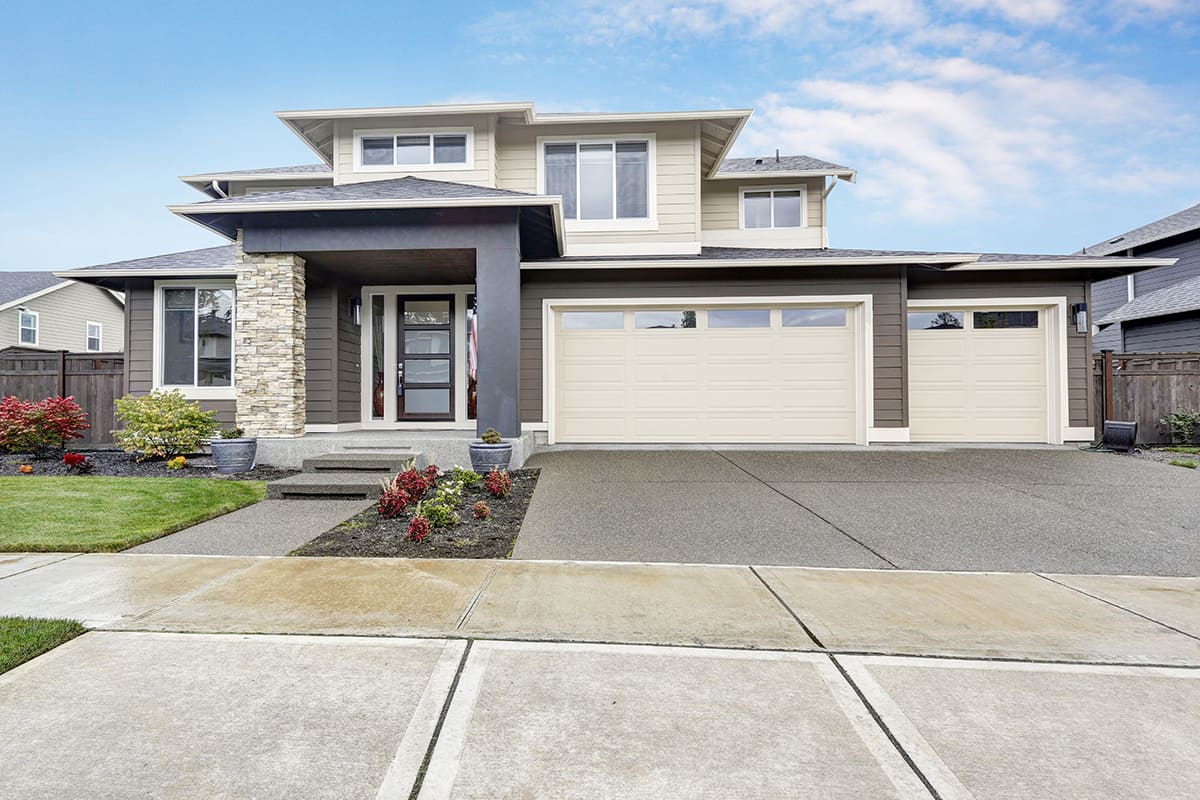 White is, without a doubt, one of the safest color choices for a garage door. This neutral and crisp color provides a clean look on a brown house. However, keep in mind that if you go for a white garage door, it will require more maintenance to keep it bright and clean.
Here, the blend of light brown and beige work beautifully with the white garage doors. This modern home certainly oozes curb appeal!
The white garage color also works well with a white house. See more garage and white house color schemes in our post ' 8 Best Garage Door Colors for a White House '
Beige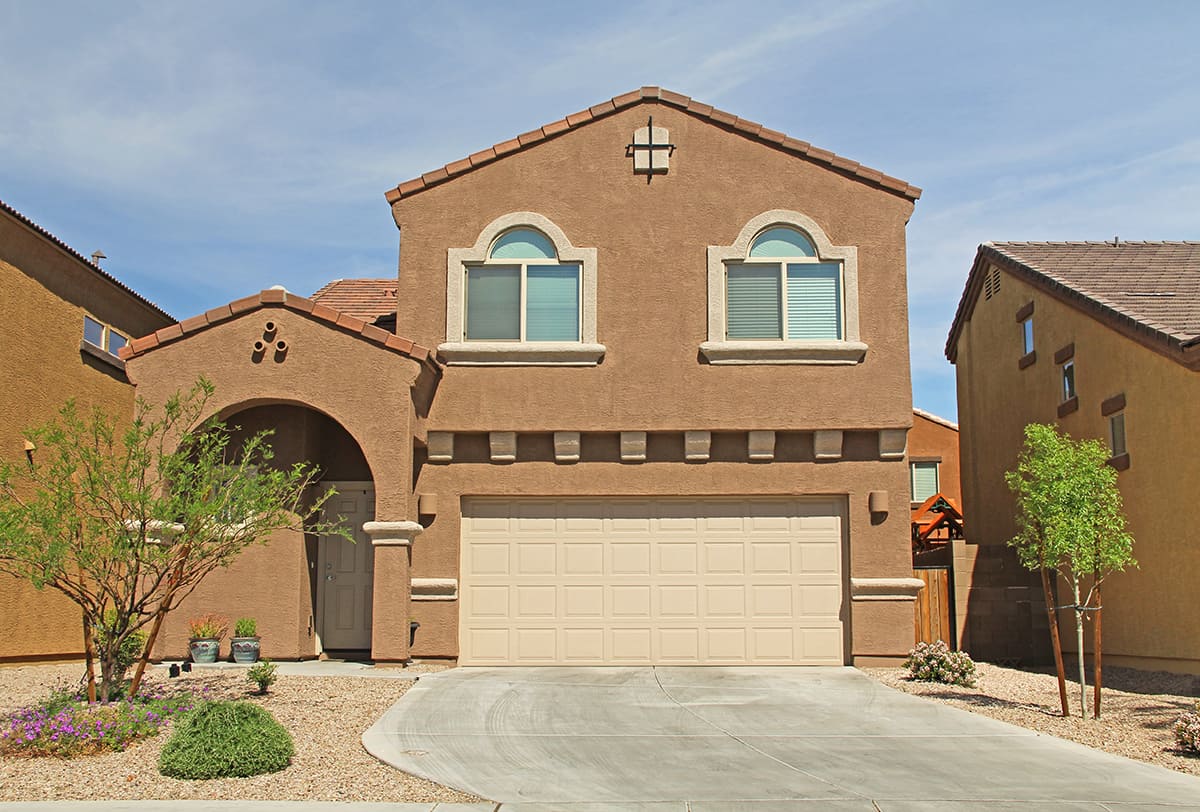 The next garage door color that works with brown exterior walls is a subtle beige. This timeless color isn't as crisp or bright as white, but it is an excellent alternative that never goes out of style.
Whether your home's exterior is painted a dramatic brown shade or a light tone, this color pairing is sure to give your home an inviting vibe.
Light Gray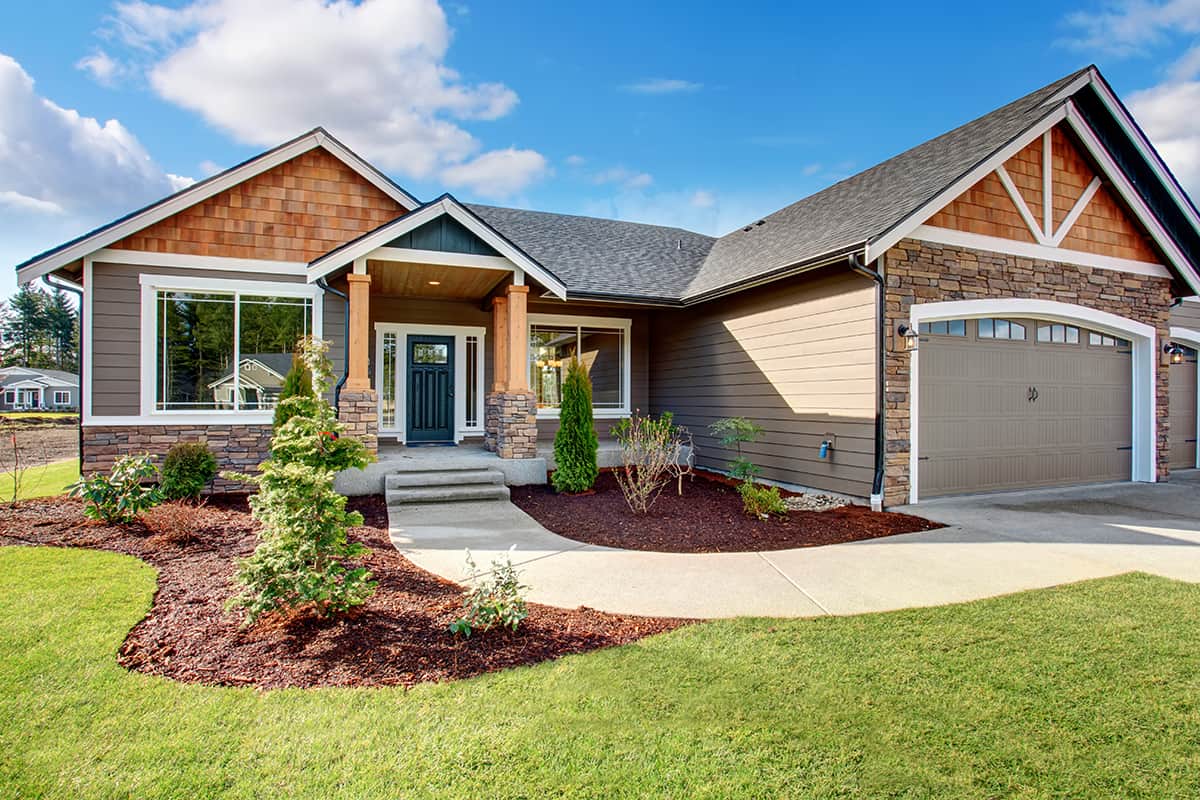 As a trendy, neutral color, gray is the ultimate classy option for a garage door of a brown house. Light gray has the same clean, bright appeal of white, but with a little more punch. So rather than making your garage door the focal point, it can easily blend into the background of the brown exterior. Light gray not only adds a unique style but also hides dirt much better than white.
This large, single-story modern brown house has been taken to a whole new level thanks to the light gray garage door and light brown facade. We particularly love the gray stone siding as a coordinated and cohesive design.
Navy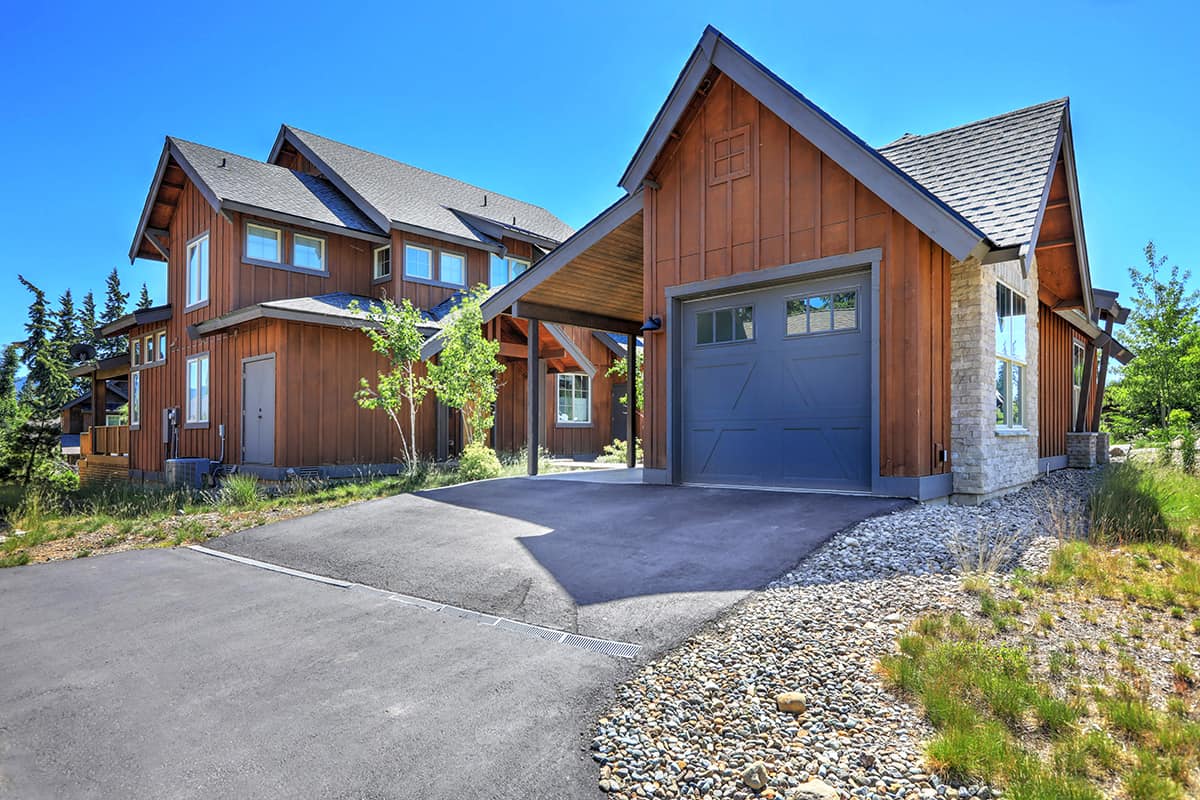 Navy isn't a typical garage door color for a brown house, but contrary to some people's belief, brown and blue can work very well together. This is especially true if your exterior walls are made of wood and painted brown.
Blue has a cool tone that matches the cool undertone of brown. This color pairing goes well with a gray roof or shutters as another cool color.
Light Blue
Another pop of color for your brown home's garage door is a light shade of blue. Any soft, light shade of blue will evoke calmness and a serene feeling.
This eye-catching color is visually stimulating and just like navy, it stands out on the exterior of your home. Add some colorful pots of flowers to your porch for increased curb appeal.
Warm Green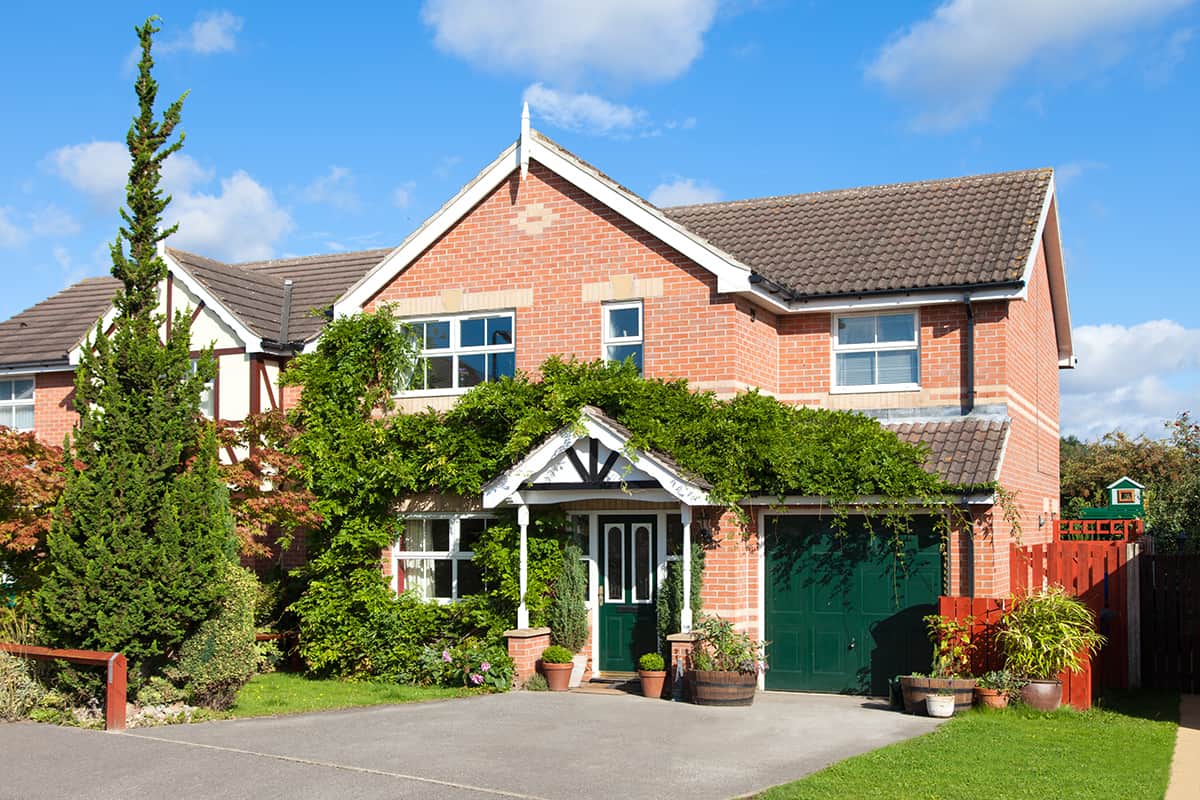 Green is a warm, earthy color that works seamlessly with a brown exterior. You can even match it to stone or wood trim as a down-to-earth aesthetic.
Shades like sage, olive, or mint are earthy greens, which blend in with the elegant brown walls of a modern or traditional house.
If your home exterior is made of brown brick like the one shown here, incorporate a dark green shade for the garage door and the front door. This combination is a sure-fire way to make your trim stand out as you can see in this example.
Red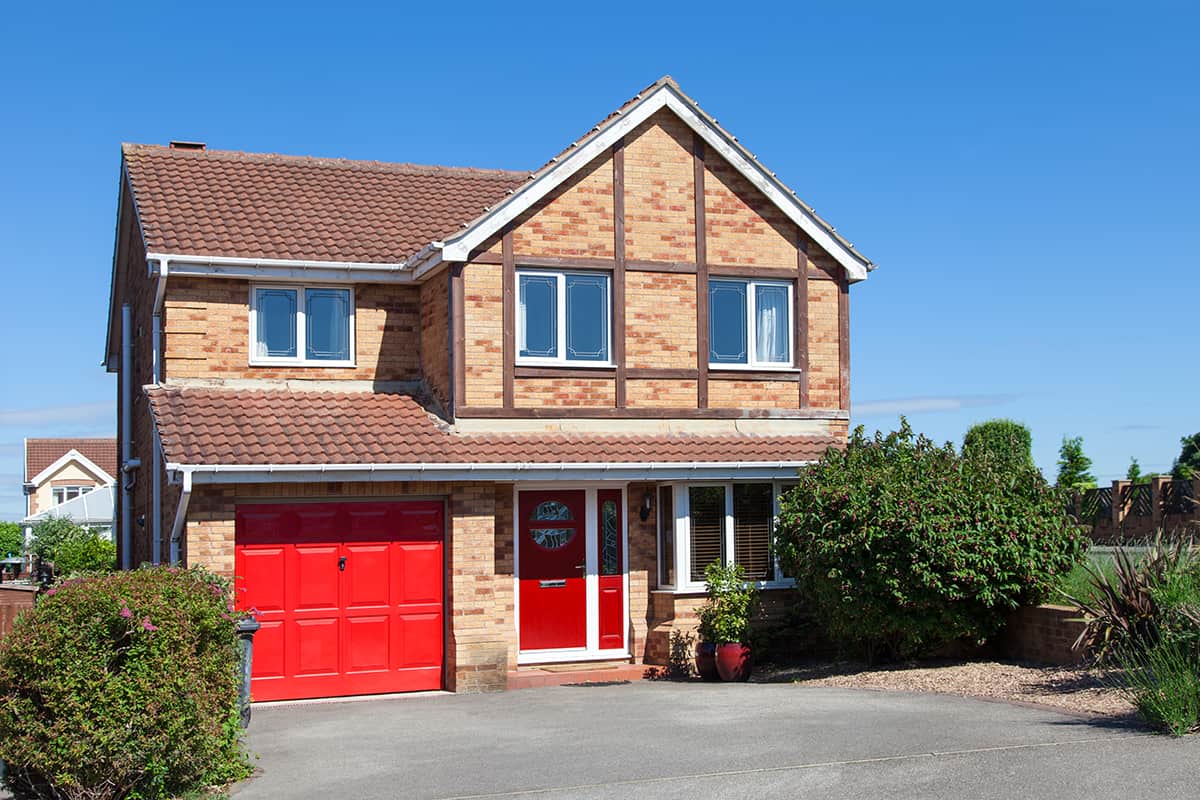 Another eye-catching and warm color for a garage door is a bright shade of red. This color works perfectly with a warm shade of brown as both colors are in the same spectrum. A bold shade of red for the garage door can be paired with a matching front door for extra shine.
This intense color can be coordinated with a brown brick exterior, as shown here. The brown roof and white trim complement the red doors as the entrance provides a pop of color that stands out on the exterior.
This striking color is in the same family as brown, so it's well worth considering for your modern or traditional home.
Besides brown brick exteriors, red brick for house exteriors is also a popular choice for many homeowners. Here are a few ideas for garage door colors for red brick houses.
Orange
For a muted garage door option, have you ever considered choosing a pale orange finish for your garage door? This is perhaps the wow factor you've been seeking for your brown home.
How about burnt orange as a warm color that energizes your home's exterior? Orange is a daring color choice, but there is no denying how beautiful it makes your brown home's exterior since the two colors are in the same family. So if you want to make a definite statement, consider using a muted shade of orange for the garage door.
Black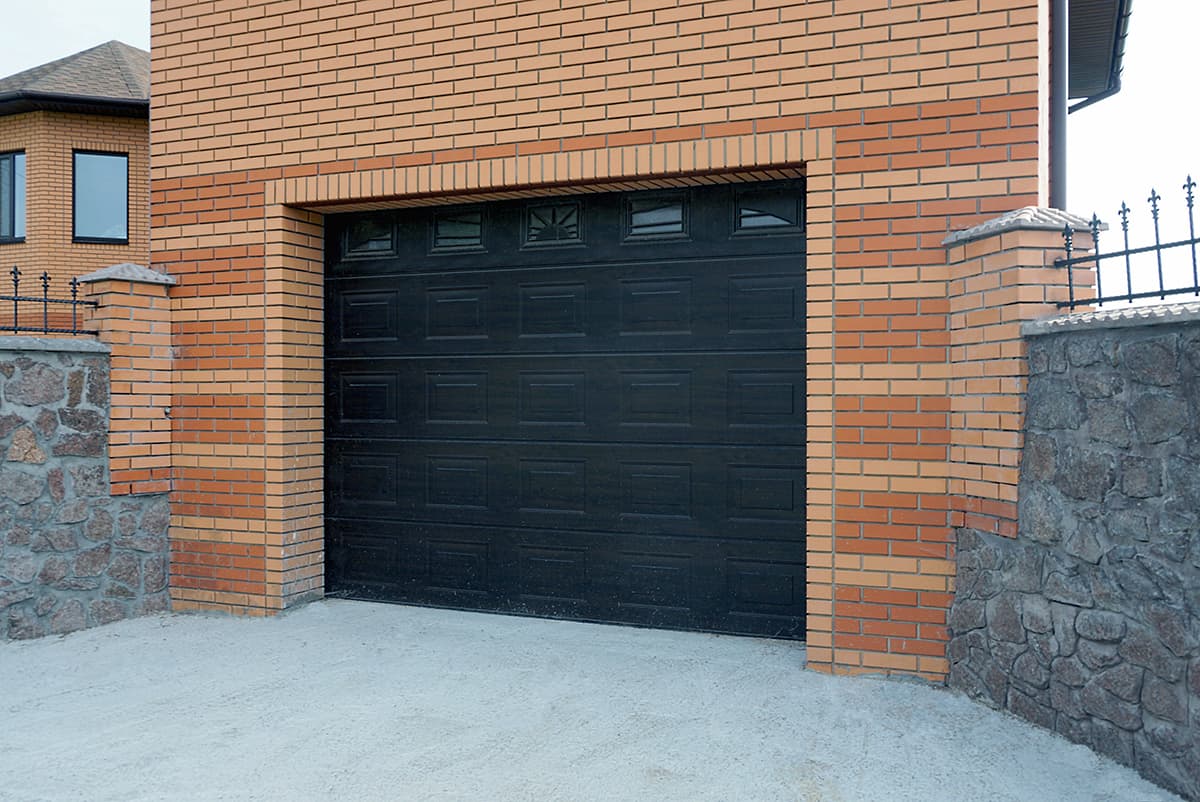 Brown and black are a bold combination, but when you pair these dark colors together, they emit a visually stimulating and warm effect.
Since black is so versatile, it typically goes with a brown brick or wood exterior. Although you won't see many brown houses with a black garage door, this idea works best on darker-painted homes.
Stained Wood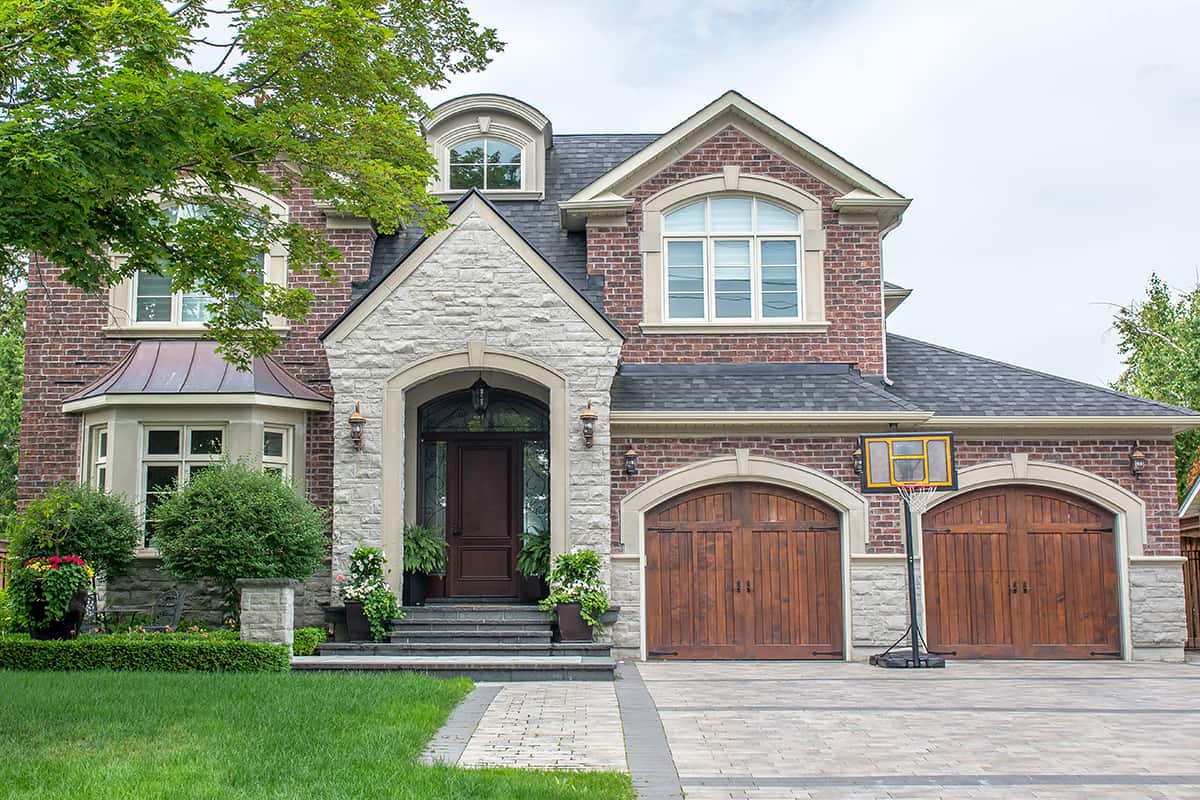 As a timeless and traditional option, a solid wood siding stained in a shade lighter or darker brown makes a stylish choice. A wooden garage door in a natural brown stain is sure to enhance the warmth feel of your home's exterior.
This neutral color coordination goes perfectly with beige trim or roof. A handcrafted natural wood garage door looks beautiful with any other neutral color, including brown siding and other decorative elements.
Since there are many different types of wood to pick from, you can get some inspiration from your brown home's architectural features before choosing the right wood for your garage door. For example, a Colonial-style home with brownstone exterior walls can look stunning with an oak brown garage door and front door.
Is Brown A Popular Exterior Color?
Brown isn't the first color that comes to mind when choosing a paint color for your home's exterior. But even though it isn't a top pick, it doesn't mean this warm, earthy color won't make your exterior look dramatic and modern.
For those who want to try something different, brown is a great pick. You don't need to go for a rich, dark brown exterior paint as that will look too overwhelming. A light shade like almond or tortilla is perfect for your home's siding. Pair it with white or beige trim and gray roof to brighten up the facade. This creates a rich exterior design and makes the walls appear taller.
Conclusion
A garage makes up as much as 40 percent of a home's curb appeal, so it is imperative to pick the right color for your brown house. While there are many options for garage door colors, the focus should be on boosting your home's resale value and the impression you want to create from the outside.
Whether you go for contrasting, neutral, or complimentary garage door colors, there is bound to be a color that works for every brown home.
So if you are thinking of remodeling your home's exterior by replacing or repainting your garage door, you'll want to create a cohesive design that works with brown walls.
Based on our listed ideas, we found white, black, beige, blue, and red as timeless colors that work perfectly with brown. Even stained brown in a shade lighter or darker than your exterior walls will work perfectly as a coordinated design.