A carport is a great addition to a home if you want to keep your car, boat, motorhome, or other vehicle protected from rain and snow. Carports can also be used as storage, a workshop, or an undercover picnic area.
Although a carport does not provide as much protection as a garage, it is much easier and cheaper to build a carport compared with a garage. If you want to build a carport, you will need to know what the standard sizing options are and what types of vehicles you can fit in these.
Difference Between Carport and Garage
The key distinction between a carport and a garage is that a garage is enclosed, while a carport must have two walls that are completely open. These are usually the front of the carport where your vehicle will enter it and the back. The other main difference between a carport and a garage is that a carport can only have one story or one floor.
Both a carport and garage will need a building permit to be constructed, and though specific requirements will vary depending on local authorities, a carport permit is generally much easier to get. A carport will also be less costly to build and take less time.
Standard-sized Carport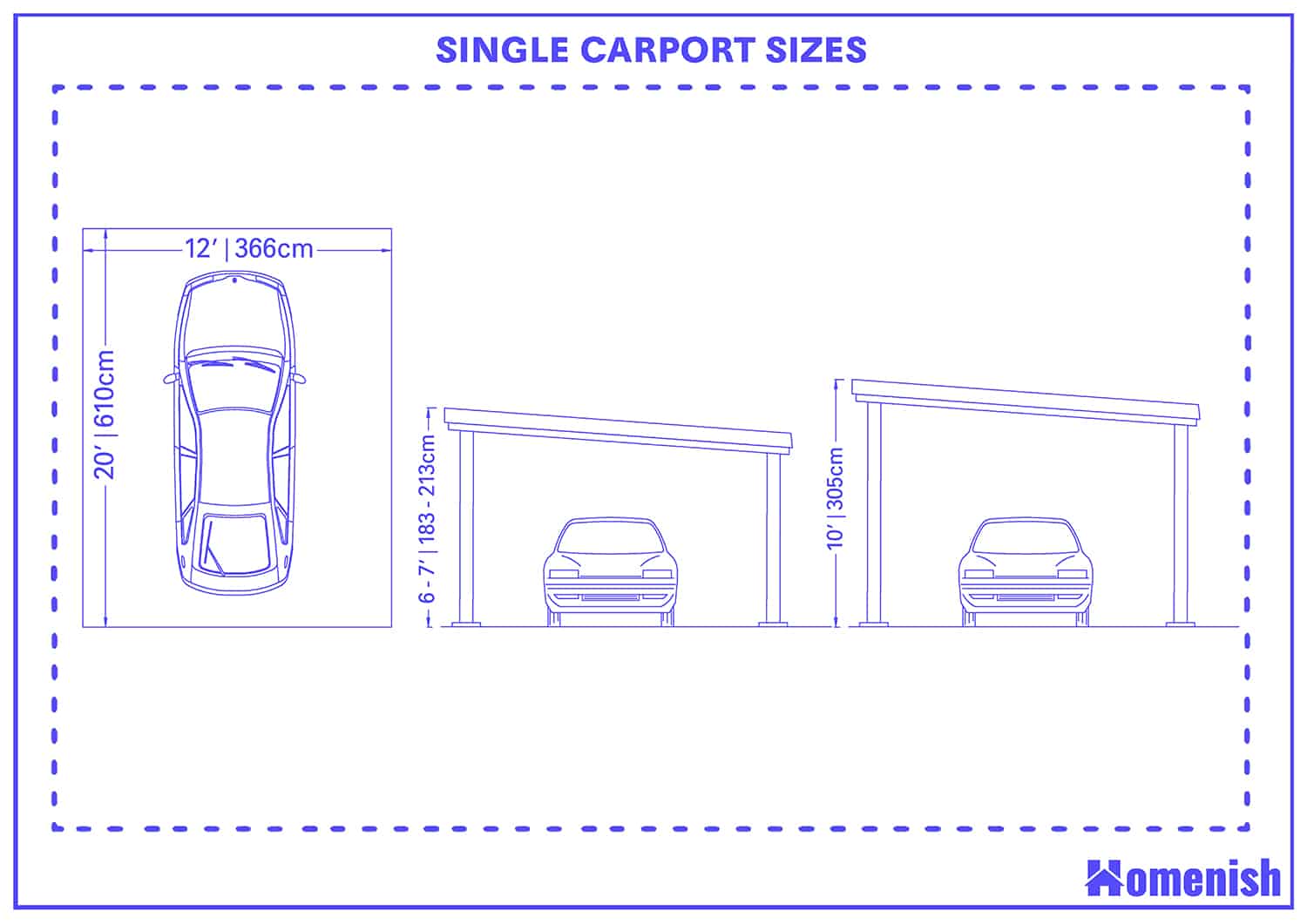 The standard-sized carport is one that accommodates one vehicle. It is also the same size as a single garage. The average garage dimensions for a single car measure 12 feet wide and 20 feet long, and these are also the dimensions of a standard-size carport. A standard carport will be between 6 and 7 feet in height, although they can be as much as 10 feet tall.
The minimum width a single carport can be is 10 feet, but most builders opt for a 12-foot width because it is better suited to accommodate a range of different cars.
For example, if you have an SUV, then you might struggle to get in and out of your car in a 10-foot wide carport, as you will need to be able to open the doors a decent amount to comfortably get out of the vehicle. You also won't want to damage the vehicle by hitting the doors on the interior walls of the carport when you open them.
2-Car Carport Sizes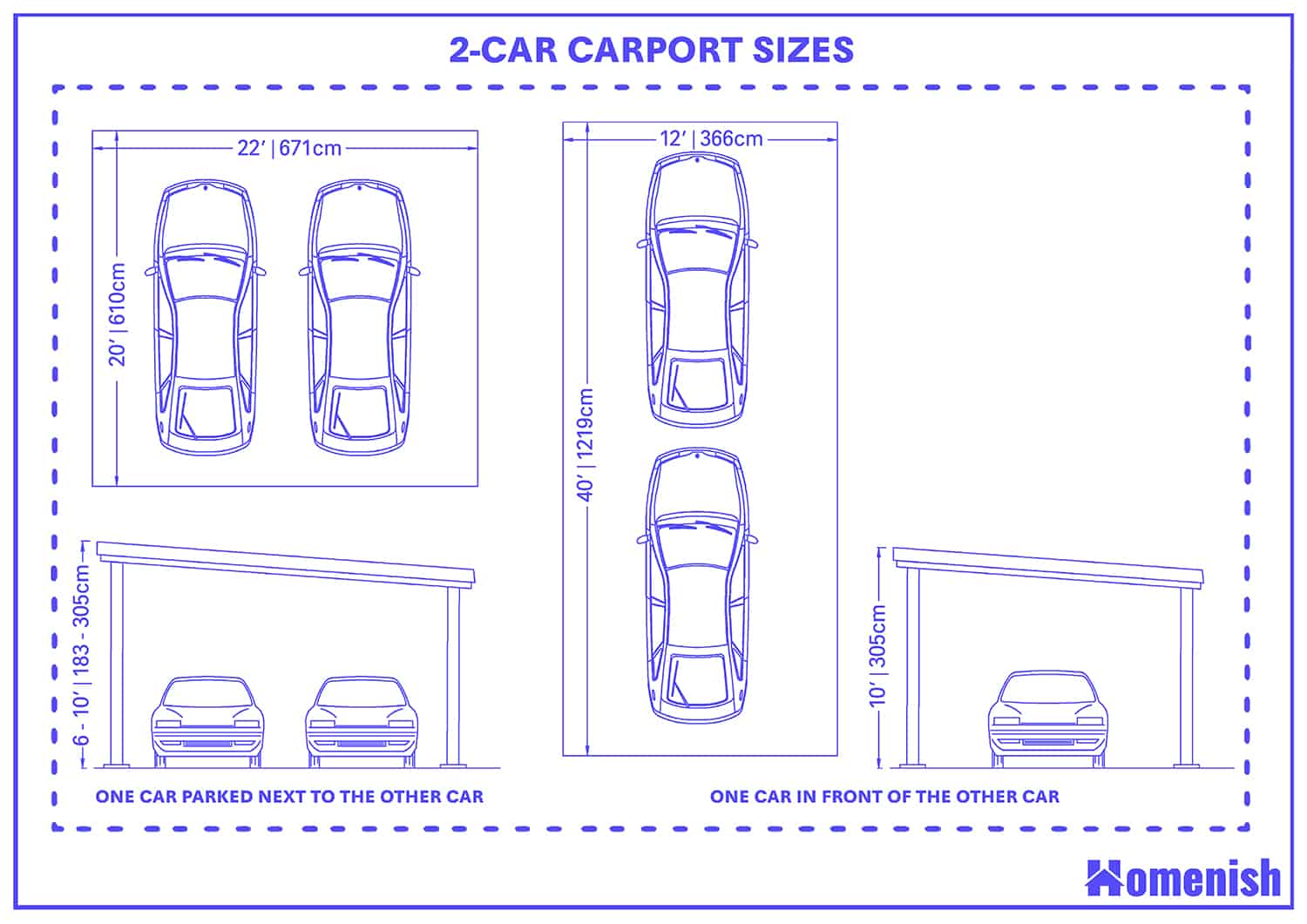 A 2 car carport is great for storing two cars, or one side could be used as a workshop, a storage space, or even as an undercover outdoor area to entertain guests or for children to play. A standard 2-car carport will have a width of 20 feet, a length of 22 feet, and a height of between 6 and 10 feet.
This type of carport is intended to have one car parked next to the other car so that you can get either car out at any time. An alternative solution for a two-car carport if your land is not wide enough is to have an extra-long carport where two cars can be parked one in front of the other.
This obviously will create the issue that one car will be blocked in by the one behind it, but it could work for some families. For example, if one person works from home and rarely uses their car. In this case, you could build a carport that is 12 feet wide, 40 feet long, and between 6 and 10 feet high.
3-Car Carport Sizes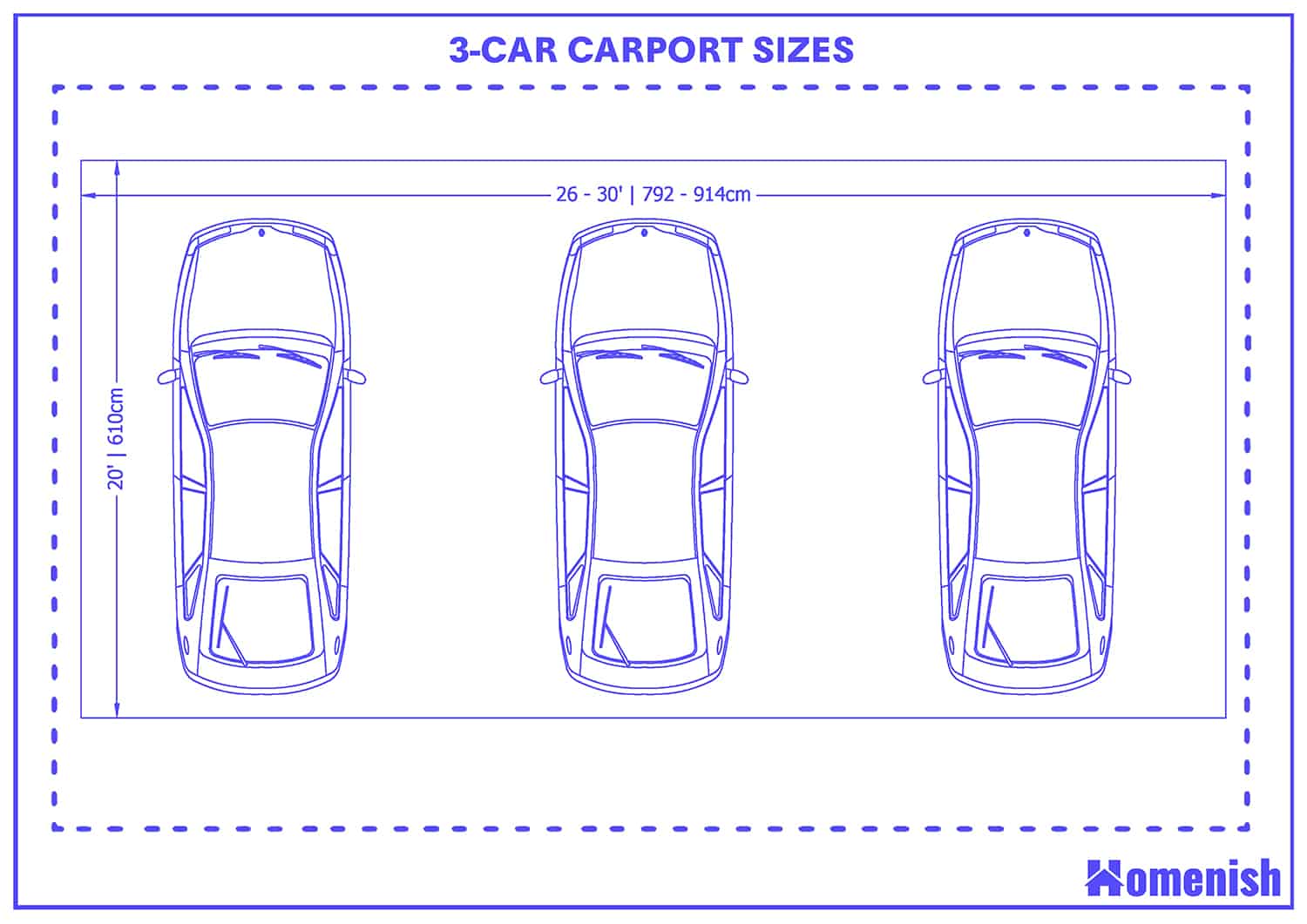 A 3 car carport is also known as a triple-wide carport. This carport is suitable for storing 3 cars, or you might be thinking of other ways you can use the extra space in a 3 car carport. The typical dimensions of this kind of carport are between 26 and 30 feet wide and 20 feet long.
If you have small cars such as sports cars, then a 26-foot wide carport will be able to accommodate three cars; however, for standard-sized cars or bigger than a 30-foot wide carport would be more appropriate.
4-Car Carport Sizes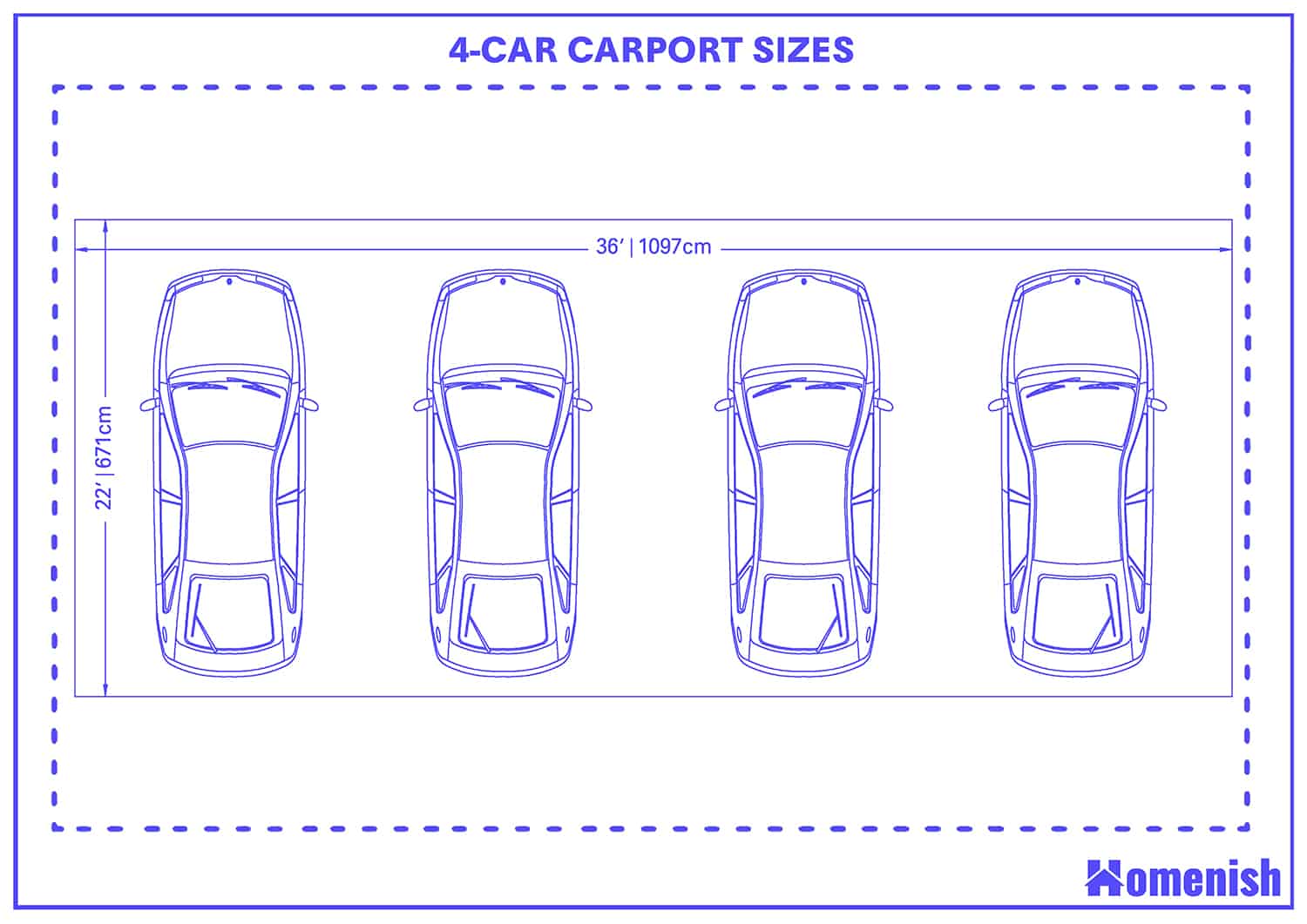 A 4 car carport might be necessary if you have a large family and many cars or if you collect cars as a hobby. This type of carport will need to be a minimum of 36 feet wide and 22 feet long, but you may want to stretch these dimensions even further if you have large cars or if space is not an issue for you.
Carport Materials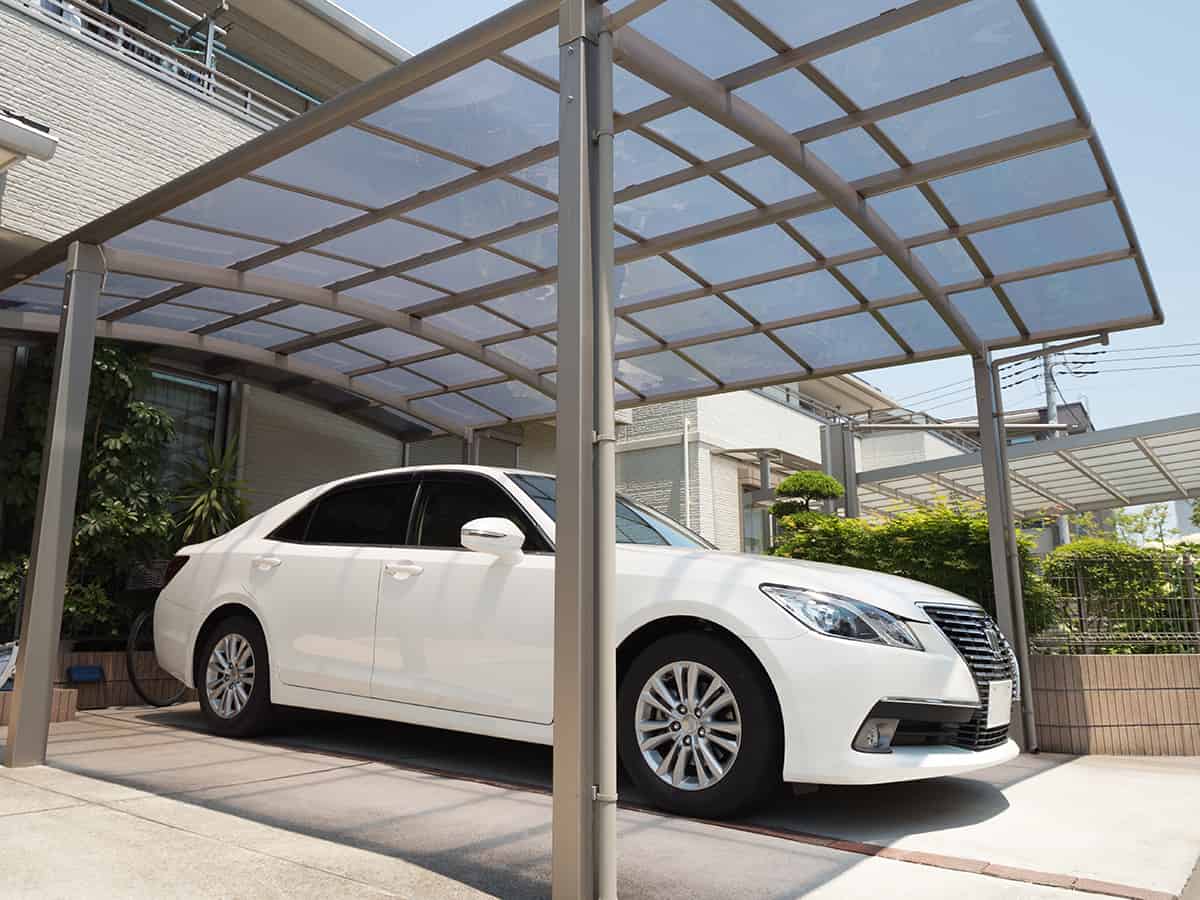 The materials you use to construct your carport are going to affect the look, the cost, and the durability. Most carports are made from wood, metal, fiberglass, and even plastic. Consider the style of your home when building your carport, especially if it can be seen from the street.
You don't want to devalue your home by building an eyesore on the side of it, and ideally, the carport should match the style of your home. If the exterior walls of your home have siding on, then you could use the same siding on the two side walls of the carport to create continuity of style.
If you opt for wood, be sure to use treated wood to prevent decay and infestation. You can build your car separate to your house as a standalone structure, or you can join the carport to your home and use one of the external side property walls as one of the carport walls.
Carport Post Size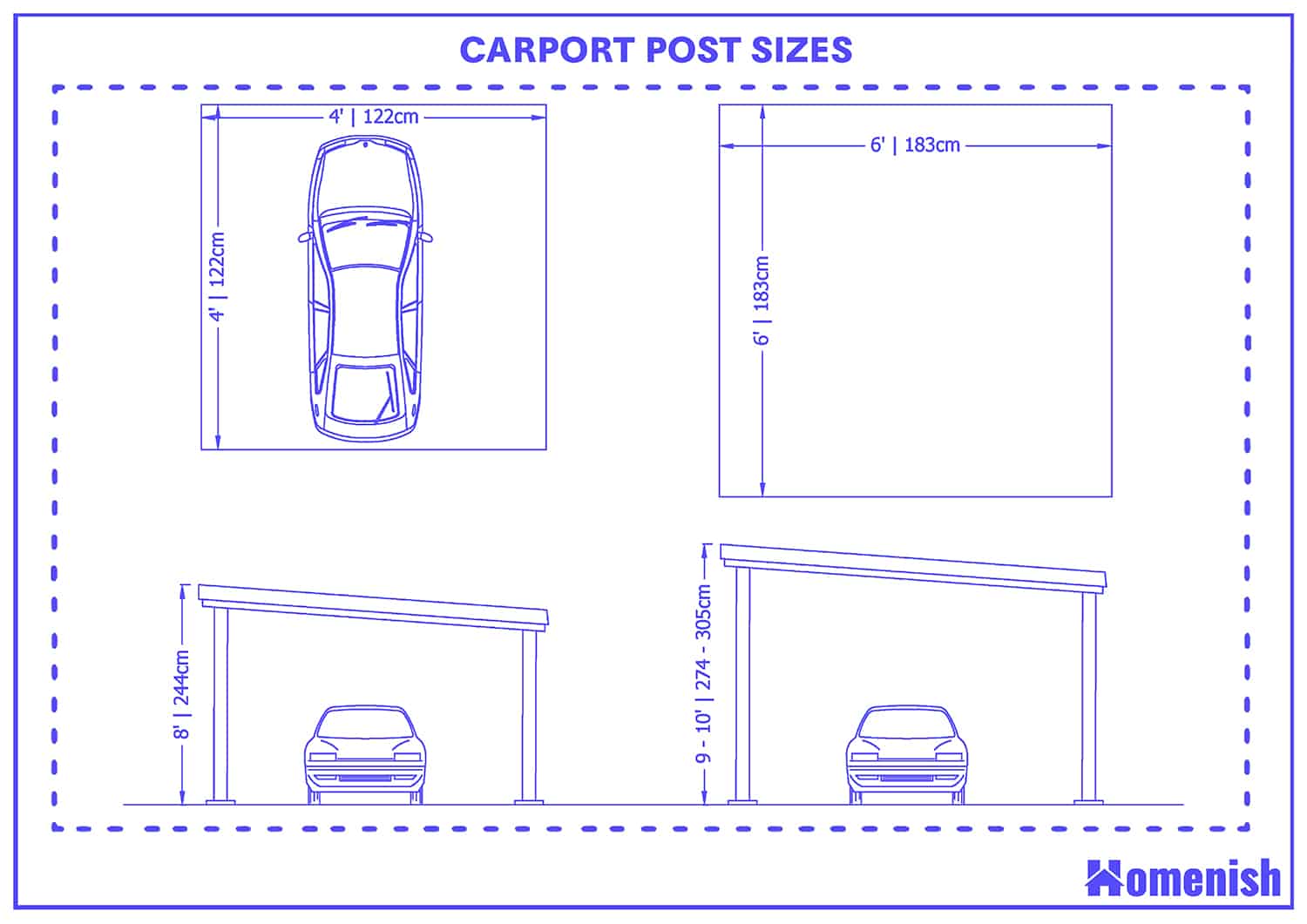 The size of wooden posts you use to frame the carport will need to meet the requirements as set by local building code. Typically you can expect that posts that are under 8 feet in height will need to be 4×4, whereas posts that are 9 or 10 feet in height should be 6×6.
This is to ensure greater strength and stability on taller structures. If you are using one side of your house as one of your carport walls, then this constitutes part of your frame, and it can help the integrity of the build.