When people are updating or renovating their homes, the garage door is usually at the very bottom of the list, especially if the garage is not joined to the house or if the garage isn't used very often.
However, a high-quality garage door can completely transform the look of a house from the outside, improving the curb appeal and making the whole home appear more welcoming.
Updating your garage door can increase the value of your home and make it more interesting to potential buyers if you plan to sell your home in the future.
A new garage door can also make your life easier since you could opt for a model that operates more seamlessly or quickly than your current garage door, making it a better experience when you are driving your vehicle in or out of the garage.
To ensure your new garage door is fitted correctly, you may look into ways to have the door professionally installed. This is a service that is offered by Lowes, among other garage door suppliers.
Cost of Garage Door Installation at Lowes
Having a garage door replaced or installed by Lowes can vary in price depending on the type of garage door you have chosen and the region you are located in. At a minimum, you can expect to pay $199 for a professional garage door installation from Lowes or up to $599 at a maximum for a more complex job.
Can I Install a Garage Door Myself?
If you are experienced with projects like replacing garage doors, then you might be able to save yourself some money and install your new garage door yourself. However, if this is your first time installing a garage door, then make sure you are prepared to ensure the job goes as smoothly as possible.
Carefully read the instruction manual so you have a very clear idea of how the installation process will go, and if possible, watch some relevant videos on YouTube for tips.
Installing a garage door can be complex and dangerous, and it ideally requires two people, so check to see if a friend or family member is available to help you with your garage door installation.
Wait for a dry day when the weather is not wet or windy, as this can make the installation process much more difficult and stressful for someone who is inexperienced.
Beware that there is a risk you could damage your new garage door during installation, and this will mean it cannot be returned. By installing your garage door yourself, you may also invalidate any warranty that the door comes with, so be sure to find out if this is the case before you begin, and carefully consider if it is something you want to go ahead with.
Also, consider that after you have installed your garage door, you are going to need to dispose of your old one. This could mean arranging for a friend with a large truck to help you transport it to a waste site, or you may need to pay for a disposal service.
Ultimately, if you have any doubts over whether you should install your garage door yourself, then it is recommended you seek out a professional to install it for you instead.
Garage doors contain complex mechanisms which can require experienced contractors, and since garage doors cost a lot of money, it will be an expensive mistake if you install your door incorrectly and damage it.
Benefits of Professional Garage Door Installation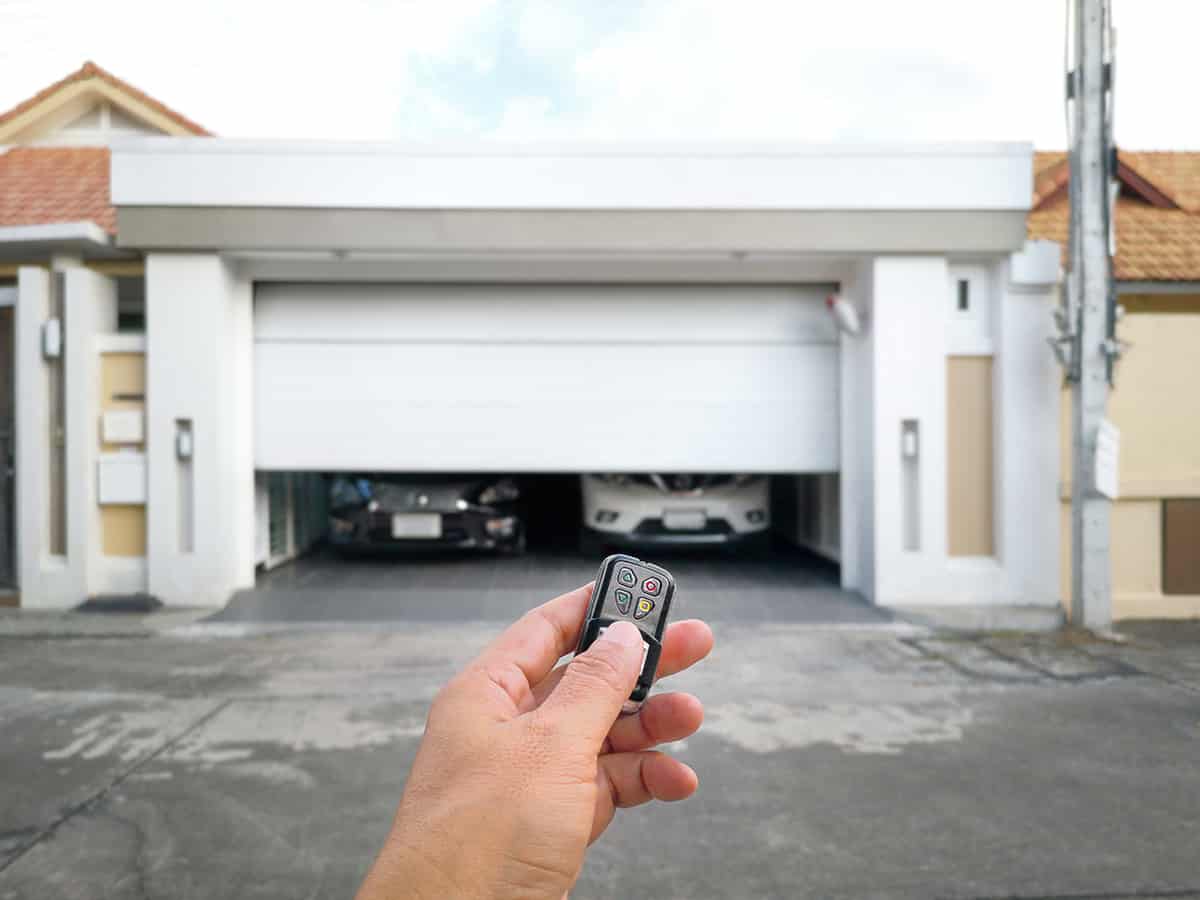 Saves time
Installing a garage door can take all day, even for people who are experienced with tools and DIY. If you'd prefer to spend your time with family or doing things you enjoy, then organizing a garage door installation through Lowes is an appealing option.
This will save you the time and effort from having to install the door yourself, and it means the job will get done quicker since you won't have to add it to your 'to do' list.
Labor warranty
Garage doors come with installation instructions, so you might be tempted to fit your new garage door yourself. However, installing a garage door is a complex task that should not be taken on by the average homeowner, especially if you want to be sure that your new garage door is going to work exactly as it should.
When attempting to install the garage door yourself, you risk damaging the door and invalidating the warranty, which can be a very costly mistake.
Instead, when you have a garage door installed by a professional, your warranty will remain intact, and you will also get a one-year labor warranty from Lowes to protect you against any potential damage which was caused by workmanship during installation.
Reliable
The installers supplied by Lowes are licensed, and background checked, so you have peace of mind that they are reliable and they know what they are doing. All garage door installations are backed by a one-year warranty, so you can feel safe in the knowledge that your garage door is going to operate reliably.
If you attempt to install the door yourself or have an inexperienced installer work on the garage door for you, then you run the risk of ending up with a garage door that doesn't always function as it should.
A garage door costs a lot of money to buy, so you don't want to allow someone who is not qualified to install it and potentially mess it up.
Removal of old door
When you select the garage door installation package from Lowes, they will also remove your existing garage door and dispose of it for you. This is a big relief for a lot of people who don't have access to vehicles big enough to transport an old garage door away from their home. The removal and disposal process is included in the price of installation with Lowes.
Ease
If you are buying a new garage door from Lowes, then arranging the installation through them as well can make the whole process more seamless. You will only have to deal with one company, rather than separately organizing for your garage door to be installed by a different company after your newly purchased door has been delivered to your home.
How to Organize Garage Door Installation with Lowes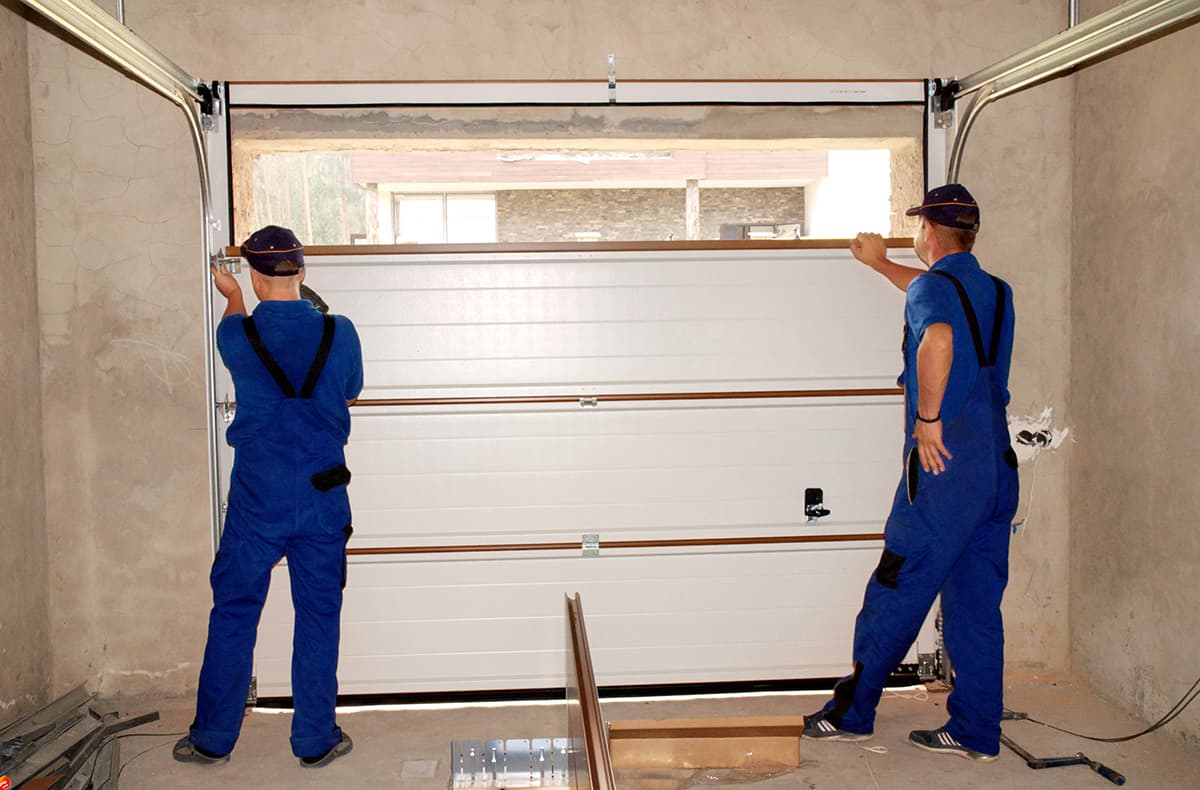 If you want to arrange for Lowes to install your new garage door for you, then you can speak to a representative in the store who will organize this for you, or you can submit your project online via the Lowes website.
This will involve sending your contact information and the details of your project via an online form, and a Lowes representative will get in touch with you over email or over the phone. They will discuss your needs and help you to select a new garage door that suits your requirements, and they will arrange for a certified professional to come and measure up your garage door to ensure the new door is going to be the perfect fit.
You will be provided with a full quote which will include the cost of the new door you have chosen, as well as the cost of installation so that you are fully aware of all of the costs involved before you agree to go ahead with the project. The representative can also talk over the whole process with you in case you have any questions or specific requirements.
Once your garage door project has been agreed upon, you will be given an installation date for your new door and, if needed, the removal of your old door. If requested, your old door will be taken away on the same day as the installation of your new door so that you don't have it hanging around your property and looking messy.
Facts about Garage Door Installation at Lowes
Lowes do not provide their own installers; instead, they work with independent installers who have been background checked and are licensed. Although the work will not be completed by Lowes employees, you will receive a one-year labor warranty on your installation, which is directly from Lowes.
Lowes offers financing both for the purchase of garage doors as well as the cost of installation for garage doors, so if you are approved, then you won't need to pay the total amount upfront.
Financing options are available for purchases that exceed $2000 in total and come in agreed monthly payments over 34, 60, or 80 months. If you opt for a financing agreement, remember that you will also pay APR, which will put the total cost of your project up.
Lowes offers installation for any type of garage door by any manufacturer, which is sold at Lowes. This includes multiple garage doors and garage doors with keyless operators.
To have a garage door opener installed by Lowes or any other contractor, you will need to make sure you have a 110-volt receptacle available within at least 3 feet of the garage door opener motor.