A red brick exterior is often found in traditional homes. Red brick boasts a variety of warm shades that you can easily match with your garage door. But just because your red brick home is in traditional style, it doesn't mean you can't pair it with modern color schemes when selecting your garage door color.
Red bricks usually consist of other shades, such as tans, browns, and reds. When matching your garage door color with red brick, you must take the other shades into account in order to create a harmonious feel.
You can draw more attention to your home's architectural features once you know how to select the right color garage door that goes with red brick.
Here are some of our best picks for garage door colors with images:
Garage Door Colors that Go with Red Brick
Gray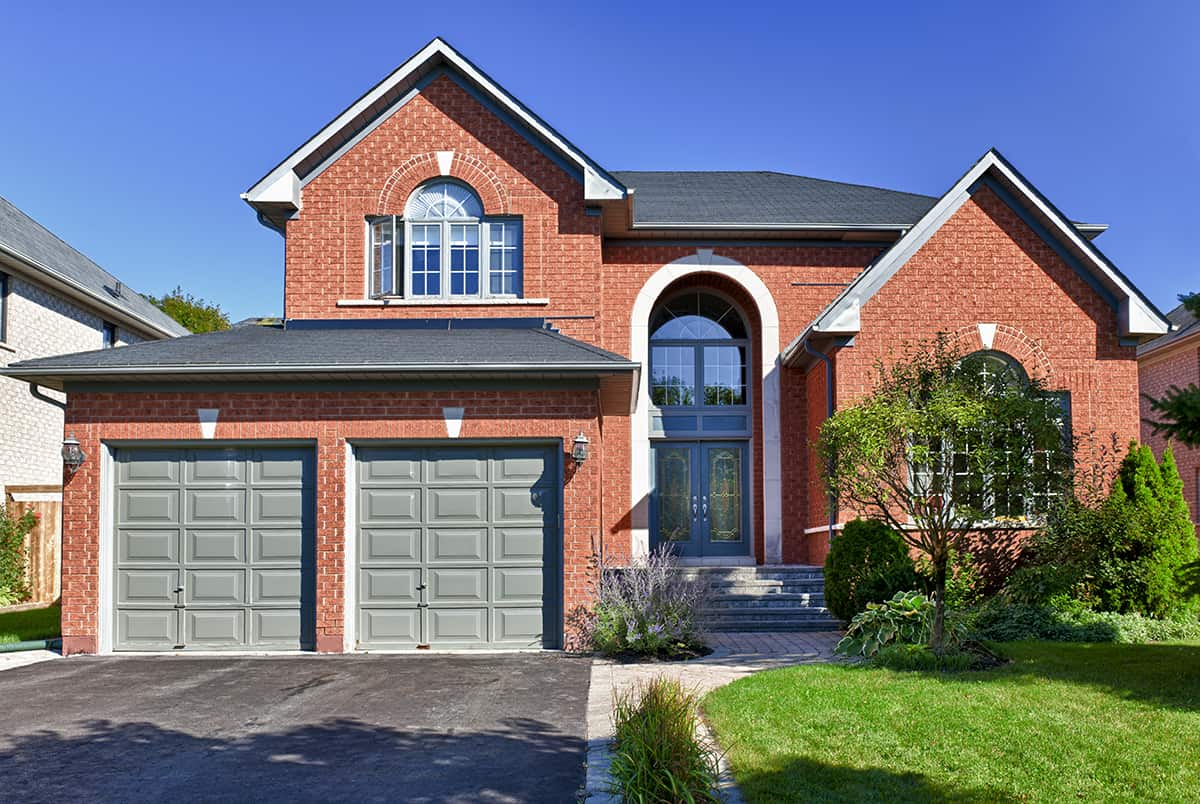 Gray is considered a timeless option for an exterior home design. This neutral color is ideal next to warm shades like red, as it doesn't make a bold or dramatic statement.
A gray garage door works well on both traditional and modern homes. If you wish to add a muted accent to your red brick exterior, then gray is the most stable option.
Whether you opt for light gray, cool gray, or bluish-gray tones, this neutral color is an excellent choice for a red brick home's garage door. Note: the darker your red brick, the lighter the gray should be. This prevents the exterior from looking lost in the midst of the landscaping.
In this example, the mid-tone red brick exterior is accompanied by light gray garage doors, which make the house appear more modern and smart.
White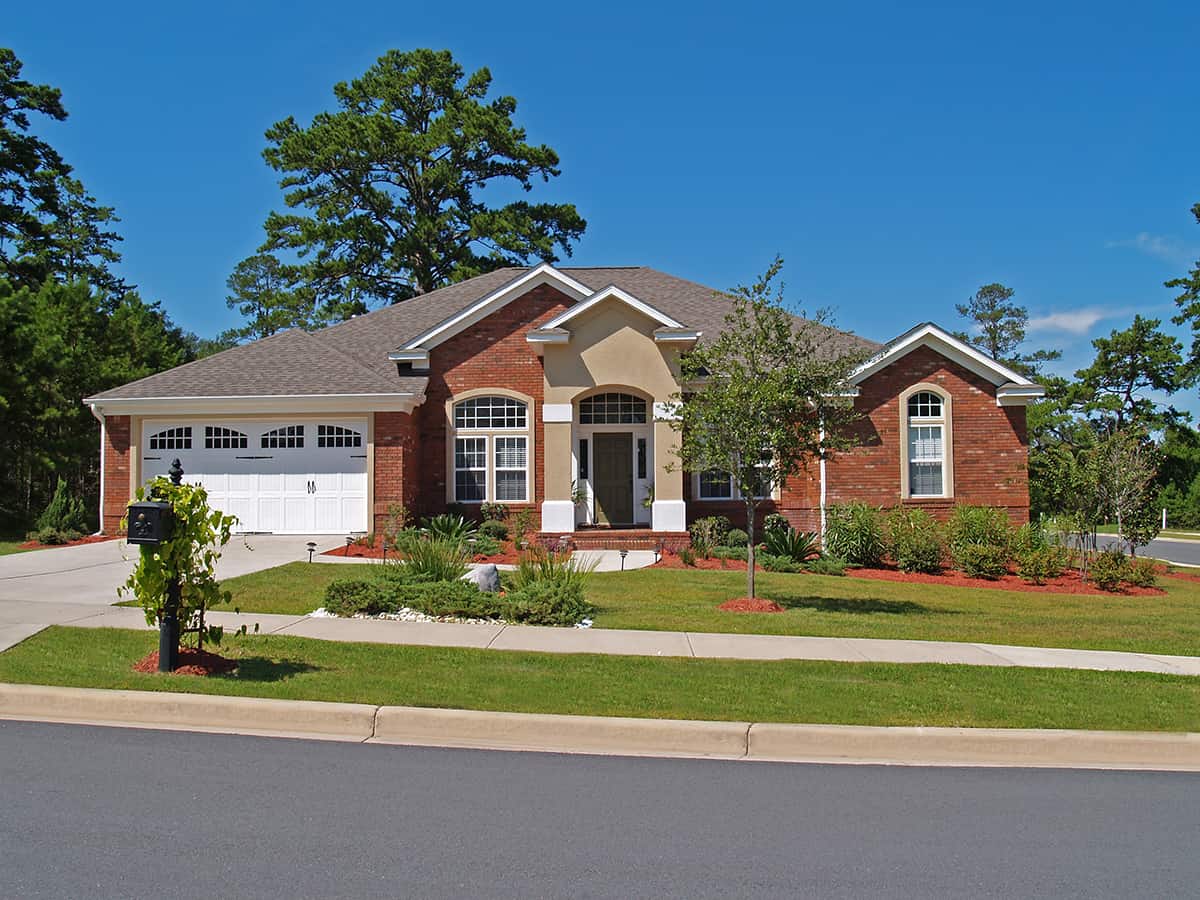 A classic color that fits just about any exterior is white. This timeless and versatile shade goes with any shade of red brick, especially the orange-red hues. White is, after all, a highly popular color that blends well with both traditional and modern exteriors.
This is the ideal color that draws the eye to the garage door rather than the rest of the house. Just as you can see here, the focus is purely on the crisp white garage door, not the red brick exterior.
Black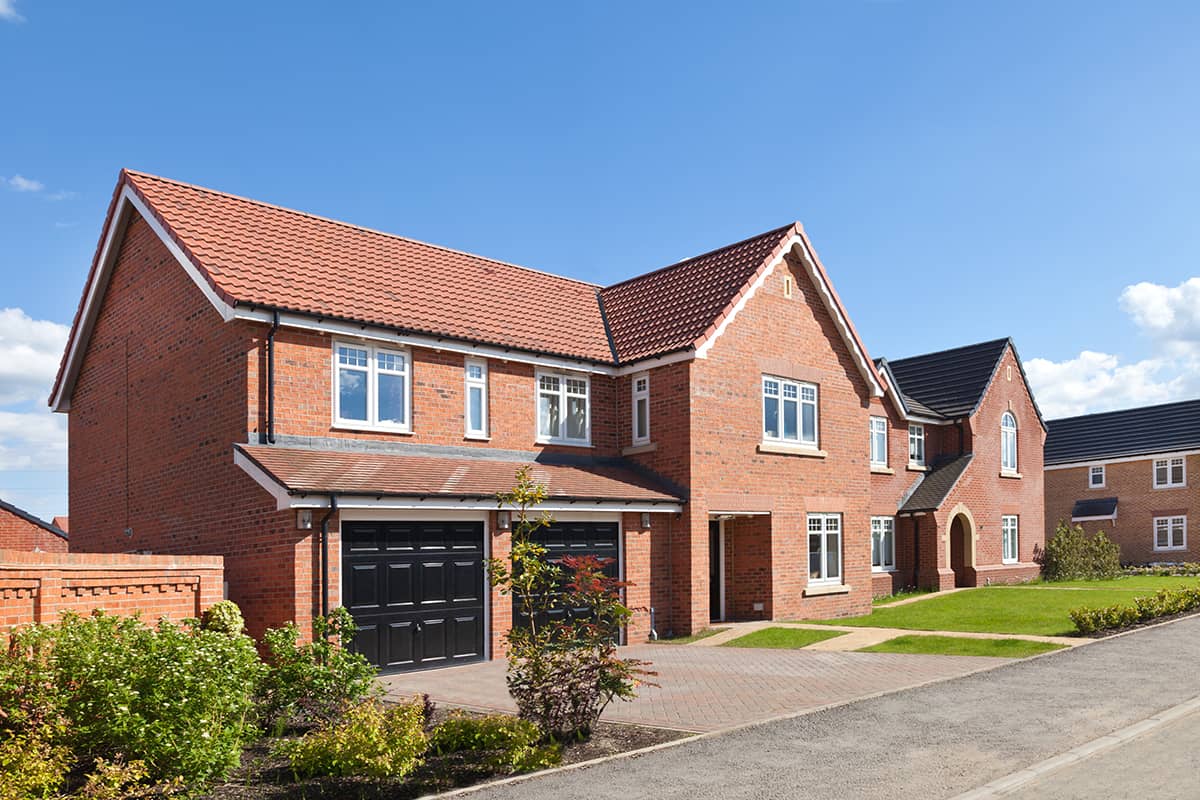 Just like white and gray garage doors, black is another striking color that works well next to red brick. This bold color adds sophistication to a modern-style house, as shown here.
Black is one of those colors that creates a formal contrast next to light red brick tones. This is an ideal garage door color, which doesn't require repainting as it hides dirt better than lighter counterparts like white and gray.
However, black is arguably one of the most challenging colors to pull off on a red brick house. To accomplish this, use black on simple exteriors with no outlandish architectural elements.
Blue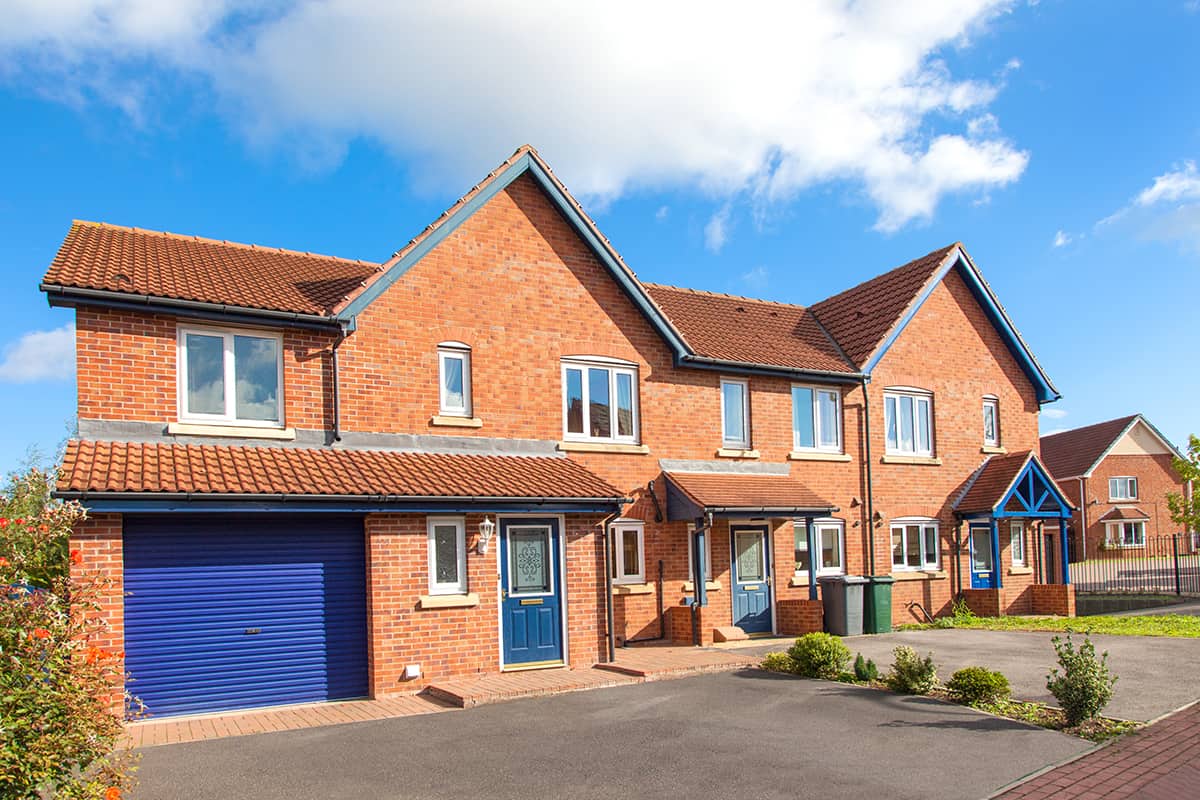 Do you want a bold garage door color instead? Then opt for a bright blue shade for your red brick home.
Whether you like the idea of a nautical exterior design or making your suburban home stand out in the street, a dark blue garage door will do the trick. This elegant color adds a beautiful accent to the red brick exterior, so the darker the blue shade, the more noticeable it will be.
One popular blue shade is navy, which works particularly well with a red brick house. This color blends harmoniously with other architectural elements of the house and looks stunning when paired with a blue front door, as shown here.
Red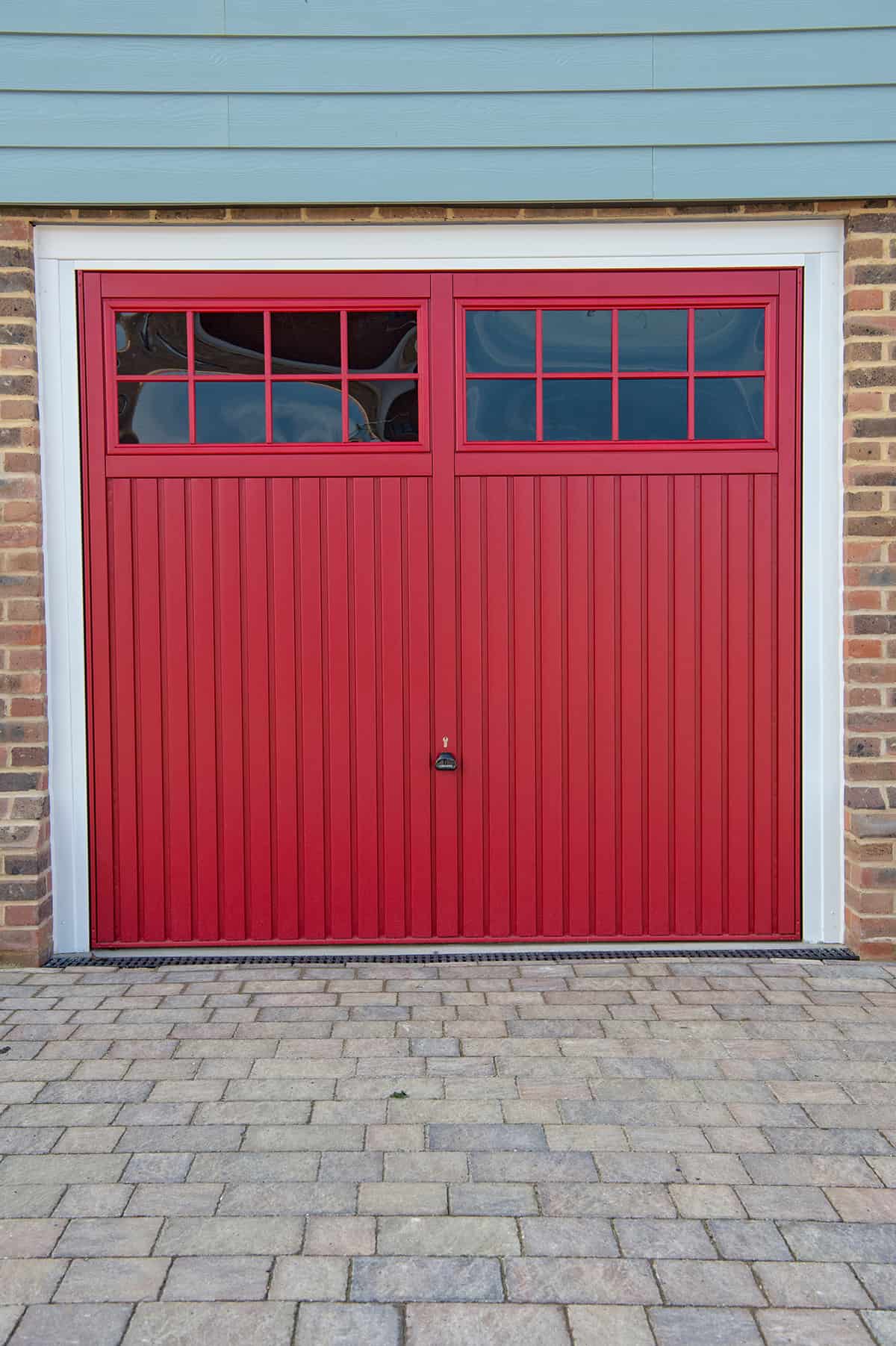 To make an instant statement, choose a red garage door for your red brick home. This color blend will radiate a warm and welcoming feel.
The red garage door is considered as the focal element of a red brick home – provided you choose one shade lighter or darker than your red brick exterior. This helps attract attention towards the garage door instead of the rest of the red brick home.
A ravishing shade of red is the best choice you can make for your red brick home's garage door. Shades like ruby, burgundy or cherry work very well on light red brick walls.
Add white or black trim to complete the earth-toned design. A red garage door is sure to give your home a bold and modern look!
Green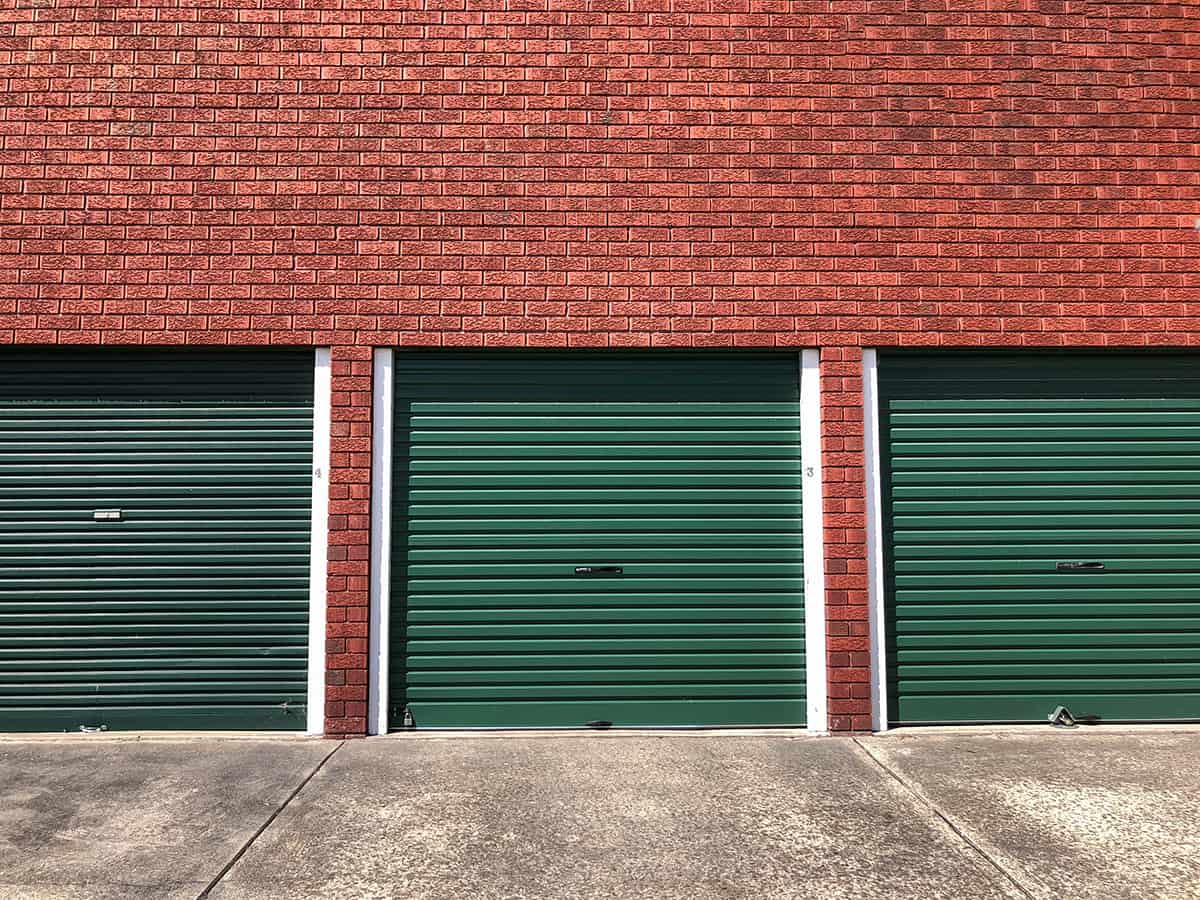 Red brick is a warm and earth-toned color, so what better garage door color to pair it with than green? This is the perfect candidate for traditional red brick homes.
To pull off the earthy, nature-inspired look, add a dark green front door to go with your green garage door. Olive green is a great shade to combine with white trim and red brick walls. This will certainly make your exterior design exotic and unique.
Beige or Cream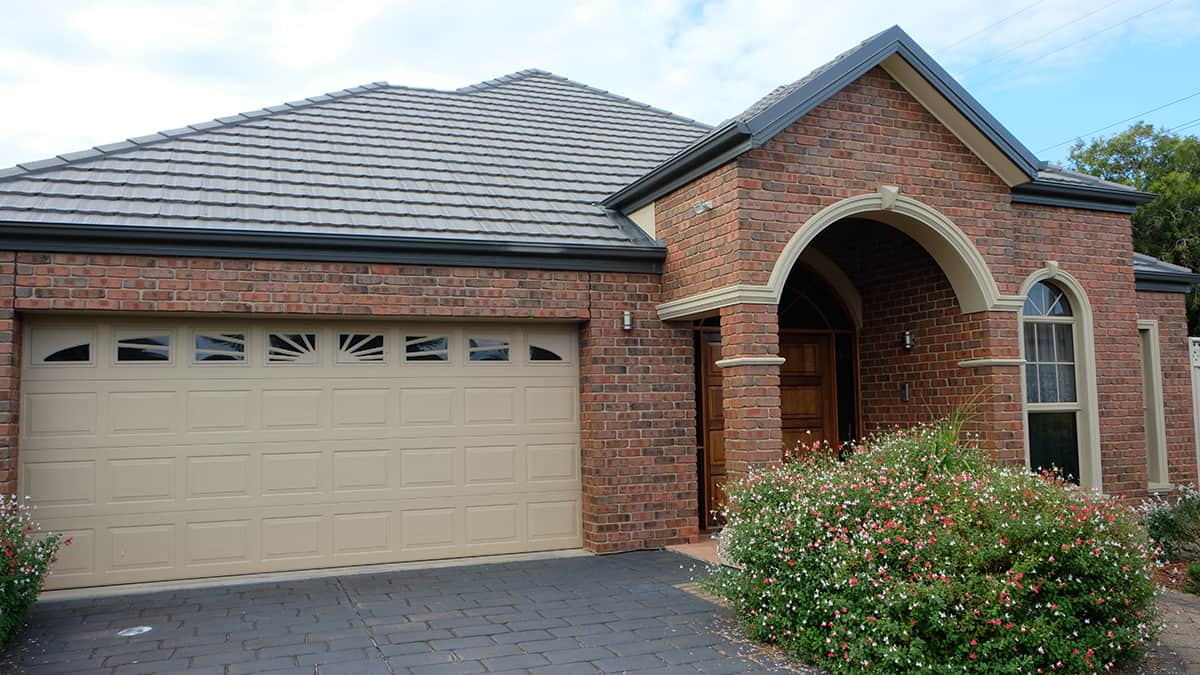 When selecting a garage door color for your red brick home, it is important to ensure the color flows well with the red brick's undertone. Since red brick comes in a variety of textures and hues, choosing the right garage door color can become a little tricky.
But there is one color that fits all: beige or cream. This neutral color will go with any red brick texture or undertone, especially on newly-built homes, as shown here.
If you have a red brick home, cream garage doors with matching trim can be a smart choice. This light and neutral color is preferred over white as it stands out more without detracting from the red brick and other elements of the house.
Beige or cream is considered a calming and harmonious hue that's not as stark as gray or white. This means your neutral color garage door will blend in with the red brick exterior rather than stand out. Cream or beige is one of the safest color options for red brick homes, and they work better than many other colors.
Natural Wood Stain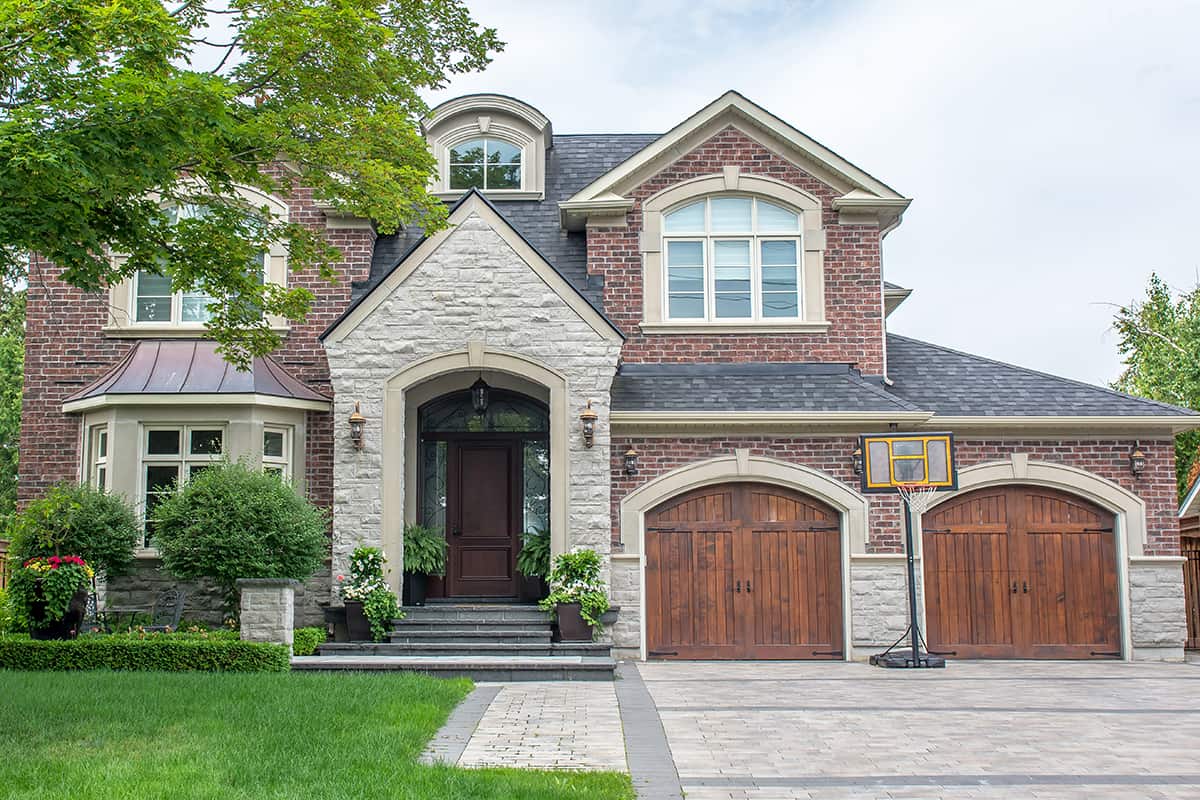 Stained natural wood is a great garage door choice for red brick homes. Since both wood and brick are natural materials, it makes sense to pair them together. This can give your red brick home a classic look, no matter how many other tones appear in the red brick.
Wooden garage doors come in many different styles that match a red brick home's architectural design. Carriage-style wooden doors, for example, tend to be very popular on traditional red brick homes.
But when it comes to finding the right stain color for the wooden garage door, be sure to contrast it with the undertone of the brick.
Dark brown wooden doors go well with light red brick walls. Light brown, on the other hand, works better on dark red brick. All in all, there is something special about stained wooden garage doors. Not only do they look regal against red brick, but they also bring a classic look to your home.
Just look at how stately this red brick home looks with its custom-made wooden garage doors. We especially love the blend of red brick with the off-white stone exterior. The wooden garage doors and the matching front door colors do a great job of breaking up the monotony of the red bricks.
Taupe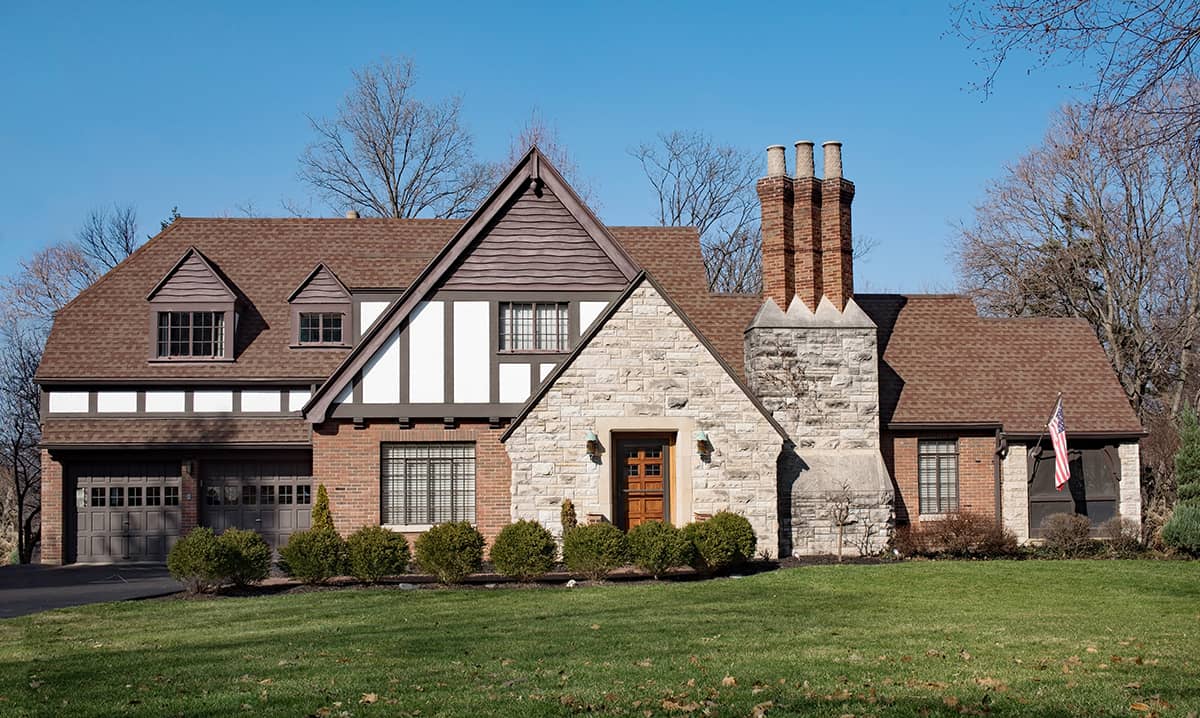 Taupe is a neutral color that falls between gray and brown. Since it is considered a neutral color, it goes well with red brick exteriors. This harmonious color isn't the first shade that pops to mind, but if you want to make your garage doors stand out, consider this dark, neutral color.
As you can see in this example of a traditional English cottage-style house, the red brick exterior has blended very well with the taupe garage doors, thus making them stand out.
You can choose from a variety of light or dark taupe shades, as they all go great with earthy, natural elements. Taupe garage doors are especially ideal for traditional or farmhouse-style red brick homes since both of these colors are associated with older-style homes.
Final Thoughts
There are surprisingly many garage door colors that go with a red brick house, but it mainly depends on the shade you choose. Lighter shades work better with dark red, while darker shades complement light red brick.
By mixing the different colors and textures effectively, you can come up with a lot of contrast and create a harmonious feel.
And let's not forget the overall architectural features of your red brick home when pairing the exterior with trim and garage door colors. We hope you found our examples of garage door colors that go with red brick inspiring!