Whether you use your garage as a place to store your car or belongings, an often overlooked function of this multi-purpose room is natural lighting. When it comes to choosing a door for your garage, adding window inserts can make a big difference. If it's time to replace your garage door and you're contemplating your options, then you've come to the right place.
In this post, we'll discuss the reasons why it's worth having a garage door with windows as well as some great examples of different types of window inserts you can choose for your garage door. At the end of the article, we'll give you some useful tips on how to replace window inserts on garage doors.
Advantages of Having Windows on a Garage Door?
Natural Lighting
One of the biggest advantages of opting for window inserts for a garage door is the abundance of natural lighting that can enter inside. This is especially useful for those who use their garage space as a workshop. Windows save you the inconvenience of using artificial lights during the day.
To Save Energy
Another significant advantage that relates to natural lighting is saving energy. When you no longer need to use artificial lights in your garage throughout the day, you will save money on your energy bills. Oftentimes we even forget to switch off the lights after exiting the garage!
They can be Customized
A garage door can easily be customized to extend to the type of windows you want. Whether you prefer two or more rows of window inserts in small or large panes, arched or rectangular in colored varieties, there is an abundance of panel options and designs available.
It is even possible to match the garage door windows to your home's windows. This is an ideal option for those who are remodeling their homes and wish to add a matching garage door window.
They Improve Curb Appeal
One of the most significant advantages of adding windows to your garage door is the improved curb appeal. Since most homes have a street-facing garage door, it makes sense to add attractively designed windows to the door in order for it to stand out.
As the garage door is such a dominant element of the house, a high-quality window insert will undoubtedly make your home feel more welcoming. Furthermore, garage door windows are an excellent way to add character to your home and set it apart from others.
Now that you have a better understanding of the benefits that come with garage door windows, take a look at some window insert ideas we've listed below:
Examples of Garage Doors with Windows
Garage Door with Casement Windows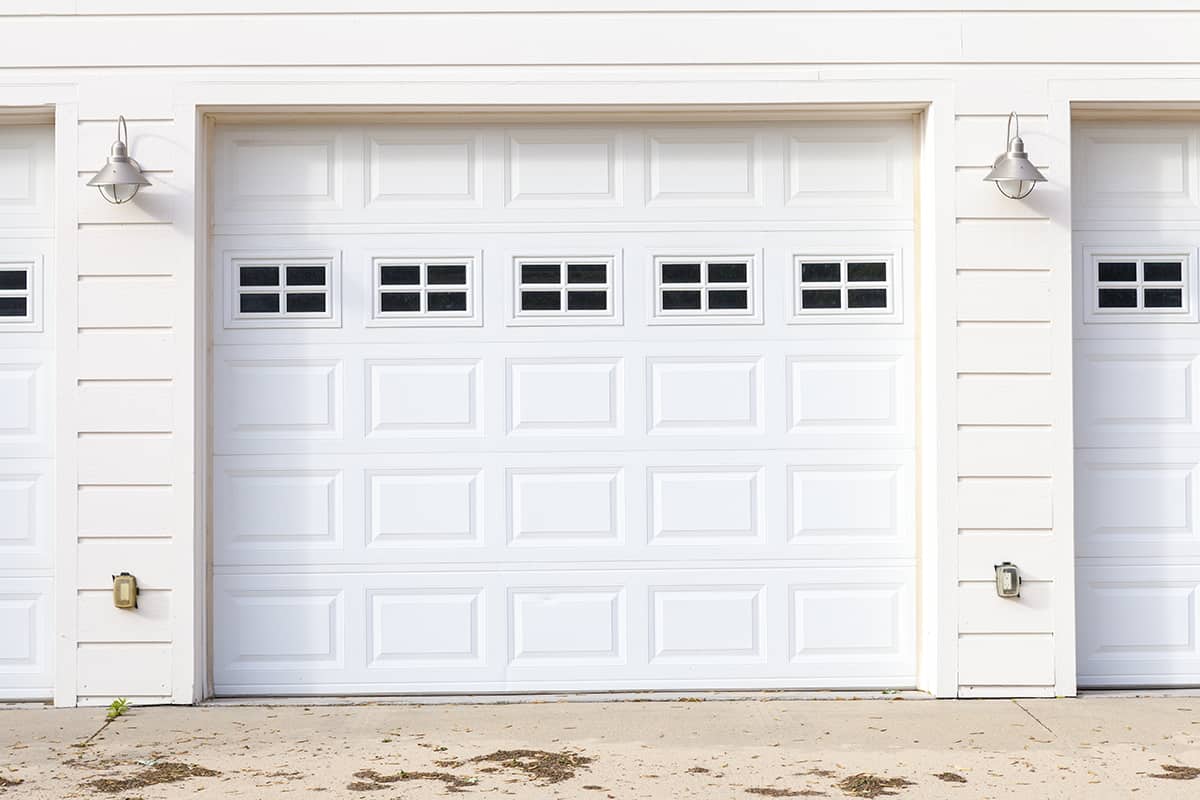 Casement garage door windows feature two sashes that open vertically outward. The design is available in single and up to 5-lite configurations based on personal taste. This rather narrow type of garage door window is suited for garages with greater height and ideal for those who want more ventilation in their garage.
Garage Door with Awning Windows
Similar to casement windows, awning garage door window inserts are another popular option. The only difference between these and the previous example is that instead of having hinges on the side, the windows open upward. These window inserts allow greater ventilation and natural lighting, thus making them ideal for small spaces.
Garage Door with Double-Hung Windows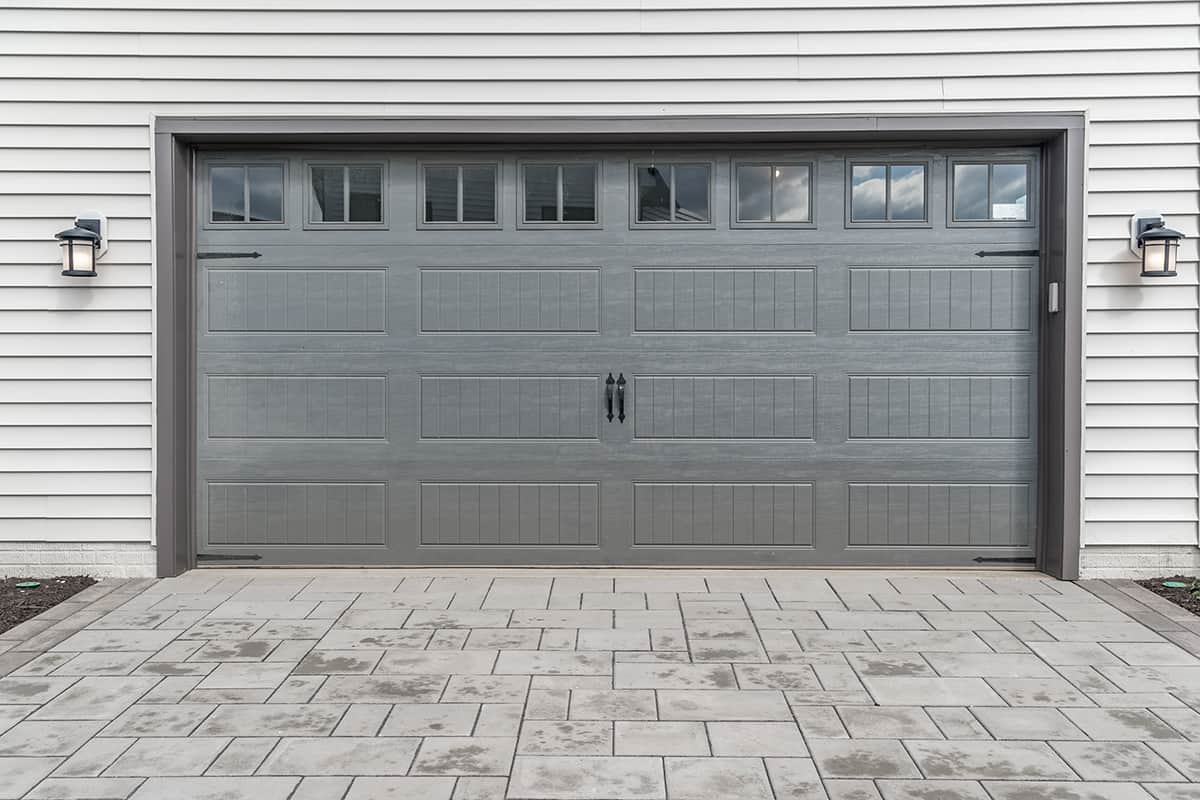 Most garage door window designs feature double-hung glass inserts. These are highly popular windows for not just garages, but for an entire home's windows. Double-hung garage door windows can't be opened outward.
Rather, you must open them by lowering the sash. These types of windows are easy to match with the rest of the home's architectural style, plus they allow natural lighting and ventilation just like the previous designs we've mentioned.
An All-Glass Garage Door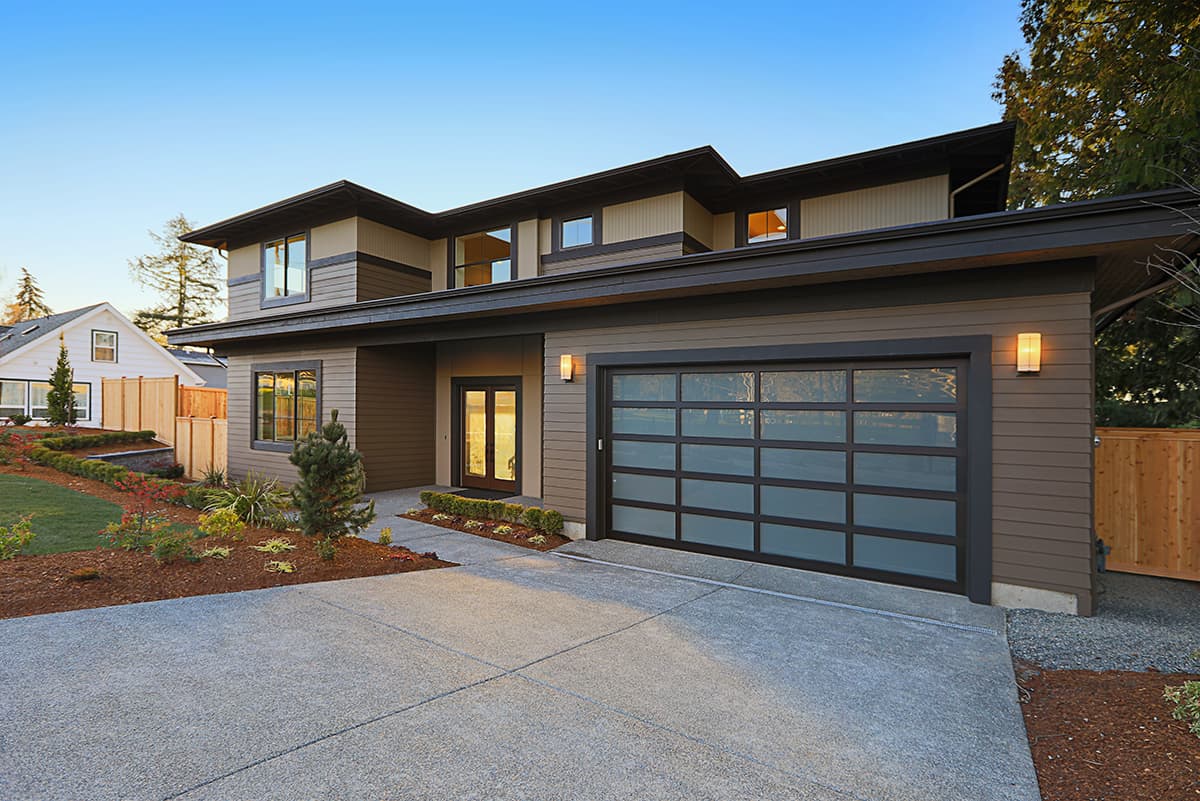 Just as the name implies, an all-glass garage door is typically constructed from heavy-duty glass panels with steel or aluminum frames. The metal used for the frame is corrosion and rust resistant, thus making it a great choice for the door.
There are also custom glass doors that provide an elegant appearance without obscuring your view while still offering privacy. An all-glass garage door window is desirable for homes with panoramic landscape.
Garage Door with Frosted Glass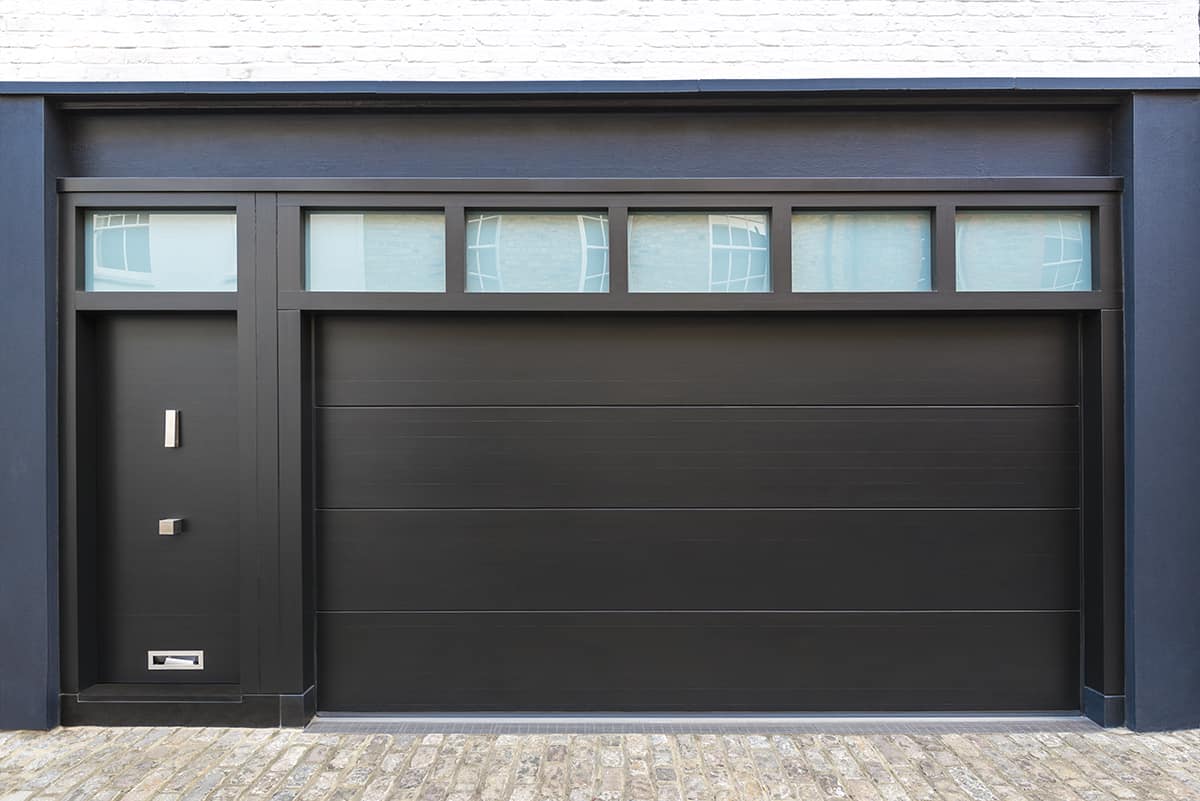 If you want even more privacy, consider frosted glass. Although this type of garage door window doesn't allow much natural lighting to enter the garage, it can still be an excellent option if you're not keen on getting blinded by the sunlight. However, frosted glass garage doors are harder to maintain as you must clean each section individually.
That said, the extra perk that comes with frosted glass for your garage door is the added security. Since frosted glass conceals the view from the outside, intruders or passerby won't see what's inside your garage. What's more, frosted glass is an energy-saving option thanks to the thickness of the glass.
This makes the glass more durable and less likely to be replaced every few years. This type of garage door window is a preferred option for anyone who is concerned about safety.
Stockton Rectangular Windows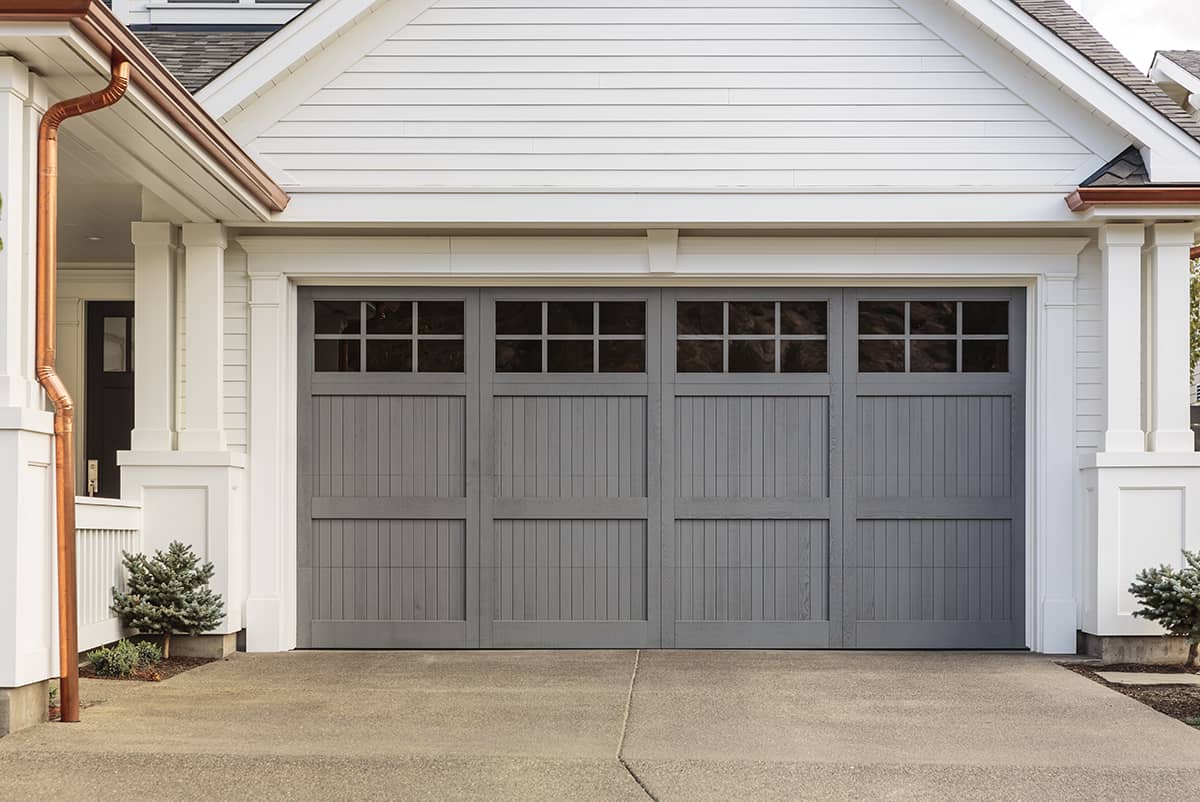 If you have a traditional or ranch style home, consider large, rectangular glass panels as shown here. Stockton windows are typically 1.2 meters wide and suited to older style houses.
These types of window inserts for garage doors compose of reflective panels in similar pattern to keep the exterior design cohesive with the rest of the house. For anyone looking to create a unique look for the exterior of their homes, rectangular garage door windows are highly recommended.
Is it Safe to Have Windows on Garage Doors?
The type and quality of the window inserts you choose for your garage door affect its safety. Although many people believe having glass on their garage door can make their home vulnerable to break-ins, if thick, double-paned window inserts are installed on the upper part of the door, they will be more difficult to break. What's more, high-quality thick windows enhance energy efficiency.
To limit visibility from the outside, it's best to only install windows on the higher parts of the garage door. For enhanced safety, you may even consider frosted or tinted glass windows as they still allow natural lighting to shine through whilst obscuring the view from the outside.
So if you're still wondering whether it's safe to have windows on your garage door, the answer is: it depends on the thickness and quality of the glass you choose.
Factors to Consider Before Buying Garage Door Windows
Added Weight: most window inserts weigh more than the garage door itself. This is especially the case when you are replacing the spring system on an automatic garage door with windows. The extra weight of the windows should, therefore, be taken into consideration.
Insulated glass: to maintain your home's energy efficiency, think beyond the front entry door and windows. The window inserts on your garage door should also be insulated.
Placement of windows: if you want plenty of natural light, install the windows on the uppermost panel of your garage door. On the other hand, if you want views of the outdoors, install the windows on the lower or middle part of the garage door.
Privacy: for those who want to enjoy more privacy than views of the outdoors, there are window glass options like tinted or frosted panes for garage doors. These types of windows still add to the curb appeal of the home without compromising your privacy.
How to Replace Window Inserts on Garage Door
Just like your home's windows, the garage door windows are also prone to breaking due to a number of reasons that are beyond our control. But don't worry as replacing the window inserts of your garage door is surprisingly an easy task. If you want to replace the window inserts without the help of a professional, follow these steps:
A word of caution: before you start, make sure you wear protective gloves and safety goggles in case any broken or exposed glass comes into contact with your skin or eyes.
Step 1: take a screwdriver and remove all the screws from the inside of the window frame.
Step 2: gently pull the inside glass out of the door retainer. Make sure you dispose of any broken or old glass responsibly.
Step 3: now insert the new glass into each pane.
Step 4: using the screwdriver, reinsert the screws you removed in step 1 into the inside pane in order to secure the glass. The frame must be sealed securely just like before. That's all you need to do to replace your garage door's windows!