One of the main parts of a home's exterior that stands out most is undoubtedly the front door. An attractive front door can make a great impact on the home's curb appeal.
Naturally, the color you choose for your front door has to complement the home's exterior. One of the most common paint colors for an exterior is tan, but picking the right front door color can be quite tricky.
In this article, find out which front door colors for a tan house make the most impact on your home's aesthetic appeal. You can also use these door color ideas for a beige house (which is not the same color as tan but their color palette is close together).
Best Front Door Colors for a Tan House
Rustic Teal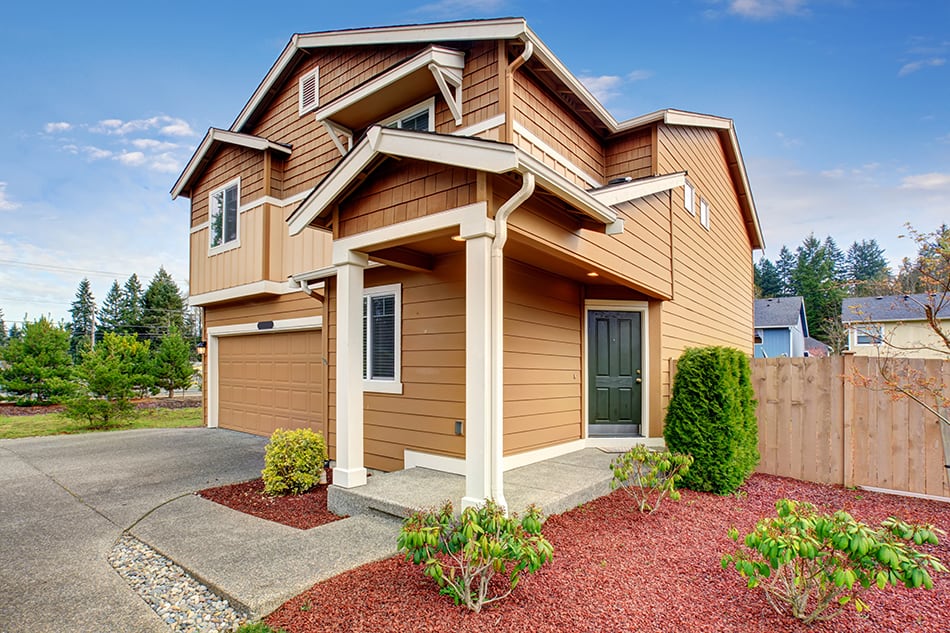 Whether you have a modern or rustic home, there is nothing like a rustic shade of blue in the form of teal to paint your front door. Teal is a cool color and as such, it will help present your tan home in an inviting way. Teal is a mixture of green and blue but tends to lean more toward blue than green.
This teal front door with tan house siding, white trim, and green planters gives the front of the tan house a calm and relaxing appeal.
If bright colors can make the house catch so much attention, picking a warm undertone like orange or purple with the tan color will make the house look new and clean, and stand out well on the street. Some suggested exterior paint options with warm beige colors can be named Kilim beige, and Woodstock tan.
Bright Blue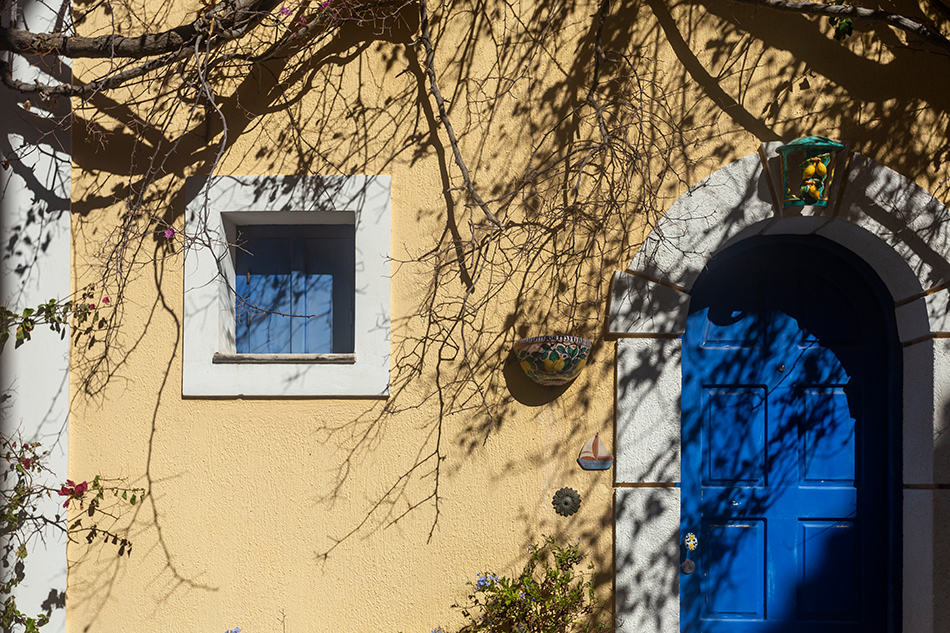 A bright blue front door is one of the most preferred colors for a tan house. Whether you choose aqua, turquoise, or other classic shades, they all go perfectly with both modern and rustic homes.
Speaking of rustic, how about a bright blue front door for a farmhouse-style old house? This tan house looks beautiful and authentic with its blend of strong blue next to light tan.
Whether your home's exterior is stone, brick, or stucco, a blue front door works well next to any material. In exterior design, this color is associated with trust and loyalty.
Deep Blue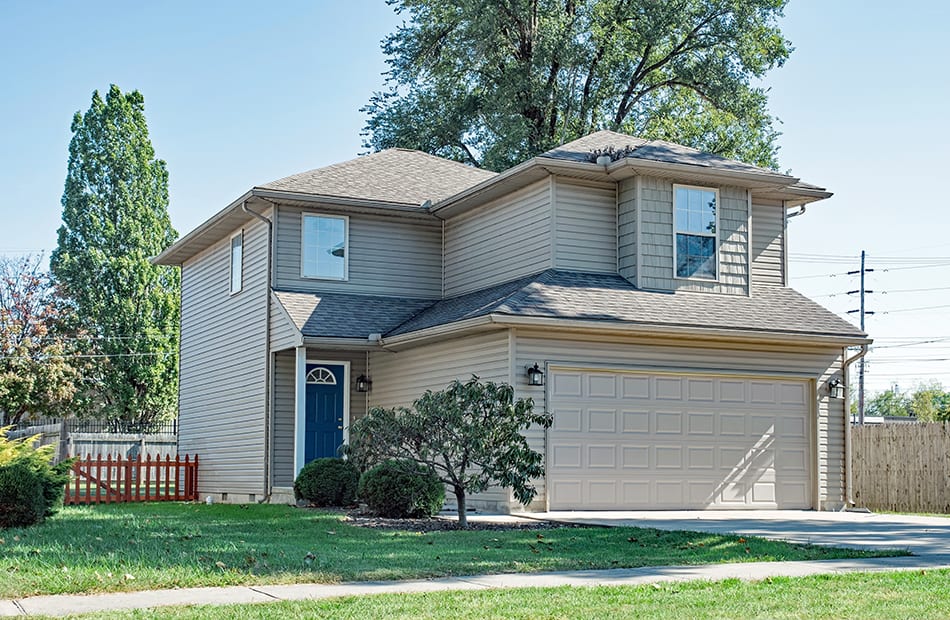 For a more mesmerizing version of blue, go for navy or purplish blue for your front door. This shade is ideal for contemporary homes with a tan exterior. The dramatic dark tone of the navy shifts in response to the natural light, going from classic to sultry in the course of the day.
In exterior design, dark blue tends to be a very popular color for a front door as it gives off a sense of power. The darker the shade of blue, the more elegant and welcoming your entryway will be.
A navy front door coordinates well with brick, stone, or vinyl exteriors. It can be paired with all neutral shades, including tan exteriors. Dark blue is a rich color that will undoubtedly stand out and draw attention to your home.
Classic White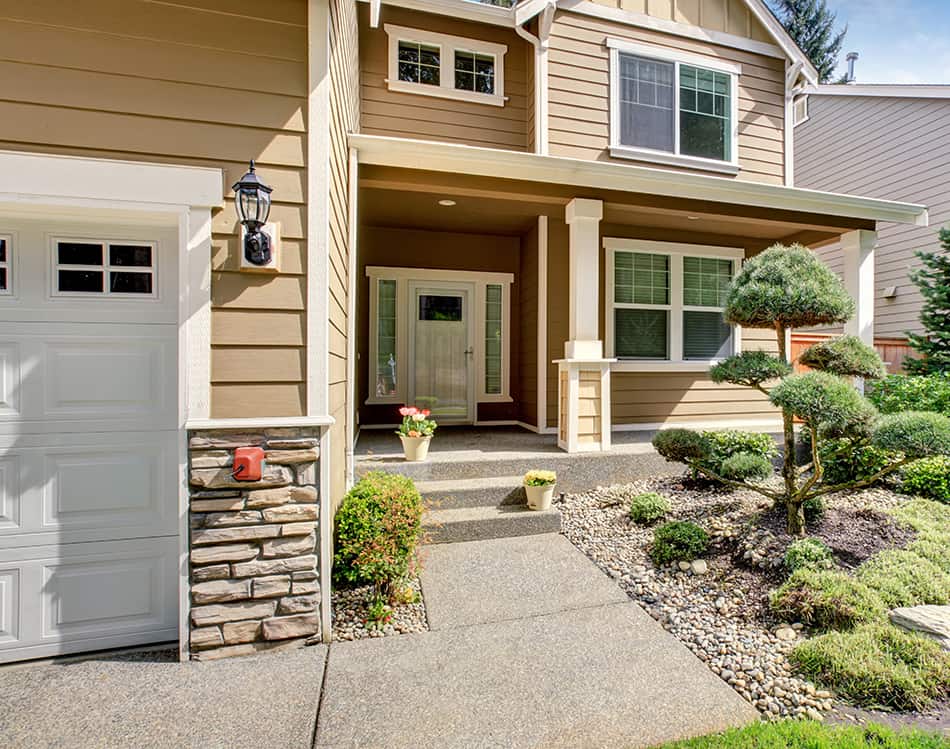 White is the ultimate neutral color for a front door of a tan house. White is an inviting, bright, and popular color that goes with any exterior color. It is associated with peacefulness and emits a welcoming vibe.
With a white front door, you can increase your home's curb appeal, but be warned: it will be quite difficult to keep clean, especially if the door is made of wood. For a toned-down version, go for off-white instead with a doorknob that has a metal plate attached to it. This will keep out dirt and require less maintenance.
In this example, the modern tan house is beautifully coordinated with its white front door and matching trims. The garage door is also white to complement the rest of the exterior.
Elegant Black
Black is one such popular color that is used for the front door. However, one issue with black is the dark feeling it can evoke. That's why it's great to pair with neutral and bright colors like tan or beige.
In this example, the siding and the garage door of the house are a tan color. It might be safe to use tan for the front door; however, doing so will make the door look hideous. In this case, choosing a black front both make it stick out and contrasts well with the beige or tan exterior house colors.
Classic Burgundy
Besides black, another good option for a bold and warm front door that matches greatly with a tan house is classic burgundy.
If you want to add some energetic vibe that stands out contrastingly with a warm tone of burgundy, choose the light shades of tan.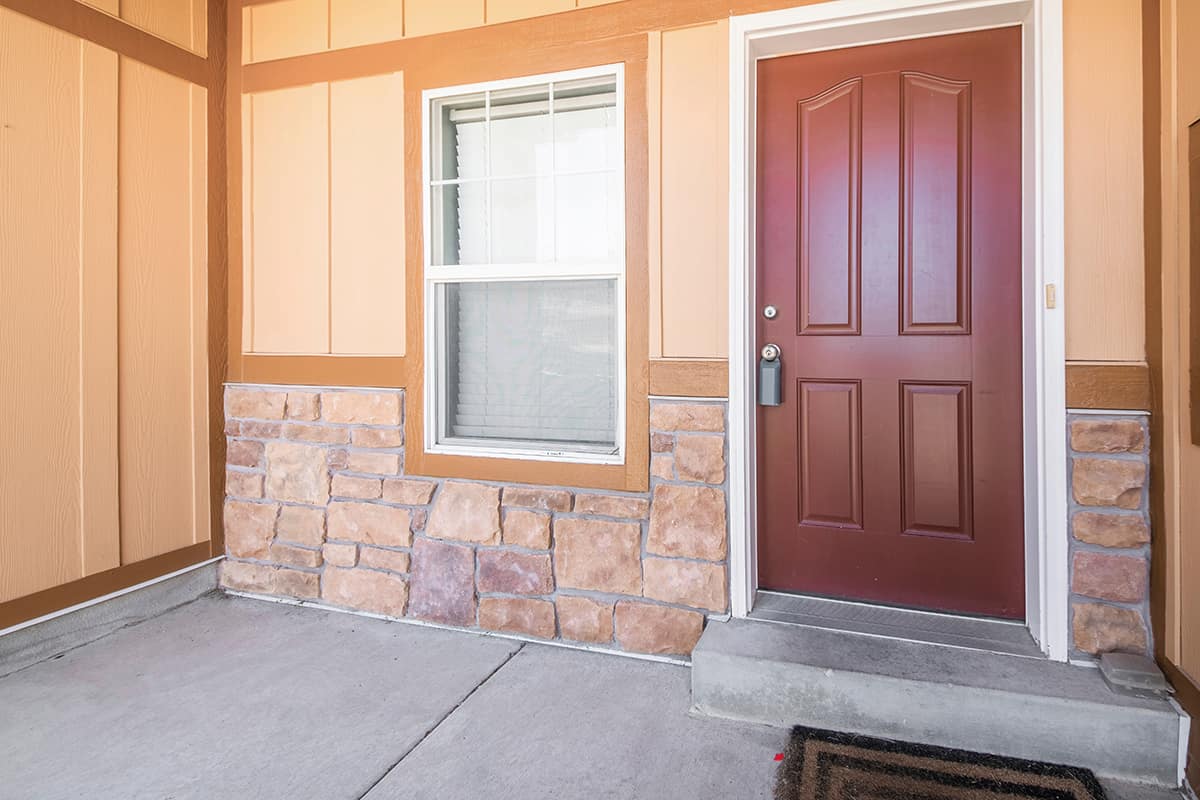 In contrast, choose a warm undertone with the tan color to pair a burgundy front door for a traditional and classic home style.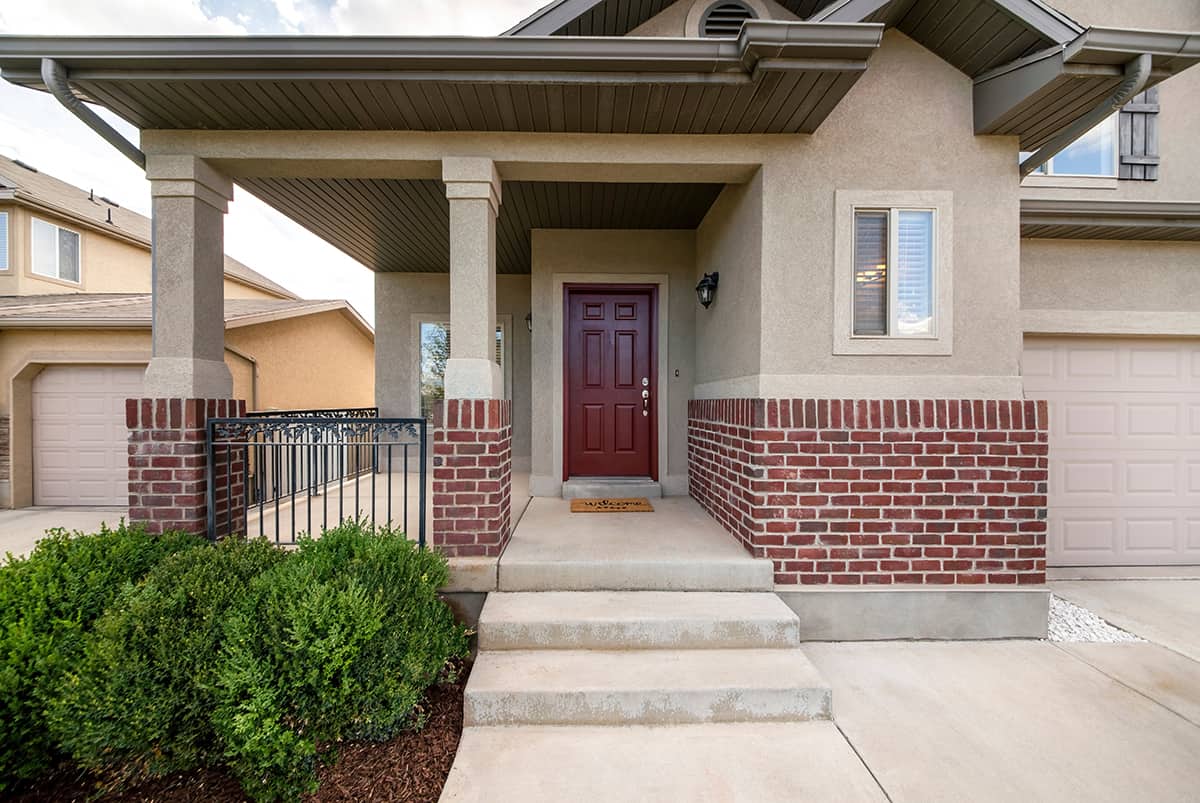 Warm Yellow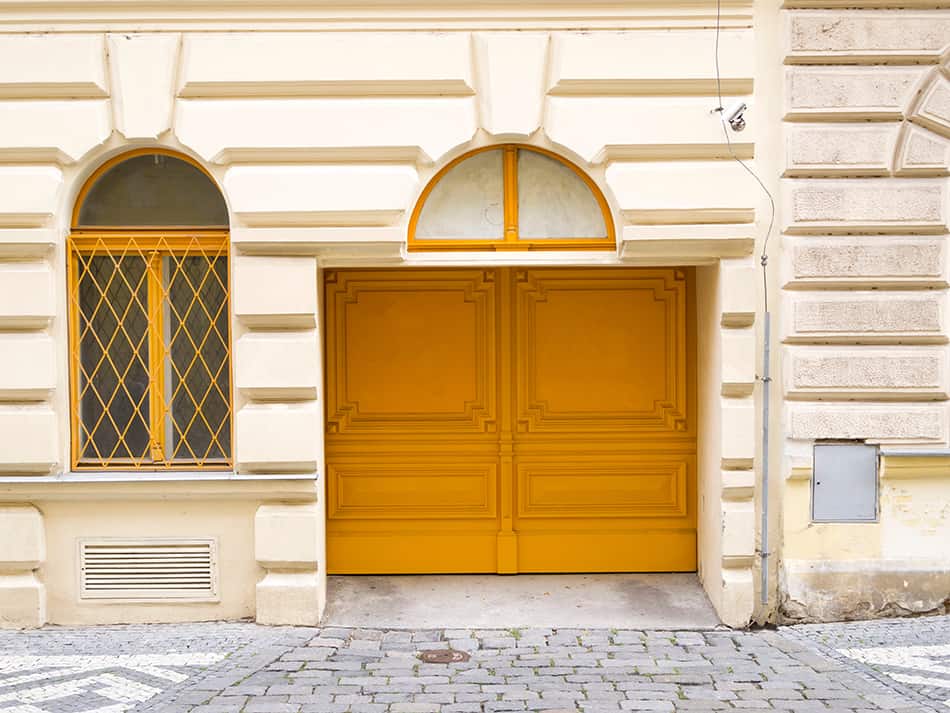 No matter which shade of yellow you prefer for your front door, a warm yellow color will brighten up your entryway. Yellow compliments a tan house and goes nicely with many types of exteriors including stone and brick.
Since yellow shades can vary from muted to bright, they can truly transform the exterior of a home. In fact, it is easy to see why yellows are such popular color choices for tan homes.
See how warm and welcoming this brick home with double yellow front doors looks. Keep in mind that yellow reflects a lot of light so make sure the intensity of the color matches your home's style.
Gracious Gray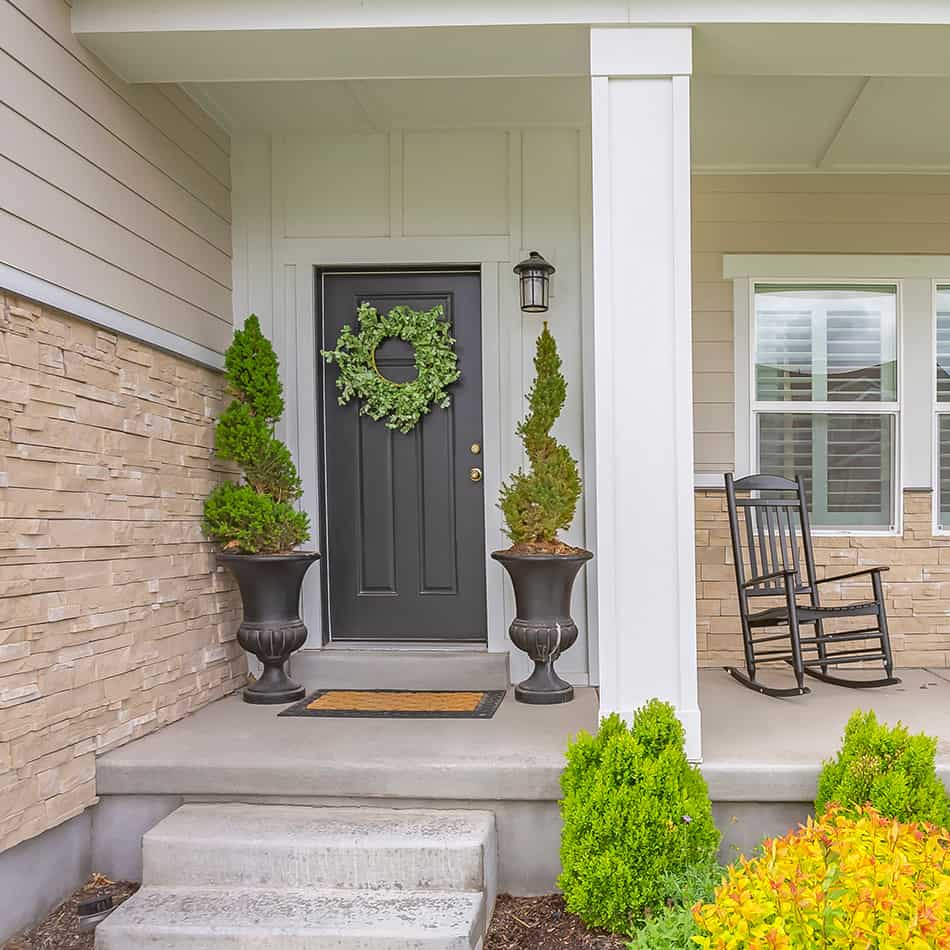 Grey is a neutral and safe color for a front door. But rather than picking a bland shade, opt for a sleeker version in a dark hue.
A dark grey door has a way of balancing a tan exterior and has just the right amount of modernity next to a traditional structure. Dark grey oozes luxury in a subtle manner, which gives a tan exterior a refined look.
If your tan exterior has a beige undertone, match it with the darkest shade of grey for your front door. This will make the entryway ultra luxurious.
Gorgeous Greige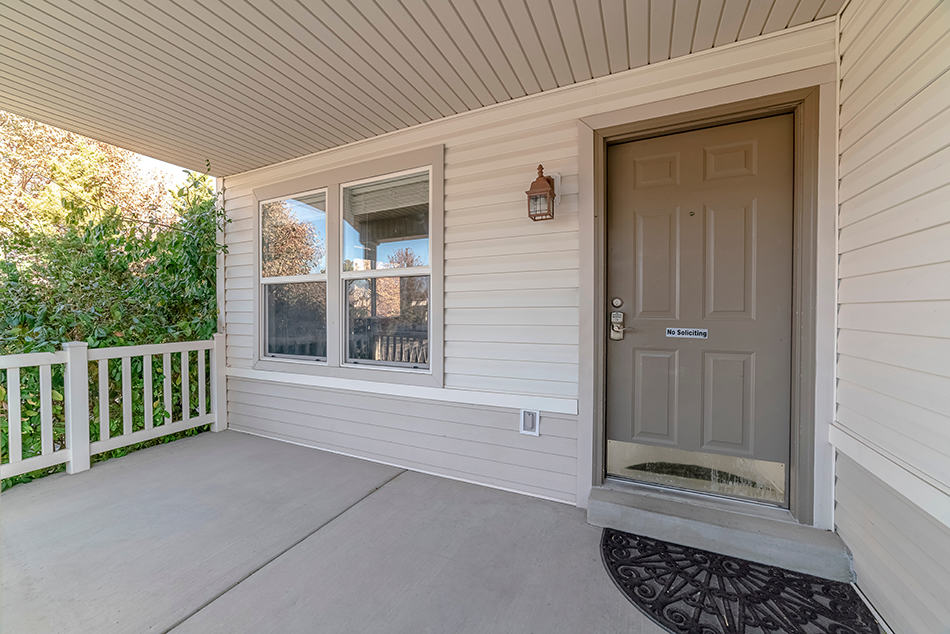 Continuing the grey theme, greige is another recommended shade that works well next to a tan house. Greige is a mix of beige and grey, which are both neutral shades.
This blend of subtle shades is typically warm and gives your home a soft and distinguished appearance. However, a greige front door won't make a big statement. What it does best is to blend seamlessly into the side exterior of your home.
Energetic Red or Burgundy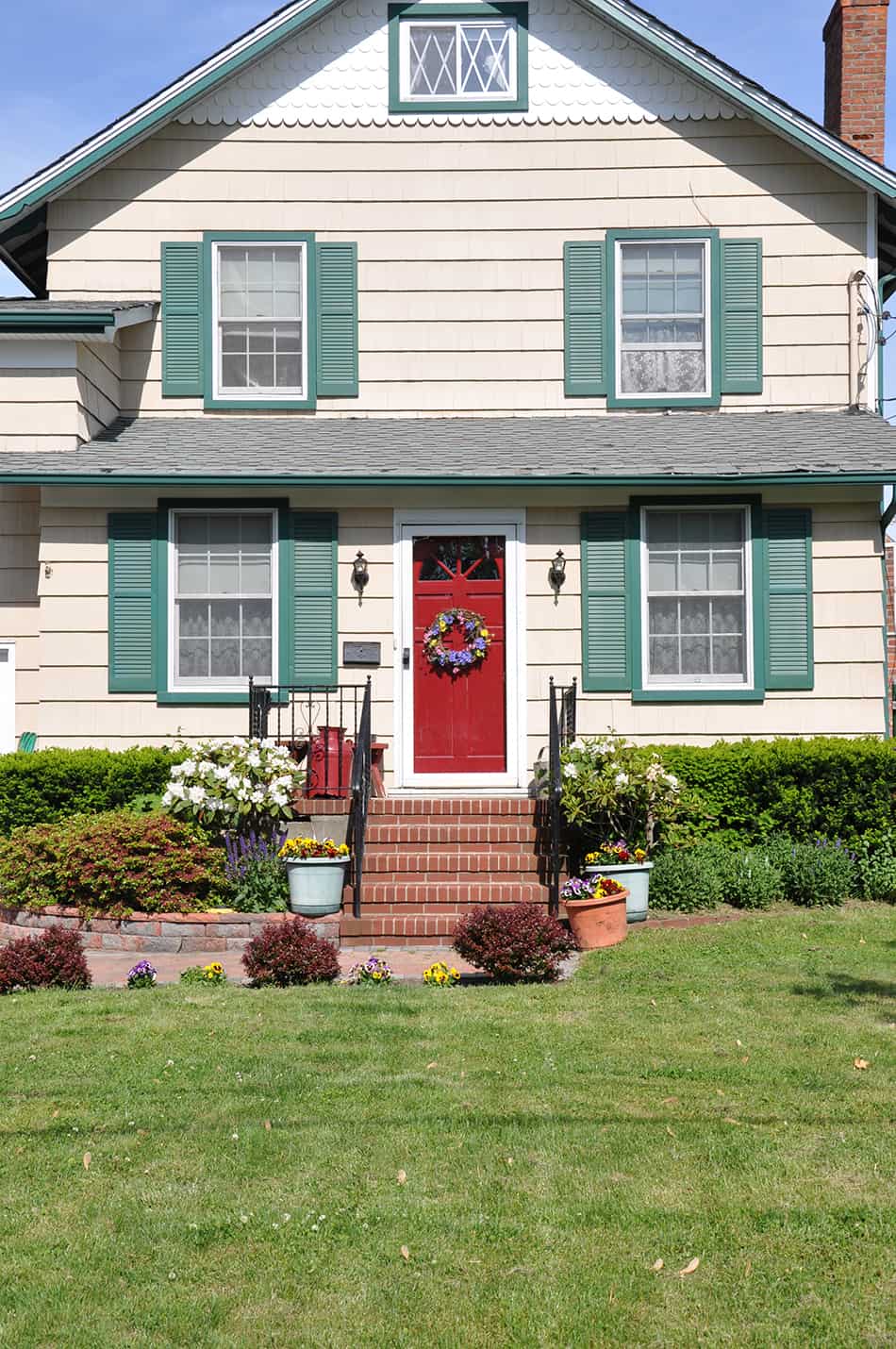 Red is a great choice for those who want to create visual interest without going too far with the color's intensity. Burgundy is a slightly more modern version of cherry red plus it has tons more personality! A red front door next to a tan home definitely makes a bold statement. After all, in exterior design, red is associated with passion.
When it comes to choosing the best red shade for your tan home's front door, consider the style of your house first.
For contemporary, go for a bright red hue, and for rustic, opt for burgundy or muted red. All reds go well with brick, stone, or wood exteriors, but it depends on how intense you want the shade to make your home stand out.
Bold Orange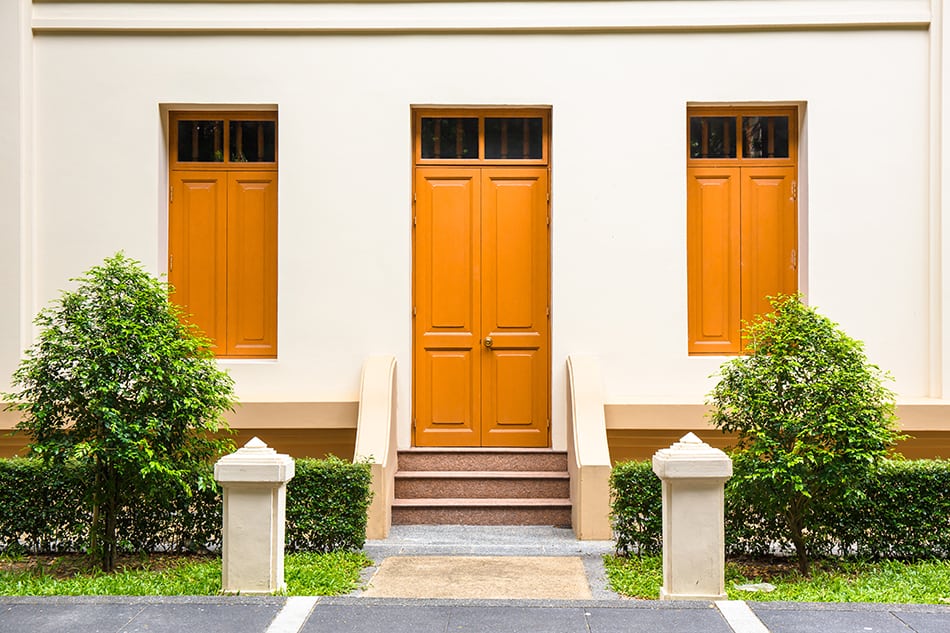 An orange front door is another bold color that will bring brightness to your tan home. When paired with warm or cool tans, a bright orange door will emit a rustic feel. In exterior design, orange is associated with happiness and cheerfulness so it makes sense to liven up your entryway with this welcoming color.
Since orange goes well with almost all other exterior colors, tans, and browns work especially great next to it. For example, how about an orange front door with matching windows and brown trims as a daring choice? You can even pair your orange front door with a tan brick exterior.
Earthy Brown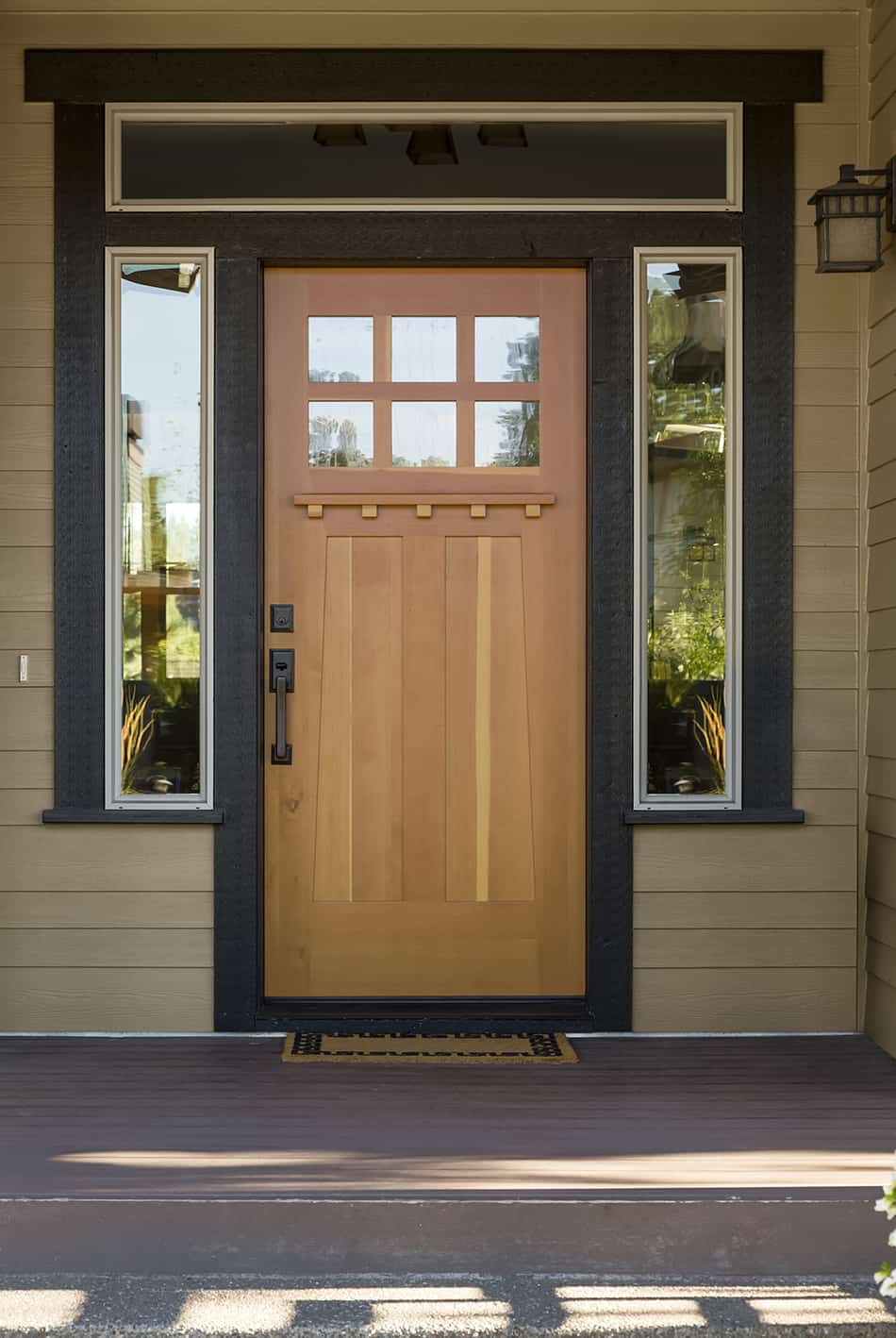 Brown is an earthy color. A tan house can accentuate its earthy tones by adding a brown front door. This color combo makes the exterior more cohesive. By using brown, the entire house will appear much lighter, but if you're not keen on brown, go for a natural wooden door instead.
To tone down the brown hue, surround your home with plants to give it an organic feel. A combination of reddish, brown, and tan are also a great way of grabbing people's attention.
What is the Best Trim Color for a Tan House?
If you have a tan exterior, use bright and clean trim colors to make your home stand out. Trim colors can be vibrant without looking too overwhelming or in your face. Whites, creams, or beige tones make the best choice.
But if you really want to make your tan home look defined, use black trims! Black is a modern and chic color that goes with almost any front door color and most definitely with a tan exterior.
However, if black is a little too much for you, then how about grey? This is another great color that goes with a tan house and since it's neutral, any front door color will work with grey trims.
There are also wooden color trims as another fun yet subtle option. Dark wooden trims like oak, walnut, or teak are excellent choices for tan homes. They look especially beautiful when paired with brown front doors.
Conclusion
Front doors make a big impact on a home's curb appeal. Whether you want to draw attention to your home or make it stand out in the neighborhood, having a great front door color for your tan home can certainly ignite positive energy.
Blue, red, gray, and yellow are some of the most common colors that make a gorgeous option for a front door. Choose the color that suits your taste from our list above. If you want to see some examples with other neutral front door colors, such as gray, feel free to follow our guide on the best front door colors for a gray house.
All the front door colors we've shown you will coordinate perfectly with your tan home's exterior, and we're sure you'll love your front door color for many years to come!