From melon, squash and pumpkin to carrot and apricot, No we're not talking about fruits and veg – these are just some of the many shades of orange you can choose for your front door. While a purple front door creates deepness, an orange front door instantly draws attention and is perfect for those who want to make a punchy statement with this show-stopping color. 
If you are an extrovert who wants to get noticed by the neighbors, take a look at my 15 orange front door ideas before giving your home's entrance a color makeover.
What Does an Orange Front Door Represent?
Orange is an exciting and vibrant color that reveals a lot about the person who chooses it for their front door. According to color psychology, orange is an energetic color that provokes enthusiasm and warmth. It is also linked to bright sunsets and the fall season. Orange is a Feng Shui element of fire, which is best suited for South-facing front doors so if your front entry is South-facing, or you just want to add a touch of spark to your door, consider choosing this color. 
Here are some great examples of different exteriors with orange front doors: 
1. Orange on Red Brick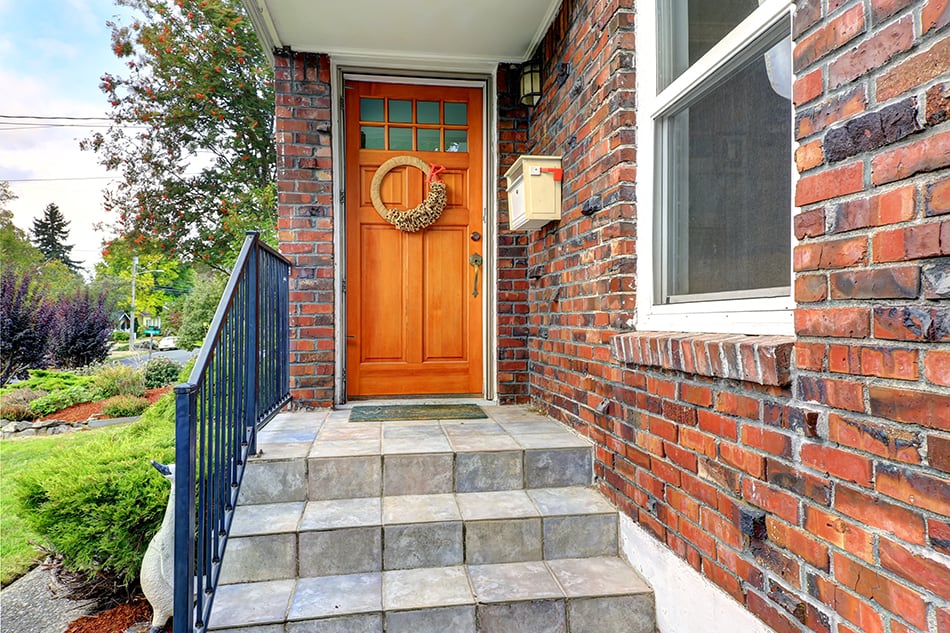 There are few things more elegant than a rich and bold orange front door on a red brick house. This color does a wonderful job of bringing out the red and making it stand out. When we look at this image, we get an incredibly welcoming and warm feeling. After all, orange is a color that gives off positive vibes and when it's against red brick, it can only look more exciting.   
2. Bold and Bright Orange to Add Excitement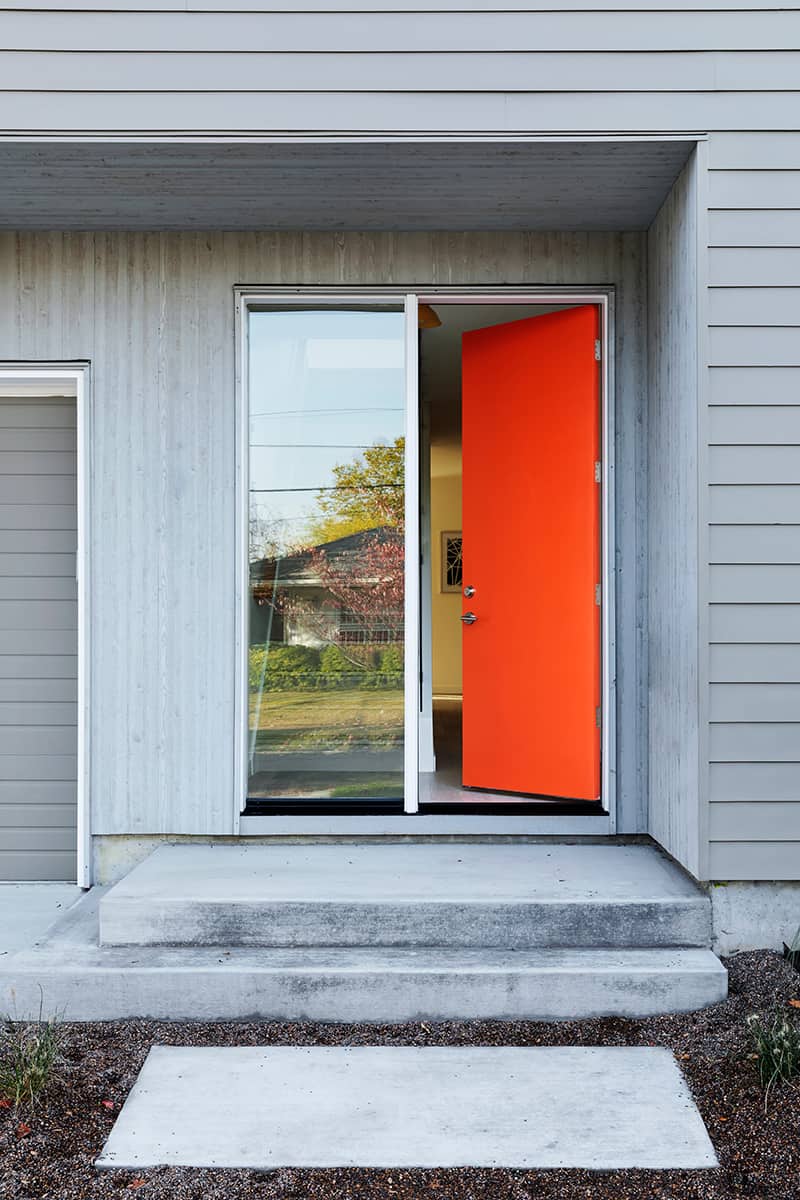 If you are looking for a color that stands out on a somewhat plain and basic looking exterior, try a bright shade of orange. Not only does this color bring warmth to a modern home, but it also blends well with any outdoor space. See how soothing this bold orange front door looks against the neutral and plain-looking facade of this home.  
3. Orange on White for a Classic Entry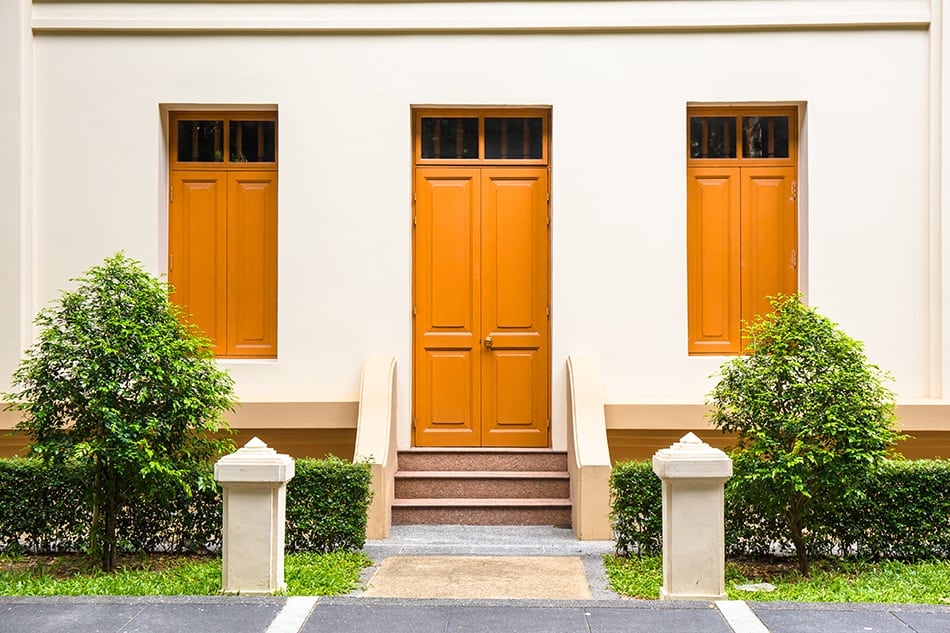 To create a classy entryway, consider adding a vibrating zest of orange. An orange door with matching window shutters makes your home stand out against the white background. This front door color is perfect for both modern and traditional homes for an exciting visual presentation. Remember, the whiter the backdrop is, the bigger impact your orange front door will make as demonstrated in this image.
4. Orange on Cool Blue for an Instant Refresh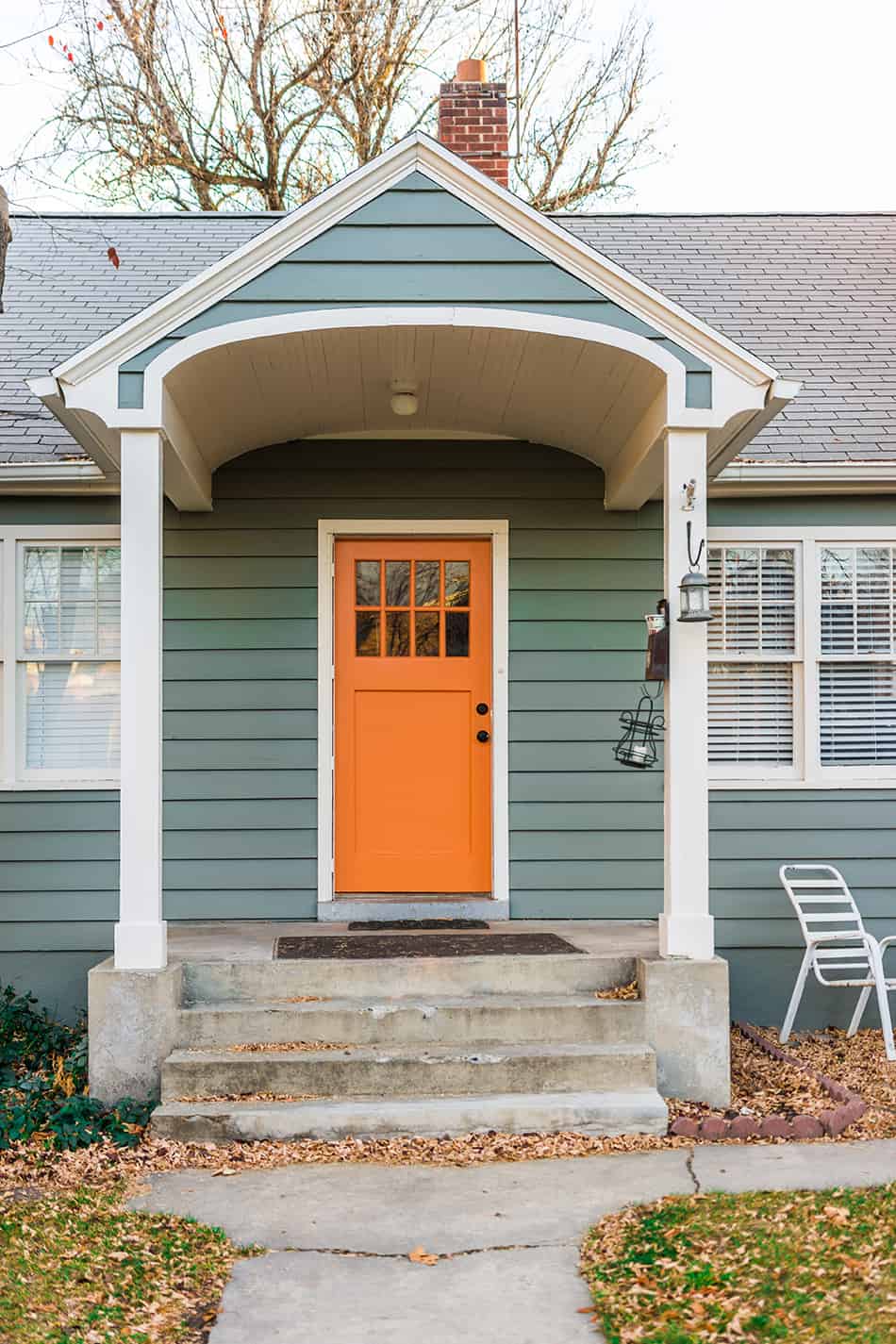 Since orange is a warm color, it can be paired with cool blue to attract attention. See how this beautiful blue porch makes the orange front door stand out. The reason cool blue works so well with orange is because these two shades are opposites on the color wheel so the exterior of this house doesn't look lost or faded out against the orange door. 
5. Orange with Decorative Features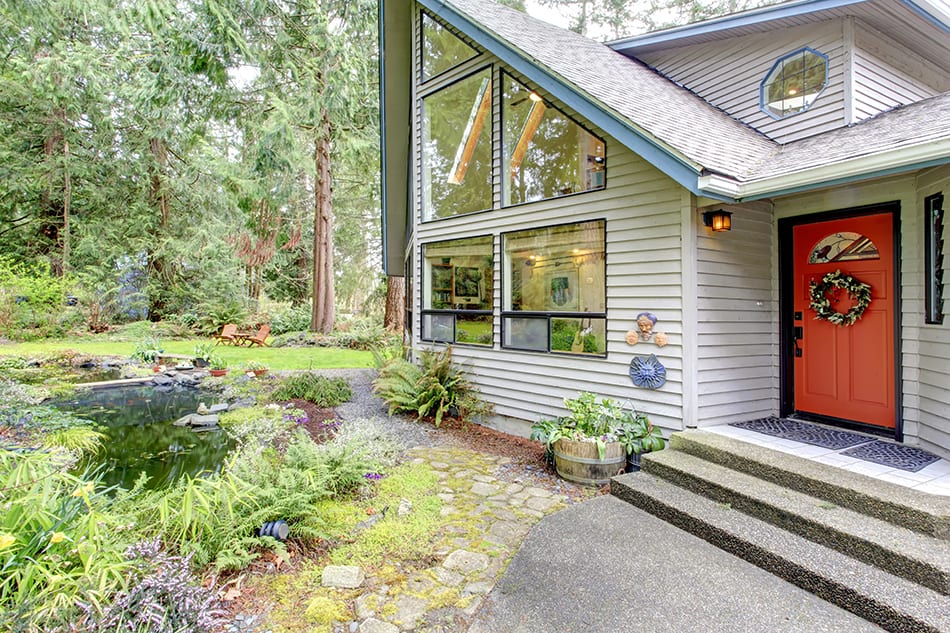 An orange front door, regardless of whether it is a soft hue or a bold one, works well with many different decorative elements. A modern home, for example, can be combined with an orange door and decorative features, such as a wreath to make it look welcoming. A smart orange door can suit pretty much any exterior, whether it's on a mid-century house or a contemporary apartment. You simply can't go wrong with this exciting color. 
6.
Orange and Red Doors as Matching Pairs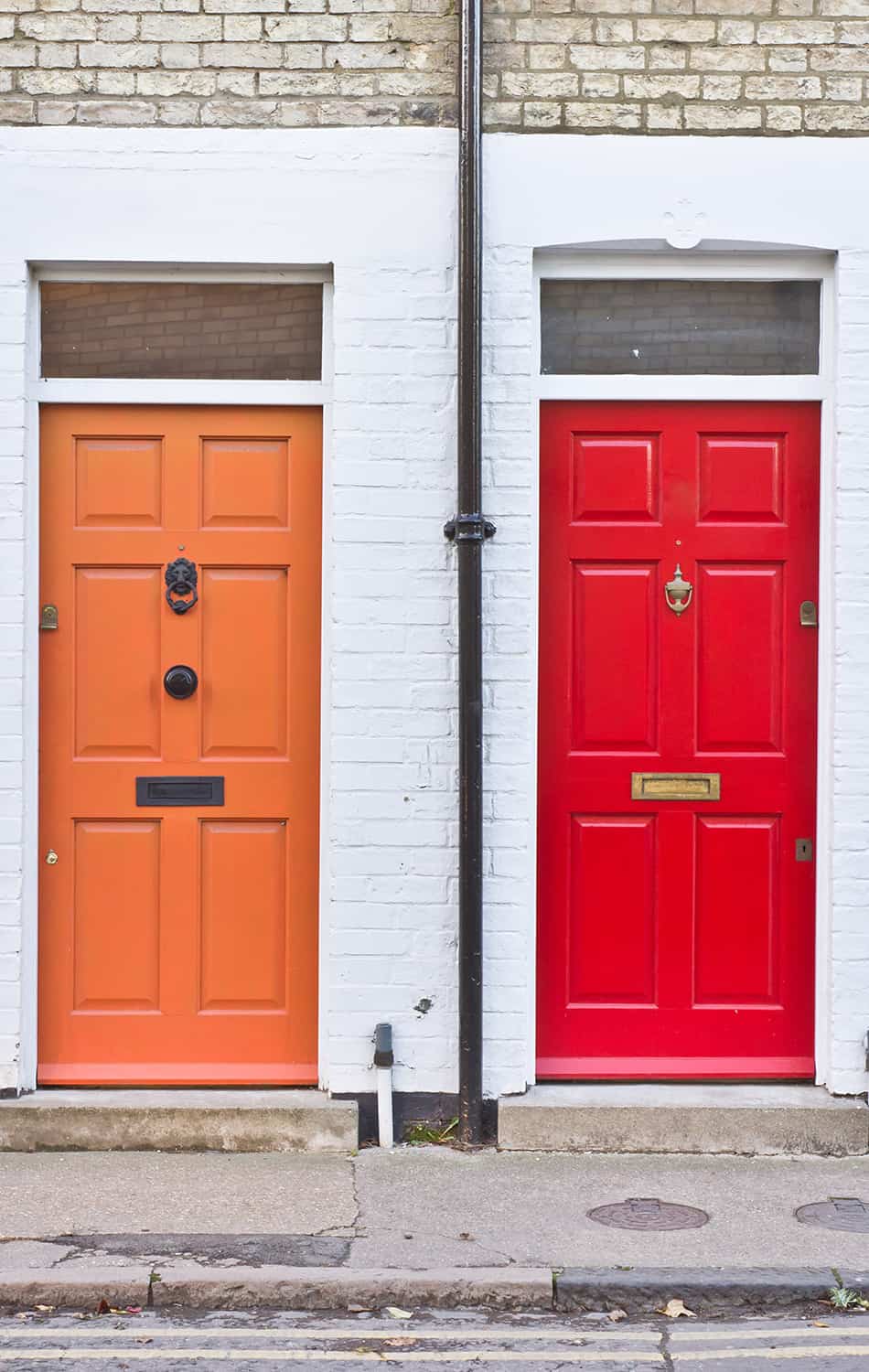 If your next-door neighbor has a red door, it makes sense to opt for an orange front door to pair up the two colors. When selecting an orange shade for your door, keep in mind that those with red undertones work best next to reds. Here you can see how the reddish orange door next to the red door makes a harmonious statement on the white backdrop. In addition to these doors being of similar colors, they are also of identical design.
7. Bright Orange on Grey for a Trendy Combo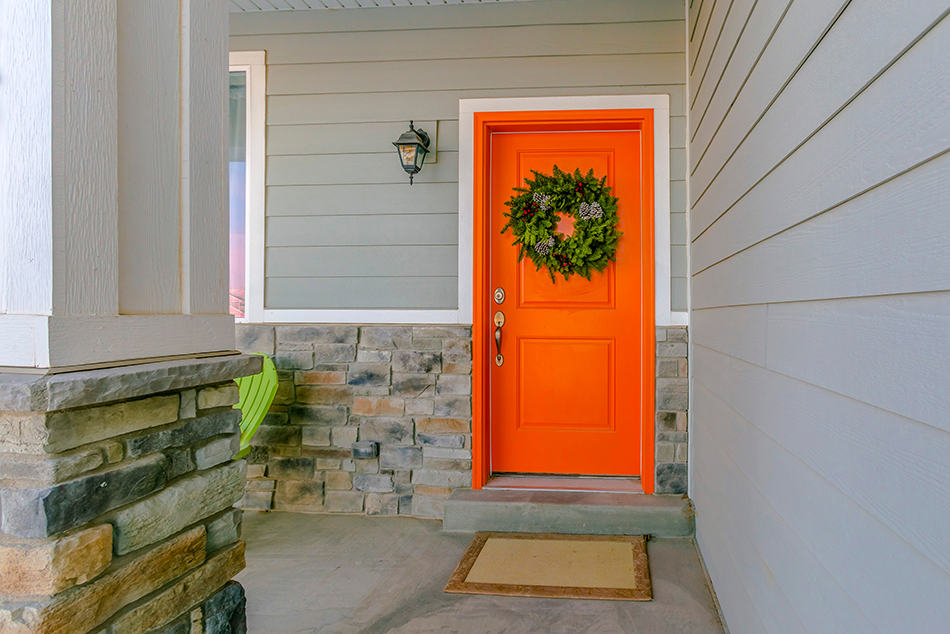 A bright orange door isn't just stunning next to red. It can also be a trendy combination on a grey exterior and is increasingly becoming popular across suburban homes. This combination of stylish and soothing grey backdrop with a bold orange front door has created a visually appealing focal point. And if you want to tone down the orange, simply add a decorative wreath to alter the look of the door.    
8. Melon Shade of Orange on Grey for a Warm Welcome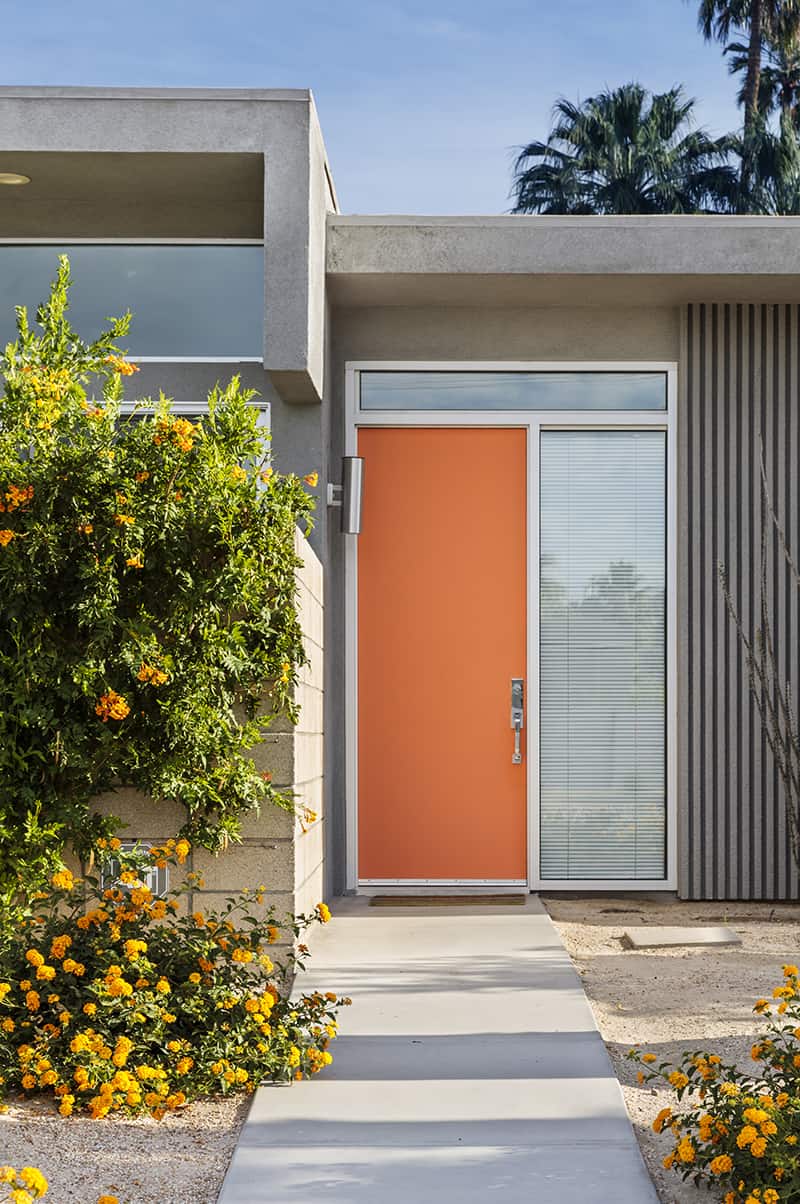 Another shade of orange that softens a grey exterior is the melon or cantaloupe hue. This shade of orange is the quickest way to spruce up your exterior in an unconventional way. Notice how this plain front door in soft orange and large glass panel has transformed this rather bland mid century home into a warm and welcoming entrance.  
9. Soothing Soft Orange on Pink for a Dramatic Look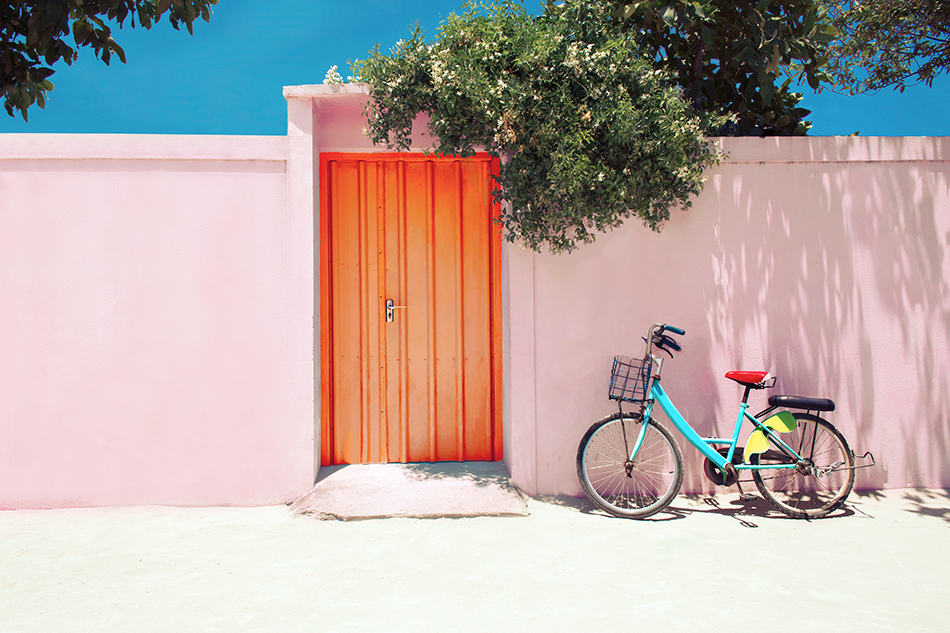 A soothing and soft orange front door can look even more attractive next to the pink exterior of a rustic home. Under direct sunlight, this front door looks lighter and emits warmth thanks to the deep shade of pink as the backdrop. Experiment with these warm tones by adding dramatic features like metal hardware. 
10. Chic
Reddish Orange on Classic White to Add Charm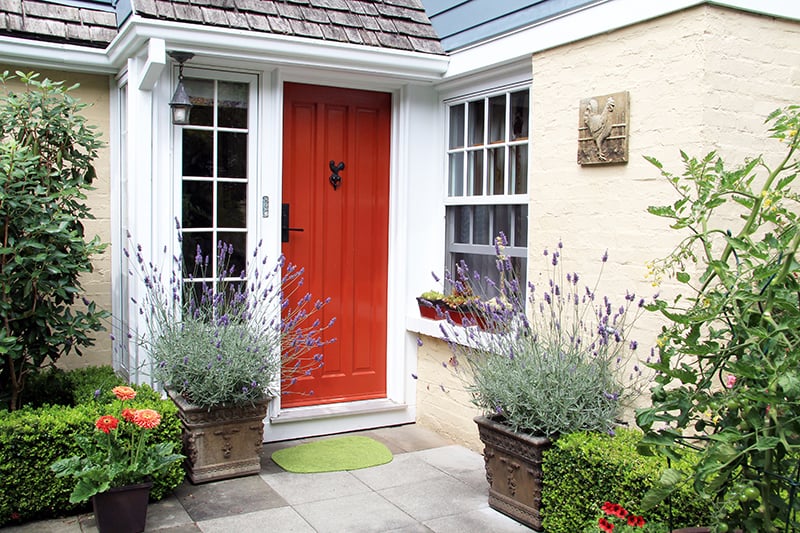 Looking for a bit of charm and elegance with a dash of color? Look no further than a reddish orange hue on white background. A chic shade of orange looks especially beautiful on a white exterior home. The front entry can be further enhanced with a quirky door knocker and potted lavender and other flowers just like you can see here. 
11.
Orange Sky Hue with a Contrasting Color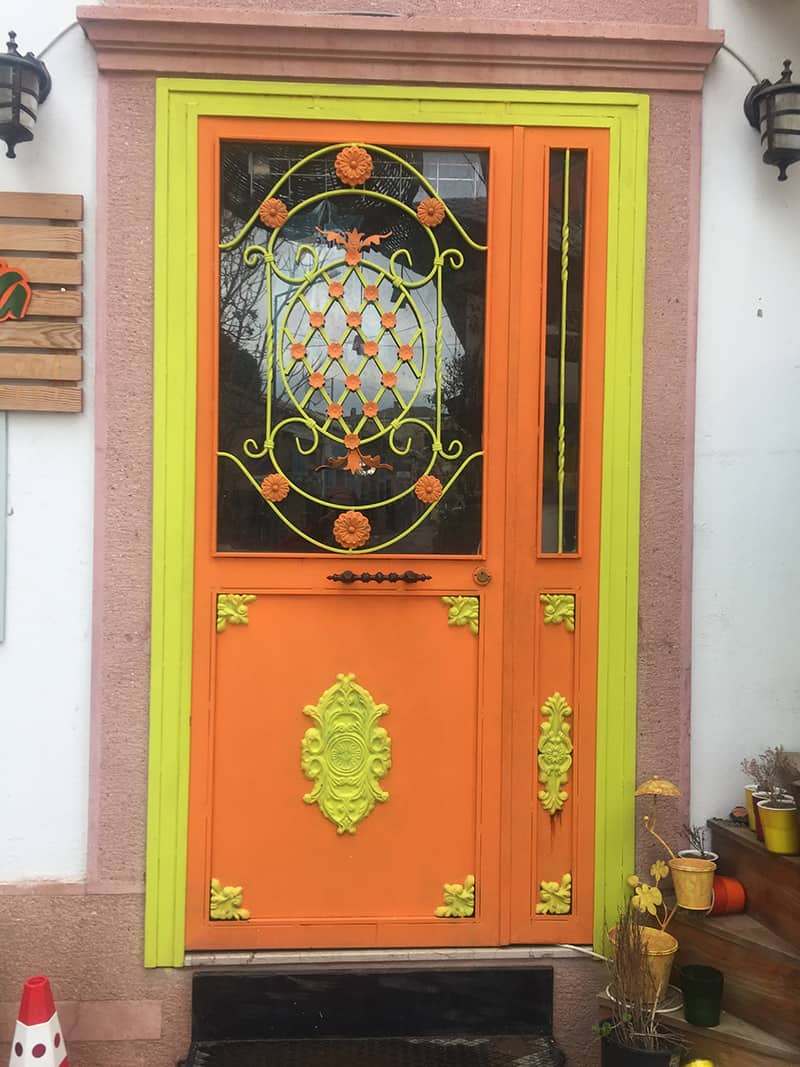 A contrasting color for your orange front door will instantly direct attention to your entry and make it a focal point. This attractive orange door, for example, has a yellow framing with decorative designs that contrast with the bright orange hue. The purple siding has made the door stand out even more and given it a special character. In fact, you can see many stand-alone features in this picture that serve as contrasting backdrops. You can achieve the same look by blending a mix of contrasting colors with orange to give a unique reflection of your personal taste and character. 
12. Electric
Orange Hue with a Complementary Color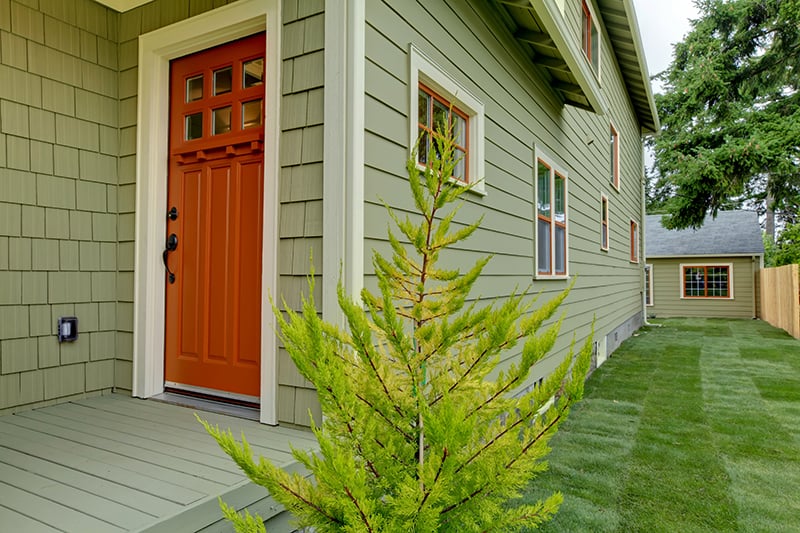 Not keen on yellow? Try a complementary color to orange by pairing it with green instead. This color combination works wonderfully as the idea is to use the same tone for both. Here is another example of an inviting entry showing a muted green exterior with hints of orange on the window frames and an electric orange hue for the front door.
13. Crimson
Orange on Purple for Curb Appeal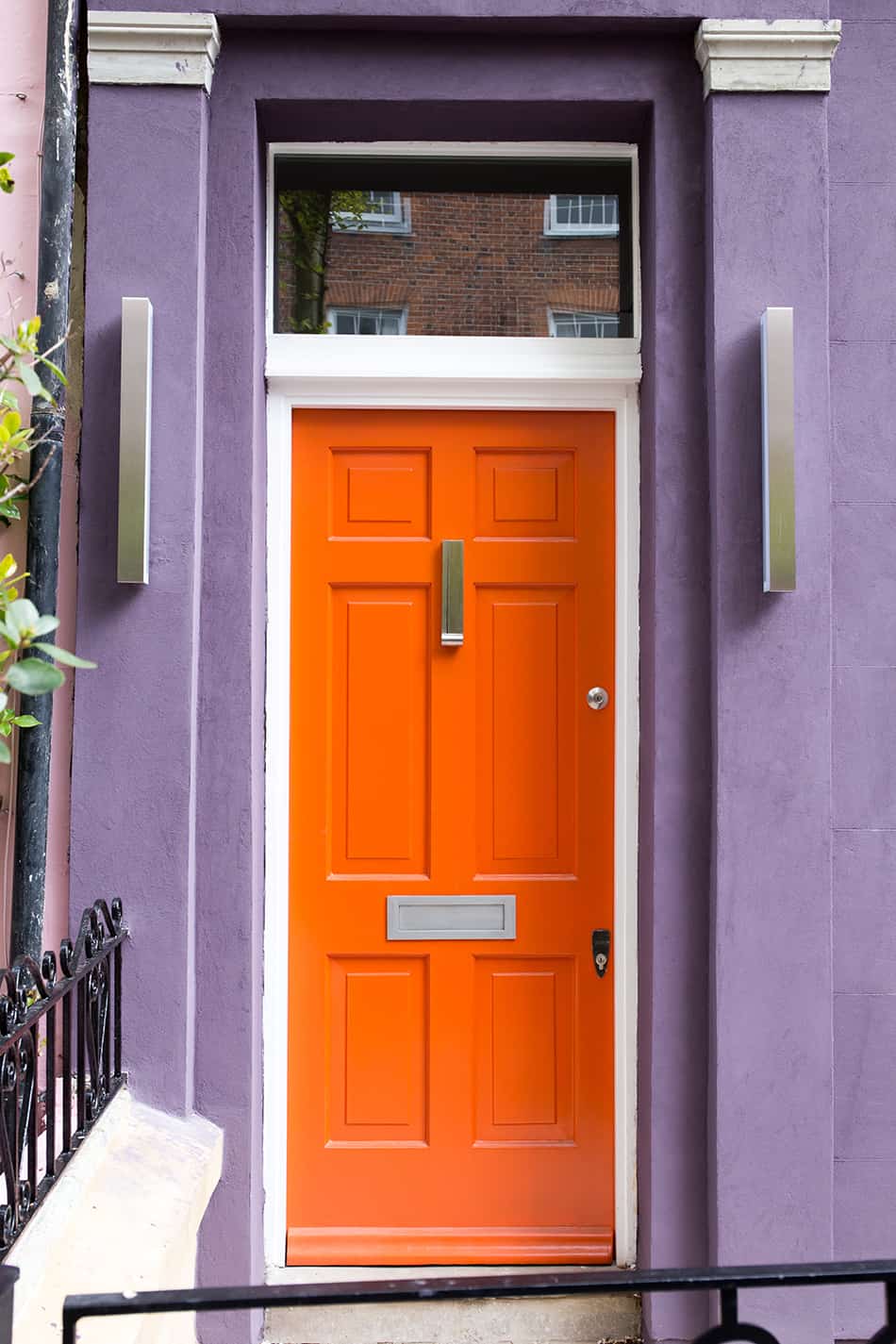 There is perhaps no other color as harmonious and in-sync as purple to go with crimson orange. You can make a huge impression with your bold orange front door against a purple backdrop. The curb appeal of this orange front door is in its beautiful soft purple exterior that has hit the target.   
14. Rustic Orange with stylish metal hardware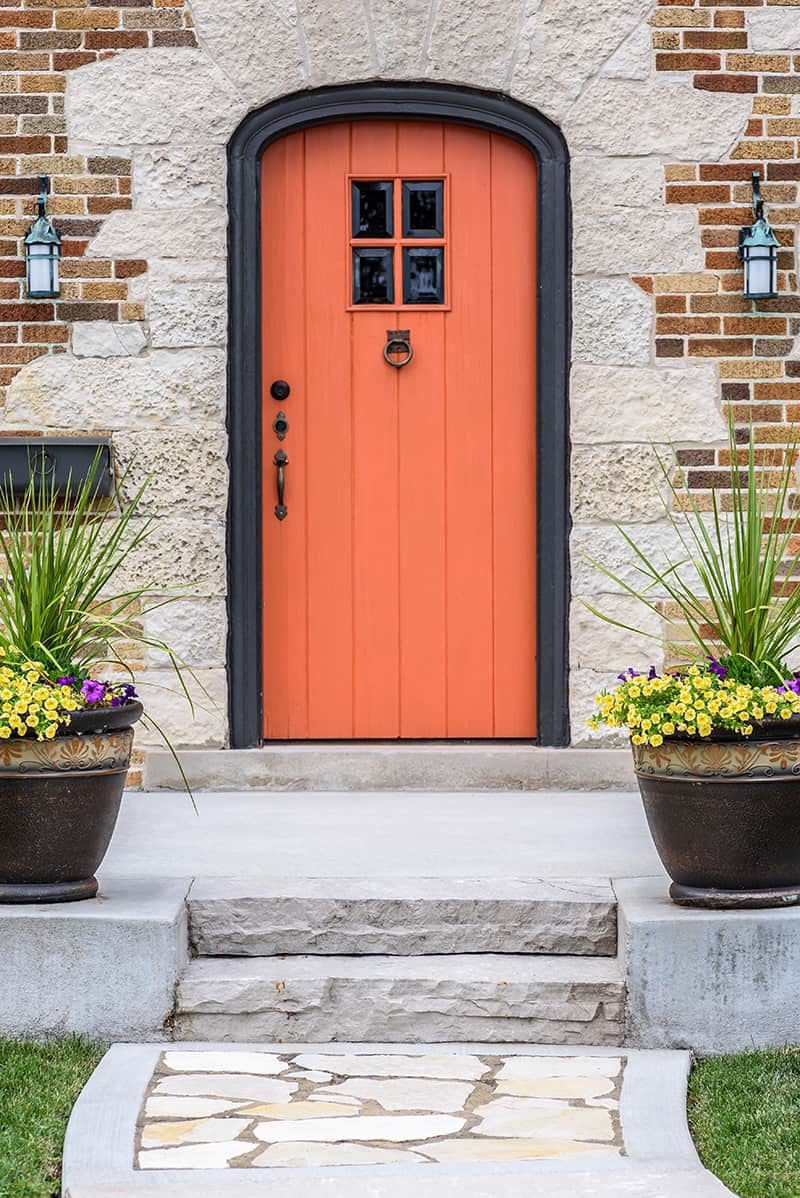 Hardware on a rustic door is an excellent front door decoration idea. You can choose modern door knockers on a traditional door or accentuate the rustic door with elaborate metal handles and knocker. Shiny and bright brass, for example, adds contrast to a wooden orange door surface. Black metal door handles look inviting and improve curb appeal. See how stylish this character property looks with its exterior design and metal hardware on the door, and let's not forget the side lights for added appeal. Another idea is to hang metal signs, wind chimes, flower baskets, or black pots of flowers as shown here on each side of the front entrance. These features are highly effective in creating a stunning focal point for your entry.  
15. Orange Double Door with Greenery for a Welcoming Entrance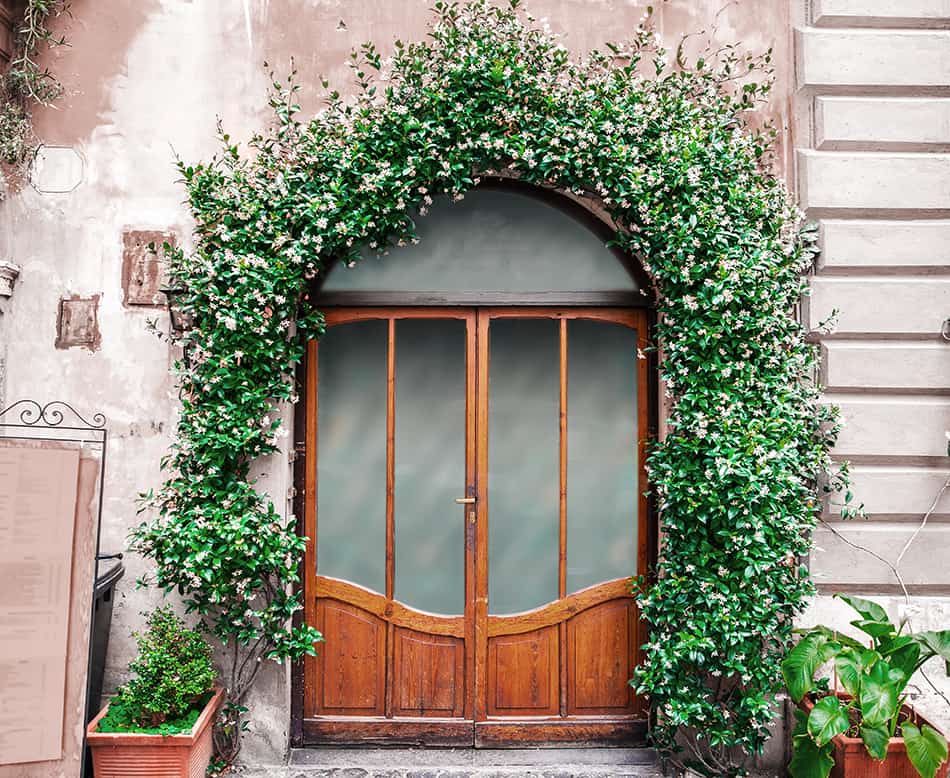 An orange double door framed with ivy or other climbing plants is a versatile way of adding color to your front entry and creating a welcoming feel. As I've shown you before, elegant green wreaths also work beautifully for a splash of green color on an orange door. This wide double door with glass panels has been beautifully accentuated with green climbing plants, which have softened the orange hue and created warmth.