Choosing the most attractive deck colors for a gray house is often a stressful task as there are so many varieties of paint and stain colors.
The good news is that a gray house can be a neutral backdrop to any deck color, but in order to make your exterior look more elegant, you should think about the most impactful deck color.
So would you like to know which deck colors go with a gray house? The following bold and neutral deck colors can easily be coordinated with your gray home' exterior:
Deck Color Ideas for a Gray House
Light Gray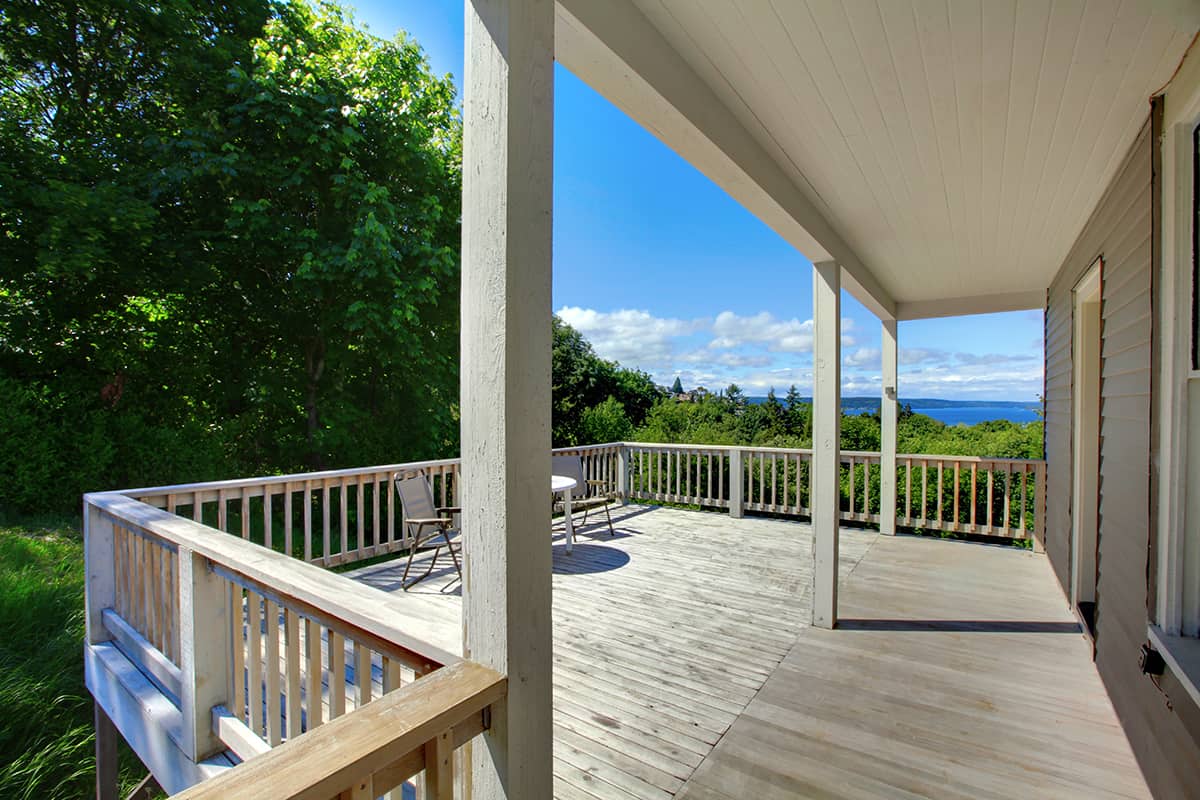 The first deck color option for a gray house is no other than a matching gray! While you may choose the exact same shade for your deck, we recommend you pick a shade lighter than the exterior in order to give your home a uniform look.
To bring out the undertones of your dark gray house, a light shade of gray for the deck works as a unique combination. This is because the light gray deck stands out as contrast next to the dark gray exterior as you can see in this example. The wooden deck's undertone is off-white and several shades lighter than the exterior wall color, which makes an attractive and modern pairing.
But what stands out most in this photo is the use of two-toned grays with an off-white and light gray blend to create a visually interesting look. For the railing, opt for white or a matching light gray for a cohesive color scheme.
Dark Gray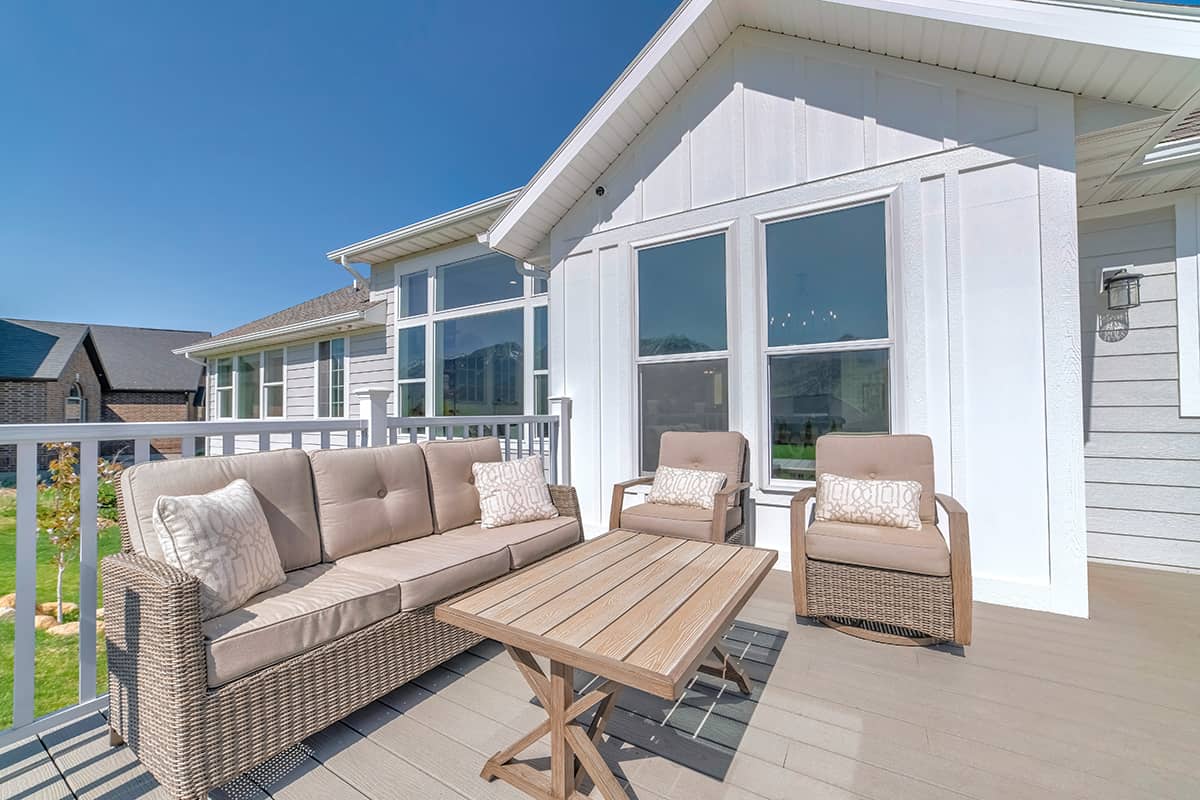 Another matching deck color for your gray exterior walls is a dark shade of gray. Unlike our previous idea, it's best to pair your dark gray deck with a lighter gray exterior. This contrast will add a chic and sophisticated look that works beautifully in contemporary and mid-century modern homes.
One big advantage of choosing a dark gray deck color is that dirt and footprints are easily hidden, so if your deck receives high foot traffic, dark gray is highly recommended. And aside from being compatible with light gray exterior walls, this tone also goes with charcoal gray outdoor furniture.
Here, the light gray walls are paired with a darker gray deck flooring, which has a light brown undertone. The woven brown outdoor furniture is well-coordinated with the rest of the color scheme and the white railings.
Brown

If you love the look of natural wood, then it makes sense to paint your wooden deck a rich shade of brown. Such a bold, rich color brings an airy and elegant feel to a gray house so your outdoor space can achieve an urban vibe with this earthy deck stain hue.
But it's not just the compatibility between the gray and brown that is so appealing; we love the way the entire color scheme comes together to blend with the natural surroundings.
What we adore about this design example is the visual interest created with the dark gray exterior and the brown tone of the wooden deck. The combination of cool and warm color scheme brings an inviting and cozy feel to this outdoor space, which is further enhanced with the cream colored furniture.
Red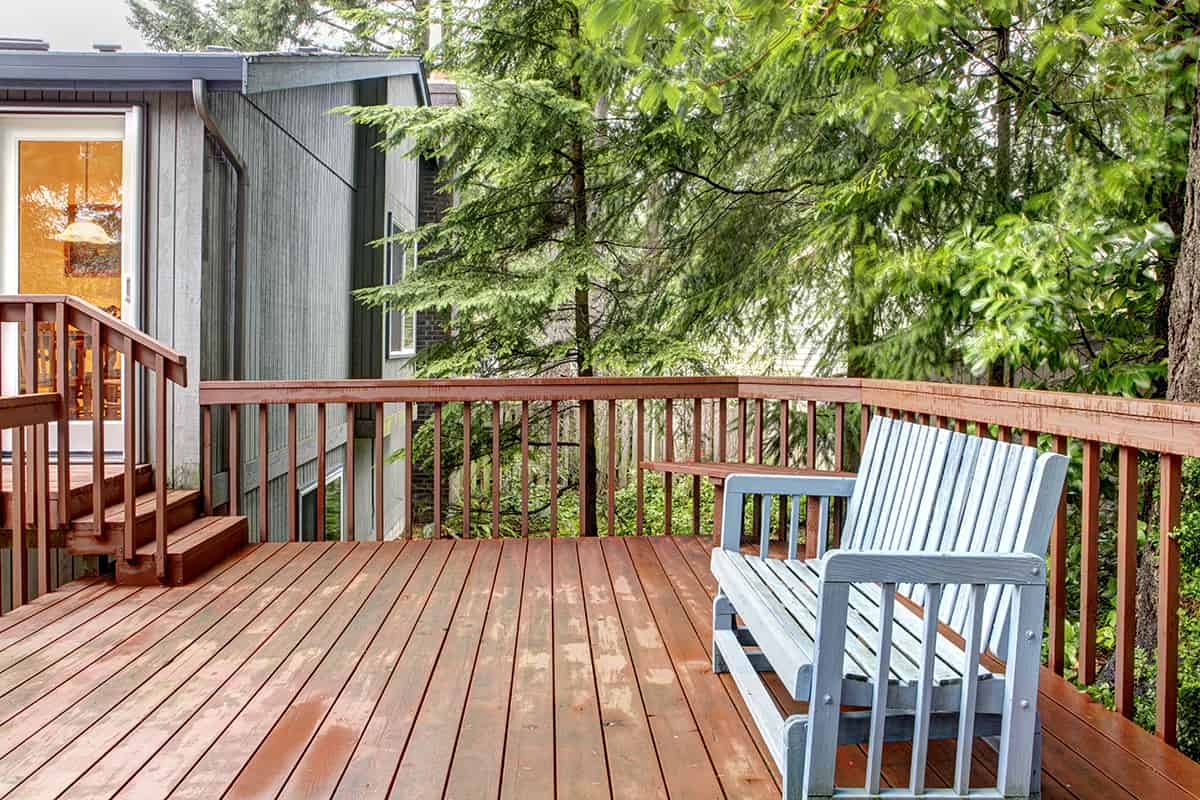 If you want to go for a daring deck color to show off your flamboyant personality, then paint your gray home's deck a fiery shade of red. This color oozes spirit and energy, plus it never goes out of style.
Maple red or cherrywood are ideal for vintage or traditional style homes as they both have red undertones. Another positive about red stain is that it makes your outdoor space stand out.
Just like you can see here, a blend of blue outdoor furniture with an all-red deck and railing look cozy and inviting with the gray background. So don't you think it's now time to pick a bold red stain and give your old patio deck a fresh coat of paint!
Honey Oak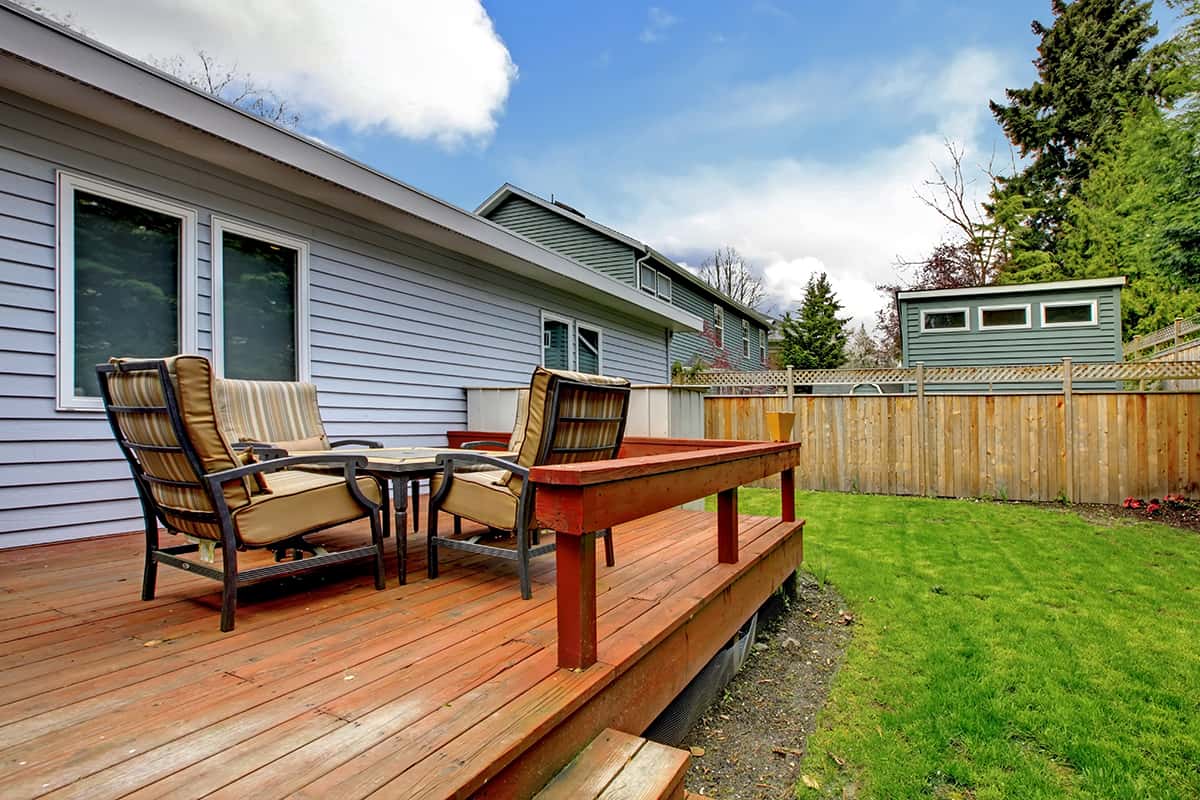 Honey oak stain is a stunning finish for light to medium gray exteriors thanks to its golden, orange tone. This option is fast becoming popular for modern houses because of its bold undertones.
We also like honey oak with grayish-blue exterior walls as it brings out the warmth and boldness of the house. For those who want to brighten up their exterior home, honey oak is an excellent pick.
This is the best color to highlight the gray exterior of your home, and you can incorporate any outdoor furniture color into this combination.
Dark Blue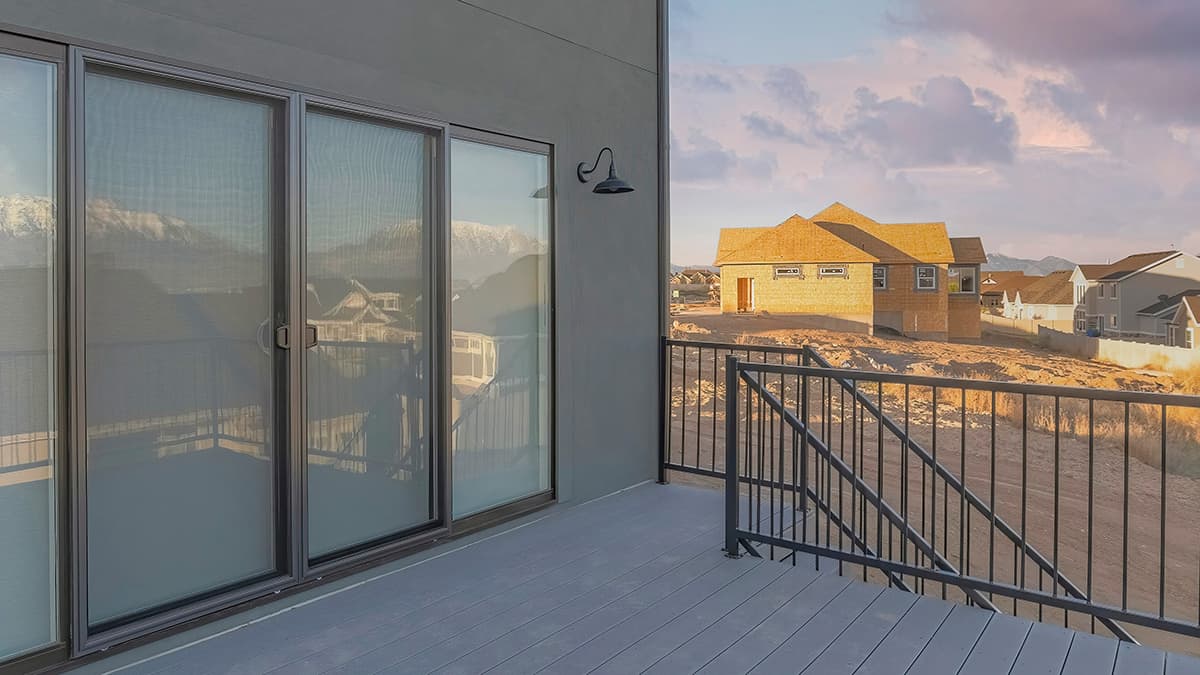 Blue stain for deck is becoming popular now as it goes wonderfully with a greyish-blue exterior. This is a perfect blend as both colors are on the cool side, thus bringing a natural look to your home.
On a dark gray home, for example, dark blue deck stain brings out the undertones of your home as an exciting color scheme. This tasteful and solid color option for the deck gives a nautical feel to the gray house. What's more, dark blue is an excellent choice for hiding foot marks and dirt stains.
More Deck Colors that Go with a Gray House
White
A white deck works with any exterior wall color, especially with light or dark gray. This bright, crisp paint finish brings a pop of freshness to your outdoor sitting area and is one of the most preferred colors for any home design.
Whether your home is traditional like a Craftsman style, or modern like mid-century, a white deck adds a uniquely fresh vibe to your outdoor space. For a vintage look, choose natural wood with grains to highlight the authenticity of the deck material. For modern homes, composite deck in white will be the perfect choice as it requires least maintenance and is a cheaper option than natural wood.
Black
Black deck stain can be a bold move to pair with your gray exterior walls. But on sunny days, you'll save your eyes from the glaring brightness of your deck color. Moreover, black doesn't allow dust to show on the floor so you won't have to constantly clean your wooden deck flooring.
Black is highly suitable for high foot traffic areas, so if your exterior walls are a light gray color, this deck stain will complement the neutral color scheme.
Just remember to match your furnishings with the light gray walls and the deck railings as an all-black design would appear too dark and make your outdoor space look smaller.
Greige
Want a lighter color for a unique look? Then consider greige deck stain as this versatile and soothing hue suits any exterior wall color.
Greige is the perfect balance between cool and warm tones as it's a mixture of light gray and beige that bring out such a beautiful combination. So if you can't decide between beige or gray, consider greige as a nicer option that brings some brightness to your gray home.
Cherry Maple
Cherry maple deck color consists of a smooth texture and simple grain with a hint of warmth. This option is ideal for pairing with a cool toned gray exterior.
Although cherry maple is classed as red, it does have a blue undertone, hence the reason it goes well with a gray exterior. If you have a traditional style home, and you wish to highlight your natural wooden deck, then consider cherry maple stain as a warm and welcoming paint color.
Final Thoughts
If you were confused about the best deck colors for your gray house, we're sure you are no longer uncertain thanks to our list of ideas above. A deck is the perfect outdoor sitting space for the family, but the color you choose must complement your home's exterior gray walls.
The color of the deck plays a major part in the overall ambiance of your outdoor sitting area. This is why it makes sense to select the most coordinating stain or paint color.
Because gray has a cool undertone, it can work with warm deck colors like reds, browns or beige to create contrast. Admittedly, there are so many deck colors to choose that it can often prove to be a challenging task.
If you want to keep it simple and stick with gray, then make sure you choose one or two shades lighter or darker than your home's exterior walls. On the other hand, if you like a bolder look, blue or black are sure to stand out. Once you decide on which deck color works best with your gray home, make sure you pick a high-quality and durable finish for longevity.