Fire pits are a popular addition to a backyard, which can provide a source of heat so that you can enjoy being outside for longer, even on cooler evenings. They can also double up as a cooking surface for grilling a few burgers or use long skewers for making smores.
A fire pit can create a socializing space in your backyard where family and friends can congregate, but what is the standard fire pit size, and which would work best for your situation? We investigate common fire pit sizes here.
Fire Pit Sizes for Group Size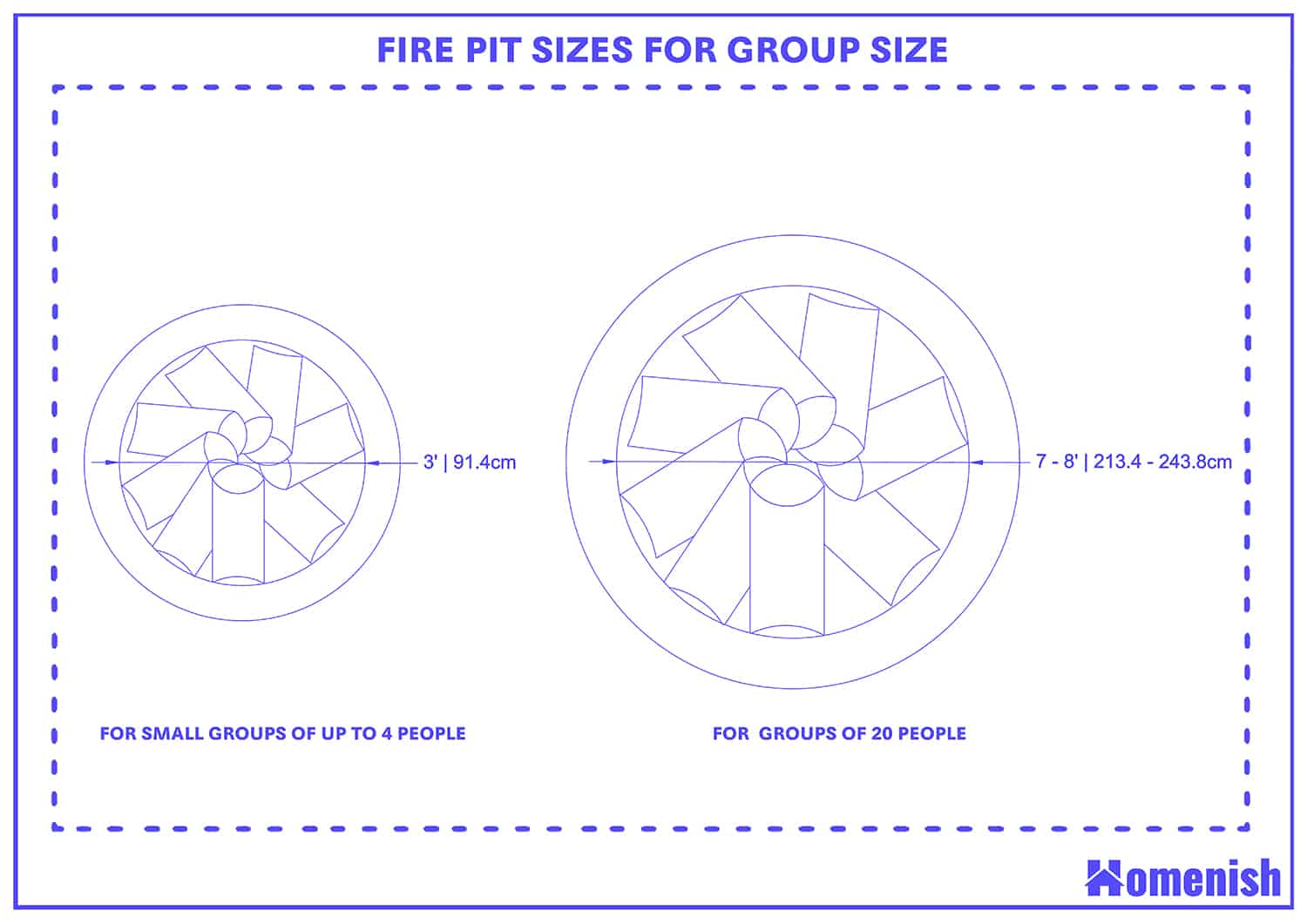 If you have a small space for a fire pit, then this is going to dictate how big your fire pit can be, but if space is not an issue, then you should think about how many people will be using the fire pit.
For small groups of up to four people, then a fire pit with a diameter of 3 feet will be ideal. For larger groups of up to eight people, choose a fire pit with a diameter of 5 feet.
If you plan to hold large parties and gatherings around the fire pit, then you can build one with a diameter of between 7 and 8 feet, which will allow around 20 people to sit around the edge of it.
Types of Fire Pits and Dimensions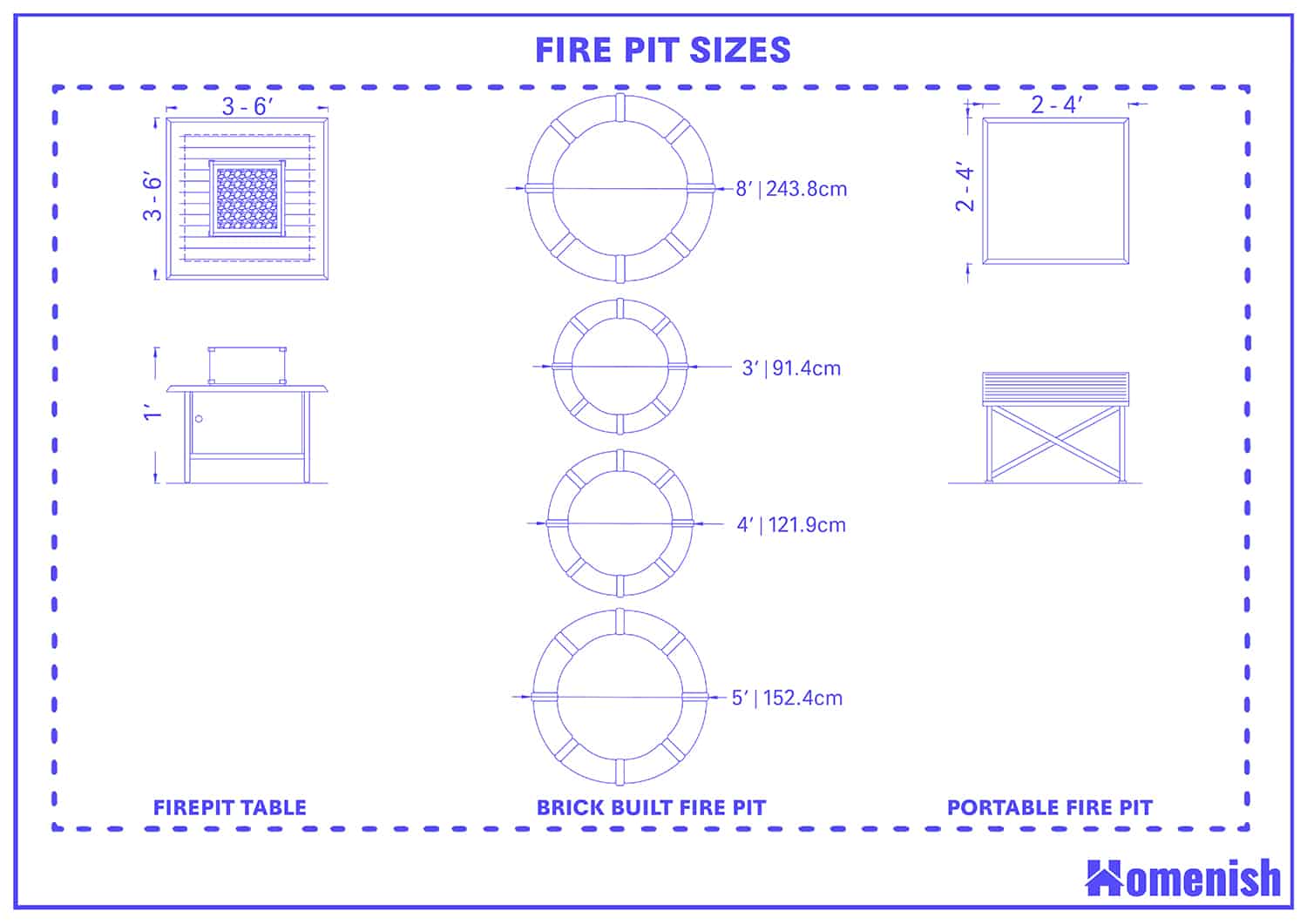 Firepit table
A fire pit table is a sleek and modern alternative to the more traditional, rustic fire pit. These types of fire pits are contained within a low outdoor coffee table, and they are most commonly square.
The compartment that will contain the fire sits in the center of the table, which is good from a safety point of view because it means that people sitting around the table cannot easily reach the fire.
The fire compartment will be flanked on all sides by the tabletop surface, which is ideal for holding drinks and snacks. It also means that the fire pit can double up as a nice table even when the fire isn't lit.
These types of fire pits tend to take up more space than other types of fire pits because they also need to function as a table.
Typically a fire pit table will have a minimum size of 3 feet in width and length, up to 6 feet in width and length. The height of a fire pit table can be as low as 12 inches or 1 foot, but the edges will serve more as a footrest rather than a usable tabletop surface.
If you want the fire pit table to double up as your outdoor coffee table in the middle of some outdoor sofas, then 2 feet in height will be ideal.
Brick built fire pit
A brick-built fire pit has a more rustic look that blends in more easily with the aesthetic of a garden. Typically brick built fire pits will be constructed in a circular shape, with seating arranged around the perimeter where people can enjoy the warmth of the fire or roast marshmallows.
These types of fire pits can be DIY built by the homeowner, or you might prefer to have a landscaping company come and build a brick fire pit for you.
You can use regular rectangular bricks used for the construction of exterior walls on homes or opt for a more natural look using stones instead of bricks. The sizes of brick-built fire pits will vary depending on the requirements of the homeowner since these fire pits can be customized to suit their exact needs.
If you have a bigger garden and want to make a real feature out of a brick-built fire pit, then you could build one with a diameter measurement of around 8 feet, but remember this is going to require more materials to burn if you want to get a good fire going.
The minimum size of a brick-built fire pit will depend on the type of fire you will have. Gas fires in a fire pit can be smaller, with a minimum burning area of 3 feet in diameter.If you will be burning wood, then the brick-built fire pit should have a burning area diameter of at least 4 feet.
A good size for a family-size fire pit is around 5 feet in diameter. The height of the fire pit can be chosen by the homeowners; if you want the edge of the fire pit to double up as a footrest, then it should have a height of around 1 foot.
If you plan on creating big fires, then the walls will need to be a substantial size to contain the flames; a good height would be around 18 to 20 inches.Firepit walls should not be too high because this will cause them to retain heat and can actually make them too hot to sit close to.
Portable fire pit
A portable fire pit will also be known as a fire pit grill. These fire pits are typically made from metal with a black coating and take the shape of a bowl with legs. They tend to be smaller than permanent fire pits since they are intended to be portable and, therefore, shouldn't be too heavy or oversized, which would make them difficult to move.
These fire pits usually come with a mesh metal lid which helps to keep the fire contained, and you can also get compatible grill trays so that you can use the fire pit as a miniature BBQ grill. These fire pits have a modern look that feels industrial.
The minimum size of this type of fire pit is around 2 feet in diameter, and they can be as large as 4 feet in diameter, though this is less common. These are typically the most inexpensive type of fire pit, so if you want to enjoy a fire pit experience on a budget, then these are a good option.