A porch swing is a great addition to the outside of a home, adding a quaint look and providing additional seating space. Porch swings work well on both front and back porches, but there are a variety of considerations to think about before you settle on a specific porch swing.
The size of the swing is among the most important aspects because if it is too small, it won't be practical for accommodating your family, and if it is too big, it will overwhelm the porch or bash into the walls when it is swinging. Here we look at the standard porch swing size and other sizes that are available for different porch shapes and requirements.
Here is a quick answer.
The standard porch swing size is around 48 inches wide and 28 inches in depth. Porch swings come in various widths, including 2 feet, 3 feet, 5 feet, and 6 feet. Common depths are 18 inches, 28 inches, and 46 inches.
Porch Swing Widths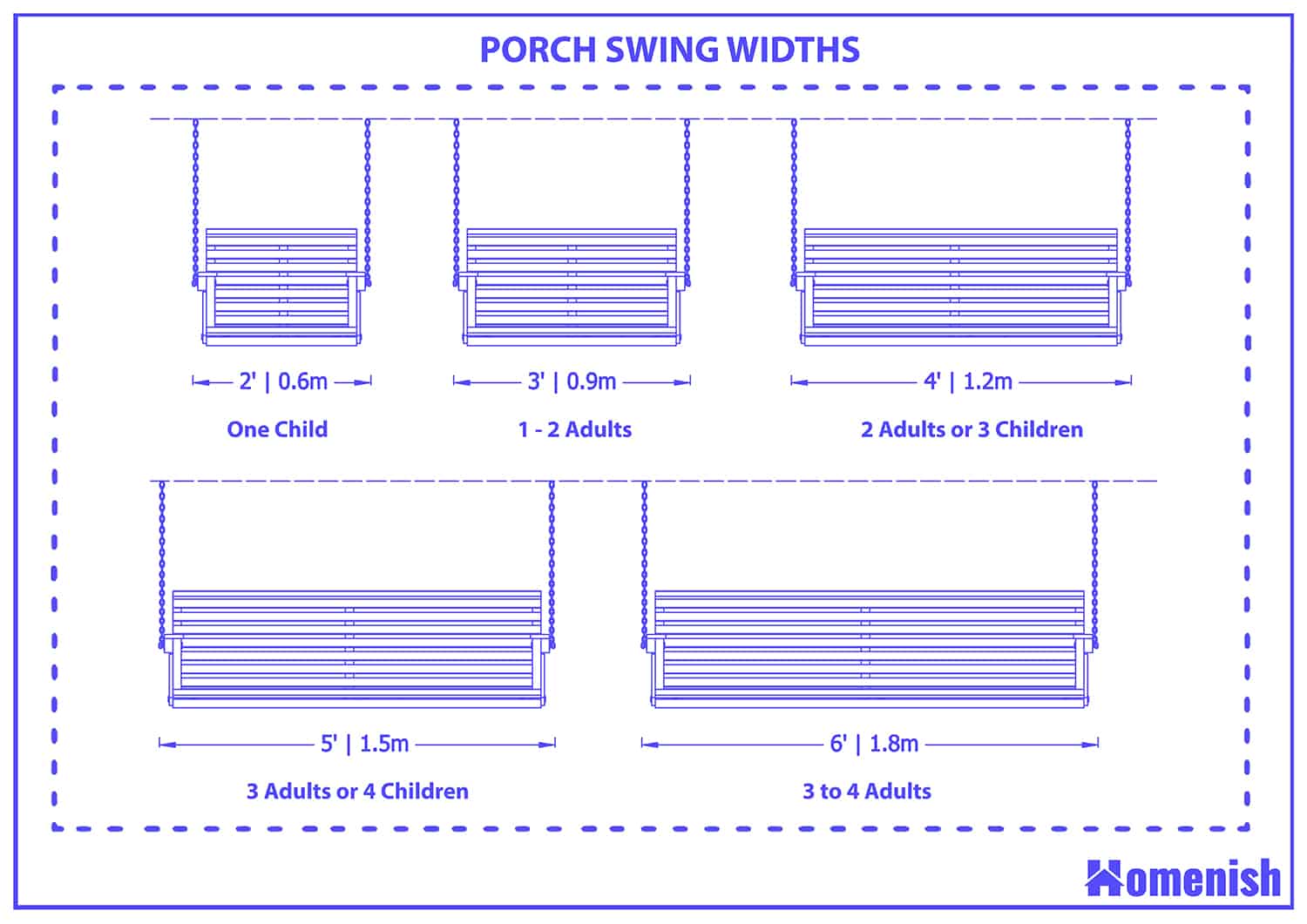 All dimensions of a porch swing are important, but the one you should prioritize is the width of the swing. This is going to dictate how many people can sit on the swing and also how well it is going to fit into your porch area.
Two feet
The two-foot width porch swing is the smallest size widely available unless you opt for a custom-made porch swing to fit a child which might have a slightly smaller width measurement.
This size of porch swing is known as a single porch swing because it can only accommodate one person at a time. This could be a good choice if you only have a small porch area, or if you like to sit outside on the porch by yourself.
Three feet
The three-foot-width porch swing can accommodate two people at once in a cozy space. This type of porch swing could be considered the love seat of porch swings because the two people seated on it will be up close to each other. This is a good size to consider if you want to share the porch swing for romantic moments with your partner.
Four feet
The four-foot-width porch swing is the most popular and, therefore, the most common size of a porch swing. It comfortably seats two people at one time, but you could also fit a third person onto it if you don't mind being up close and personal. Alternatively, this size of bench would easily accommodate three children.
This size of porch swing is so popular because it is big enough to seat several people yet small enough that it doesn't overcrowd a standard-sized porch. Since this is the most common size of a porch swing, it is generally considered to be the standard porch swing size.
Five feet
A five-foot wide porch swing can accommodate two to three adults, depending on their size, or it could seat three to four young children. Generally speaking, a five-foot porch swing will not cost much more to purchase than a four-foot swing, so it can be a good option if your porch is large enough.
Six feet
The largest width of a porch swing you can expect to find for sale is six feet wide. This size swing can comfortably seat three or four adults, depending on their size.
If you have a generous porch area and like to entertain friends and family on your porch, then this size of swing can be great for providing ample seating space. The large size also makes a bold visual impact, making it the feature of the porch.
Porch Swing Depths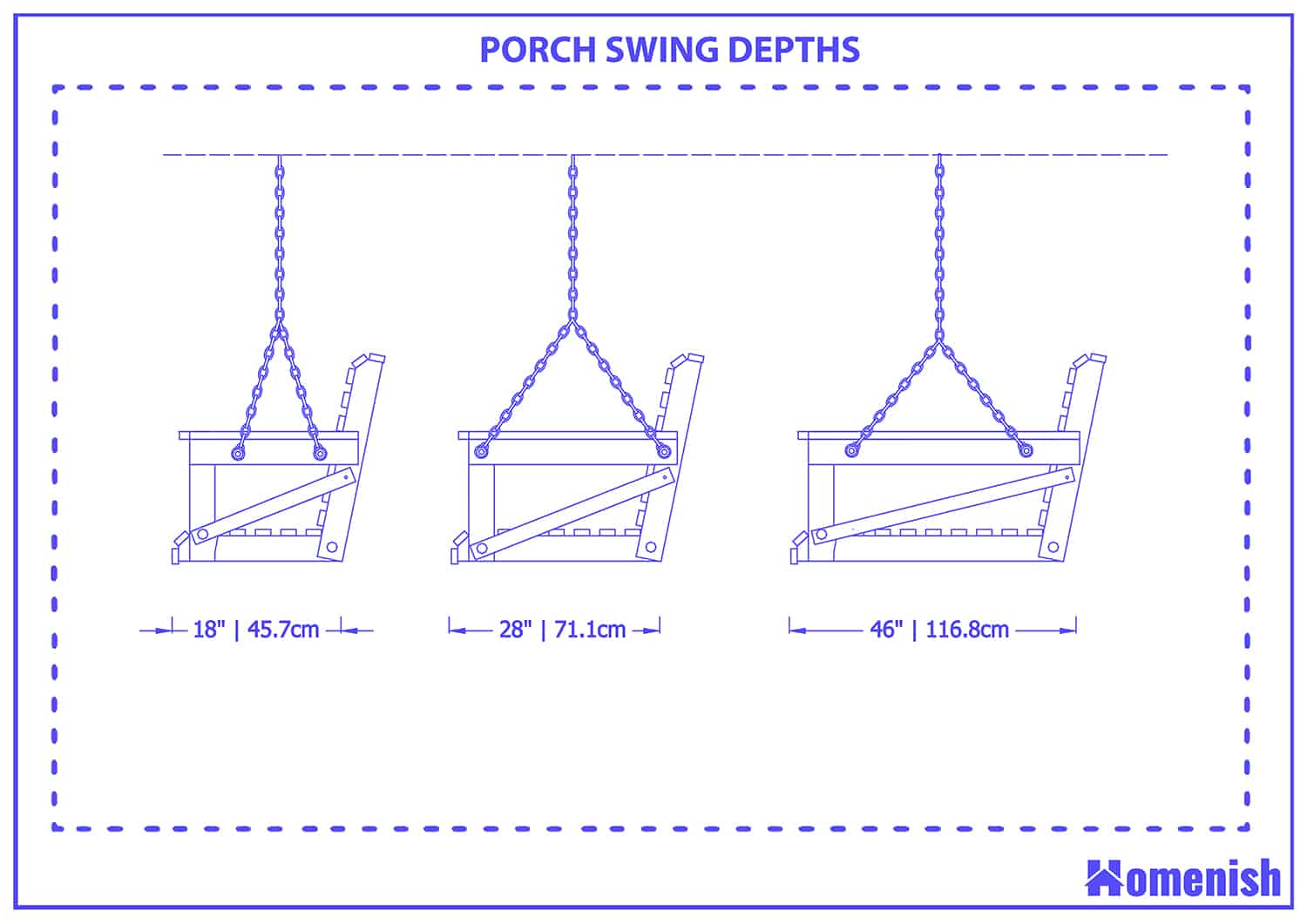 The depth of a porch swing should be considered in relation to who is going to use the porch swing and how they want to use it. People who are taller than average will feel more comfortable on a porch swing with a deeper base, and you should also opt for a deep porch swing if you intend on taking naps on it or laying down to read a book.
18 inches
The smallest depth size of any porch swing is 18 inches. This is going to be a suitable depth if you have a narrow porch because it will take up less space and ensure you have enough clearance around the swing. Commonly, single porch swings or porch swing chairs will have a narrow depth of around 18 inches, as they are intended to be sat on in an upright position rather than lounged on.
28 inches
The standard porch swing size for depth is 28 inches. This depth is comfortable for relaxing and lounging on, yet it is still a reasonable size to fit onto most typical porch spaces.
46 inches
The greatest depth you can expect to find for a porch swing is 46 inches. This size is ideal for taking naps because it allows you to lay down comfortably, offering support to all parts of the body so that knees or arms are not left hanging over the edge. This is also a good depth size for tall people because it ensures their knees won't bend at an awkward angle.
Porch Swing Clearance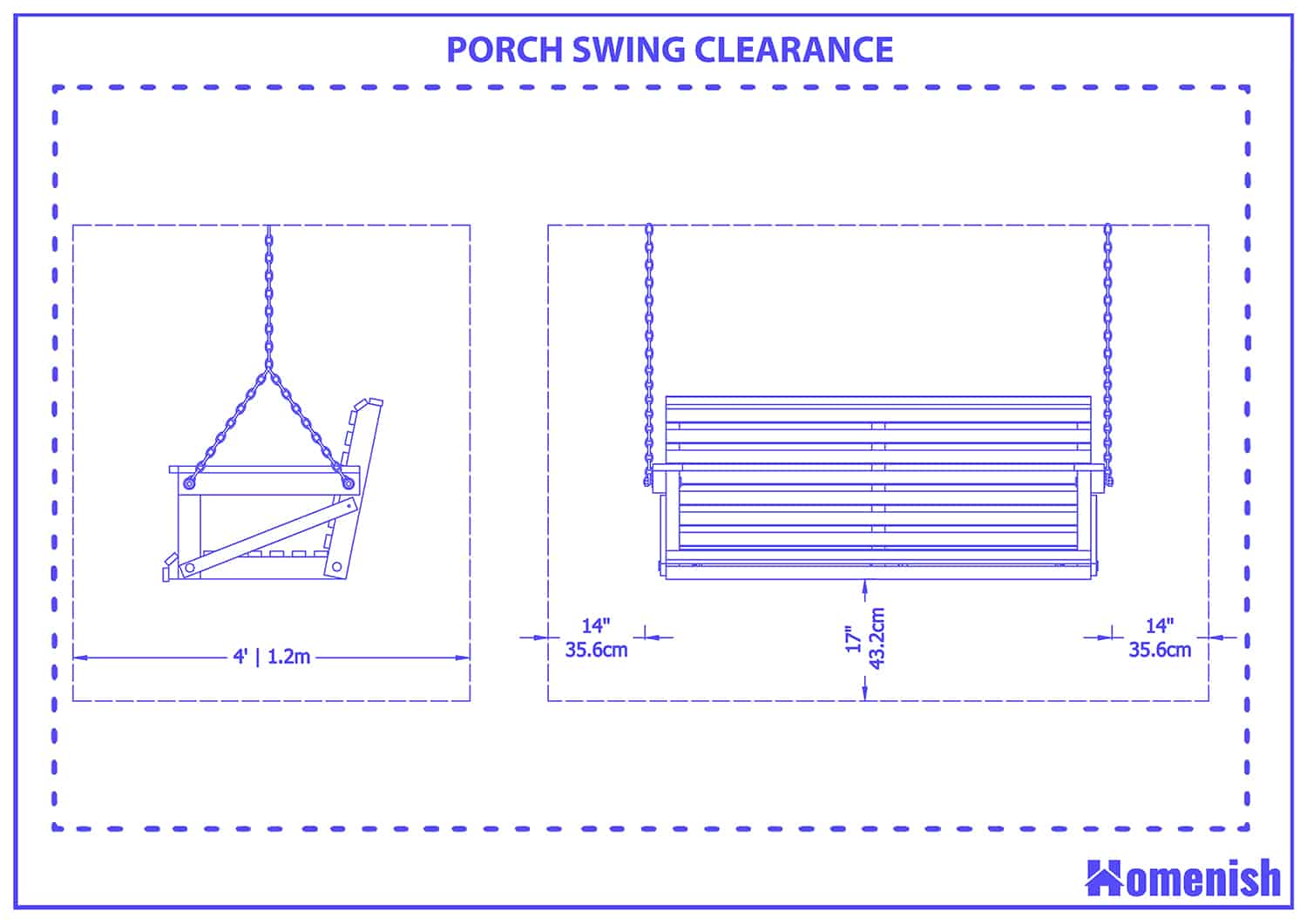 Remember to consider the required clearance distances around your porch swing before settling on a size. Since porch swings are not motionless, the area they cover while swinging needs to be taken into account so that your swing doesn't hit walls when it is moving.
Clearance height
The standard porch swing height from the floor is 17 inches. This is the distance measured from the floor level to the base of the swing seat. This height allows for knees to bend at a comfortable angle, though you can customize this to suit your family.
If you are taller than average, you may want to hang the swing at a height closer to 19 inches, while shorter-than-average people may go as low as 15 inches.
Clearance width
A porch swing will require a minimum clearance of 14 inches on either side.
Clearance depth
The clearance behind the swing and in front of it should come to a total of around four feet. This distance will prevent any damage to the swing, the users, and the home, while it is in motion.