Sandstone is a type of natural rock that is commonly used as a building material for both interior and exterior decor. Slabs of sandstone can vary in color, including yellow, tan, orange, brown, and gray, as a result of the natural impurities within the minerals it contains.
However, when sandstone is used for its ornamental value, it is typically a soft golden color that has cream or buttery yellow tones.
Sandstone tiles or bricks are one of the most popular ways to use this material around the home, where it can be utilized as a flooring surface, a backsplash, around a fireplace, or to create flower beds in a garden.
Using Sandstone in Interior Design
Flooring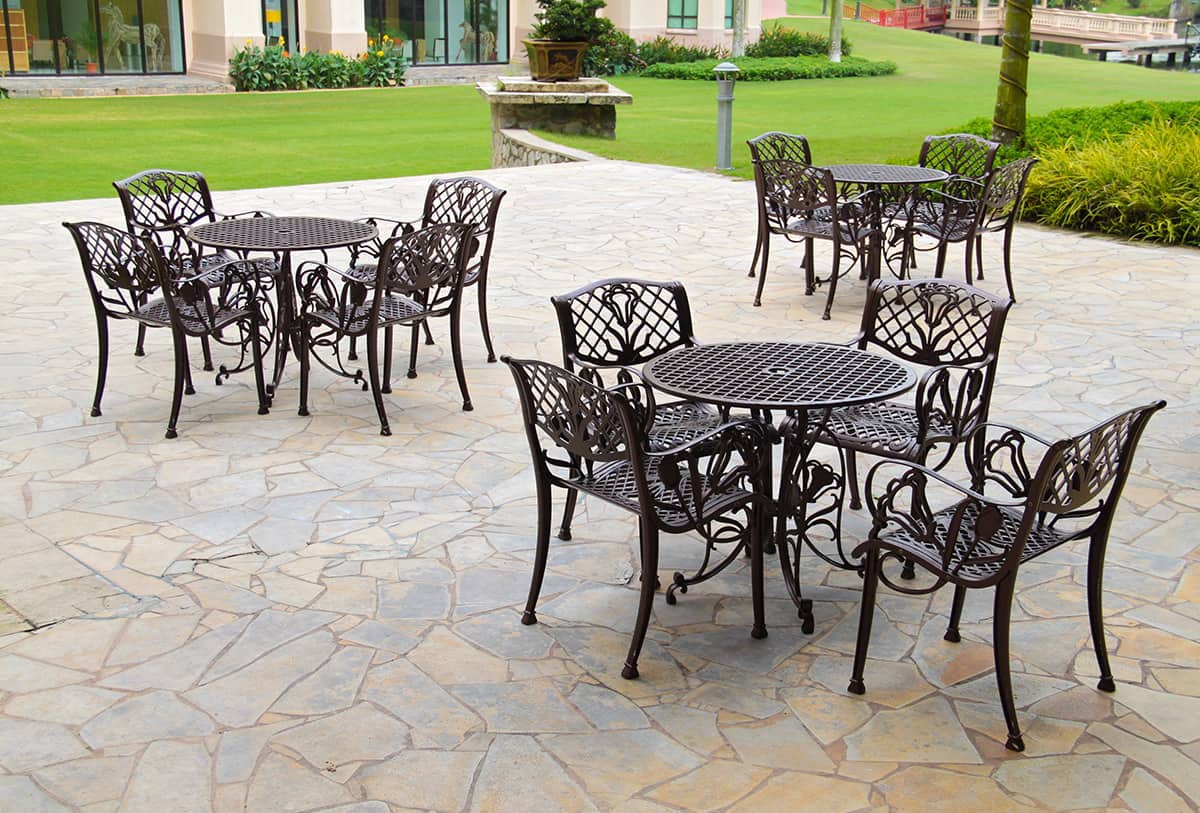 Sandstone is a natural stone that is popularly used as a floor tile because it is strong and durable, and it also has very good anti-slip properties, making it a great choice for wet areas of the home such as kitchens and bathrooms, or for people who have a tendency to slip over.
Sandstone is very hard-wearing and long-lasting, and it will become more beautiful as it ages, gaining character over time, therefore making it a good choice of flooring in areas that get plenty of wear, such as a kitchen or a hallway.
As well as being a smart, functional option, sandstone is also a beautiful surface that gives a soft glow to a room. The warm tones of cream, yellow and tan that run through this natural stone give it a welcoming feel, and the pale colors covering the surface of a floor create a bright and inviting space.
Sandstone floor tiles are available in different finishes, with glossy and sealed sandstone being great for a sleek and contemporary look, while unfinished natural sandstone works well in more rustic or farmhouse style interiors.
Feature wall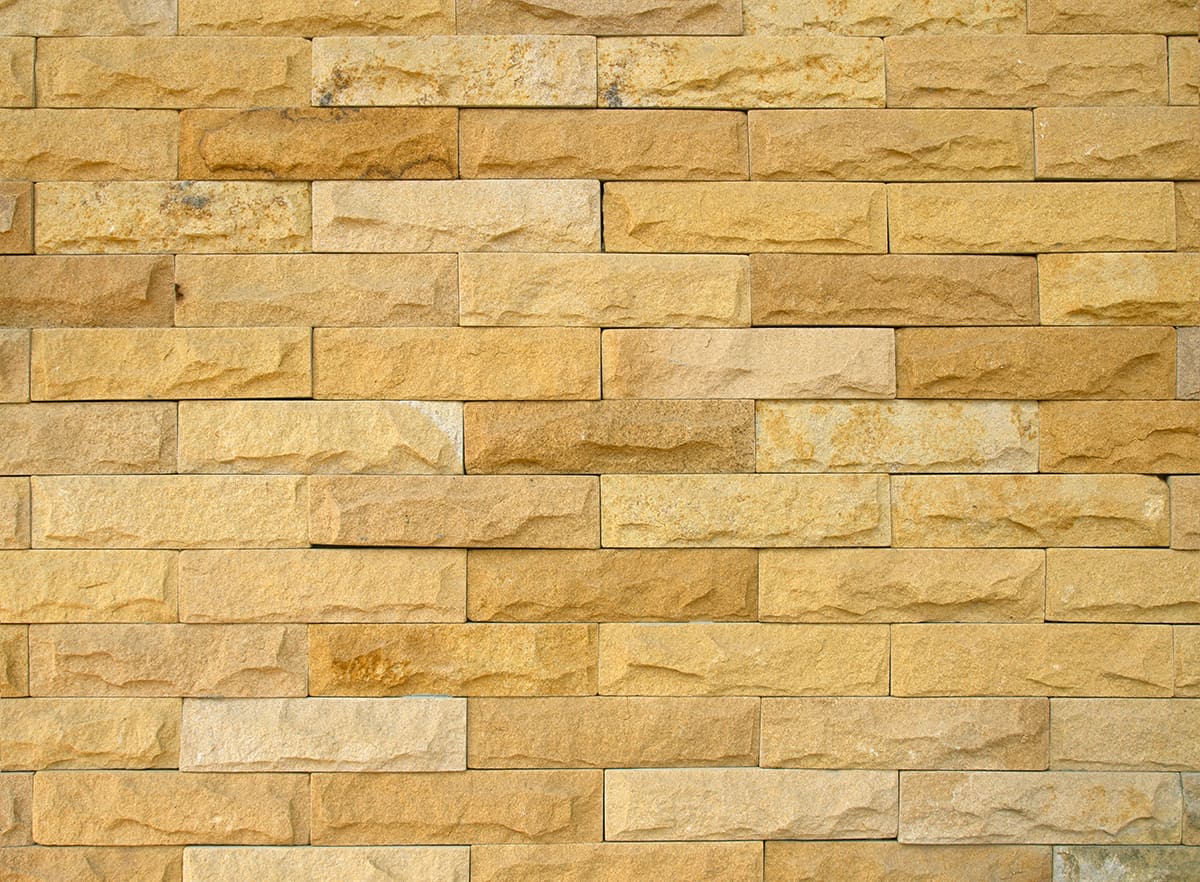 Sandstone tiles are really versatile and do not have to just be reserved for flooring. They work really well as a cladding option both in interior and exterior applications.
Use sandstone tiles to cover the surface of a feature wall for an authentic natural feel in a neutral-colored room, and complement this with more natural textures such as a leather sofa or cowhide rug. Sandstone tiles or bricks also look great in outdoor living areas as a wall covering around a fire pit or a covered deck area.
If you use sandstone in your external area as well as in your internal rooms, this helps to create a distinct visual link between both parts of the home to aid in continuity of style.
Fireplace
Use sandstone tiles or bricks around a fireplace to create a focal point in a room. This will add texture and warmth while still maintaining a subtle, muted color scheme. Heavily textured sandstone tiles are great for rustic or country cottage-style fireplace surrounds, or choose a smooth sandstone tile for a more formal look.
Backsplash
Sandstone tiles come in a variety of sizes, including small squares and rectangles that are suitable for use as a tile backsplash. You can choose a sandstone backsplash to match sandstone flooring to coordinate the room or use the backsplash as a standalone sandstone feature.
Note that sandstone is a porous material, so when used in rooms with high moisture levels, such as a bathroom, kitchen, or laundry room, the tiles will need to be sealed.
Terrace and outdoor areas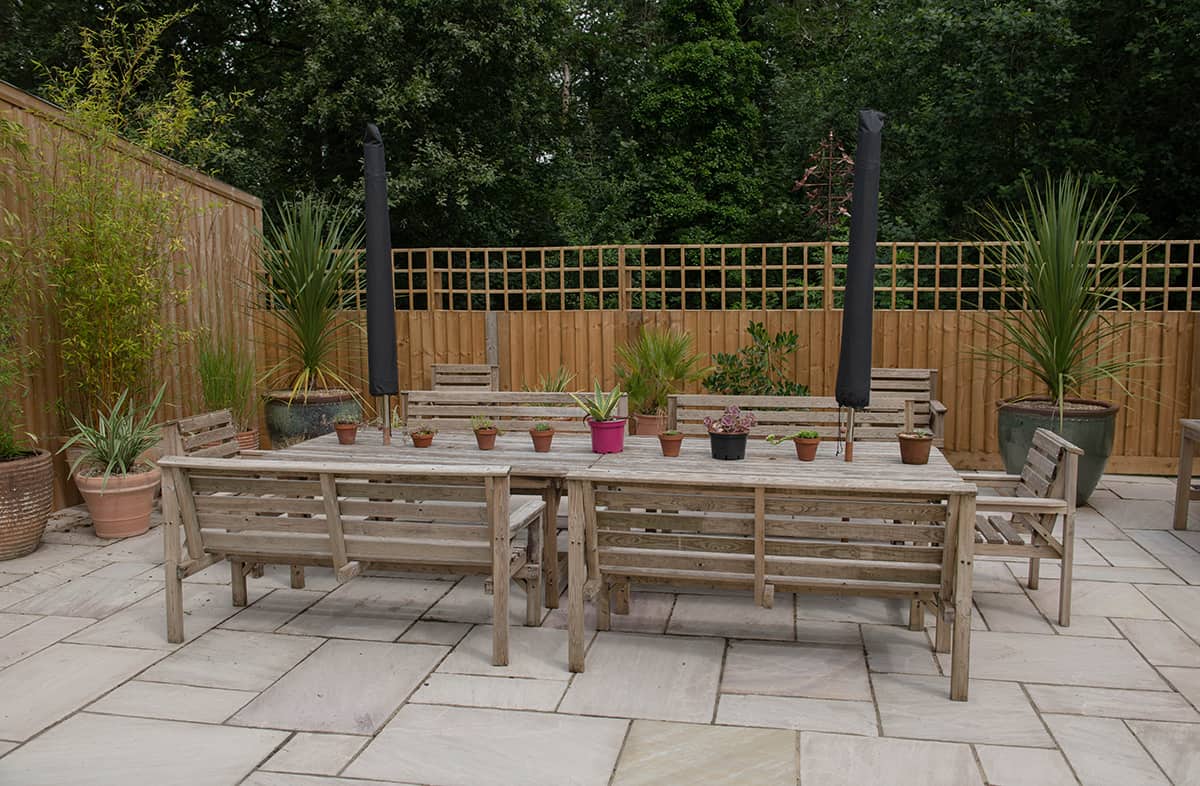 Sandstone paving slabs are a great surface solution for the floor and walls of a terrace area in your yard because they are very durable and hardwearing, standing up well against all kinds of weather. Natural sandstone has a lot of traction naturally, making it a great non-slip surface around a swimming pool or a hot tub.
Sandstone bricks are versatile in terms of their application, and can be used in backyards to create bench areas, raised flower beds, walkways, and many more architectural features.
The color of sandstone means it goes particularly well with other warm shades such as tan and brown, so in a backyard pair, sandstone features with natural wooden garden furniture.
What Colors Go with Sandstone
If you have moved into a property with sandstone features such as flooring or a fireplace, you might be wondering what colors of decor you should use to create a stylish space alongside the sandstone.
Or, if you love sandstone and want to implement the material in your home but are unsure of what colors to use with it, you can use this guide for inspiration.
Tan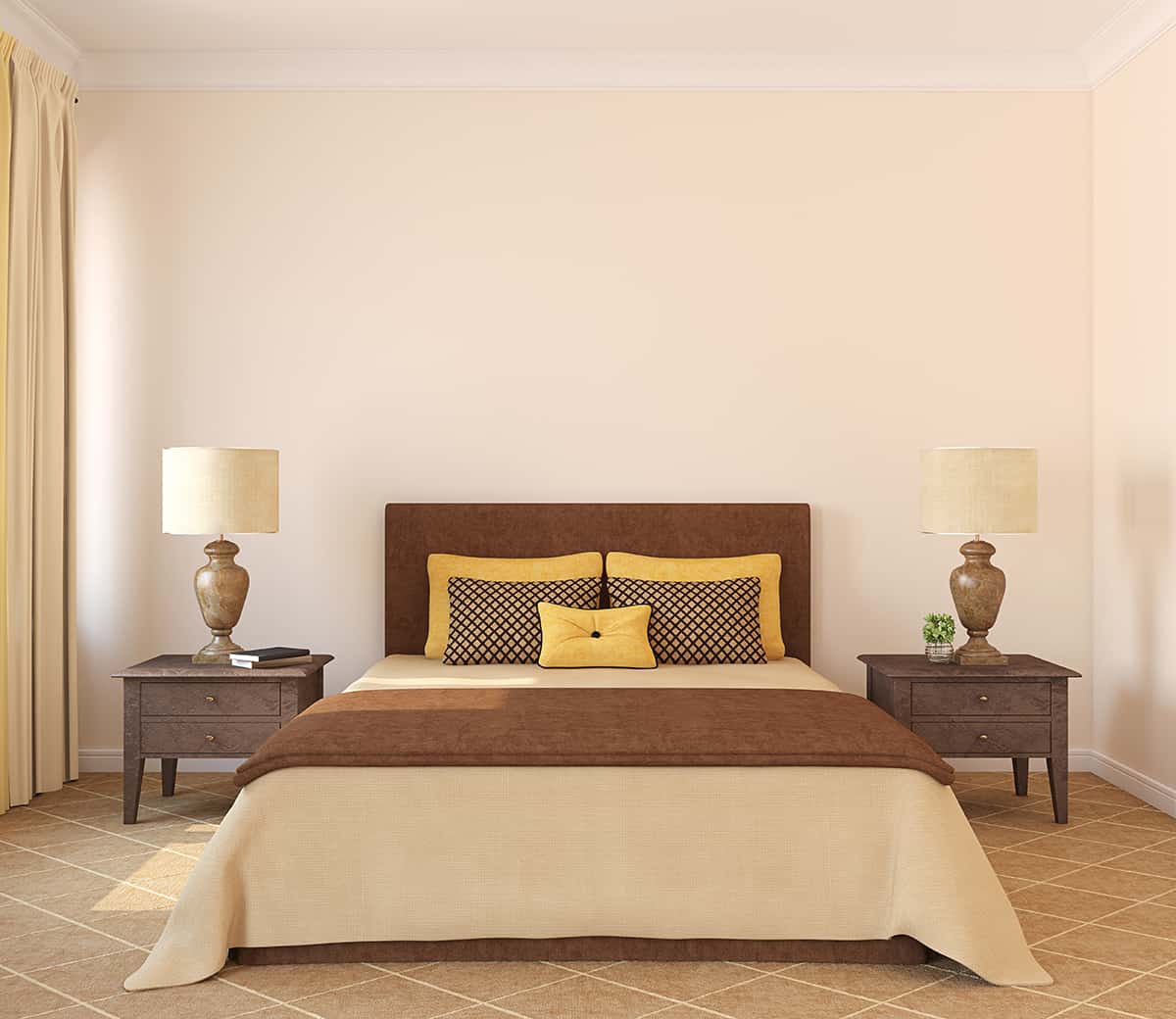 Tan is a color that can sometimes feature within sandstone, though generally, most shades of sandstone intended for interior use are slightly paler and more golden.
To achieve a neutral, luxury vibe in a living room, use sandstone tiles to clad the fireplace, and pair this with tan-colored leather sofas and cream walls. A faux fur white sheepskin rug and some matching cushions will help to define this cozy yet elegant style.
Duck egg blue

This color is also known as eggshell blue or robin's egg blue. It is a pale blue-green shade named after the color of the eggshell produced by ducks and robins. Interestingly though, the color of a duck's egg is usually a softer and lighter shade of blue than a robin's egg, which will be slightly more vibrant.
This is a shade that has become so popular that it is often used in interior decor as a neutral shade because it is very subtle and unassuming. It has a calm and easygoing feel to it, which works well alongside sandstone, which also feels peaceful. Duck egg blue and sandstone can be used together to create a coastal vibe that is breezy and carefree.
Paint bathroom walls in duck egg blue and opt for sandstone tiles on the floor and for the backsplash to achieve a serene space that is reminiscent of a golden sandy beach and calm crystal ocean waters.
Black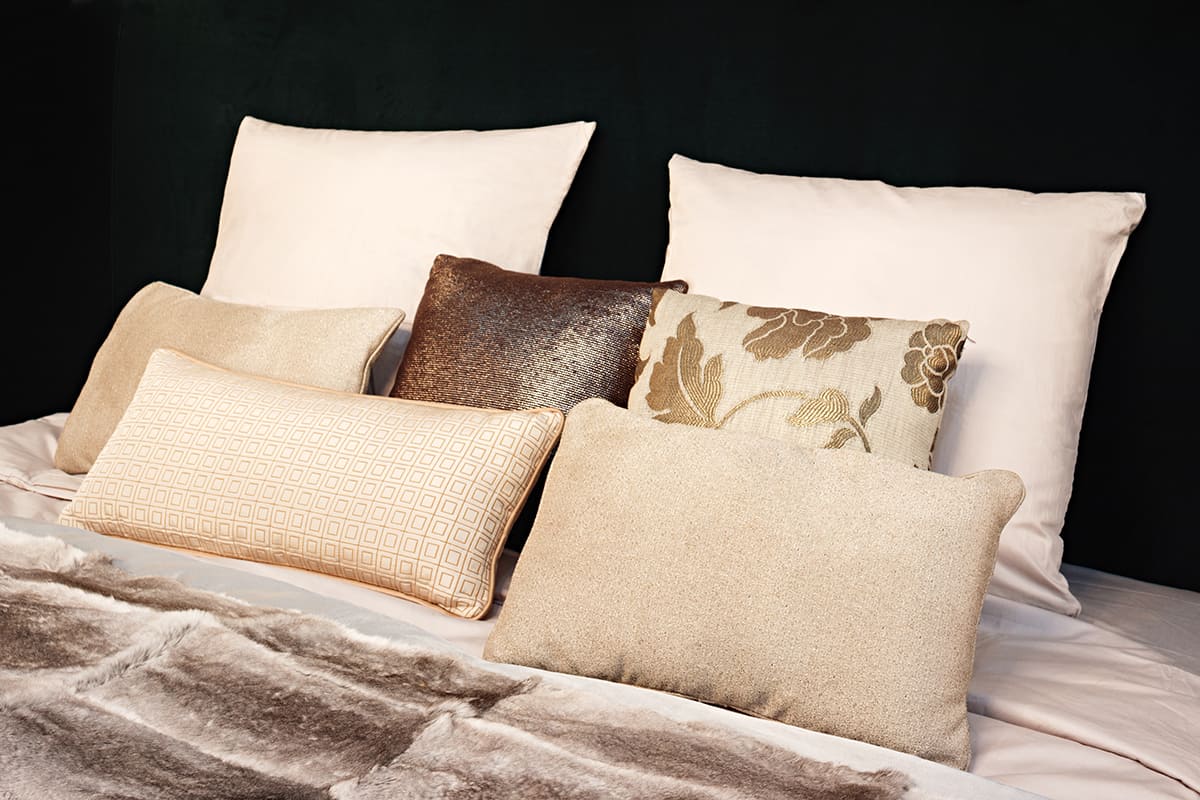 The soft tones of sandstone provide a striking contrast against the depth and intensity of black. For a dramatic look, choose sandstone tiles in a bathroom and paint the walls black.
You could also use the sandstone and black color scheme in a kitchen, with sandstone flooring and backsplash and black kitchen cabinets. Opt for gold touches such as cabinet handles and light fittings to maintain the warmth of the sandstone and add a luxury feel.
Beige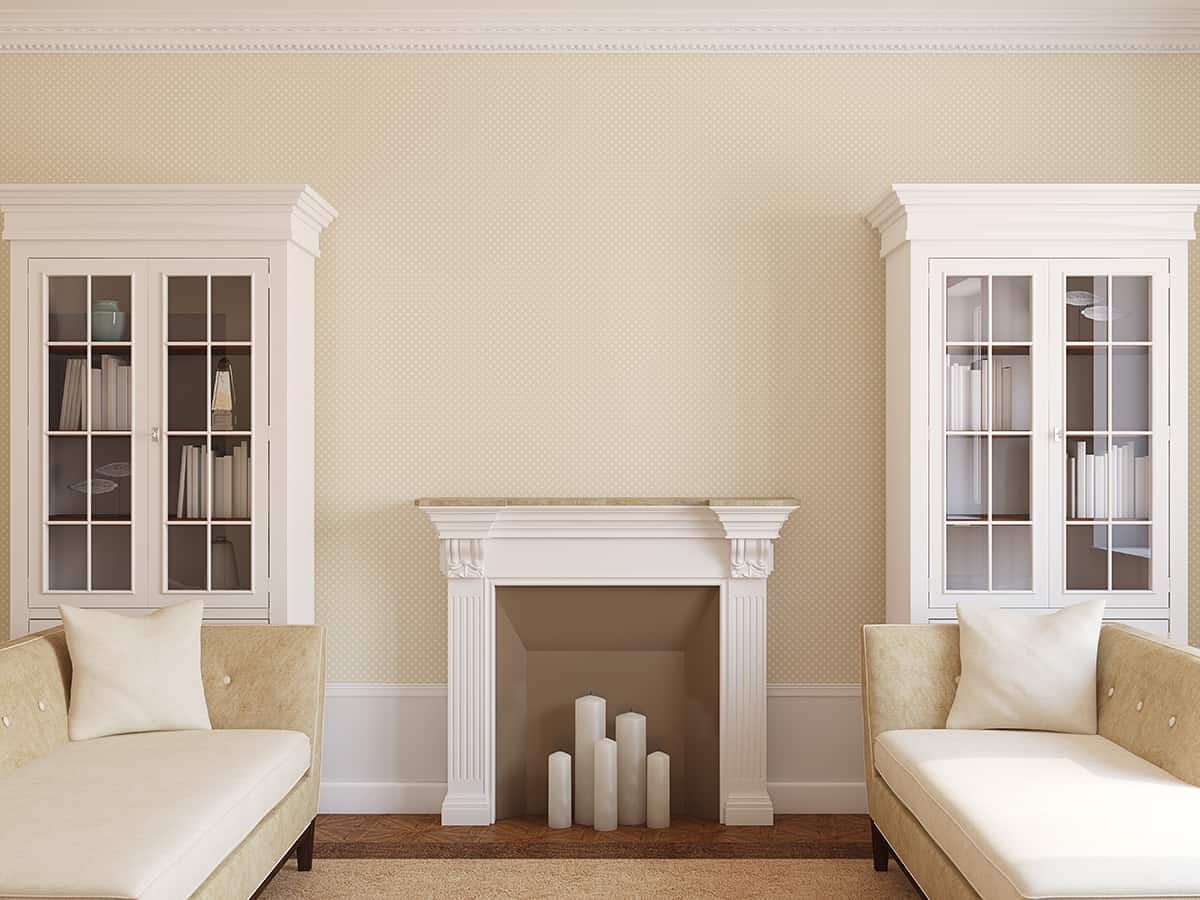 The color of sandstone itself could be described as beige, and if you want to create a neutral space that feels open and relaxed, then you could paint your walls in a color that matches your sandstone. You could do this using color swatches, or you could take a sandstone tile to your hardware store and have them color match it and make up the paint especially for you.
Painting your walls in the same shade of beige as your tiles can make for a high-end look and help your sandstone to blend in; just be sure to use accessories or furniture in contrasting colors so that the room doesn't look too flat. Opt for black frames hanging on the walls and black sofas, or choose brown accents for a consistently warm feel.
Olive green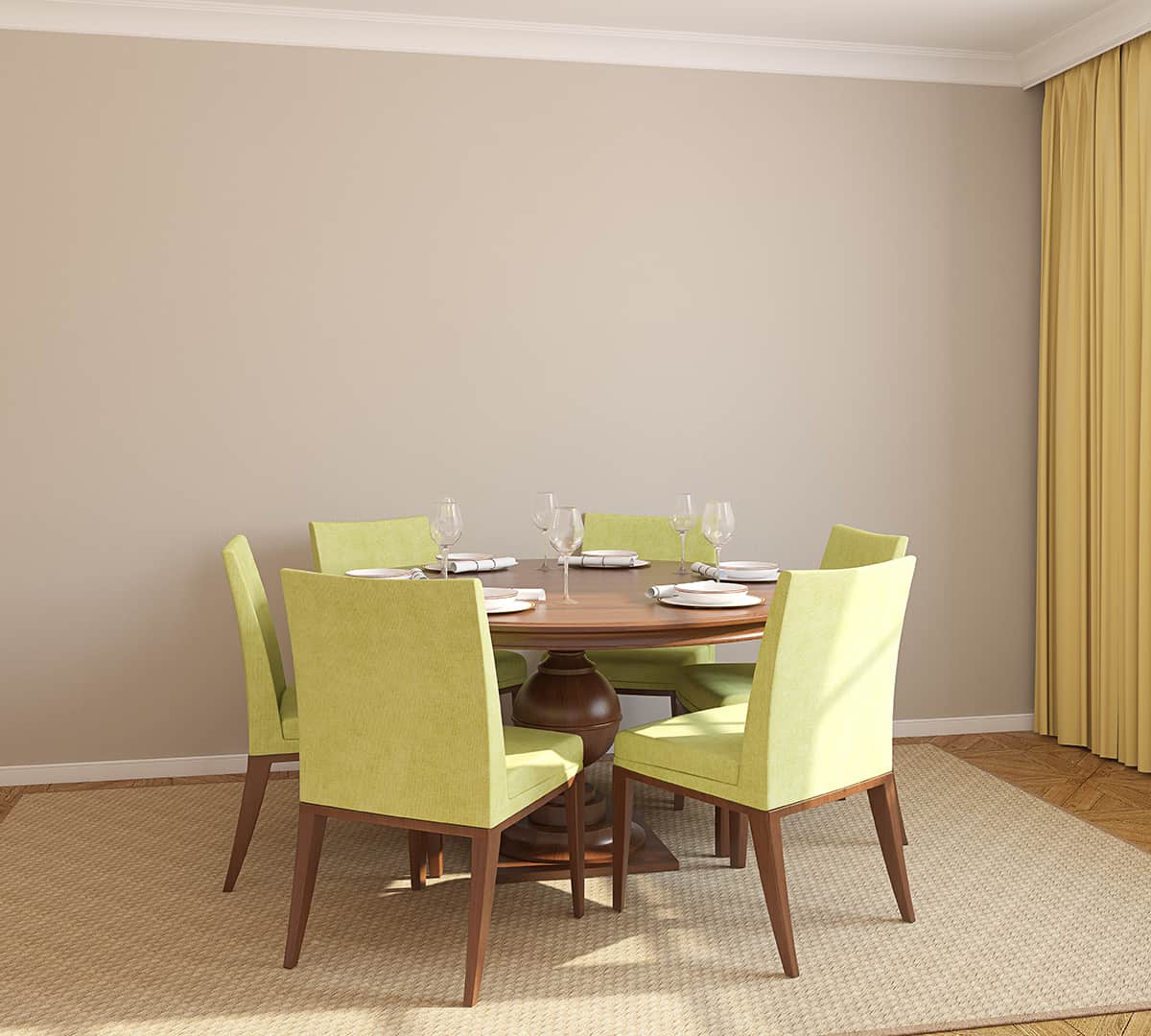 Olive green is a perfect color to use in a natural style of interior decor because it has a dusky, earthy vibe.
Sandstone, being a natural stone, is also great for natural-style interiors, bringing an authenticity to the look which is unparalleled. This look centers around neutral shades which are commonly found in the natural world, so it makes perfect sense that olive green goes well with sandstone.
With a natural style, you want to include as many aspects from the outdoors as you can, creating a link between your interior rooms and the external world. Using sandstone is a great way to do this, as well as introducing houseplants to the space and using wooden furniture or rattan materials for planters and baskets.
Choose olive green walls and a sandstone feature wall, with gray curtains and gray sofas. This color scheme ensures a balance of cool and warm tones and creates an energy that is both restorative and energetic.
Navy blue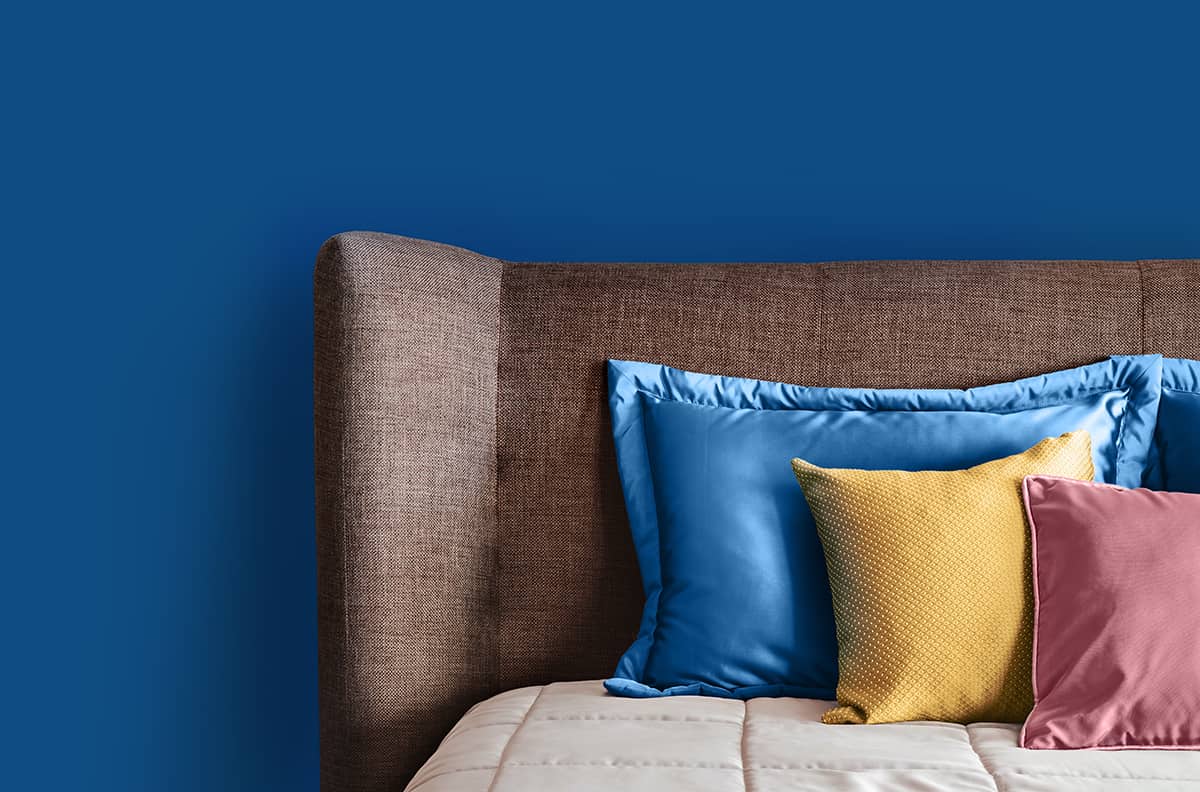 Sandstone color can pair nicely with navy blue to achieve a more formal look. The coolness of navy blue balances out the warmth in sandstone, creating a modern edge that will work well with gold or silver highlights for hardware.
These colors together are reminiscent of a beach at night time, with the sandstone representing sand and the navy representing deep dark waters and the night sky. You can see from this that this color scheme can be used to achieve a look that is simultaneously both dramatic and calming.
Use sandstone bricks for a fireplace, then paint walls in navy blue and choose beige sofas and curtains. Alternatively, consider sandstone tiles in a bathroom and paint the walls white, then add in navy blue accents such as a navy vanity unit, a navy bathroom rug, and bath towels.