Pink and green is one of the standout color schemes that has been trending in interior design over the last two years, and it is showing no signs of fading. These colors complement each other so well in terms of the atmosphere they create and the feelings they elicit.
Green serves to make people feel secure and safe, and it also has suggestions of rebirth, renewed energy, and harmony. Pink, meanwhile, is associated with femininity and maternal support, along with compassion and a feeling of being nurtured.
From this, it is easy to see why green and pink are such a popular color pairing, as they are able to create a space in a home that feels supportive and restorative. From a purely aesthetic sense, pink and green make for a contrast that is obvious without being too intense.
Red is the opposite color to green on the color wheel, making these contrasting colors. However, by using pink instead of red, which is essentially a pared-down and diluted version of red, you achieve a contrast that is easier to take in but still equally as interesting.
Pink and green can work well in interior decor without a third color, but if you want to add in an extra shade to create some space between the two, or to liven up the color scheme a little, then we have listed some of the best options below.
How to Use Pink and Green in Interior Decor
Kitchens
Green is a huge color in kitchen design right now, with dark green subway tiles being a big favorite for a kitchen backsplash or hunter green being the color of choice for kitchen cabinets.
Choosing a color to go with a green kitchen might be harder than you think; pale gray could look cold, while white may present as stark and sterile. If you have a green kitchen opt for pale pink walls to add a softness to the space while maintaining a light and bright feel.
If painting kitchen walls pink is a step too far for you, choose pale pink kitchen accessories instead to enjoy this color scheme. Add in a pink blender, a pink vase on the window ledge, or pink cushions on the bar stools.
For a metallic shade with a pink and green kitchen, choose copper or gold for a glamorous style or silver for a more natural look. Copper light fittings will look stunning hanging over a kitchen island with green and pink decor.
Art deco
Pink and green lend themselves really well to an art deco-style interior. Choose mint green and pastel pink for an authentic look or emerald green and dusky pink for a modern take on this style.
Reproduction art deco furniture is easy to come by as this style has seen a revival among high street interiors stores. To create this look in your home, consider an art deco style green velvet chair with a scalloped back, set against a pink painted wall.
Choose gold accents with this color scheme in an art deco style to set off the shades, add a warm energy, and maintain a glamorous vibe. Gold metal chair legs will look great, or a gold lamp.
Luxury glamor
A luxury glamorous look is popular among green and pink color schemes, and it is a style that can work well in any area of the home. In a bedroom, paint the walls in a dark shade of green to create a sense of drama and intimacy, then balance this out with pastel pink sheets, which can be feminine and seductive.
Green cushions on the bed or a pink rug will help to tie this color scheme together. You could also add sapphire blue or amethyst purple velvet cushions to the mix for a decadent look. Any jewel tones will work well with this color scheme to achieve a rich and interesting style.
Floral mural
A floral mural is exactly as it sounds- a large mural covering one wall of the home and used as a feature wall, which is centered around a floral image. This can work really well in a vintage-style room. Choose a mural that features pink flowers and green foliage, and you can then pick out these same shades for other areas of the room to tie everything together.
Upholstery
One of the most sought-after furniture pieces over the last year has been a sofa upholstered in green velvet. You cannot pick up an interior design magazine or scroll through an interior's Instagram account without seeing examples of this fashionable item. One of the reasons it is so popular, aside from being a simply stunning piece of furniture, is that it works with so many styles and color schemes.
You can use an olive-green velvet sofa for a natural decor theme with a touch of elegance or an emerald green velvet sofa for a glamorous and indulgent look. Pair your green velvet sofa or armchair with dusky pink cushions for a beautiful contrast in a modern or vintage style.
Pink upholstery is also a great choice which can be paired with green and blue cushions, but most people will lean towards green because it is a more neutral shade.
Wall paint
Painting your walls in green or pink is the easiest way to completely transform the look of a room. You could paint a whole room in green and then use pink accessories along with gold or copper fixtures and fittings for a sophisticated look, or paint the room in pink and use green and black accessories to balance out the femininity with a harsher edge.
If you want to create an accent wall, then paint one wall in green and paint the rest in pink, or find a wallpaper that incorporates both shades.
Best Colors that Pair with Pink and Green
Lilac
As a pale shade of purple, lilac is another color that just looks like it was meant to be with green and pink. Lilac will contrast with the green but create a harmony with the pink, which results in a pretty and appealing balance.
In a casual living room, paint walls in a fresh shade of sage green, and use pink and lilac floral accents to inspire a feeling of spring, such as dried lavender sprigs in a pink vase, lilac cushions on the sofa, and pink and lilac floral print curtains.
Teal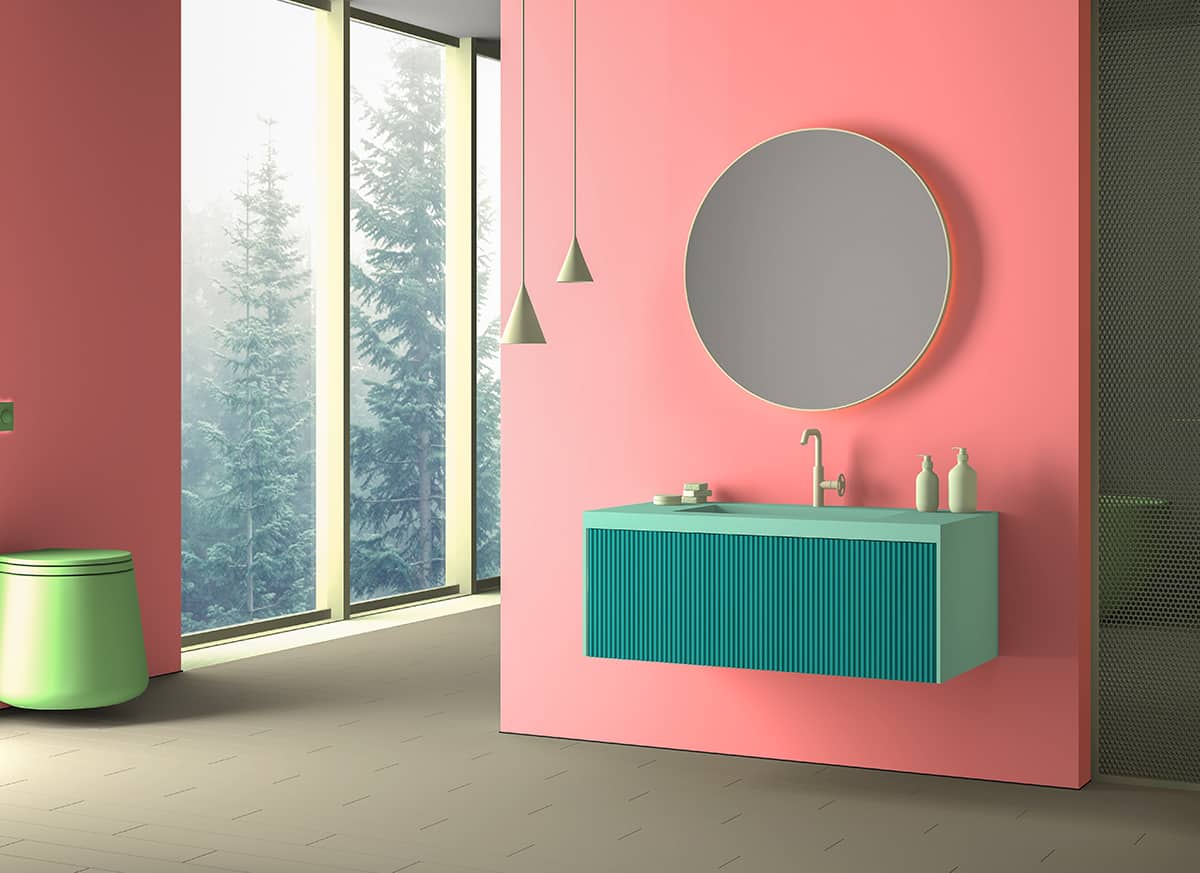 If you want to create some vibrancy in a green and pink room, then add some splashes of teal. Teal is a highly saturated color that feels intense and cool.
Use it sparingly for the best effect, with solid colored fabric as opposed to prints, such as a plain teal cushion or a plain teal lampshade.
This color will make the most impact when set against a background of pink as it will create a slight contrast, whereas teal and green work harmoniously together to achieve soothing and spirited energy.
Gray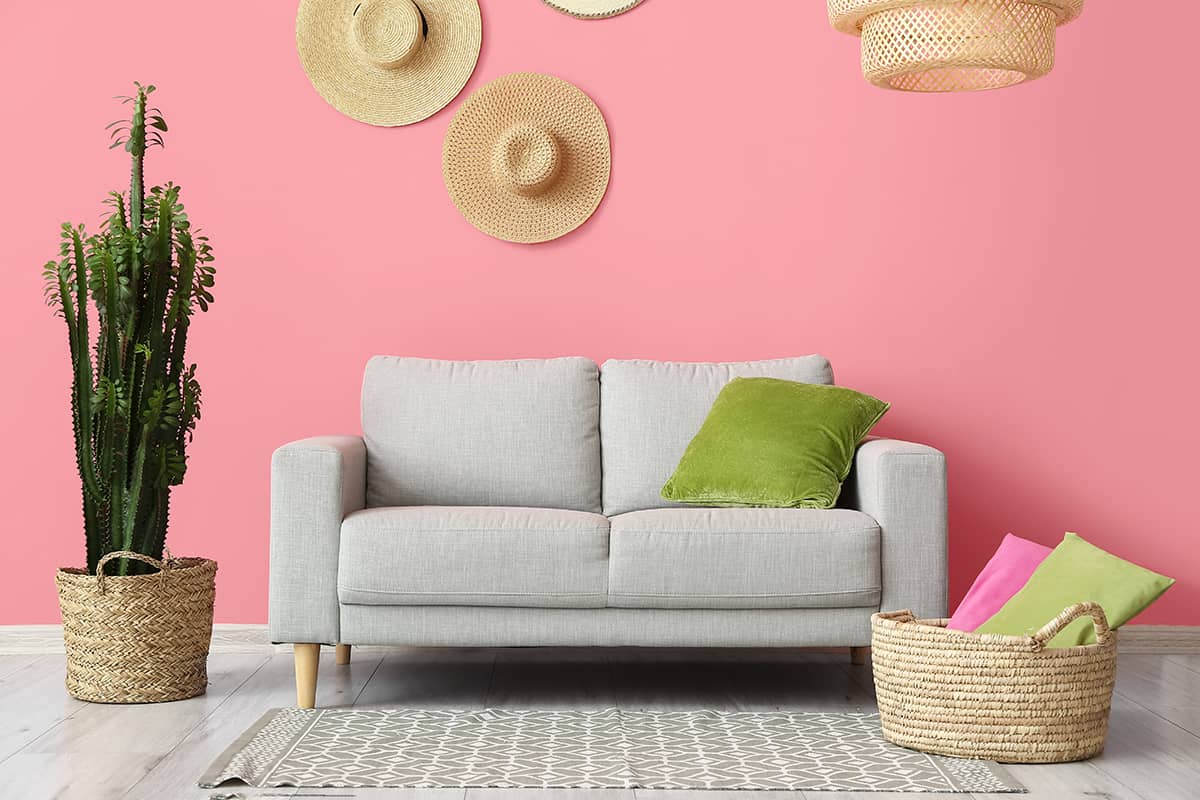 Dark gray accents will create a definition in a pink and green room that isn't as bold as black but still offers a darker edge.
Choose this shade in a room where you want to achieve a cool and dramatic look, or opt for pale gray as an accent color for a more muted style.
Grape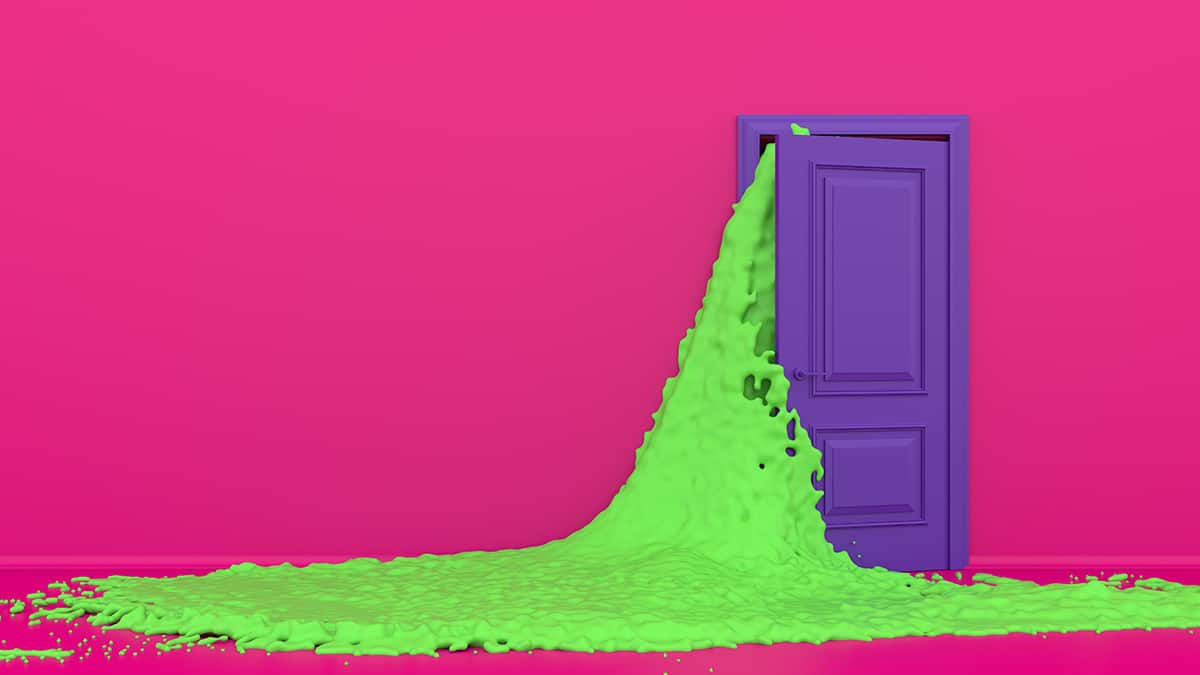 Grape is a deep shade of purple that adds drama and opulence to a pink and green-themed space. Dark purple has associations of royalty and grandeur, and it can be put to good use to create a pronounced contrast next to green and pink.
In a bedroom with green walls, use pink bed sheets and then layer green- and grape-colored cushions on the bed. Tie the colors into other areas of the room with small hints, such as grape-colored candles on the nightstands, pink lamp shades, and pink and grape patterned rug.
Black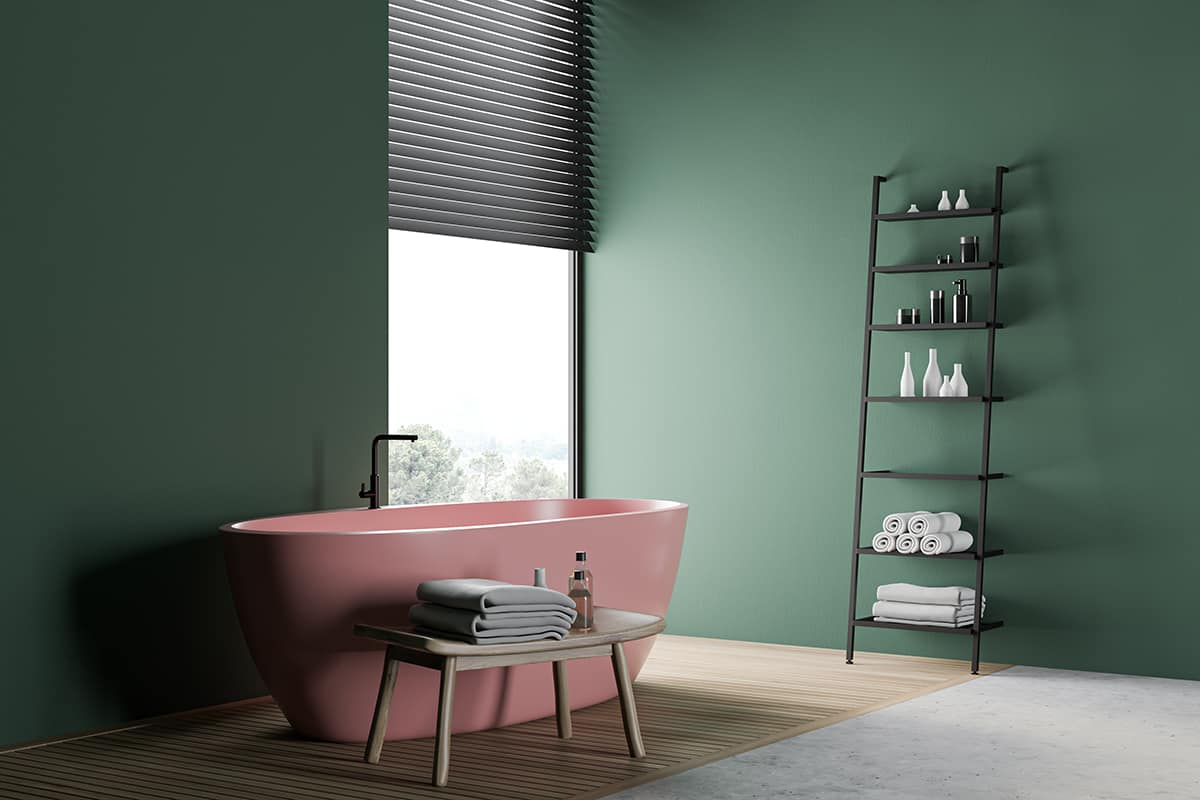 Black goes really well with pink and green in a modern style of space. Be bold and choose black trim and interior doors set against pale pink walls to frame the room, and use upholstered deep green furniture with black and pink cushions to tie the look together.
If you aren't brave enough to opt for black trim, try this effect on a smaller scale with black frames against a pale pink wall or black cabinets in a pale pink kitchen with green accessories. This is a color scheme that looks really interesting because the soft femininity of pink contradicts the dark gloominess of black.
Yellow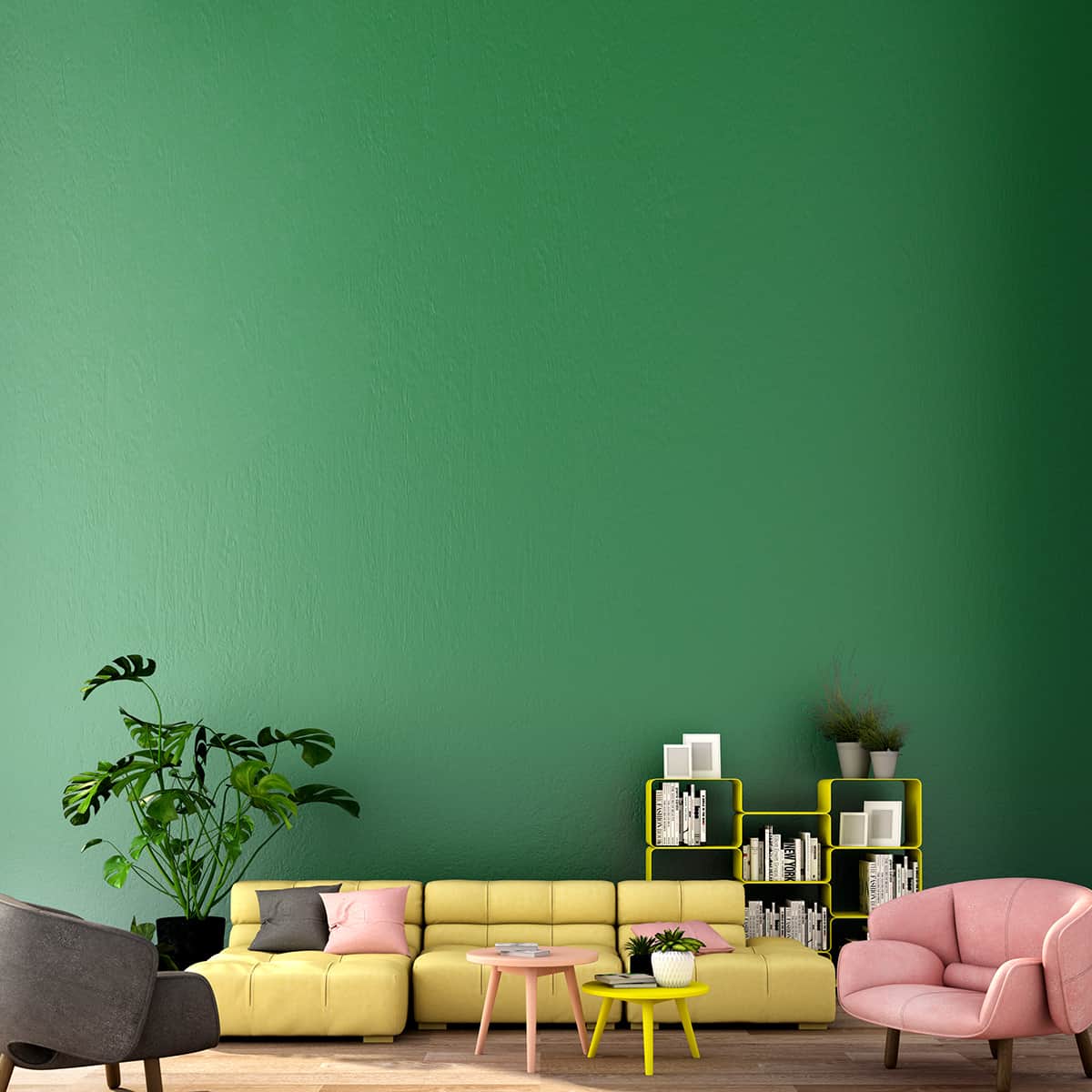 A pink and green color scheme can match well with a variety of yellow shades. Use mustard yellow with dusky pink and emerald green to bring a cozy warmth to a room, or choose a sweet buttery yellow with sage green and fuchsia pink for an energizing spring-themed space.
As gold is the metallic version of yellow, both of these colors can be used to add a pop of vibrancy to a green and pink room.