Black and red are two intense colors that have long been established as an iconic color duo. Think of a little black dress with a pair of killer red heels or a glossy black kitchen with red appliances such as a retro-style blender or a coffee machine.
These two colors stand out really well against each other, but the contrast isn't so extreme that it becomes overstimulating. Adding a third color to the mix is a good idea to help create balance and prevent the color scheme from being too bland or obvious.
Most interior designers recommend working with the color ratios 60:30:10. This means using one color on roughly 60 percent of the room, another color on 30 percent of the room, and a final color on just 10 percent of the room.
For a red and black color scheme, you could choose these two colors as the main colors at a proportion of 60 percent and 30 percent and opt for a final accenting color for the remaining 10 percent of the decor.
Alternatively, red could be used for the 10 percent part of the color scheme ratio as it works really well to provide shocking pops of color, which can arguably make more of a statement than using red in larger amounts.
For this, you could use black along with a neutral color such as beige or white for the 60 percent and 30 percent colors, with red as the shocking hits of color for the final 10 percent. Here we will look at some of the best colors that go with a red and black color scheme.
Shades of Red and Black Combination
When it comes to red color schemes, there are so many variations of red to choose from. True reds are the classic red color you might associate with a London bus or a typical red crayon. However, when it comes to painting colors and fabric colors, there is a wide range of red colors, from orange-based reds to pink-reds and even cool reds with blue undertones.
You could also include darker shades of red in your red and black color schemes, such as merlot or burgundy. The shade of red you choose is going to affect which colors will work well with it.
Here we will explore the various colors that can be used in red and black color schemes based on the tone of red being used.
Cherry Red and Black
Cherry red is a striking and vivid red that is slightly darker than primary red because it has a slight blue undertone that is not perceptible, but it does alter the appearance of the shade. This cool-toned red can work well alongside black and one of the following shades.
Blue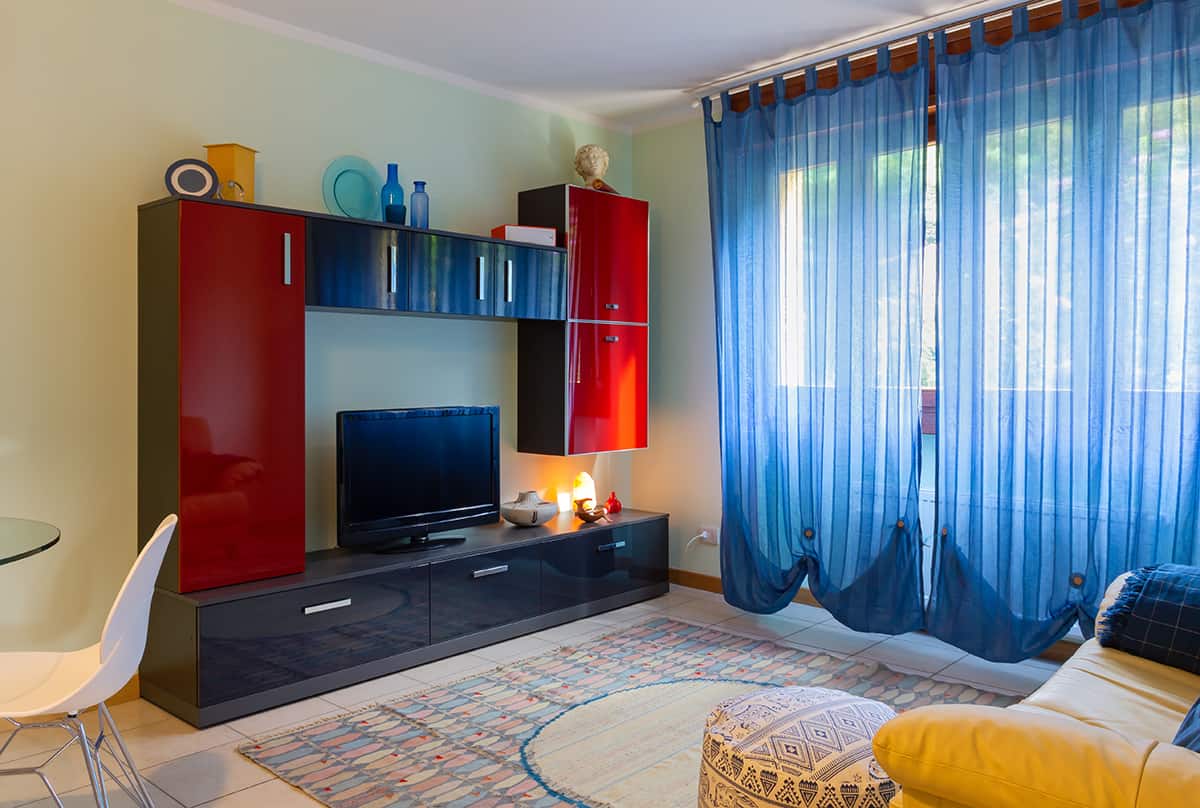 Cherry red, black, and blue are a perfect color trio for creating a retro interior style. Think glossy black kitchen countertops, an aqua blue tile backsplash, and a vintage red jukebox in the corner. These colors perfectly replicate the American Diner era of the 1950s, creating an authentic retro look.
Apricot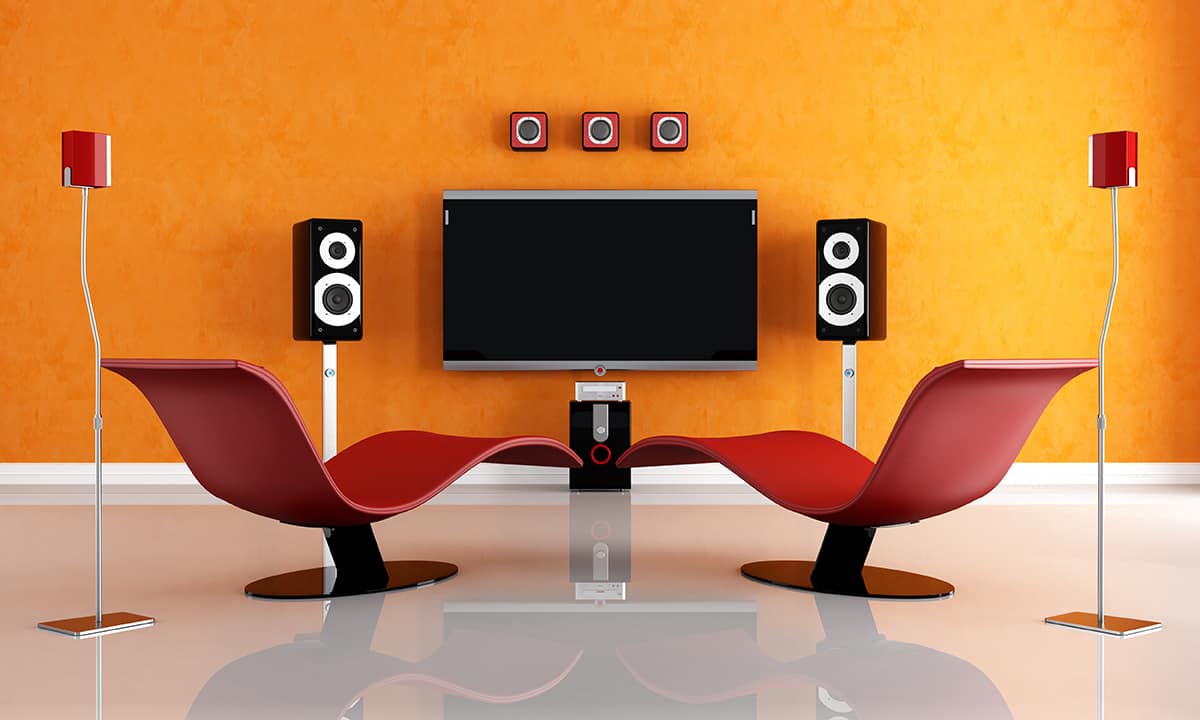 For a contemporary and chic color scheme, opt for apricot with cherry red and black. The warmth of the apricot creates a subtle contrast against the cool tones of cherry red and makes for an appealing aesthetic.
These colors would work well in an art deco-style interior, or they could also be used to achieve a quirky version of a mid-century modern style.
You could use these colors in a living room or bedroom, for example, with apricot-colored walls, black sofas or bed linen, and small hits of cherry red in art prints or vases.
Charcoal
Charcoal is a dark shade of gray that is almost black. cherry red and black pair well with charcoal because charcoal gray brings out the cool undertones in cherry red and provides a very subtle shade contrast with black.
This is a versatile color palette that could be used in an industrial style decor just as well as a minimalist style decor or sophisticated modern decor. Paint walls in charcoal gray and achieve a tonal layered look by opting for black flooring and black furniture, with charcoal cushions and a charcoal rug.
Set this all off by adding striking red accents, such as a red armchair or some red lamp shades.
Silver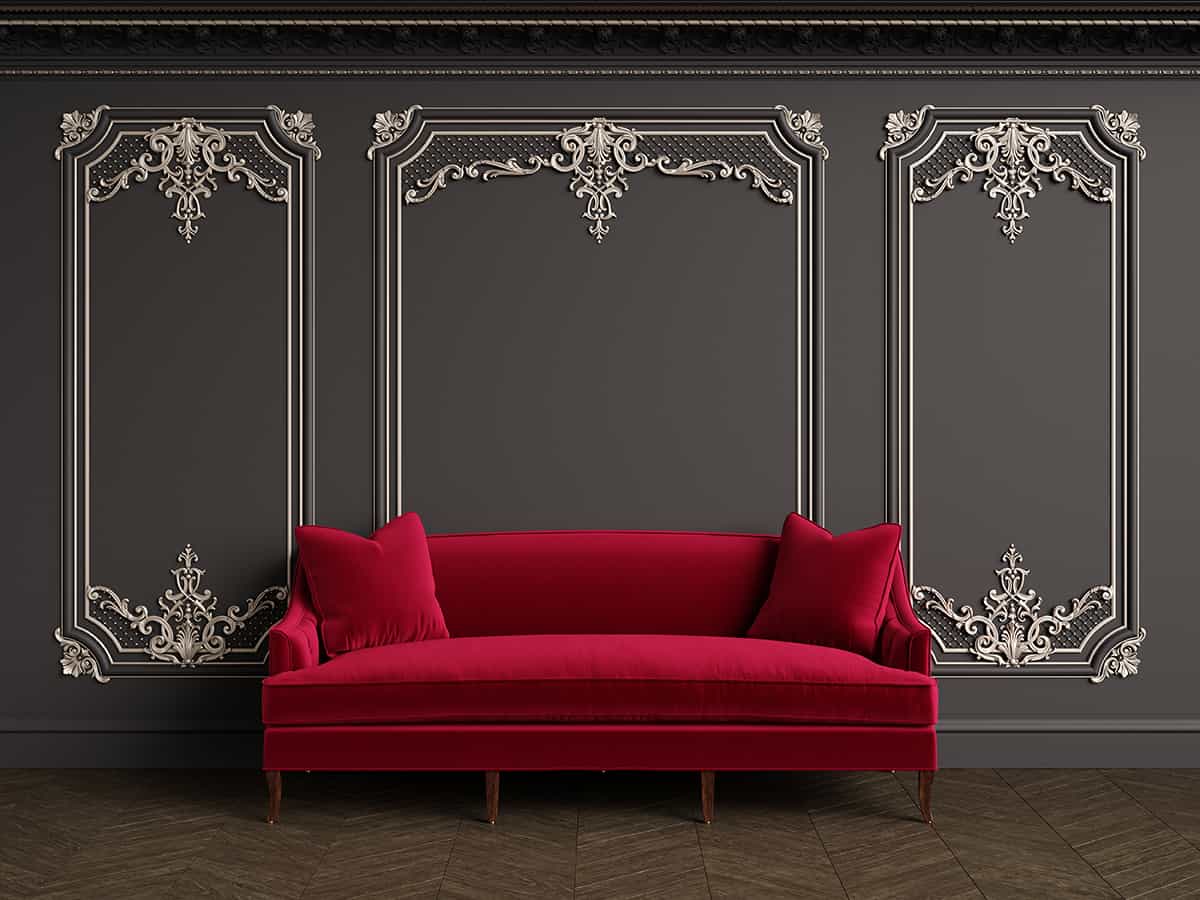 If you are using a cherry red and black color scheme, then you might be wondering which metallic color is going to work best with this. Most rooms in the home will need metallic surfaces of some sort, for example, in light fittings, furniture legs, door handles, cabinet knobs, and small appliances.
The best metallic shade for cherry red and black is going to be silver. This could be a brushed chrome or a shiny nickel finish.
The actual metal used or the finish of the metal can be chosen according to personal preference, as long as the color looks distinctly silver. Silver can look too brash next to more orange shades of red, while cherry red has enough cool undertones to allow silver to coordinate in a modern way.
Raspberry Red and Black
Raspberry red is another blue-toned red, but it isn't as dark as cherry red, and it has a more playful feel to it compared to cherry red's sultry style. Use raspberry red and black with one of the following colors.
Blush Pink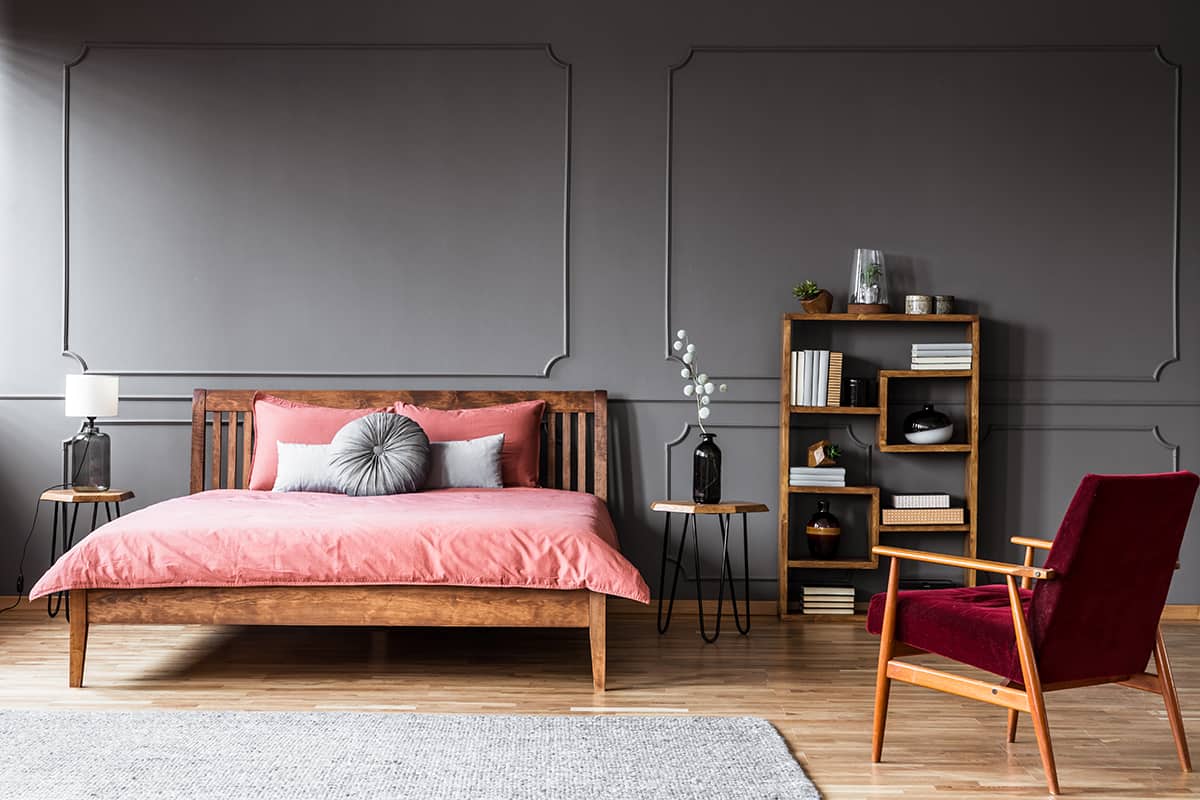 Blush pink is a cool and modern shade of pink that has a dusky, almost gray tone to it. Although red and pink share some similarities and are very close to each other on the color wheel, they offer very different feels, and these two shades, in particular, can provide a nice contrast because raspberry red is bright and bold, while blush pink is pale and understated.
The addition of black to this pair makes for a striking contemporary trio of colors that would look effortlessly chic in a modern-styled home.
Lavender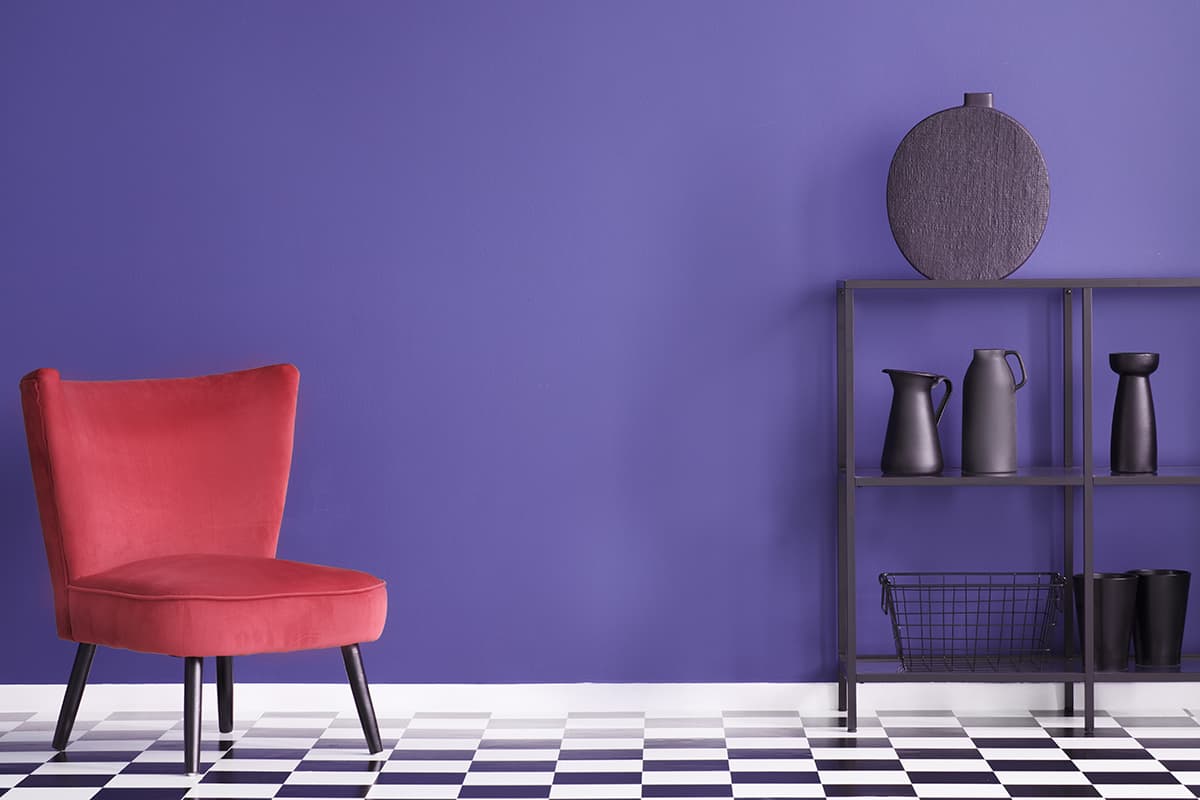 Lavender is a pale to medium shade of purple with a hint of blue, which makes it a color that can contrast raspberry red while also luring out its cooler undertones. Be bold and position raspberry red cushions on a lavender bedspread, all set on an industrial-style black metal bed frame.
Primary Red and Black
Primary red is a true or pure red. It is the 'original' color red on the color wheel where you might talk about the three primary colors of red, yellow, and blue.
This red doesn't have any undertones and instead is distinctly red. It is bold, bright, and could be thought of as a festive color around Christmas, and is also commonly used around valentines day.
Navy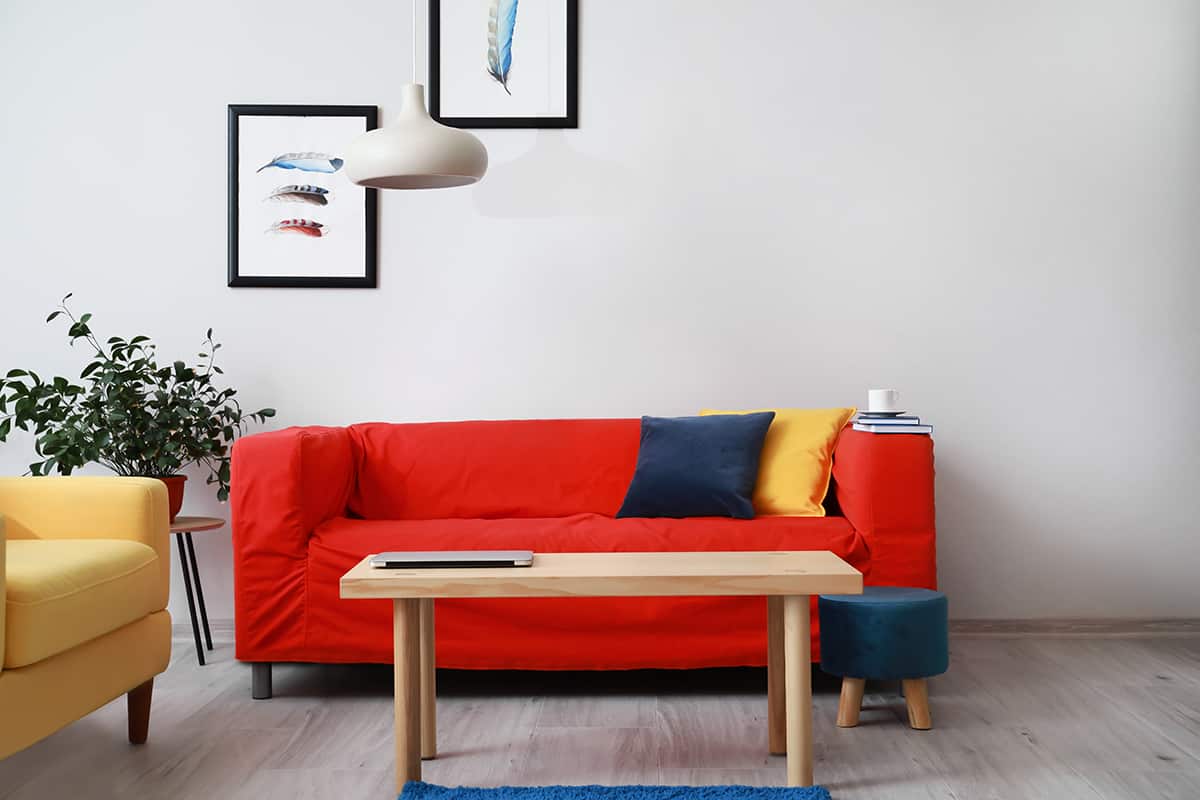 Navy, black, and red make for an updated take on an Americana or patriotic style decor. Traditionally this style would use navy, red and white, but by exchanging white for black, you can achieve a much more refined style that isn't obvious.
Navy walls would work well in a masculine-style bedroom, with black-painted furniture and a navy and red checked or tartan print quilt.
Gold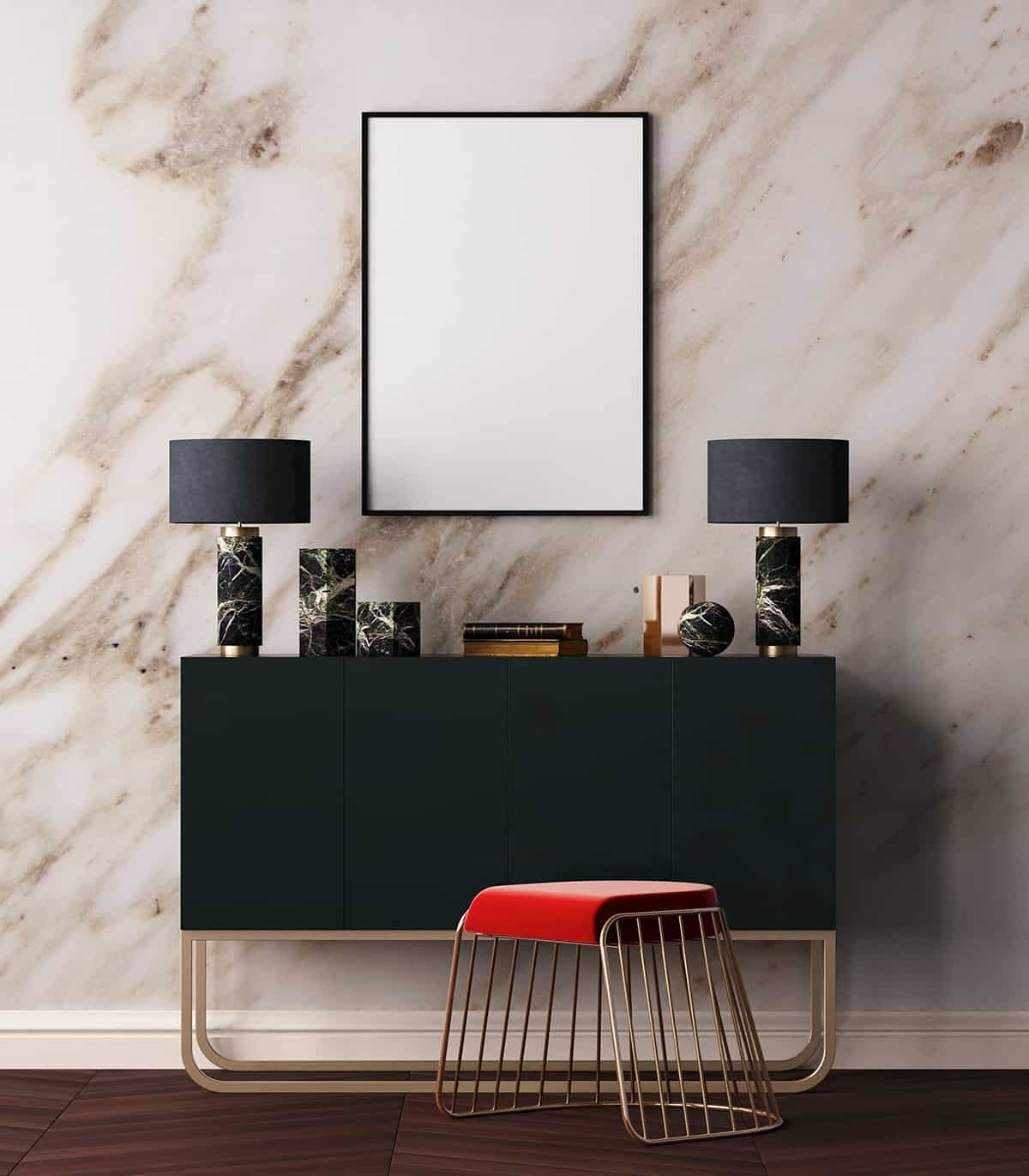 For metal details in a black and primary red room, gold is a perfect choice. Gold touches will bring a luxury feel to this color scheme and bring out the warmer side of red.
Tomato Red and Black
Tomato red is an orange-red shade that has a warmer tone compared with the blue-hued reds. It is bright and bold and is considered to be one of the more versatile shades of red in interior design. Consider tomato red and black with one of these accent shades.
Turquoise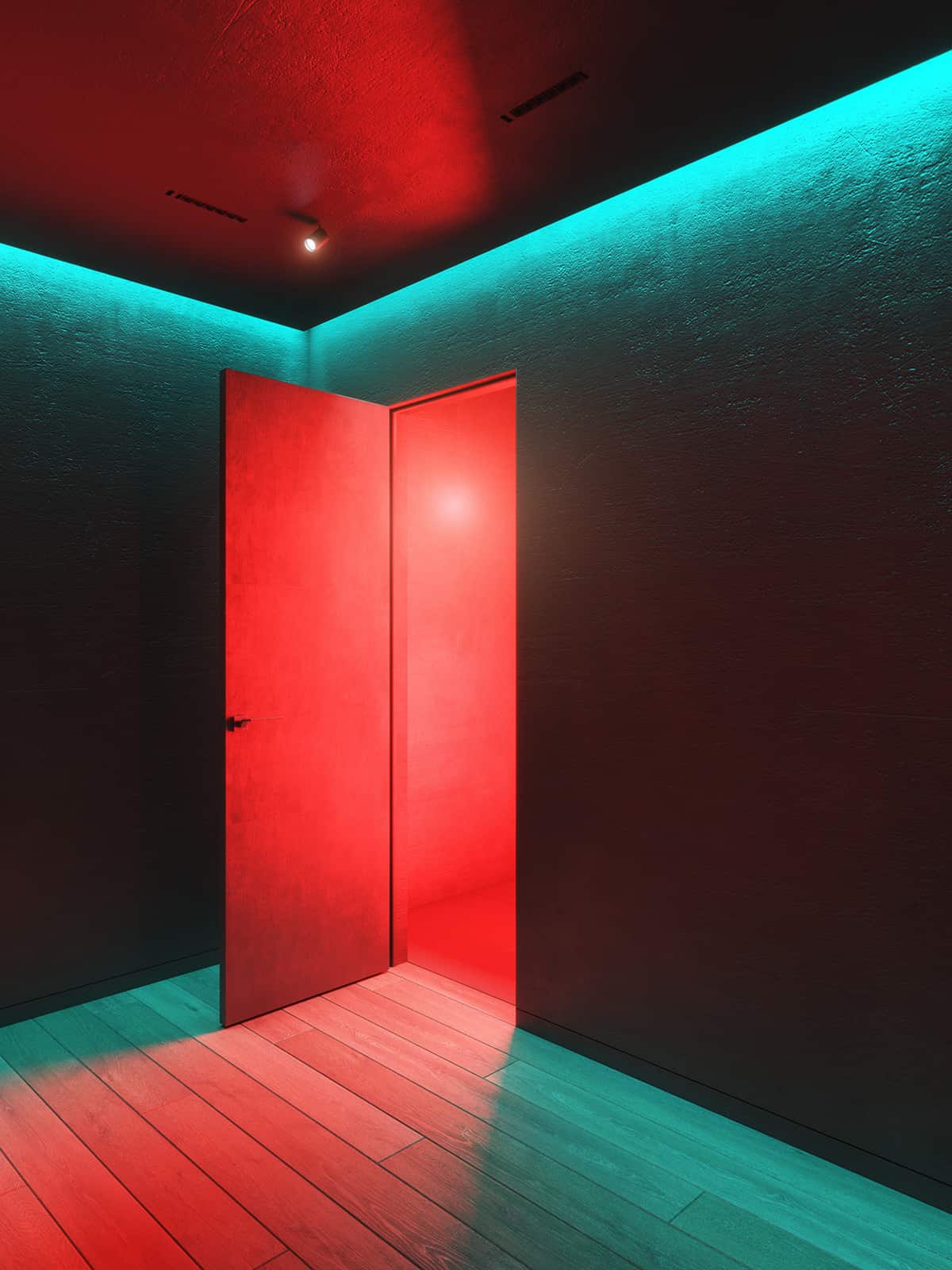 Turquoise provides a strong contrast with tomato red, as these colors sit almost opposite each other on the color wheel.
Turquoise is a blue-green color that is vibrant and heavily saturated. The two colors could battle for attention, but the additional use of black will help to balance them out.
Beige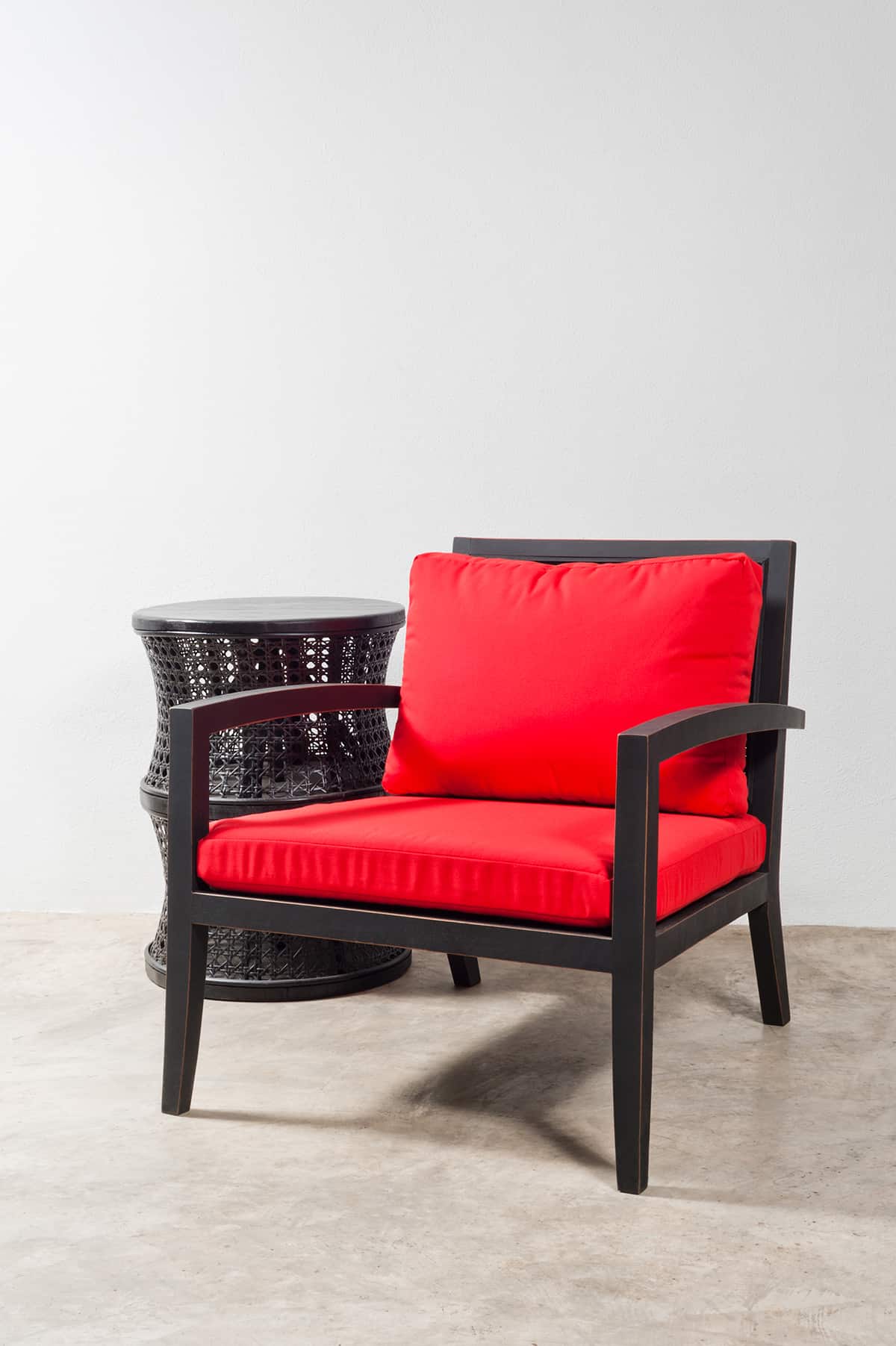 Beige is a warm neutral that will tone down the brightness of tomato red and bring attention to its warmth. With black and beige both being neutrals, this color scheme allows red to be the star of the show.
Paint walls beige and opt for black furnishings such as black sofas and armchairs. Accent the room with red candle holders and a red throw blanket.
Dove Gray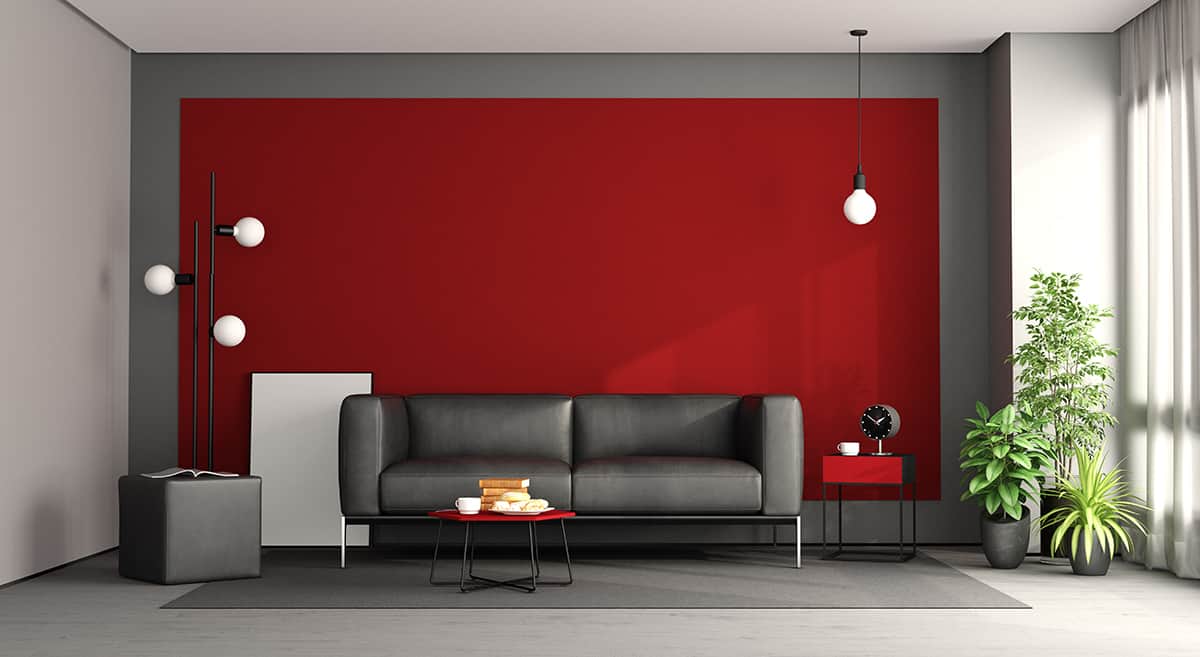 Dove gray is a soft and modern shade of pale gray. Using this shade with tomato red and black will ensure a contemporary style, and it will also put red at center stage as the accent color. Opt for gray and red patchwork quilts for a modern country style or stripes for a sleeker look.
Red walls can look great if the rest of the room is furnished with pale gray and black items, as this tones down the red and prevents it from being overwhelming. In a dove gray living room, choose black furniture and then make a statement with a bold tomato red velvet accent chair.