Accent walls are a great way to easily bring style and character to a room. If you you like to incorporate grey with your current accent wall, read on to find out what the best color accent walls to use.
What is an Accent Wall?
An accent wall is one wall in a room that is finished in a different color from the rest of the walls in the room. The color of the accent wall should accent the color of the remaining walls, hence the term 'accent wall.'
How to Choose Your Accent Wall
Any wall in a room can be the accent wall, but making a smart choice of which wall you select can ensure balance and achieve the right impact. In a bedroom, the accent wall will typically be the wall behind the head of the bed, or it could be the wall which the bed is facing towards.
The type of accent wall you choose will affect where you position it, but essentially it should be on a wall that you want to be the main feature of the room.
A sidewall in a bedroom might initially seem like an odd choice for an accent wall, but if you were then to position a dressing table in front of that wall and create a feature out of the dressing area, then it could absolutely work. In a living room, most people will choose the main wall as the accent wall. This is the wall where a fireplace will typically be installed or where a TV is.
It is the wall which the furniture is angled towards. You could also select the back wall as the feature wall. This works well if you have the main sofa in front of it and some pictures or art hanging on the wall behind the sofa.
Pay attention to the architectural features of a room. For example, if a room has a fireplace, then this makes it a good choice as an accent wall because it already has a feature. Walls which have windows or doors can be tricky as accent walls, and if possible, you should opt for a different wall.
Types of Accent Walls
When you hear the words' accent wall', you might immediately think of a wall that has been painted in a different color to the other walls, and while you would be correct, a painted wall is not the only type of accent wall. Types of accent walls include:
Paint
A painted wall is the most popular type of accent wall. This is because it is easy to create yourself, it is quick to install, and it can be very inexpensive. There are so many colors you can experiment with to accent the other walls in a room.
You could achieve a light-dark contrast by selecting a shade that is vastly different from the shade on the other walls, for example, pale gray and dark gray, or you could opt for a complementary color to get a color contrast, such as grey and yellow.
Wallpaper
Applying wallpaper to just one wall of a room makes an excellent accent wall. This is another popular option because it allows you to choose a print you love without committing to it throughout the whole room.
Wallpaper prints can be overwhelming on all four walls in a room, so this presents a nice balance. It adds a lot of interest to a room and can really set the tone for the space.
For example, a black and gold striped wallpaper will set the tone for a sophisticated room, while a delicate floral wallpaper in pastel colors will set the tone for a country-style space. Wallpaper is typically more expensive than paint, so using it on just one wall is also a good way for you to be able to use wallpaper without blowing the budget on all four walls.
Tiles
Tiles can be applied to one wall to create an accent wall. This will provide an accent of both color and texture because the tiles will have a different finish than the wall. Opt for slate or stone tiles in a rustic style room or a marble glossy finished tile for a contemporary luxury look.
Tile accent walls are not as common as other types of accent walls because they require a professional tiler to install them, which can cost more and require much more organizing.
However, they are a great option in many types of rooms because they are long-lasting and can be wiped down easily. If you change your mind, though, they will be much more difficult to change compared with paint or wallpaper.
Paneling
Wall paneling has been around for many years, but a newer trend is using wood panels on just one wall to create an accent wall.
This can be done with various types of wood, including hardwood flooring boards fixed to the wall or reclaimed wood from old pallets. A wood accent wall brings warmth to a room, as wood has a rich and comforting color and texture.
Patterns
Using various colors of paint to create a patterned accent wall has been a growing trend over the last few years. You could create stripes using painter's tape or polka dots with stencils.
A popular technique is to apply painter's tape diagonally in random places across one wall to create a series of different sized triangles, and then select three or four colors of paint and use these to fill all of the triangles before removing the tape. This results in a very modern and geometric look.
Best Colors for Accent Walls in a Gray Room
If your room is gray and you want to introduce an accent wall, then there are a lot of colors that can work really well. Here we will look at some of the most popular color pairings in interior design right now.
Blush Pink Accent Walls + Gray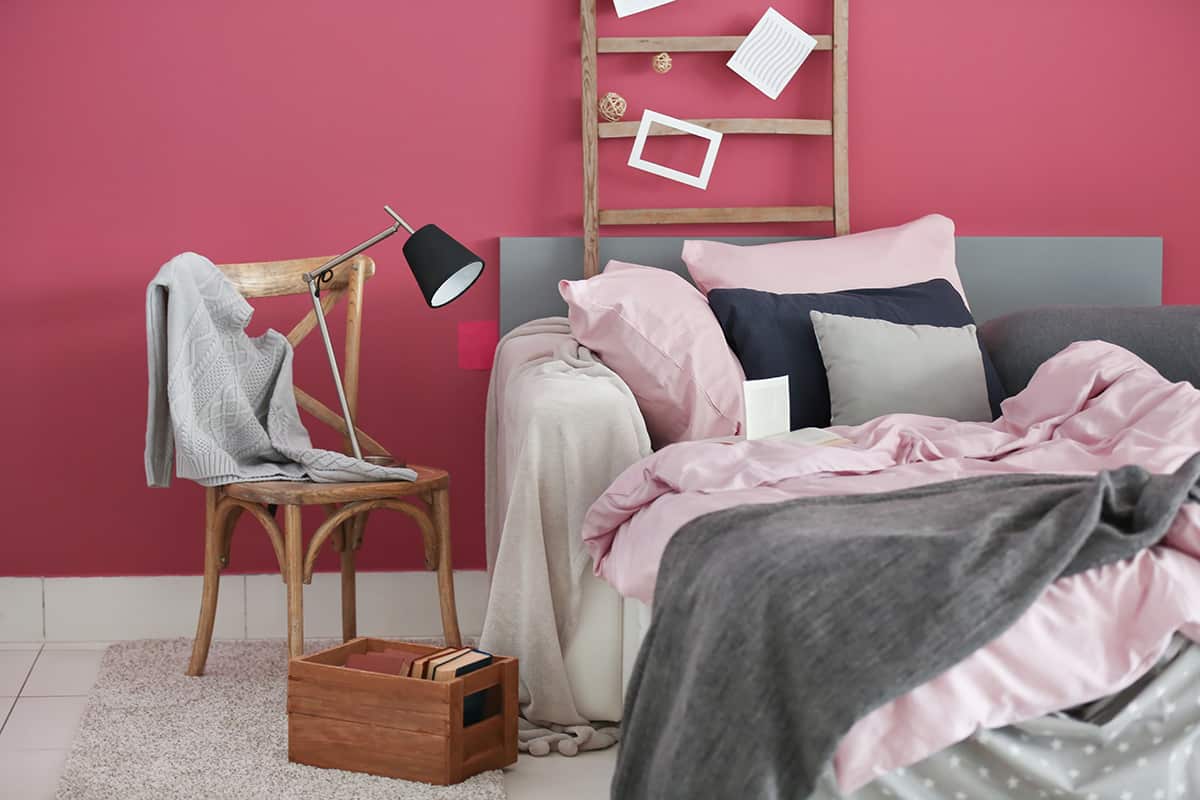 Blush pink is a subtle flirty color that provides such a nice atmospheric contrast to the seemingly 'boring' gray. For the best impact, use a mid to dark shade of gray and the remaining walls and blush pink on the accent wall.
Pale gray will also work well with blush pink, but the contrast will be more muted.
Blush Pink Accent Walls + Forest Green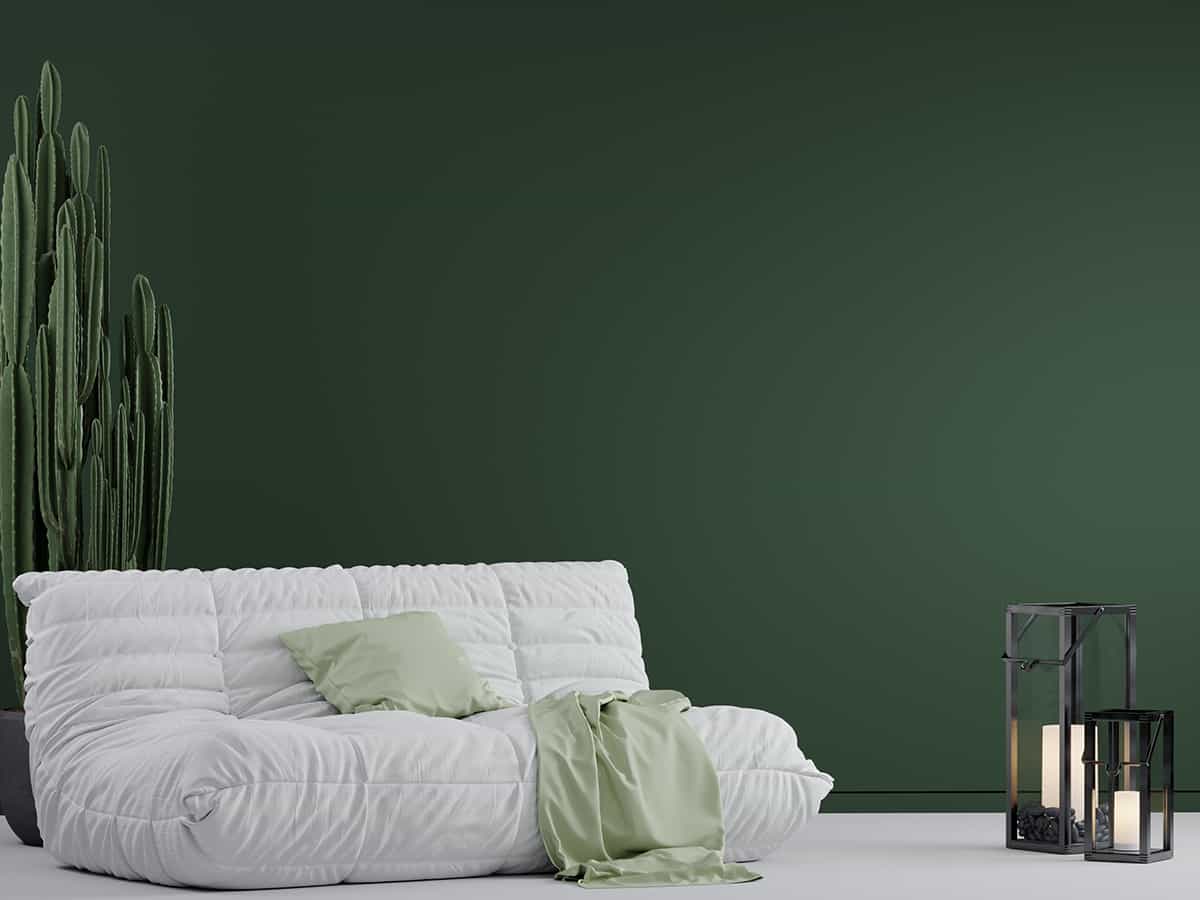 Forest green is a color that pairs really well together with gray to create an earthy vibe. Choose pale gray walls with a forest green accent wall to achieve a more refreshing appeal or dark gray walls alongside a forest green accent wall for a moodier look.
Blush Pink Accent Walls + Yellow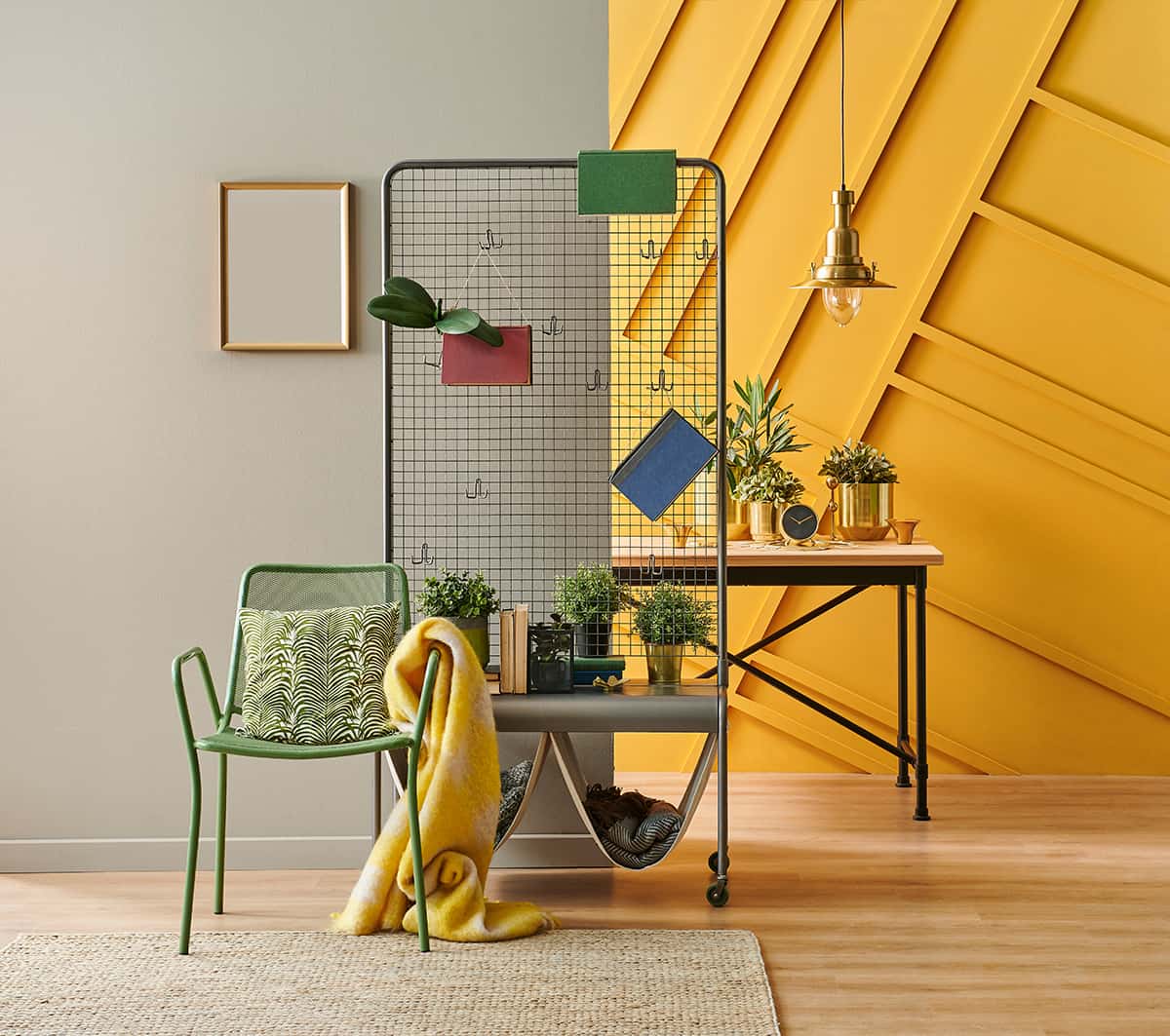 Yellow and gray are a match made in heaven, as they complement and balance each other perfectly. Bright yellow is a color you might be hesitant to paint all over your room, so using it on one wall is a much more lowkey way to introduce it to your color palette.
Use bold yellow with pale gray or mustard yellow with dark gray. Remember to add other yellow decor items in the room, such as cushions and candles, to coordinate and tie the whole look together.
Blush Pink Accent Walls + Tan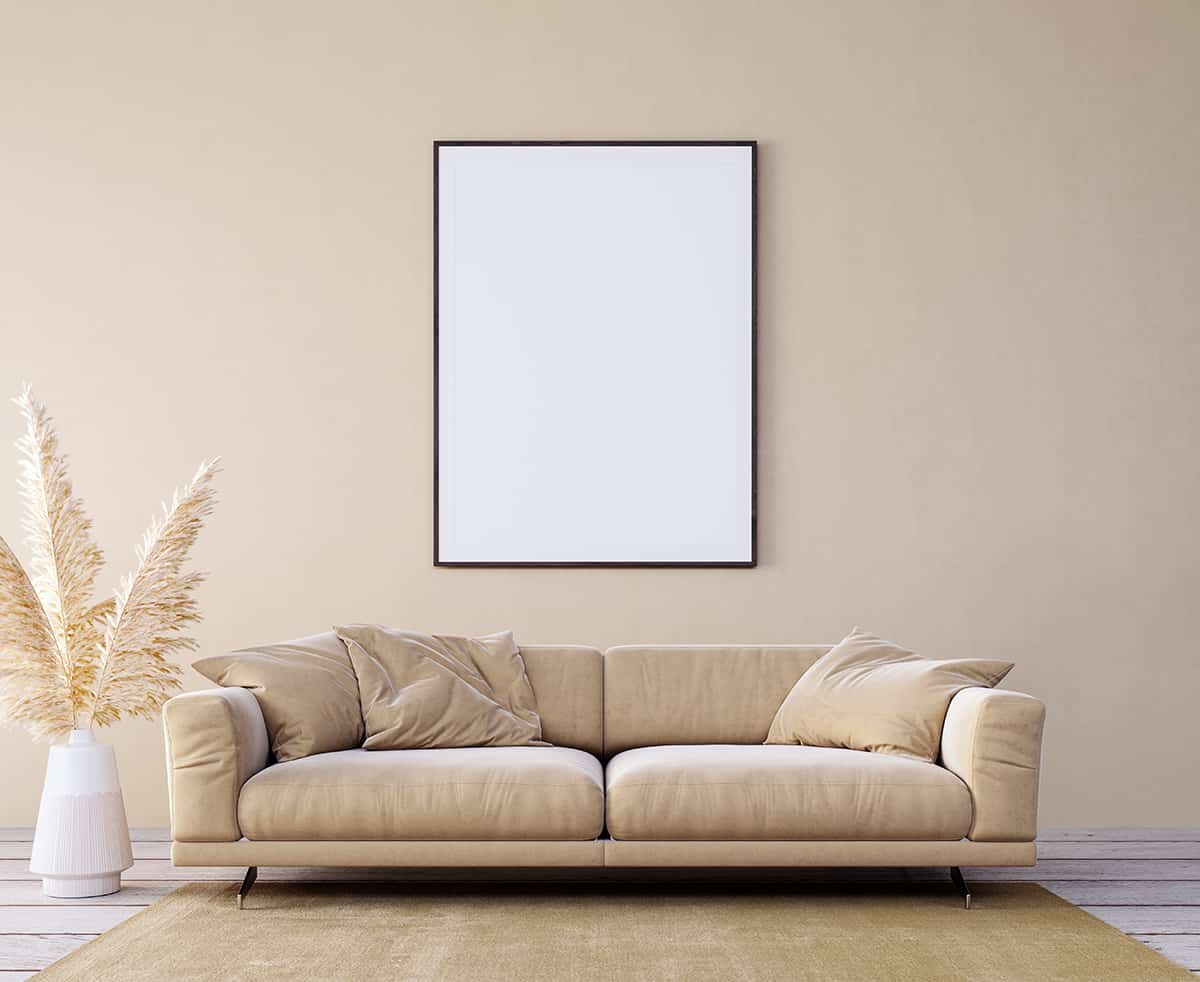 Tan is a neutral shade that sits somewhere between beige and brown and has a hint of orange in it. It works well with gray by bringing warmth to a cool room.
Paint your accent wall in tan, or choose wood paneling with a tan-colored stain such as rustic oak. Coordinate a tan accent wall with tan furniture such as leather sofas.
Gray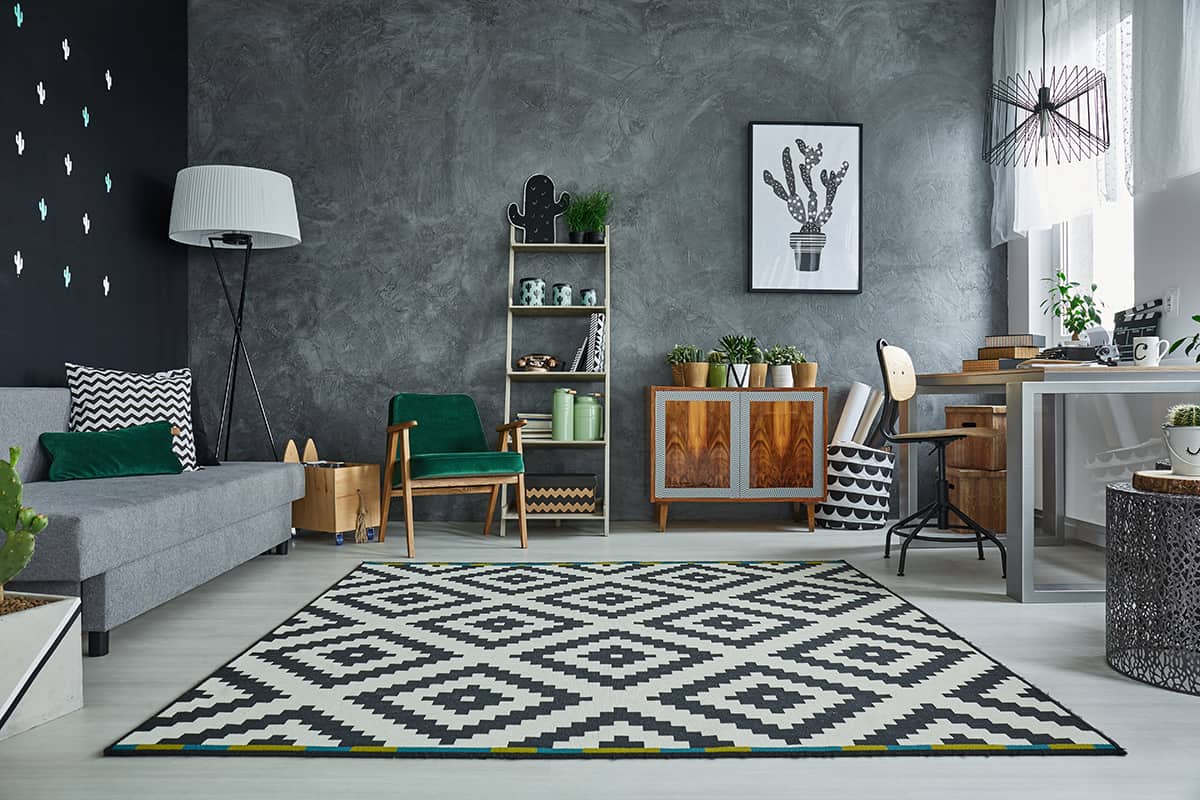 Using a contrasting shade of gray on one wall is one of the most striking ways to create an accent wall in a gray room. This works especially well in light gray rooms, with a dark charcoal gray as the accent wall to add drama to the space.
However, you could reverse this and use pale gray as an accent wall in a dark gray room. Ensure that the two shades are vastly different to achieve the best contrast.
Blush Pink Accent Walls + Black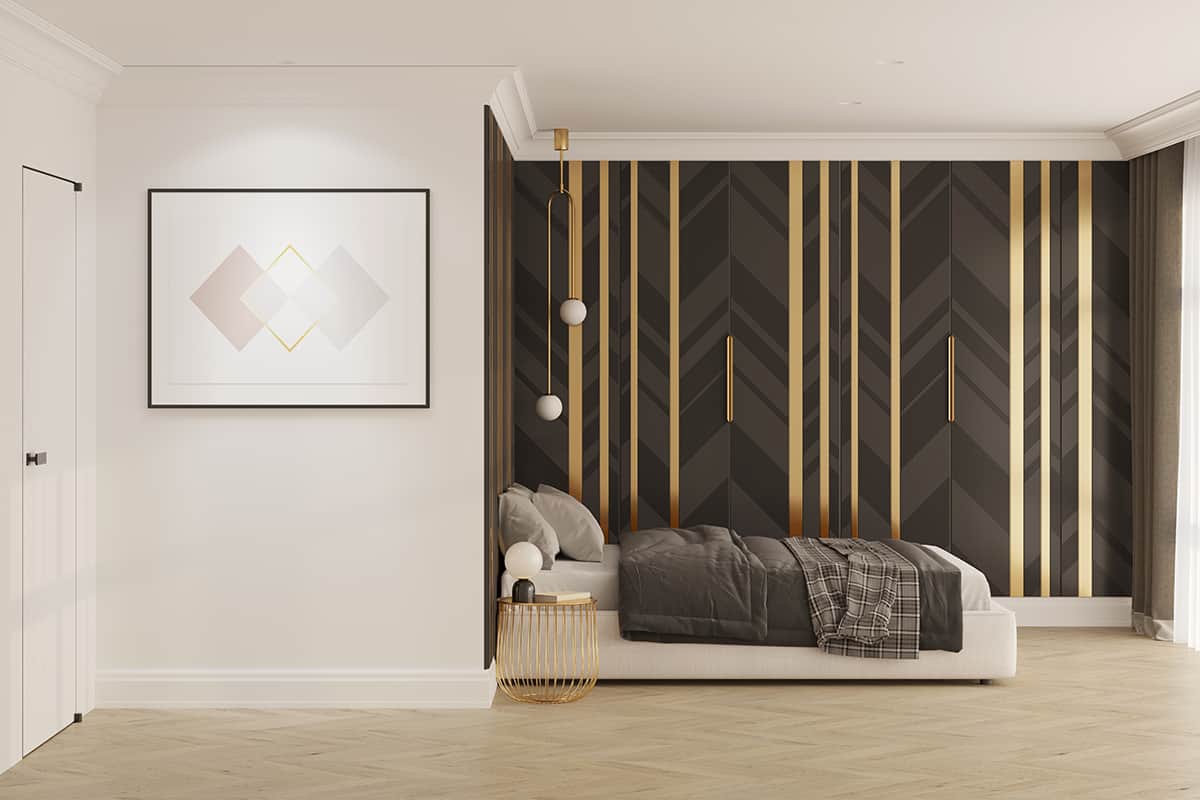 Black is a very intense color that could look extreme when used on all walls in a room, but on one wall as an accent shade, it can look very high-end. Use black with any shade of gray to bring depth to a room.
Gold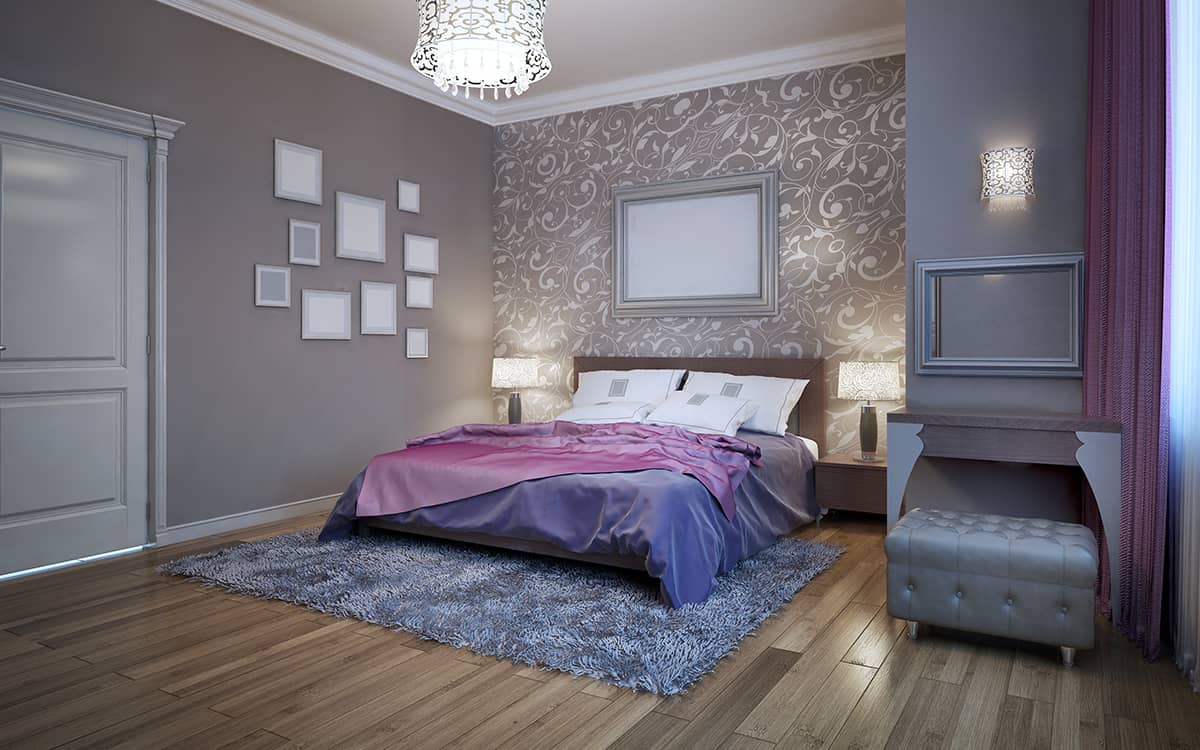 Metallics are a really nice choice for an accent wall because they bring glamor and luxury to a space, but not in such a large proportion that they look tacky, as they might do when used on all of the walls.
Gold is an ideal color choice for a metallic accent wall in a gray room because it has a lot of yellow in it, which we know works well with gray. A metallic gold accent wall will bring warmth and elegance to a gray room. You could use gold paint, gold wallpaper, or gold tiles to achieve this look.
Blush Pink Accent Walls + Navy Blue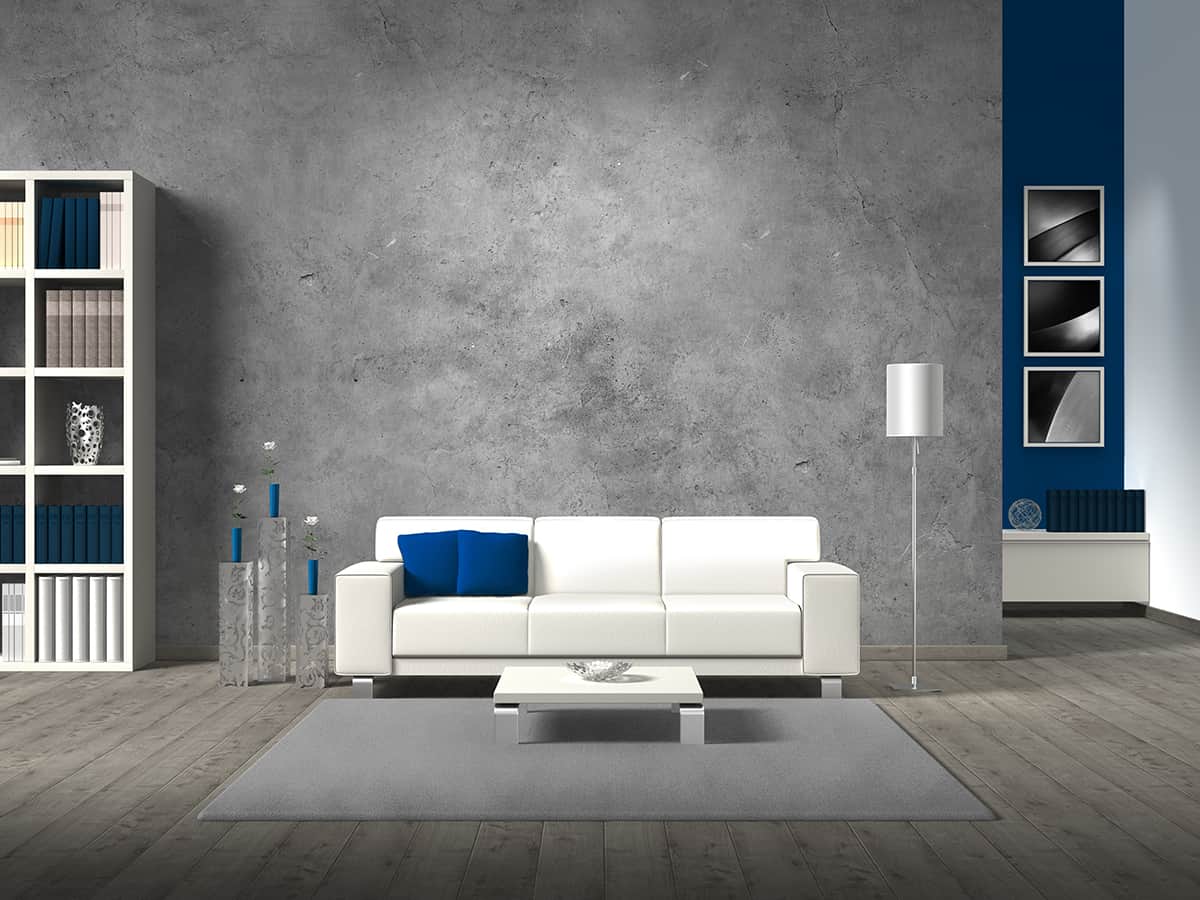 Gray and navy blue work well together as they have very similar tones. Pair soft gray walls with a navy blue accent wall for a bold contrast, and coordinate this with other navy blue details in the room.