Pink and purple are widely considered feminine colors, so you will typically see them being used together in female-dominated spaces such as girls' bedrooms, dressing rooms, and powder rooms.
There is a wide range of shades within both pink and purple that can be used to convey a number of different atmospheres. For example, baby pink feels sweet and innocent, while bubblegum pink offers a sense of rebellion.
Here we look at a number of colors that go with pink and purple for use in interior design.
Can Pink and Purple Go Well With Each Other?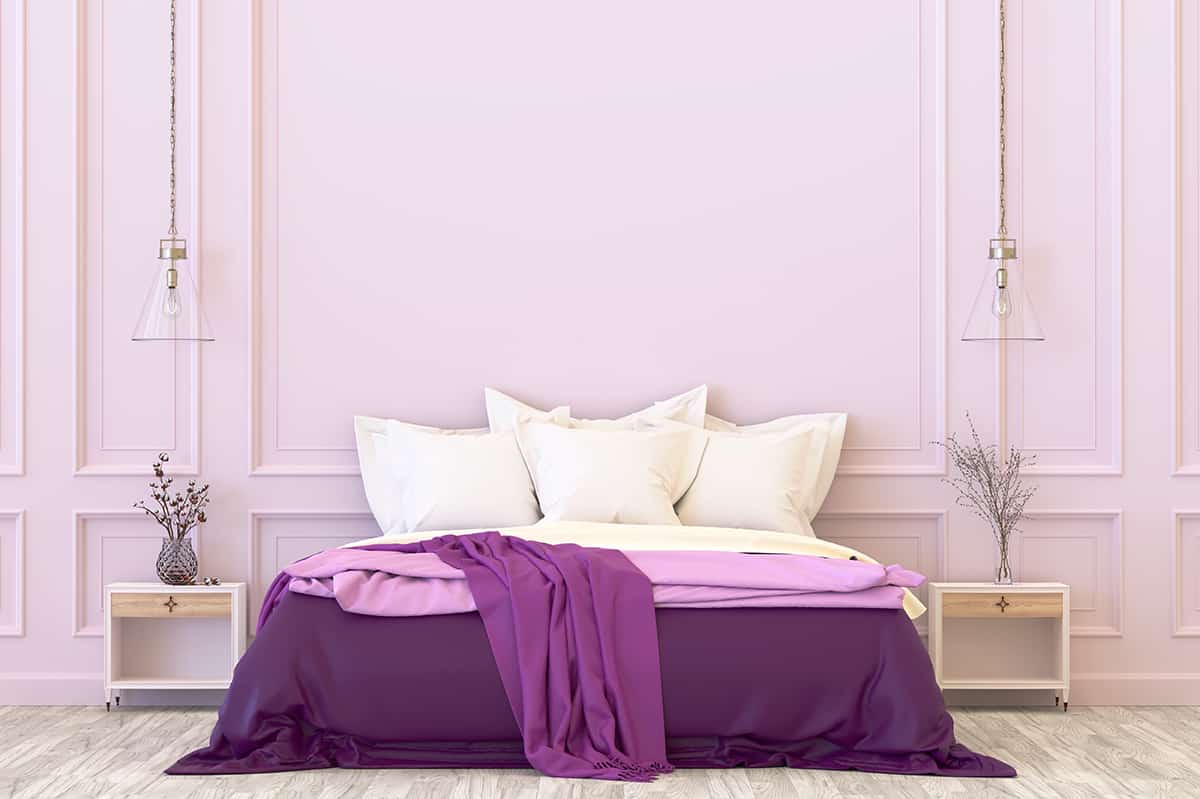 Pink and purple are analogous colors, which means they reside right next to each other on the color wheel. The result of this is that they go together really well and are perfect for creating a sense of harmony in a space. Many colors that go with pink can be used to complement purple.
These two colors can be used together without any further shades in the color palette; however, adding a third color to the mix brings an extra dimension and makes a space feel more balanced and interesting.
Pink and purple are typically both cool colors, but they can contain warm undertones that give them a more complex feel when it comes to the temperature of a color. Purple is achieved by mixing red and blue, which are warm and cool colors, respectively.
If a higher proportion of red is used to achieve a shade of purple, then this can result in a purple with a warm feel, while a higher proportion of blue will result in a purple with a cooler tone. Since both pink and purple can hover between cool and warm, they are colors that are good for achieving a level feel in a room, for a space that is neither cool and fresh nor warm and inviting.
Pink and purple, although most commonly associated with femininity, can also be used to convey a sense of spring since they are colors that are widely found in floral form. For this reason, these colors work exceptionally well in home decor themes that are based on botanical or floral motifs.
Pink is revered as the color of romance, love, affection, and friendship, so it is an uplifting and sometimes tender color to be around. Purple is linked with royalty, wealth, and prosperity, so it can be put to good use in rooms where you want to achieve a regal or luxurious atmosphere.
Colors that Go with Pink and Purple
Rose pink, lilac, and lime green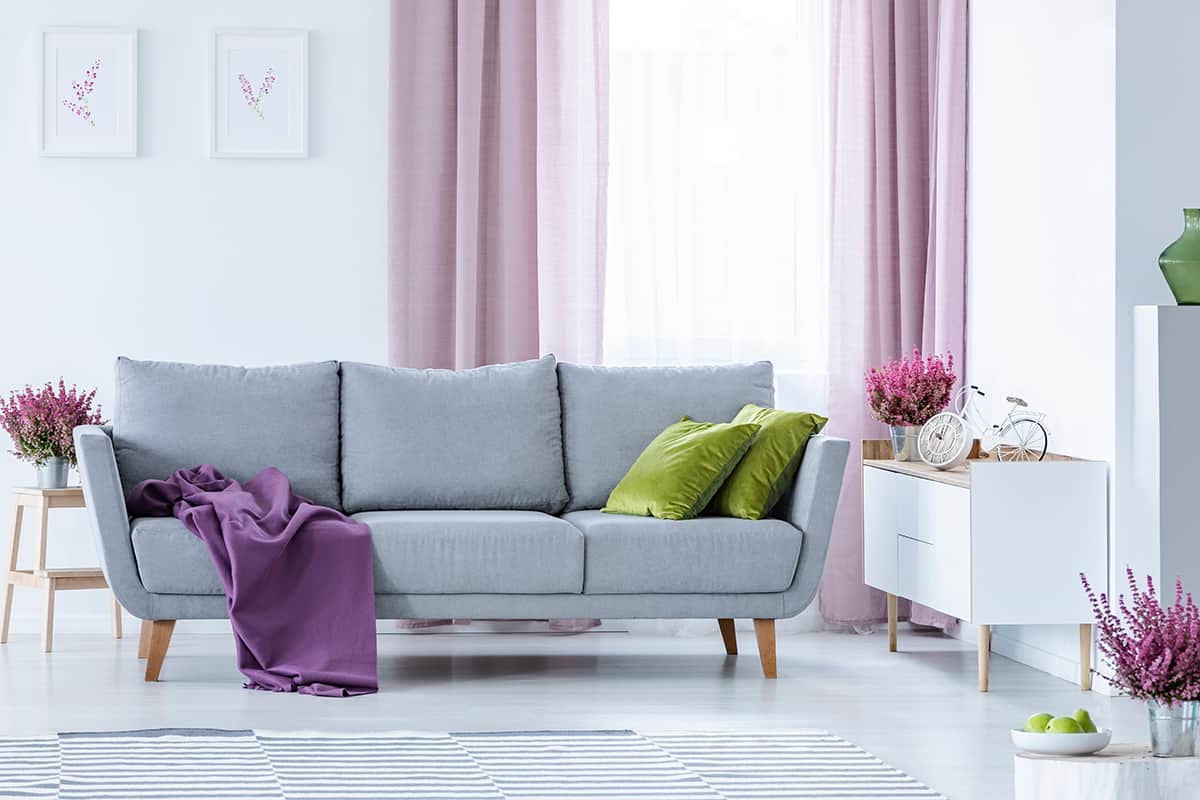 Both rose pink and lilac are softer shades of pink and purple, which means that they contrast beautifully against the darker and more dominant shade of lime green.
Lime green has an earthy yet serious feel to it, which makes a room decorated in pink and purple feel more mature than you might expect. This is a color scheme that can work well in any room of the home, and it can be used to achieve a casual or a glamorous look depending on the style of furnishings and decor you opt for.
In a luxurious bedroom, create a classical feminine space with a twist by painting the walls in rose pink and selecting lime green velvet curtains and lime or forest green velvet cushions set upon a lilac silk bedspread. The same colors can work well in a more casual space, such as a living room painted in lime or forest green, with a linen rose pink sofa and lilac lampshades.
Salmon pink, magenta, and sunflower yellow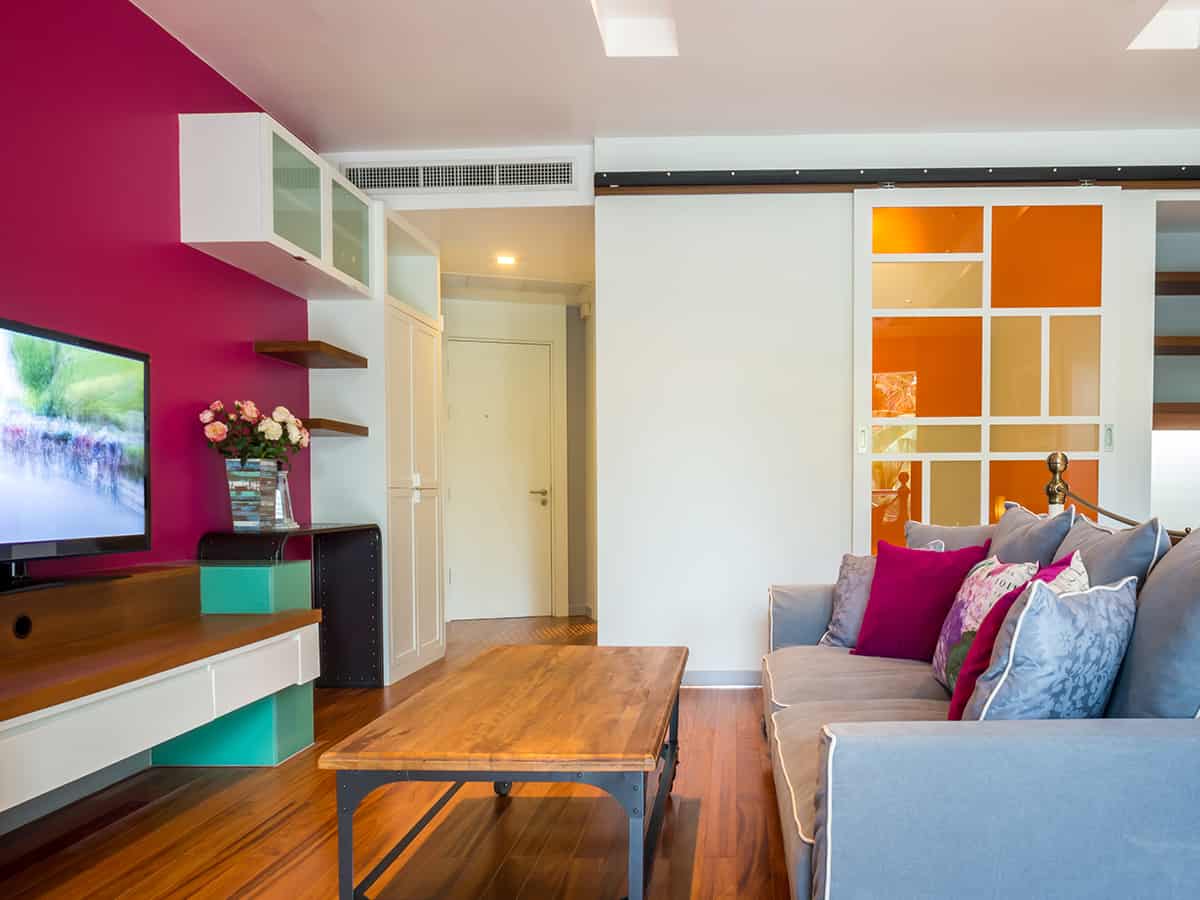 This is a bright and bold color scheme that has a fresh, contemporary appeal. It will work well in a vibrant city apartment or in a playroom for a child.
Salmon pink is a slightly orange-toned shade of pink, so it helps to link magenta and yellow together. In pared-down version of a color wheel, you could imagine yellow and magenta flanking either side of salmon pin and the three colors blending together to create an abstract sunset.
This is a color scheme that is by no means muted, but as the colors are analogous to some degree,, there is a sense of balance achieved with this trio. In a bright and airy kitchen, paint the cabinets in salmon pink and choose saturated sunflower yellow subway tiles for the backsplash. Use magenta accessories around the room, such as a utensil holde and a light fitting, to create a lively, fresh, and colorful style.
Blush pink, mauve, and sage green
If you are a fan of subdued tones, then this is a pink and purple color scheme you won't be able to resist. Blush pink is a soft, muted, cool shade of pink with gray undertones and mauve has a similar appearance as a dusky shade of pale purple.
Sage green is a mellow shade of green, again with gray undertones, so blush pink and mauve feel are great colors to pair with sage green. These three colors are perfect for a living room or bedroom where you want to create a low-key, relaxed elegance.
Paint the walls in blush pink and choose sage green sofas accented with mauve cushions and a mauve rug. Set a bouquet of dried eucalyptus in a purple glass jar on the coffee table for a scented hit of sage green color.
Baby pink, lavender, and lemon yellow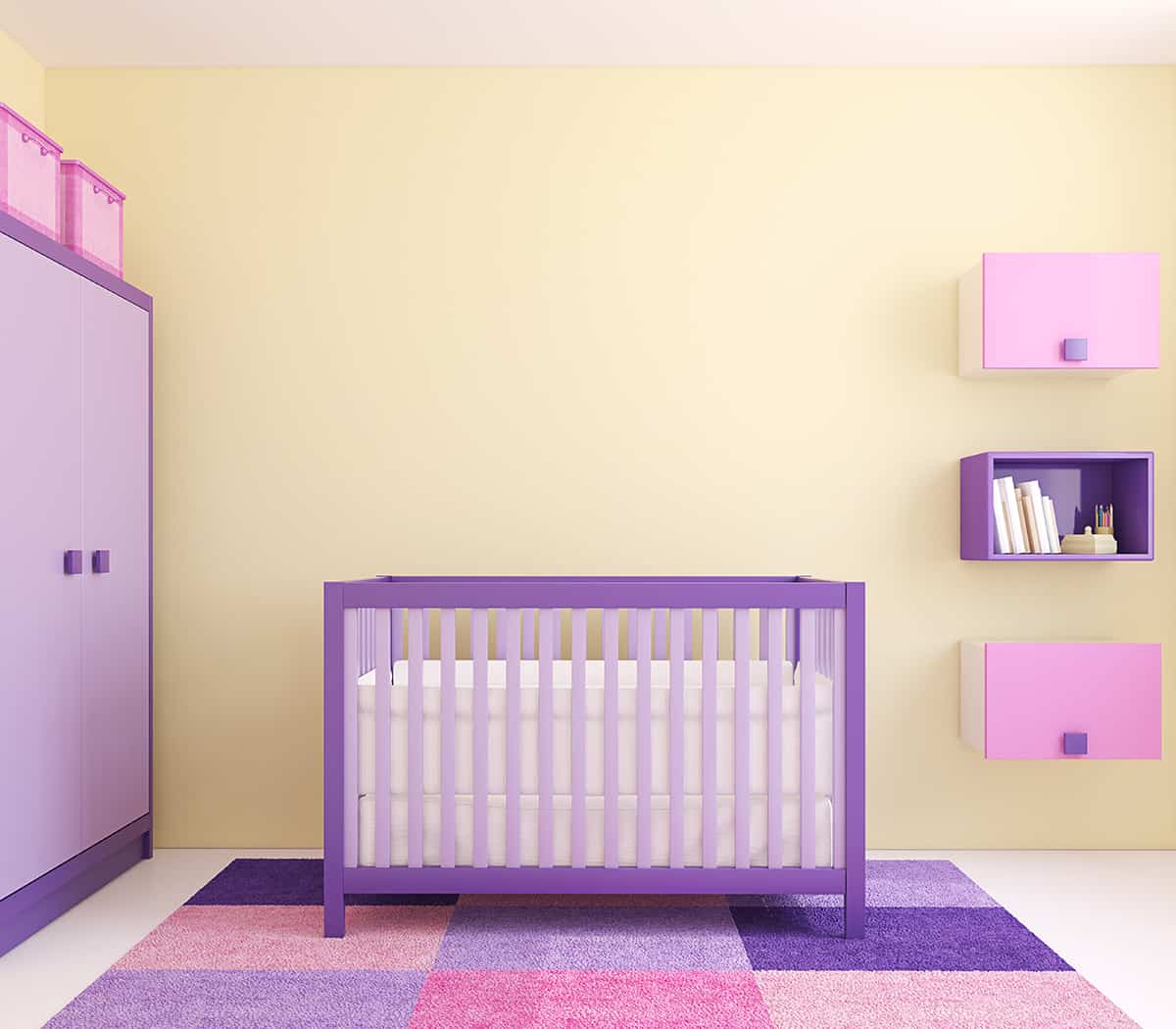 Pastel shades of yellow, pink, and purple create a really soft and gentle look when they are used together. This is a style that is ideal for a nursery or playroom, or you could use more sophisticated fabrics and textures to achieve an elegant and bright take on these innocent and somewhat childlike shades.
In a child's bedroom, use baby pink and lavender colors in equal measure against a pure white floor and a light yellow wall, for example, with polka dot lavender curtains, a baby pink striped rug, pink lampshades, and lavender bed sheets with blue cushions.
In an adult bedroom, create a fresh feel with a hint of romance by painting the walls in lavender and opting for satin baby pink sheets with an aqua blue comforter and lavender throw pillows.