Green and blue are two colors that go hand in hand. Green elicits feelings of renewal, growth, and new beginnings, while blue brings about a sense of calm, tranquility, and peace, so we can see from this how the energy these two colors create when they are used together can be very positive.
Green and blue are analogous colors because they sit next to each other on the color wheel. This means that instead of complimenting each other in a contrasting way like opposite colors will, they create a sense of harmony that is appealing to the eye and easy to be around.
In order to avoid having a space that feels flat or bland, when you are using green and blue as your color scheme in interior decor, it's a good idea to add a third color.
This could be a neutral shade that breaks up the blue and green a little so that there is some definition between the two, or you could go for a contrasting shade to make the colors pop.
A good rule of thumb when planning your interior design is to use the 60:30:10 method. This is where you choose 3 colors for your color palette and use them at a ratio of 60%, 30%, and 10%. This is a foolproof way to ensure your room has a sense of balance and doesn't feel overstimulating or boring.
There are so many different options when it comes to shades of blue and green that go together, such as teal with lime green, sapphire blue with emerald green, olive green with navy blue, and forest green with sky blue.
When you add in the option of a third color to use in a color scheme, the possibilities seem almost endless. Here we will look at how to use blue and green color palettes in your home and which colors go with them.
Purple + Green + Blue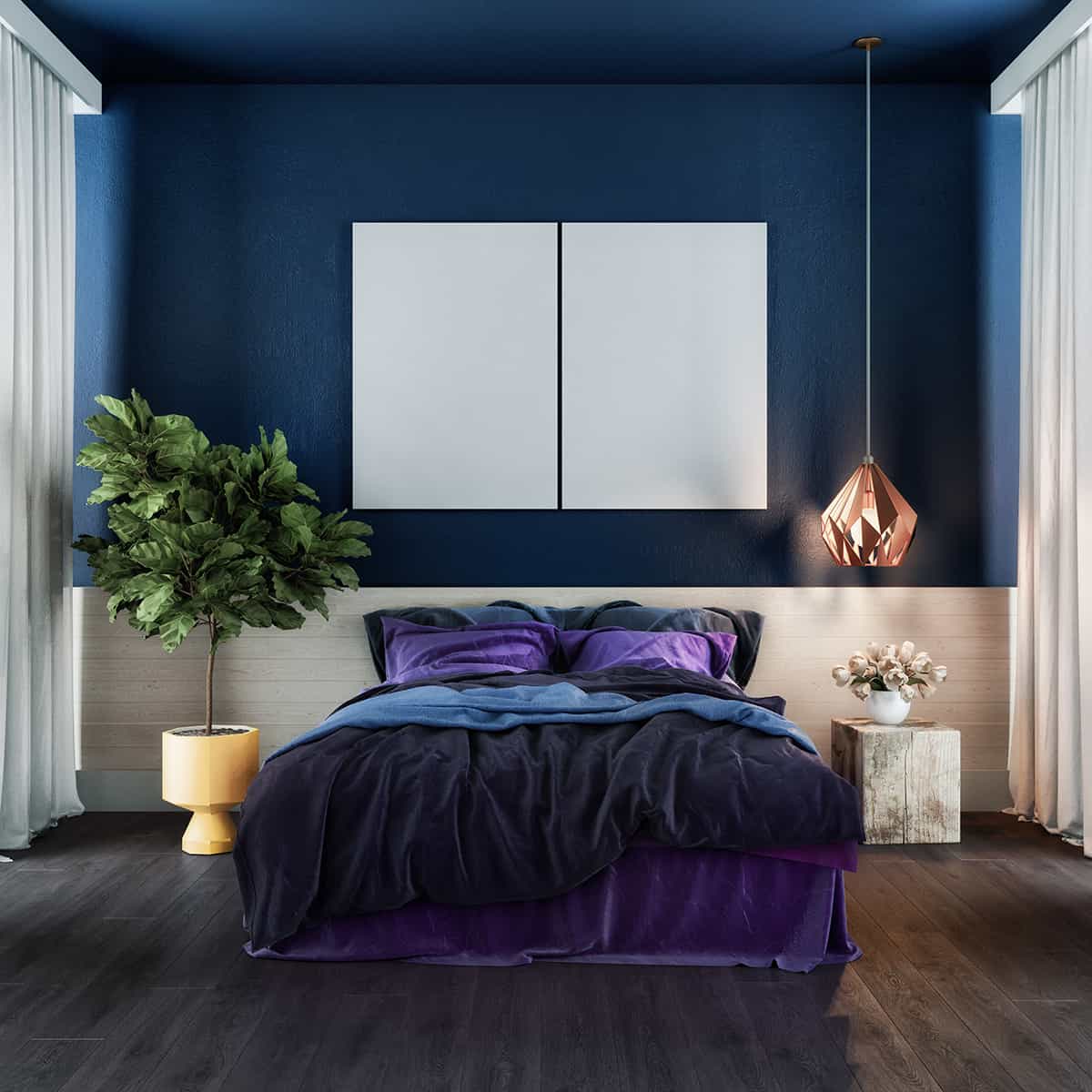 Green and blue are colors that work really well with purple because it sits next to blue on the color wheel, and therefore the three together present an analogous color set that feels balanced and coordinated.
Choose each color in a jewel shade for a rich and indulgent style, such as sapphire blue walls with an emerald green velvet sofa topped with sumptuous amethyst purple cushions.
The vibrancy of violet can also be used to add bold splashes of color to a relaxed room to liven it up. For example, a bedroom painted in pale olive green with pale sky-blue bed sheets and bright violet lampshades. In a room that is predominantly violet, use earthy and natural shades of green and blue to tone down the drama and make it feel more comfortable.
Lavender + Green + Blue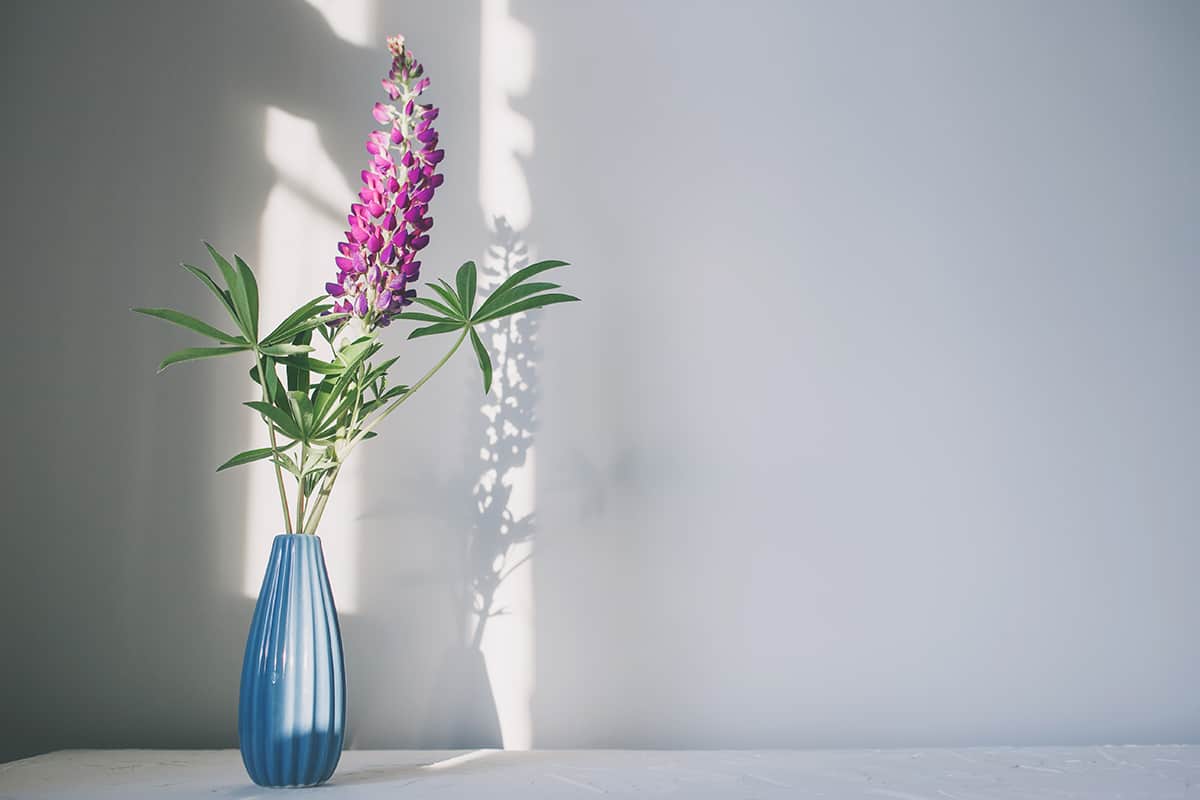 As lavender is a lighter shade of purple-blue, it also works well as an analogous color to blue and green. This is an uplifting color that can be put to good use in a pretty spring-themed space or a room with a botanical-inspired style.
Choose a muted soft blue shade for the walls and use sprigs of lavender and rosemary as your guide for introducing these purple and green shades to the space. Fresh green cushions with lavender trim would look refreshing, along with a green rug and lavender-colored plant pots.
A floral motif could be used to achieve a country cottage or modern farmhouse botanical style. For example, choose curtains that feature a purple flower print with green leaves or install some floral art prints on your walls.
Floral wallpaper on a feature wall that incorporates all the colors of your color scheme is an excellent way to tie the whole look together and make it feel professionally designed.
Yellow + Green + Blue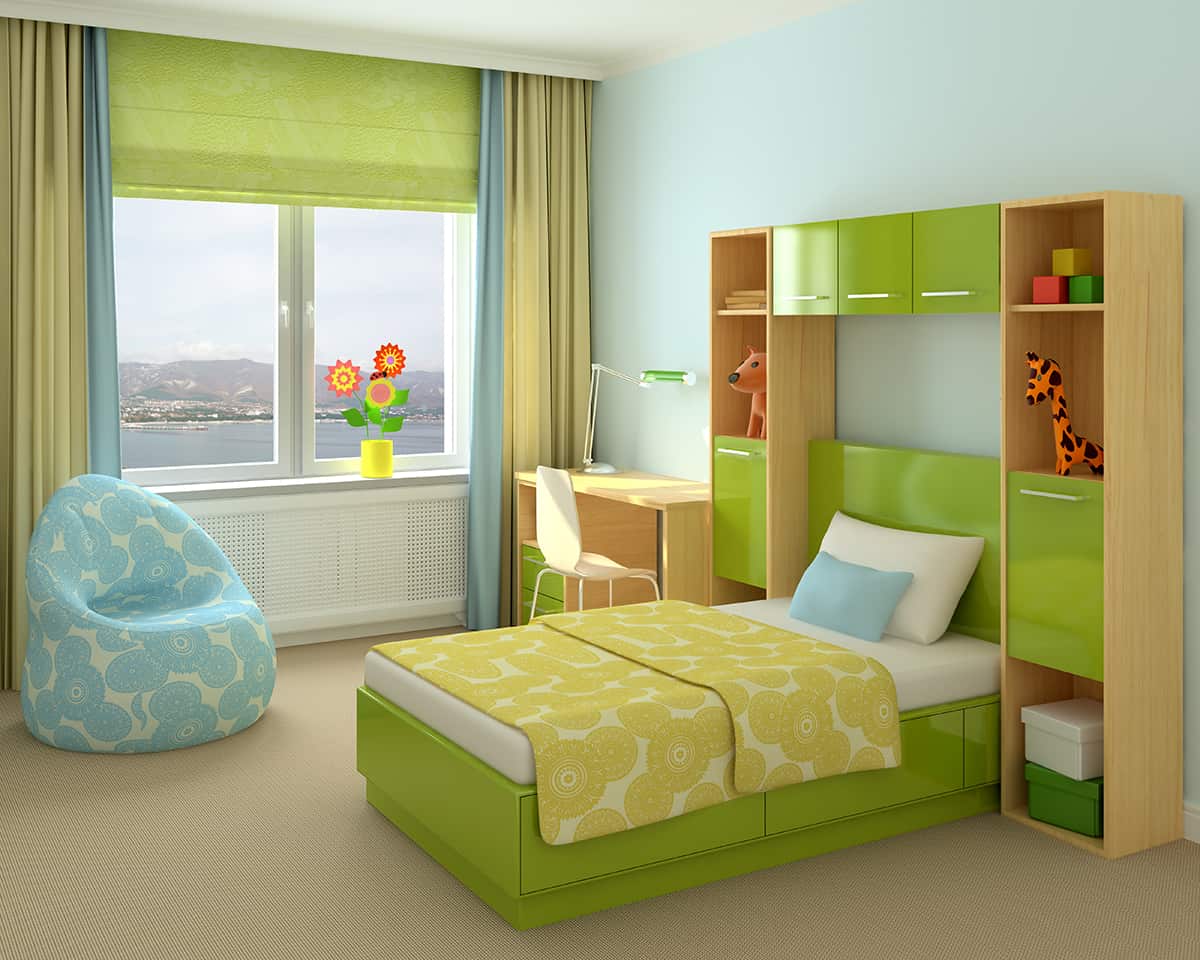 Blue and green are colors that make a nice pairing with yellow because they sit next to one another on the color wheel. Choose a green-toned yellow to achieve this look of balance and harmony, such as chartreuse. An example of this could include a kitchen with dark blue cabinets, lime green walls, and chartreuse accessories.
Alternatively, you could opt for a warmer shade of yellow, which has more orange or brown undertones in it, such as mustard yellow or turmeric yellow. This shade of yellow will contrast against the blue in your color scheme since blue and orange are opposite shades on the color wheel.
For a room with this color palette, paint walls in a deep shade of forest green, and choose a navy-blue velvet sofa with contrasting cushions in satin mustard. You could also invert this color scheme, using a deep and warm yellow for the wall color and then adding in turquoise blue and mint green accessories for a Moroccan style.
Mustard yellow is heavily saturated and intensely warm, so it works well with blue and green because they serve as a cool palate cleanser to provide a sense of temperature balance, preventing the room from feeling overly rich.
Burnt Orange + Green + Blue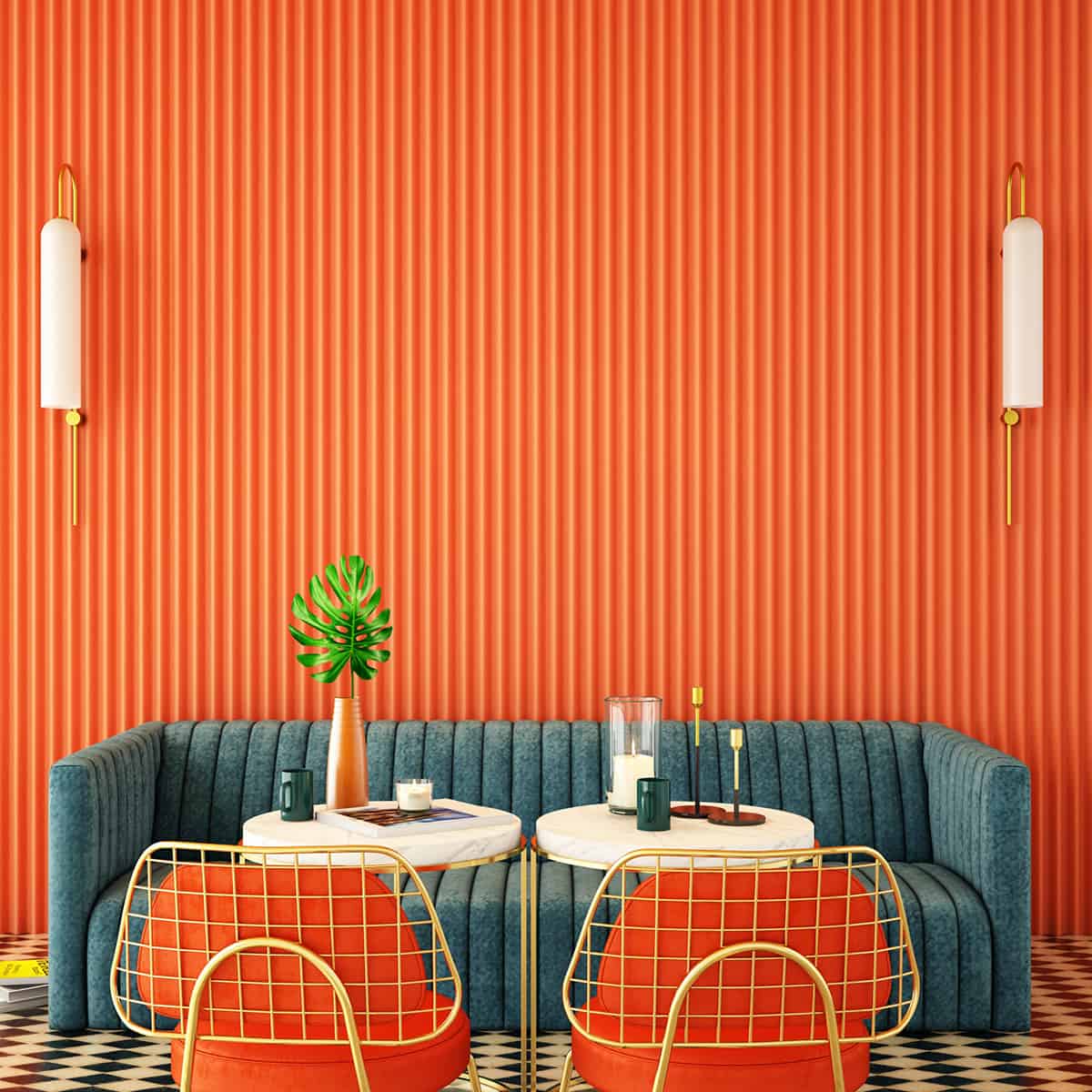 Burnt orange is a rich shade of orange with brown undertones. Although orange is generally a creative and energetic color, burnt orange can be used to make a room feel cozy and comfortable because of the depth and warmth it offers.
If you have found that a blue and green room feels too cold or uninviting, add swathes of burnt orange to level out the temperature and make it feel more like a space you want to snuggle up in. A thick crocheted burnt orange blanket draped over a sofa will work wonders, or consider a shaggy thick-pile burnt orange rug for a cozy and casual living room.
As orange is the opposite and contrasting shade of blue, blue is such a complementary color to orange, but they can be overstimulating if the shades you use are too bold. In a room with burnt orange, choose dark or soft shades of blue and green, such as navy blue, duck egg blue, forest green, and pale olive green.
Bright shades of blue or green, such as cobalt blue and lime green, can create an almost fluorescent contrast with orange, which will look great in small doses, such as on a dress, but in interior design when the colors are used in a room which entirely surrounds you, this level of intense contrast can be too overwhelming and overstimulating.
If you want to use bright blues and greens with orange, choose a softer shade of orange such as apricot, which will allow you to create a contrast, but on a more subtle level.
Sand + Green + Blue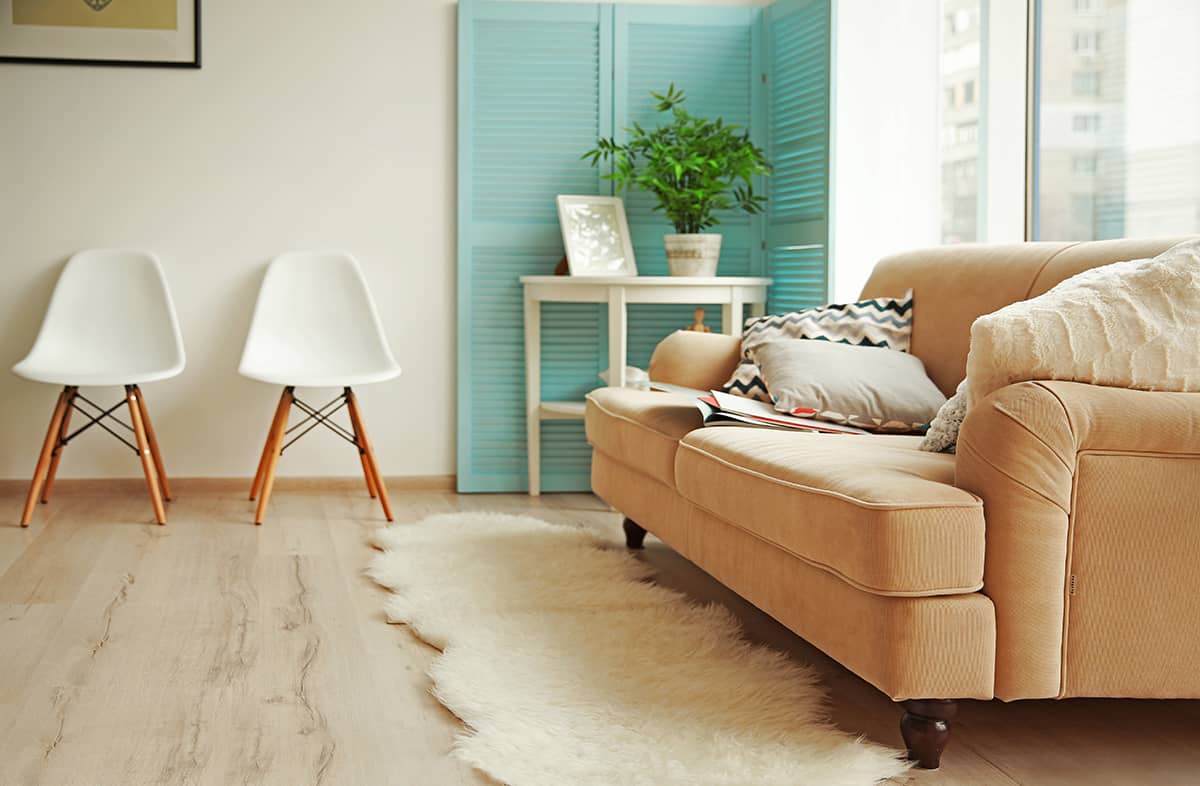 Sand is a warm, pale shade of beige. It works really nicely as a neutral with a blue and green color scheme instead of gray or white, which can make a green and blue room feel stark or cold. If you want to create a space that feels refreshing and soothing while also being inviting, then choose sand with a blue and green color scheme.
If sandy beige is going to be your wall color, then you can use almost any shades of blue and green as your accent shades because, with a sand base, they won't be too intense or overwhelming. If your sand color is going to be an accent color with blue or green as a base shade, then you'll want to choose blue and green colors that are a little more muted.
Olive green walls with sand-colored sofas and navy blue cushions and curtains will look relaxing and elegant and is a color palette that is easy on the eyes because there are no stark contrasts for the brain to react to.
Although the sand is a warm shade, while blue and green are both cool, it is muted enough not to create a contrast and instead helps to provide a balanced feel.
Pink + Green + Blue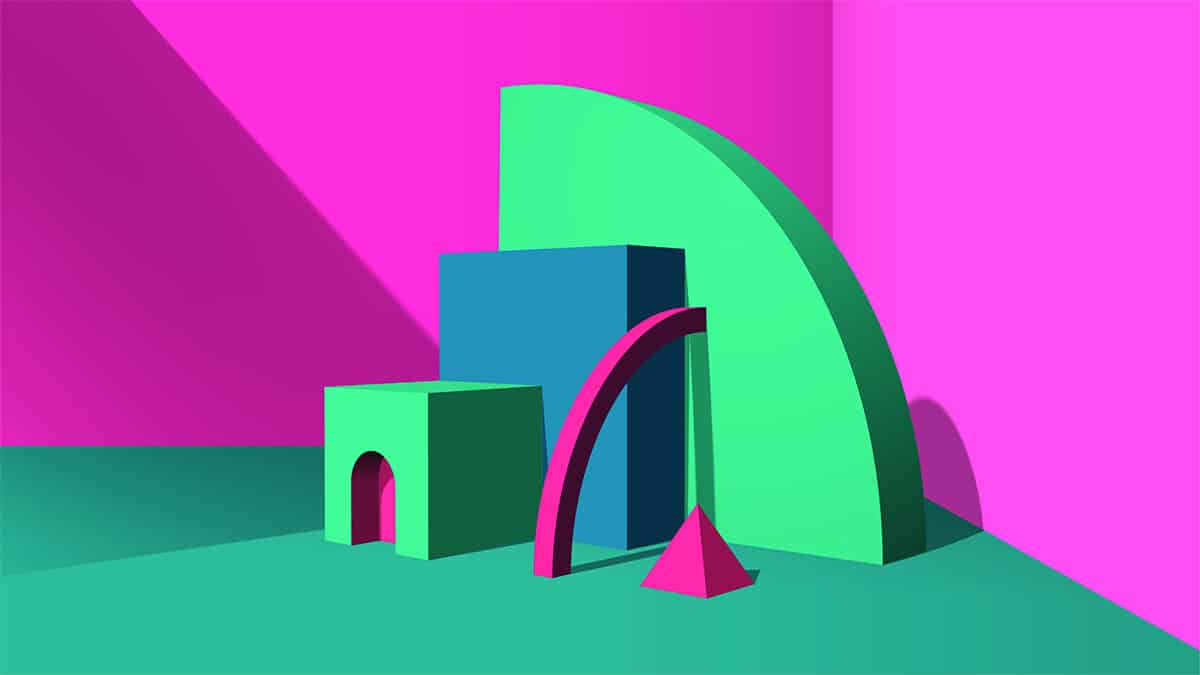 Pink is a really popular accent color to use in a green and blue room and with good reason. Blue and green are traditionally seen as masculine colors, so pink touches will add a little femininity to help balance out the atmosphere.
Pink can also be seen as a very pale version of red, and as red and green are contrasting colors, this means that pink will also provide an appealing contrast next to green. If you choose an orange-toned shade of pinks, such as salmon or peach, then it will contrast against both the blue and green since orange is the opposite color on the color wheel from the blue.
You can use a vivid shade of pink such as bubblegum pink with bright blue and green for an energetic and fun style, or choose dusky pink with jewel tones, blues, and greens for a sultry style. Paint walls in a dark indigo blue and opt for deep forest green sofas, then lighten up the space and add drama with blush pink curtains and cushions.
You could also invert this color scheme, using soft pink as a wall color with dark blue and green accessories to tone down the femininity and create a more balanced decor look.