Gold is a metallic yellow color that is synonymous with luxury, extravagance, and wealth. In interior design, it can be used in a range of ways to add touches of class and sophistication, though when used incorrectly, it can look brash or gaudy.
To create a higher level of elegance in your interior space with gold accents, you can gather inspiration here from our list of colors that go with gold. We will also explore the best ways to use gold as a base color in your home decor.
Navy Blue + Gold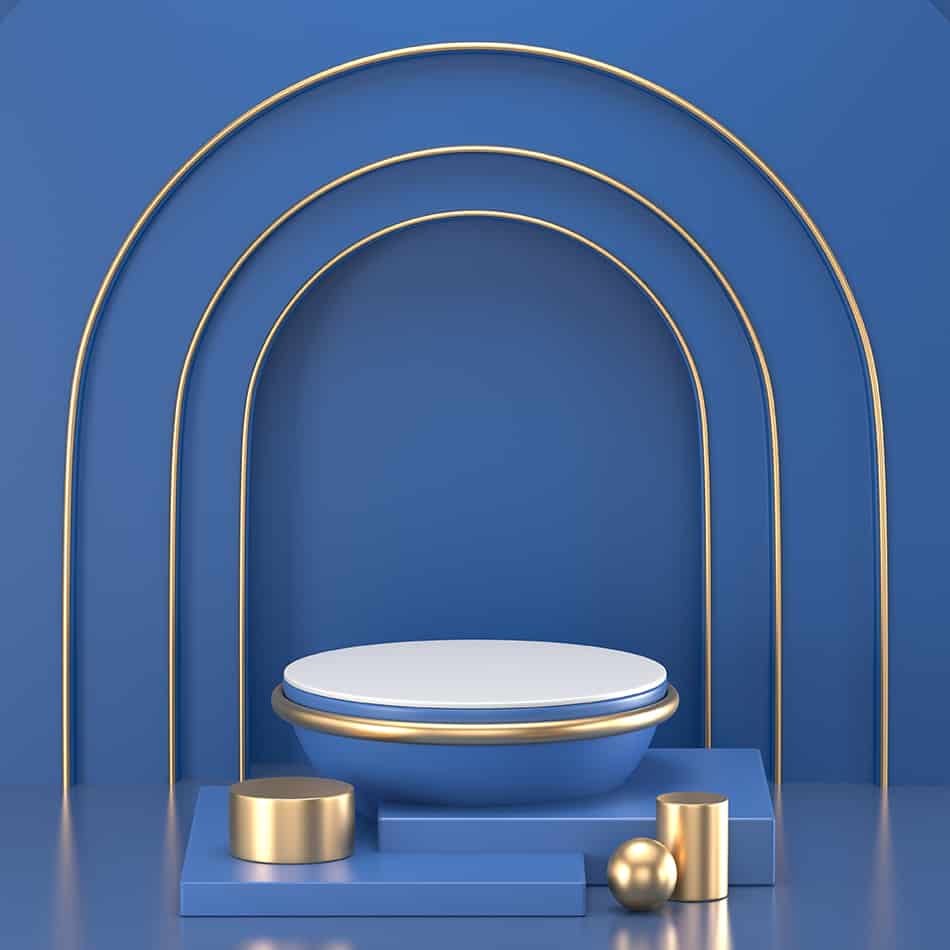 | | | | | |
| --- | --- | --- | --- | --- |
| Shade | Hex Code | CMYK Color Code (%) | RGB Color Code | Color |
| Gold | #f4d000 | cmyk(0%, 15%, 100%, 4%) | rgb(244, 208, 0) | |
| Navy Blue | #395a96 | cmyk(62%, 40%, 0%, 41%) | rgb(57, 90, 150) | |
Whether you're going for a regal feel or a nautical look, navy blue and gold are a dream team color combination.
For slick modern interiors, you can accent dark navy blue painted walls with gold fittings, such as gold taps and towel holders in a navy bathroom or gold plant pots and photo frames in a navy living room. Rooms fully painted in navy blue with gold accents will look sophisticated and intimate.
With the addition of white, navy, and gold take on a completely different feel. For a coastal retreat, paint the walls white and introduce bold navy blue pieces such as a sofa and curtains, then add touches of gold such as a large gold metal clock or a globe with a golden stand.
Gold also works well with white and navy blue stripes, making a relaxed nautical space feel slightly more formal and sophisticated.
Emerald Green + Gold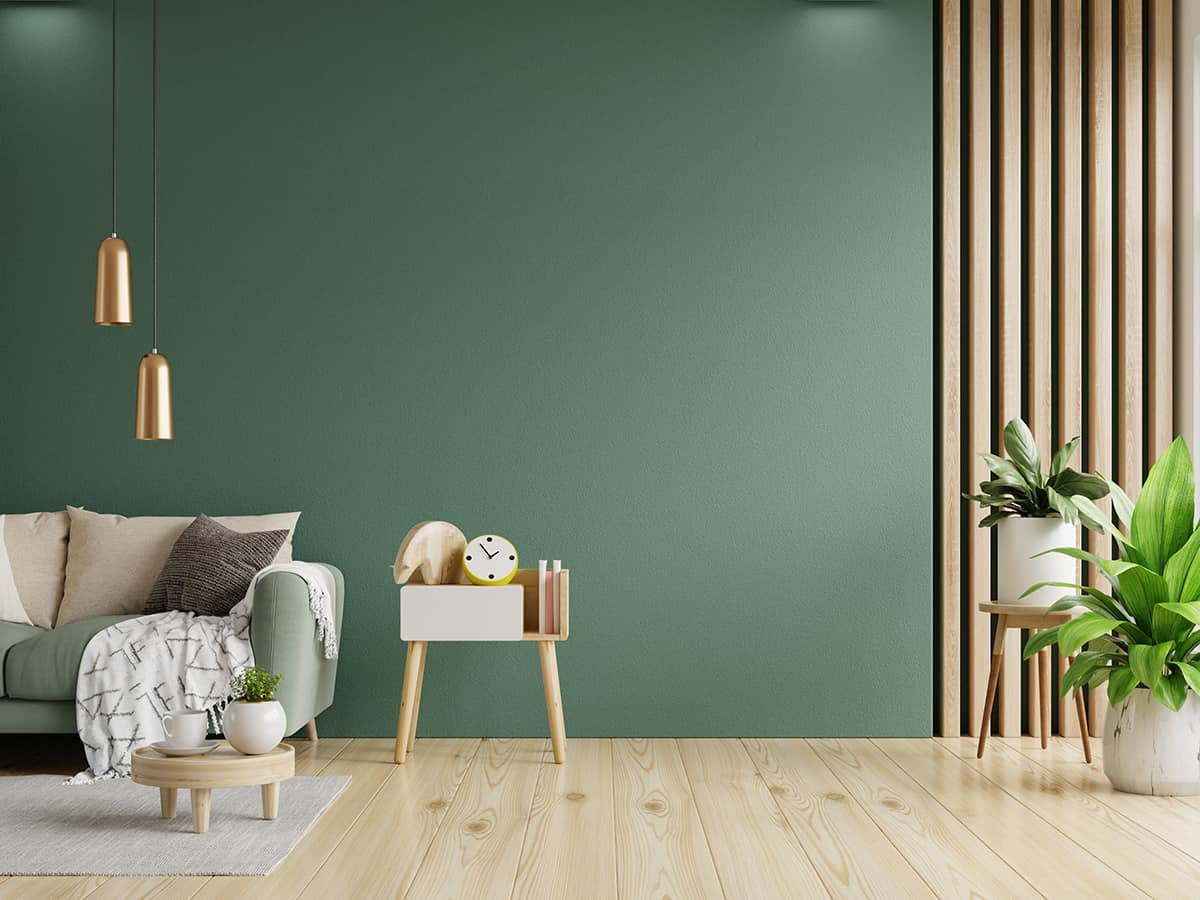 | | | | | |
| --- | --- | --- | --- | --- |
| Shade | Hex Code | CMYK Color Code (%) | RGB Color Code | Color |
| Gold | #f4d000 | cmyk(0%, 15%, 100%, 4%) | rgb(244, 208, 0) | |
| Emerald Green | #485c4d | cmyk(22%, 0%, 16%, 64%) | rgb(72, 92, 77) | |
This rich shade of green is enormously popular right now, especially in interior design. Pairing emerald green with gold gives it a dramatic and luxurious feel which can work well in living rooms, bathrooms, kitchens, dining rooms, and bedrooms.
For an intimate vibe, consider painting the entire room in emerald green and then add gold accent features such as gold metal furniture legs or gold leaf artwork.
You could also select a coordinating wallpaper with a green pattern and gold highlights. Rainforest-themed patterns are very on-trend, with tropical leaves displayed across them in various shades of green, with golden accents such as gold birds or gold-printed flowers.
Blush Pink + Gold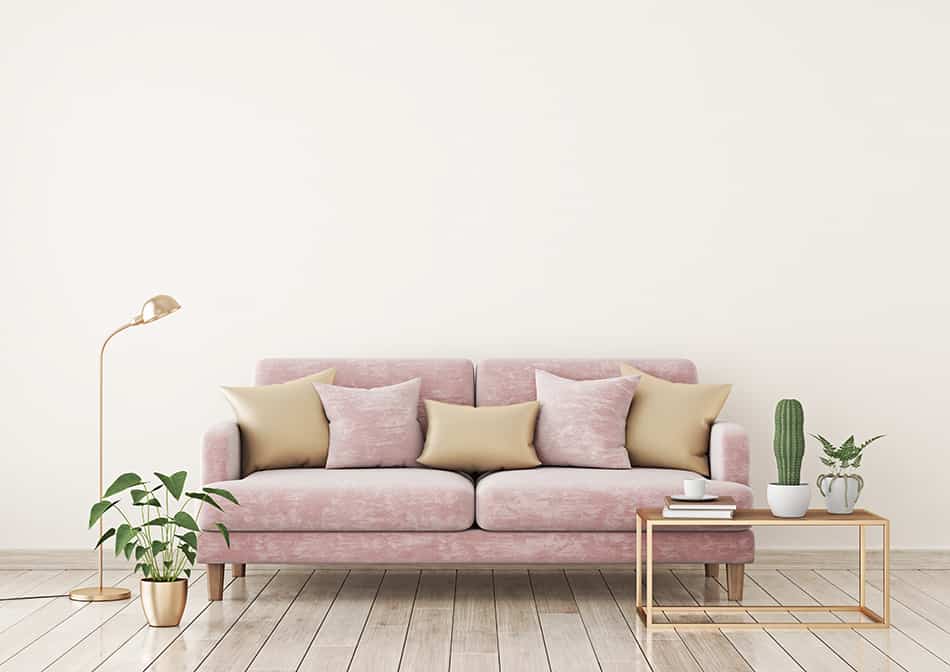 | | | | | |
| --- | --- | --- | --- | --- |
| Shade | Hex Code | CMYK Color Code (%) | RGB Color Code | Color |
| Gold | #f4d000 | cmyk(0%, 15%, 100%, 4%) | rgb(244, 208, 0) | |
| Blush Pink | #c2a4a0 | cmyk(0%, 15%, 18%, 24%) | rgb(194, 164, 160) | |
Blush pink is a pretty shade, especially for bedrooms. It can look too sickly sweet if paired with the wrong shade, but gold is a safe bet to match with this color.
Gold accents in a blush pink space will instantly make the room feel more sophisticated and ensure it doesn't look childish. This can be a stylish pairing of colors to use in a bedroom, bathroom, or even a kitchen.
Blush pink kitchen cabinet doors will look classy and fashionable with gold handles, and you can also coordinate the handles with a gold faucet and gold accessories like mugs or tea and coffee canisters.
When decorating a room in blush pink and gold, you could opt for glossy and modern gold or a more aged, slightly bronze-gold depending on the look you are going for. You could even add gold accents to a baby pink nursery if you want to inject a touch of elegance into a child's room.
Black + Gold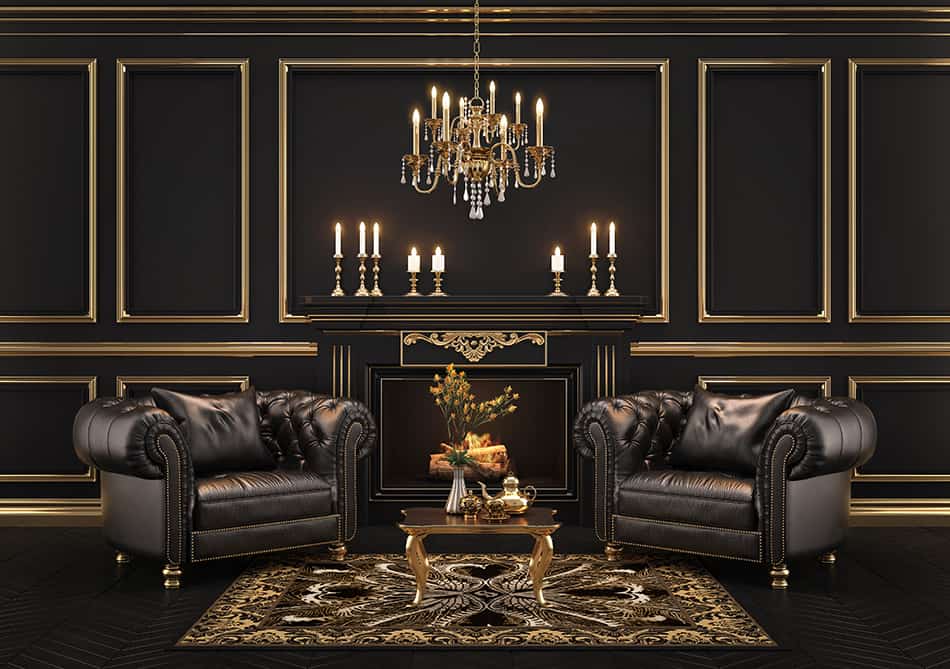 | | | | | |
| --- | --- | --- | --- | --- |
| Shade | Hex Code | CMYK Color Code (%) | RGB Color Code | Color |
| Gold | #f4d000 | cmyk(0%, 15%, 100%, 4%) | rgb(244, 208, 0) | |
| Black | #000000 | cmyk(0%, 0%, 0%, 100%) | rgb(0, 0, 0) | |
Black and gold is a classic color combination that never fails to look dramatic and opulent. In fashion, gold dresses are commonly paired with black accessories such as shoes, belts, and bags, as these two colors have a longstanding reputation as being perfectly suited to each other.
You will also find that black designer bags typically have gold-colored zips and buckles to give them the sought-after high-end look. You can use this color pairing in interior design to achieve a sophisticated and elegant vibe.
There are a variety of ways you could make gold and black work together in a room. For example, paint the walls matte black and make the artwork stand out by putting them in gold metal frames. Large gold mirrors also make an incredible statement on a black wall.
If you don't feel confident painting your walls black, then select a neutral color like pale gray, and add black and gold decor items like candles and cushions. In doing this, you can achieve a similar feel of elegance without the dramatic effect of black walls.
Beige + Gold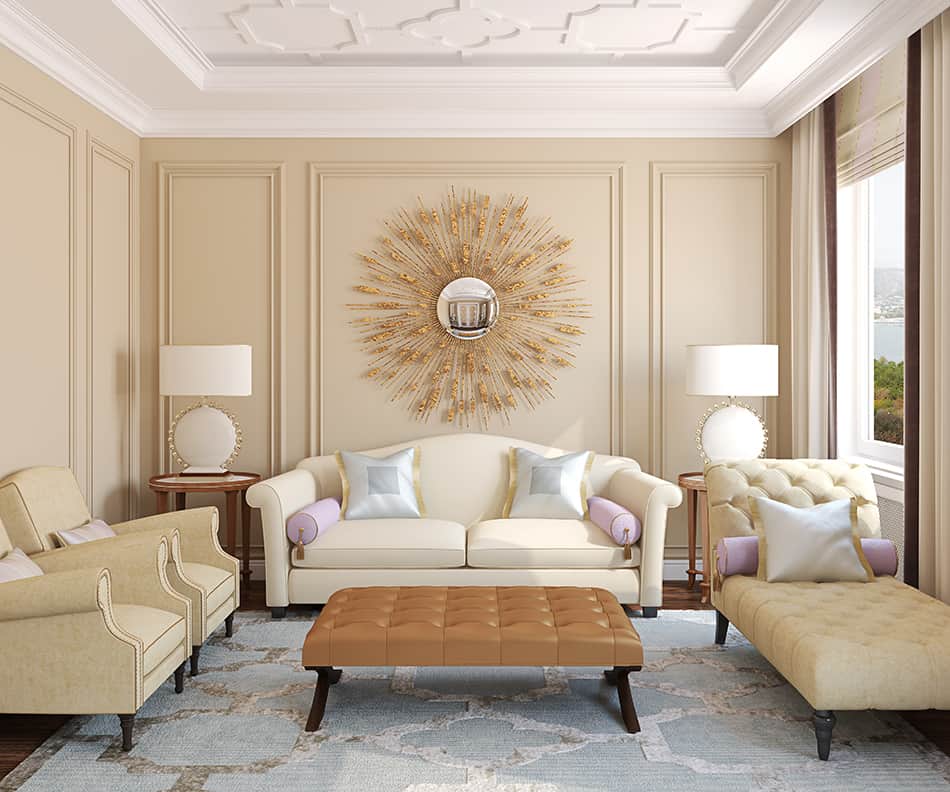 | | | | | |
| --- | --- | --- | --- | --- |
| Shade | Hex Code | CMYK Color Code (%) | RGB Color Code | Color |
| Gold | #f4d000 | cmyk(0%, 15%, 100%, 4%) | rgb(244, 208, 0) | |
| Beige | #e4dfd2 | cmyk(0%, 2%, 8%, 11%) | rgb(228, 223, 210) | |
Beige and gold are two colors that have very similar tones. For a sleek interior, you can use a selection of neutral beige tones accented with gold.
By selecting different shades of beige with gold, there will be no contrasting colors that stand out, therefore making the whole room look seamless.
This is a good tactic to use in smaller rooms because it is a visual trick that can make a space feel larger than it actually is. The addition of gold in a beige room adds a touch of class to make it slightly more formal, as beige alone can make an interior seem casual.
White + Gold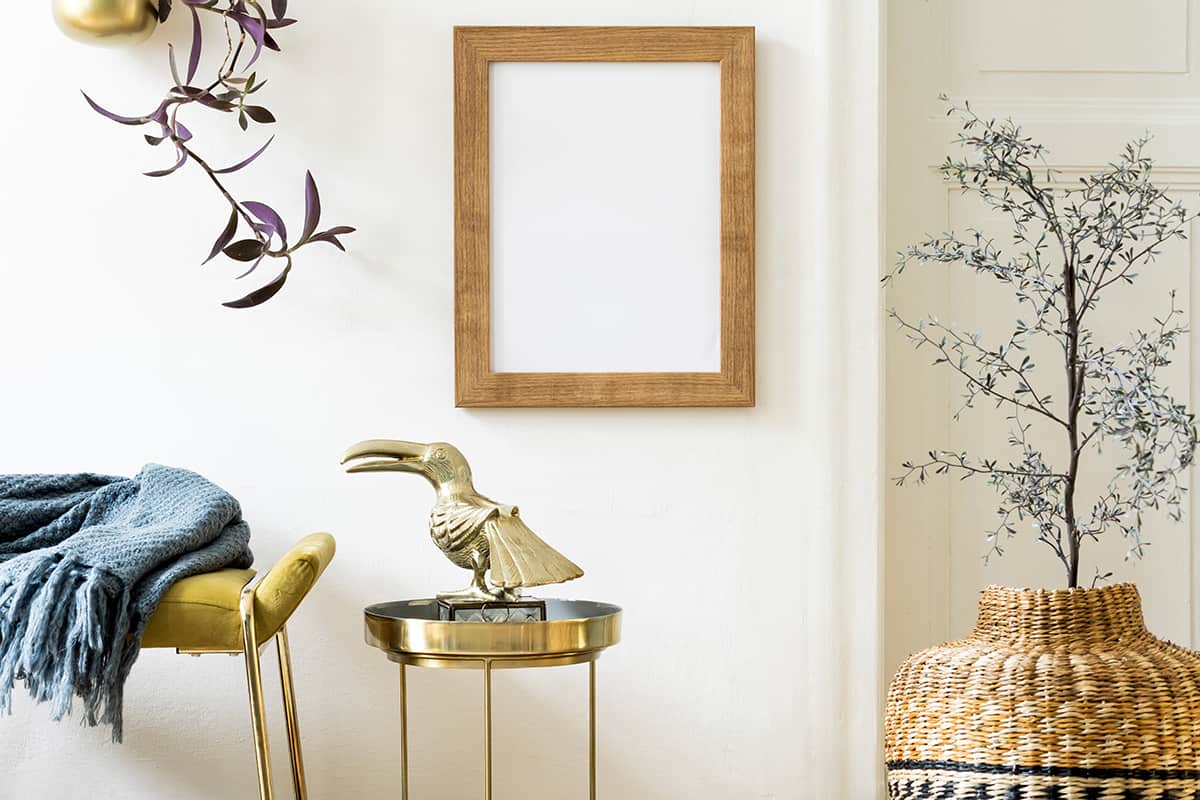 | | | | | |
| --- | --- | --- | --- | --- |
| Shade | Hex Code | CMYK Color Code (%) | RGB Color Code | Color |
| Gold | #f4d000 | cmyk(0%, 15%, 100%, 4%) | rgb(244, 208, 0) | |
| White | #ffffff | cmyk(0%, 0%, 0%, 0%) | rgb(255, 255, 255) | |
Add gold decor items to a predominantly white room to elevate the style and bring about a feeling of sophistication. A solely white room will look open and airy, but the addition of gold aspects will raise the style factor and add a touch of glamour.
You could also use gold as your main color choice in a room and break it up with some white elements. For example, decorate walls in gold wallpaper or gold metallic paint, and then use a plethora of white accessories or furnishings such as white bed linen, white lamps, and white towels. This will make a room feel luxurious without feeling overwhelmingly gold.
White and gold is a classic combination in festive displays or at weddings, as this duo of colors creates a pure and magical vibe. To really maximize on this, incorporate dreamy textures such as white feathers on lampshades, gold sequins on cushions, and crushed glitter on candles or artwork.
White and gold also work beautifully together with a third color at a ratio of 60 percent white, 30 percent gold, and 10 percent for the third color. A good option for the third color might be charcoal gray, hot pink, or turquoise blue.
Purple + Gold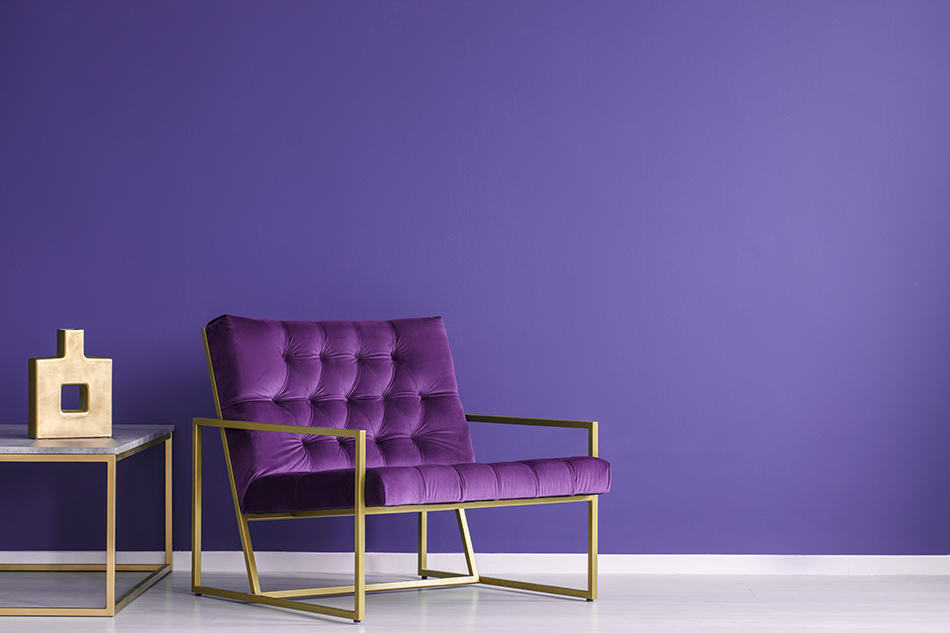 | | | | | |
| --- | --- | --- | --- | --- |
| Shade | Hex Code | CMYK Color Code (%) | RGB Color Code | Color |
| Gold | #f4d000 | cmyk(0%, 15%, 100%, 4%) | rgb(244, 208, 0) | |
| Purple | #6f4085 | cmyk(17%, 52%, 0%, 48%) | rgb(111, 64, 133) | |
Purple is a royal and regal color, and this is further emphasized when it is paired with gold. Use a deep aubergine shade of purple with gold for a striking and dramatic look. This can work especially well in a swanky dining room or a plush bedroom. Plum colors also work well with gold as they are both deep, rich colors.
Gold accents work well with purple in both bright yellow and golden shades as well as more orange-gold shades, which lean towards copper.
This is because yellow and orange are the complementary colors of purple on the color wheel, and they make each other pop. To highlight the luxury factor with purple and gold, use fabrics that are a pleasure for the senses, such as satin and velvet.
Gray + Gold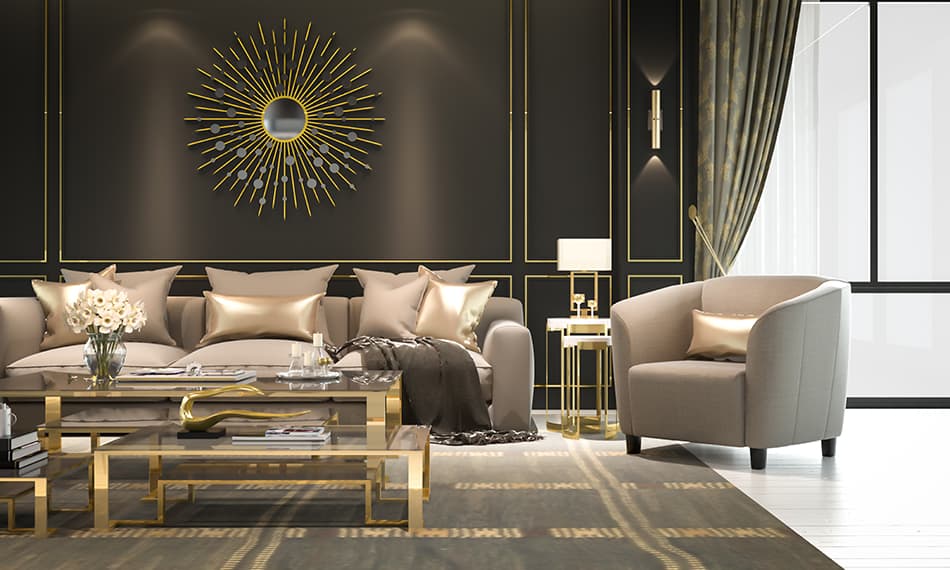 | | | | | |
| --- | --- | --- | --- | --- |
| Shade | Hex Code | CMYK Color Code (%) | RGB Color Code | Color |
| Gold | #f4d000 | cmyk(0%, 15%, 100%, 4%) | rgb(244, 208, 0) | |
| Gray | #726455 | cmyk(0%, 12%, 25%, 55%) | rgb(114, 100, 85) | |
Gray is a popular neutral shade that can really come to life when paired with gold. Whether you opt for dark slate gray or pale marble gray, gold is guaranteed to look stylish and tasteful. Gold and gray work well together in minimalist style interior designs, looking sleek and modern.
Sage Green + Gold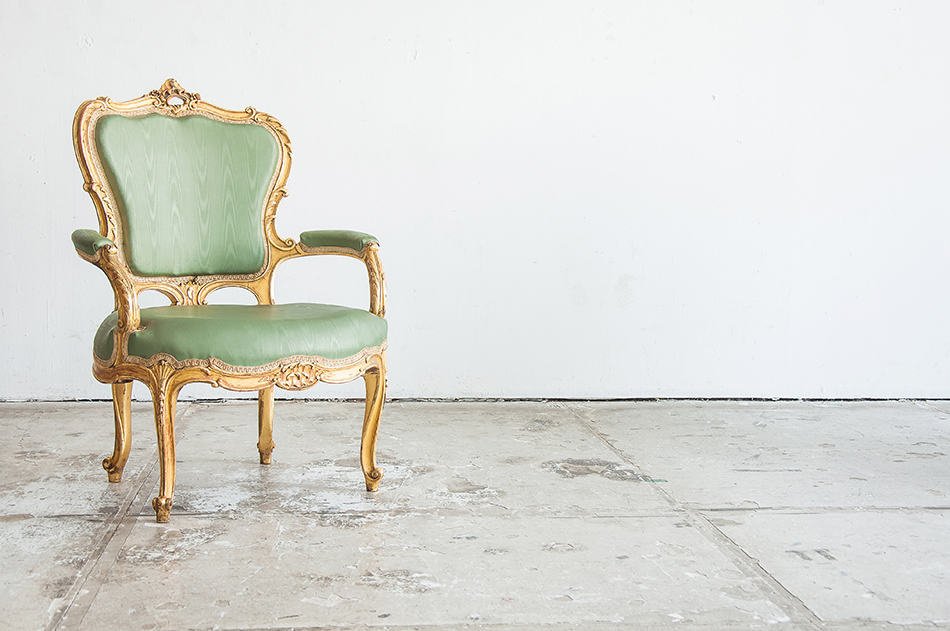 | | | | | |
| --- | --- | --- | --- | --- |
| Shade | Hex Code | CMYK Color Code (%) | RGB Color Code | Color |
| Gold | #f4d000 | cmyk(0%, 15%, 100%, 4%) | rgb(244, 208, 0) | |
| Sage Green | #c1cdb5 | cmyk(6%, 0%, 12%, 20%) | rgb(193, 205, 181) | |
This pale and earthy color is a natural-looking shade based on the herb sage. It is a nice option to go for if you want a colored room but are nervous about choosing a bold shade, as sage can work as a neutral base.
Teaming gold with sage green helps to give it more of a formal feel which can be useful in a formal living room or dining room where you want to entertain.
Sage green has a gray element to it, which may be the reason it works so well with gold, as gray and gold are a classic match. Sage green is a popular color choice in country cottage style decor as it links the indoors of the home to outdoor country gardens and meadows.
Add gold accessories to a sage green country cottage interior to add highlights to the space and elevate it to a level.
Brown + Gold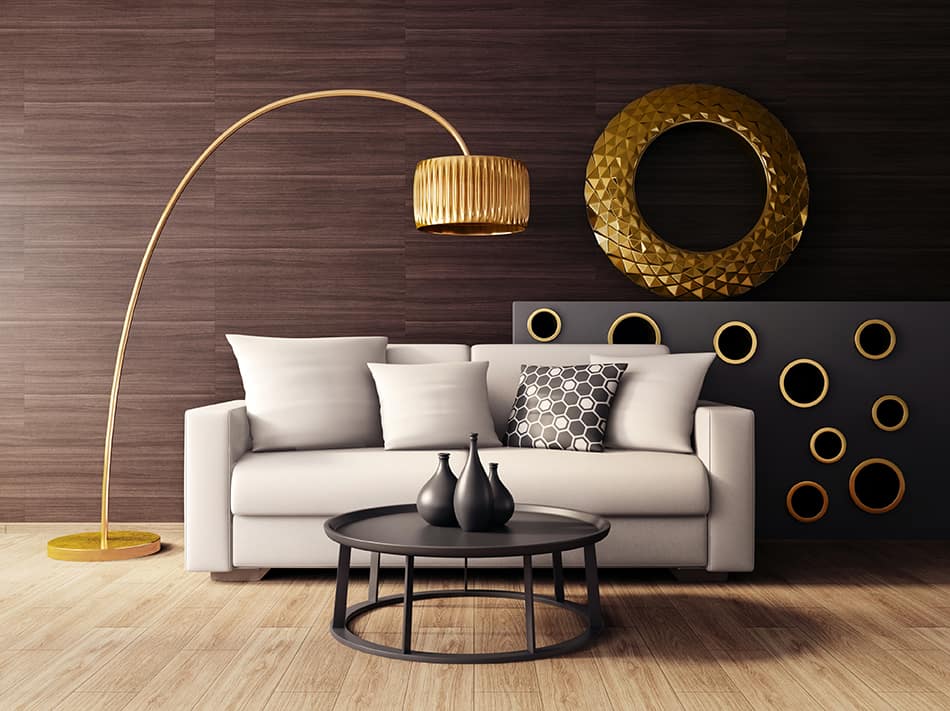 | | | | | |
| --- | --- | --- | --- | --- |
| Shade | Hex Code | CMYK Color Code (%) | RGB Color Code | Color |
| Gold | #f4d000 | cmyk(0%, 15%, 100%, 4%) | rgb(244, 208, 0) | |
| Brown | #563d37 | cmyk(0%, 29%, 36%, 66%) | rgb(86, 61, 55) | |
Though brown is a rarely chosen color of paint for walls in interior design, it is an incredibly popular color for wooden furniture. Rich, dark brown woods such as mahogany will look stately and majestic when paired with gold.
Choose heavy, solid wood furniture with gold hardware such as handles and hinges, and accent this further with subtle gold touches in the way of photo frames or candle holders.
For a strong masculine look, use brown furniture with gold accents in a library, study, or snug room. For an intimate feel, you could also cover the walls in dark wood paneling. There are other shades of brown which also work well with gold, including tan or camel brown.
In fashion, these colors are commonly seen together because gold makes tan shades look richer and more expensive, while silver would contrast it. For a more casual interior space, use white for the base color of the room and then use brown and gold accents. This will give the design a sophisticated style.
How to Decorate with Gold
Gold can make a positive impact on space when used correctly, adding elegance or creating a demure atmosphere. However, it is also one of the easiest colors to get wrong. Here we look at easy, foolproof ways to add gold to your home to ensure an appealing result.
Gold Metals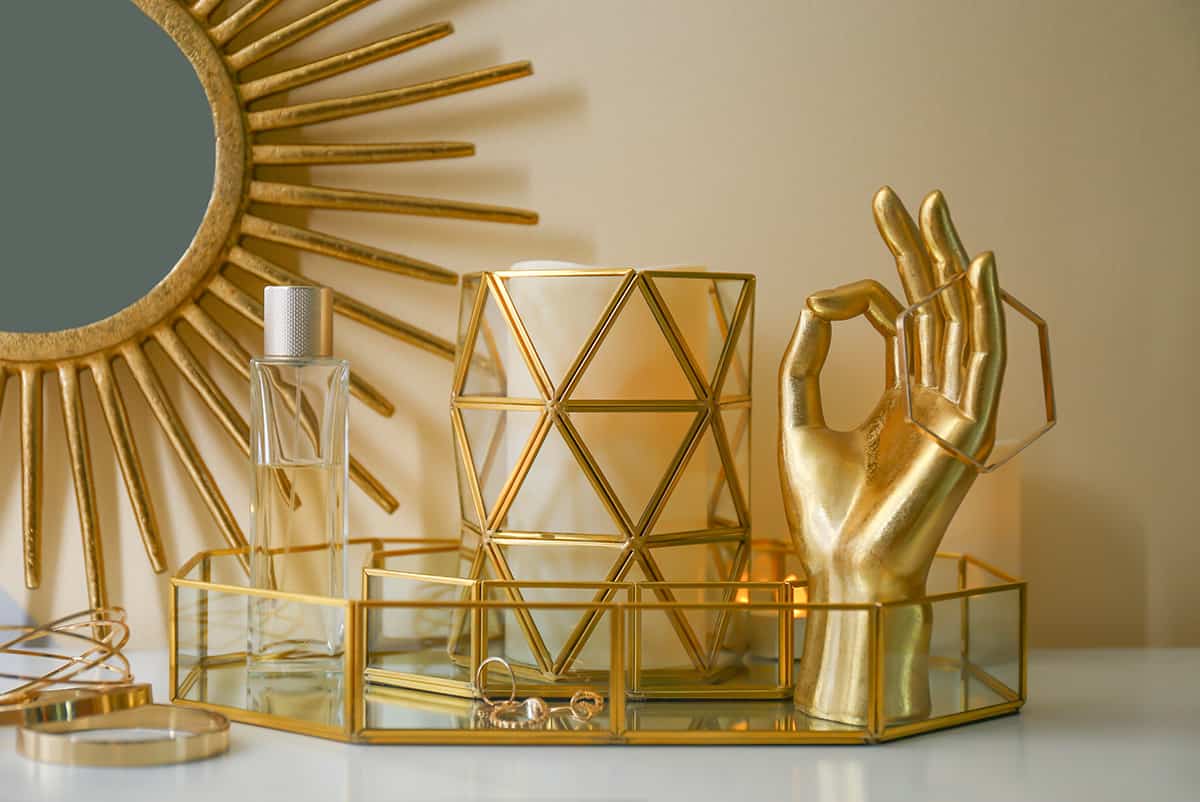 One of the easiest ways to add gold to your color scheme is by swapping over the metal detailing in a space. For example, if you have a living room with black metal light fittings and a coffee table with black metal legs, then switch these out for alternatives that are finished in gold-colored metal.
Both brass and bronze can work well. If you don't want to go to the expense of buying all new furniture, you can use gold spray paint to upcycle the metal items you already have. For example, if you have an accent chair with silver metal legs, you can update these to a gold finish with gold spray paint so that they match other gold touches in the room.
This is an inexpensive and fairly simple task. You will just need to move the accent chair to a garage or outside into the backyard, cover any areas you don't want to paint in a protective material, and then spray your paint right onto the metal legs.
Coordinate this with other metallic gold touches in the room, such as gold metal photo frames or a gold metal plant pot.
Gold Fabrics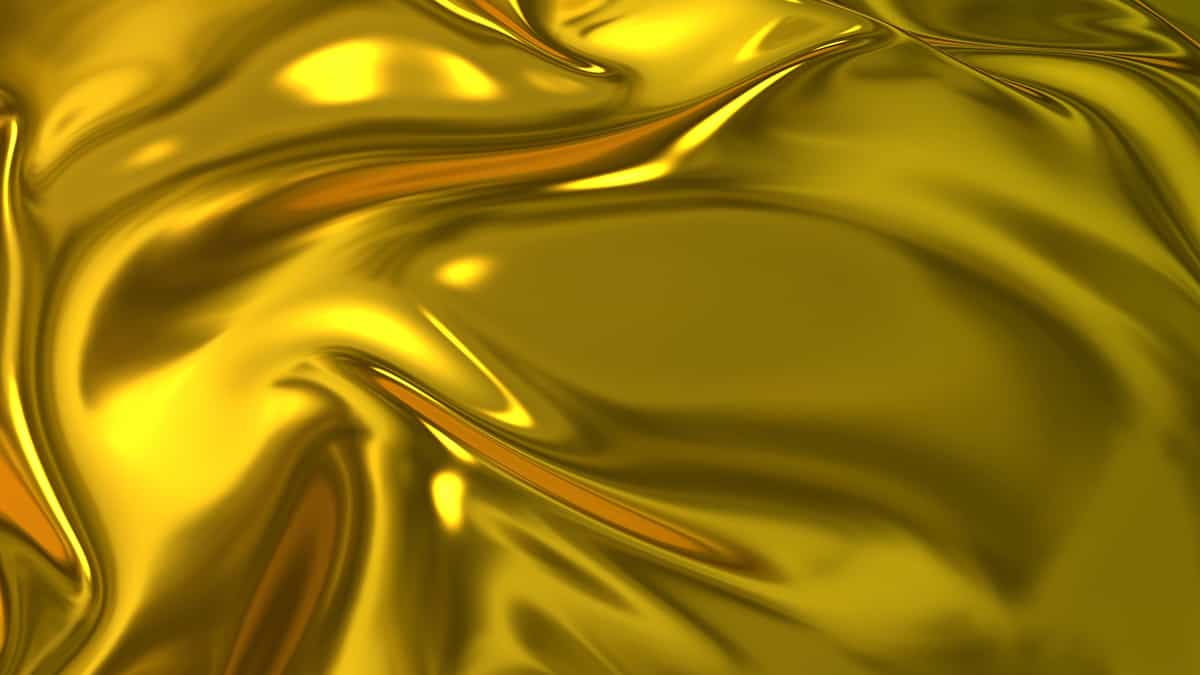 Gold textile fabrics tend to be much more modest and muted compared with other gold items, so choosing gold upholstered furniture or gold curtains for a room is a more discreet and softer way to introduce this color to a space.
Consider velvet gold cushion covers on a sofa for a luxury look or gold silk drapes at a window for an elegant style.
Gold Wallpaper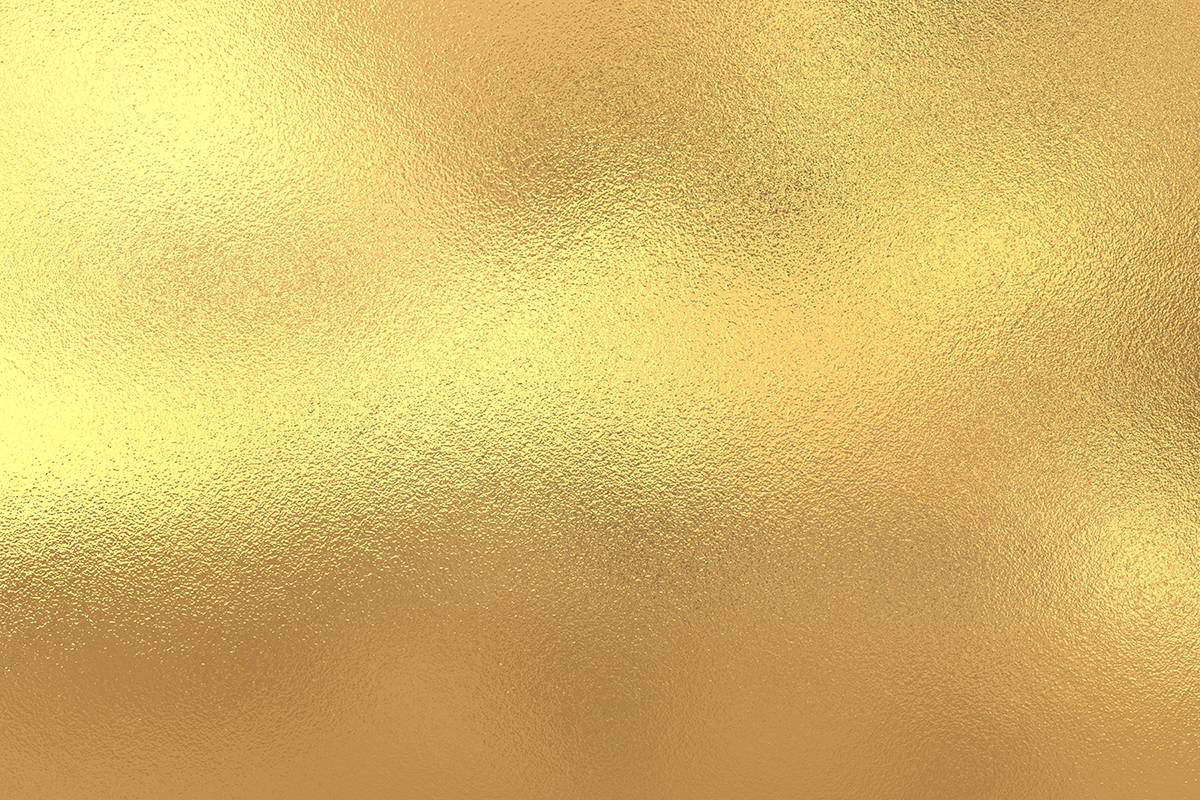 If you want to feature gold on your walls but are unsure of the texture of gold paint, then wallpaper is an excellent solution.
To make a bold impact, choose a predominantly gold wallpaper and apply it to one wall in a room as a feature wall, or for a more subtle look, opt for a wallpaper with finer gold details, then coordinate these with other gold accessories in the space.
Gold Furniture Paint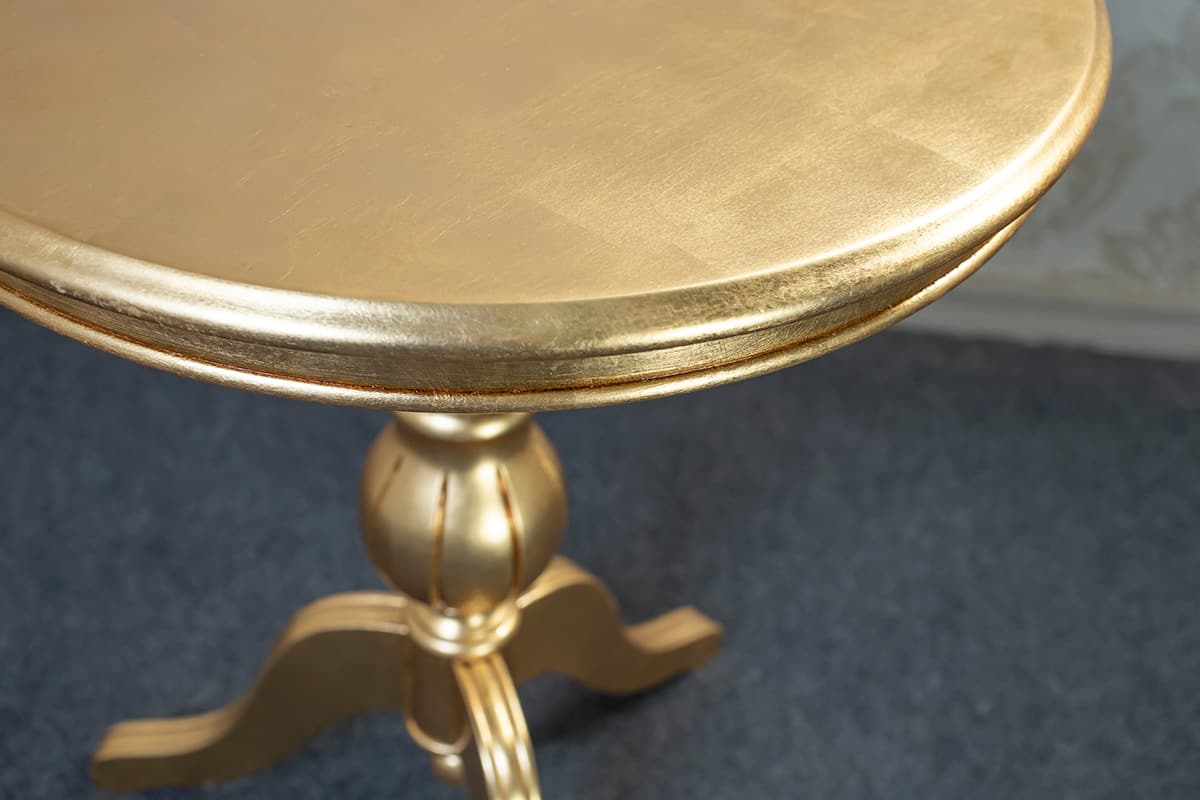 Using gold furniture paint is a fun, simple, and cost-effective way to update the look of a room. Old wooden furniture can be transformed with a few coats of gold furniture paint. Achieve an old-world glamor style by painting wooden nightstands and dressing tables in glossy gold paint, or opt for understated elegance with muted gold paint.