There is something luxurious and sensual about leather sofas. Choosing a new leather sofa is a big investment that shouldn't be taken lightly. Aside from your budget, the sofa types, styles, size, and color is also an important factor to take into the equation.
Leather sofas have been a popular choice for many decades and continue at pace, thanks to their versatility to evolve with new styles and colors. These timeless pieces of furniture are incredibly durable and can easily be integrated into various interior styles.
If you love the look of leather and want to add a leather sofa to your living room or den, the next decision is to pick the most suitable color for your home. Over the years, the color palette for leather sofas has increased, so people now have more options.
Let's go over the best colors for a leather sofa to help you make the right choice:
Common Leather Sofa Colors
Timeless White Leather Sofa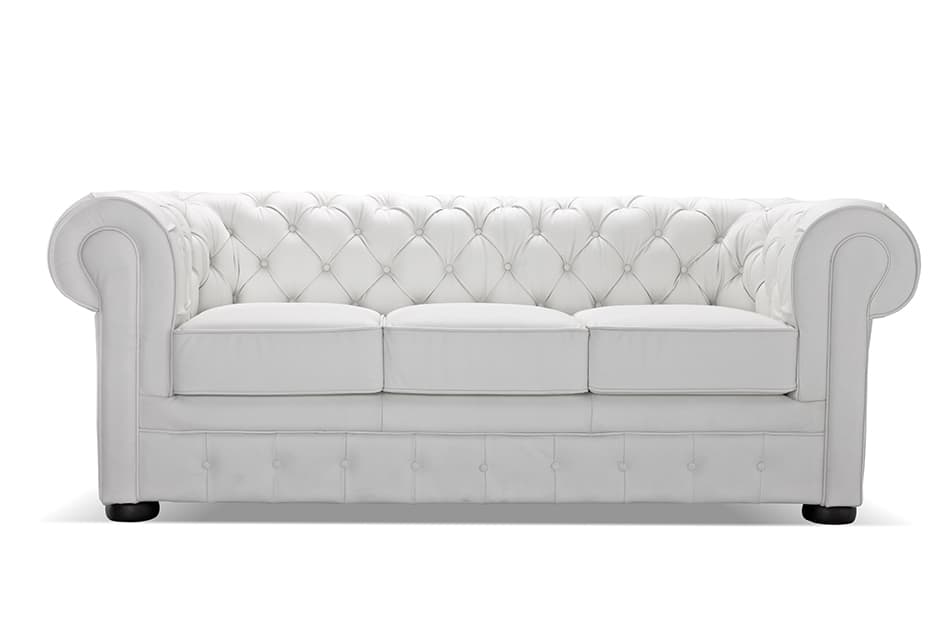 Light-colored leather sofas like white or beige are a great alternative to dark-colored ones that exude sophistication. One significant advantage that white leather sofas have over other colors is the numerous accessories you can add to suit your decor.
A white leather sofa will tone down bold patterns, so you can include this furniture item to enhance the aesthetic appeal of your interior design. The only downside to this leather color is that it can get dirty quicker than other leather sofa colors.
Cream Leather Sofa as a White Alternative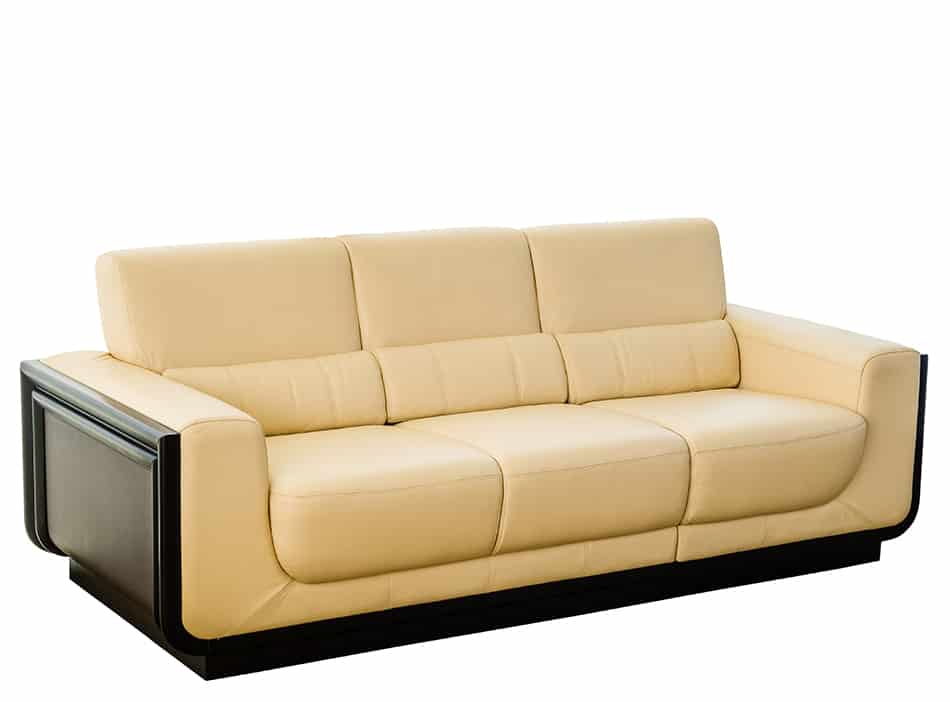 Cream is a darker alternative to white leather with a hint of vanilla or beige hue. This color works great against neutral palettes that lean towards warmer shades. A cream-colored leather sofa creates a cozy and inviting vibe, especially when paired with red and orange accessories like throw pillows and blankets.
If you're not keen on bright white leather sofas, yellow-tinted cream or beige is an excellent alternative for a sleek and warmer interior.
Gray Leather Sofa as an Emerging Favorite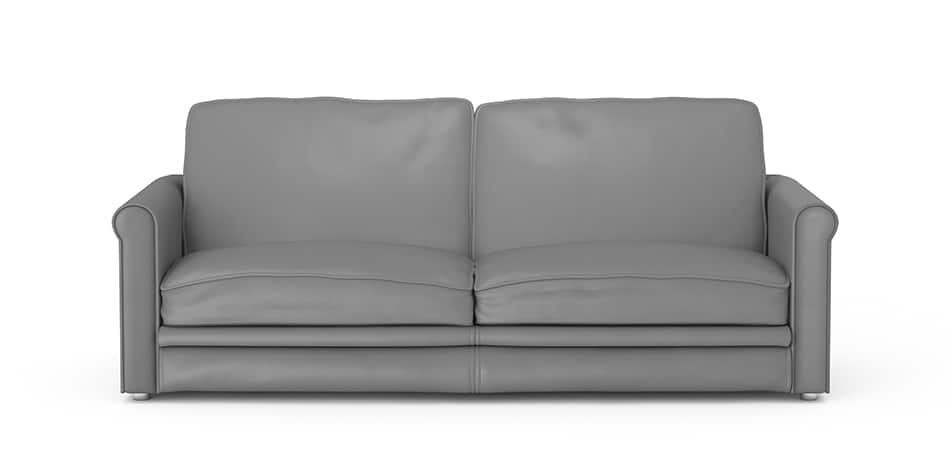 Gray leather sofas are quickly becoming the favorite neutral color. This is because gray offers a warmer feel and comes in many shades to suit any interior design. A gray leather sofa can either play a supporting role to the rest of your neutral furniture, blend into your room or stand out as a focal point.
No matter how you style your living room with a gray leather sofa, this neutral color works wonderfully alongside bolder colors like pinks, yellows, and oranges.
Since the range of gray leather is much more diverse than a decade ago, you have plenty of styles and patterns to pick: from 2-seater and 4-seater gray sofas to leather reclining chairs. The choice is yours!
Light or Chocolate Brown Leather Sofa for a Neutral Design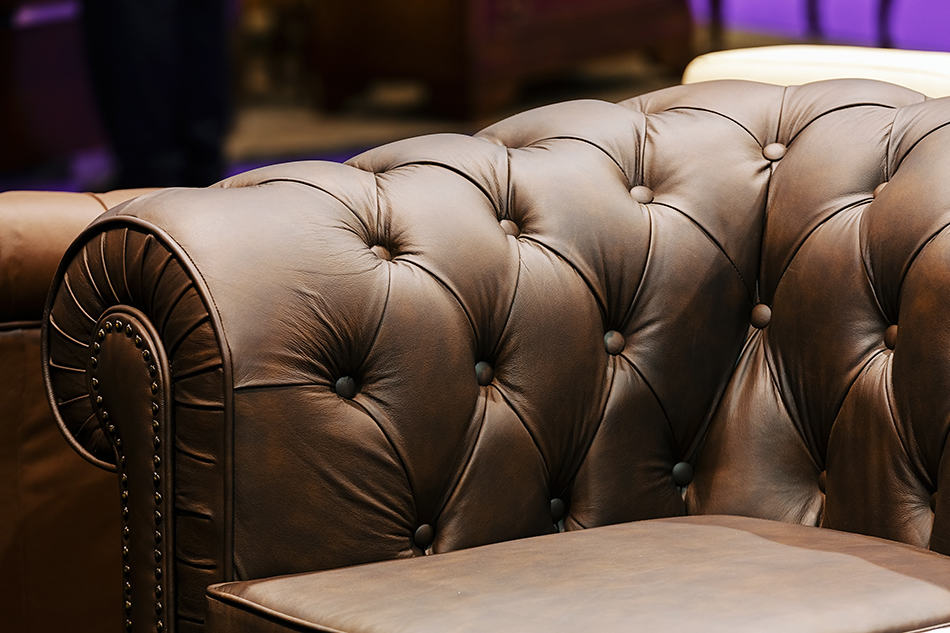 It's not difficult to see why brown is the most popular color for leather sofas. From tan brown to chocolate hues, brown leather sofas offer a wonderful palette that lends itself to classic sofa designs. Brown is an earthy, warm tone, which can hide stains or dirt effectively. This color sofa can also serve as a statement piece to blend into your living room or complement the accessories around it.
Since brown is a neutral color, it goes very well with other neutral shades. But it can also be a perfect companion for bolder colors like yellows and pinks.
Brown is the type of color that won't look flat next to other furniture items, no matter how big or small the sofa is. If you pick larger leather sofas, such as a 3 or 4-seater, the color brown will bring depth into your living room without the sofa stealing the limelight – unless you want to showcase it as a statement piece!
Saddle Brown Leather Sofa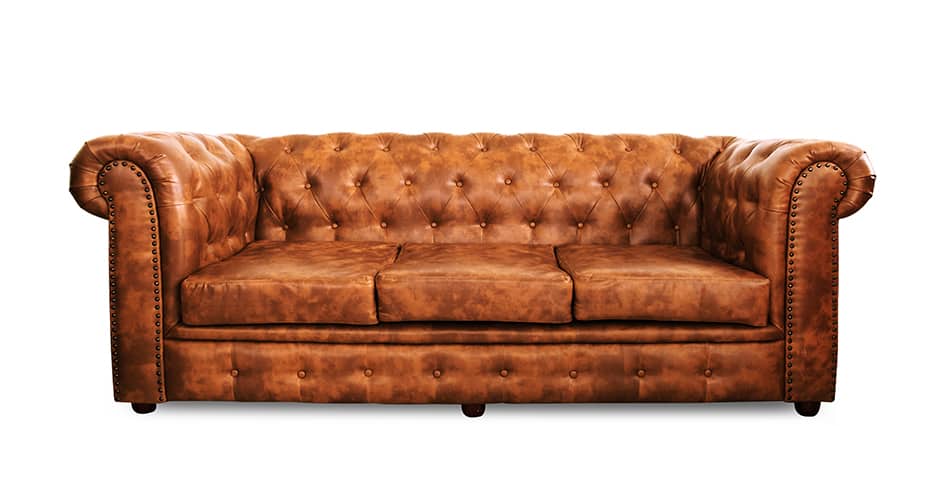 A classic saddle brown leather sofa is much more than just an item of furniture. It is a style statement that fits beautifully in rustic or vintage interiors.
Saddle leather has always been associated with a rugged style chalet as it tends to lean more towards red than dark brown. This makes saddle brown leather sofas the perfect companion next to your warmer-toned palettes.
Orange Leather Sofa as a Brown Alternative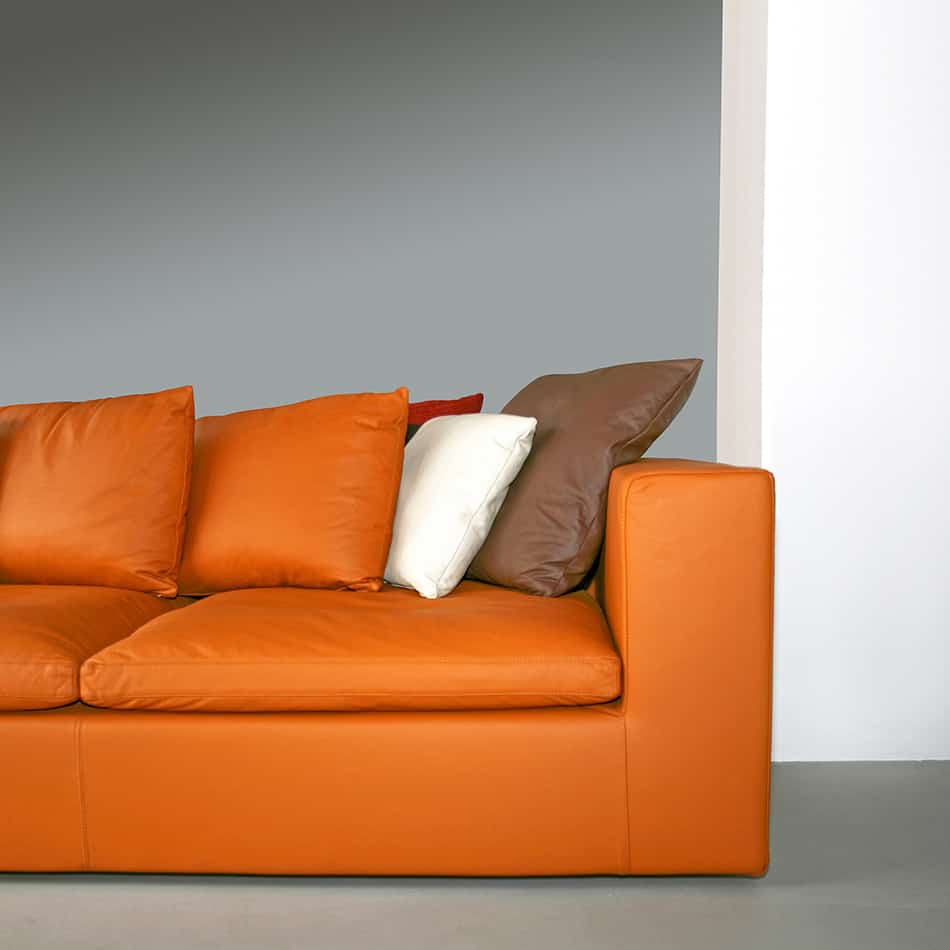 Orange is a great alternative to traditional brown leather as it's a little more interesting and vibrant. Dark orange shades work wonderfully in classic style Chesterfield sofas. This color is less prone to fading and will continue to be the most attractive centerpiece in your living room for years to come.
The complementary furniture colors that work with light or dark orange leather sofas include sky blue, teal, aqua and navy. Whichever colors you choose to accompany your orange leather sofa, this piece of furniture is sure to create a visually pleasing effect without being overpowering.
Elegant and versatile Black Leather Sofa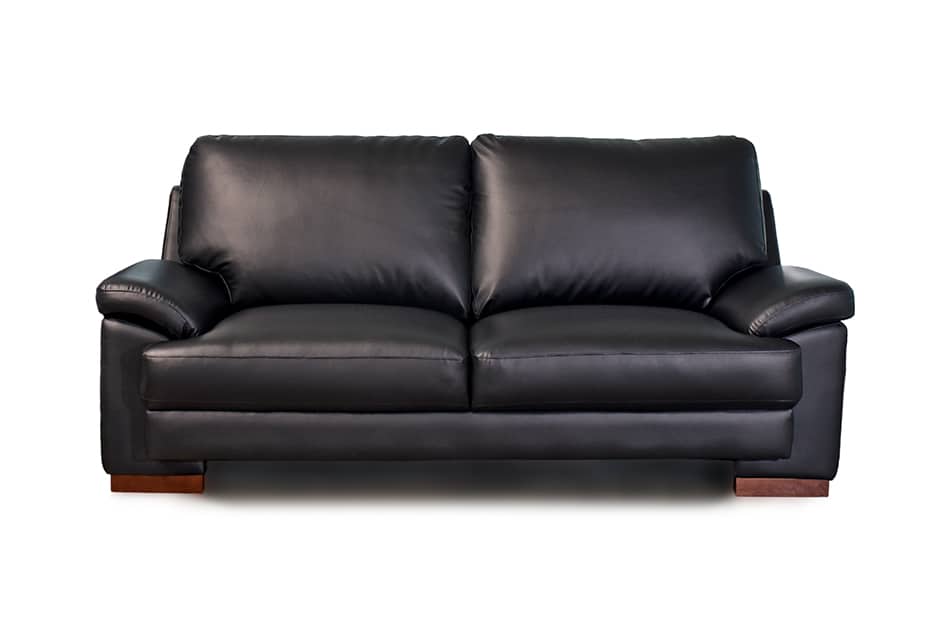 As an incredibly versatile color, a black leather sofa is an excellent choice for modern interior design. It has the ability to complement just about every style and color without overwhelming the space.
Whether you've set your eyes on a Scandinavian theme or are interested in mid-century modern interior design, a black leather sofa would work seamlessly with multiple patterns, textures, and styles. Black is, after all, a sophisticated color that goes with anything.
If you're thinking of buying a large black leather sofa or a corner one, make sure you choose some bold color throw pillows or blankets (like yellow or pink) to prevent the sofa from overwhelming your space.
Other Less Common Leather Sofa Colors
Blue Leather Sofa
For the ultimate in modern comfort, choose a striking blue leather sofa. This cool shade is perfect for adding a pop of color to your living room space. Blue is one of the most preferred colors for home decor, so it's no wonder more, and more people are turning to blue leather sofas. If you love the feel of leather but want more color in your design, then this is the piece to go for.
Royal Red Leather Sofa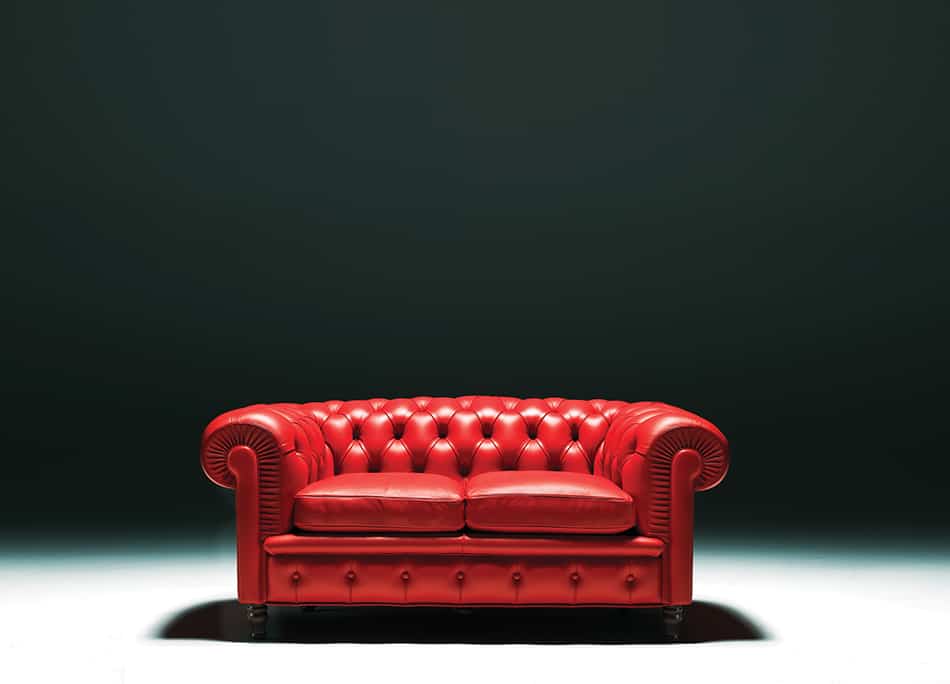 Red leather is, without a doubt, an instant attention grabber. Bright red leather sofas exude elegance and command attention in modern interior spaces. From orangish red to bluish-red tones, you have numerous options when it comes to picking a red leather sofa.
Just make sure you match the rest of your furniture with the red sofa or make it stand out, so it's the first thing guests see when entering your living room.
Red leather comes in a variety of designs, so you're sure to find one in a style that matches your aesthetic. This bold and impactful color will even work in study rooms and dens, whether you pick a red two-seater or a loveseat.
Burgundy Leather Sofa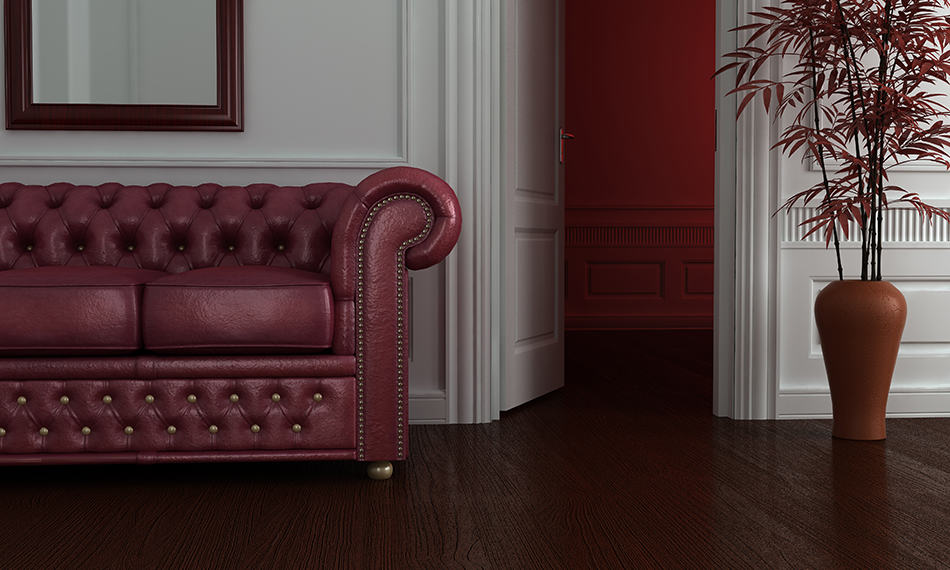 As a more mature alternative to red, consider burgundy. The burgundy leather sofa color can either dominate the living room or blend into the decor. It all depends on your choice of color palettes to surround your burgundy leather sofa.
This warm red hue complements both cool and warm tones, and if you love the idea of red, but don't want to go the whole hog with a bold red sofa, then burgundy is your best option. It might be slightly darker than red, but it does blend more easily into any home decor.
Vintage Green Leather Sofa as a Showpiece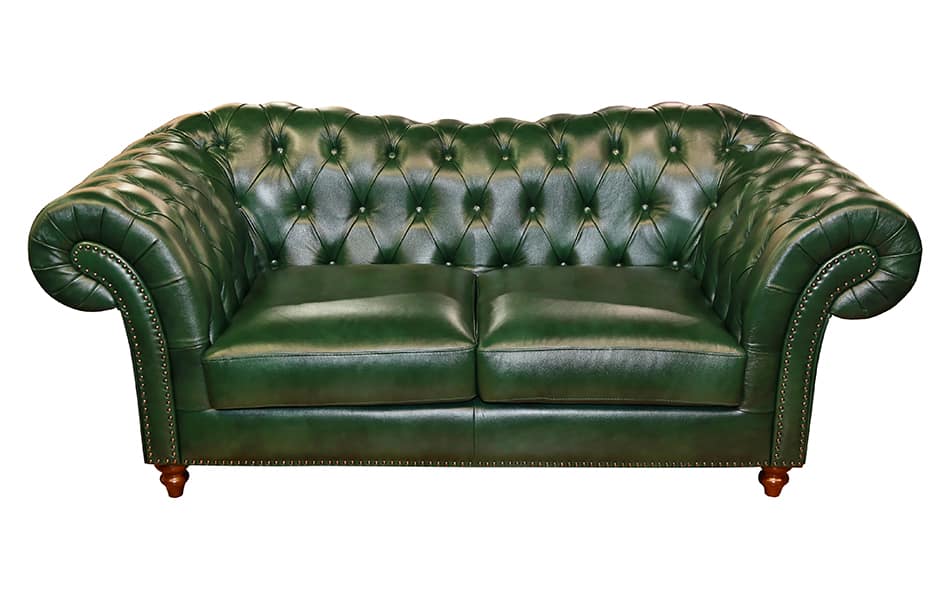 Green comes in a whole range of shades, so you'll be spoiled for choice when it comes to selecting the right green leather sofa for your library or living room.
Although green isn't the first color that pops to mind for leather sofas, it is well worth considering, especially in vintage or farmhouse-style interiors. A dark green leather sofa, for example, is the perfect choice for large living rooms as this vibrant color adds a bold look to the space.
Green is a color that's easy to care for, so whether you want the leather sofa in your den, study room, theater room, or living room, it won't fade or show stains as easily as other bright colors.
Furthermore, you can easily pair your green leather sofa or couch with various colors and decorative items such as chenille, velvet, or woven cotton pillows in neutral colors to enhance the look.
Mustard Yellow Leather Sofa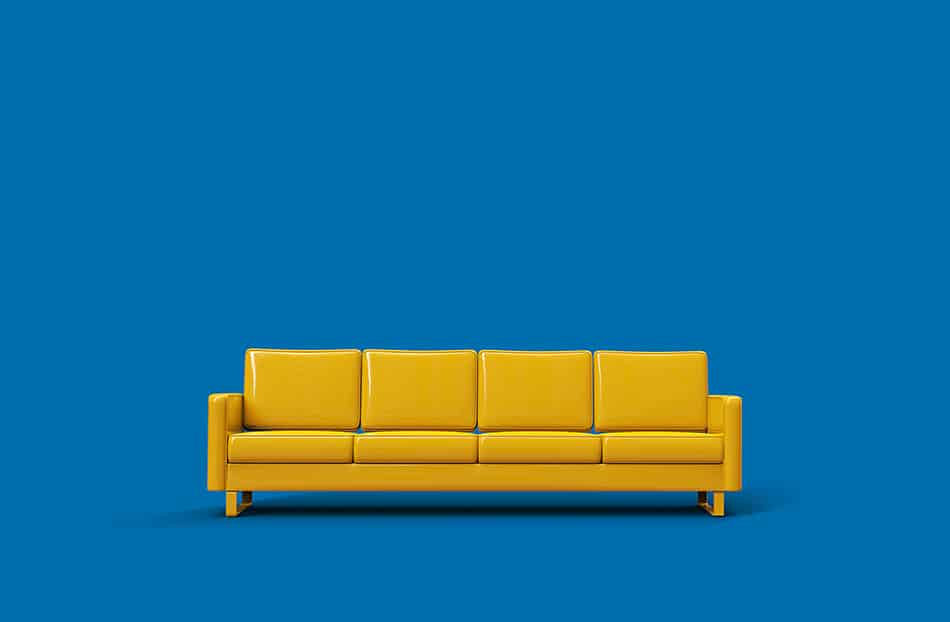 Mustard yellow leather sofa borrows its look from browns and beiges in a more vibrant and eye-catching way. If you're a fan of bright colors for furniture, then mustard or lemon yellow is the right choice.
You can use other bold prints to integrate the yellow leather sofa into your living room without making it look out of place.