Red is an exciting and striking color that is often seen in stately homes. This color of passion can instantly transform any interior with its bold appearance. If you love the richness of this shade, then consider decorating your living room in burgundy.
Burgundy is a dark red shade, which takes its name from the famous wine region in France.
Although some people confuse maroon with burgundy, the main difference between these two red shades is their intensity. Maroon is browner while burgundy is more purple and lighter than maroon.
This rich reddish-purple hue is often used as living room furniture, wall decor, and accessories.
Burgundy helps bring a glam touch to any interior space so if you like the idea of incorporating this shade into your living room, here we have compiled some beautiful burgundy living room decor ideas and color schemes for inspiration.
Burgundy Living Room Decor Ideas
Blend Gold with Burgundy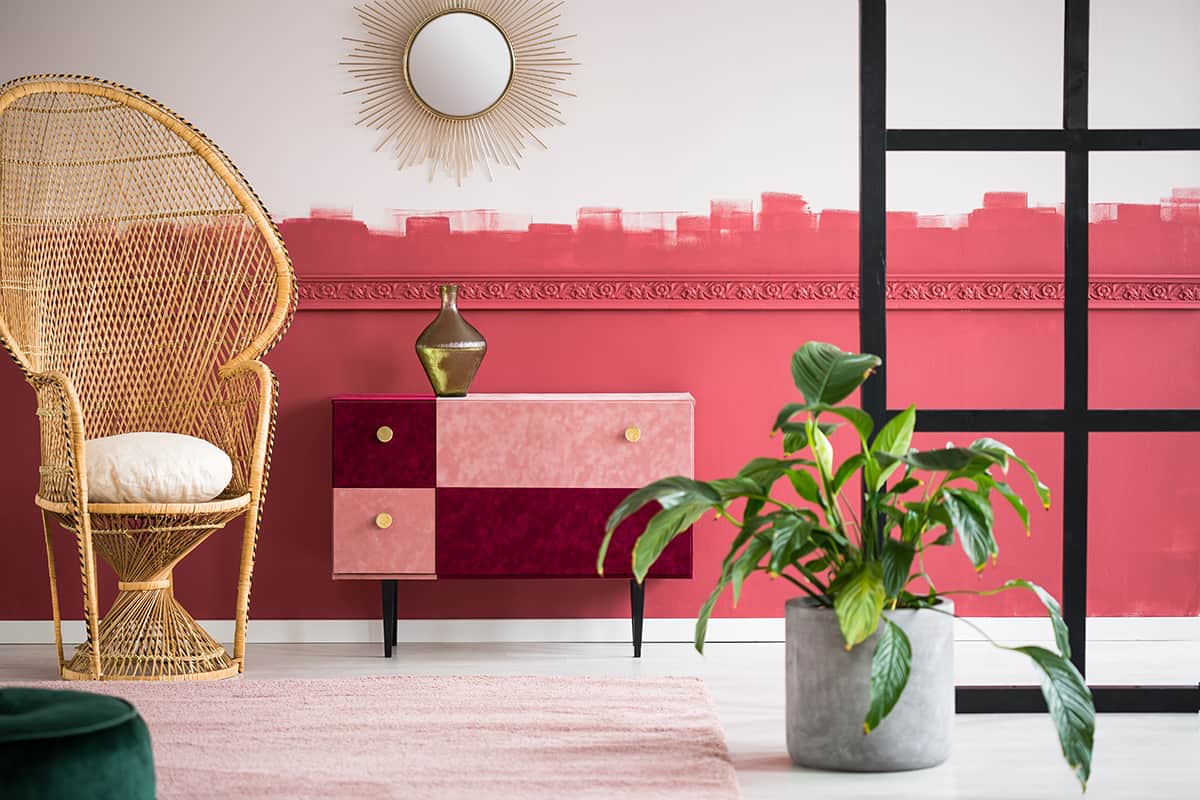 To add a little glam to your burgundy living room, hang a gold framed mirror above the sofa for a luxurious look.
The use of gold with burgundy instantly makes the living room shine. But the idea is not to go overboard with too many gold accessories so keep it simple with just one unique item like the interesting gold framed mirror shown here.
As you can see, this burgundy living room is very straightforward with the combination of burgundy wall and furniture with the gold mirror as the accent.
White, Beige, and Burgundy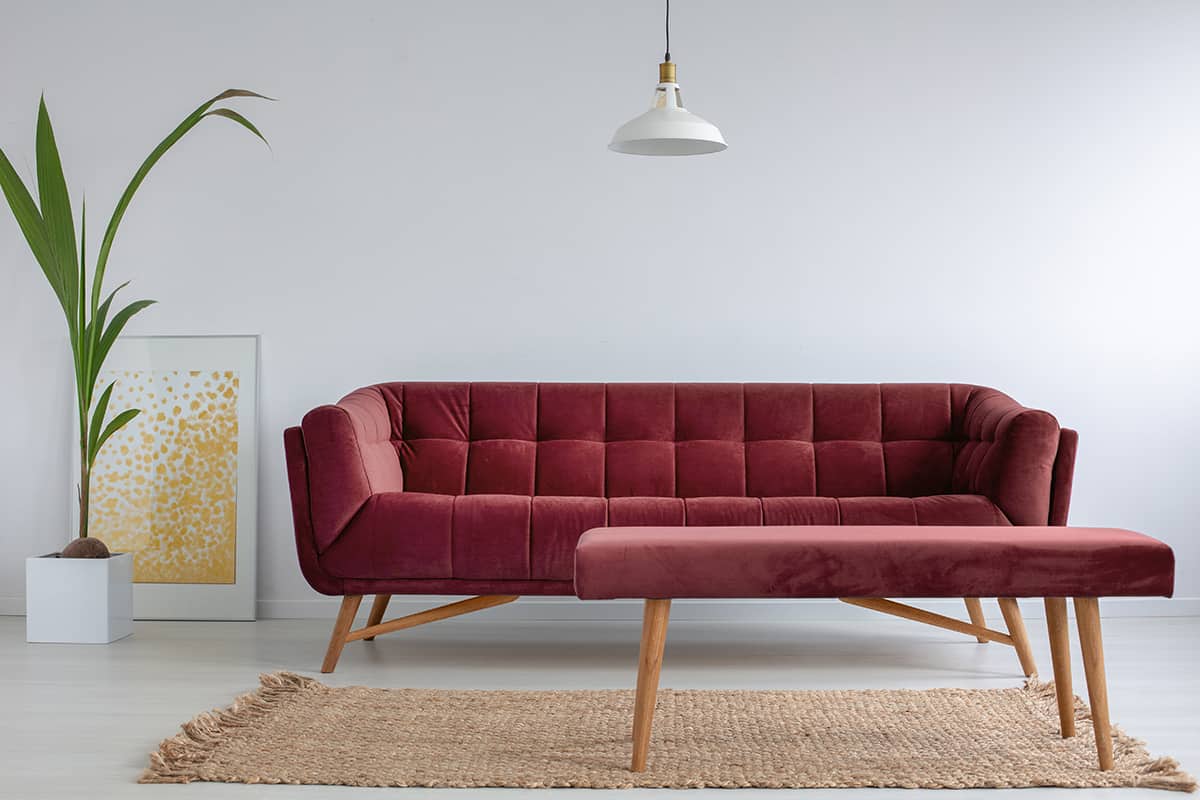 Another impressive idea for a burgundy living room decor is to blend this rich shade of red with white and beige designs. This helps create an inviting look as you're pairing neutrals like white and beige with a dark shade of red.
In this example, the velvet burgundy couch looks well-coordinated with the beige rug, golden poster, white lighting, and white wall. The light neutral shades prevent this living room from looking monotonous, and the focus is kept purely on the burgundy couch with its wooden legs and matching footrest.
Burgundy Accessories with Pastel Pink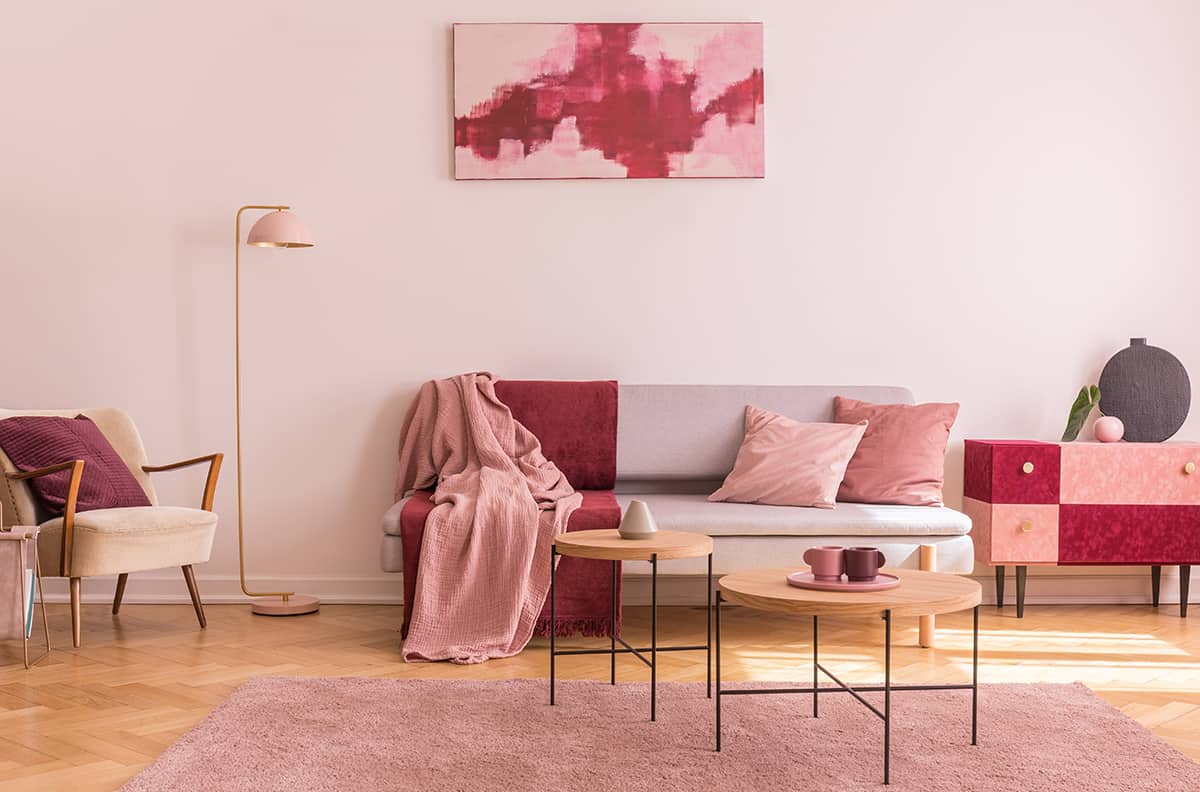 Burgundy accessories can be anything from throw blankets, abstract art, and cushions to lamps and other small knick-knacks. The easiest (and most attractive) way to introduce plenty of burgundy into your living room decor is to pair this color with pastel pink.
Whether you want to add textiles, furniture or paintings in these two colors, there is no doubt how striking (and a little feminine) the burgundy and pink color combo looks in a fashionable living room just like the one shown here.
We love how the pastel pink and burgundy colors have been used throughout this living room, from the wall painting to the furniture and textiles. Simply stunning!
Burgundy Wall Decor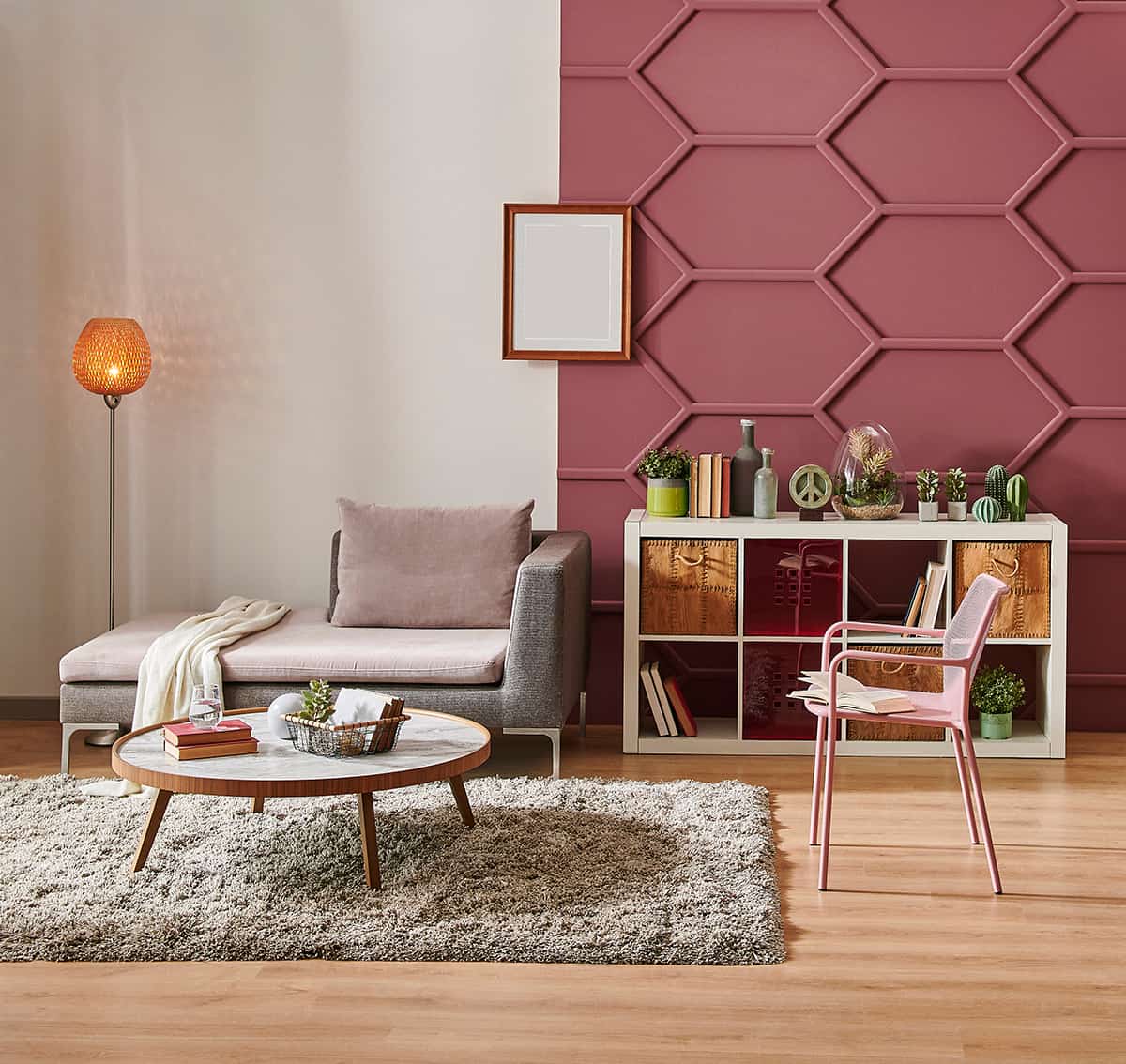 For a more ethnic look in your living room, create a focal feature in burgundy. Interesting wall decor will add depth and style.
This is especially true if the wall features patterns like the hexagons shown here. Accent the room with small decorative items in white and grey colors to brighten up the bold color of burgundy wall decor. The blend of warm and cool shades works perfectly without overwhelming the room.
Before you decide to use burgundy wall decor, think about the other accompanying colors carefully. An all burgundy look will quickly become oppressive so it's safer to add neutral shades to calm down the boldness of this rich red color.
In a bohemian-style living room, the burgundy wall decor can be the focal feature of the room. You can also add some brighter color wall decor to your burgundy wall to evoke visual interest.
Dark and Light Burgundy for a Layered Look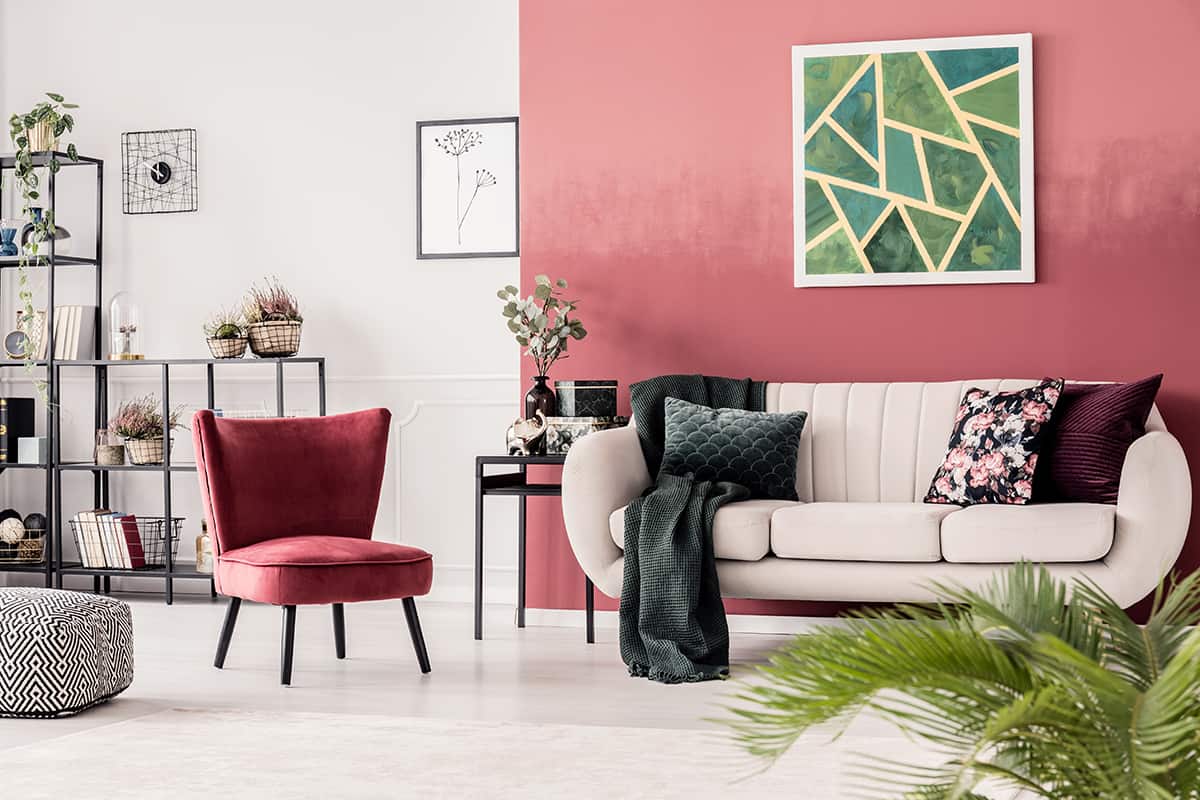 Since burgundy has a purple undertone, it adds a dramatic twist to a burgundy living room. This bold color can be in both light and dark hues for a layered look. Burgundy is a rich and elegant red color so you can blend the light and dark shades together to achieve the desired look.
Here, the dark red throw pillow is coordinated with the lighter red armchair and an even lighter red wall, all with burgundy undertones.
Neutral Colors with Burgundy Accents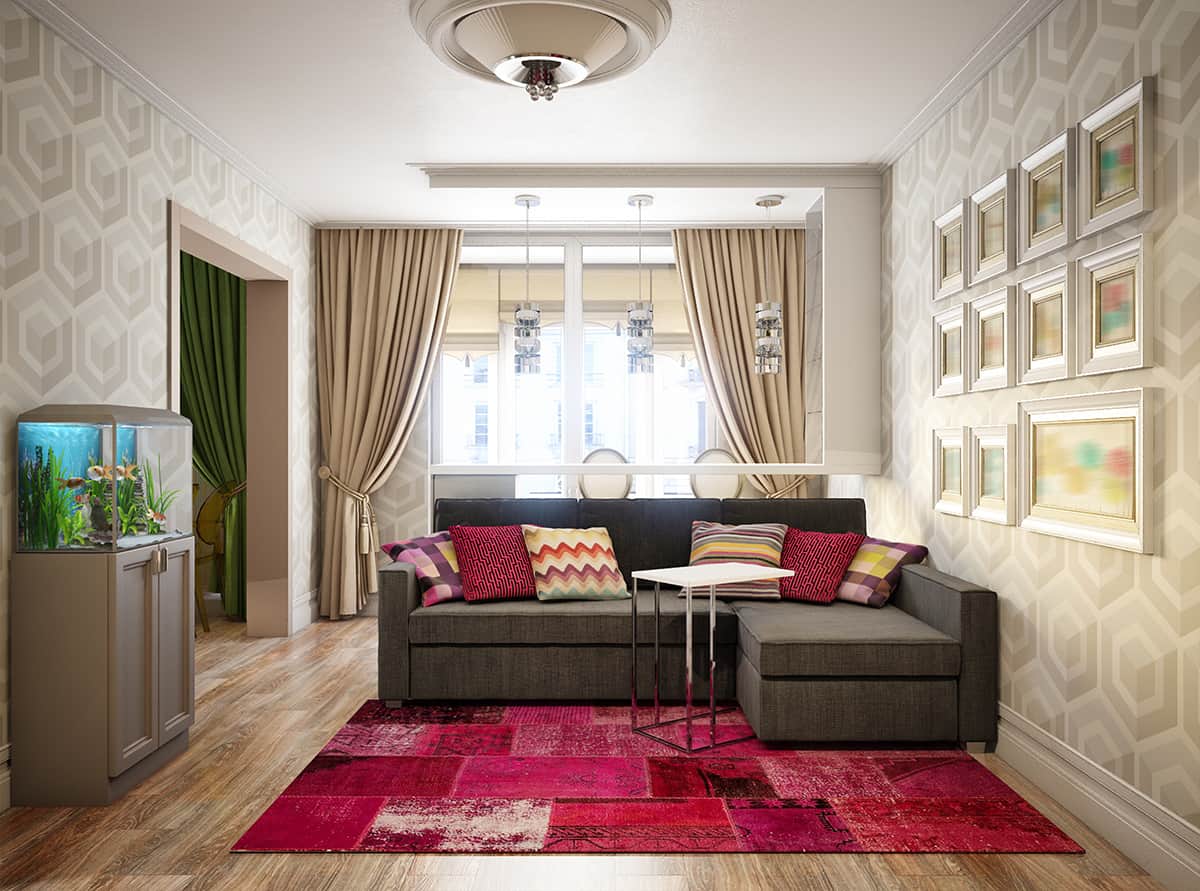 We've mentioned white, grey, and beige color schemes with burgundy earlier in the article, so for those who prefer using these neutral colors with burgundy accents, there are numerous ways to do this.
A patterned burgundy rug and matching throw pillows are one way of blending burgundy accents with other neutral colors.
By adding just the right amount of color to the walls, floor and furniture, you can create a less serious color option.
This contemporary living room is a fine example of how a simple burgundy and neutral color arrangement can bring cohesiveness to the living area.
For more neutral living room decor ideas, see our guide on black and white living room ideas.
Burgundy and Green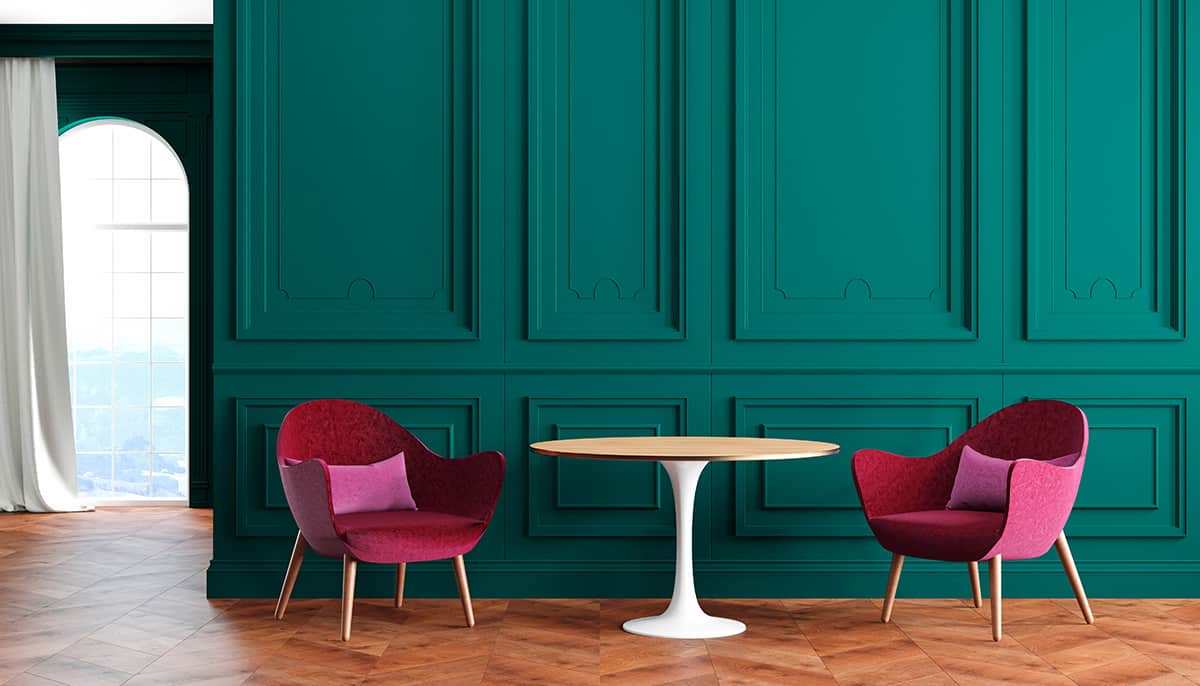 Did you know green is a warm color that complements red? A rich shade of burgundy is a complementary hue to lively green in a retro-inspired living space. But you don't necessarily have to choose a warm green hue to achieve a warm feel.
Just like in this colorful living room, the bright green wall stands out in an upbeat way, with the burgundy armchairs acting as cozy additions. The pink throw pillows perfectly coordinate with the crisp cool green feature wall, with the burgundy chairs as the warmer colors for a sense of poise.
Burgundy and Brown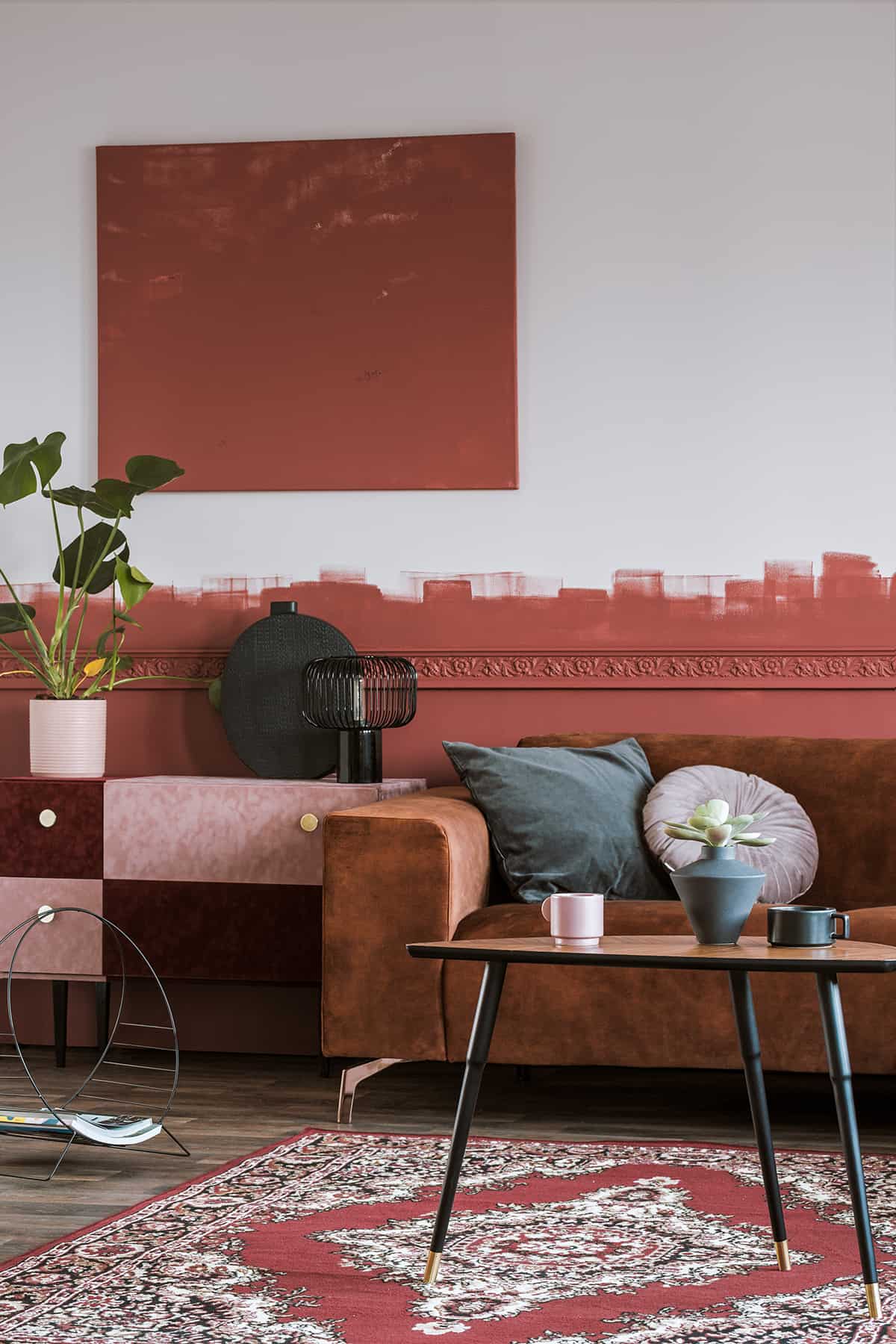 Aside from pastel colors that go with burgundy, you can spice up your living room by adding brown to the color scheme. Brown and burgundy provide a dramatic look that naturally works together.
This color palette, however, tends to be a little too formal, but you can prevent it from appearing oppressive by adding pink to the color combo. Give your burgundy and brown living room a fresh lease of life by balancing these dark colors with brighter hues and elements.
By adding brown furniture to your burgundy-colored decor, you will give new life to the living space, just like the example here. The focal feature of this living room is the brightly colored decor that has changed the entire look of the burgundy and brown color combo.
The brown couch and Persian rug blend in harmony with the rest of the living space.
Lighten Up Burgundy with Luxurious Leather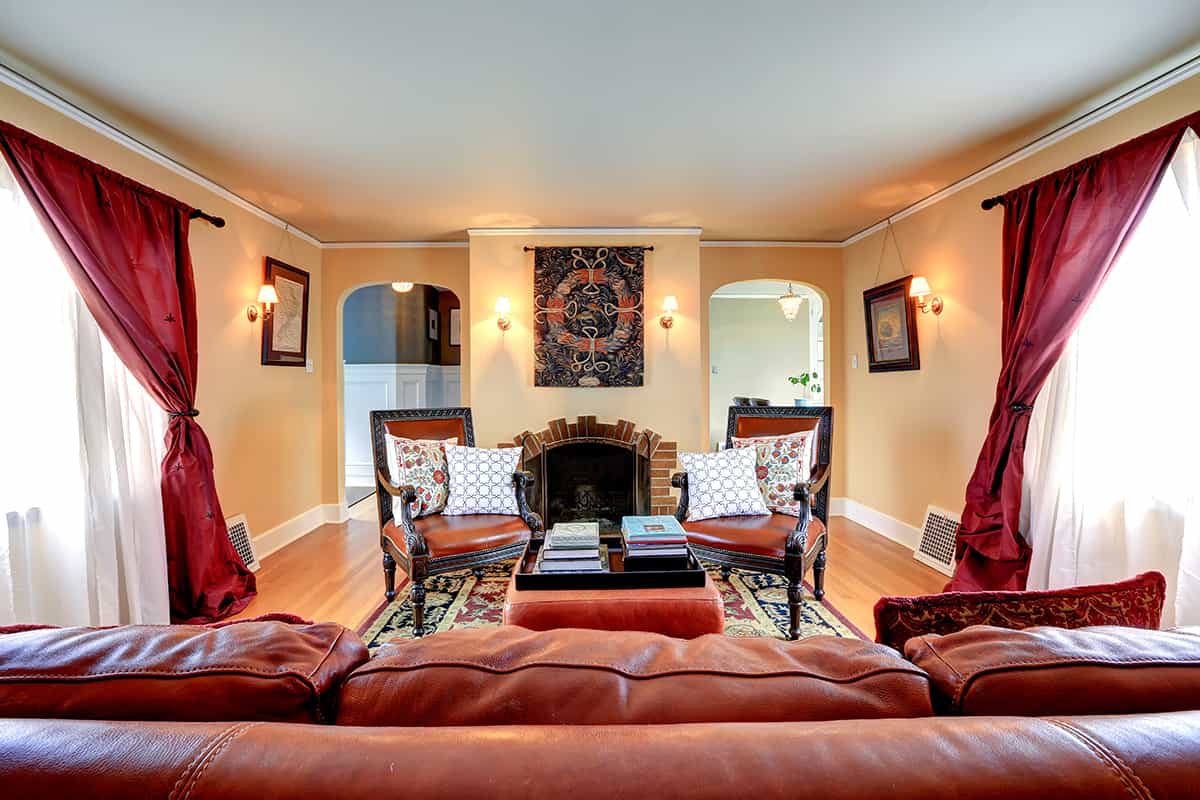 Because burgundy is a deep shade of red with purple undertones, it's not easy to lighten it up. Having said that, you can always balance the color scheme by using paler shades of reddish brown for the furniture and decor.
For example, a light brown leather couch with velvet burgundy curtains and wall art will pop against the lighter colored floor and walls. Velvet and leather are the two luxurious fabrics that work beautifully with burgundy.
Go Big on Shimmer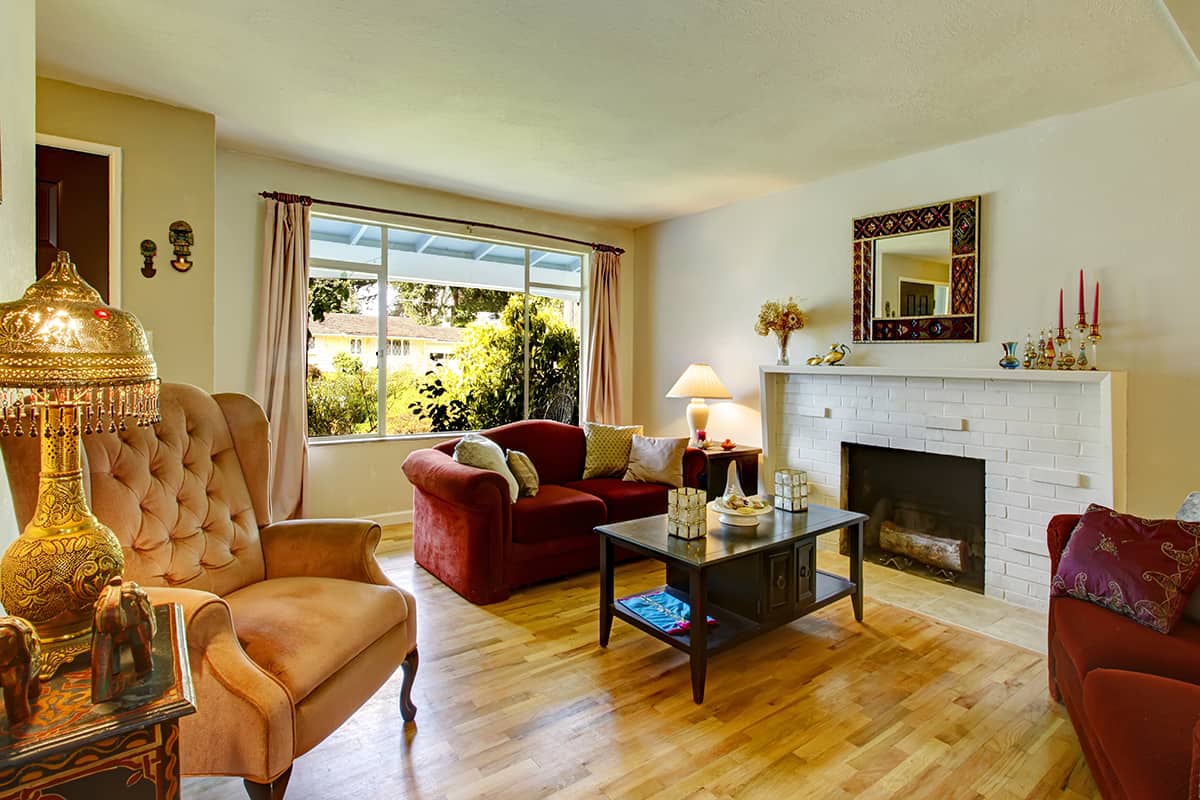 One way to make your burgundy living room decor and furniture stand out is to use plenty of shimmery textiles, decorative mirrors or even lacquered wooden flooring.
This will make your living room glow and pick up more natural light from the windows. Even an ornately designed gold lamp will do the trick.
Any vintage decor in shimmering colors will work beautifully with burgundy. In this example, the burgundy loveseats stand out amongst the antique decor thanks to the glowing gold table lamp and light wooden floor.
Use the Burgundy Wall as Decor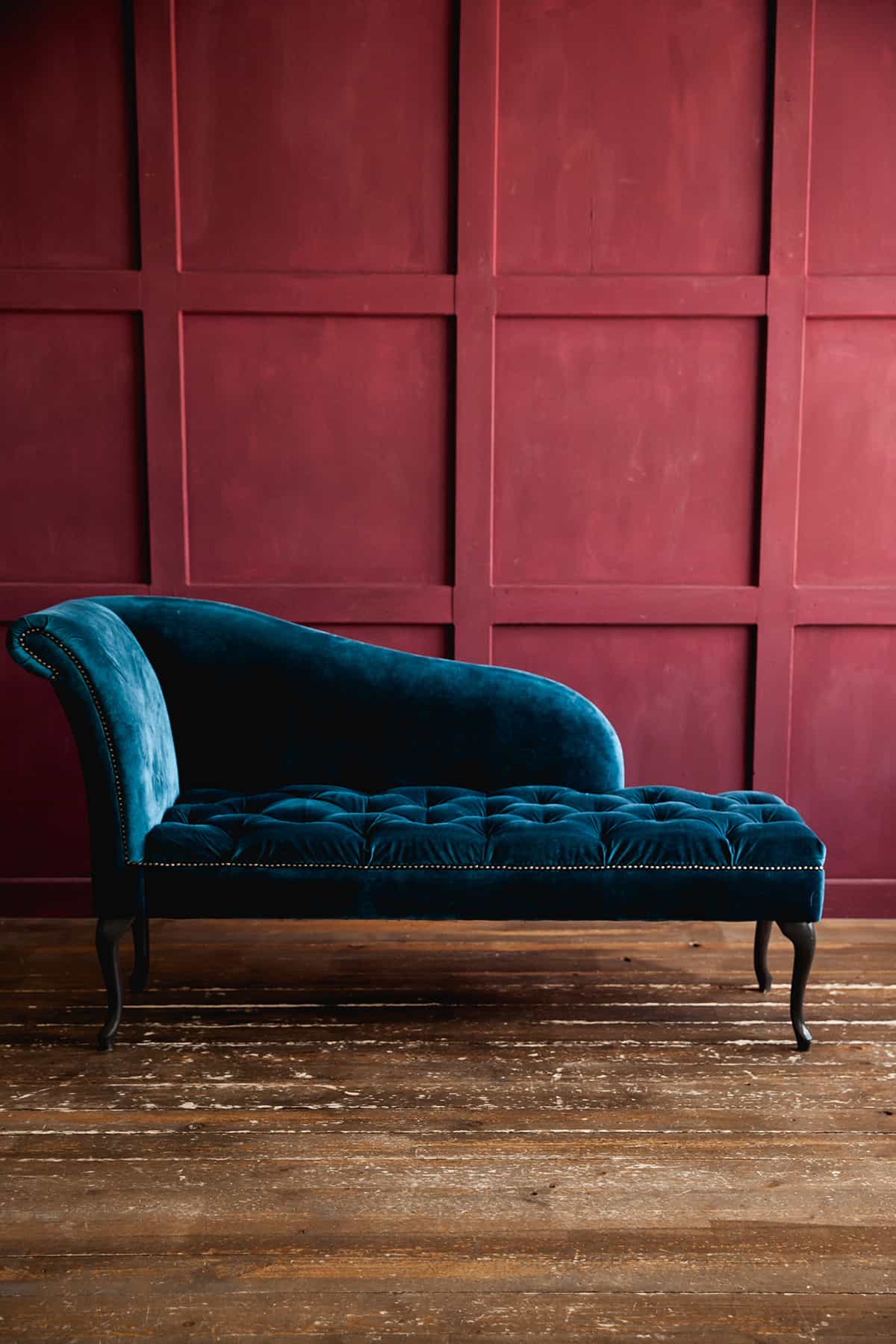 When you want to create an accent wall in burgundy, you don't need to add many wall decor items to achieve the desired look. The painted wall itself can be the focal point of the room.
As you can see in this example, the burgundy wall stands out as the final touch without having to add any other burgundy decor elements.
In fact, the velvet turquoise sofa hasn't managed to take the focus away from the wall. This is proof that just one uniquely designed burgundy wall as the background to the furniture is enough to create a formal and stately living room.
Other green colors also pair well in a burgundy living room. For more teal green color inspirations in the living room, check out our article ' 13 Teal Living Room Ideas for a Show of Color '
Go for a Minimalist Decor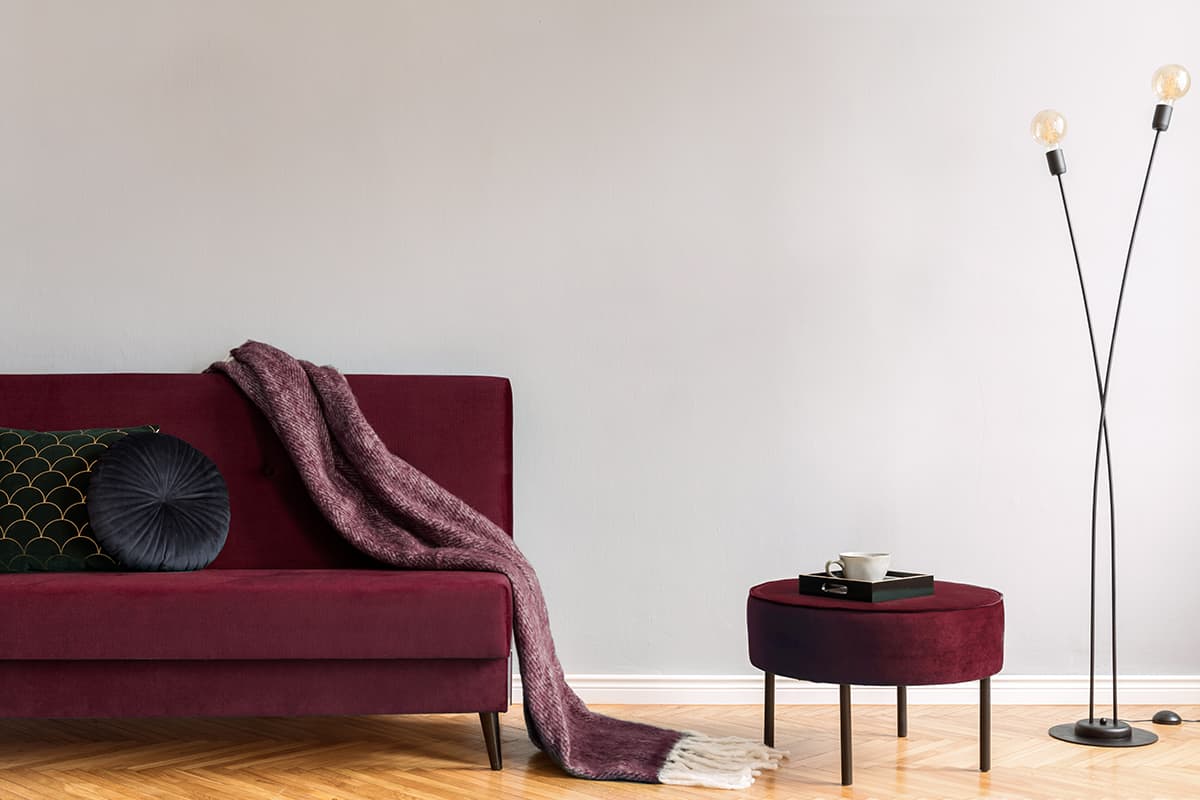 The last idea for a burgundy living room decor is to keep it simple and minimal by decorating the space with basic furnishings.
Velvet is the perfect fabric for burgundy furniture so in order to prevent the minimalist room from looking monotonous or boring, you can catch visitors' attention by adding one or two burgundy items to your living space.
Just make sure you don't go overboard as the idea here is to avoid excessive decoration in this color.