The garage is one of the more important parts of a house, especially if you have a car. This is the place where you park your vehicle so that it will be protected from the elements. Having a garage also means you can protect your vehicle from theft and vandalism.
However, not all vehicle owners have garages. Most of them simply don't have space. Others may not have the budget or money to construct a garage. If you're one of them, don't fret as there are other alternatives to a garage that you can explore, such as:
Car Cover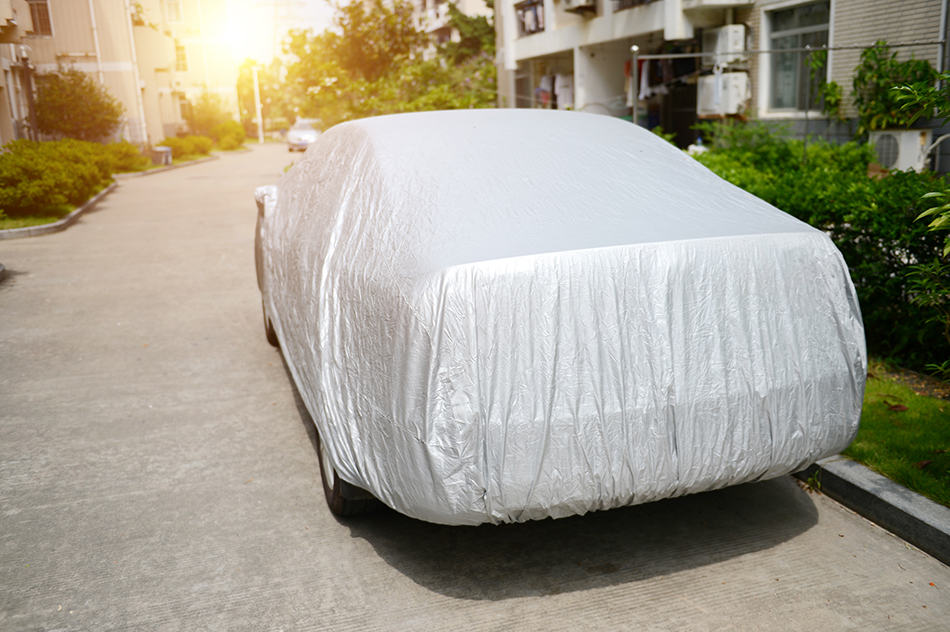 For many vehicle owners, this is the primary alternative to a garage. A car cover can protect a vehicle against dust, dirt, and pollen. It can also shield a car's surface against bird poop and tree sap. And it's an effective way of preventing the harmful rays of the sun from damaging the car paint.
There are two main types of car cover—indoor and outdoor.
An indoor car cover, as the name indicates, is used to cover a vehicle parked in covered parking like a garage. It is soft, lightweight, and stretchable. It can protect the car against dust and pollen that may accumulate during spring and summer.
But since you don't have a garage, an outdoor car cover is what you are most likely inclined to buy. Also called a weatherproof or all-weather car cover, this type of car cover is better at resisting dirt, water, and the UV rays of the sun. It is water repellant yet breathable, meaning It can protect your vehicle from rain but still allow moisture to evaporate. This also means that it will not damage your car's paint.
Comparatively speaking, a car cover is a lot cheaper than constructing a garage. This is a good reason why many car owners would rather use a car cover than have a garage constructed in their places.
A car cover is usually made with multiple layers to prevent dirt, dust, and debris from damaging your car. Because of this, an outdoor car cover is heavier and more costly. It would also take up more space when stored because of its construction.
But while there are advantages to owning and using a car cover, there are also downsides to it. Perhaps the most pressing concern is that a car cover can scratch your car's surface. This is very much true for ill-fitted car covers as well as those without buckles. As such, you should use a car cover that fits with your vehicle so that the cover won't slip during rainy and windy days and cause scratches on your car's surface.
Also, a car cover without a buckle may not be able to withstand strong winds during a storm or typhoon.
Awning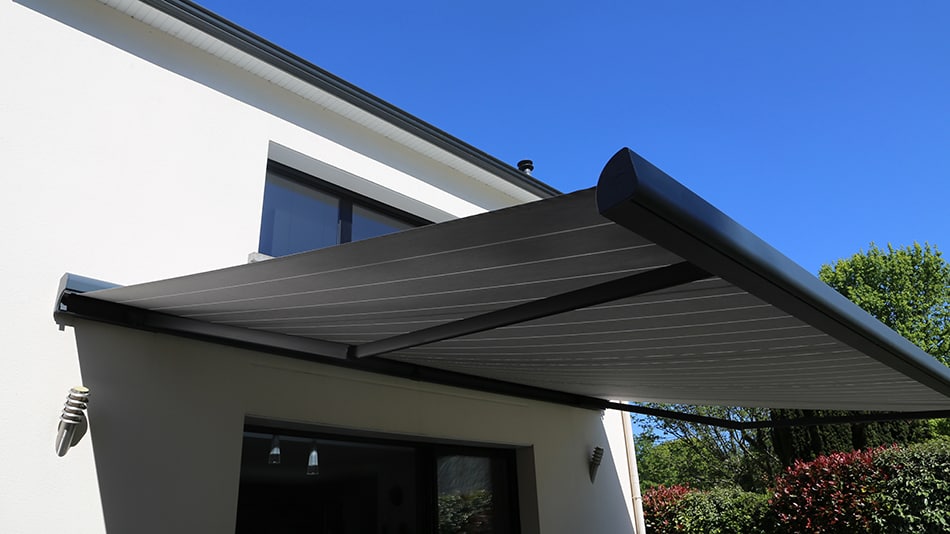 An awning is a secondary covering attached to the wall exterior of a home or building. It is designed to provide shade and protection not only to people but also to a car that's parked underneath it. There are also portable awnings, which means these are not connected to any wall. Instead, these are removable awnings that you can bring along for camping trips and even use as a garage alternative.
Regardless of the type of awning that you use, it can prevent bird poop from ruining the looks of your newly-washed car. It can also prevent snow from falling on top of it. The awning can also keep your car from getting too hot, especially when parked the entire day.
It can keep your car cool even during the summer months. Moreover, there's no need to put it on, unlike a car cover. You simply park your vehicle under it.
There are many reasons you'd want to have an awning instead of a garage. One is that you can have an awning instead of the space in your home isn't enough to construct a garage. In terms of costs, the installation of an awning is significantly lower than having a garage constructed in your place.
An awning is also easy and quick to set up. Some awnings come with remote control, allowing users to extend the awning when they need it to. Others have a crank handle that you can turn to if you want the awning to cover your vehicle.
An awning can withstand strong winds, unlike a car cover. The best awnings for cars are not only capable of enduring strong winds but are also waterproof, providing complete protection for your vehicle from the elements all year round.
But there are also disadvantages of using an awning in place of a garage. For one, an awning would not be able to prevent your car from gathering dust. This may be a concern during spring or summer.
An awning can also provide 100% protection to your car against strong winds and rains, meaning, expect your car to get wet during thunderstorms. You may have to use a car cover if you don't want your newly-washed car to get wet with an impending storm.
Carport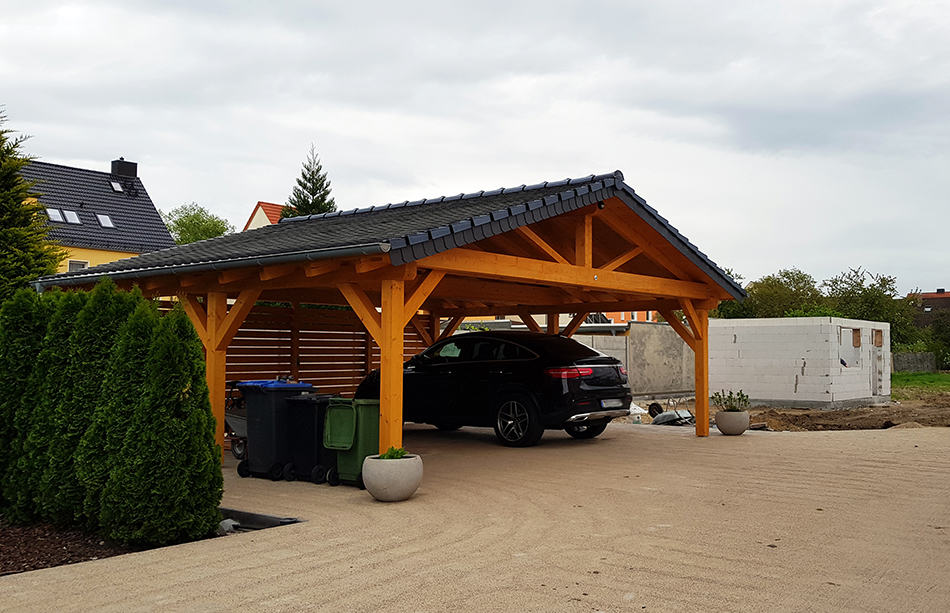 A carport is often mistaken for a garage. But the garage is more of an enclosed structure with a door and a cover. On the other hand, a carport is an open structure. It typically has two open sides.
Like a garage, a carport can offer protection for your car against the elements like the rains and harmful rays of the sun. Carport dimensions are typically the same as those of a garage but a carport may not prevent dust from accumulating on your car's surface because, as mentioned earlier, it doesn't enclose two sides. Don't expect a car parked under a carport to be immaculately clean after a few days or so.
Likewise, a carport won't be able to deter thieves from stealing your vehicle because, unlike in a garage, your car is exposed to the public.
However, a carport is a more practical option if you can't afford the cost of constructing a garage. You can even build one yourself if you are into DIY. You can even make out of a wide range of various building materials like spare wood lying around your backyard. And you won't need to get clearance from your town or village to build one right at your place.
There are also some disadvantages to using a carport instead of a garage. One is that a carport is not as versatile as a garage. Its main purpose is to protect your car against the elements. It won't be able to provide storage space, unlike a garage. Carports won't also add any real value to your home the way a garage does. And finally, a carport will not last as long as a well-constructed garage.
But if you don't mind those disadvantages and you're simply after protecting your car against the sun and rain, then the carport may just be the best alternative to the garage for you.
Telescoping Tent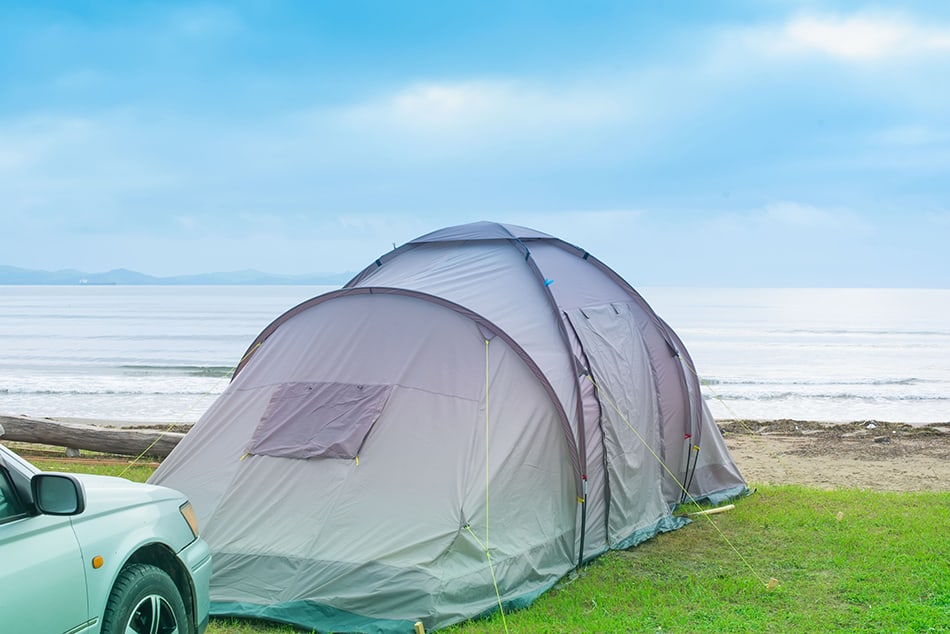 A telescoping tent is similar to a portable awning. Both are portable and easy to set up. However, both aren't as effective as garage as in protecting your car against the elements.
A telescoping tent works almost the same as a portable awning, although the major difference is that the former can provide a larger area of coverage than an awning. Set up is also easier and more stable as you will have to mount the poles first before installing the tent or cover.
One of the major advantages of a telescoping tent is its versatility. It's not only useful in keeping your car cool during the summer months. It can also be used for your next camping trip. And compared to constructing a garage and even a carport, a telescoping tent is a lot cheaper.
But again, you will also have to deal with the drawbacks of using a telescoping tent. One of those downsides is that it will not be able to keep your car dry during a storm. It can't also keep dust from ruining the appearance of a newly waxed car. And naturally, you can't expect to use a telescoping tent as a storage space, unlike in a garage.
Shed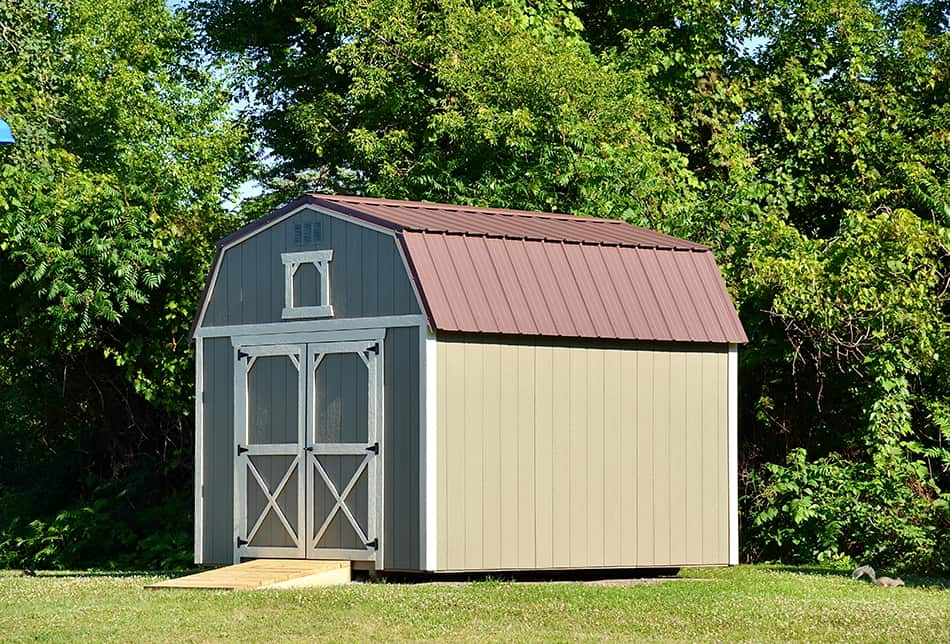 Speaking of storage space, if this is your main consideration in choosing an alternative to a garage, then you must opt for a shed instead.
Sure, a shed isn't big enough to store or park a car. But it should be spacious enough to store a motorcycle, a bike, or even a lawnmower. It can also be the perfect storage place for your tools.
You can also build a shed on your own. If DIY is not your cup of tea, then you can also buy a ready-made shed in a nearby home improvement store. The cost is not as prohibitive as building a garage and even a carport.
Conclusion
There's no doubt that a garage is a must-have for any car owner. But not everyone can afford to have one in their homes. The good thing is that there are other garage alternatives that you can consider having in your place to protect your precious vehicle.