If you're thinking of having a new garage added to your property, or you're looking at buying a new home and want to figure out which one offers a garage that best suits your family's needs, you'll need to know all of the types of garages that exist and how they are best used.
Here we look at all of the common types of garages and discuss which scenarios they work best for.
Do You Need a Garage?
Not all homes have garages and, in some cases, people can get by just fine without one, for example, people who live in cities where public transport services are good, and therefore, they don't need their own vehicle or people who live in apartments without yards and don't need the storage space for lawnmowers and other garden equipment.
However, for many families, a garage is an absolute necessity and can make their life more enjoyable by keeping their belongings well organized. Some popular ways garages are utilized include:
Vehicle Storage
Many people like to store their vehicles in their garage in order to keep them clean and prevent damage caused by harsh weather. If you're concerned about the security of your car, then keeping it in a locked garage will also protect it better from being stolen or vandalized.
Tool Storage
For people with more than just a few screwdrivers in their toolbox, the garage is the ideal place to keep a tool collection. It keeps tools out of the hands of youngsters in the home and helps to prolong the tool's lifespan as they'll be protected from outdoor conditions, which can cause rust.
Workshop
Garages are commonly used as home workshops because they are separate enough from the house to mean inhabitants won't be disturbed by the noise or mess.
Hobby Area
For people who have hobbies which require a lot of large equipment, a garage is a good space to store these items and use them. People might use the garage for band practice, clay modeling, exercise, or for home brewing beer, among other hobbies.
Garage Types
Detached Garage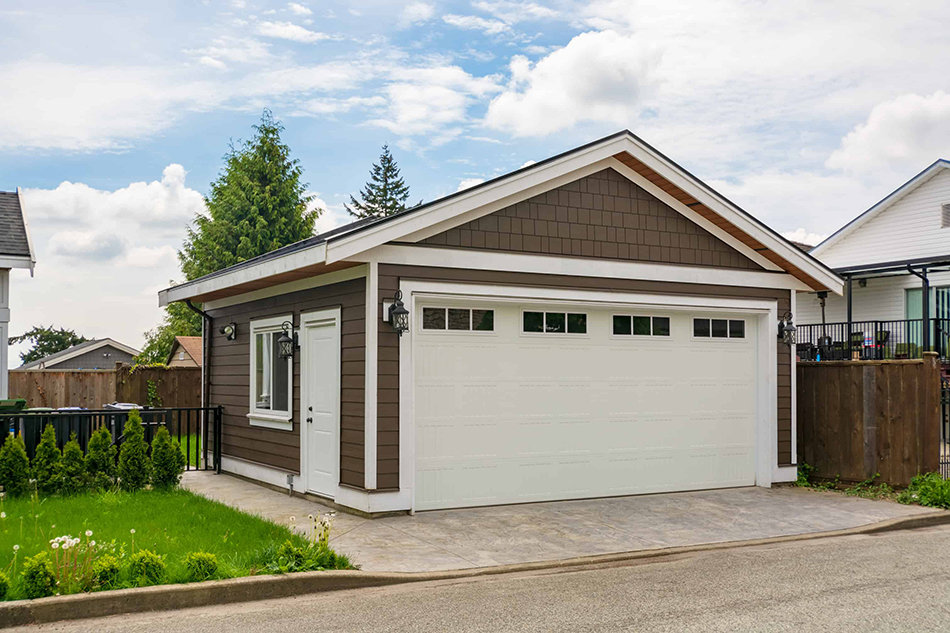 A detached garage is one that is an entirely separate building from your home. In many instances, a detached garage will be positioned close to your home, but it can be built anywhere on your property.
This makes a detached garage a great option if your plot of land isn't wide enough to accommodate the type of garage you want, but you have additional land behind your house, which would work. Detached garages can be constructed in various ways.
A prefab garage is a popular choice because it is low cost and can be constructed quickly, and it is also suitable for DIY builders to put together themselves, further minimizing costs.
Garages can also be built from steel frames, brick-built, or constructed from precast concrete sheets. If your detached garage is a later addition to your house, you can make it blend in by covering it in a siding to match your home so that it looks like it was always there.
The benefit of a detached garage is that any noise coming from the garage won't be heard in the house, which is great if you have a family member leaving for work in the morning and waking up children by starting the car or if someone in your family uses the garage to operate tools or practice music.
One major drawback, though, is that you have to leave your house in order to get to the garage. If your car is parked in the garage and you need to go out during a storm, then you are going to get wet while walking from your house to inside your garage.
Attached Garage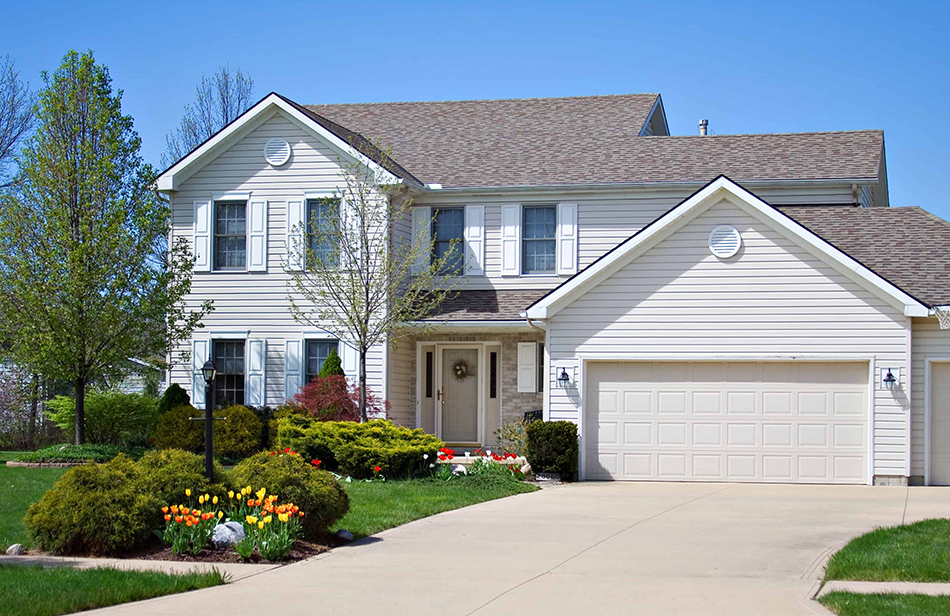 An attached garage is one that is built onto the side of your home, and in the majority of cases, will have a door adjoining it to the house so that you can access the garage without going outside. This is a huge advantage because it means you can get right into your car and head out without having to brave bad weather or stop and chat with neighbors when you're in a hurry.
Most attached garages will be built at the same time as the main home is built so that they blend in seamlessly as part of the property. The wall between the main house and the garage will be insulated so that the cold from the garage doesn't affect the temperature of the home, and the door between the house and the garage will be a fire door to keep occupants of the house safe from any accidents that could occur in the garage.
One issue with the garage being attached to the property is that any noises coming from the garage will be easier to hear within the home.
Internal Garage
An internal garage is one that is built into the home, but rather than being positioned on the side of it like an attached garage, it will take up some of the ground floor of the property. In most cases with an internal garage, one or more upstairs bedrooms or a bathroom will be built on top of the garage.
The advantage of these types of garages is that they don't increase the footprint of your property, which is good if you have quite a small plot. However, they do mean that the living space upstairs of your home will be larger than the downstairs living space because the garage will be eating into the space.
This can mean that you have enough bedrooms to accommodate a large family but find you're all struggling for space when everyone is hanging out downstairs. Properties like this can often lack storage space for this reason, and inevitably the garage will end up being used for storage.
Another disadvantage to internal garages is that the noise coming from users of the garage can be disruptive to others in the home, especially if your bedroom is above the garage. An internal garage needs to be built at the same time as the house, giving it a seamless look with the property but meaning you cannot add an internal garage at a later stage unless you forfeit some of your living space and have it converted.
One thing which is commonly done to houses with internal garages is to renovate the garage and turn it into a self-contained living space to rent out to tenants or have an elderly relative move in. You could also turn an internal garage into additional living areas to increase the space of your home on the ground floor.
Portico Garage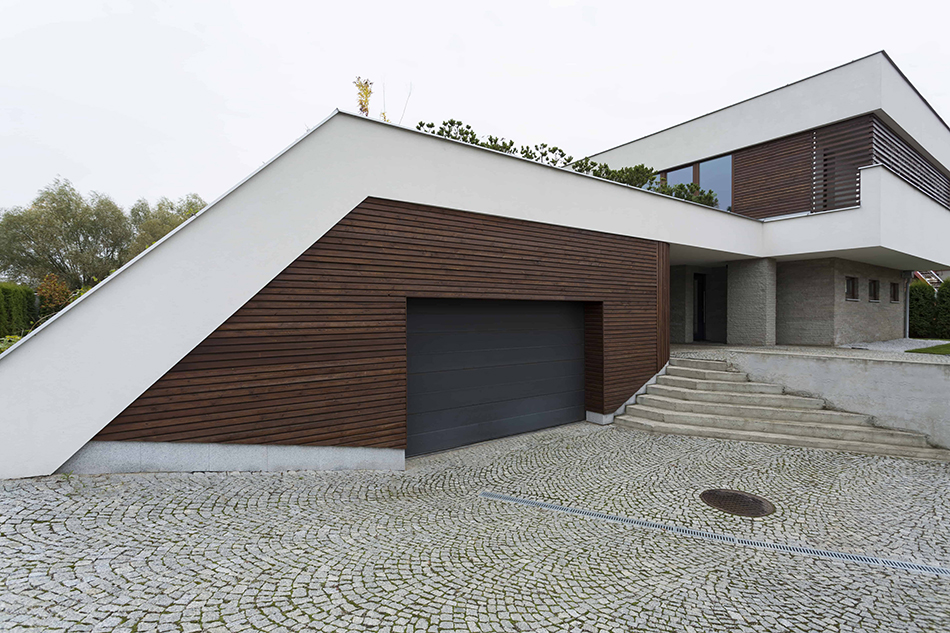 A portico garage is one that is separate from the house but joined via a walkway or an undercover area. If you have a detached garage that is close to your home, you can create a portico garage by building a low roof that reaches from your garage to the exterior wall of your house. This then provides an area where you can walk between your home and garage without having to get wet during rainfall.
A portico can be made from a wooden frame covered with roofing felt, galvanized steel, corrugated plastic, or any waterproof material. If you want to create more privacy or a dry spot to store outdoor items, you could also add walls to the portico to make it more secure. This will provide you with an ideal spot to store bicycles, muddy boots, and umbrellas.
Workshop Garage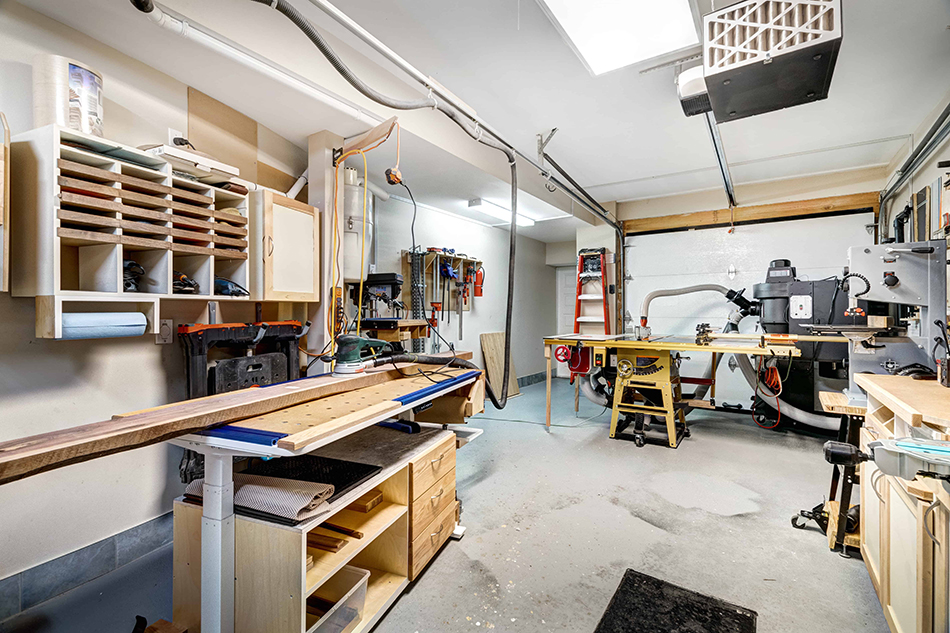 If there is someone in your family who likes to work on DIY projects such as renovating furniture or restoring cars, then using the garage as a workshop makes perfect sense. It allows them a space to use tools and get messy outside of the house while having the benefit of a roof over their head and privacy from neighbors.
If you want to convert your garage into a workshop, you'll need to ensure the garage has mains power so that you have lighting and can operate power tools. Shelving is ideal in a workshop garage to store hardware and tools and to help keep the place in order.
A workbench is also a nice addition if you'll need a surface to work on. In a large garage, you can partition an area of the garage to be a workshop so that you still have an area to store bikes, a lawnmower, and other garden equipment.
Carport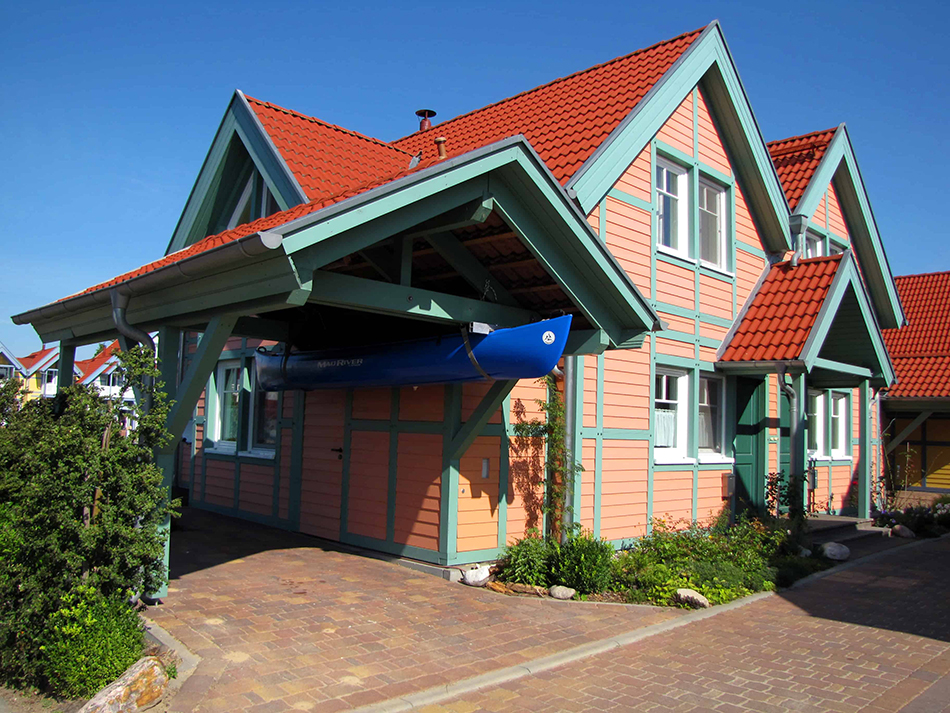 A carport is not technically a garage, but it serves the same purpose of storing cars. A carport will usually, though not always, be attached to the side of the house so that the exterior wall of the home forms one wall of the carport.
The remainder of the carport will be made up of corner posts that support the roof. Carports have open walls, which means they don't completely cover up your car because rain or snow could still get in if it is coming down at an angle, though it offers more protection than being completely exposed to the elements in a driveway.
If you can access your carport from your house without going outside, then you will be able to get into your car without getting wet in the event of a storm, which is an important consideration for some people.
The carport dimensions can be as big as those of a garage. But unlike a garage, a carport won't provide storage space for garden items and tools because the open walls mean these items won't be secure and could therefore be easily stolen, and they would also look messy as they will be on full display.
The main reason many people choose to build a carport instead of a full garage is that carports are much more inexpensive, though they will not add value to a property in the same way that a garage will.
Barn Garage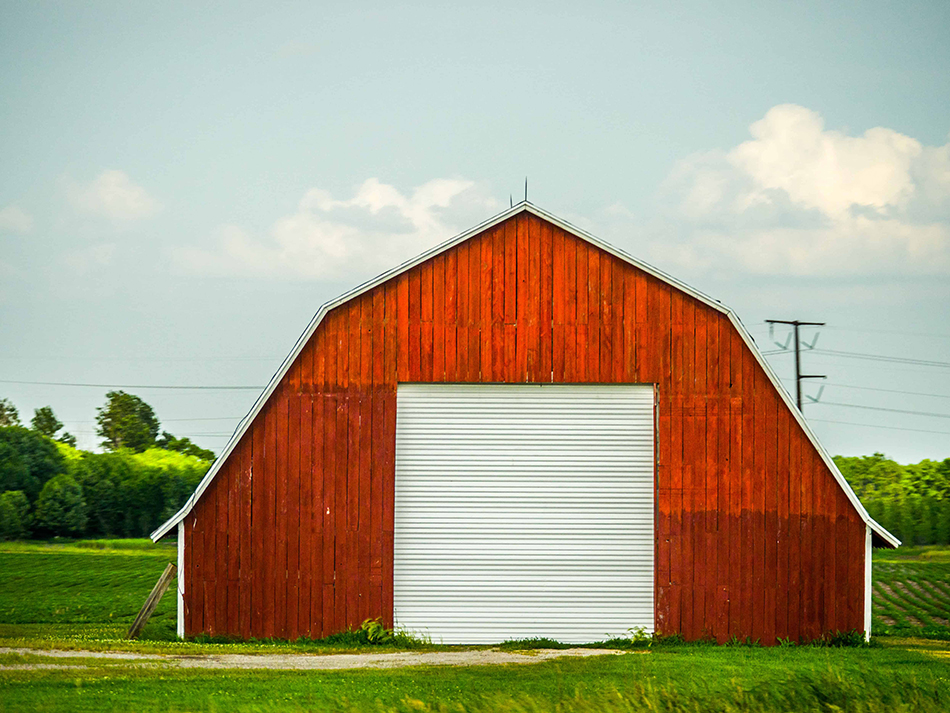 Barn garages are a type of detached garage that features a loft space for additional storage. This makes them a great option if you don't have a big enough plot of land for a large garage but don't want to compromise on storage space. A barn garage will give you the freedom to store your vehicle and tools on the ground floor and keep lesser-used items such as holiday string lights in the loft area.
Barn garages have a more traditional style in keeping with classic-looking properties, so these can also be a good option if you want a new garage that doesn't look too modern in contrast with your home. You can paint the shingles or siding on the barn garage to match the exterior of your property to help tie it in. Barn garages can be a more expensive option compared with more basic-looking garages, but they add character to a property and can help to increase value and improve curb appeal.
Carriage House Garage
A carriage house is also known as a coach house and is a type of garage with an apartment on top. Traditionally these were genuine carriage houses where a cart would be stored in the days before motor vehicles were introduced.
Once horses and carts went into decline as a mode of transport, the carriage houses were later renovated so that the ground floor worked as a garage for a vehicle, while the upper floor was converted into a living accommodation. Now, these properties are purpose-built but still referred to as carriage houses or coach houses because of their style.
These types of garages work as a great addition to family homes with growing children because as the teenagers get older and want some independence, they can move into the apartment over the garage to have additional privacy while still having the security of being close to the family.
They also work well in situations where elderly people need to move in with their grown children, as they can maintain a level of independence and dignity while their family is still able to keep an eye on them and be on hand to help should they need it. Carriage houses can also work well as a singular living space in their own right and be rented out to young professionals or single people who don't need a lot of space.
Types of Garage Layouts and Sizes
A garage can also be categorized based on its dimensions, how big it is, and how many cars it can accommodate simultaneously.
Single Bay Garage
A single-bay garage is the smallest type of garage and is popularly built alongside single-family homes. A single-bay garage will fit one car comfortably in it but have very limited space remaining. Once the car is parked in the garage, there will only be enough space for a few garden tools to be hung from the wall, and you can rule out storing your ride-on mower or snow blower in there too.
Many families who have a single-bay garage will end up using their garage as storage space for bicycles, tools, and garden equipment while their car remains on the driveway. If you haven't accumulated many tools and other outdoor items, then a single garage might work for you, but if you're hoping to store your vehicle as well as use the garage for storage, then you would be better off looking for a larger garage.
Double Width Garage
A double-width garage is designed to fit two vehicles in it parked next to each other. A double-width garage might have one very wide door, but more commonly, it will have two separate single garage doors.
Although most people prefer the look of two single garage doors, one large door is actually more practical in most situations, especially if you have a large car such as an SUV, as you will be able to maneuver in and out more easily without the restriction of the door frames.
A double-width garage will typically have enough space to store two vehicles and a range of small tools or garden items, but many people with a double garage will choose to store just one car inside it so that there is plenty of remaining space left for storage.
Double Length Garage
A double-length garage is great for achieving more storage space if you have a narrow plot that doesn't allow for a double-width garage. A double-length garage is long and narrow like two single garages fitted one behind the other.
These types of garages will fit two cars in, but most people don't use them for this purpose because one car will always be blocking in the other, making it inconvenient to get out in a hurry if your car is the one parked deepest into the garage.
Instead, many people with a double-length garage will use the back of the garage for storage of tools and garden equipment and the front of the garage to park a car.
This setup works well in most instances, especially if the back of the garage has a door to access the backyard, as it means all of your garden tools will be close by when you're working in the yard. If you have your heart set on parking two cars in your garage, then this won't be the ideal type of garage for you unless you have a good system in place for organizing the cars so that the person who is leaving the house first in the morning is always parked to the front of the garage so they won't be blocked in.
3 Car Garage
A three-car garage is a luxury that most standard homes don't come with; however, if you're looking to build a new garage and have enough space on your property, then a three-car garage won't cost much more than a two-car garage and will increase your storage space quite drastically.
A three-car garage will be three car bays wide, and you have several options in terms of doors. You could have three single doors, one very wide door, or a double door and a single door next to each other. The door configuration will depend on how you want the garage to look but also on how you plan to use the space.
If you have two cars you want to store in the garage, then a double door will make it easier for these vehicles to drive in and out of the garage, and you could then use the remaining single-bay space as a workshop or storage with a single garage door on it. This works well in this scenario as opposed to one triple-width door because it means you can open your garage door to access your cars without opening up the whole garage and having all of your tools on display to neighbors or passersby.
It also means that if you want to set up the single bay as a workshop, you could fit a workbench against the single garage door with the intention of never opening it, giving you more wall space to work with.
4 Car Garage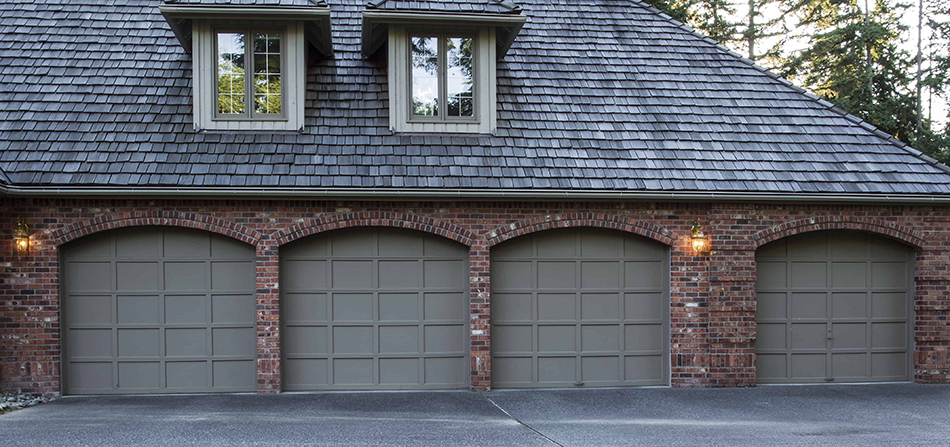 Four-car garages are usually reserved for the grandest homes or people who collect cars as a hobby. A four-car garage will take up significant space on your property, with a wide and shallow shape that will be the same as two double-width garages positioned next to each other. You can also achieve a four-car garage that looks like a double-width garage from the front by having a square-shaped garage that would fit two cars parked at the front and two at the back.
As with a double-length garage, a square four-car garage can be difficult if you want to park all four cars in the space because you'll likely find yourself in a position of being blocked in by someone else's car every now and again. A square four-car garage is much better suited to being used as a double-width storage space or workshop at the back, with space to park two cars alongside each other at the front.