While it's not common to find white roof shingles on American homes, in hot and arid regions, many homeowners prefer white roofs to keep their homes cooler.
This is because white roof shingles cool the temperature of a home by reflecting light, so it's not surprising to find many deserts or southwestern homes with white roofs. But when it comes to deciding what color house goes with a white roof, it can pose a little challenge.
If your house has white roof shingles, it's best to paint the exterior a color that highlights the roof tone. White is a neutral color that goes with both vivid and neutral colors, but similar shades of white like cream or ivory may clash with brighter colors.
In this article, we'll share with you some attractive ideas on the best house exterior color and white roof combinations as a source of inspiration to help you remodel your home. So let's get started now!
House Exterior Color Ideas that Work with a White Roof
White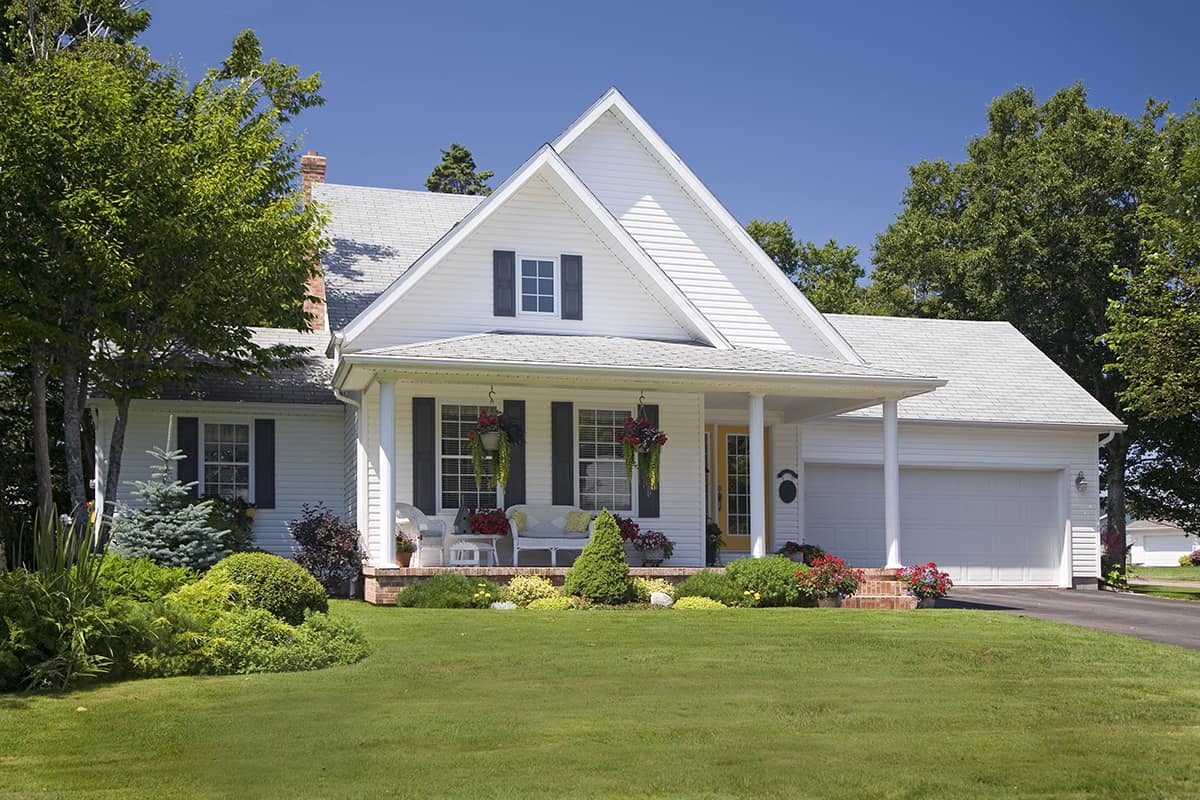 There is no color combination better than a white roof with a white exterior in hot climates. This is an excellent option for anyone who lives in a dry, desert-like region. White roof shingles reflect the heat of the sun, thus they make the best choice for a desert home.
By painting the exterior of your home white, you can create a clean, bright appearance that works perfectly on a modern or traditional style house with a white roof.
Tip: accentuate your white roof with blue or black trim to give your home depth. The white siding with the matching roof color and dark shutters add to the visual appeal and soften the crisp white color palette.
Beige
Beige is a warm, neutral paint color that brings out the beauty of a white roof. This color is ideal for those who find white paint too stark for their taste.
As a warmer alternative to white, beige makes an excellent color companion with your neutral roof as it brings variety to the color palette.
Light Blue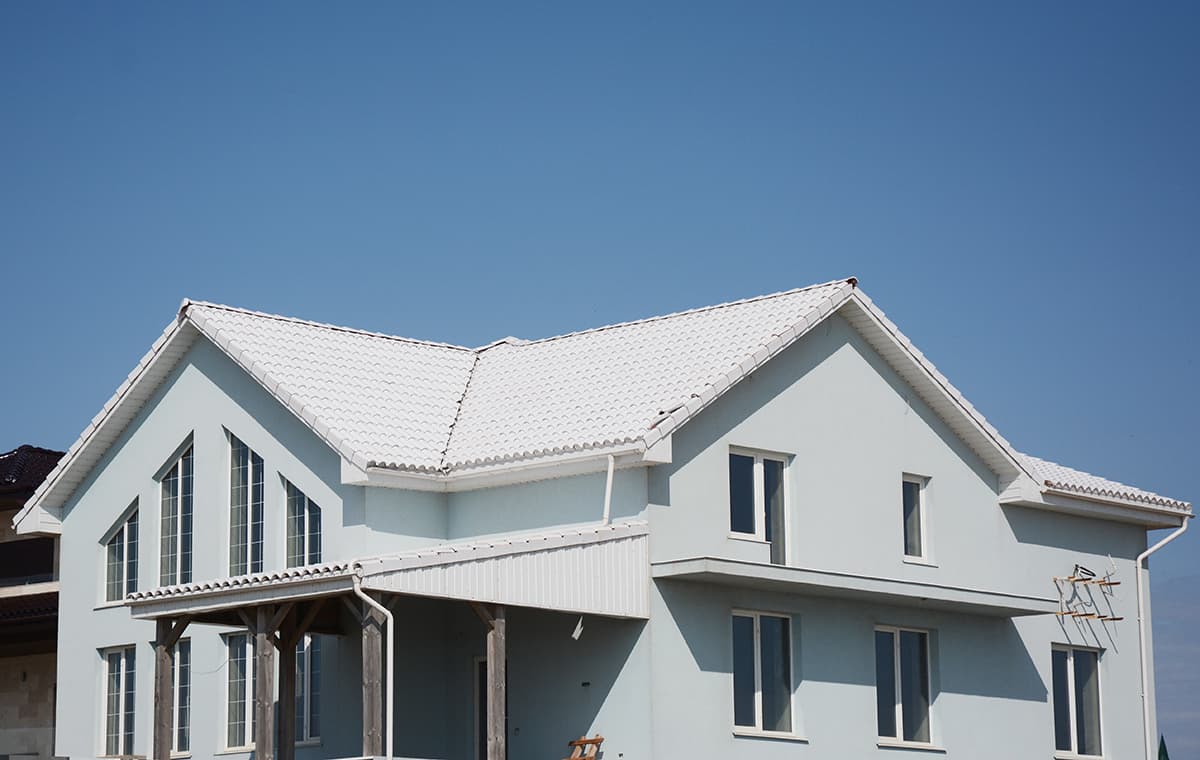 Another excellent paint color for a house with a white roof is light blue. In coastal or tropical areas, the pale blue and white color combo is the preferred choice. Blue paint adds a calming feel to any house with a white roof.
Pick a crisp, cool shade of blue to give your home exterior a beach-like feel. And as for accent or third color, opt for gray trim with a blue undertone in order to create a layered look.
Navy
For a darker paint color, consider navy blue instead of soft blue. This tropical shade has a striking appeal when paired with a white roof. A navy house emits a cheery contrast to the white roof, and it can still look great on beach-themed homes.
For the trim color ideas, rather than using a gray accent, opt for teal or light green to pair with your navy exterior and white roof. This color palette brightens up the facade and blends in with the natural surroundings.
Yellow
A yellow exterior with a white roof is a classic pairing that works on almost any type of house. Whether you want a more rustic or mid-century look, bright, sunny yellow paint goes beautifully with a white roof.
For a toned-down alternative, use mustard yellow or a similar shade, with gray trim for accent.
Red
As a vibrant and fiery paint color, there is no doubt that red goes perfectly with a white roof. Most homeowners love red brick or siding primarily because of the attractive qualities it offers. This warm, rich color will instantly draw attention to your home as a unique combination that goes with a white roof.
We suggest you use gray trim with your red exterior and white roof as this color palette adds a unique charm to a traditional house. Choose a shade of gray that has a warm undertone or use natural stone accents to give your red-painted house a rustic touch.
Mint Green
Another bright and vivid color to pair with your white roof is green. This color is inspired by nature and gives the exterior a calming feel. Any shade of green paint will work with a white roof, especially mint or olive green.
For the trim idea, coordinate your green exterior and white roof with a jewel-toned muted yellow. This combination can be further enhanced with a trendy natural stone accent in the form of siding on the lower part of the house exterior.
Black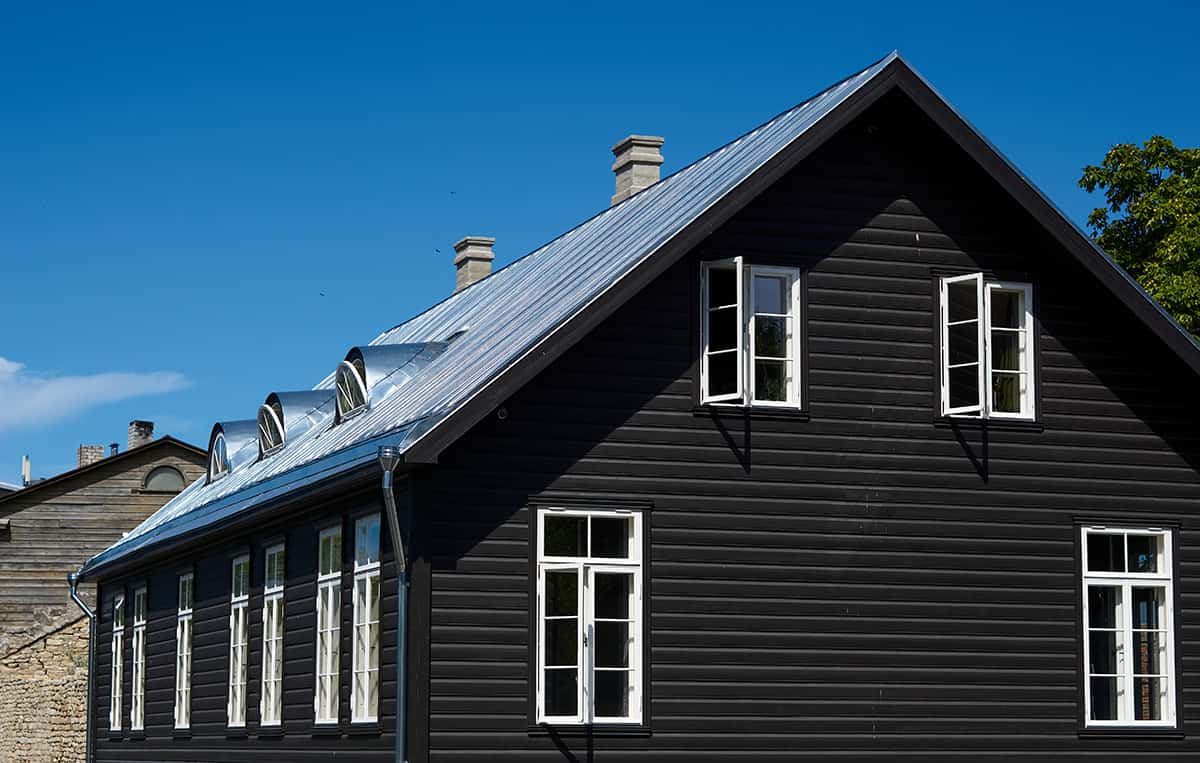 For a stark contrast, the exterior paint color we recommend for your white roof is black. This combination is extremely popular and brings a timeless look to your home.
When you paint your house black, it will actually appear bigger from the outside, thanks to the bright white roof. This color idea is perfect for smaller homes that need visual depth.
The neutral balance between black and white makes it super easy to coordinate with any style house.
Black and white are an effortless pairing that can be combined with a number of other trim colors including white gutters and window frames.
If you wanted to check out house colors for a white roof, I'll recommend you also see our post '11 Appealing House Colors with a Black Roof' for more inspiring ideas.
Gray
If you want a trendy exterior paint color to pair with your white roof, then gray is the one to pick. This subtle and modern color provides a beautiful contrast with white, especially if you use a dark shade.
For variation, use a different shade of gray, white or even black for the trim. This color combination brings visual interest to a home with white roof and leads to a timeless look that is sure to increase resale value. Our favorite gray shades are charcoal, silver and pewter.
Natural Wood Color
The last paint color we want to suggest has a warm and cozy feel to it. To draw attention to your white roof, consider a natural wood stain like light brown. This earthy, warm tone is often the preferred choice for a wood cabin or rustic design homes.
The added advantage of natural wood color or stain is the relaxing vibe it emits, so it's well worth considering even if your home isn't made of wood siding.
For example, if your home has vinyl siding, you can still paint it a natural wood color to pair with a white roof. For the trim color, opt for light green so it blends with the natural surroundings. Light brown and soft green are an excellent pairing to emphasize the white roof.
This idea works especially well for log cabins and farmhouse-style homes. Simply apply the brown stain to the wooden or vinyl exterior every few years to treat the surface as well as highlight the white roof.
What is the Most Popular Exterior Paint Color for a House with White Roof?
For a house with a white roof, gray has long been the most popular exterior paint color. But the latest trend now is to use warmer colors like beige and yellow.
If you want the best of both worlds, consider greige, which is a cool neutral with a blend of gray and beige.
This neutral color goes well with a white roof as both are classic and timeless.
Can My House Have More than one Exterior Paint Color?
Yes. There are many homes with more than one exterior paint, excluding the trim and accent colors. If your home has decorative detailing or architectural features, you may consider using up to three paint colors.
Tip: to coordinate a united color scheme, go for three different shades of the same color.
In Closing
Picking the most complementing and attractive exterior paint color for your home with the white roof can be quite a challenge as not many houses in the US have a white roof – unless they are located in hot regions.
That said, white is a neutral color that goes with many other shades so you can be as adventurous as you like when selecting a paint color. Once you've picked the right combination, you can be sure that the resale value of your home gets an instant boost.
The ideas we've shared with you in this article are based on the popularity of those color combinations. But it's not just the colors on our list that complement white roofs. You can choose greige, tan or yellow paint if you like their warm, earthy tones.
The most important consideration is the balance between the roof color and the house exterior. The paint color you choose should also blend in naturally with your home's natural surroundings in order to create a harmonious feel.
We hope our list of house color suggestions have inspired you to give the exterior of your house with a white roof a fresh coat of paint.