The roof shingle color plays a huge part in boosting a home's exterior aesthetic appeal. It completes the overall look and must be coordinated with the rest of the exterior design.
When your roof is orange or terracotta, pairing it with the right paint color can be a tricky task. Exterior paint colors should complement not only the roof color but also the trim and decorative features of your home.
To determine what color to paint a house with an orange roof, you must first pay attention to the undertone of your orange shingles. Some are a warm natural terracotta while others have more of a muted orange or brown tone to them. To help you decide on the right paint color for your house with an orange roof, take a look at our examples below:
Best Exterior Paint Colors for an Orange Roof
Red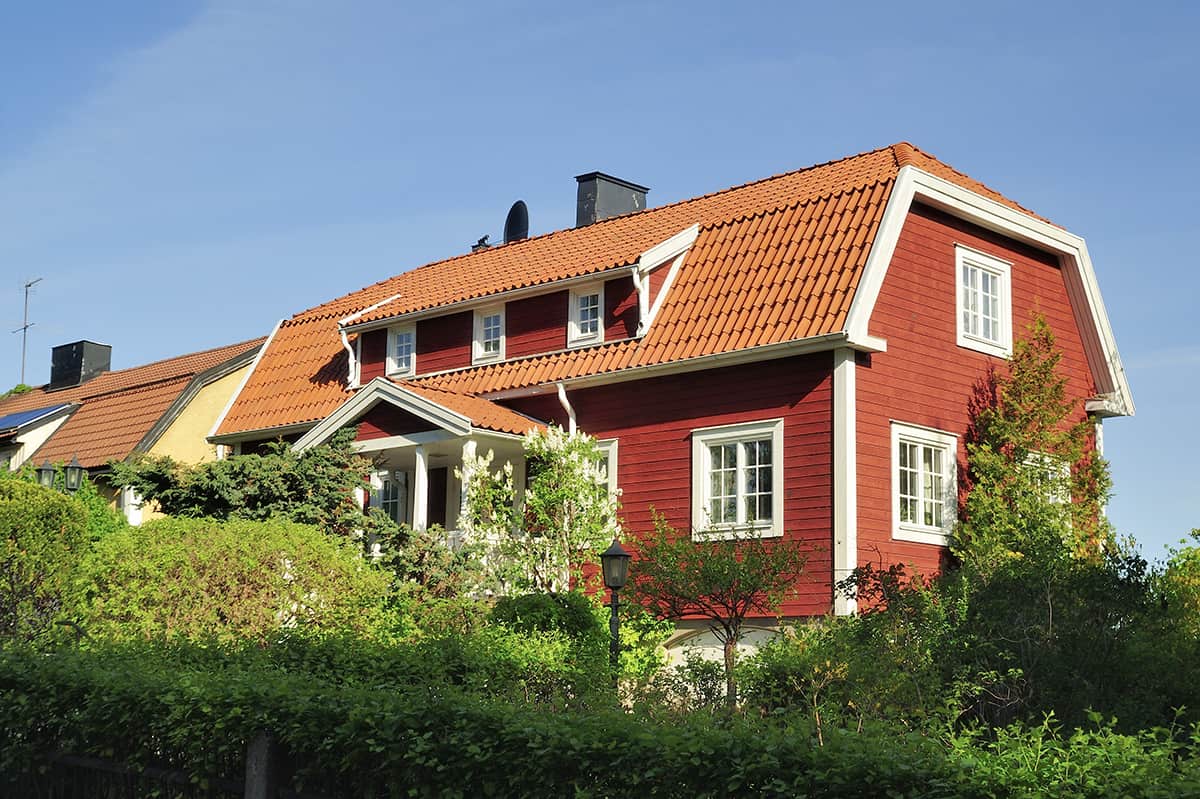 Orange or terracotta roofs are highly popular in Mediterranean and Scandinavian style homes. You will often see these roofs paired with bold exterior paint colors. So if you want to achieve a Spanish or Swedish look for your house, paint it a bold red shade. Red is a beautiful contrast to orange, and as it has a warm tone, it gives a welcoming vibe.
A striking shade of red like burgundy or red wine draws the attention to the entire exterior of your home as you can see in this image.The dominating shade of red as the main color goes well with the bright white trim and orange roof shingles.
Green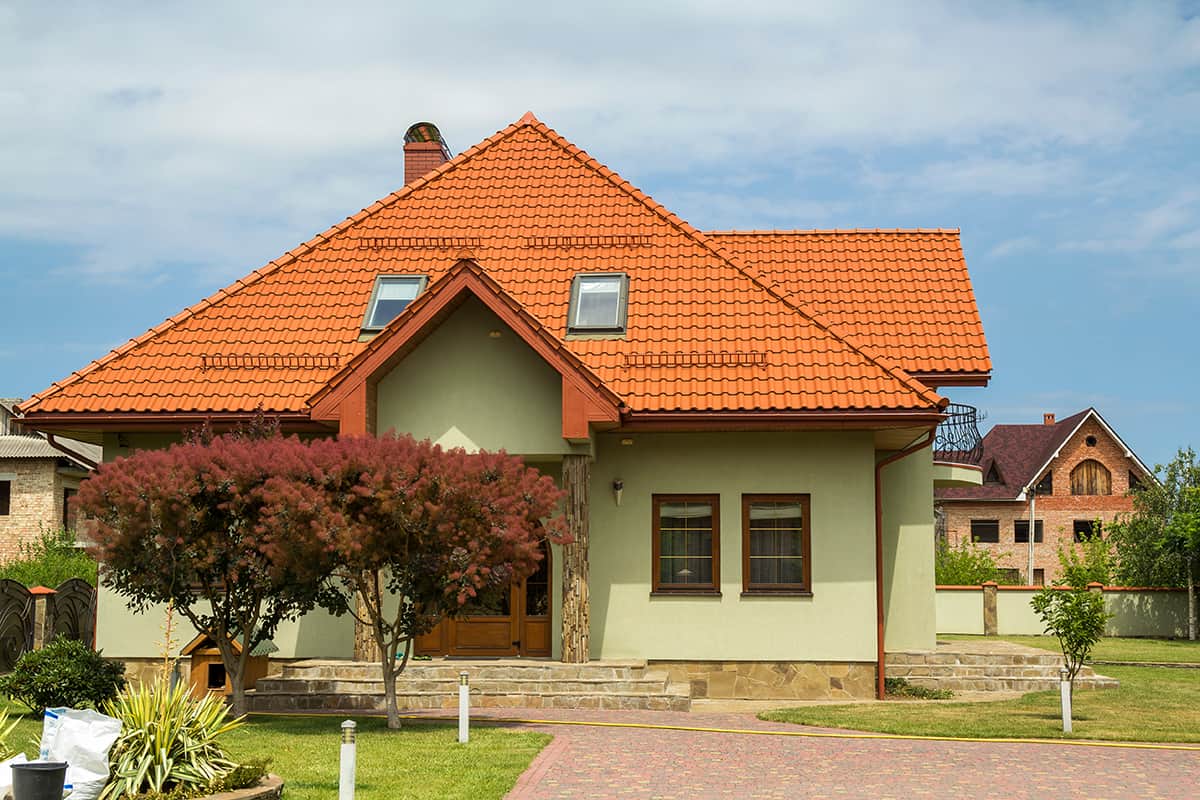 Since orange works well with warm, earthy colors like red, why not consider green as a more toned-down alternative? Lime, sage green or grayish-green can be an excellent choice for a house with a terracotta roof. In fact, you'll often see green houses with orange roofs in rural areas as they blend in with the surrounding nature.
There are many different shades of green that go with an orange roof, including forest green. This shade reminds us of the greenery in summer and is commonly seen on traditional or farmhouse homes. As a background color, green can be coordinated with a brown front door and matching trim as an ultimate earthy combination.
Brown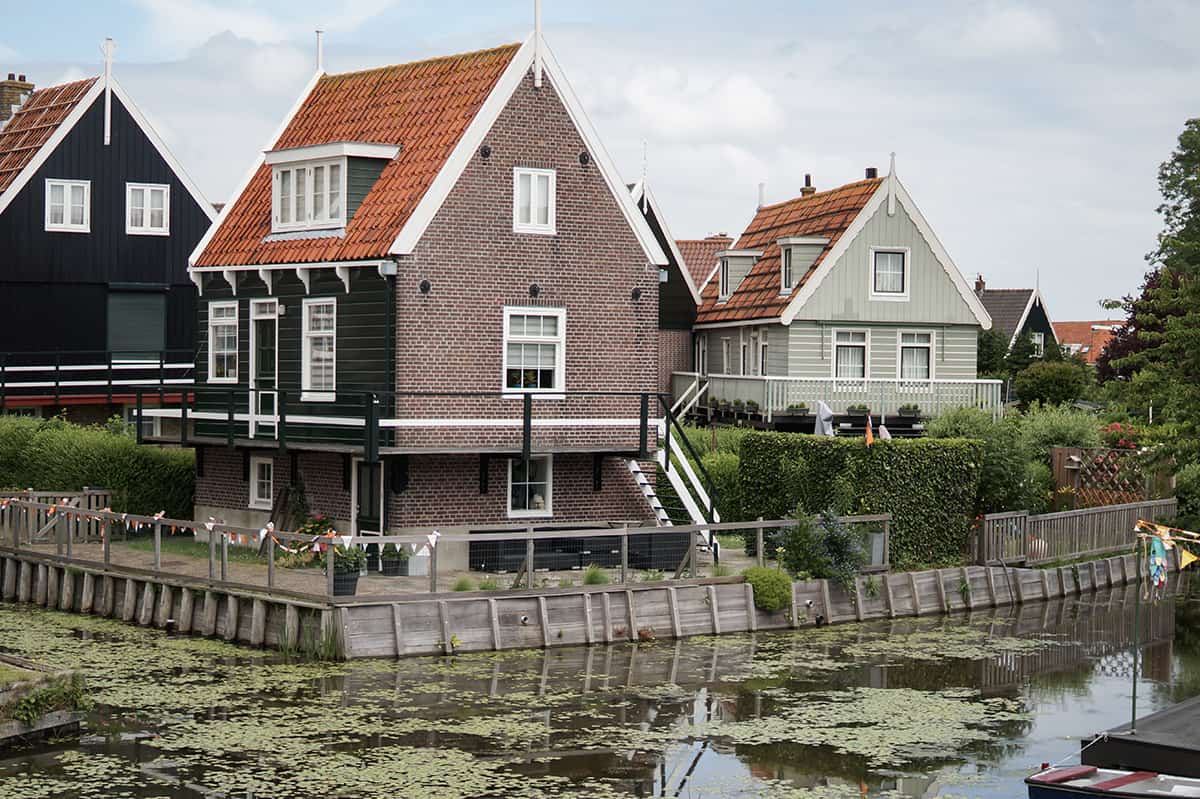 We might as well continue with the topic of earthy tones by including brown in our list. This is the ideal paint color that goes with an orange roof in order to give a more monochromatic scheme.
Brown is in the same family as orange so choosing this option is a no brainer. It emits a welcoming vibe without overwhelming your orange roof. To recommend the best brown shade, consider tan because of its warm, earthy undertone.
In this example, the Dutch house with an orange roof has a brown siding that complements the warm roof color without taking the focus away from the shingles.
Marigold Yellow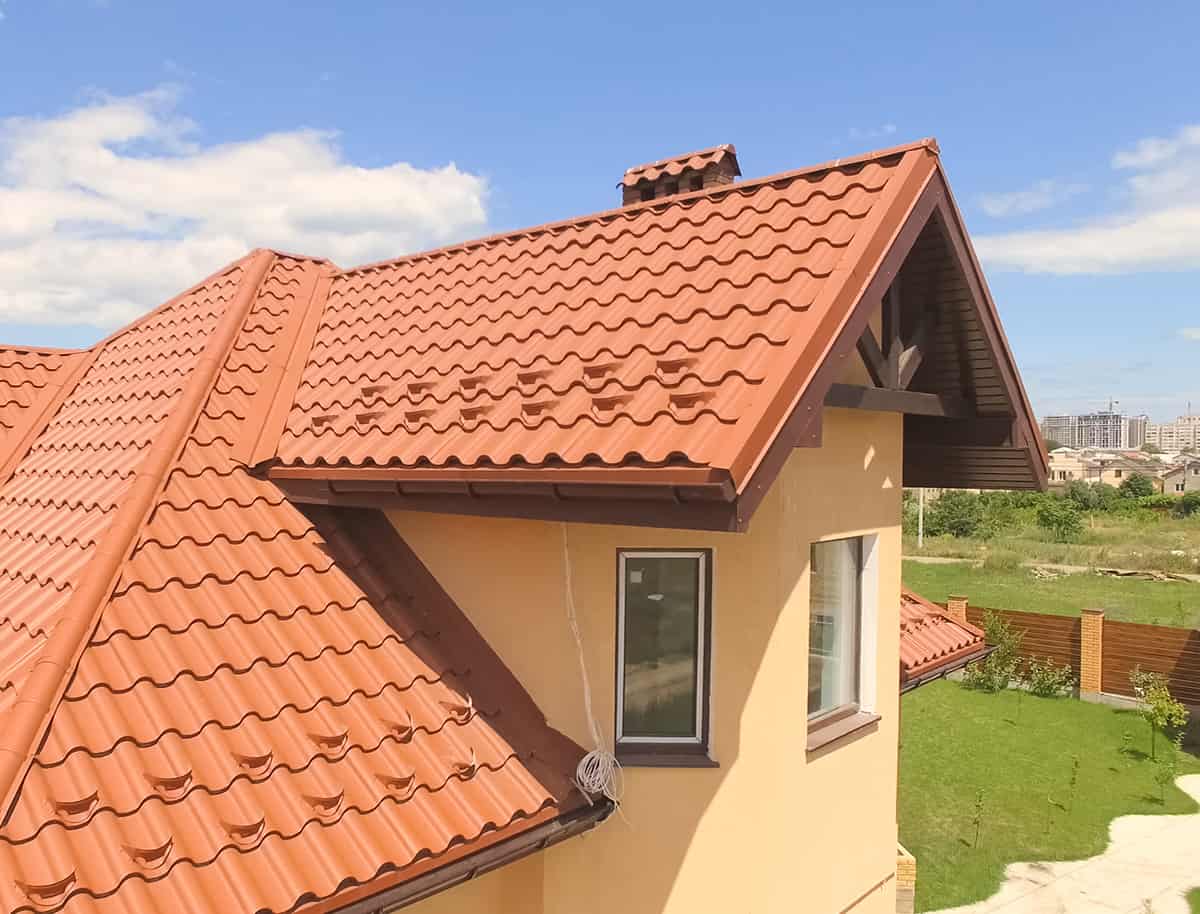 Still looking for a warm paint color but in a lighter tone? Of course you'll want to brighten up your home's exterior as you've already chosen orange for the roof. So the ideal warm paint color in this instance would be yellow. This is not an overwhelming color, and when paired with an orange roof and brown trim, it can be a super option as per this example.
Whether your home is a traditional or modern style design, by painting it a stunning shade of yellow like marigold, it will brighten up the exterior and draw attention to the bright orange roof.
Cream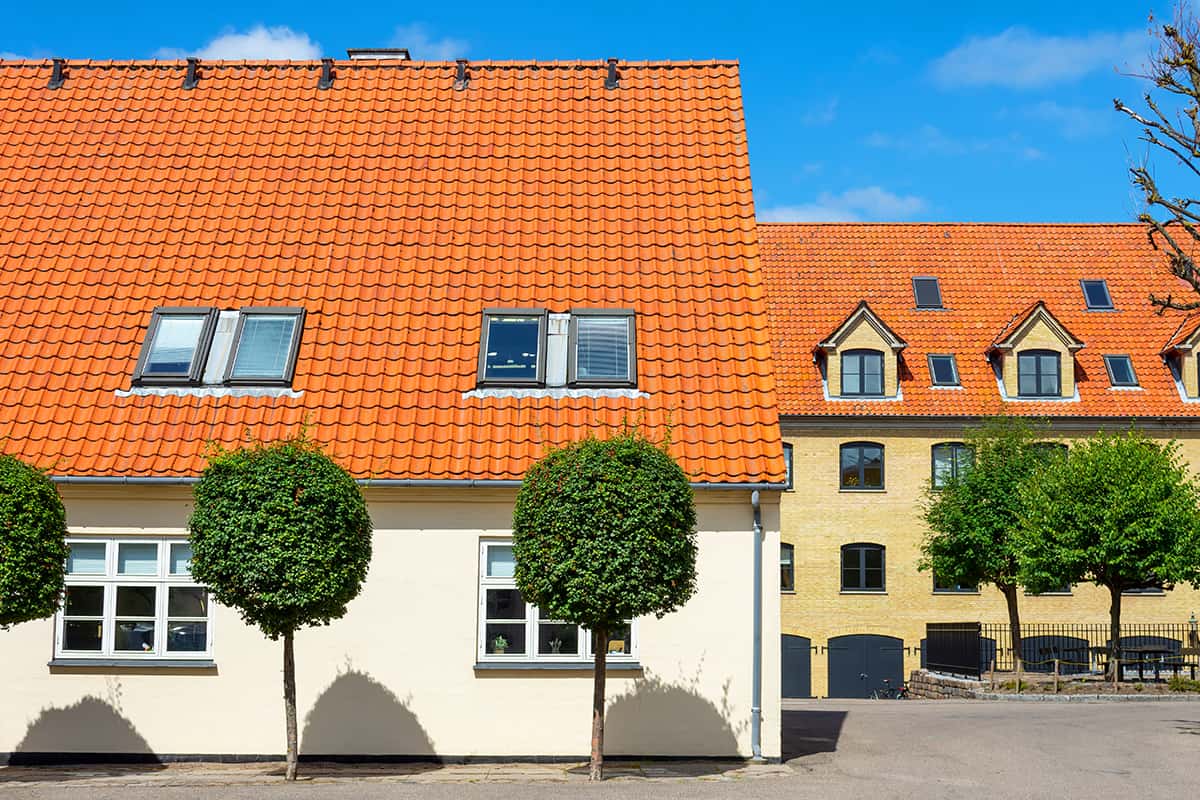 As a softer version of yellow, consider warm cream for a classic look. This neutral color works with most roof colors including orange and has enough depth to bring out the warm undertone of orange.
On traditional or farmhouse homes, we often see white painted siding with orange roof shingles. But if you want to avoid a stark look, with a little warmth, opt for cream instead. You can always incorporate white into the trim or front door.
Desert Tan
Another very neutral paint color option that goes with an orange roof is desert tan. This is a safe and smart choice that pretty much works with any other warm tone. Desert tan allows your orange roof to take center stage for a welcoming look. When paired with white or brown trim, your desert tan painted home will pop thanks to the bright orange roof standing out.
Gray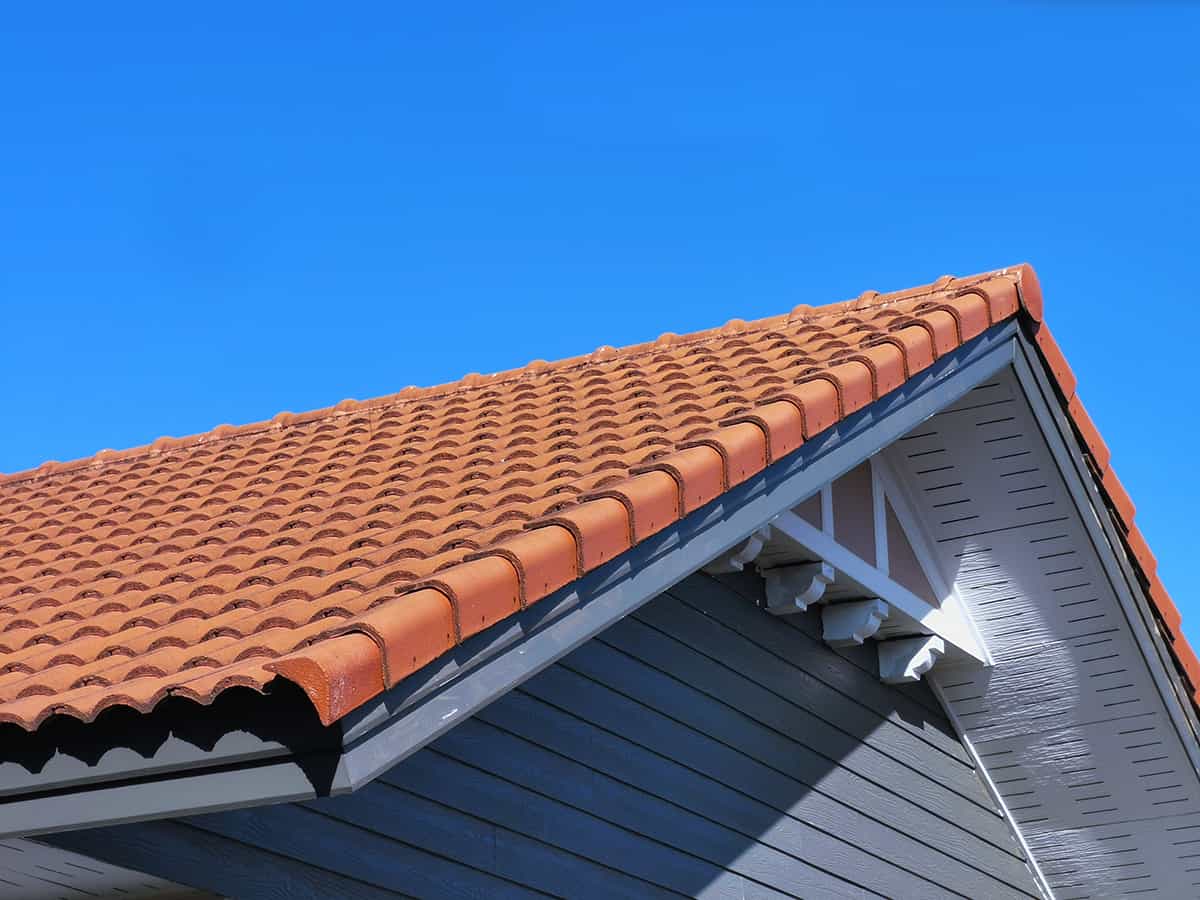 When we mention gray, you might think it's a cool, cold color that will look out of place with an orange roof. But in actual fact, there are warm gray shades that you can blend with both warm and cool features.
For example, elemental gray can help balance the warm roof and stone-colored paint. Use this versatile shade of gray to make a statement on your modern or colonial style exterior. Although elemental gray is a rich, deep shade, it can be a striking choice for a home with an orange roof.
Pink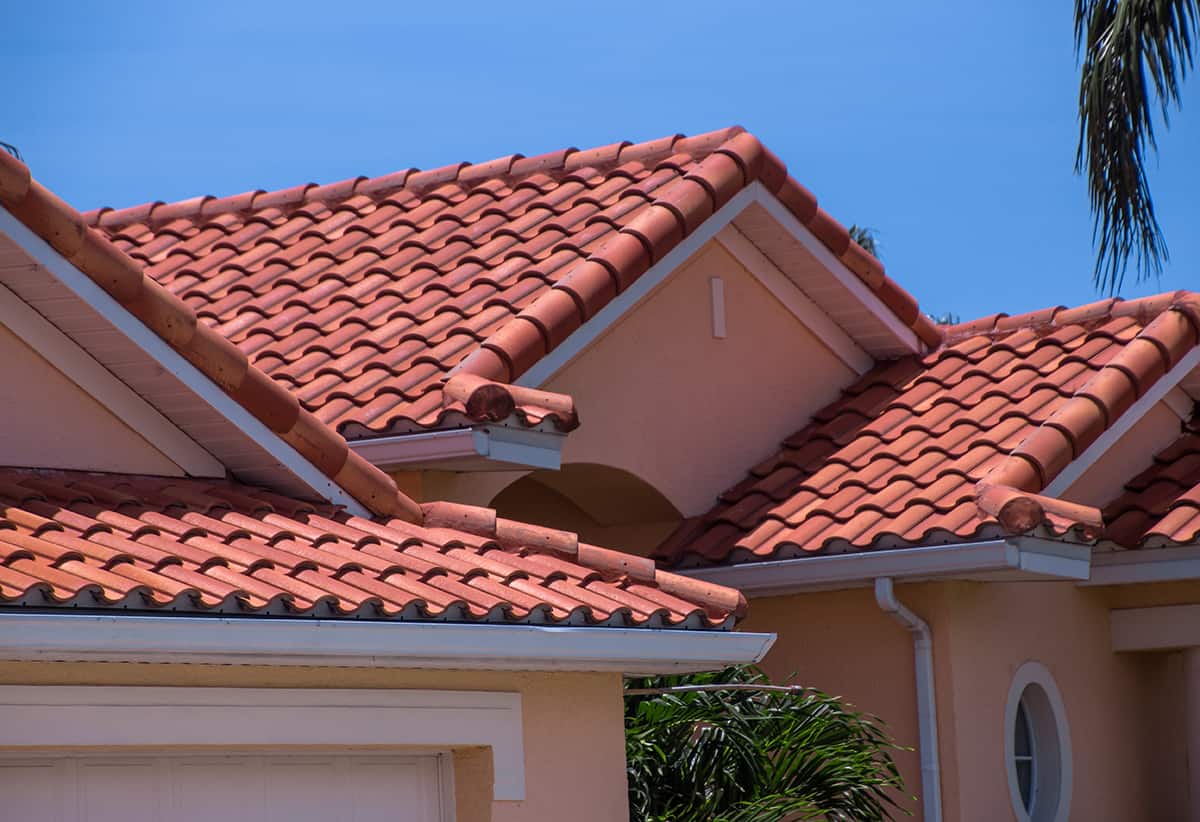 Our surprising idea for exterior paint color of a house with orange roof shingles is pink. This standout color needs a daring and adventurous homeowner to consider it as an option.
A soft shade like coral pink goes beautifully with orange roof shingles as shown in this photo. Pair it with white accent and it can truly take your Spanish style exterior to another level.
Natural Wood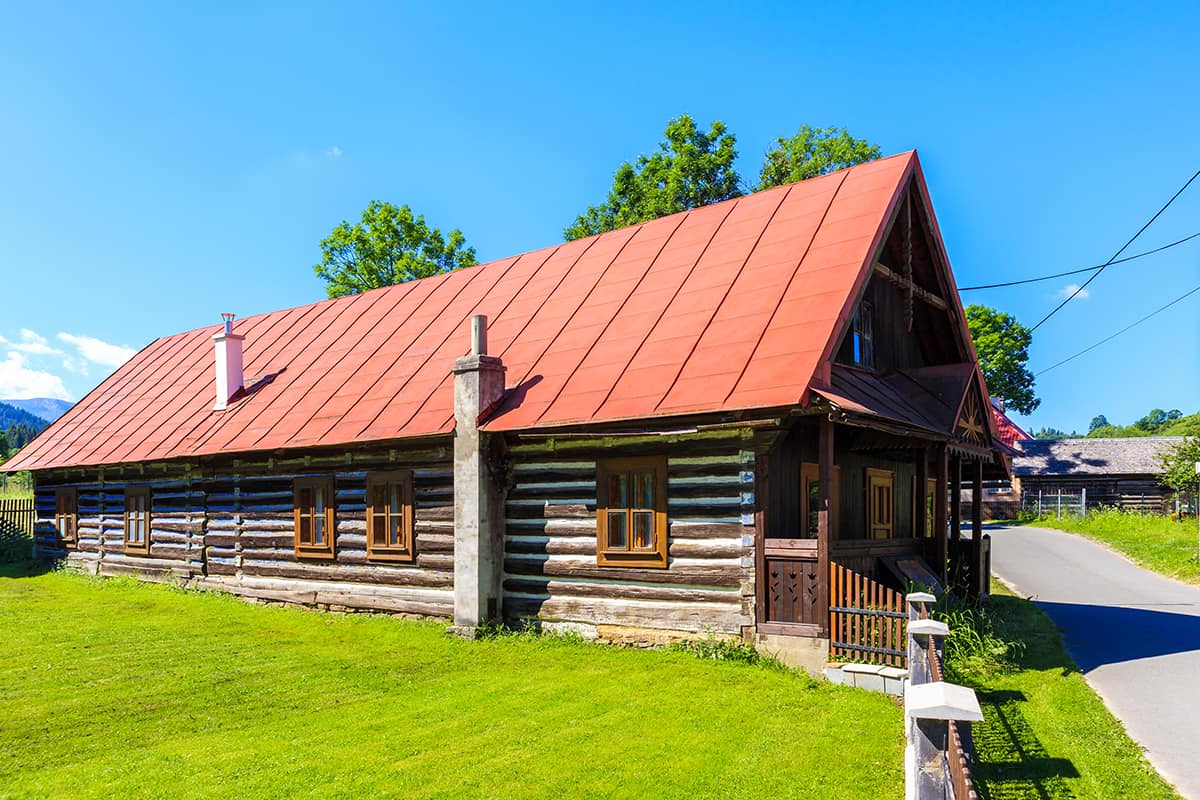 Not every home with an orange roof needs to be painted to look good. If your home's siding is made of wood, simply stain it using a rich, warm finish.
This will allow your home's character to shine through, regardless of whether the wood is cedar, mahogany or maple. You may even stain the wooden exterior with a transparent finish for depth. Keep in mind that stain colors don't have to be dark or light in order to make the most impact on a wooden house with orange roof shingles.
Take this traditional wooden house, for example, with its bright orange roof and stained exterior. The trim is light brown since this warm color goes with both wood and orange shingles. The warm tones of this house blend in perfectly with the green surroundings.
What Exterior Paint Colors Don't Go with an Orange Roof?
While most paint colors complement an orange roof, it doesn't mean they are all the best option. To avoid a harsh or stark look, we think it's wise to avoid bright white tones.
Unlike cream and beige which both have a warm tone to them, a crisp white shade looks too cold and stark. So if you want to keep your exterior design cohesive with the orange roof, avoid white.
Another paint color to avoid pairing with orange roofs is black. This is especially the case for rustic or mid-century homes as black can make the exterior look very harsh. With that in mind, you can pick any color from our above examples to coordinate with your orange roof without the risk of color clashes.
What Trim Color Goes with an Orange Roof?
The best trim colors that work with a terracotta orange roof include blues, yellows, grays, beige and all other neutrals. Bear in mind that the trim color you select must also complement your home's exterior paint color.
To play it safe, use the same trim color as the front door for a cohesive look.The easiest option is to keep it neutral for a classy curb appeal.
Conclusion
To make your home with an orange roof maintain its attractive appearance in the neighborhood, it is important to choose the siding paint color carefully. Not all colors go with orange as they can often overwhelm.
But there are several warm colors like brown, cream and desert tan that work well with terracotta or orange roof shingles. On the other hand, if you are looking for a color that blends with orange but doesn't completely match it, go for analogous paint colors. These include reds and yellow tones as they exude warmth.
Our above examples of best paint colors that go with an orange roof should hopefully have provided you with a better idea. If you aren't feeling adventurous, use neutral colors like cream, gray or tan. But if you are a daring homeowner and want your home with an orange roof to stand out, then consider pink, green or yellow paint colors.