Black roofs boast a clean, updated look that presents an exciting design idea. This timeless roofing color suits every construction style, from traditional to ultra-modern. If your roof shingles are black, you may be thinking about the best exterior paint color that works with the roof.
Since painting your home is a big expense, you'll want to carefully choose the most appropriate house color that goes with a black roof. Here we have compiled a list of our top favorite exterior paint colors with pictures to inspire you.
House Colors that Work with a Black Roof
Grey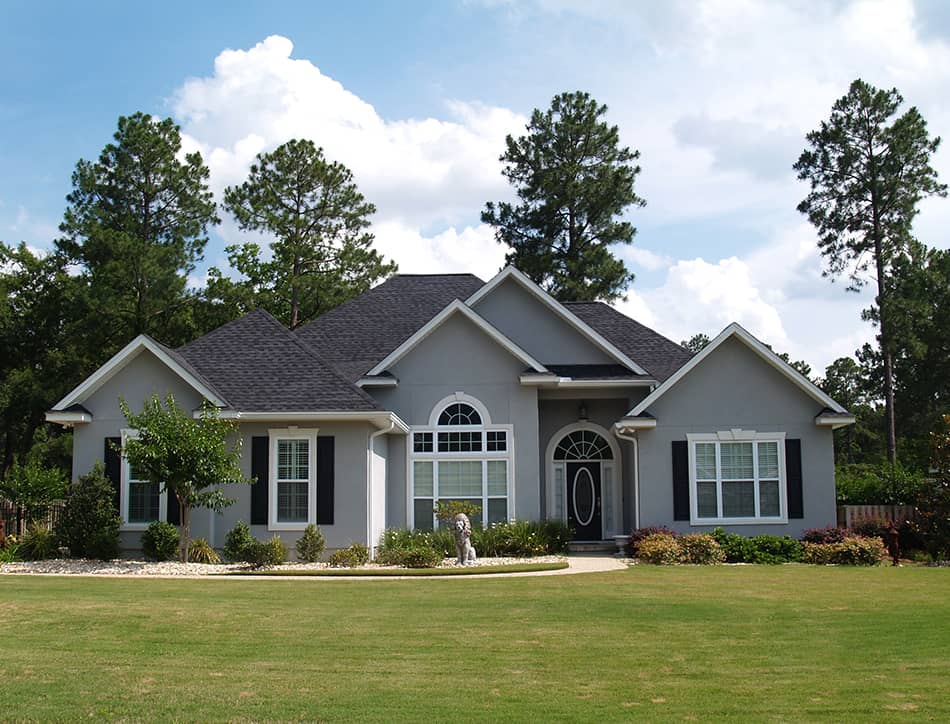 A black roof can be enhanced with a sleek grey exterior. This color combo will leave more room for introducing some vibrant colors like white for the trims. Grey is like a blank canvas that allows you to inject some personality into your home. This is one of the most preferred neutral colors for suburban homes as it mimics a modern vibe.
Since most black roofs don't look exactly black, painting your exterior grey will create an elegant monochromatic look. The grey and black pairing will work on any type of building, whether it's a single-story home or a Colonial-style building. And to help absorb heat, go for a cool-hued grey to pair with your black roof.
Putty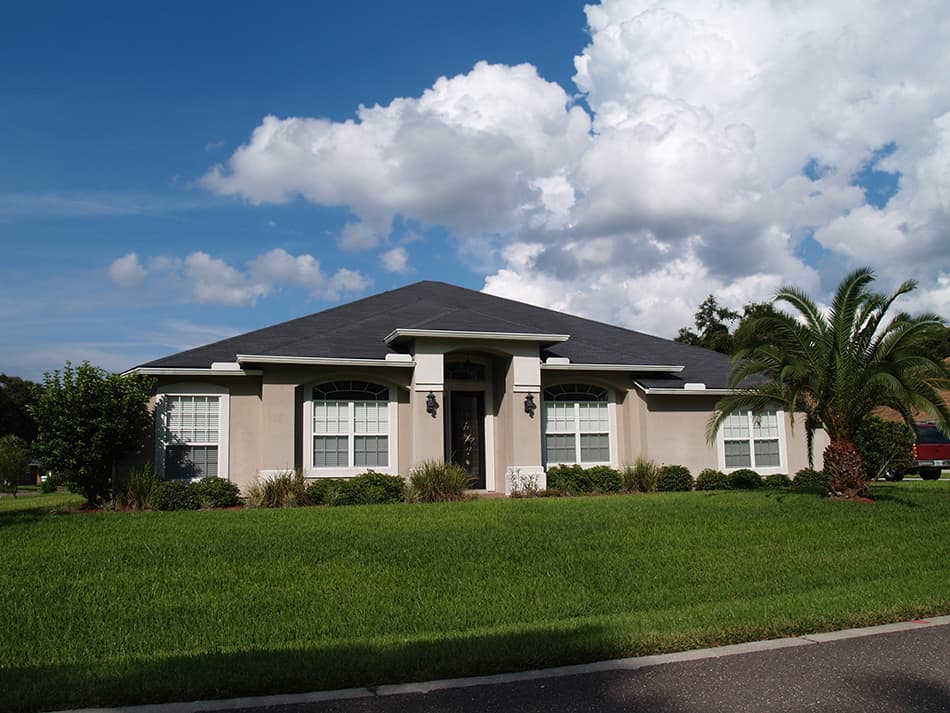 Putty is an unusual exterior color for a home with a black roof, but this new neutral color option works very well with a dark roof. Putty creates a subtle contrast similarly to beige hues. You can even try it for the shutters and trims or opt for a deeper tone like brownish yellow instead.
Yellow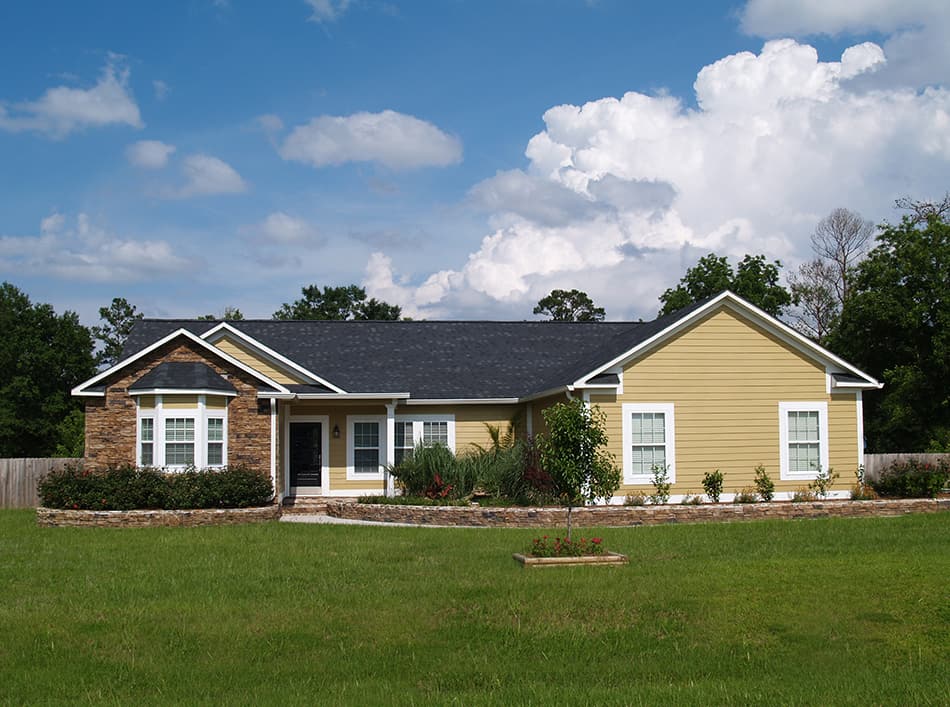 Pairing your black roof with yellow works on any style of home. The trick is to use the right shade of yellow for a particular house style. For example, traditional homes can benefit from a sunny shade of yellow to go with their black roof.
For a more retro look, try an even brighter yellow hue like mustard or lemon. When done right, a bold shade of yellow will add instant appeal to your home. And as for the trims, white is always the safest color to pair with black and yellow as shown here.
Light Blue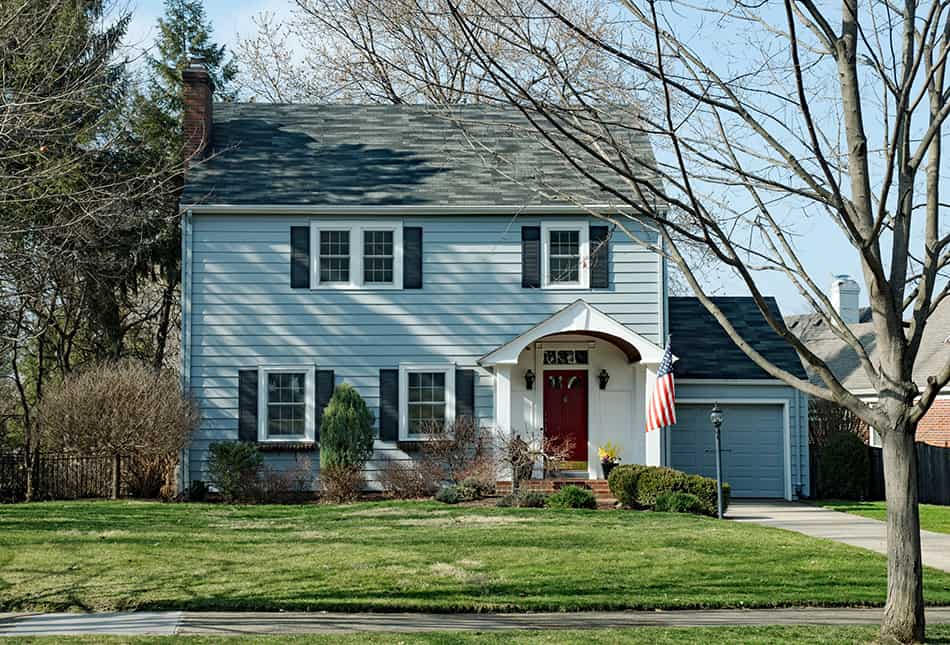 Whether your home is situated in a small suburb of America or on the shores of the coastline, painting its exterior in a light blue shade can enhance its architectural features. Any light blue shade like turquoise, celeste, or aqua will work with your black roof. This color combo will emit a nautical and serene feeling.
When you add black shutters to the color scheme, your home exterior will look traditional yet lively. See how this light blue house with black roofing looks more visually interesting thanks to the seamless pairing of the colors.
White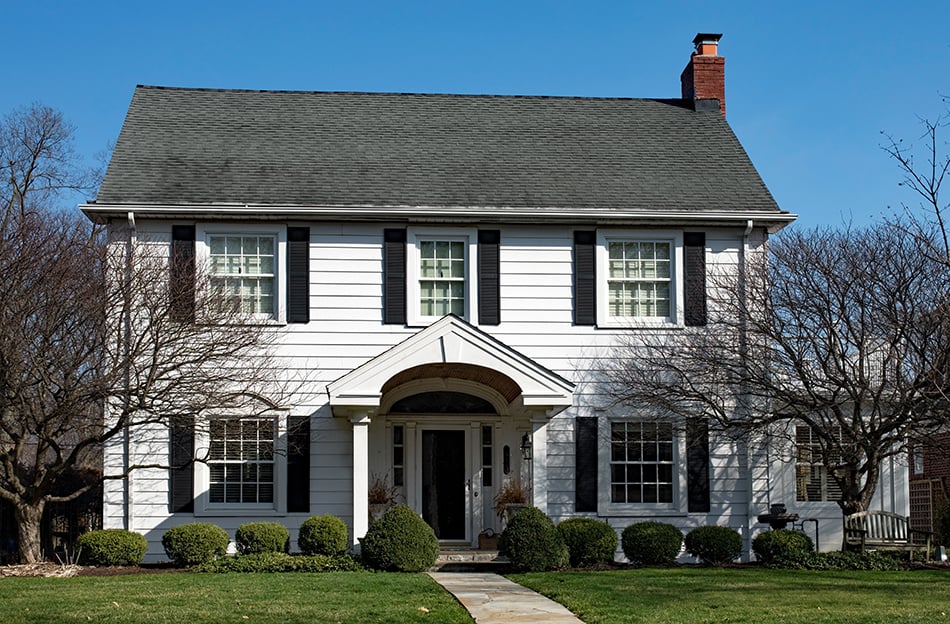 When we mention a black roof, the color white cannot be left out of our list as this paint color goes with just about everything. You don't have to go all-white to create a classic or modern look.
This simple palette will work especially well with black trims or shutters as well as a black roof. You can also add a light neutral tone like cream for the accents in order to create a little more contrast.
Beige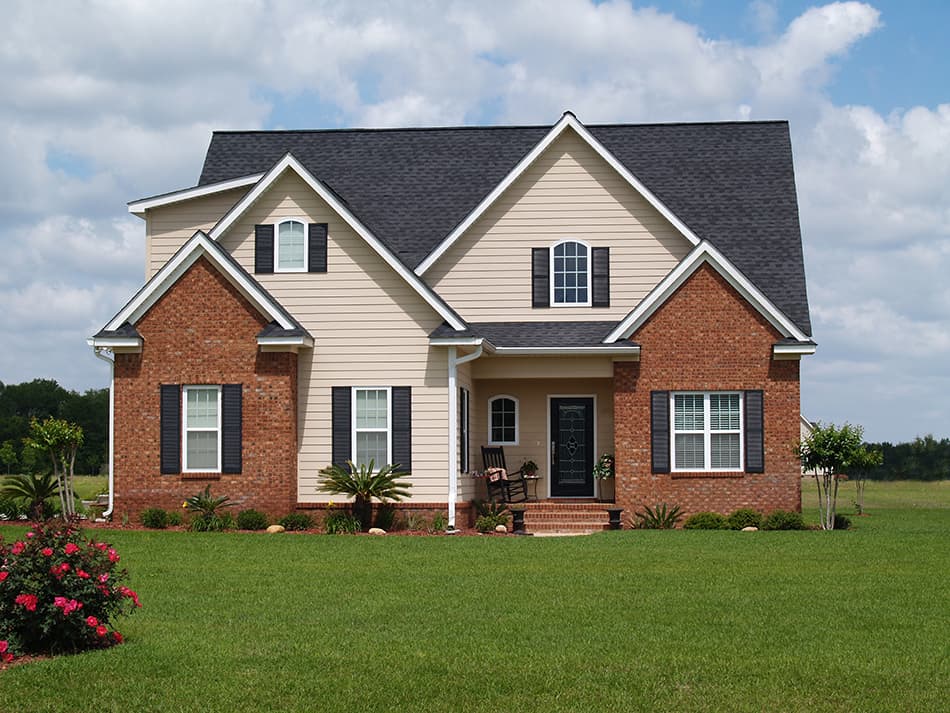 Not to be outdone by the stunning contrast of black and white, the paint color beige is also increasingly becoming popular among homeowners. While beige is a less intense color with a more modern appearance, it is considered to be a versatile paint option. When paired with a black roof, beige is the added luxury that few other exterior paint colors can offer.
See how complementing this color is on a brick exterior. This two-story house boasts beige and red brick with black shutters and a black roof as the perfect accompaniment to the red and beige.
Red Brick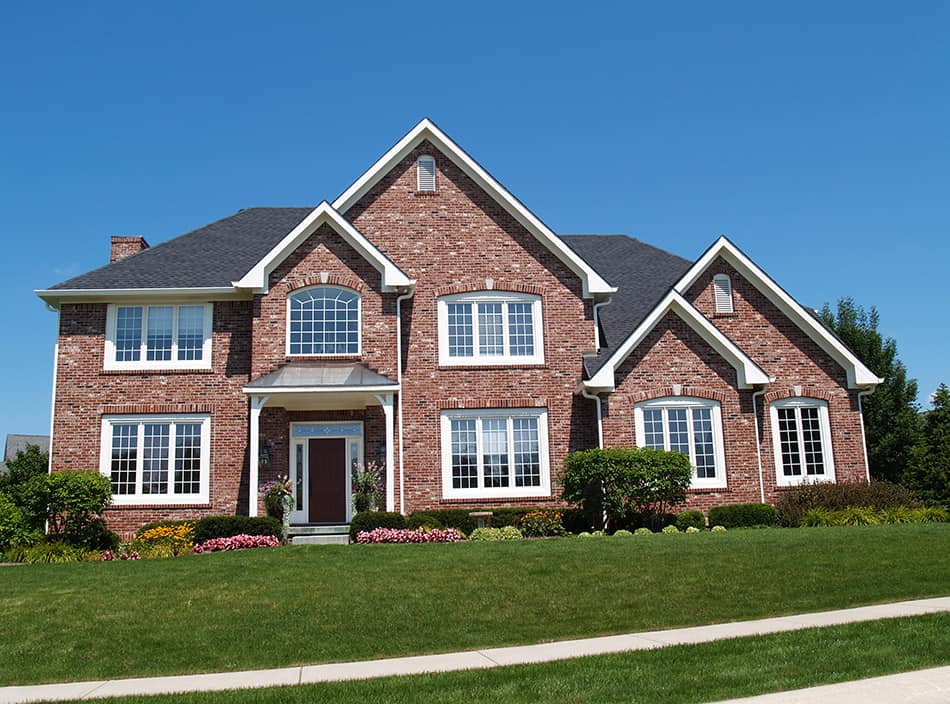 Whilst we're on the subject of red brick, if you have a dark roof, you can use natural colors for inspiration. Regardless of the red brick tone of your exterior, you can use attractive elements to enhance the curb appeal of your home. Thanks to the red brickwork's classy look, a black roof adds energy to this color scheme without appearing too serious or overwhelming.
This beautiful large two-story house looks exquisite with its white trims, black roof, and red brick exterior. If you had any doubts about pairing your black roof with red and white, then this picture proves these color combos are a match made in exterior design heaven.
Black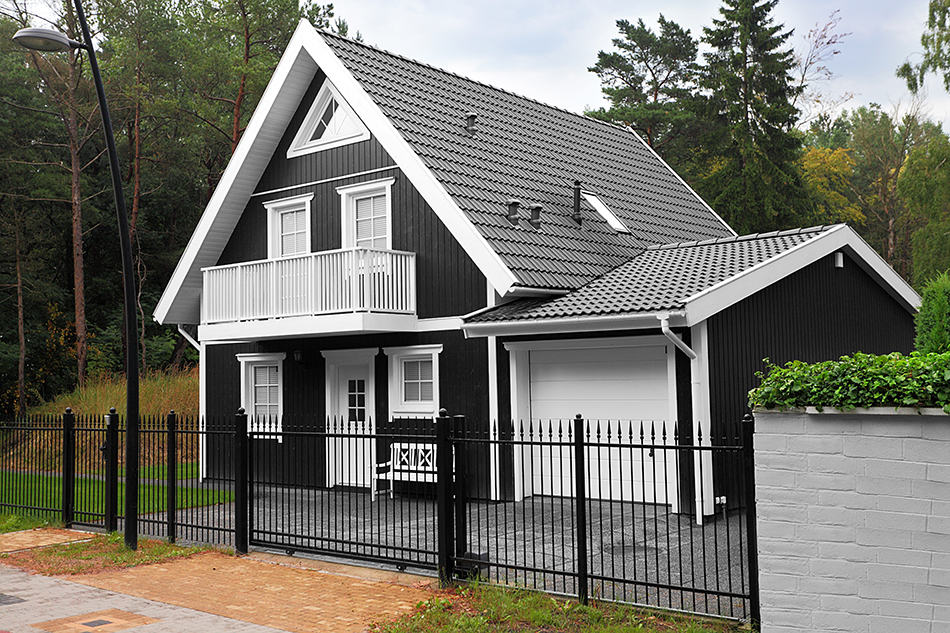 Who said a black roof can't be paired with a black exterior? Going all black takes some courage, but it is worth considering no matter whether your exterior siding is made of wood or stone. To evoke a powerful image and to benefit from the dark hue of black, use it to attract sunlight and keep your home warmer in winter. While it may sound extreme, an all-black home needn't be an eyesore.
To prove why a black roof works with a black exterior, just take a look at our example. Sure, it's not totally black, but you get the idea. The black wooden house features white trims to lighten up the color. You can do the same for your own home by adding white accents for added appeal.
Brown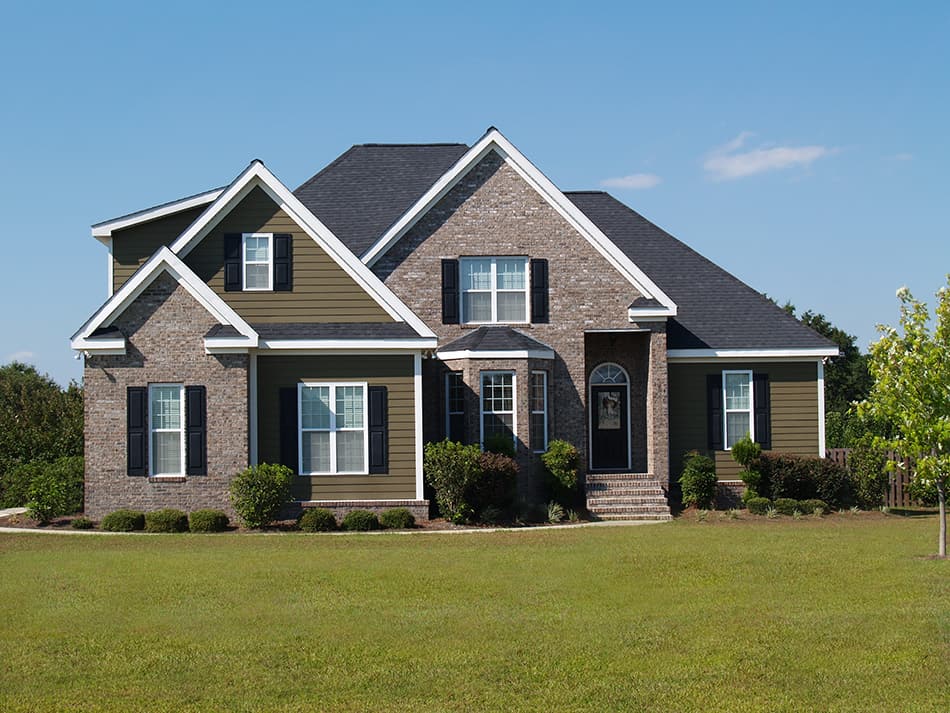 Another classic black roof and the exterior color combination is brown. Unlike black, brown offers a softer paint option. You can easily blend brown with nature, especially if your home is near a forest or wooded area. This color combo also works on brick exteriors that boast a brown hue, as shown in this example.
Sage Green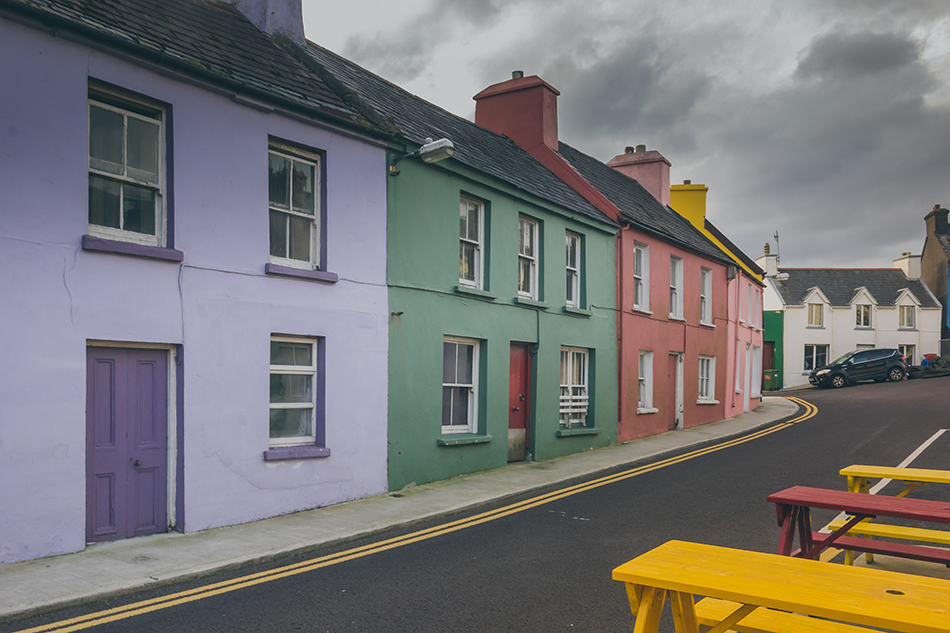 If your roof shingles have a grey undertone to them, bring out their appeal by painting your home a bright shade of green. In fact, any shade of green, from olive to sage, will work with a greyish-black roof.
Green is the perfect backdrop to lush surroundings, and even if your home isn't surrounded by the natural landscape, you can still feel closer to nature by painting your exterior a bright shade of green. It will certainly make your house stand out among the rest, just like the one shown here.
Purple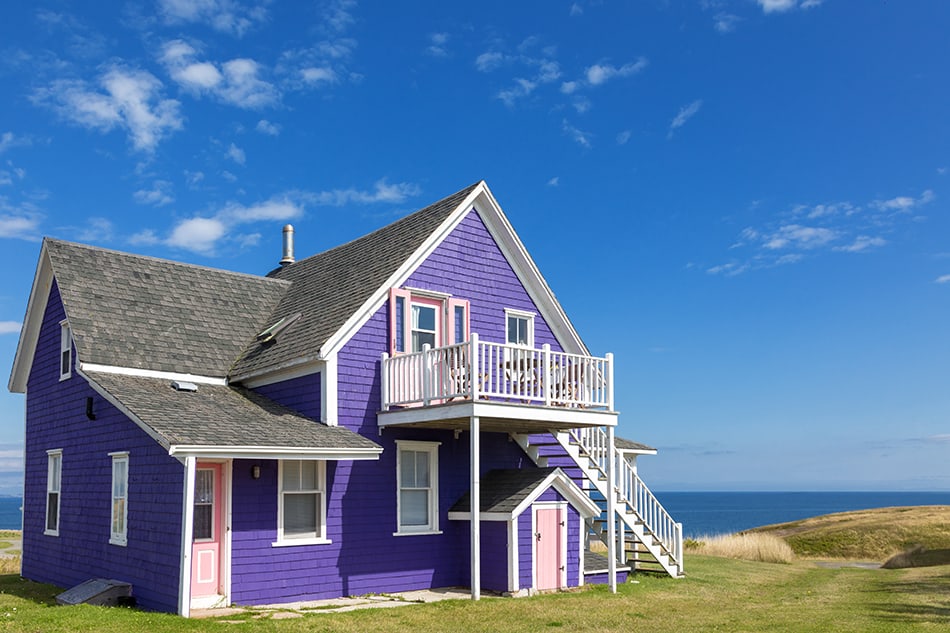 A purple exterior with a black roof may seem like an unusual choice, but for traditional houses, it is the perfect option. This is a great way to make your house stand out while retaining its original architectural style.
This coastal home instantly draws the eye to its bright purple exterior, white trims, and greyish-black roof.
Don't Forget the Trim and Accent Colors
It's not just the siding color of your home that you need to consider when coordinating the exterior colors with your black roof. The trim and accents are also as important as the siding to achieve the desired look. For example, a matching trim color with your black roof will help create a subtle yet cohesive look.
The trim can also be in two-toned colors to provide a break between the siding and the black roof. For brightly colored homes like blue, red, or yellow, white trims will work well with a black roof.
On the other hand, if you go for bold-colored trims or accents, they can act as a contrast between the siding and the black roof. This will tone down the exterior design and help balance the bold colors with the neutral ones.
To create an even more of vibrant appearance in homes with similar siding colors as black roofs, go for complementing trim colors. Use bright hues to prevent your home from appearing too bland. Experiment with different color palettes by obtaining samples from your local home improvement store. This way, you'll perfectly coordinate the trim and siding colors with your black roof.
Why Go for a Black Roof?
The color (and material) of your roof play a major role in reflecting heat. Asphalt shingles, for example, tend to reflect less heat when compared to rubber or metal roofs.
So if your roof is made of light tan asphalt shingles, it will bring less heat into your attic than a dark grey or black roof. Since a darker roof welcomes more heat into the home, thus causing your cooling system to work harder, it is generally more recommended for colder climates.
Dark roofs are surprisingly more energy efficient since they absorb heat better. This means, in heavy snowfalls, they work better to remove snow.
Not only do black roofs look more sophisticated than their light counterparts, but they are also very popular for Colonial and Georgian-style homes in moderate climates. So if you are considering a new roof color, and you live in a moderate to a cold region, then a black roof is the ideal choice! However, you can also pick outstanding colors for roofs, such as red roofs for various exterior paint colors.