Decorative pillows can transform a living room's ambiance by breathing a zest of texture and color into the room to elevate the cohesive look.
Whether you're a fan of the boho theme or eclectic interior design, knowing what color throw pillows go with a blue couch will enable you to create the desired vibe. Since a blue couch is a popular furniture color for the living room, it is only natural that you'll want to dress it with attractive throw pillows.
A blue couch is quite easy to coordinate with other colors. Most throw pillow colors are compatible with this color, whether you go for vibrant hues or neutral shades.
To help you blend your blue couch with the right decorative pillow colors, here are our best examples with pictures:
Throw Pillow Color Ideas for Blue Couch
White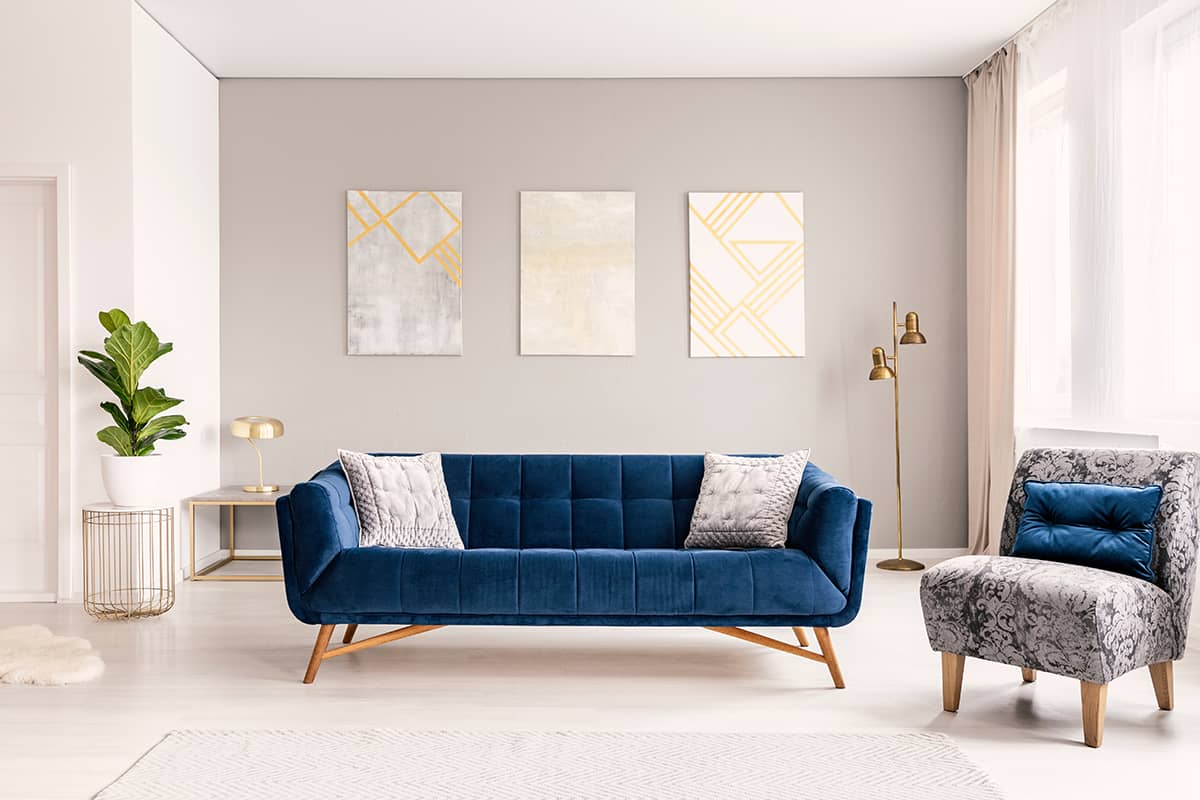 If you want to keep your blue couch the centerpiece of your living room, then what color is better than white throw pillows! You might think white is too plain, but you can always choose embroidered or patterned pillows for visual interest.
The one downside to white pillows is their susceptibility to showing dirt or stain marks, so you might want to limit the number of white pillows you add to your blue couch.
Cream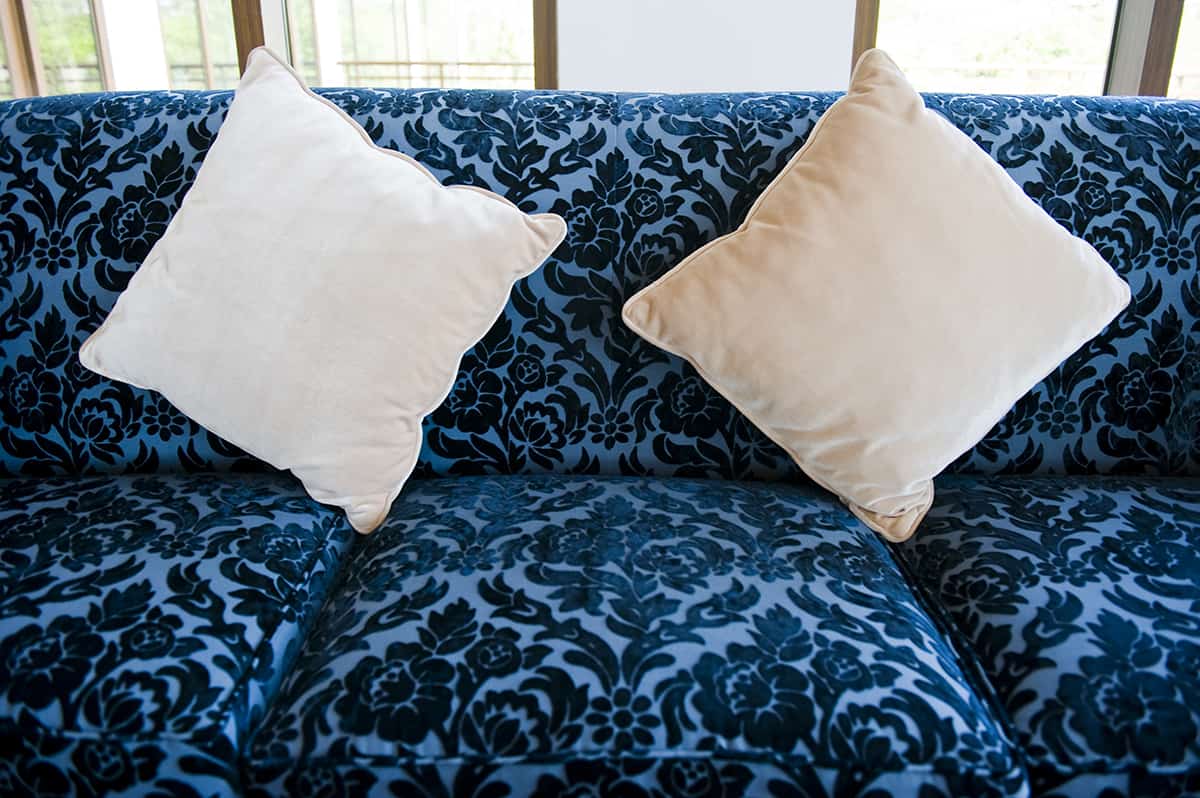 For those who prefer a softer color, then we recommend cream throw pillows for a blue couch. Since blue has a cold tone, it can be paired with a warm shade of white for a balanced look.
This neutral color option is the perfect pairing with most cold tones and is especially ideal for homes decorated in a contemporary or minimalist style.
Burnt Orange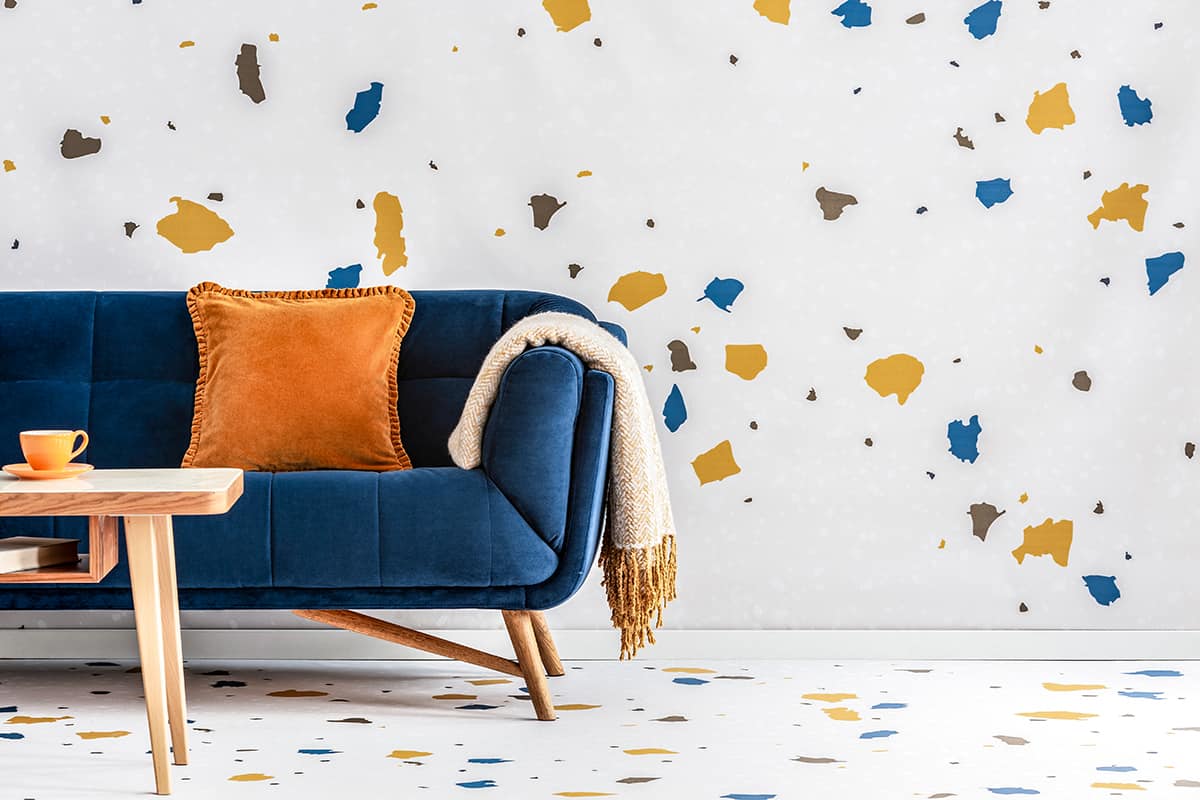 We've so far covered some neutral throw pillow colors for your blue couch, but how about contrasting colors to enhance the aesthetic appeal of your living room.
Burnt orange is a softer version of bright, bold orange and can be an excellent pairing if you're after a striking and elegant look. Using this color for your throw pillow will elevate the entire space and make it look more vibrant.
As you can see in this photo, a burnt orange throw pillow goes hand in hand with the navy blue couch. The combination of these colors brings a pop and a sense of vividness to the living room. Orange is the perfect color to neutralize the cool hue of the navy couch and emit a warm and smooth vibe.
A Blue Shade Lighter or Darker than the Couch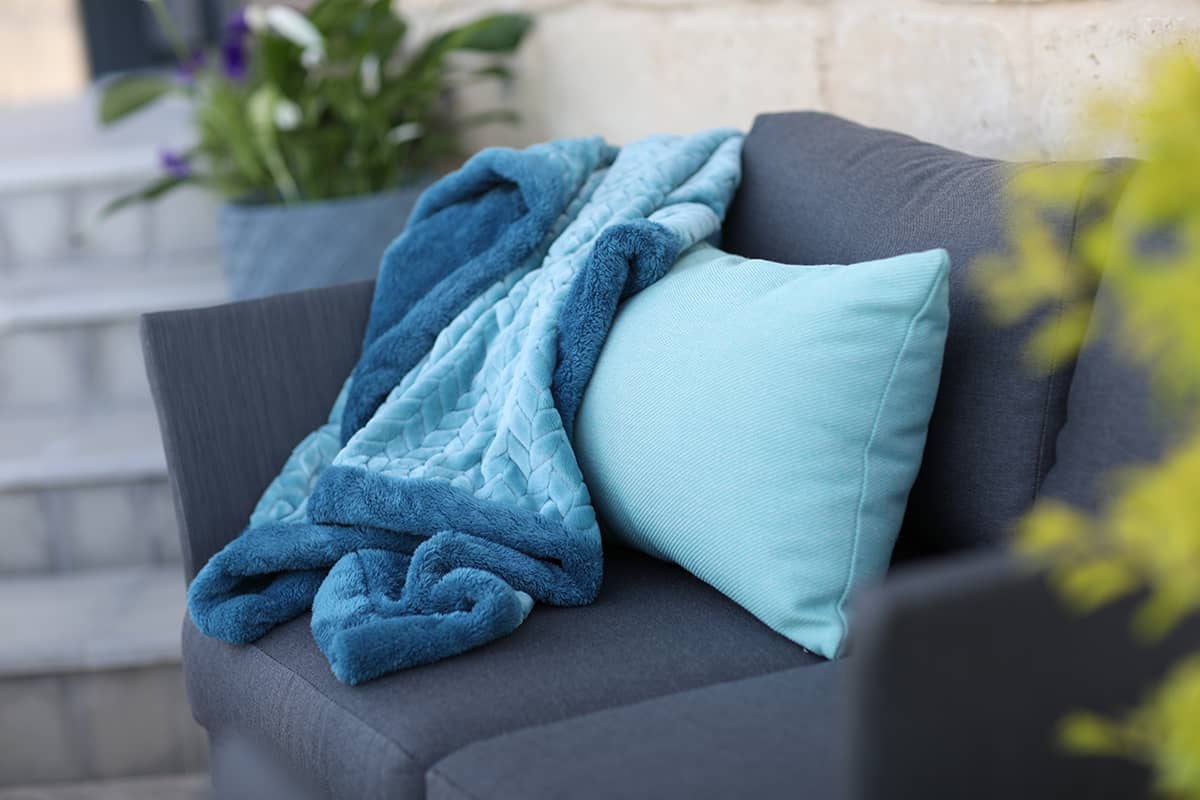 For a flawless and harmonious look, consider a blue throw pillow in a lighter or darker shade than your couch. Just like you can see here, the light blue pillow stands out on the dark blue couch and is easy to distinguish.
The throw pillow serves as a decorative accent, but only if you pick a light or darker blue shade than your couch. Otherwise, the pillow will look lost on the couch and appear visually bland.
For an even bigger impact, you may want to pick a different pillow material for your couch, like a suede or wool pillow for an upholstered or leather couch.
Velvety Red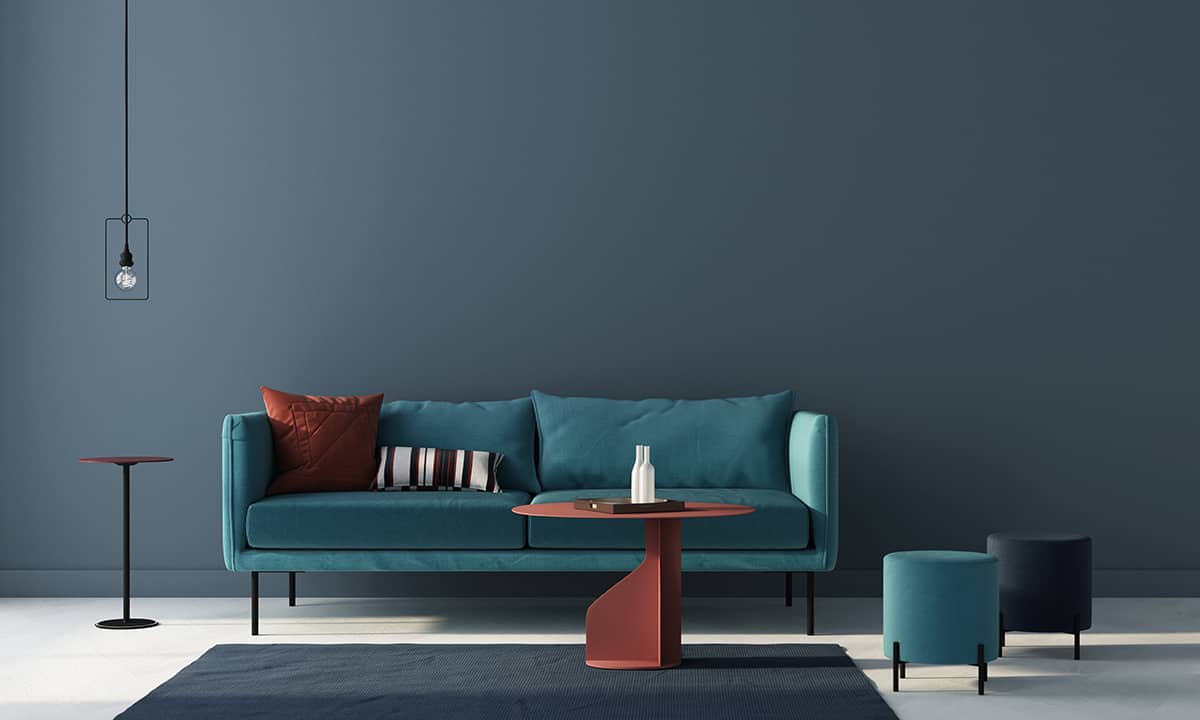 Red velvet pillows look stunning on any couch. If you want to add a sense of quirkiness to your living room decor, we think red is the perfect combination with a dark blue couch.
Red has a warm tone that brings a comforting feel to the couch. As a strong base, we recommend you pair the red velvet throw pillow with a navy couch.
Soft Pink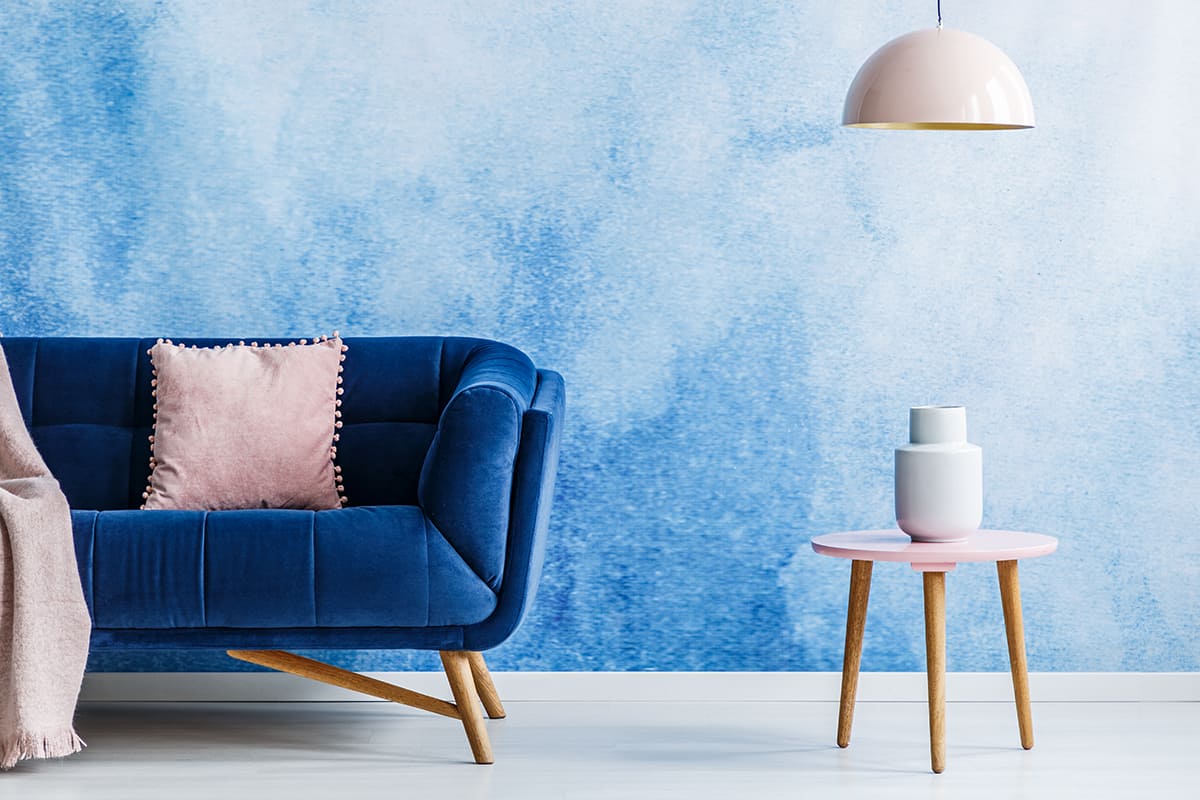 Who would have thought a blue couch goes with pink throw pillows? But why not! Pink is a chic, feminine color with a soft and calming feel. Any shade of blue couch will go with a pale pink throw pillow as pink is a versatile and timeless color.
Whether you pick patterned or simple pink throw pillows for your blue couch, the pairing will feel cohesive and ultra-modern in a minimalist-style living room like the one shown here.
Yellow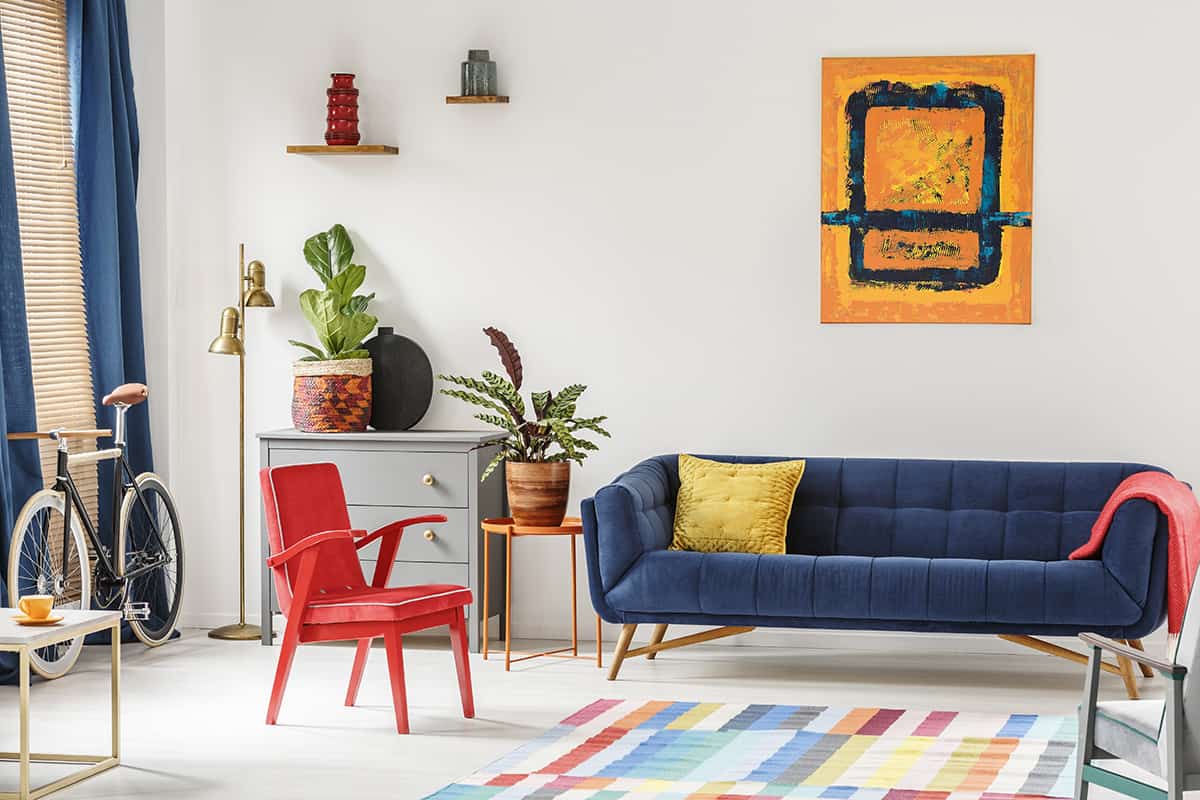 You can't go wrong with a yellow and blue combination as the two are associated with sand and the sea. This beautiful combination is sure to make your blue couch stand out and instantly draw the eye to the yellow pillow.
Just like in this living room photo, the royal blue couch blends in with the mustard yellow throw pillow. Any other furniture color also works with the blue and yellow pairing.
Red and Yellow Chevron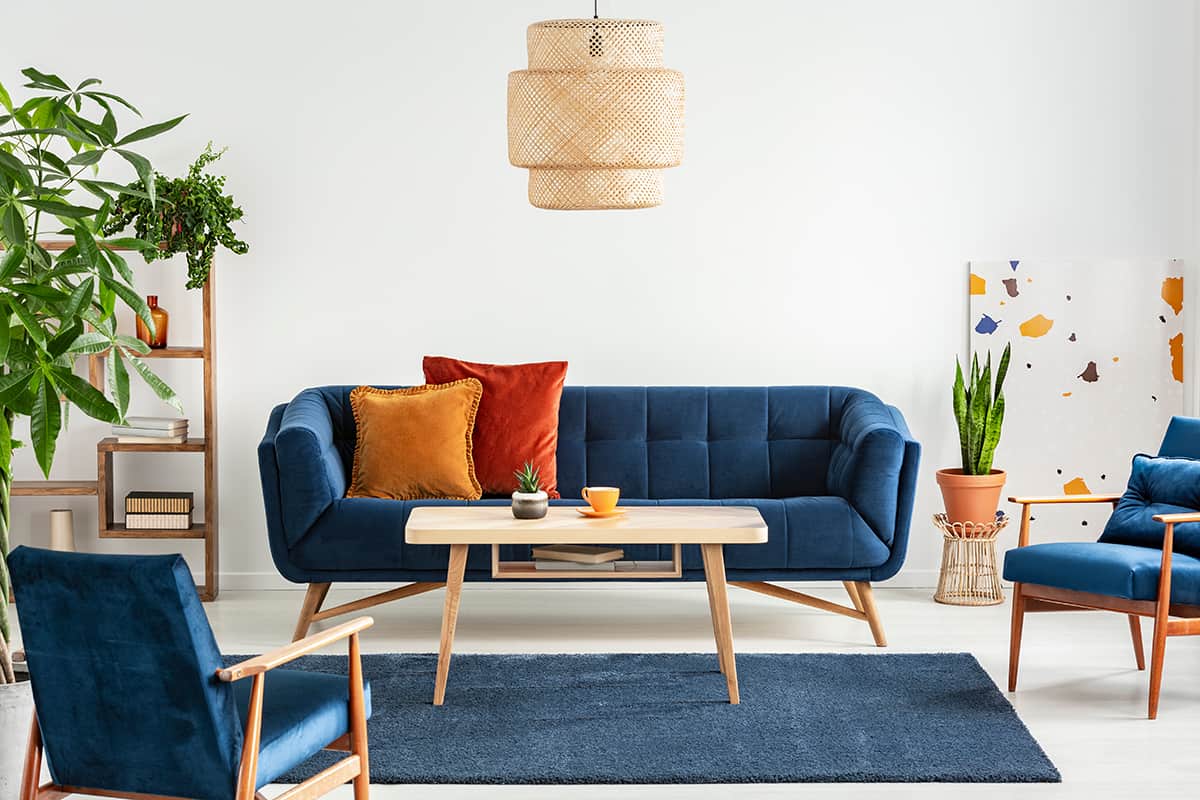 Your yellow throw pillow can be further enhanced with a red companion for a touch of elegance. We recommend a red chevron pillow to contrast the blue and yellow.
This fun-looking color combo provides an eclectic edge to any modern or traditional living room as shown in this example. Include a red or yellow throw blanket to the mix for a welcoming vibe.
Black and White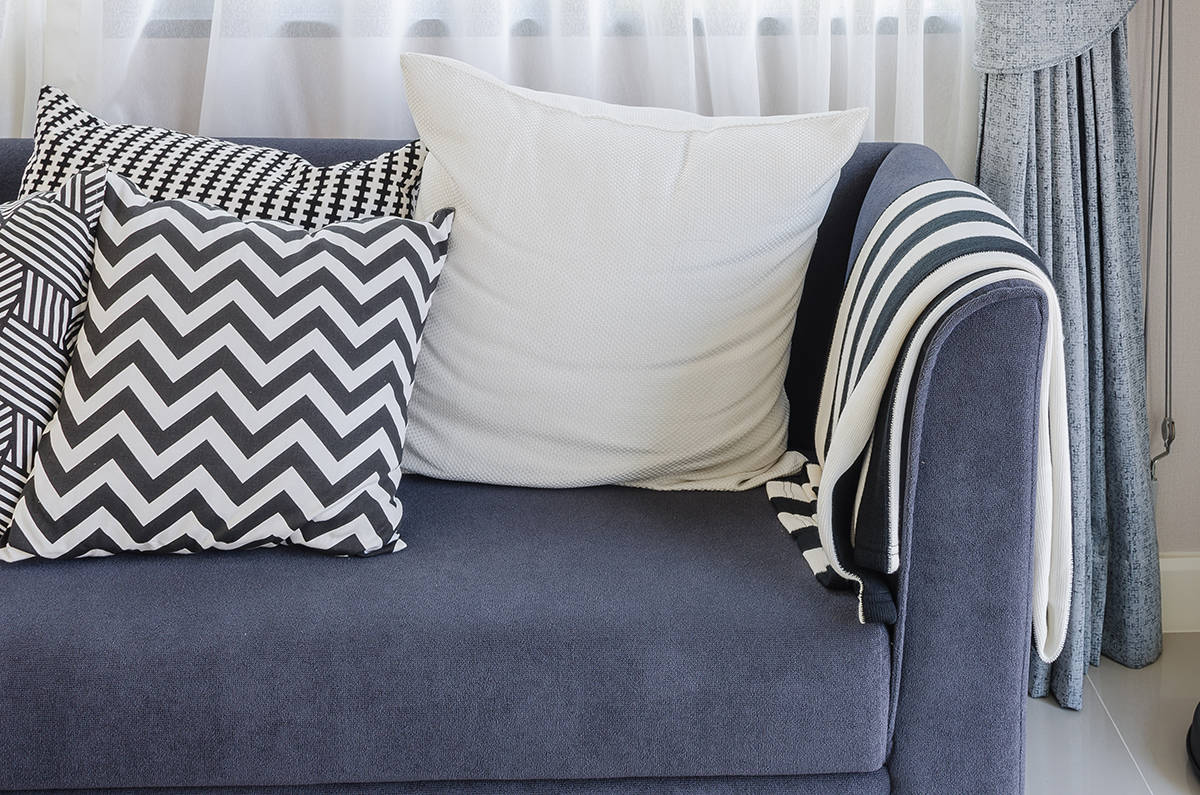 For a quirky or artistic look, black and white patterned throw pillows are the best pairing with a blue couch. While there is no color palette to this mix, it does nevertheless contribute to a unique vibe.
Blue complements black and white, but if you want to further streamline this color scheme, add a tinge of grayish-blue in the form of curtains or throw blankets as shown here. See our post ' What Curtains Go with a Blue Couch' for some other curtain color options.
Floral Design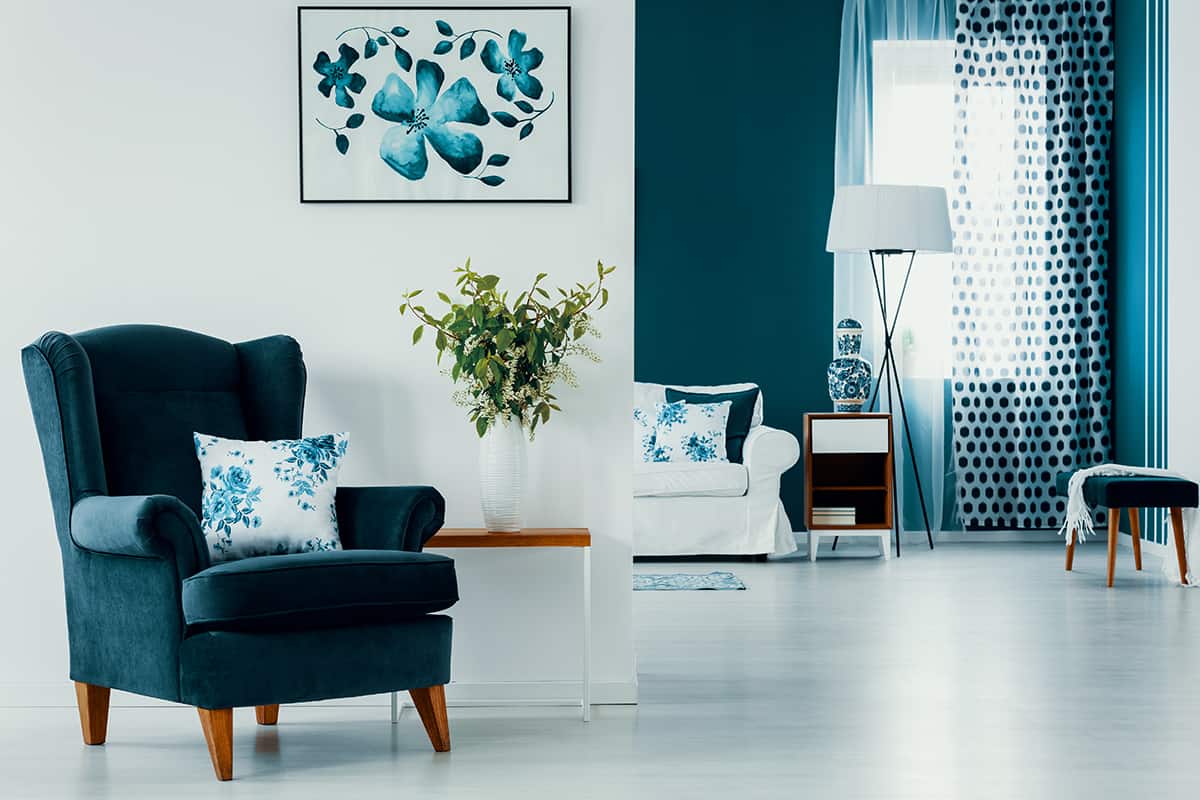 Floral patterns are solid designs that provide a soft and chivalrous look to any living room style. When paired with a dark blue couch, florals can be seen as contrasting or monochromatic, depending on whether your throw pillow is a similar color to the couch or not.
In the case of the example we've picked here, the floral throw pillow is a monochromatic palette and adds dimension to the blue couch. In fact, the entire living room decor is in sync with the throw pillow and the couch color. This unique and versatile floral design won't make a living room look outdated as proven in the photo here.
Striped Blue and White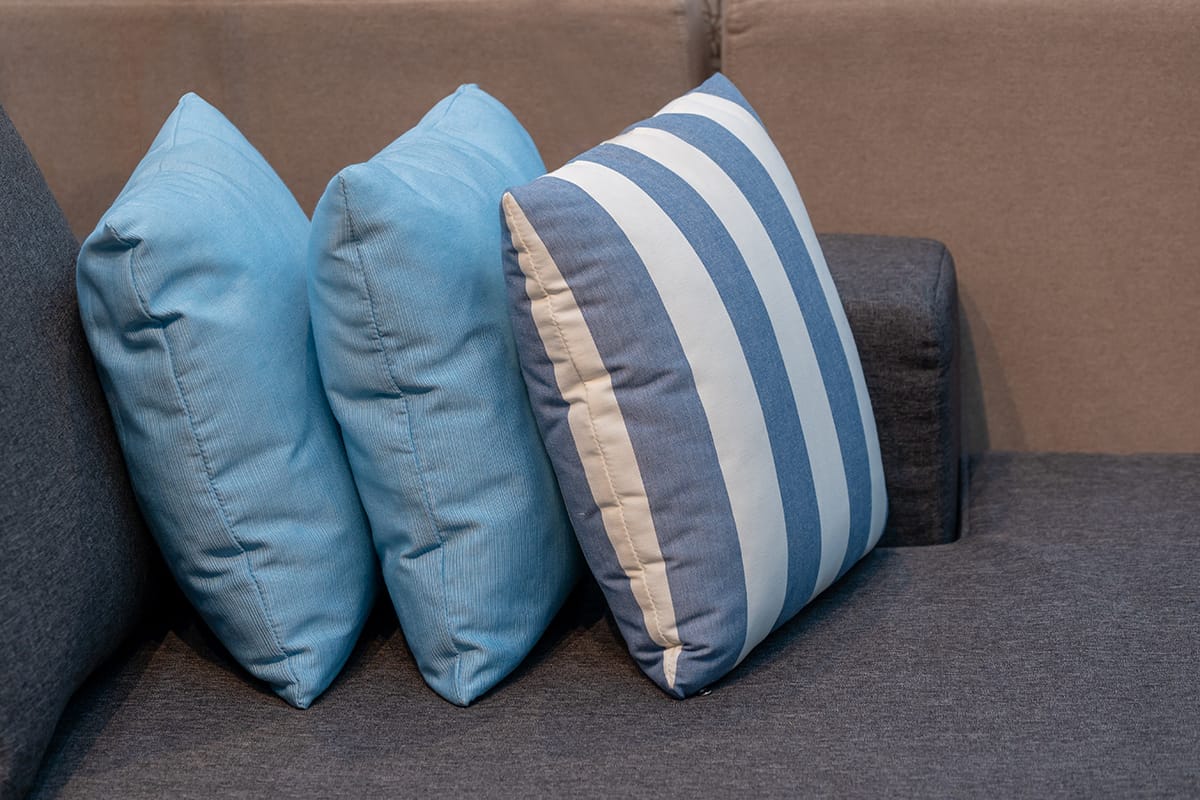 A combination of white and blue striped pillows on a blue couch has to be our top favorite. Who doesn't like the blue elements of the throw pillow with a clean white hue to blend in seamlessly with the furniture? Any modern living room is bound to feel harmonious with this color palette.
What's more, the blue and white striped throw pillow stands out thanks to the bright white feature that highlights the pillow. Whether you pick turquoise with white striped or a sky blue with white striped throw pillow, it is sure to provide a comfy vibe in a modern living room.
Patterned Beige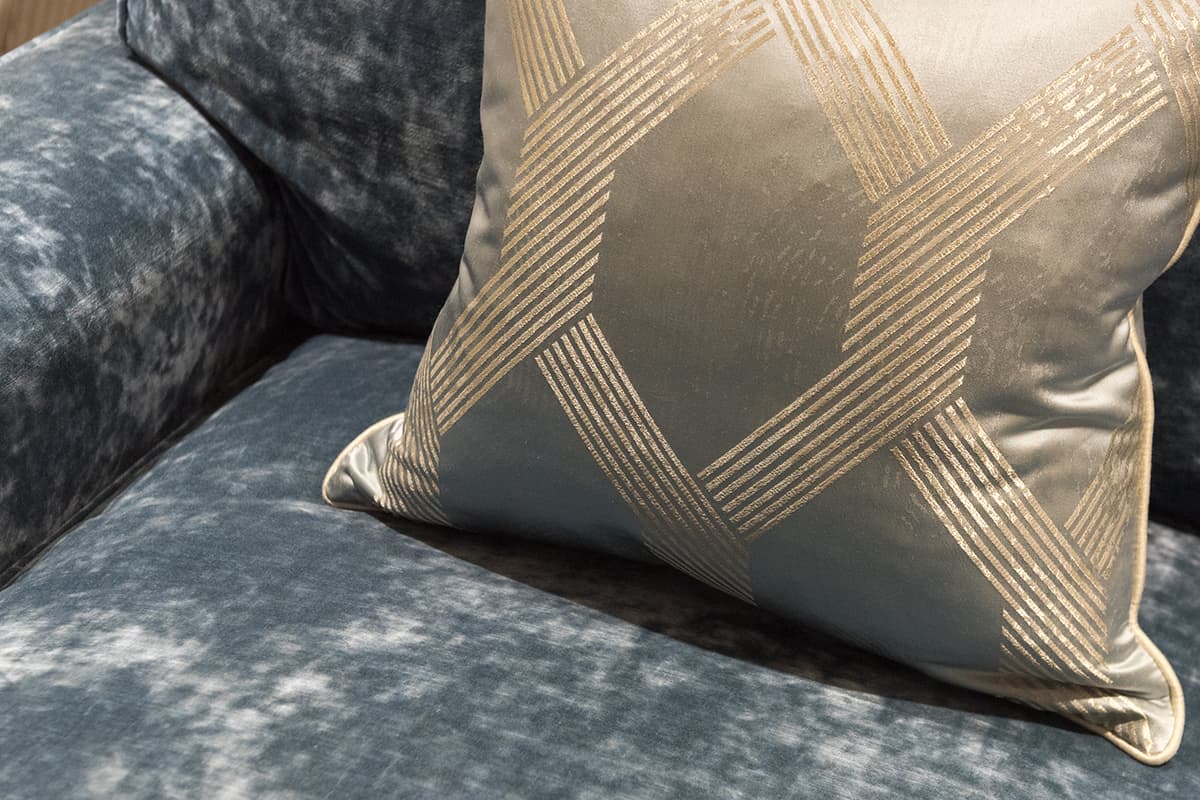 For a softer color idea, a soft patterned beige throw pillow can add an elegant touch to your blue couch. You can also add gold or silver tones to the couch in order to further accentuate the patterned beige.
This neutral color can blend in with most other metallic or vivid color palettes, not to mention luxurious materials like velvet or satin.
Gray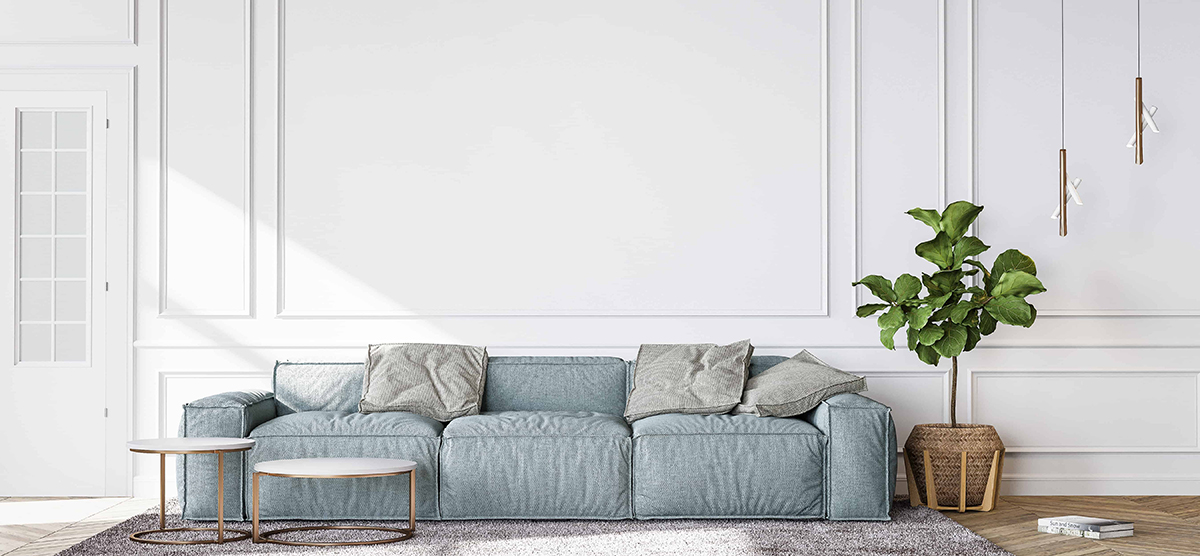 Our final throw pillow color idea that goes with a blue couch is a simple yet stylish gray. Although many homeowners are reluctant to use two cold tones as they may make the living room feel characterless, the truth is, a light shade of gray pillow in a luxurious material like satin or velvet can actually be the perfect combination with a light blue couch as per this example.
The simple yet attractive soft gray throw pillows with pale blue-gray couches have made this contemporary living room more attractive.
In Closing
Decorative or throw pillows for a blue couch add a vibrant ambiance that's full of texture and color. When decorating your blue couch with these pillows, opt for a variety of materials and textures. And as for the color, for the dark blue couch, neutral pillow colors like beige, gray, or white work best.
For contrast, though, a burnt orange shade or rich red works well with dark blue. You can also blend multiple colors, such as yellow and white or sage green, with your light blue couch.
Having said that, it's best if you also take the other furniture colors in your living room into account when picking the right throw pillow colors for your blue couch so as to avoid clashes. Take your inspiration from our above examples for the best results!