Beige walls are a common sight in home decor. This is a wall color that many people choose without even really thinking about it because it is known as an easy neutral color that can go with any color scheme, and it is so widely available.
It is also typically the color chosen by home builders when they create new homes, as it is seen as a non-offensive shade that most people will be happy to live with. If you have moved into a home with beige walls and want to know what color sofa you should buy to go with them, then you're in luck because there are not many colors that won't work with beige.
However, if you're trying to achieve a particular style or atmosphere, then you'll need to know which colors can be used to make this work. Here we will look at how to decorate with beige walls and which color sofas will look best with them.
Advantages of Beige Walls
Neutral
One of the main reasons people choose to paint walls beige is because it is a very neutral color. It isn't neutral in the true sense because it doesn't lack color, but it is neutral in the sense that it is quite unremarkable and bland, making it inoffensive.
When people are decorating their homes with a view of selling their property in the future, they will commonly choose beige because it is considered to be a color that won't deter prospective buyers, while a color that feels more personalized can put people off from buying a property as they can't see themselves living in it.
Beige solves this problem as an ordinary color that works as an easy background shade.
Warm
Beige is made from white mixed with small amounts of orange, yellow, or brown. There can be quite a variation in shades of beige, from ivory and sand through to fawn, but the one thing they all have in common is that they have a warm temperature. This means that beige works well as a wall color because it creates a feeling of comfort and ease.
Any room, even one which lacks natural light or has small windows, will feel warm and welcoming when the walls are painted beige. Some people are fearful of using cool colors on walls in case it creates a cold and uninviting atmosphere, whereas beige is always a safe choice.
Low maintenance
Beige walls are low maintenance because they won't show scuffs and marks as obviously as pale cool colors. Fingerprints will also be more easily hidden on beige walls, so if you have a young family, then this is a paint color you will appreciate because it will result in less frequent wiping down of the walls.
Future proof
Beige is a color that never really goes out of style. It may not be the trendiest color to incorporate into your home decor, but it also won't look unfashionable as long as you pair it with the right accessories and furniture. This means that if you want to paint your walls in a color that you can leave for years, then beige is a good choice.
Beige is a safe bet in terms of future color schemes because it is likely to go with any color of accessories you choose, so if you want to swap out brown cushions for blue cushions, you can do so without worrying that you'll need to repaint.
Disadvantages of Beige Walls
Dated
Some people associate beige with vintage or retro interiors, and when used with certain colors (such as brown or red), beige can look somewhat dated. If you want to make sure your beige walls don't look old-fashioned, you can use cool colors next to them to balance out the energy, such as a navy blue couch or gray curtains.
Another way to prevent a beige room from looking dated, even with an entirely warm color scheme, is to focus on modern designs in furniture and fabrics, such as sleek coffee tables in contemporary shapes and velvet upholstery.
Predictable
Beige is seen as a predictable and somewhat boring color for walls, which means that some people want to avoid it in favor of a color that is more trendy or unique.
If you want to create a space that feels personalized to you and your family, then you can do this with beige walls by focusing on interesting colors and prints for accessories and soft furnishings, or you may prefer to choose a wall color that has more personality than beige.
Colors of Sofa to Use with Beige Walls
Black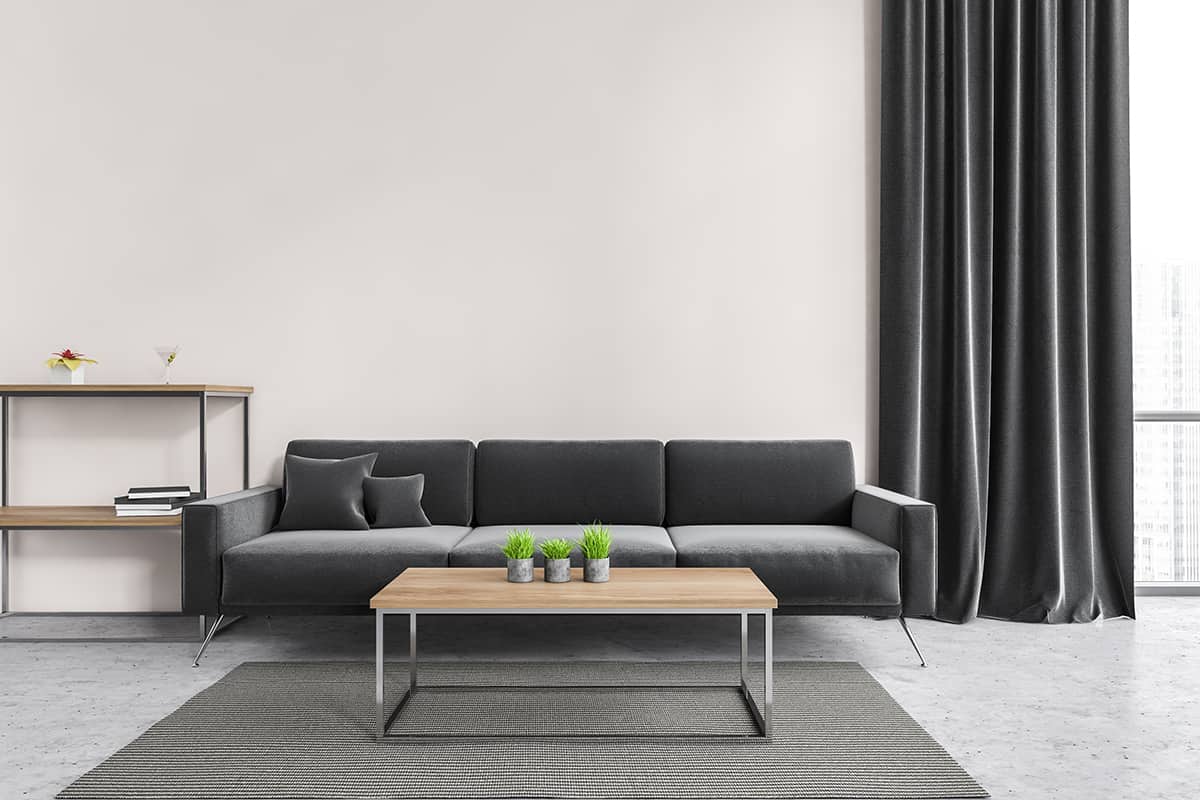 If you want to achieve a room that feels sleek and modern, then choose a black sofa set against a beige wall. You can create a contemporary take on monochrome with this look, using beige walls, a black sofa, black curtains, and cushions in geometric patterns using both colors. This will result in a space that feels warm yet sophisticated.
Choose a black leather sofa for a high-end style or a black cotton sofa for a more laid-back look. In a casual beige and black color scheme, choose natural fabrics to help define the style, such as beige woven baskets and a black vase containing dried beige pampas grass.
Olive green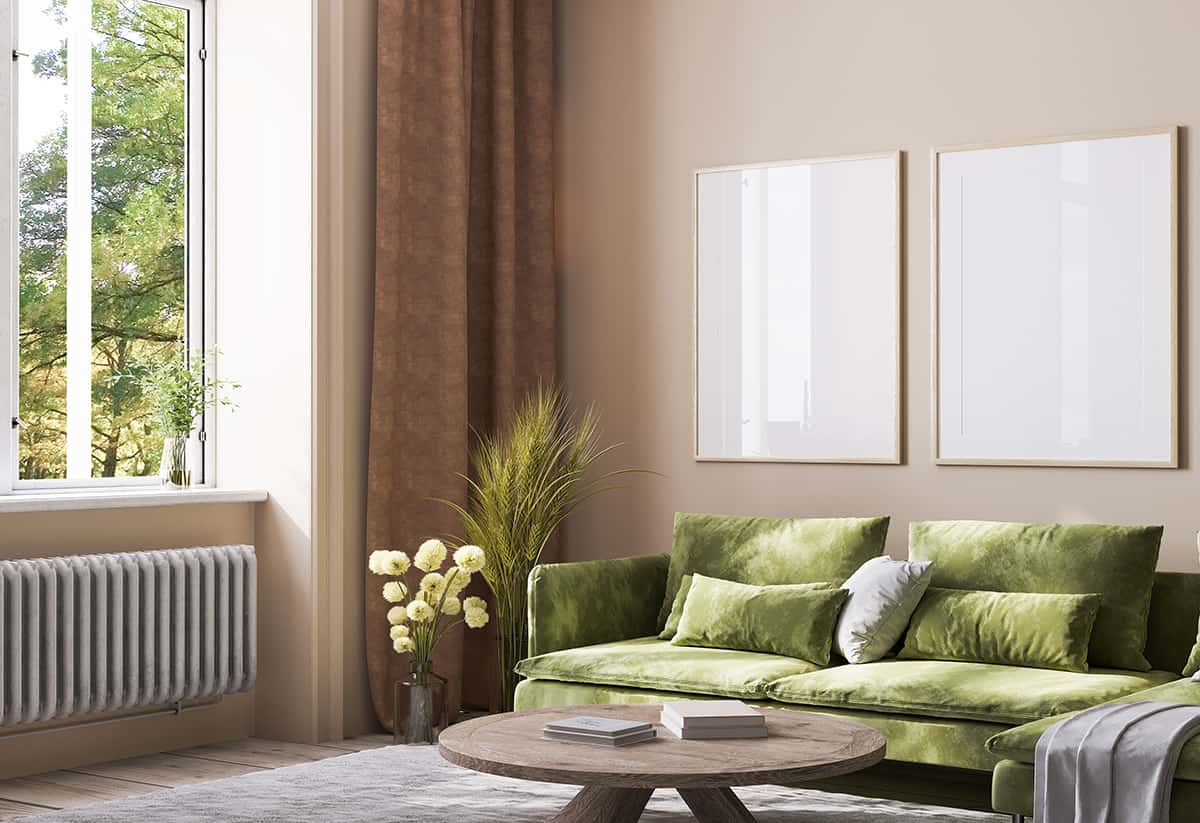 Olive green is an earthy shade of green that can contain brown or gray tones. It works well with beige because these colors are seen together in natural environments, for example, a beige tree trunk with olive green leaves or beige stone rocks next to mossy green growth.
You can take inspiration from nature and plan your color scheme around this with beige walls as the base. Opt for an olive green sofa in front of beige walls, with a mixture of deep green and beige cushions arranged on it, or opt for beige walls and a brown sofa with an olive green throw.
The natural or botanical style is very popular right now, so by following this design, you can make a beige room look contemporary. Choose hardwood floors and use natural textures to further define this look, for example, with cotton fabrics, stoneware planters, and jute accessories.
Brown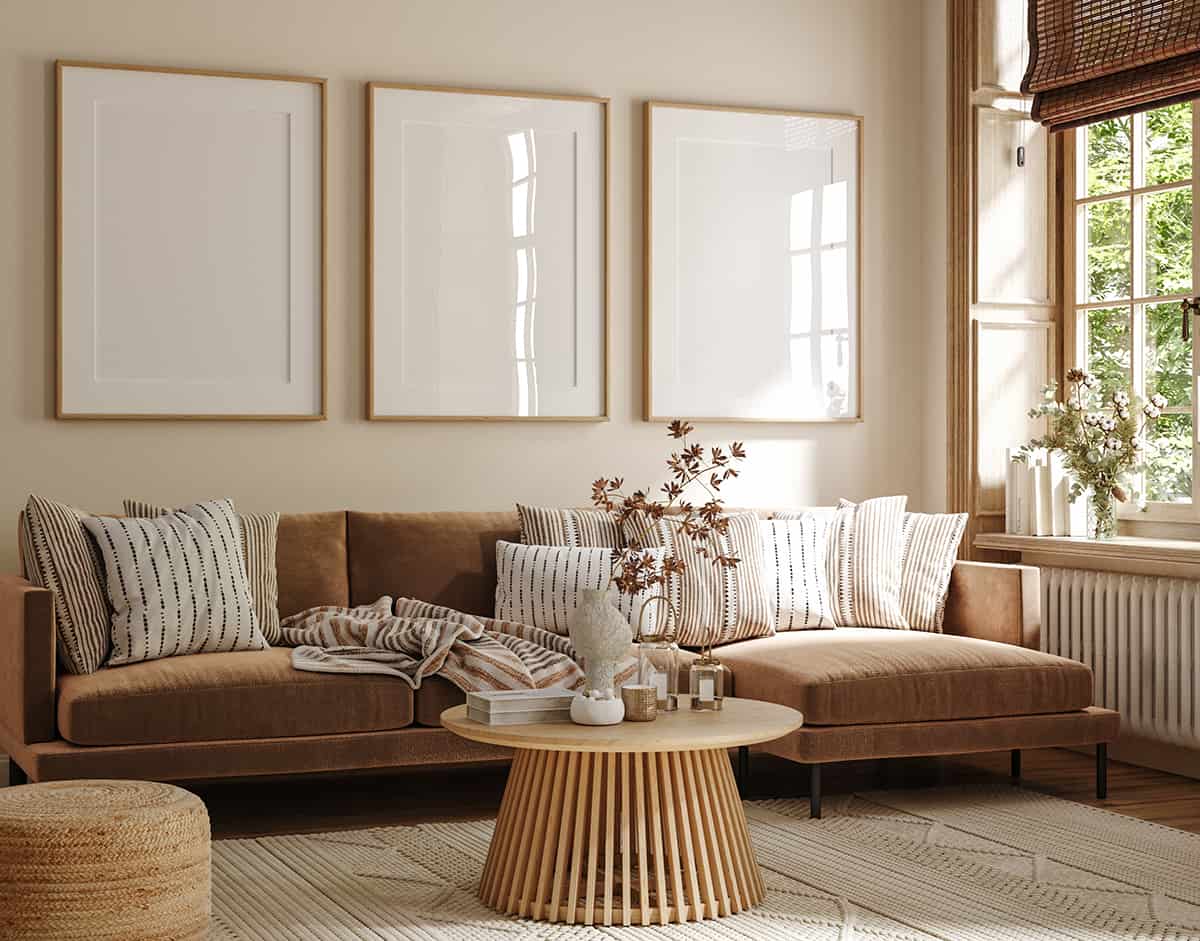 Beige is among the colors that combine well with brown because they are essentially the same color, just at the lighter and darker end of the scale. For example, beige is really just a very pale shade of brown, and beige is a very dark shade of beige.
You can create a tonal layered look by using beige and brown as your color scheme, though be careful about what textures and finishes you use because this is a color scheme that can easily look old-fashioned.
With beige walls, choose chocolate brown sofas with thick knitted beige blankets draped over them and warm oak-colored hardwood floors.
You should incorporate a variety of beige and brown shades in the room to add depth and interest, such as mid-brown curtains and deep brown cushions. This will help to ensure a modern style and also prevent the room from feeling flat.
Purple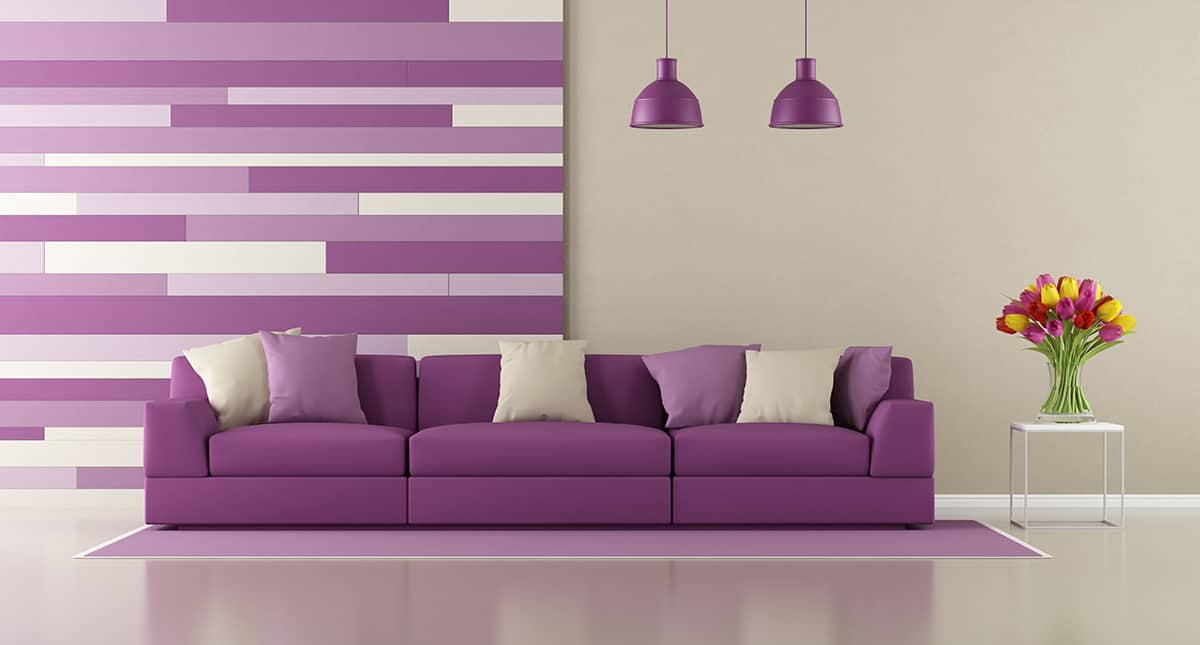 Beige is such a color that looks great next to most shades of purple. Consider a magenta sofa in front of a beige wall if you want to create a bold and energetic look or a lilac sofa for a soft country cottage style. Deep shades of purple work well for more muted color schemes, such as eggplant or raisin.
Tie the look together with an accent wall using wallpaper that features both beige and purple. This color scheme can be used to create a formal look in a living room, but it will also work equally well to achieve a more comfortable style.
Pink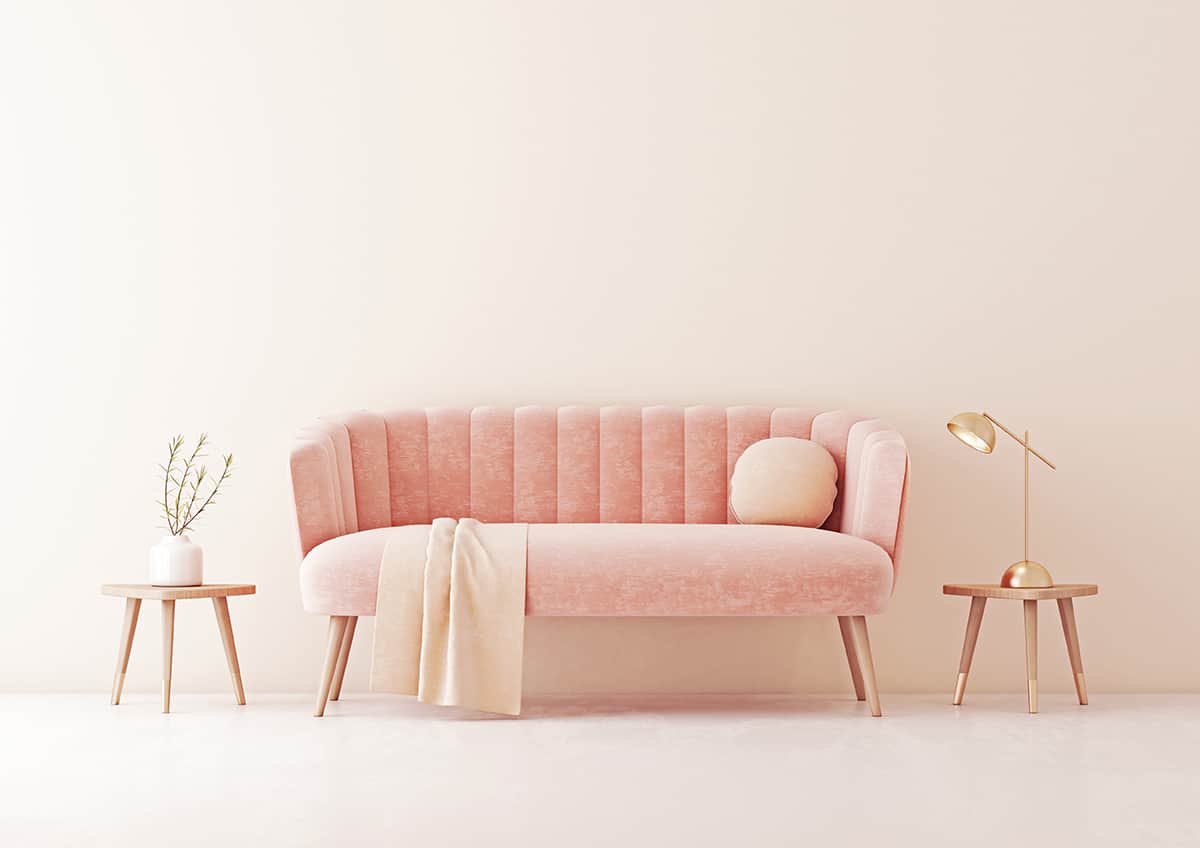 For a soft and romantic look in a living room, choose blush pink velvet sofas set against beige walls. This can create a really stunning contemporary style if you also add in beige accessories in sumptuous fabrics, such as a beige faux fur throw draped over the sofa or beige knitted cushion covers.
You could also use dark pink sofas with beige walls to create a quirky style. Opt for bright fuschia sofas and turquoise lampshades against a beige wall for a striking contrast.
Teal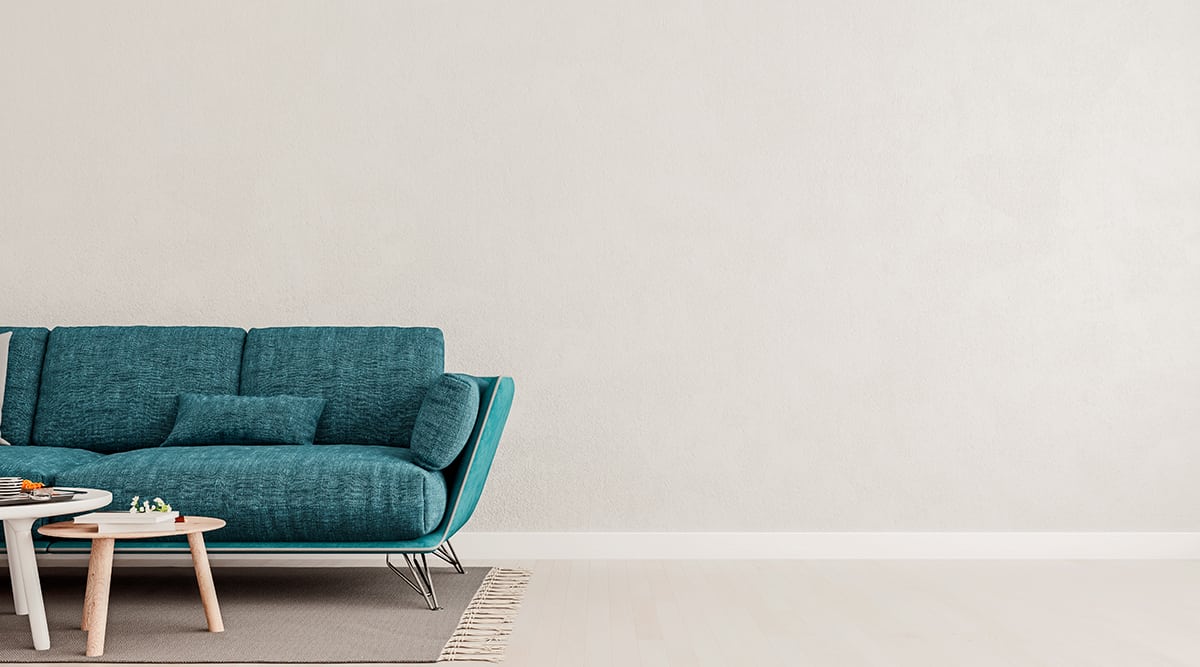 Teal is a vivid shade of blue-green with a cool temperature that will balance out the warmth in beige walls and create a vibrant distraction. This can help to bring the focus away from beige walls if you are trying to hide them.
Gray
If you have moved into a property with beige walls which you cannot paint over and you want to ensure a contemporary look is achieved, then opt for gray sofas. Gray sofas and accessories will balance out the energy of beige and make the room feel instantly more modern.
Dark gray or pale gray will both work well, depending on your preference. Use pale gray sofas for a more casual feel or dark gray sofas for more intensity and drama.
If you have gray furniture in your living room, there are some other wall colors that pair well with gray furniture.