If you have just moved to a small house and are thinking of painting the exterior, you may be wondering what the best siding colors for a small house are. It is, after all, an important decision as the curb appeal of your new home partly depends on the siding color you choose.
When choosing the best siding colors, you must first take a look around your neighborhood to see the exterior color schemes of other small houses. The landscaping and trims of your home's facade will also need to complement the siding color.
Making a good first impression is very important as the goal is to make your small house stand out as much as possible.
By determining the right siding color that goes with landscaping and trims, you can increase the curb appeal of your home. To give you some ideas, take a look at our following color suggestions.
Light or Dark Colors for Siding?
If you have a small house and you want to paint your existing siding or invest in new siding, then the main choice you will face is choosing a color.
Before getting into the details of selecting a specific color, you should understand how different shades can affect the look of your home's exterior.
Light Colored Siding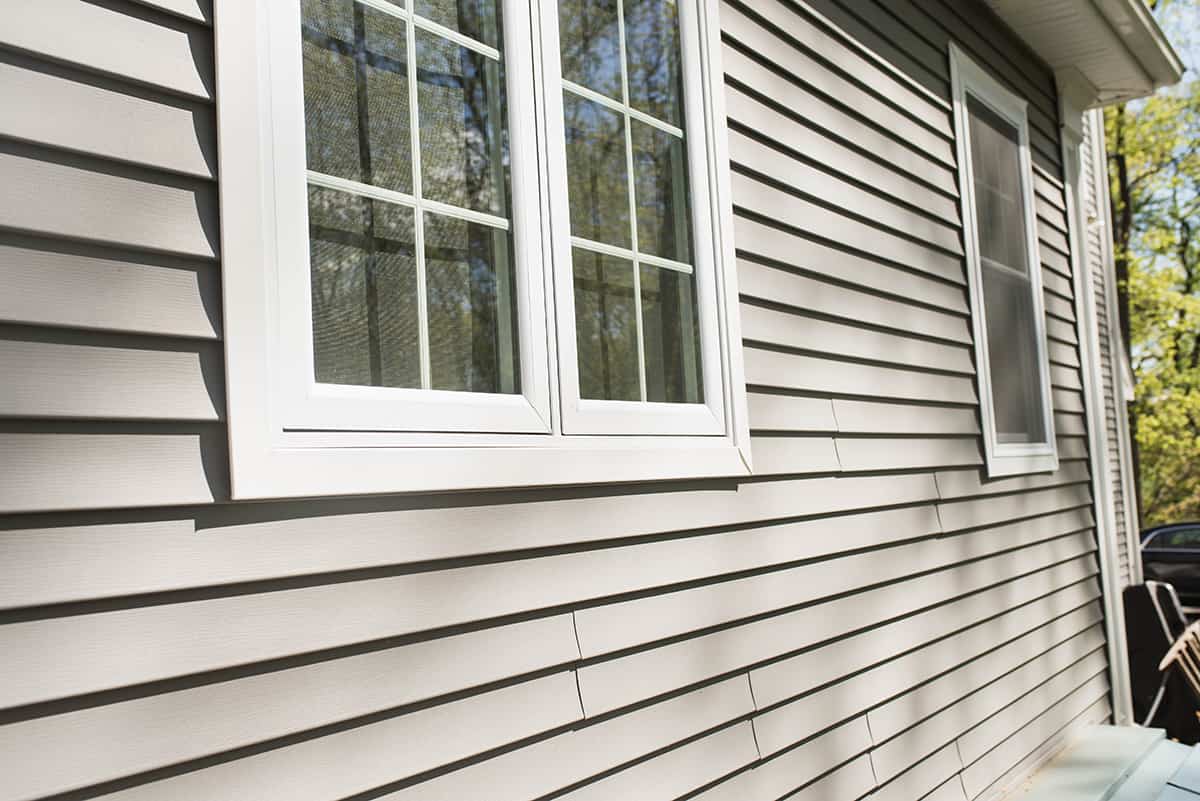 Exterior siding in lighter shades will have the effect of making a small home look bright and airy. Light colors extend the eye line and make a house look larger than it actually is. Light siding shades are also much preferred either with brick, wooden, or vinyl siding colors. Seeing how clean and bright this house in this example is with light vinyl siding.
Making a house appear bigger is what most people with small homes want to achieve because larger houses will be more impressive to visitors and will be more attractive to potential buyers when it comes time to sell the property.
Light-colored siding also has the benefit of lasting longer than dark-colored siding because it does not fade as quickly in the sun. The main drawback of light-colored siding is that it will show dirt more easily compared with dark colors and, therefore, may need to be cleaned more regularly to keep it looking fresh.
Dark Colored Siding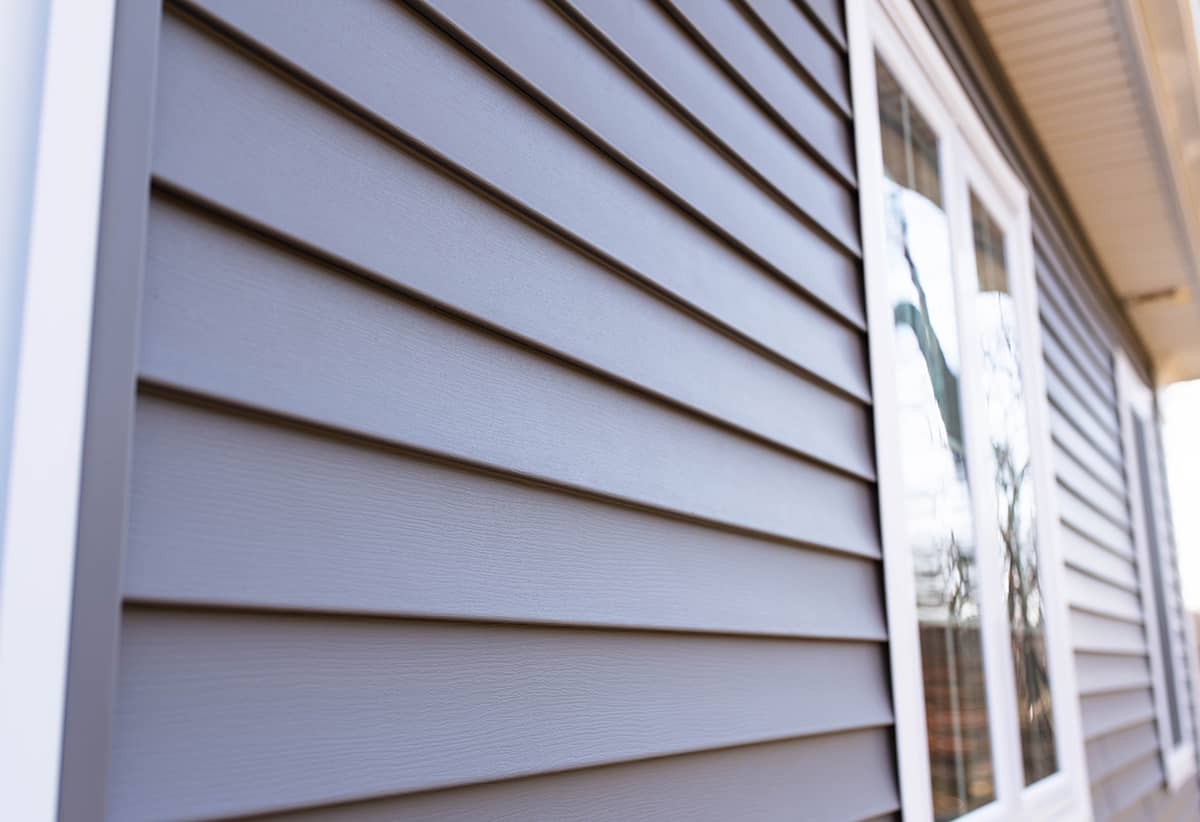 Dark colors on siding will have the effect of making a house look compact. Dark shades will visually compress the house to draw attention to the fact that it is small and can also make the property look smaller than it really is.
If you are not bothered by how big your house looks, then there is no reason why you cannot have dark-colored exterior siding, though be warned it could make your house more difficult to sell further down the line or could negatively affect the valuation price.
In general, dark-colored siding is less popular than lighter-colored siding because it can look moody and uninviting. Dark siding also fades more quickly than lighter-colored siding and therefore has a shorter lifespan before it will need replacing again.
The key benefit of dark siding is that it hides dirt better than light-colored siding, and so it is typically lower maintenance.
Our Favorite Siding Colors for Small House
Blue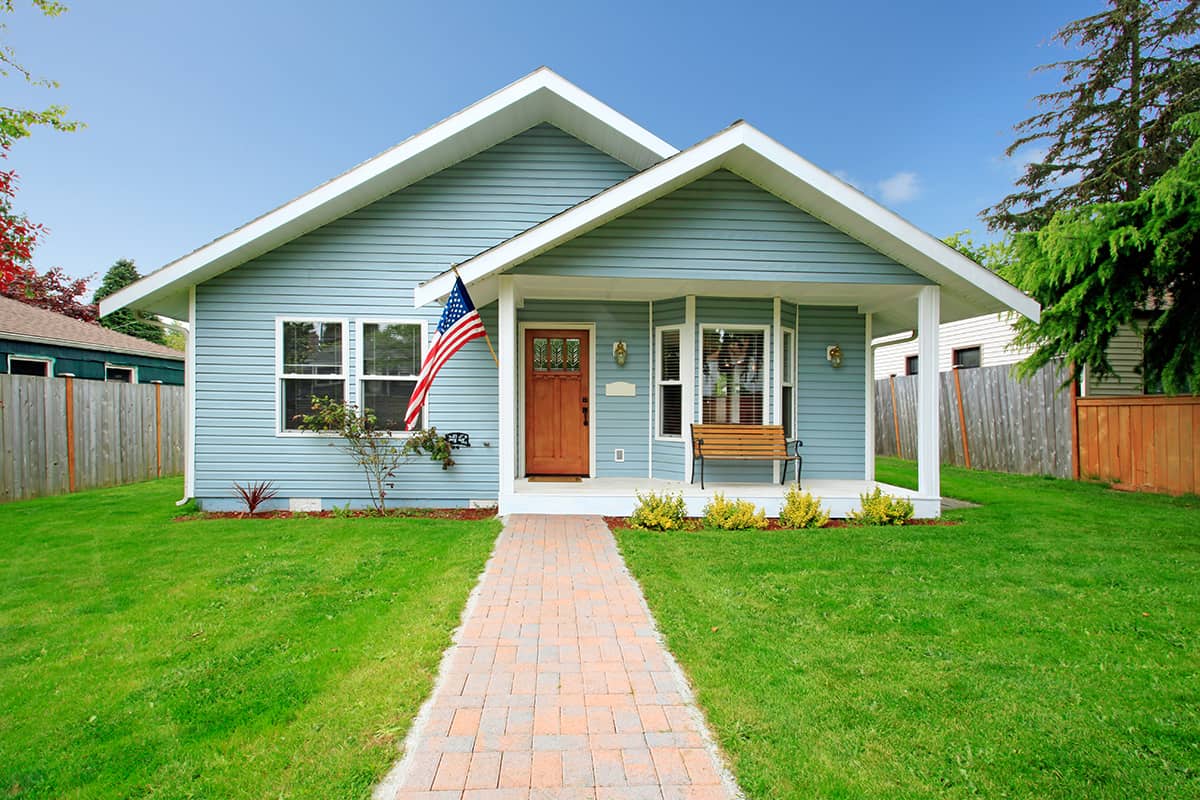 Since the color of your siding as well as the architectural design has a huge impact on its curb appeal, choosing a bright color will certainly make your small house stand out in the neighborhood.
Blue is a beautiful color choice for the siding of a small house, especially if you pair it with other interesting details. For example, white trim paired with sky blue siding as per the image here will give your small house plenty of curb appeal.
The front door is in natural wood, and the window frames are in white. This color combination has added visual interest to the house, which makes light blue siding an excellent paint choice. You can also use black for the windows to pair with the siding colors for an elegant style.
If you love the idea of blue siding for your small home, you can add warm elements to this cool hue in order to harmonize your exterior design. Add lots of wooden elements throughout by going with a brown front door and garage door. You may even add white shutters to complete the look.
Cool Green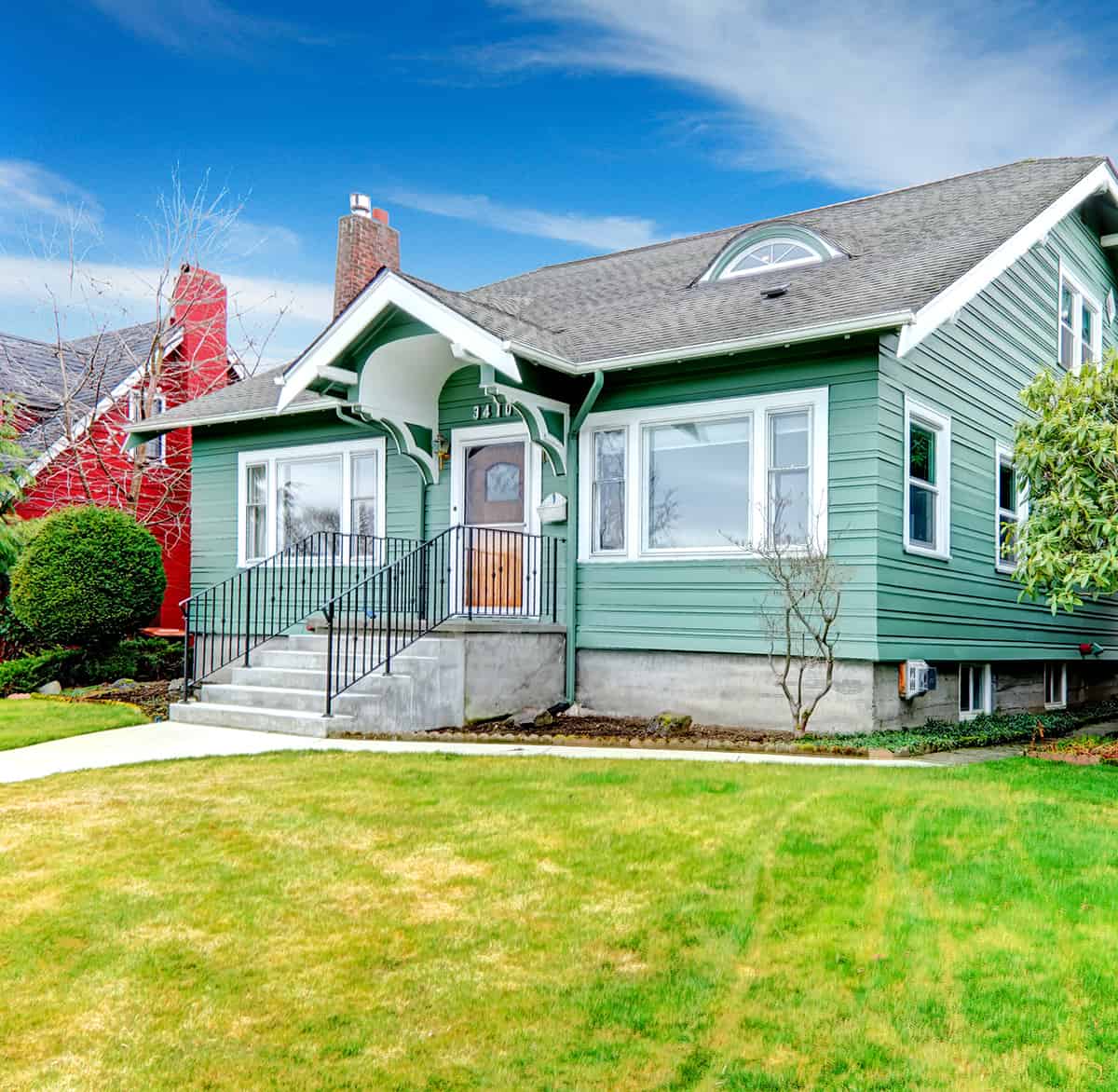 The color of your siding can add character and value to the house, so it's important to think carefully about the effect we want to create based on the style of your exterior. A dark color like green can be dramatic, yet it gives a small house a much bigger presence.
A cottage-style home can especially benefit from a dark or cool green hue for its siding. When painting the siding in green, you should use different textures and add other contrasting colors for visual interest.
For example, a green siding with a grey roof and white trim adds curb appeal to a small house as shown here. This is a perfect example of how you can mix darker colors with lighter ones to make use of interesting patterns and shapes. Add plenty of greenery around your small house with green siding to make your home pop with nature-inspired colors.
White
An all-white siding is a classic way to make your small house clean yet stand out. Pair the white siding with a white garage door, window frames, columns, and trim to complete the look. The landscaping will bring an earthy feel to your white house.
And as for the roof color, a neutral shade like dark grey will work wonderfully as shown in this example of a small cottage in the suburbs. We love the light blue front door as a contrast to the all-white exterior.
White is a great siding paint choice for stone, wood, or stucco exteriors, and is especially great for cottage-style homes. We're sure you'll agree that the small white house in the image would easily sell in any real estate market!
Red Tones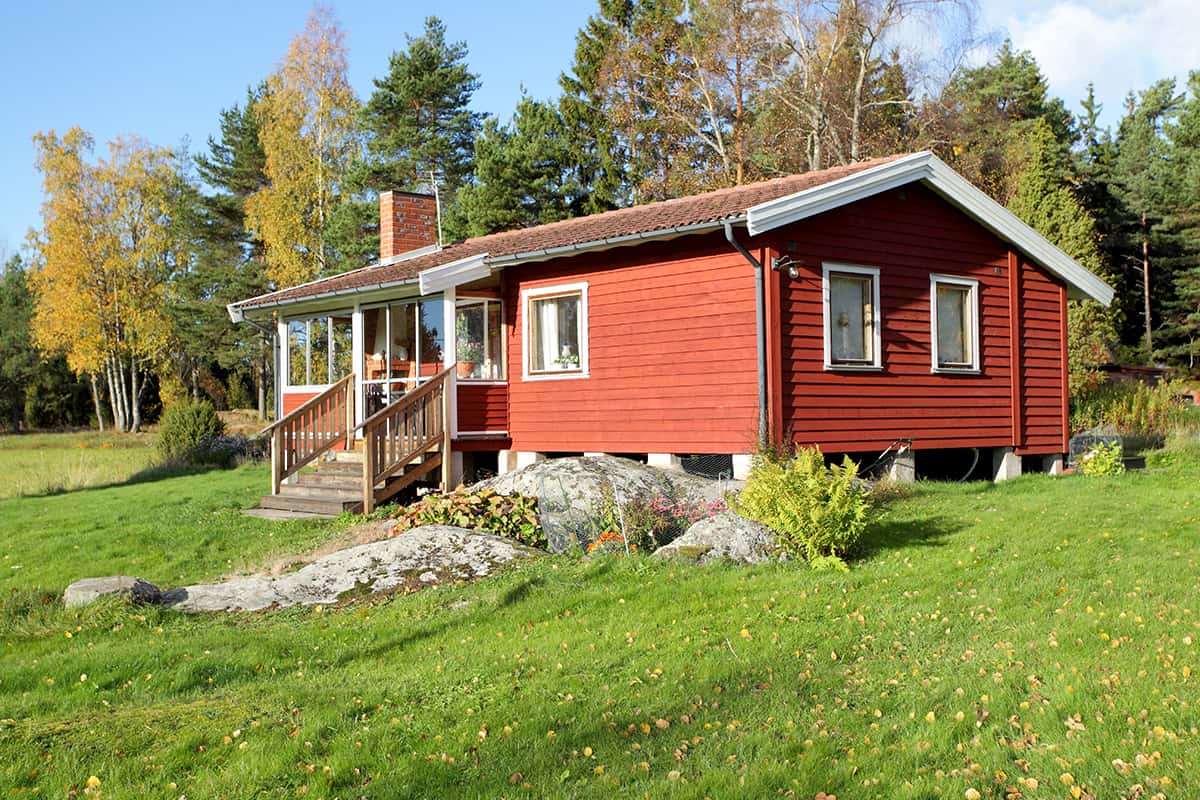 You can paint your small house any shade of red to make it stand out, but consider a bold hue like burgundy. This shade will look great on a cottage-style house. Add natural elements, such as white and brown trim for visual appeal.
Red is a warm color that goes nicely with green landscaping. As you can see here, the earthy tones of green together with the dark red siding make this small country cottage visually stand out.
The railings and front door can be stained in dark brown as yet another earthy tone to incorporate with red and green.
Light Grey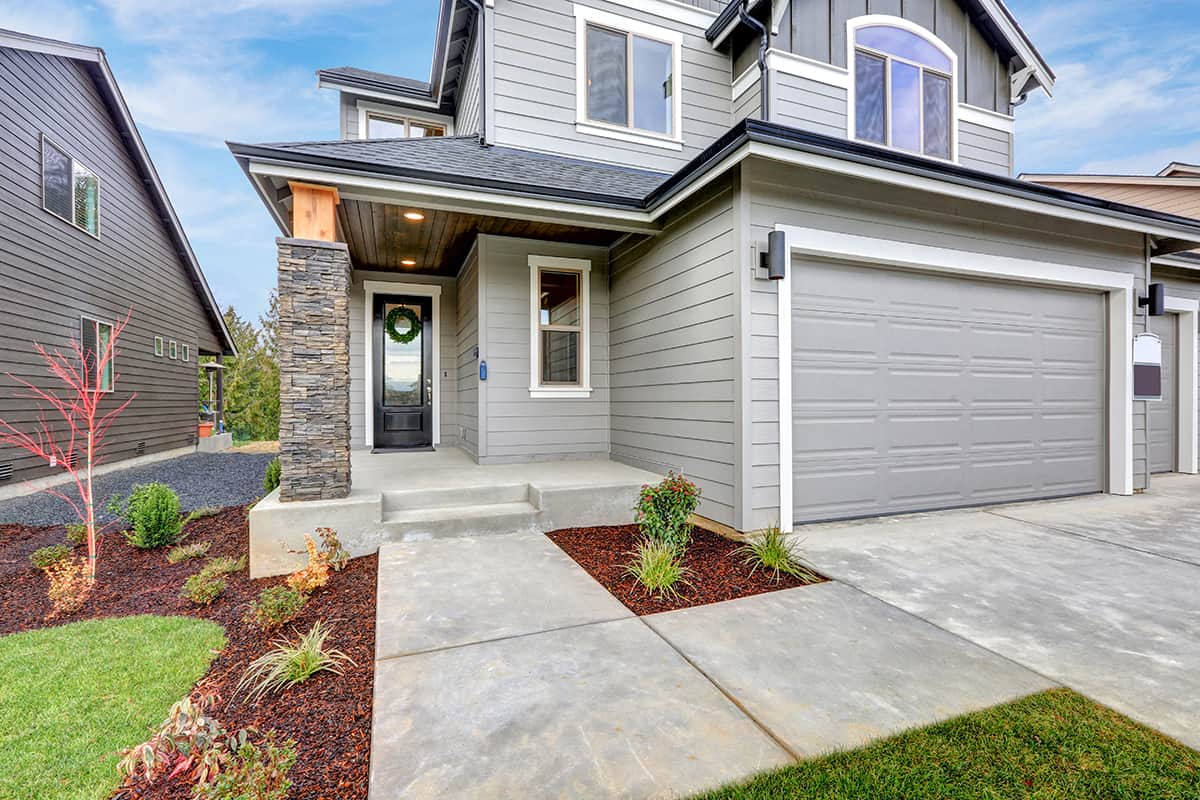 A light grey siding works just about on any exterior design, thus making this color a popular choice. When paired with a white front door and trim, a light grey siding with a darker shade of grey for the roof will give your small house a sophisticated look.
Tip: white columns and railings work best next to the light grey siding. You may even add white shutters to create a traditional exterior design. That said, you don't have to stick to one single style when deciding on a grey shade for your siding.
Use multiple shades of grey to make your small house look bigger. While it is the architectural details that tend to draw the eye to the house, it is smart to use more than one shade of siding paint to make your home feel taller.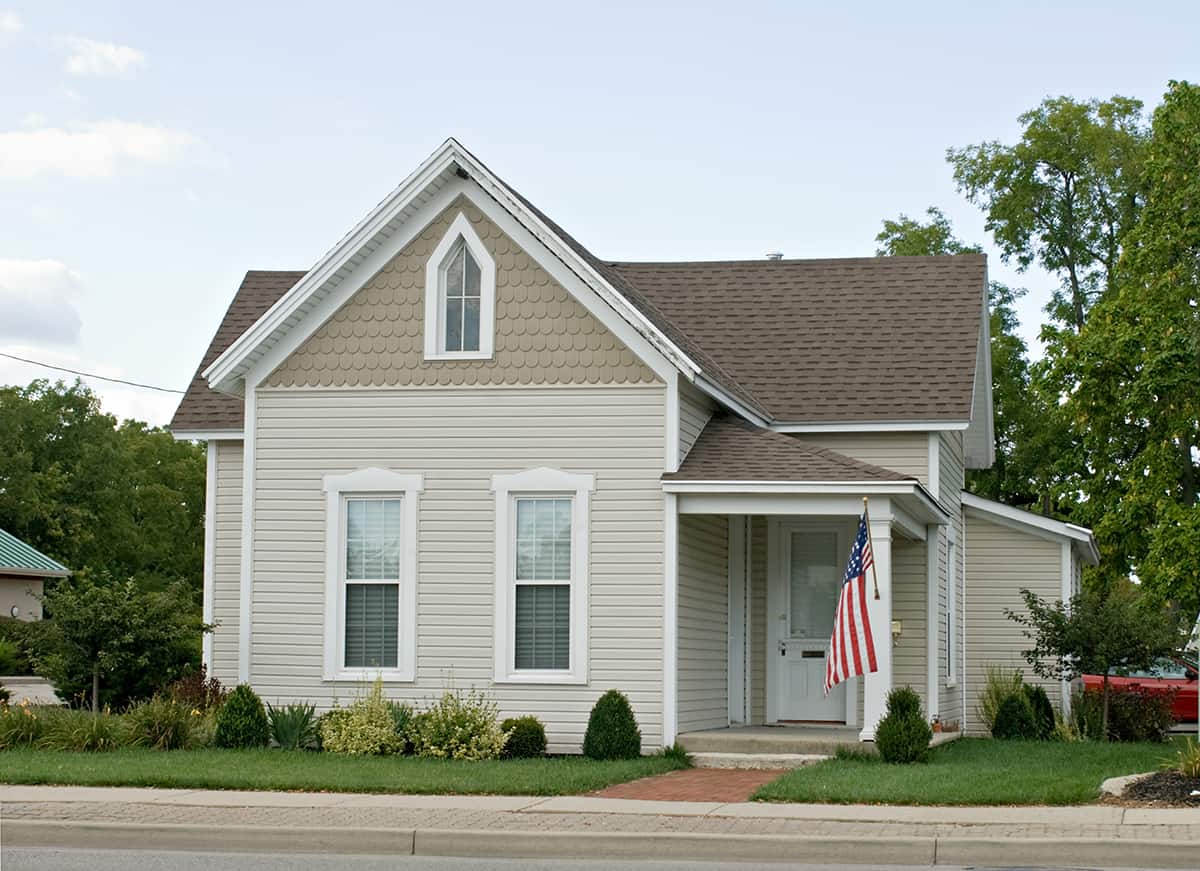 In this example, although the house is on the small side, the light and the dark grey combo has made the house taller and instantly attract attention.
Beige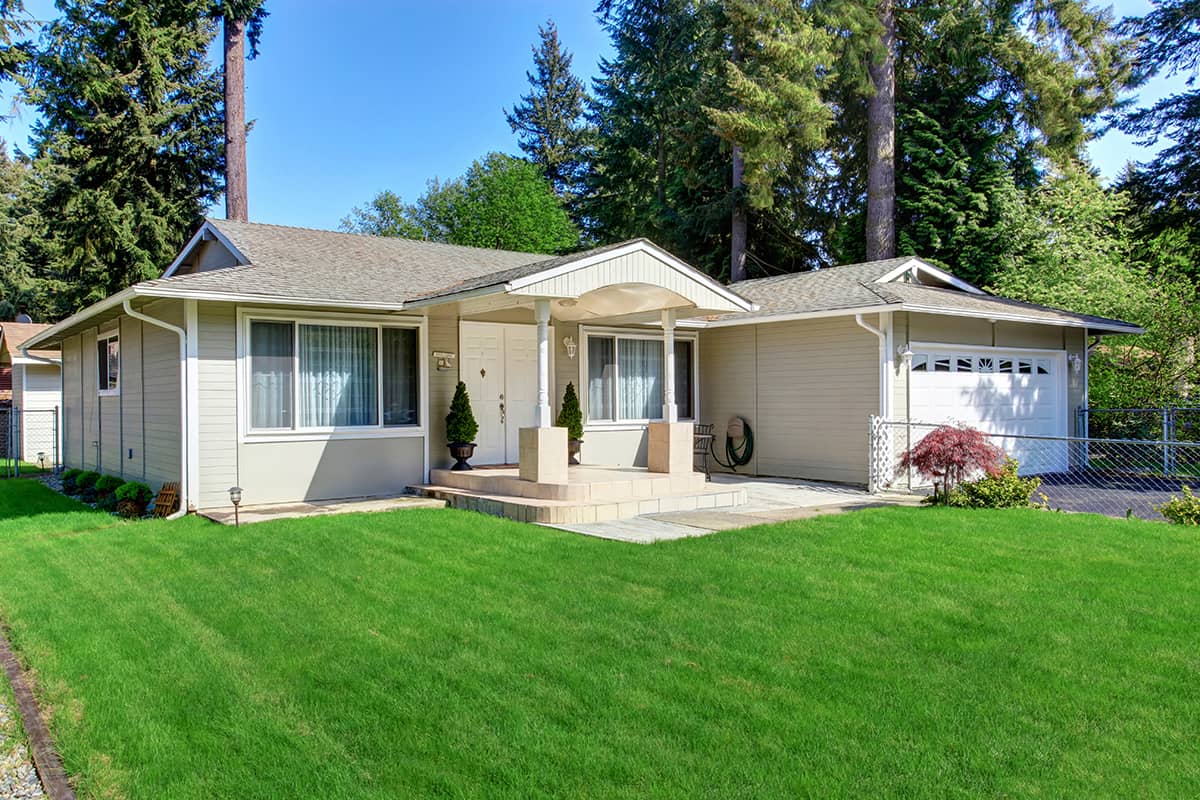 Warm colors make a home feel welcoming no matter what its size is. Beige is one such color that we recommend for a small house siding as it adds a nice texture to the front exterior of the house.
This small, one-story beige house features a white front door and garage door with white trim and a grey roof, which all give the exterior design an attractive look. Beige is a warmer alternative to white siding, hence the reason most homeowners prefer this color over white.
Furthermore, the beige siding makes a small home feel more harmonious than stark white as it's a smoother color that doesn't stand out.
If you want to create some contrast to your beige siding, paint your porch railings black and include plenty of colorful flowers around your home's front entrance.
Black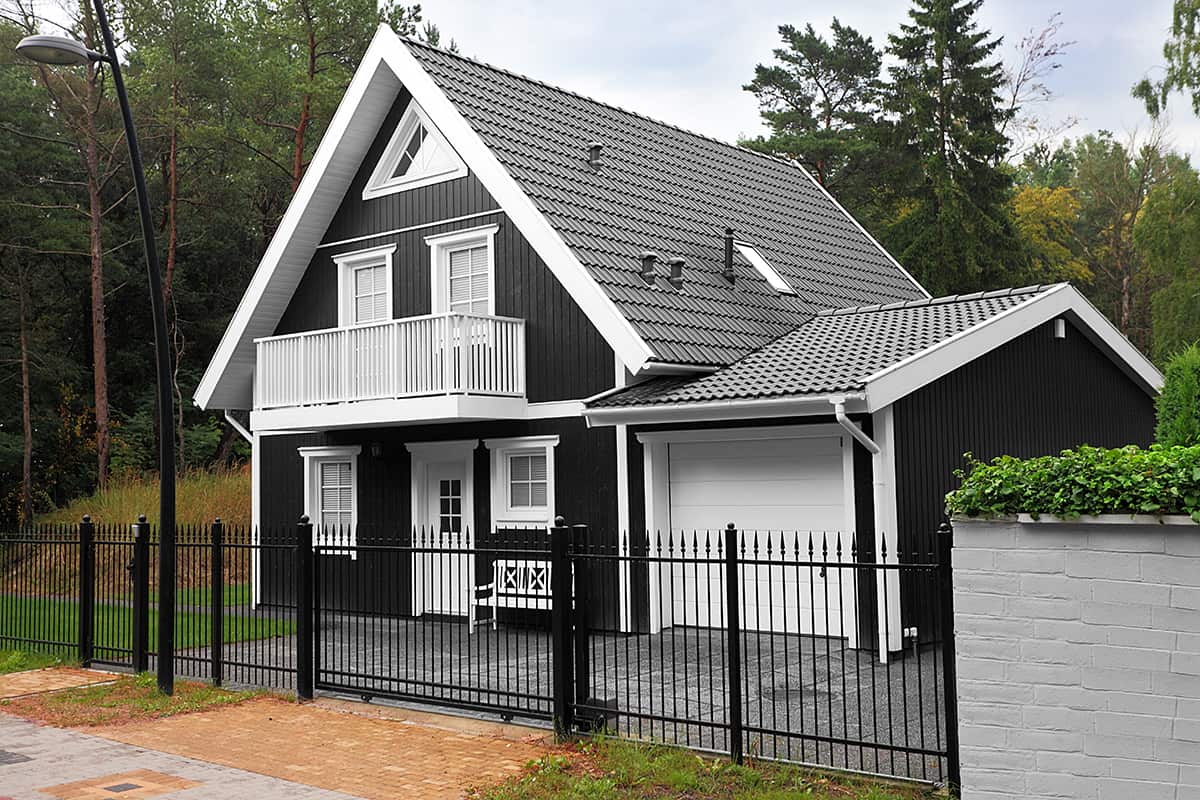 Some people may assume that small houses will look gloomy with black siding. But this couldn't be further from the truth. As long as you execute the dark palette properly, your small house will come to life and look anything but dark or depressing.
The perfect example of a small house with black siding is shown here. Notice how the dark color makes a strong visual statement next to all-white elements. The black gate is hard to miss as it draws attention to the elegant appeal of this house.
Since black goes beautifully with white and grey, a small house can be transformed into a classy, eye-catching home with the addition of a grey roof, white railings, and matching trim. And as for the landscaping, surround your home with plenty of yellow and blue flowers for a more varied look against the black siding.
Wood Siding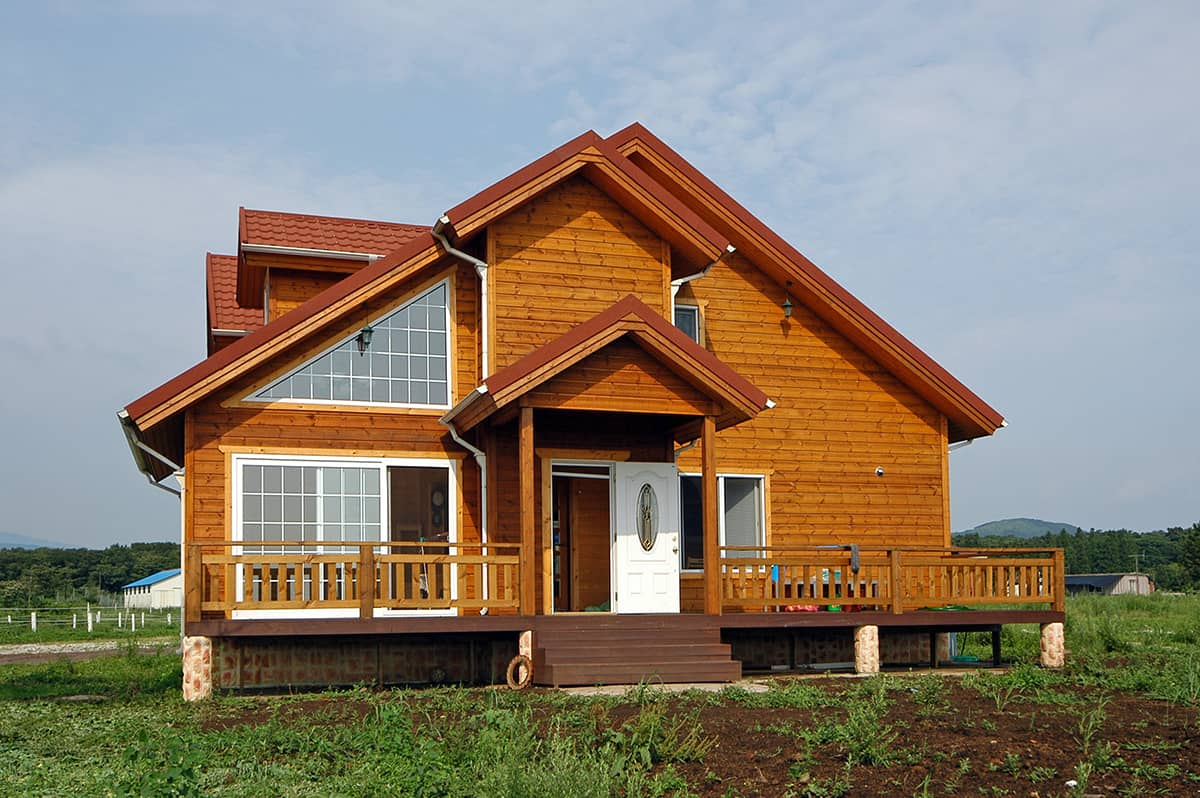 For those who are not keen on dark siding colors, how about stained wood as a better option for a small rustic-style house. Wood is the ideal material for the siding of cottages and log cabins, plus it gives you plenty of stain color options, including beige, brown, and red.
Here, the country cottage features light wood siding with a white front door and red roofing tiles. As you can see, wood is such a versatile siding option that can be paired with any other color.
Which Siding Color Makes A Small House Look Bigger?
While there is no single color that can make a small house appear bigger, neutral or lighter hues are always recommended to use for an exterior home design. That said, bright or vivid colors will also work as long as they are used on vertical wall panels to make the exterior look taller.
So it is the style and direction of the exterior wall paneling that play a role in making a small house look bigger – not just the color you choose for the siding.
Light or bright color siding and trim on vertical panels will make your small house appear taller. But what if you have a masonry exterior? In this case, opt for large stones instead of small ones to make your home appear bigger.
To sum it up, your overall color scheme for the landscaping, trim, front door, and accessories will all have an impact on how big your home looks. Keep in mind bigger houses aren't always the best-looking ones, so choose your siding color carefully based on our above examples that are specially selected for small houses.
Exterior Accent Colors for Small Homes
Once you have decided on a siding color for your house, you will need to settle on a complimentary color palette for exterior accents such as trim, doors, shutters, decks, gates, and balconies. The exterior of a house should have two or three colors in its color scheme. Don't use more than three different colors on the outside of a home, as this will look busy and poorly planned out.
If you select two colors, this will mean one main color for your siding and one accent color for all of your trim, doors, shutters, and any other secondary fixtures. If you choose three colors, this will ordinarily mean one color for the siding, one color for trim, and one color for the front door and shutters or garage door.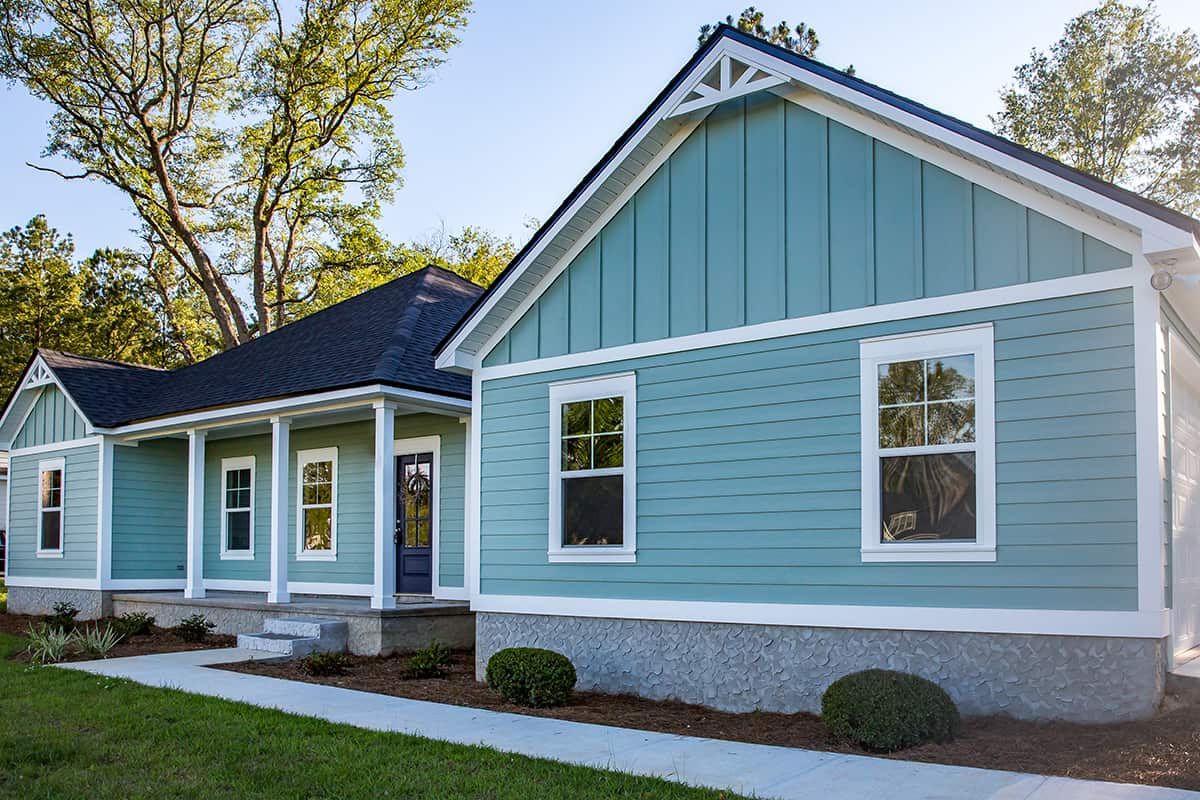 When choosing accent colors, you should make sure they complement your main siding color choice. If you want to make your small house appear bigger, then you should stick to lighter shades for your trim, as this is essentially the border or outline of your home.
A dark outline makes an object look tight and refined, while a pale outline makes for a more blurred border to make an object appear larger.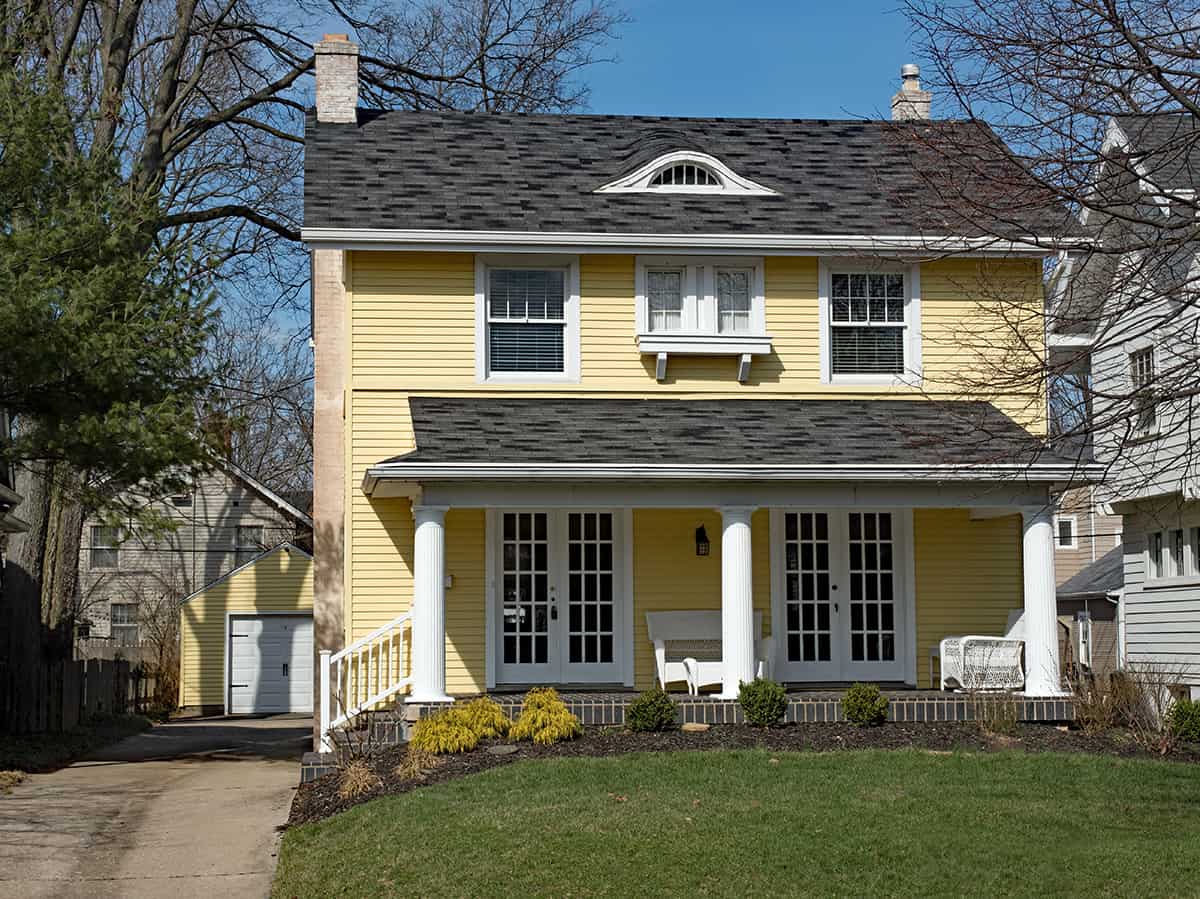 White trim is a good choice for small homes, along with beige, pale gray, and light blue. Dark colors can make for a bold and visually appealing contrast on light siding colors, but trim in dark colors can draw attention to the small dimensions of a compact house.
If you want to incorporate a dark color into your color scheme, save it for the front door and shutters. This will create an attractive contrast without having any negative effect on the appearance of the size of the house.