A home's exterior colors are the first impression they make on passersby. Vinyl siding is by far the most noticable feature. Therefore, the color should reflect the home's architectural style, size, roof color, landscaping and not forgetting the neighborhood.
Choosing the right vinyl siding colors will make a huge impact on the home's overall look and feel. While some colors help make your home look bigger, some can make it feel small and cramped. To boost your home's curb appeal, we'll walk you through the various color examples for a vinyl siding as well as a step-by-step guide on how you can select the best color for your home.
The Most Popular Vinyl Siding Colors
Rich Red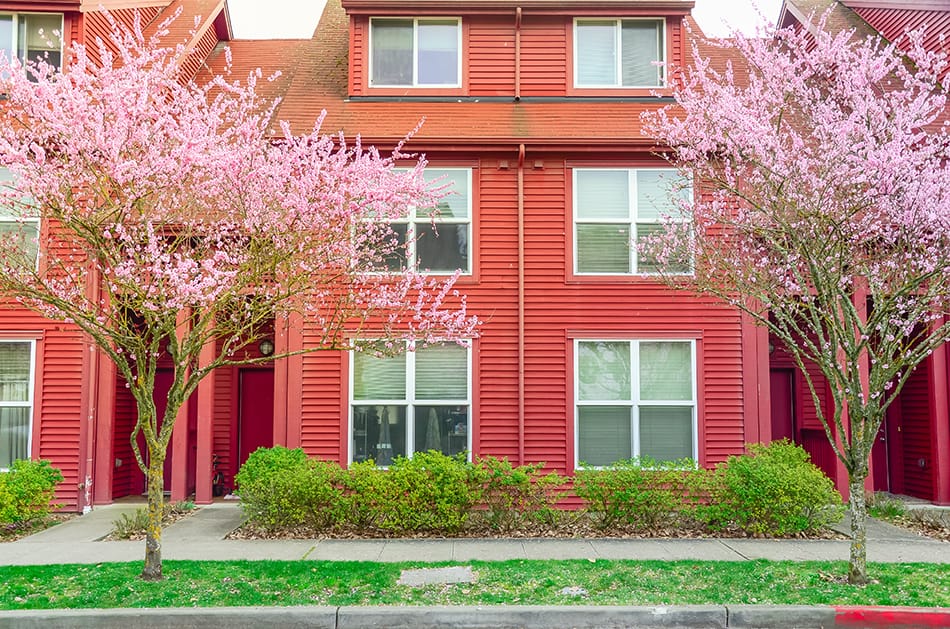 There are few colors quite as enriching as a deep shade of red. This bold color is ideal for anyone daring enough to try it in small doses. As a vinyl siding color, a deep shade of red like burgundy is an exciting choice that brings personality to an otherwise simple-designed home. Red is, after all, a color that stands out as long as you choose a dark shade for your siding. When combined with black or white trims, it can create a contrast with other surrounding colors. And as for the front door color, perhaps a lighter shade of red to go with your vinyl siding? Alternatively, a black front door and matching shutters will look beautiful next to red siding.
Any Shade of Blue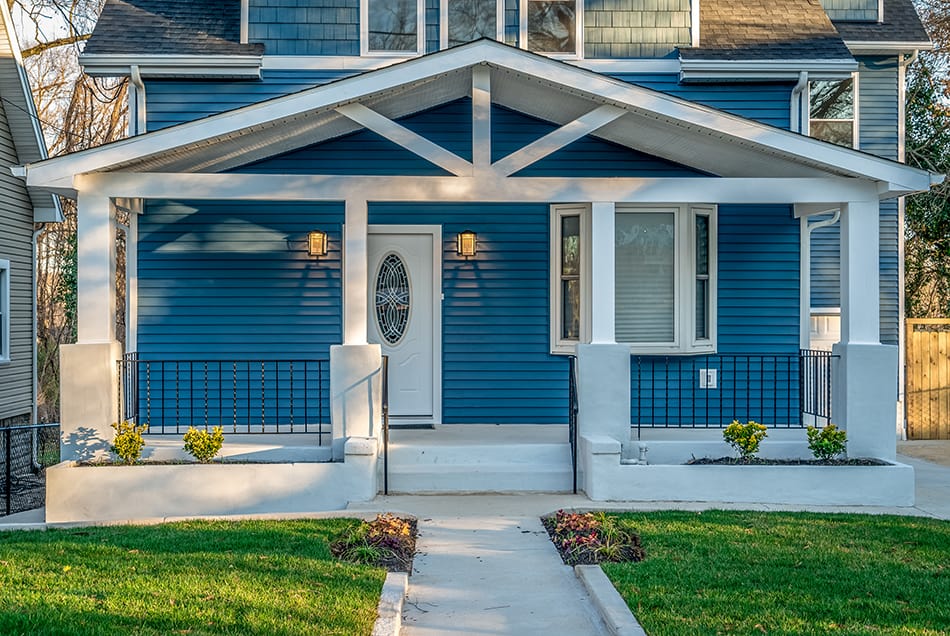 Any shade of blue for vinyl siding is a popular choice. Blue is in the same bold category as red, and when compared to neutral shades, it has more of a soothing nature that evokes peace and serenity. A house painted in a rich shade of blue with crisp white trims will make a welcoming first impression to the visitors.
This beautiful Craftsman-style house has white columns and trims with an attractive shade of blue for its vinyl lap siding. You can choose any shade of blue as it goes perfectly with grey shingles and white trims.
Tan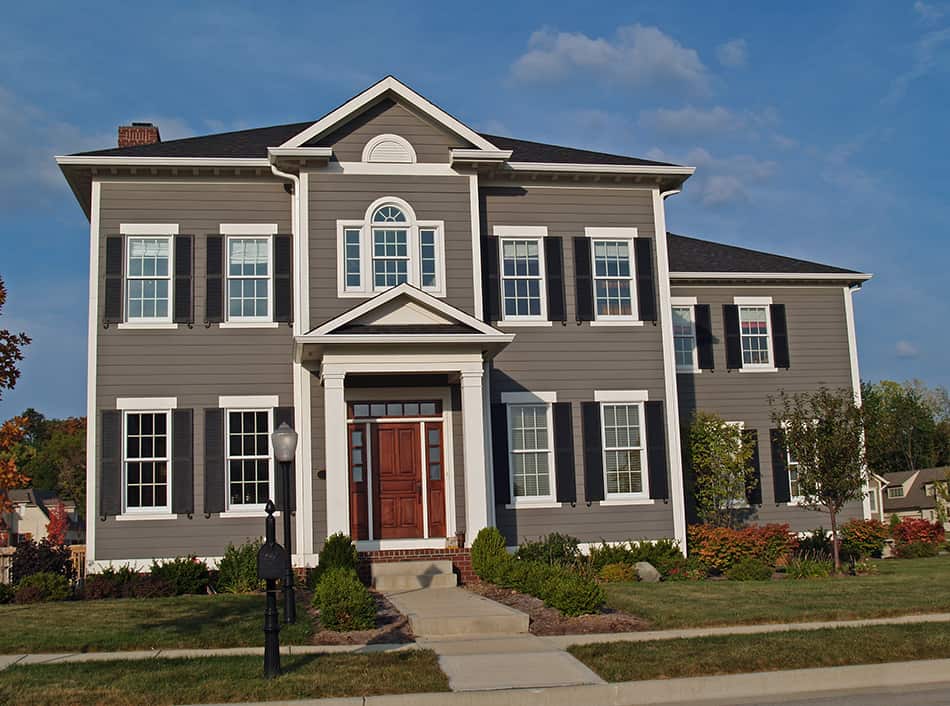 For a truly popular neutral siding color, why not consider tan? No matter which region you live in or the style of your home's architecture, the color tan tends to blend well with any surroundings. This vinyl siding color goes beautifully with different accent colors like greens, black, and reds. Here you can see how this two-story home's tan vinyl siding is enhanced thanks to the black shutters, red front door and crisp white trims.
Green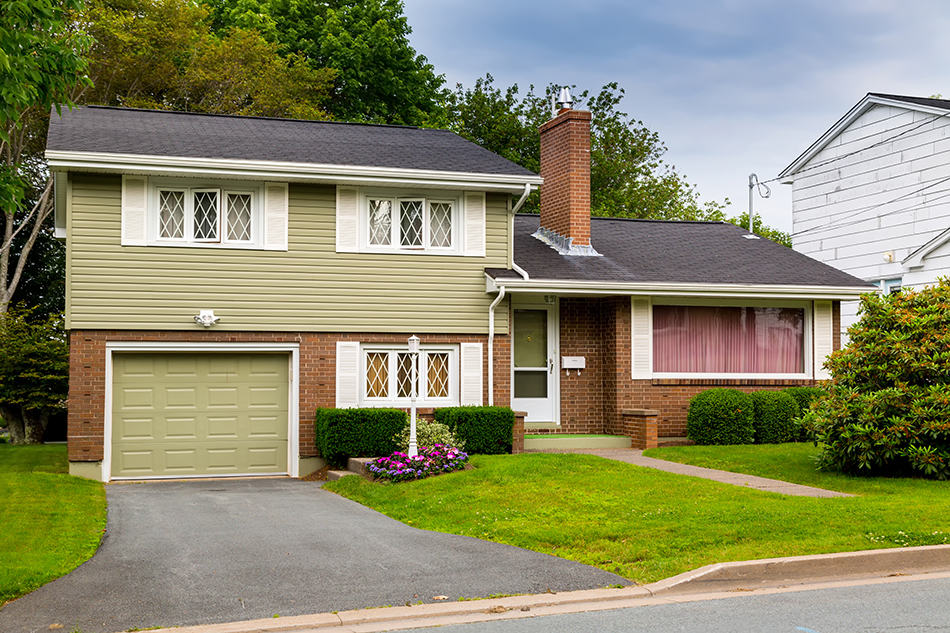 When we think of green for vinyl siding, it may not sound very appealing, but as you can see from our example, a pastel shade of green actually works pretty well with white shutters and a grey roof. Green siding is a wonderful color that goes with any architectural style. And when it's surrounded by lots of greenery, the color green will blend in nicely. Of course, you can choose any shade of green to paint your vinyl siding. But the most popular shade has to be forest green thanks to its close resemblance with nature. This shade works with both bold and neutral background colors, such as a white front door and matching trims. When paired with a well-kept front lawn, your green vinyl siding will harmonize with the rest of the elements around your home.
Grey
Grey is such a versatile color that comes in a vast variety of shades. A light shade that's more closely neutral is sure to please the neighbors and your visitors. Granite grey, for example, is lighter than charcoal with a warm undertone. Another warm shade of grey is nantucket, which is a deeper shade with popular appeal. This truly neutral grey works well on almost all architectural styles and all regions.
See how light and breezy this light grey Suburban house looks with its matching roof and white trims. We love the dark green shutters and front door, which have enhanced the beauty of the vinyl siding color.
Grey and White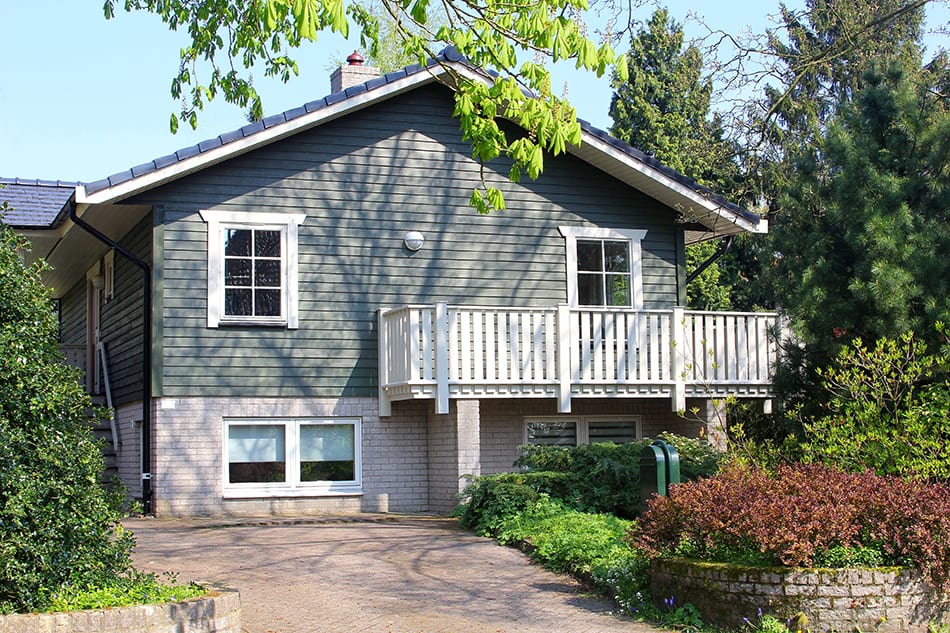 Go beyond neutral by painting your vinyl siding color a bluish-grey hue like the one shown here. Add a brilliant white tone to harmonize the exterior and make it stand out. This modern family home is a typical example of how beautiful and versatile the grey and white combo can be. This vinyl siding color pairing has created a flawless design as shown in this example.
Classic White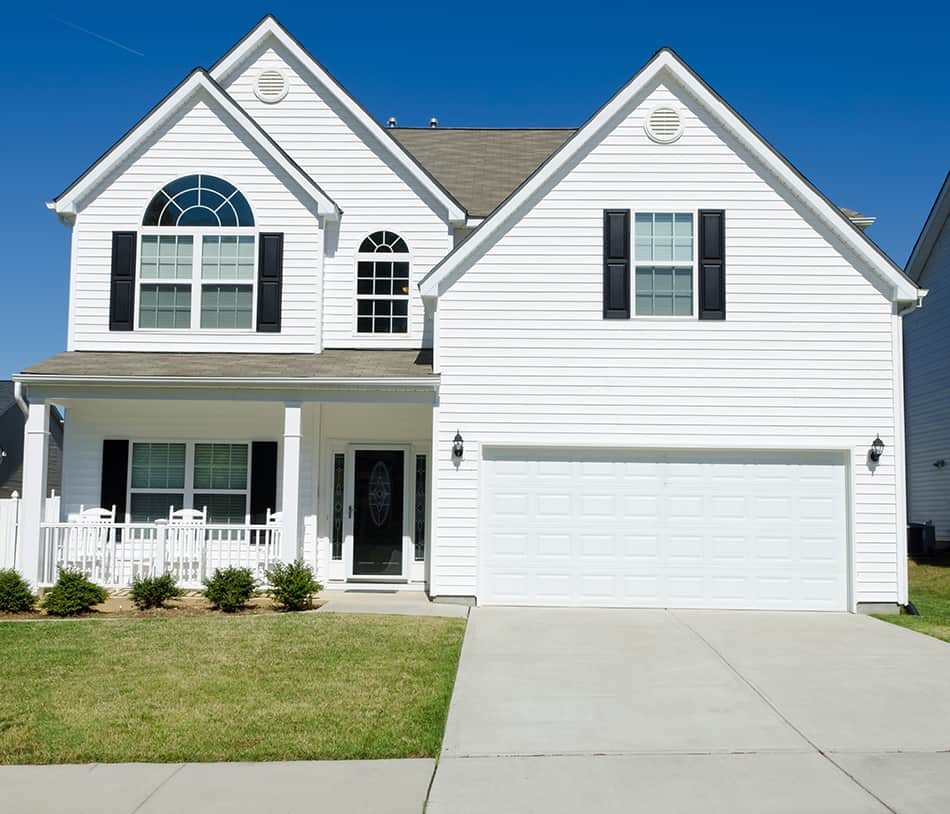 Most homebuyers love the classic look of white for siding. One particular shade is snow-white, which gives the house a clean finish. The best thing about white is that it can pair very well with other colors like reds, blues, and greys. You can incorporate black railings, white columns, and other splashes of color that go with your white vinyl siding. And as for the roof, a dark grey color will work perfectly.
In this example, the white vinyl siding is paired with black shutters and a front door, with a grey roof to complete the look. White is, after all, a classic and traditional color choice for vinyl siding.
Brown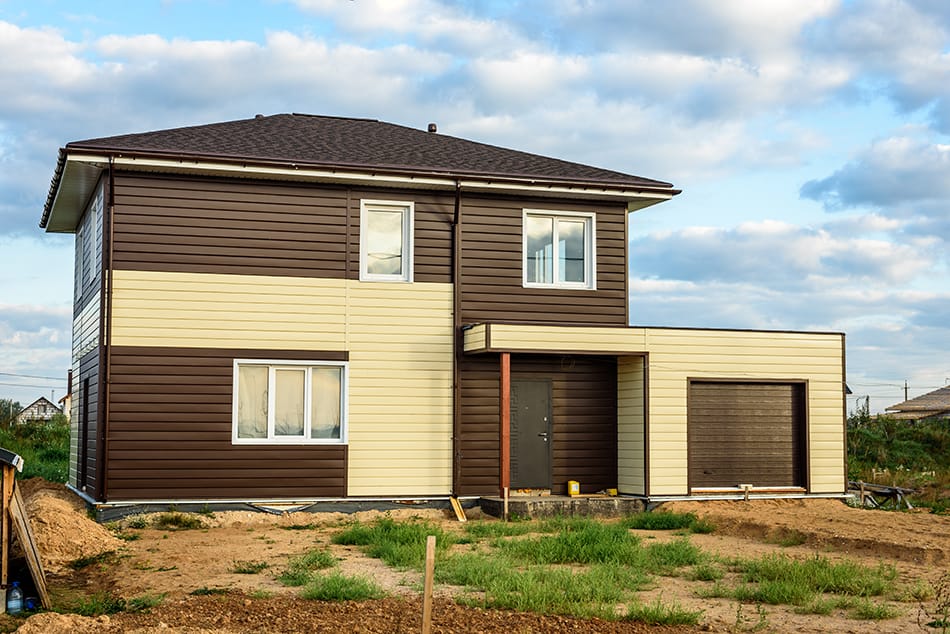 There are many shades of brown that work on most modern and traditional homes. Brown vinyl siding is a distinctive and rich color that can truly transform your home into an attention-grabbing dwelling. The darker the brown shade for the vinyl siding, the more it will emphasize the elements of the home, while lighter hues will work better with natural elements like stone or wood.
This earthy color can also be combined with a warm, natural shade of yellow like the image here. The chocolate brown vinyl siding is paired with soft yellow, with a black front door and dark grey roofing. Since brown mimics the look of wood, it will go well with any style or size of home.
Step-By-Step Guide to Selecting the Right Vinyl Siding Color
Step 1: Review Your Home's Existing Exterior Colors
Before you decide on the most suitable vinyl siding color for your home, take the time to review your existing exterior colors. These include the roofing and trims. By coordinating your home's existing colors with the color of your siding, you'll create a beautiful curb appeal. Even if you have your heart set on a certain siding color, it'll be a hassle (and costly) to repaint your trims. However, the most important elements to consider are the roofing and the front door colors as you won't be able to easily change these afterward.
Step 2: Decide Between Cool or Warm Colors
Warm colors evoke energy while cool colors are relaxing to look at. When deciding on the right vinyl siding color, consider warm or cool hues based on the rest of the exterior's color tones. For example, if you want to create a lively and energetic vibe, go for warm tones. On the other hand, to unwind and forget your day's stresses, cool color like blue will work nicely.
Step 3: Experiment with Vinyl Siding Color Samples
By now, you should have a general idea of how you want your exterior colors to look and feel. The next step is to begin reviewing your vinyl siding color options. To do this, take some samples from your local home improvement store and look at them next to your home. Take the time to review these color samples on rainy days, sunny days, and in the evenings. This should give you a better idea of what the color looks like in your home.
Step 4: Combine Siding Color with Your Home's Surroundings
Most homeowners tend to overlook the role of landscaping in their home's color scheme. When considering the best siding color, you can't ignore the landscaping as everyone notices a home with a well-kept front yard. Therefore, your landscaping needs to work with your home exterior. If you have a high-maintenance front lawn, how long will you be able to keep it in tip-top condition? Some plants are easier to care for than others so either hires a professional landscaper to do all the work for you or opt for low-maintenance plants to make your life easier.
Other elements to consider include:
– Your roof's color: the color of your roof shingles needs to compliment the overall colors of your home exterior. Ideally, the roof color must blend in with the vinyl siding, not stand out and steal the spotlight from the siding color.
– Experiment with more than one color: it is not necessary to just go for one color for the trims, shutters, front door, and vinyl siding. To achieve a good finish, have a range of interesting colors that go well together. Use our above examples with images to get a better idea for the front door colors, shutters, roof, and vinyl siding color scheme.
– Mailbox color matters: most people forget to coordinate their freestanding mailbox color with their home exterior. Remember, a mailbox is another important part of your home elements so if you have a predominantly white siding, for example, a black mailbox will work nicely.
– Driveway: your driveway's color and material matter when thinking of the right vinyl siding color. The driveway colors shouldn't detract the eye from your home's vinyl siding color.
– Hardscaping: similar to landscaping, you must make sure your home's hardscaping is also in harmony with your vinyl siding color. This includes any paved paths, exterior walls, and fences.
– Gutters: the color of your gutters shouldn't stand out but rather blend in with your siding and trims.
Which Vinyl Siding Color Has the Best Resale Value?
A vinyl siding color is an important consideration when you want to make your home's exterior stand out and attract prospective buyers. Neutral tones are easier on the eye as potential buyers can imagine themselves living in that home. Whites, light browns, and greys are especially popular to ensure the optimal resale value of your home.
But it's not just the color of your vinyl siding that brings your whole house together. To create an inviting look, take the overall aesthetics into account as well as opting for a bolder vinyl siding color like red or blue to bring a pop of color to your home's exterior. Bright vinyl siding colors also increase a home's resale value as long as you blend the other elements into the color you choose.
Which Vinyl Siding Color Fades the Least?
As a rule of thumb, the lighter the color of your vinyl siding, the less likely it will fade over time. White is the least fading, while dark reds and browns tend to fade quicker and more noticeably. That said, darker vinyl siding colors don't fade now as much as they used to thanks to advances in paint technology. So as long as you choose high-quality paint, it should last for up to 15 years without any signs of fading. However, to keep your vinyl siding in top condition, be sure to repaint it every 5 years or so using latex paint.
Which is Better: Light or Dark Vinyl Siding Color?
The tone of the vinyl siding color depends on the size of your home and its architectural elements. Generally, smaller homes will fare better with darker vinyl siding colors, while larger homes can make a big statement using lighter vinyl colors that will make them feel more inviting. When deciding on which vinyl siding color best suits your home, you should also consider the climate of your region. Some colors attract less heat and are more energy-efficient. So if you live in a cold climate, opt for a darker color. Light colors absorb less heat in the summer, which makes them ideal for warm regions.