A brown brick exterior gives a home an instant curb appeal. When paired with the right color siding, the brick portion of the house is beautifully highlighted. But the trick is to know how subtle or strong the siding color should be next to the brown brick. Brown is a warm color, thus it works well with both warm and cool hues.
So the answer to the question 'what color siding goes with brown brick' depends on the effect you're trying to achieve. For example, if you want the brown brick facade to dominate, then you'll need a muted siding color for a low contrast look. If, on the other hand, you want to increase the visual impact of the brown brick, then select a high contrasting paint color for the siding.
To get a better idea of the best siding colors to pair with brown brick exteriors, take a look at our following examples:
Siding Colors that Go with Brown Brick
Brown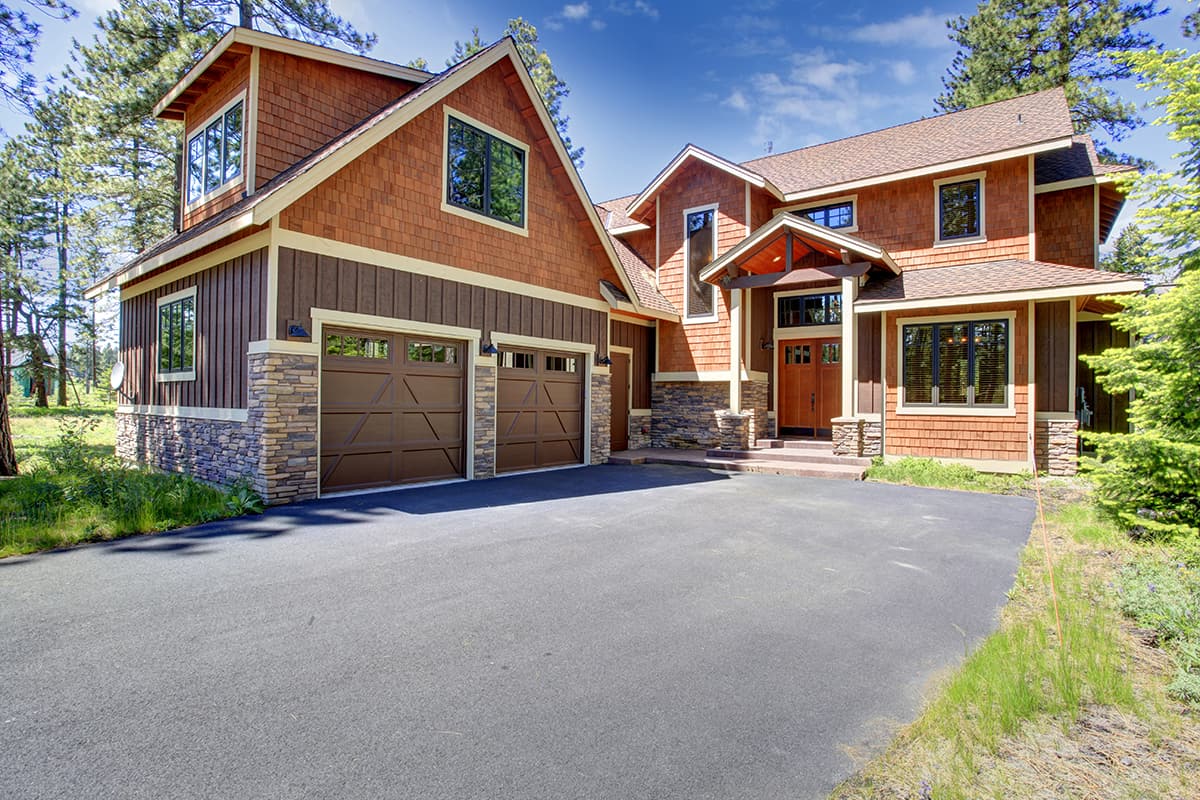 Any shade of brown coordinates well with a brown brick home to create a cohesive look. Although some people may see brown as a dark or bland color, this color scheme can in fact be inviting for the exterior of a home. To make a visually interesting pairing, go with a shade of brown that has a hint of grey in it like the example shown here.
This will make the exterior look expansive and brighten up the brown brick. The trim color can be white and the front door is light brown.
Green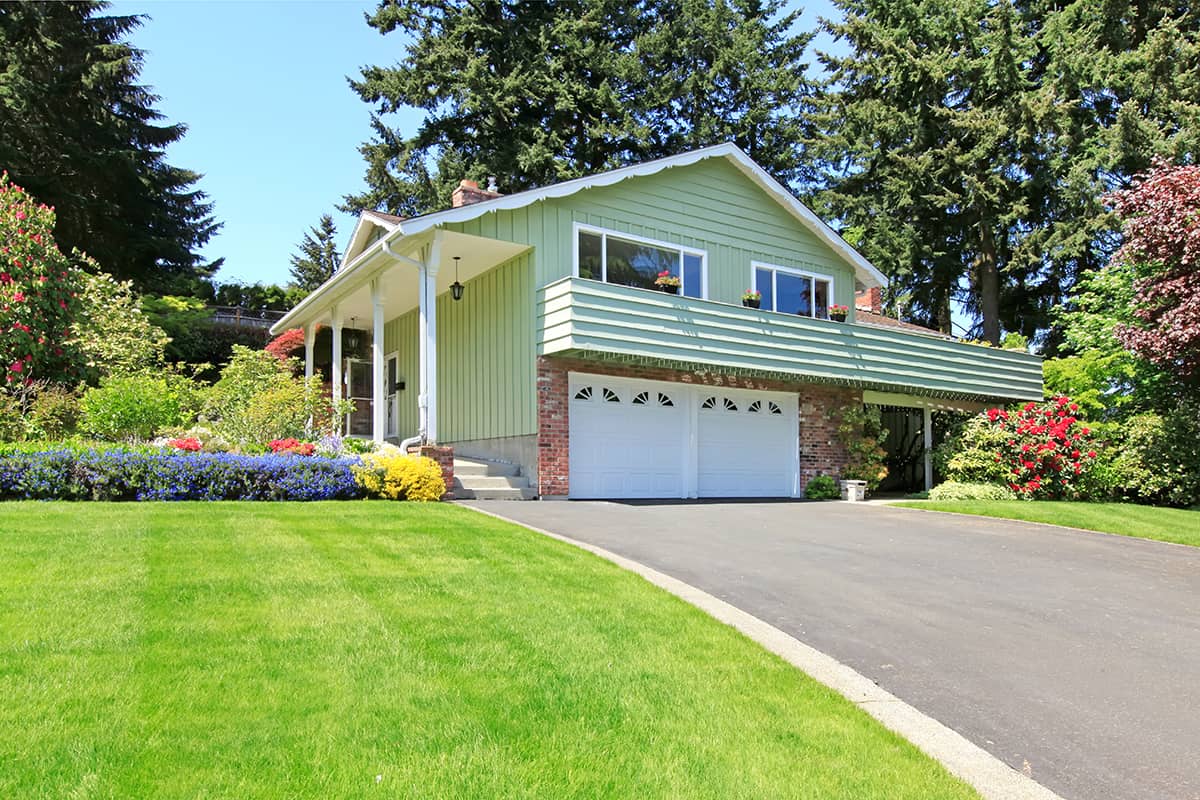 Brown is a complementary color to green as they are both associated with nature. Green will enhance the color in the brick so you can use a soft or muted version in order to avoid stealing the spotlight from the brown brick. A mint shade of green for the siding adds a classic appeal to any home.
When paired with white trim and a matching garage door, the combination of green and brown brick with white trim will bring the entire design into one cohesive style.
Just look at how well these colors work on this Mid-century home. The dominantly green siding with the white trim has added a lot of curb appeal to the house, don't you think? We love the green landscaping surrounding the house, which goes perfectly with the mint green siding and brown brick front exterior.
Blue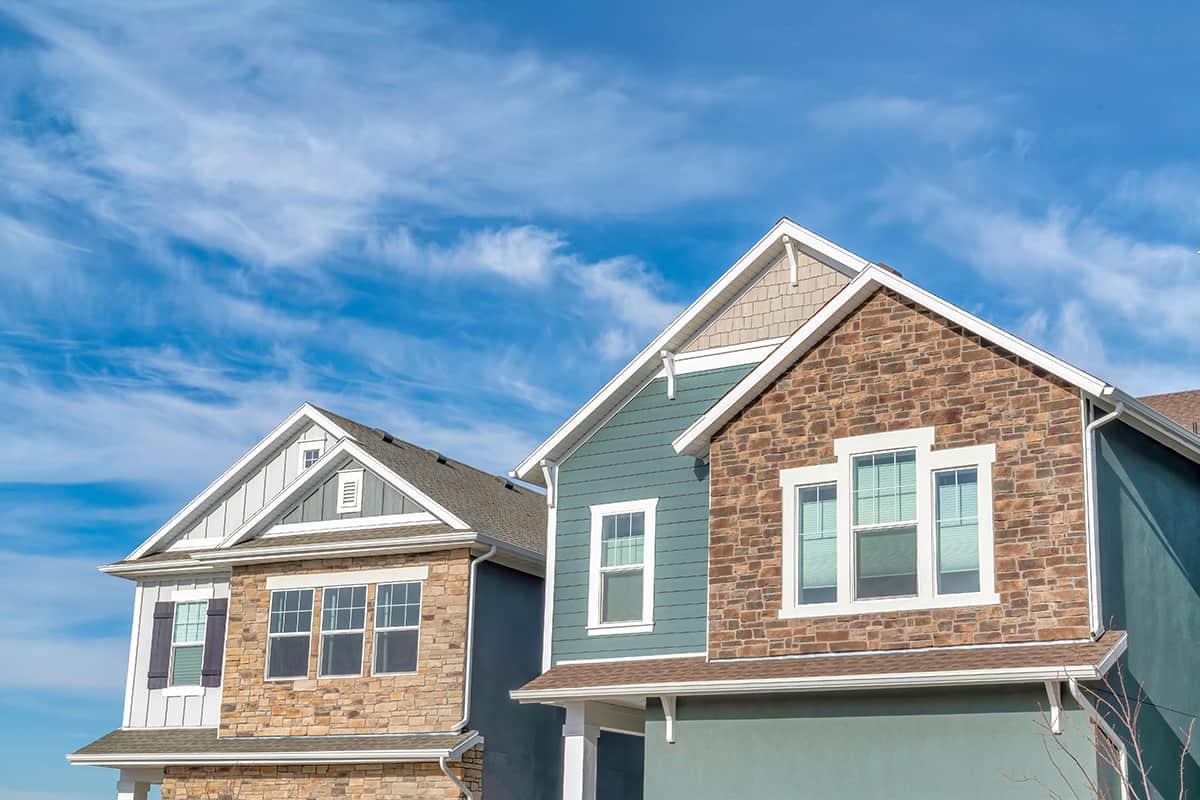 You can't go wrong with a beautiful shade of blue siding next to the brown brick. Blue and brown are yet another nature-inspired color palette, but if you want to avoid making your exterior overly nautical, it's best to opt for a striking shade of blue like the one shown here. This calming color is perfect with brown brick and white trim to provide a soft and sophisticated look.
In this example, the greyish blue siding combined with the brown brick exterior has created a tranquil color palette. The exterior of the house also boasts stone within the brick, which has enhanced its curb appeal. The blue siding helps to accentuate the stone and brown brick facade on this gable-style house.
Burgundy
Brick isn't a material that comes in just one color. There are many shades and tones mixed within this clay material. From the darkest greyish browns to reddish browns, it is important to pay attention to the actual undertone of your brown brick exterior before pairing it with a siding color.
Burgundy may seem an uncommon choice for a brown brick home's siding, but it can actually be a vivid color choice that accentuates its color companion. As a vibrant siding color, burgundy brings life to the exterior of any modern or traditional style home. This fiery color combination is sure to draw attention in your neighborhood! You may also choose light brown for the front door and trim to create an ultra energetic exterior.
Beige
The warmth of brown brick can complement with a warm shade of light neutral like beige siding. Together, the beige and brown brick combination can make an inviting first impression. This idea is perfect for those who aren't keen on bold siding colors to pair with brown brick. Beige is an excellent neutral shade that adds even more warmth to the brick facade.
In this example, the black shutters and dark grey roof have made the beige and brown color combo stand out beautifully and added depth to this modern house.
Grey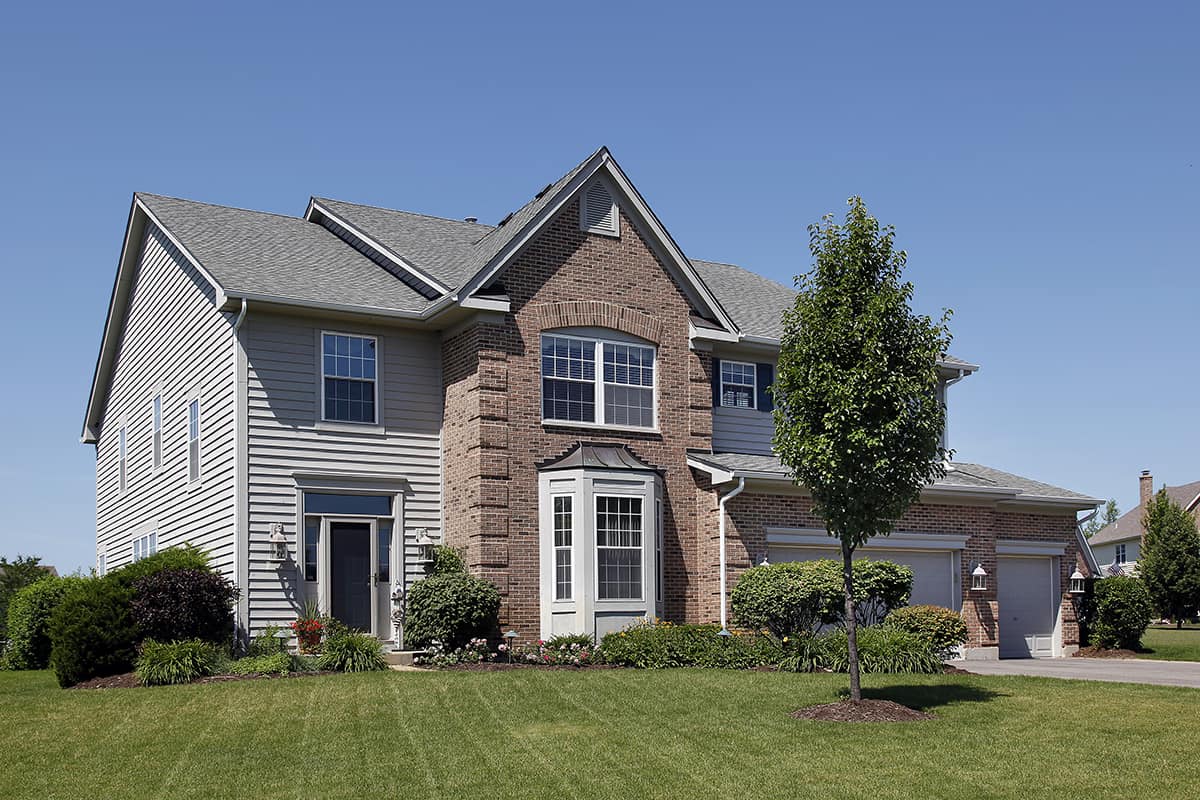 Another neutral shade that has recently become popular for siding is grey. Unlike the warm tone of beige, a cool shade of grey can be a modern alternative to pair with brown brick. For example, a bright white trim used in this image breaks up the deep grey siding and brown brick exterior.
The cool grey next to the warm brown has given this house a welcoming feel. Not only is the color grey a cool neutral, but it also adds a lot of contrast to the brown brick. This makes the brick facade stand out as the boldest part of the house.
You may increase the curb appeal of your home by adding colorful landscaping and softening the transition from grey to brown. Adding white trim throughout the facade will also help, with a grey roof to bring the whole exterior design together as shown in this example.
Black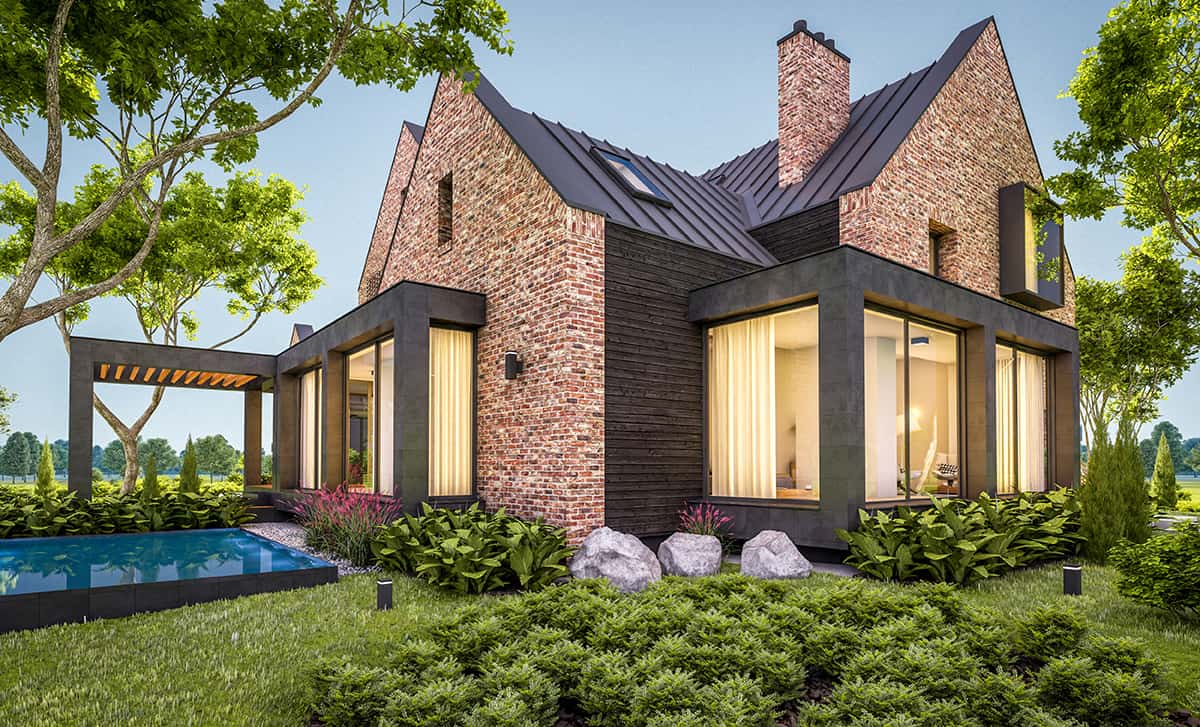 While some people perceive black as a masculine dark color, it can in fact transform the whole look of a brown brick house. As a siding color, black is powerful and ultra-modern. This bold and stylish color for the siding can give your home an updated feel. As you can see in our example here, black siding with brown brick is a powerful color combination.
The matte black goes well with the deep brown brick facade, with the addition of the surrounding greenery to complete the cozy contemporary vibe of this house. And to take it one step further, opt for a black roof and brown brick chimney as per this image.
White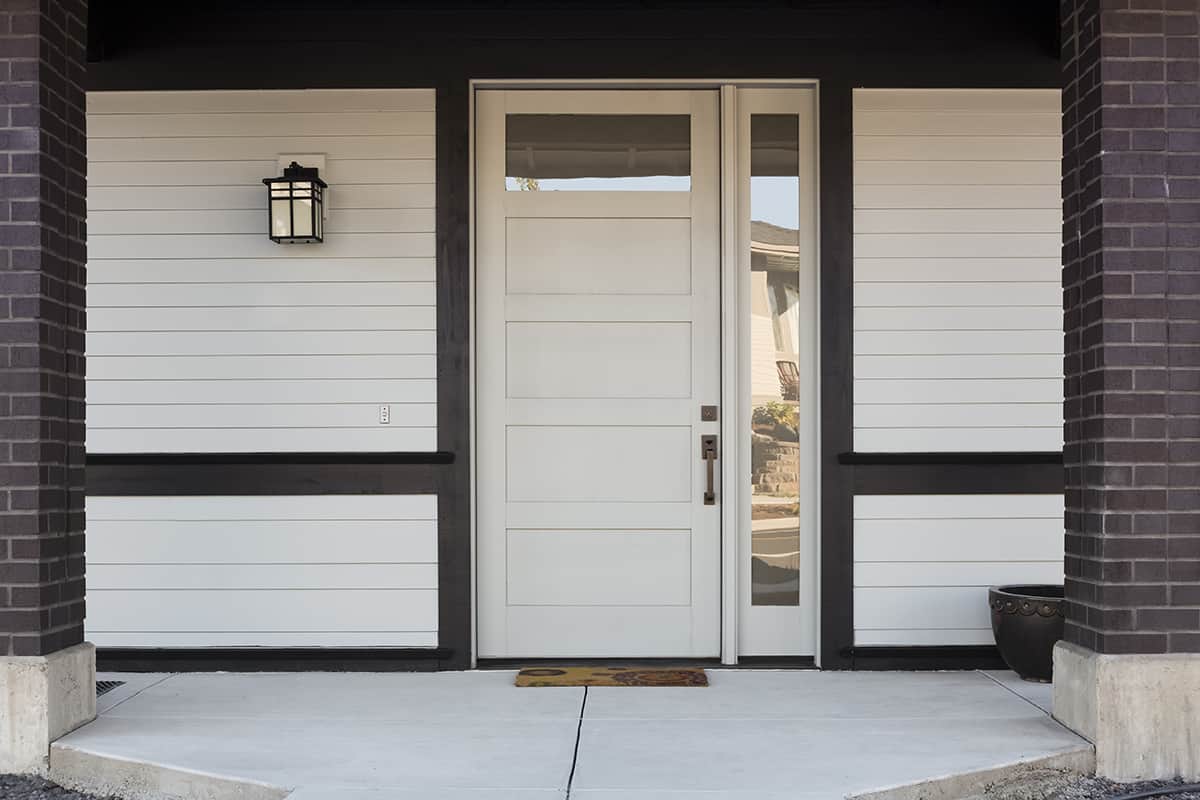 As a contrasting alternative, go with white! This striking color will make your brown brick facade stand out as the focal point. White acts as a light neutral to use as the perfect backdrop to brown brick. This unassuming paint color will allow the other features and colors to shine. After all, white is a crisp contrast to warm brown. Pair the siding with a white front door to coordinate the look and add black trim for drama.
Natural Wood
If you're still undecided on what color siding goes with brown brick, then how about natural unstained wood? This is a warm addition to pair with your brown brick exterior, plus there are plenty of wood stains to choose from. For example, an orange-brown stain for the wood siding will work perfectly with brown brick. You may even go with deeper brown stains as a warmer accent color. The look of natural wood on a brown brick house brings an energetic feel as well as dimension to any traditional home.
What Color Trim Works with Brown Brick?
Since brown brick is a warm and cozy color, pairing it with dark trim colors can be overwhelming. This is especially true if you have already chosen a dark color siding. Try to use a secondary accent color for the trim to add depth to the overall exterior of your home. Light, neutral colors like off-white or beige trim can break up the dark brick color. When paired with a bright siding color, the three-color combination can provide a polished and finished look. In general, any light trim color will work with brown brick as long as the siding color isn't already dark color.
In Closing
Brick is a stylish and classic material that has been a popular choice for traditional homes for many decades. When choosing the right siding color to complement your brown brick exterior, make sure you pay attention to other accent colors too as you must take the overall exterior design of your home into account.
Our above siding colors can help you balance the look of your brown brick home so consider adding one that you find the most suitable. Remember to pay attention to the undertone of your brown brick facade before picking the siding color. If the brown brick leans more towards orange, then go with a dark siding color, such as burgundy or black. A dark brown brick exterior, on the other hand, can pair well with lighter siding colors such as beige or grey. Alternatively, you may just stain your siding in any stain color you like if it's made of wood as a warm pairing with brown brick.