A brown couch is the king of all furniture, especially if it's made of suede or leather. This timeless piece can easily be integrated into any classic or modern living room decor. In fact, you can accentuate your room's character by furnishing it with a luxury brown sofa.
Rugs and couches go hand in hand as two of the most valued interior design pieces. When deciding on choosing the best colors of rugs that go with brown couches, you'll be surprised to find that your options are plenty.
Keep reading to discover some great tips on picking the right rug colors for your brown couch as well as the best rugs that are available on the market.
Tips on Choosing the Best Rug Color and Size for Brown Couches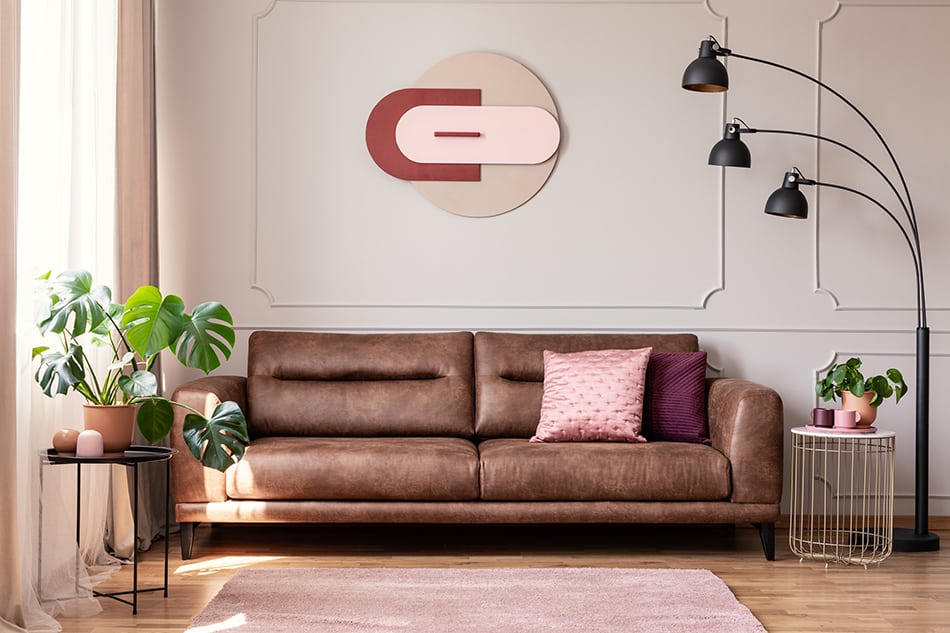 – Choose a soft color rug to complement a dark brown leather couch. A light color rug will lighten up the space and help build contrast against the dark brown sofa. If your brown sofa has a visual texture, you can pick subtle shades of rugs that enhance the visual interest of the couch.
As a general rule of thumb, pick a rug color that compliments the couch. While there are no limits to the colors you can choose, natural shades will work particularly well with brown couches.
– If you choose multi-colored rugs, try to coordinate them with your room's secondary colors and decor. A well-laid-out living room has two secondary colors: a brown couch is the primary color, and accentuated pillows or throw blankets are in secondary colors. Your chosen rug can be the same color as the secondary color palette in order to achieve a cohesive look.
– Aside from the rug color, you must also pay attention to the rug size. A large rug will bring the seating space of your living room together and define the borders of the space. You may also use a large rug to create harmony with the rest of your furniture. In smaller living room spaces, opt for narrow area rugs or shaggy ones for the foot of the couch so as to avoid making the living room feel cramped.
– Since brown couches are such versatile furniture pieces, they can be matched with lots of different rug colors. The color you choose will change the ambiance of your living room and give the brown couch more aesthetic appeal.
If you are still undecided on the best rug color for your brown couch, take a look at our finest examples right here:
8 Rug Colors That Go With Brown Couches
1. White Rug Paired with Brown Couch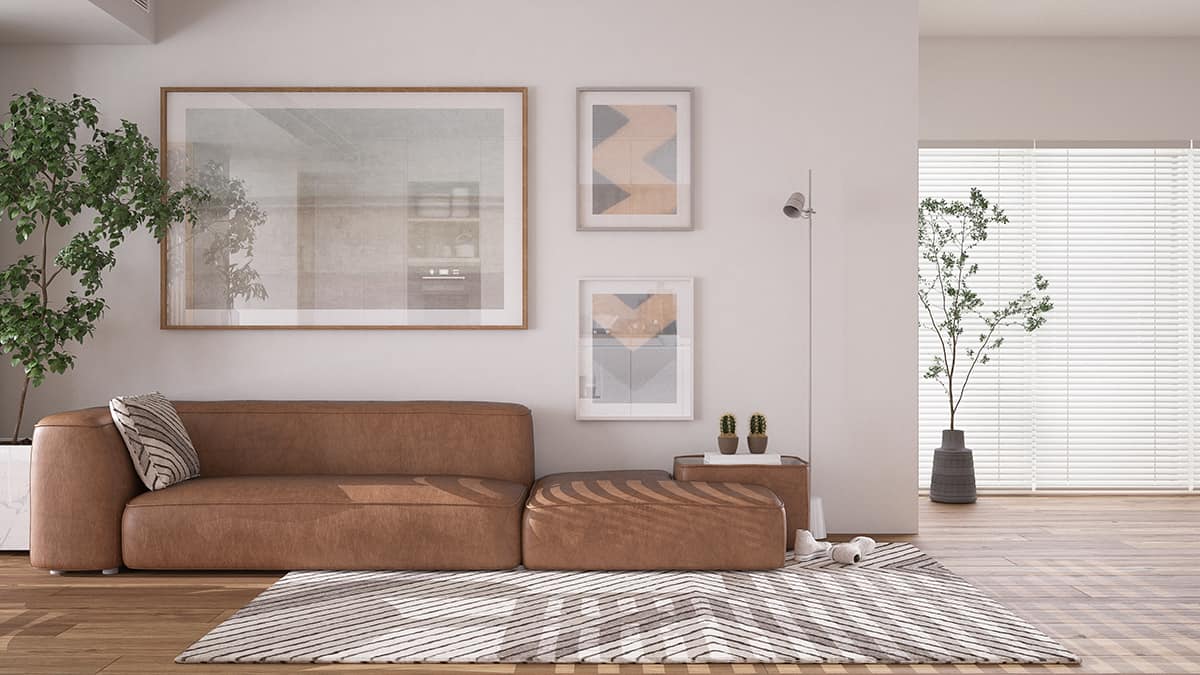 A neutral, pastel rug goes well with any couch color. But if you want to make your living room space feel bigger and brighter, then it makes sense to opt for a white rug. Not only do white rugs go with most furniture pieces, but they also do a great job of bringing out the rich, warmer tones of your brown couch. White and brown create a nice contrast, after all.
A plush fluffy white rug against a buttery leather couch will give your living room a cozy feel while allowing the two colors to play with texture. This combination creates a powerful contrast and allows you to mix and match the material finishes with one another.
Our best example is this super-soft, fluffy white rug that boasts a modern feel. The area rug is made for soft velvet with a high-density sponge that makes it so soft to the touch. This fluffy rug also features thousands of PVC non-slip dots that prevent it from slipping on laminate or tile floors. Furthermore, it is large enough to cover an average size living room floor.
2. Brown Area Rug with Brown Couch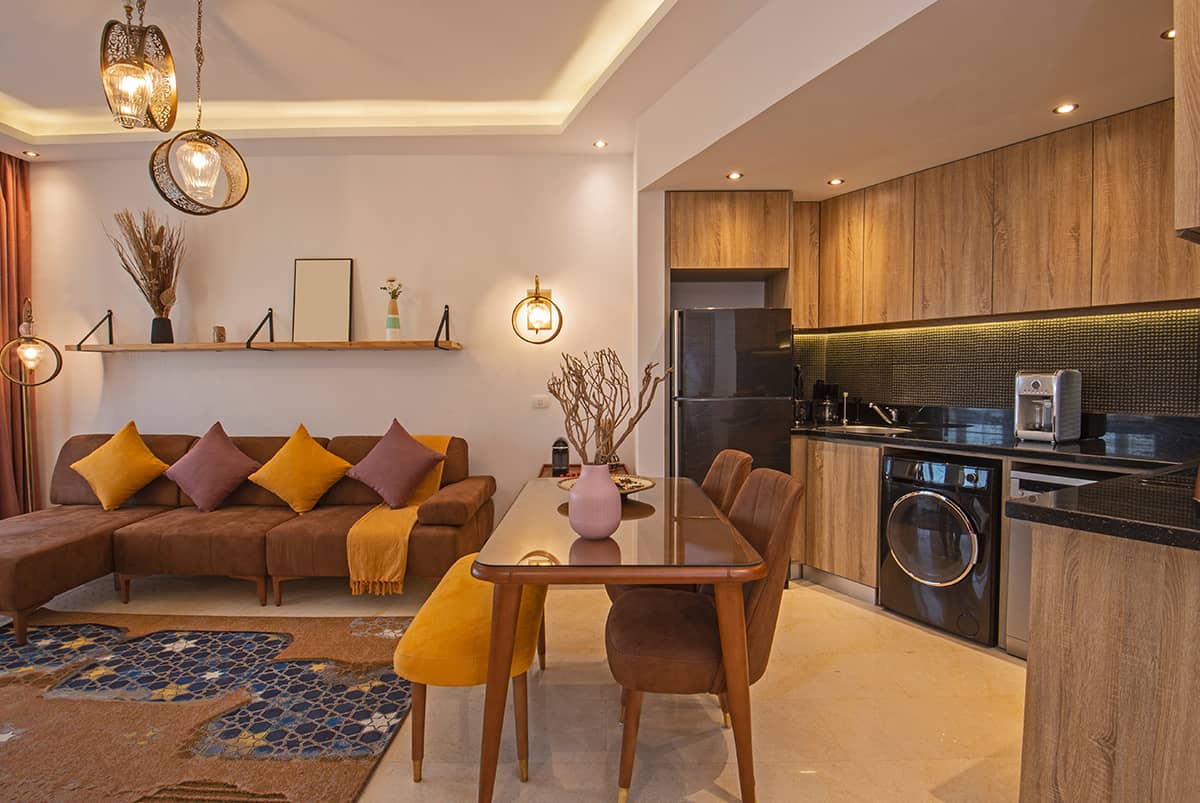 To create a more harmonious contrast, consider pairing your brown couch with a matching color like brown. While this may seem a little obvious or common, before you cross it off your possible list of rug colors, you should know that brown comes in many different shades.
In other words, you don't necessarily have to choose the exact same shade for your rug as you have for your couch.
For example, if your couch is a medium shade of brown, then the safest option is to go with a lighter shade of brown for your rug. This combination will make your living room feel warmer and more inviting. If, on the other hand, your couch is an extremely dark or light shade of brown, then pair it with an extremely light brown rug to add subtle depth and maintain harmony at the same time.
3. Pink Fluffy Rug with Brown Couch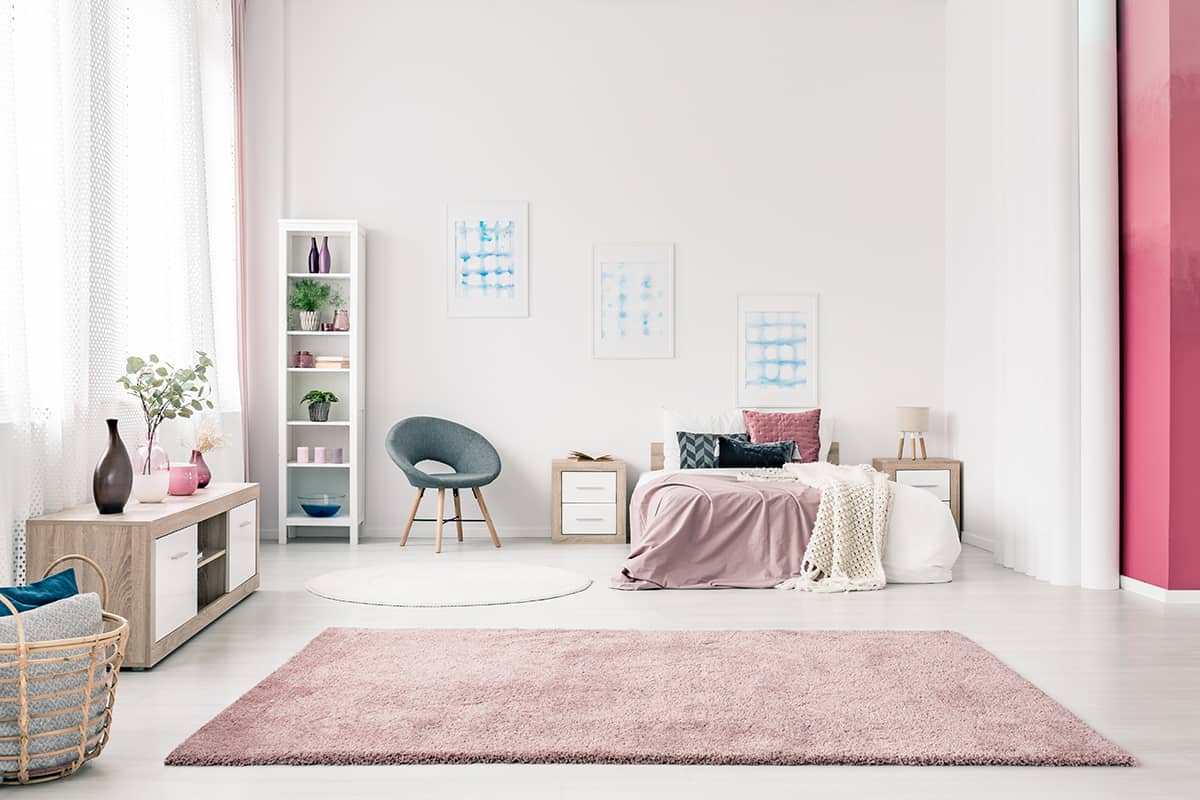 There is nothing like a soulful rug to add warmth to space. And what better than a bright pink rug to go with your brown couch? This bold color is the perfect way to bring out the beauty of your sofa, especially if you choose a large-size pink and fluffy rug!
How about this velvet, fluffy rug made of faux fur? It is so shaggy that it feels like you're walking on clouds. This super-soft high-density sponge rug promises to relieve your leg fatigue and keep your feet warm. The plush pink rug will certainly be the focal point of your room!
4. Beige Rug with Brown Leather Couch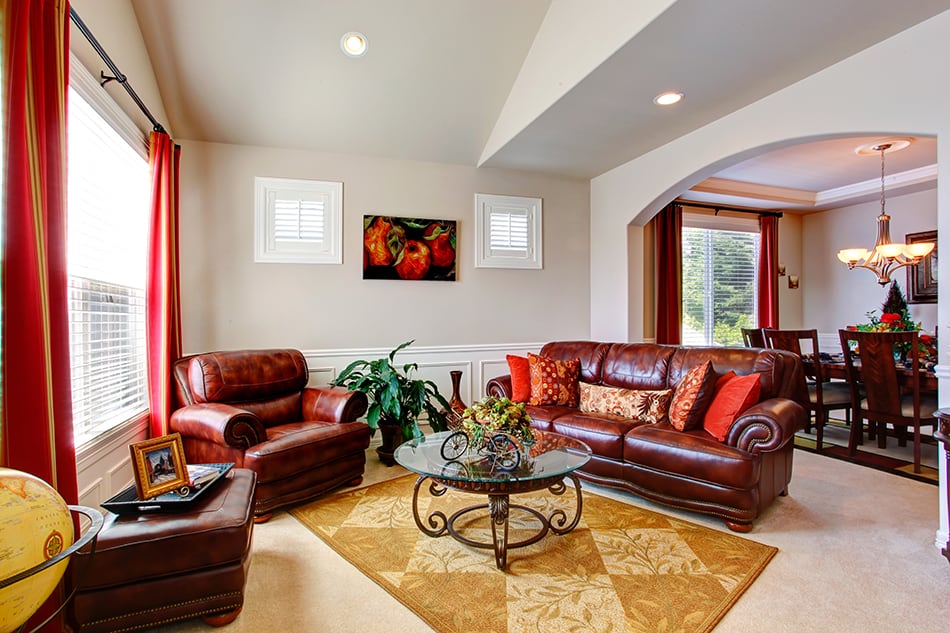 Brown leather couches ooze luxury and elegance. These dominating items of furniture demand attention and character in any living room. When paired with a beige rug, your brown leather couch will still remain the center of attention.
In this example, see how luxurious the leather sofas look next to the beige rug in the middle of the living room. The rug has created a cozy and welcoming feel in this space.
5. Multi-Colored Rug with Brown Couch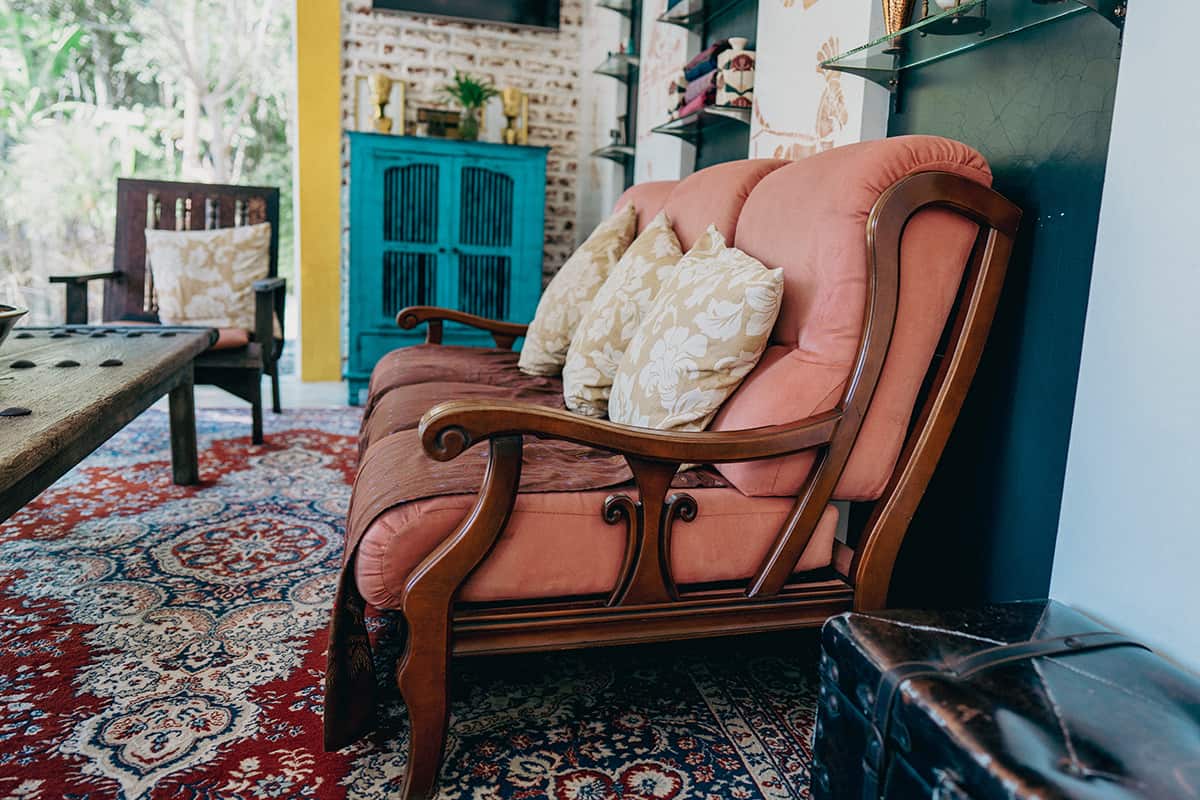 If you want to combine different shades of colors for a more harmonious look, then you could try a multi-colored rug to contrast with your brown couch.
A colorful rug will highlight the furniture and the overall aesthetic of the living room for a unique look. Patterned rugs will work just as effectively as long as they are in multiple colors. If this is your style, you can find many different colors that create a rich palette.
For example, this handmade multi-colored area rug can easily be matched with any brown couch. The rich colors in various shapes or patterns make it the perfect choice for the daring homeowner.
6. Green Rug with Brown Couch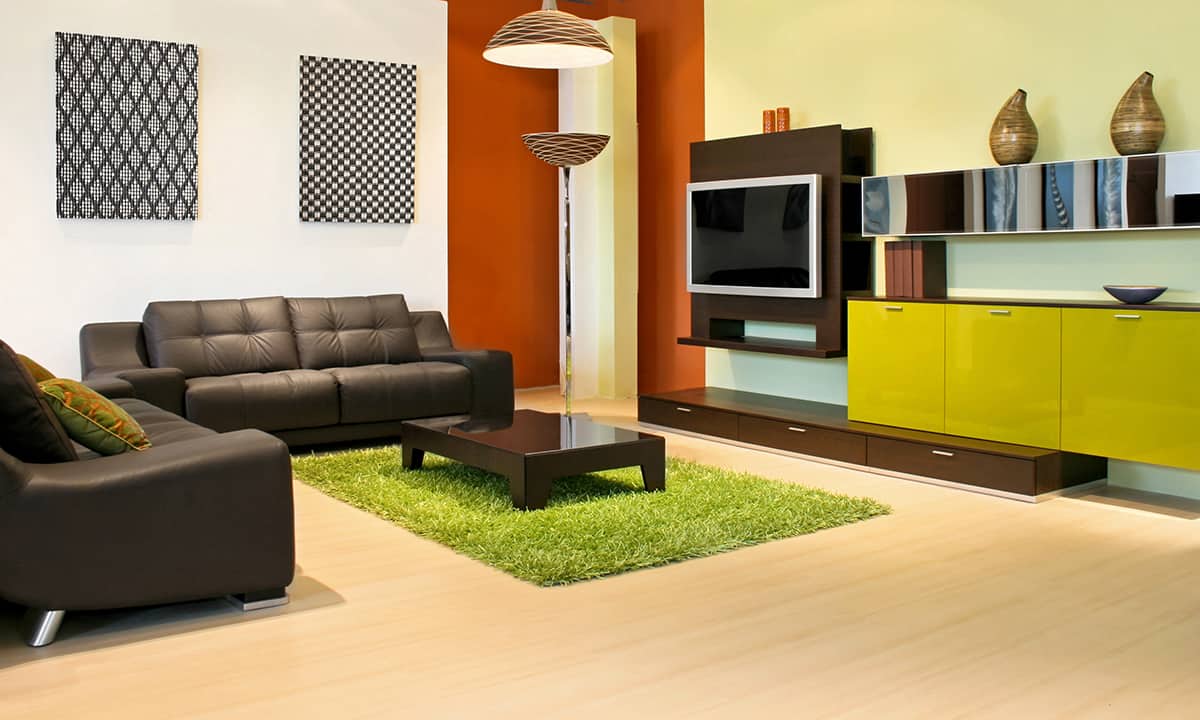 A suede or leather brown couch goes very well with warm autumn or spring colors such as light shades of green. Compared to other couch materials, suede sofas are easier to integrate within a living room as they are easier to color-match, especially when it comes to rugs.
A green rug with a retro suede brown couch is the perfect combination for any vintage living room.
7. Grey Rug with Brown Couch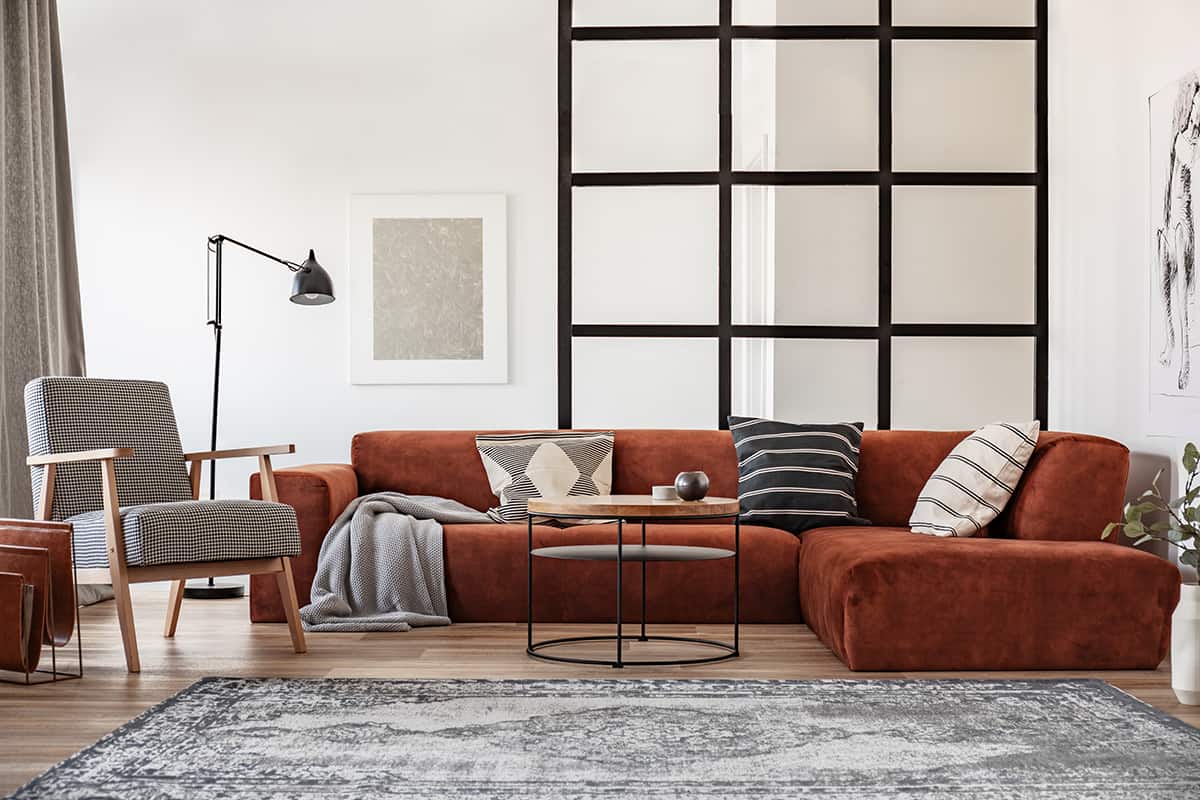 Grey and brown color combinations are increasingly becoming popular in the world of interior design and furnishing. These neutral tones play off each other beautifully for visual stimulation.
Grey is a clean color, while brown provides an earthy tone that lightens the mood. With a complementing grey rug, your brown couch will provide an organic, grounding feel.
8. Red and Blue Persian Rug with Brown Couch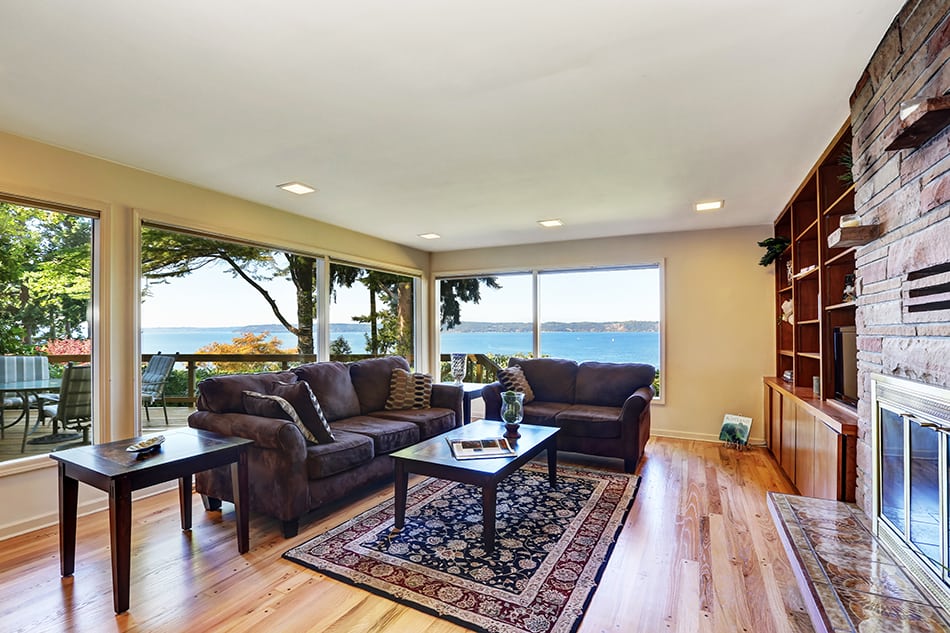 Just like any oriental rug, Persian rugs are also great choices when it comes to pairing them with brown couches. These rugs flaunt bold colors that can make the brown couch even more prominent in any room. If your living room interior is mainly brown, it is always a good idea to place a beautiful and eye-catching Persian rug in the middle of the room.
You can combine different shades of brown for the furniture to accentuate the rug. In this example, the dark blue and red Persian rug has done wonders for this stylish and warm living room.