A home office is where you spend most of your time studying or working each day. Therefore, it must be a functional space that encourages not only creativity but also a place you actually enjoy going to every day. If your home office has tiled or hardwood flooring, a rug can literally warm up the room as well as provide visual appeal.
Home office rugs are attractive decor items for bringing the room together and making it feel complete. But it can be overwhelming to decide how big or what color the rug should be.
To help you have some home office rugs for inspiration and get started on choosing the most suitable home office rug for your professional space, keep reading.
How to Choose the Right Home Office Rug
Pay Attention to the Size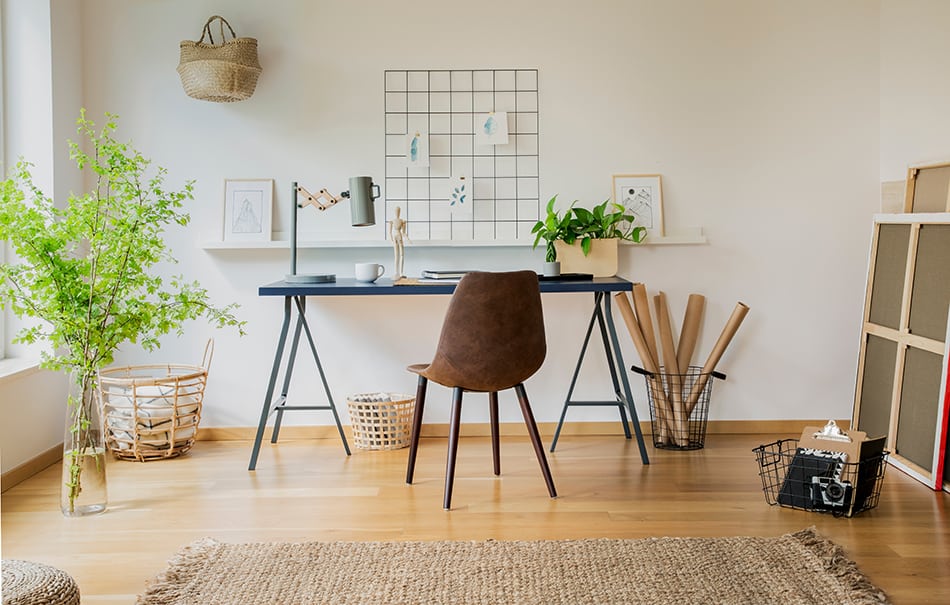 Deciding on the size of a home office rug can be confusing as, most of the time, you don't know how large you want the floor covering to be. The size of the rug depends on how large or small your office space is as well as the purpose you want it to serve. It is, therefore, best to determine how much of the floor you want the rug to cover.
For example, some rugs are large enough to cover the desk and chair area. This will create a comfortable and warm space. Furthermore, the rug will prevent the chair from slipping or damaging the floor. As long as you choose a non-slip rug to place underneath your office chair, it will serve the purpose you want.
Color Matters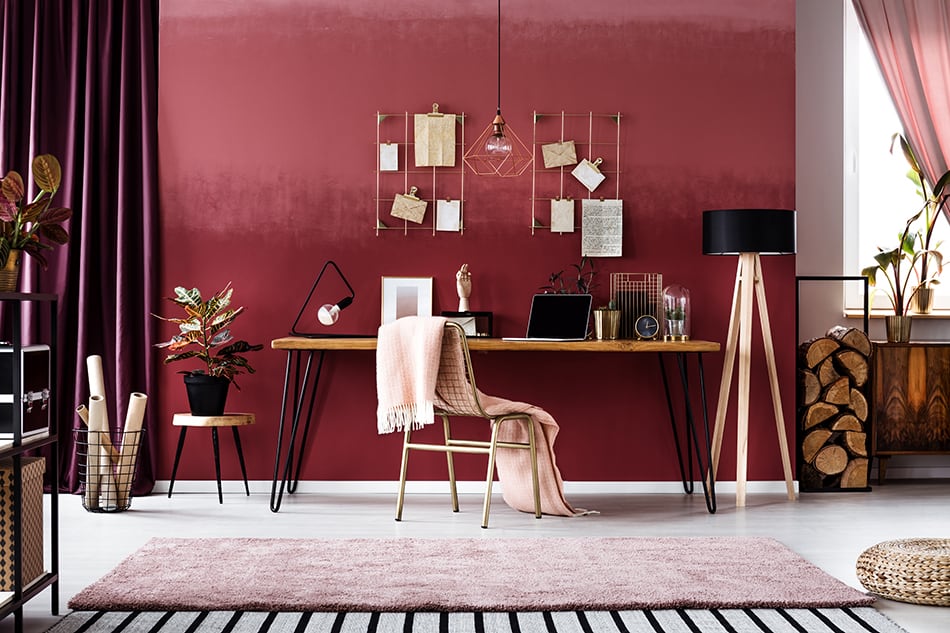 The rug color is another important consideration as it needs to match the color theme of your home office. As a rule of thumb, you'll want to go for a solid rug color to match patterned or upholstered furniture.
For example, if you have a multi-colored sofa, choose a solid rug color. In a home office with neutral colors, pair the rug with similar light hues to give the room more character. You may even opt for a geometric rug in black and white for your neutral-themed home office.
Another option would be to coordinate your rug color with bright-colored walls and draperies. Just think what a showstopper a bold-colored rug is in a small home office. As a focal point, the colorful rug can tie the whole room together and give it a finished look.
Go For a Practical Material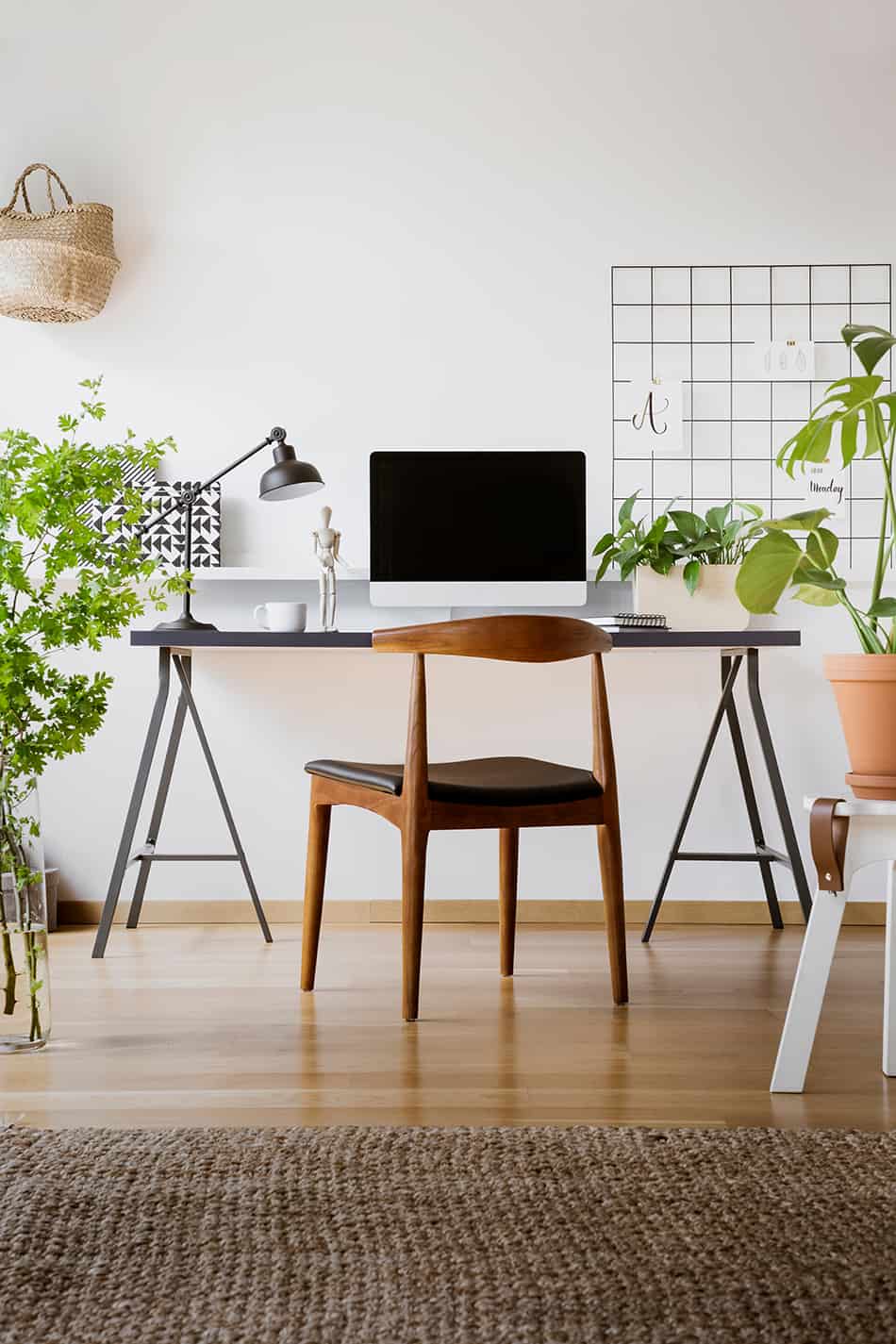 When thinking about the material of the rug, it is important to go for a robust and durable make that can withstand regular foot traffic and the movement of chairs. Avoid delicate materials like bamboo or silk as they are prone to breakage.
Wool or cotton are the best options as they are hard-wearing, soft to the touch, and warm under the feet. These materials have a smart appearance in a formal or informal home office.
Pick a Rug that Matches Your Style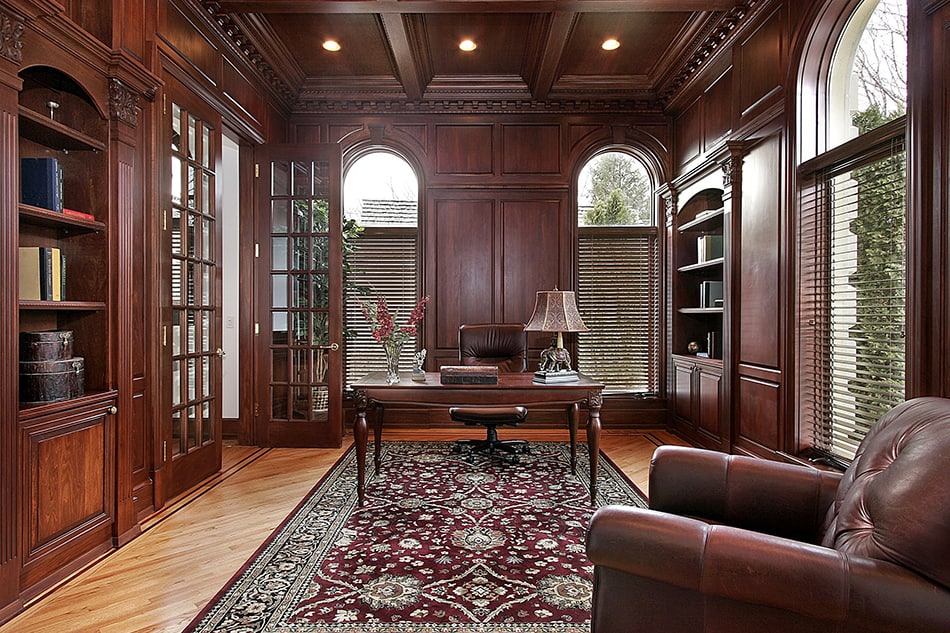 The types of rugs you choose for your home office should accentuate your personal style. Home offices are spaces that have a particular decor, which is similar to the rest of the house.
There are many different rugs that go with any home office decor; whether you opt for patterned or floral rugs, there is no wrong choice to keep the space looking professional. However, depending on your personal interior-design preference, you may want to decide on a modern rug to suit your contemporary space.
When choosing a modern rug, look for one single color. If you want a pattern, go for a minimal design with a flat weave. On the flip side, for traditional home offices, antique Persian rugs make a beautiful choice. These floor coverings have rich colors that go well with ornate detailing and wood furniture.
Low Pile Rug is Better than Thick Shaggy Styles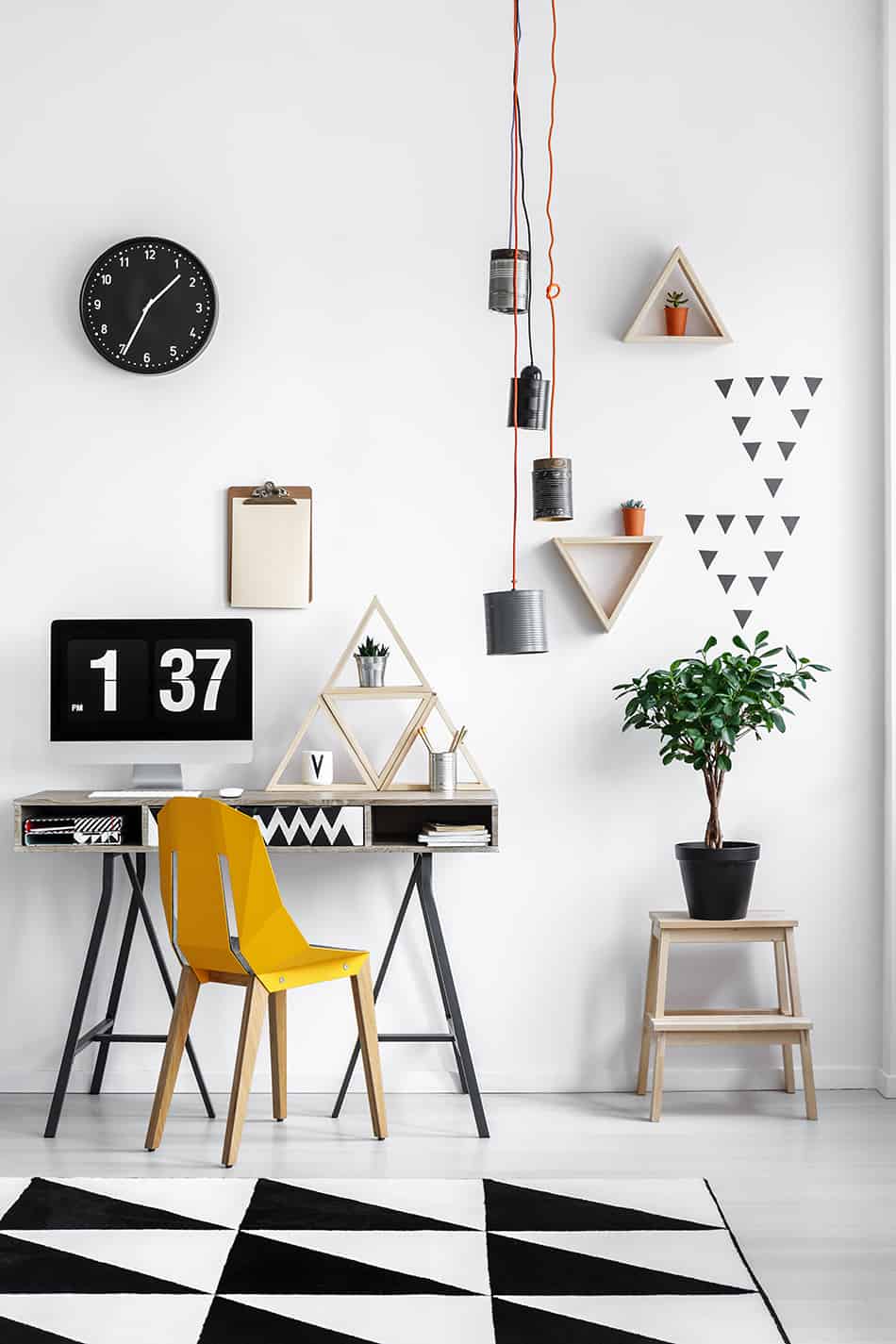 Low pile or flat weave rugs allow easier movement of office chairs. In addition, they tend to accommodate heavy office furniture. When thinking of a suitable rug for your home office, avoid thick shaggy piles.
Instead, opt for a hand-knotted pile height of no more than 6mm. Low pile rugs don't allow the office chair to slide as easily plus they prevent slipping. These types of rugs are much easier to clean. All you need to do is vacuum them once a week to keep them in good condition.
Think About the Room's Space and Shape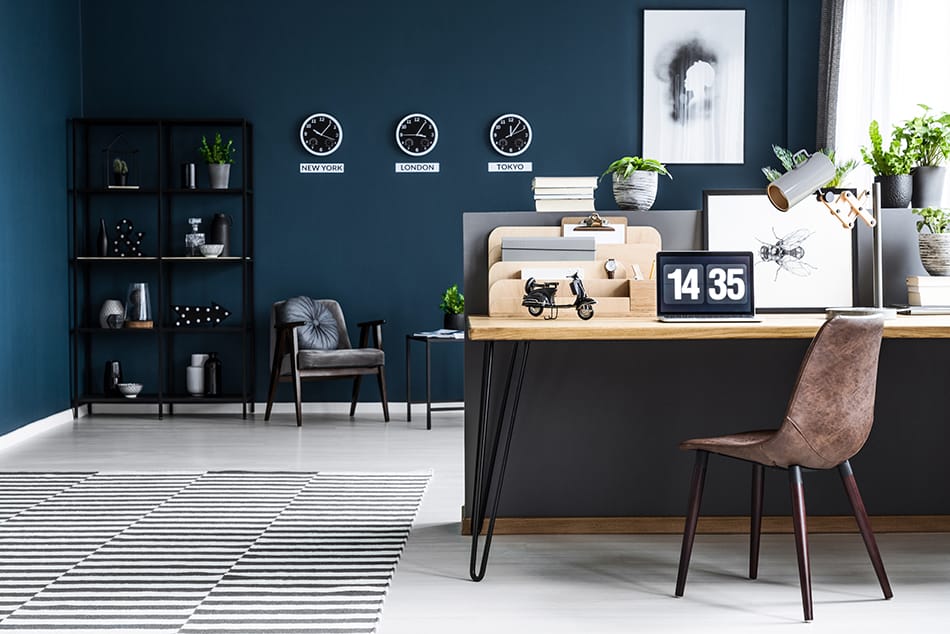 When choosing the right home office rug, you'll need to make sure the rug is the right shape for your space. For example, if your home office has limited floor space, a small round rug will be the best fit. For larger rooms, keep at least 15 inches between the edge of the wall and the rug free. This gives the home office the illusion of looking smaller as well as keeping everything neat and clean.
If your home office is square-shaped, a square rug will fit nicely. Runner rugs are ideal for defining spaces, especially when you use multiple rugs together. If you want to keep your square office desk as the focal point of the room, pair it with a square rug. Similarly, a round desk should be paired with a round rug and a rectangular desk with a rectangular rug.
Now that you have a basic idea of how to choose a rug for your home office take a look at our selection of some great quality rugs right here.
8 Home Office Rug Ideas
Flat Weave Rugs in a Modern Office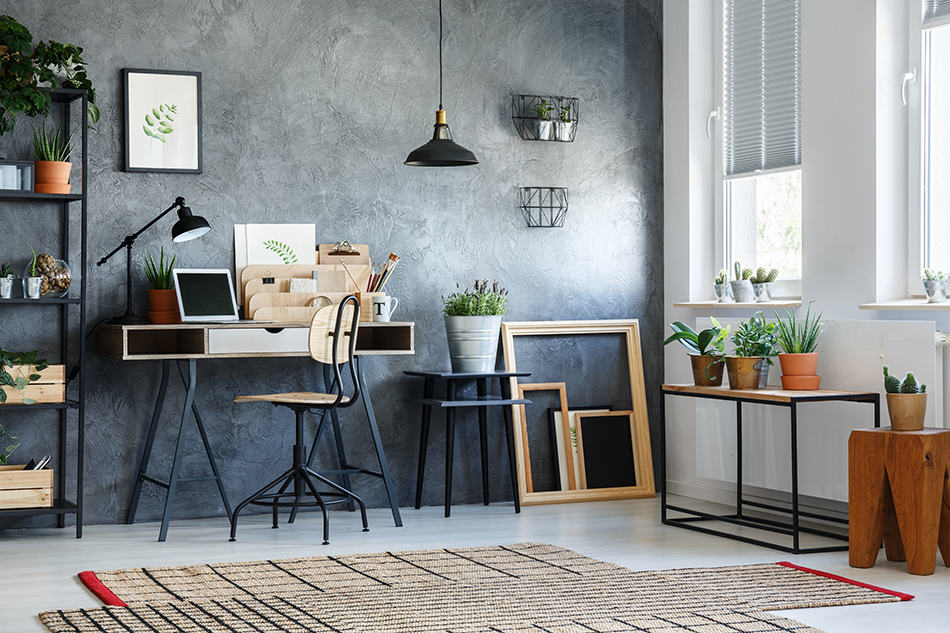 A low-profile or flat weave rug is ideal for home office environments. The short pile provides easy movement for the office chair as well as better accommodation for heavy furniture.
Looped styles are generally lower profile than the cut-pile versions. So if you are considering this type of rug for your home office, go for a level loop rather than one with varying loop heights as this can increase the chance of snagging.
Cut and loop is another flat weave variety with small, tight loops. These are often placed instead of on a carpet.
Here is an example of flat weave rugs in a modern home office. Two low-profile rugs are placed on top of one another for additional comfort. The decor of this nature-inspired home office mainly consists of natural wood materials and the presence of potted plants is to promote creativity.
Area Rug in a Minimalist Open-Plan Office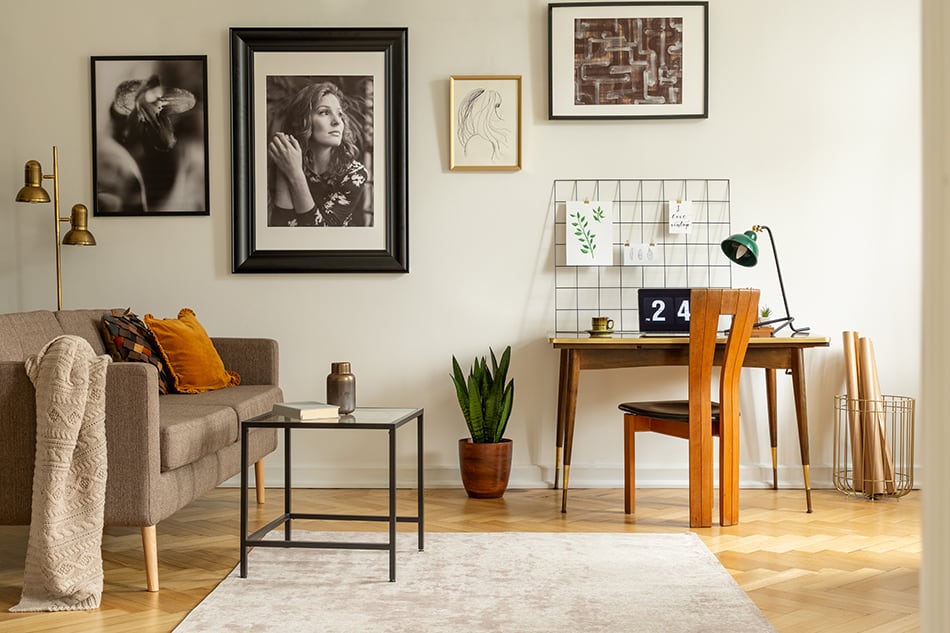 An area rug is a small carpet that's usually smaller than the room. These rugs come in a variety of textures and colors. Their best property is to reduce noise, so it makes sense to have an area rug in your home office.
In a quiet environment where you want to work without distraction, a rug that dampens sound will benefit you greatly. Comfort is another important factor in a home office. With an area rug, the workspace will feel much warmer as it traps heat.
In this home office, the area rug has added style to the small room and made the space appear much more attractive. This open-plan workspace features minimalist furniture in neutral tones that perfectly match the light beige rug.
Patterned Round Rug in a Grey and White Home Office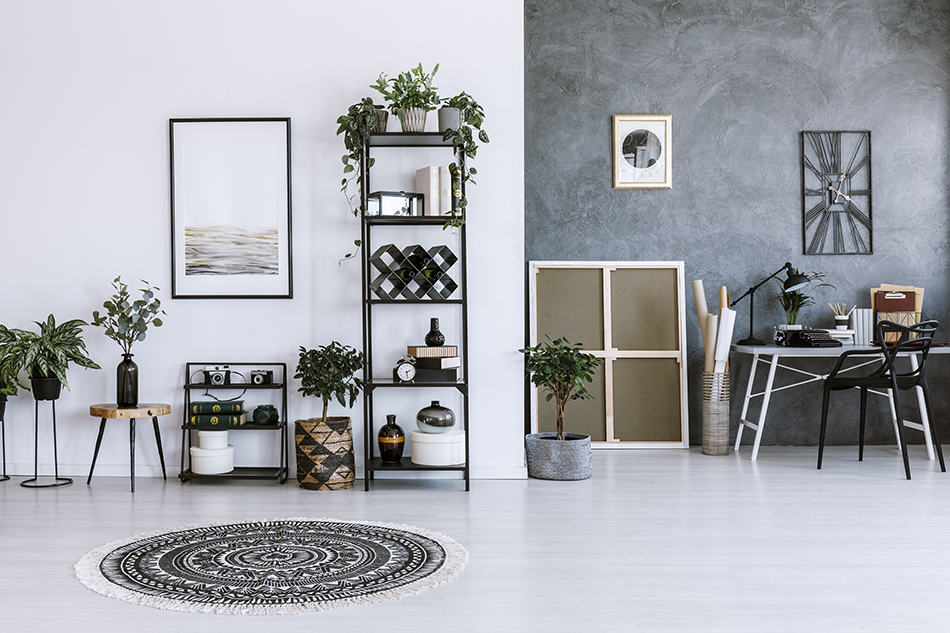 Round rugs are an effective way of making a strong impact in a large or small workspace. To show your personality, go for a small, patterned round rug to make your home office area look bigger.
This grey and white workspace has a blend of metal elements that go very well with the patterned rug.
Large Anti-Slip Rug with Black and White Decor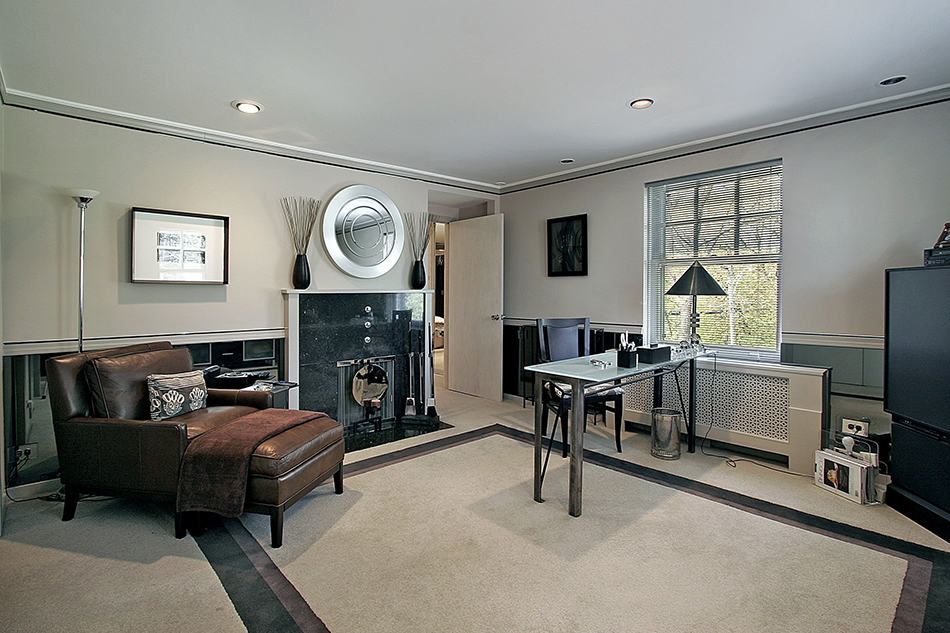 No one likes to sit on an office chair with wheels only to slip all over the place. A rug with anti-slip and anti-static properties is a must in a large workspace, especially if you're thinking of placing the rug under your chair with wheels. There are heavy-grade anti-slip rugs designed to offer increased slip and static protection.
Here is one example of a large anti-slip rug covering most of the floor space in this generously sized home office. The smart black and white decor with a brown couch goes hand in hand with the rug as it's also in the same colors as the rest of the furnishings.
Hand-Tufted Floral Rug for a Splash of Color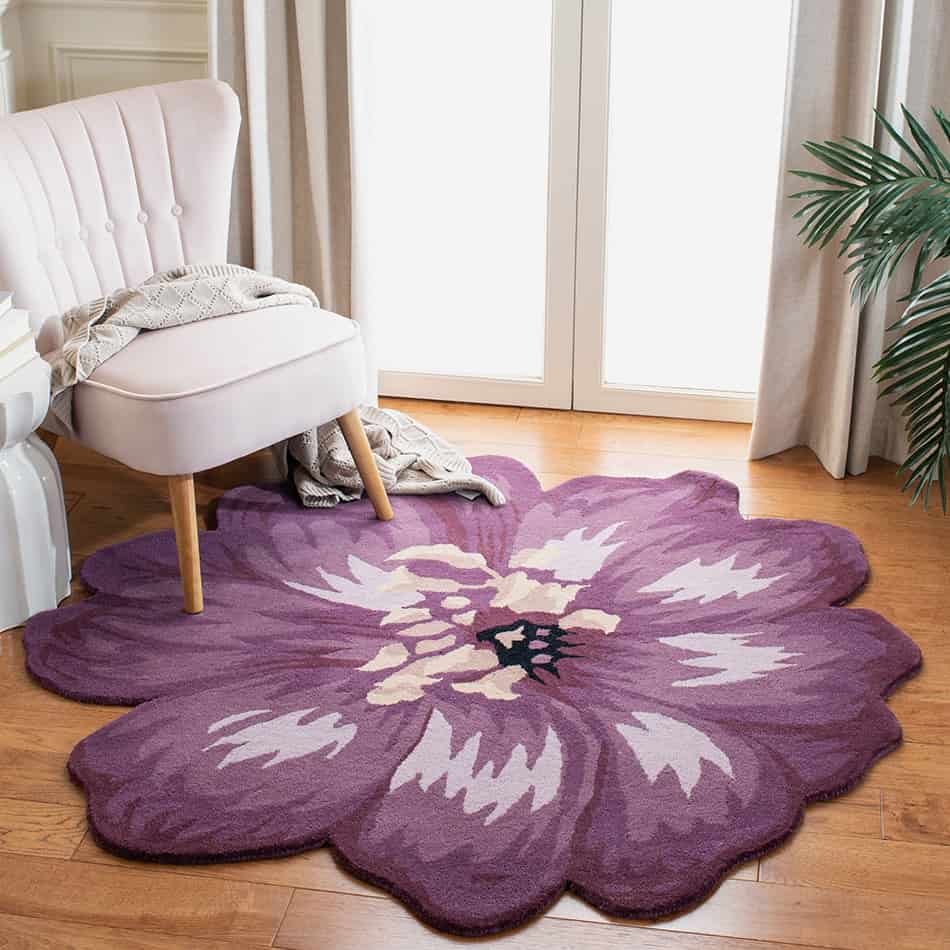 Hand-tufted rugs are the latest craze for home offices. They come in all kinds of shapes, colors, and sizes so you can match one to your own style. These types of rugs are made to withstand high wear and tear and repetitive chair movement. The hand-knotted types are the most hard-wearing and are made of wool.
If you like the floral theme for your home office, why not choose a handmade floral wool rug like the one shown here? This purple flower design will last for many years and goes beautifully in both a modern and traditional home office.
Trendy Black and White Geometric Rug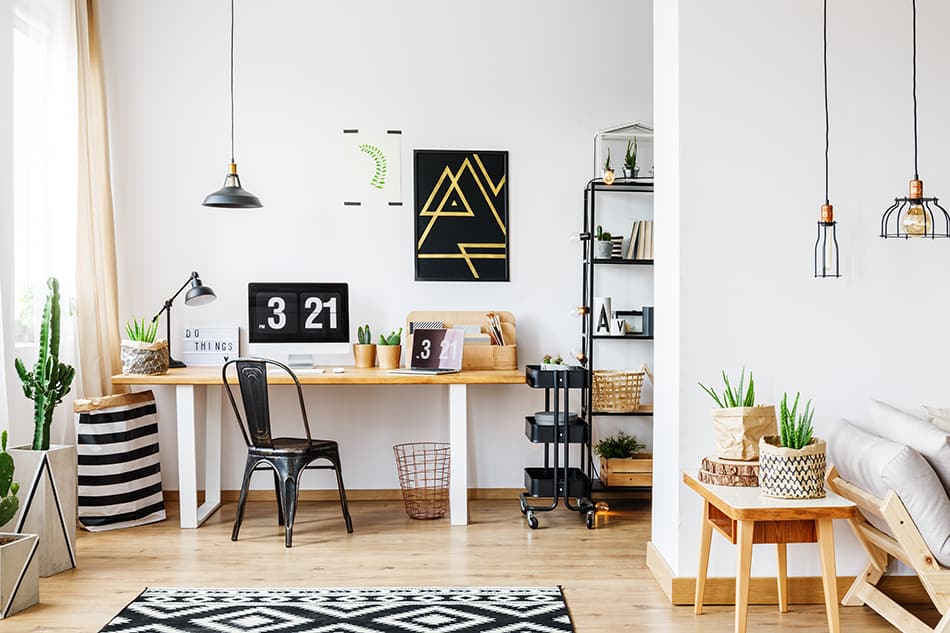 When it comes to choosing colors and patterns, a lightweight geometric rug in black and white looks more professional in a home office environment.
Depending on the color theme of your home office walls and furniture, a geometric rug is a bolder choice. Black and white will complement the tones, so if your walls are white and your furniture is mainly black, it makes sense to opt for a black and white geometric rug just like the one shown in this example.
We love the trendy style of this brightly decorated home office, with the geometric rug as the perfect addition to the industrial-style lighting and the black vintage chair. The vibrance of a geometric rug encourages positive energy flow throughout the space and the rich metal tones have provided a rich foundation for this work area.
Blue Rug with Matching Blue Wall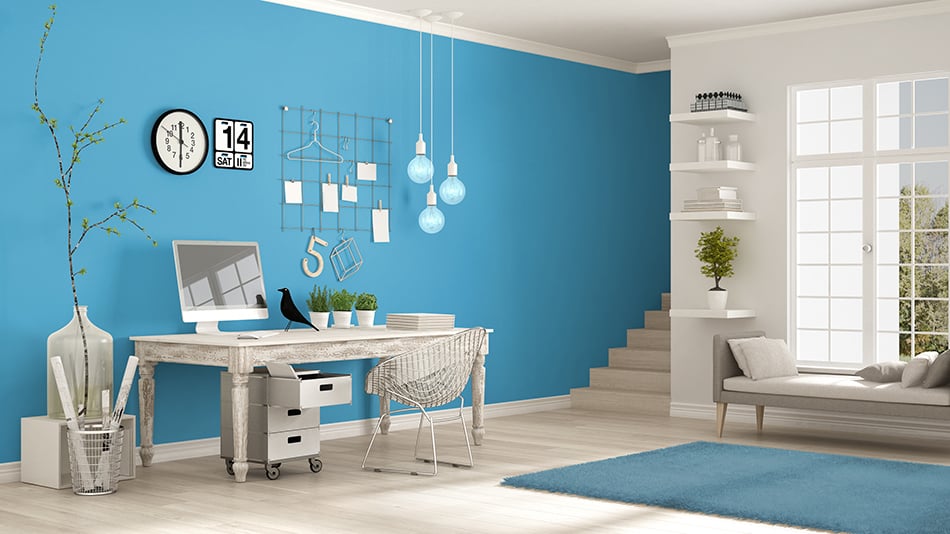 A themed home office is a preferred choice by many freelancers who work from home. Whether you like the coastal theme or a Scandinavian-style corner office, why not blend sky blue or aqua with brilliant white as your main color theme?
See how beautiful this home office is designed with a large blue wall and matching rug that creates harmony with the white lighting, flooring, and workspace. The combination of blue and white works perfectly here to promote calmness. This is exactly the sort of home office everyone needs to focus purely on work.
Oriental Rug in a Luxury Home Office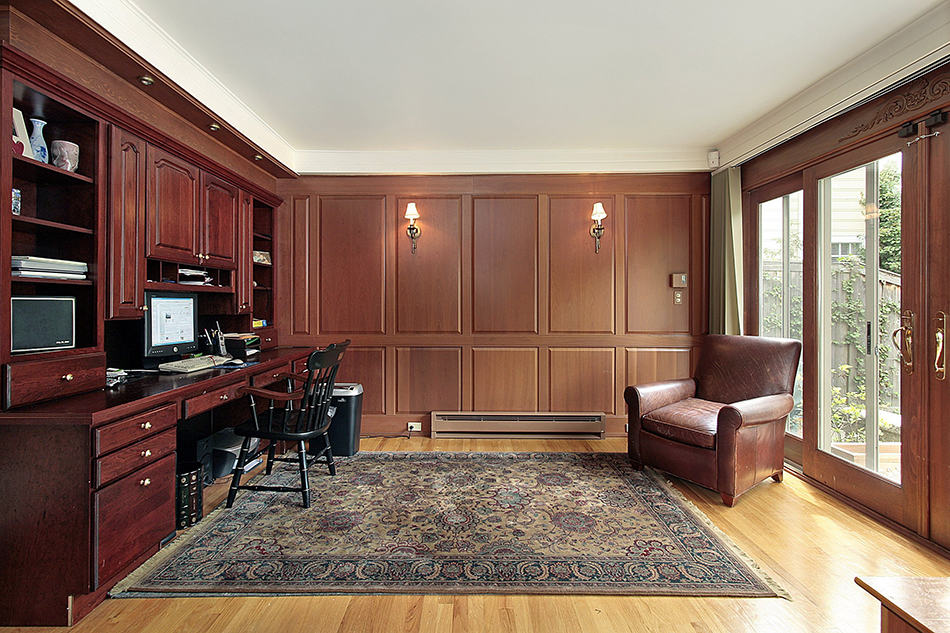 A bespoke Oriental rug for your luxury home office can offer a personal and unique touch. Persian rugs, for example, make a great choice for any vintage office space.
These rugs flaunt amazing artwork and have always been a symbol of luxury. Whether you go for a hand-knotted or machine-produced Oriental rug, a large, colorful masterpiece in your home office makes a wise choice.
If you love the rustic theme, a Persian rug will work great with mahogany or oak furniture. As you can see in this example, the home office/library consists of a brown wooden wall and built-in shelves, a brown leather sofa, and an oriental rug highlighting the luxurious theme of this room.
This is a classic example of how you can blend natural wood with an Oriental rug to bring out the vintage look of your home office.