Before drywalls and their alternatives gained popularity, wood paneling was used to decorate the walls and protect them from damage. Wood wall paneling brings style to the interior space of any home, whether it's a modern or traditional property. If you're considering installing wall panels or choose some wall texturing to customize your home, you should first get to know some useful facts about wood wall paneling, its pros and cons, and 9 types to choose from. 
Interesting Facts About Wood Wall Paneling 
Wood wall

panels

were originally developed for practical reasons: to provide insulation and cover the wall's blemishes. But it wasn't long until they were recognized as decorative detailing to bring warmth to a living space.

In the 13

th

century, the King of England, Henry of Winchester was the first person to import wood from Norway and use it as decorative wall panels in the famous Windsor Castle. Soon after, wood panels were seen more as fine art than wall covering.

In the early Colonial period, shingles and boards were used to cover the interior walls. These planks were the primary partition walls, which often featured decorative detailing along their edges.

Unplastered walls were often paneled using wood. While the wealthy preferred fancy woodwork, most households opted for flat panels that were similar to the siding of their home's exterior. These panels usually consisted of interlocking boards or tongue-and-groove joints to repel water and cold.  

Today, there are various different materials aside from pine and oak that you can choose for your wall panels. MDF is the most popular and cost-effective option for a home interior.

 

There are commonly two paneling systems. One is the basic flat paneling that can be screwed on the wall and applicable for straight surfaces. The other is more widely used and has a frame grid-like raised panels.
Pros of Wood Wall Paneling
– Elegant and stylish look: wood panels are often associated with rustic, Colonial style houses. Whether you deck an entire wall or just halfway up, paneling will give your home a warm and stylish look.
– A versatile Choice: wood wall paneling comes in several different types to fit any home decor.
– Adequate insulation: aside from its versatility, wood is a natural thermal and acoustic insulation material. By adding wall panels to your home, you'll benefit from additional insulating layers to ward off noise and drafts.
– Hide flaws: wood paneling is an excellent way to hide flaws in the walls, such as dents, cracks, pipes or wiring.
– Easy to repair: wood paneling is more difficult to damage than drywall or wallpaper so repairing it is super easy. For example, scratches can be sanded off and resealed, or entire panels of wood can be replaced without causing disturbance to the rest of the wall. Even holes on the walls can easily be filled using wood putty.
– Environmentally-friendly: compared to drywalls, wood paneling is more eco-friendly as it uses a renewable resource. And if you are concerned about trees being cut down, there are plenty of cheaper options in the form of upcycled wood that are just as energy-efficient and stylish.
Cons of Wood Wall Paneling
– Wood is susceptible to rot: we all know wood isn't waterproof so if it's continuously exposed to humidity, it can rot. Solution? Since the wall panels are located inside the house, they are less likely to rot severely. Sanding down the panels and re-staining them will ensure you protect the material from further damage.
– High maintenance: both moisture and dry interior conditions can make wood become vulnerable. It requires regular maintenance to ensure the panels last as long as possible. – – Beeswax or mineral oil applications are necessary in order to protect the wood. In addition, you must wipe the panels regularly with a cloth to prevent dust buildup.  
– Can look dated: since wood paneling has been used for centuries in rustic homes, some people associate them with an outdated look. While traditional wood panels don't work with modern interiors, there are paneling designs you can choose to match the style of your home. 
Now that you've learned some useful facts about wood wall paneling as well as its pros and cons, it's time we looked into the common types of wall panels available.
Types of Wood Wall Paneling
1. Tongue and Groove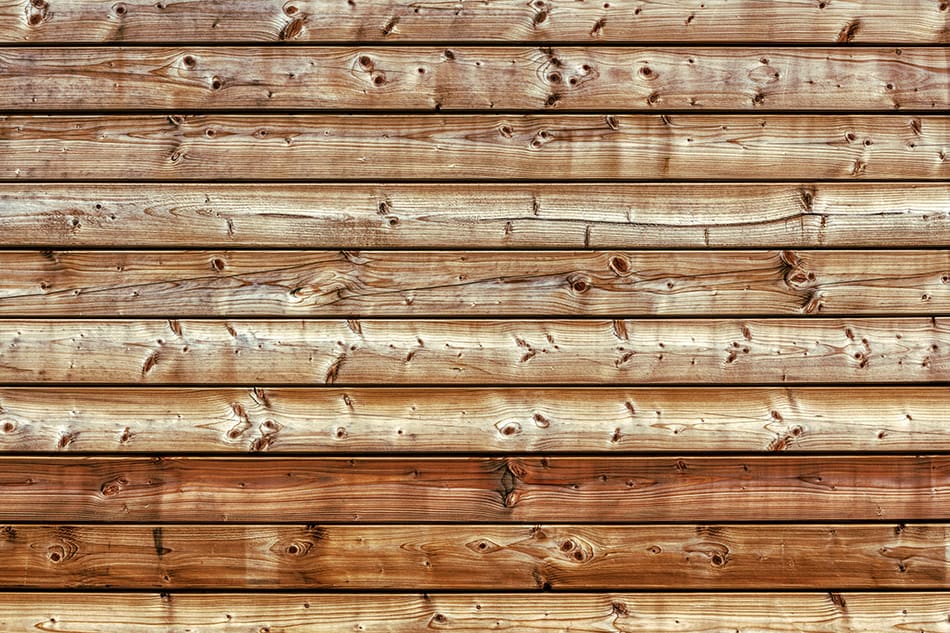 Tongue and groove generally applies to any interlocking wood that has a groove-like cut into the sideboard. The other side of the board that's left sticking out is referred to as the tongue. When the two boards are installed side by side, they create an invisible seam. This type of wood panel is very similar to shiplap and offers the same elegant look. The only distinctive difference between the two is in the way the boards connect. Shiplap panels are joined using a rabbet at the bottom and top of the board, whereas the tongue and groove paneling consists of one board fitting into the other as I explained earlier. In this way, there is no overlapping as the boards just fit one on top of another. This type of wood wall paneling is more expensive than shiplap, and when used indoors, it remains better protected from the elements. 
2. Reclaimed Wood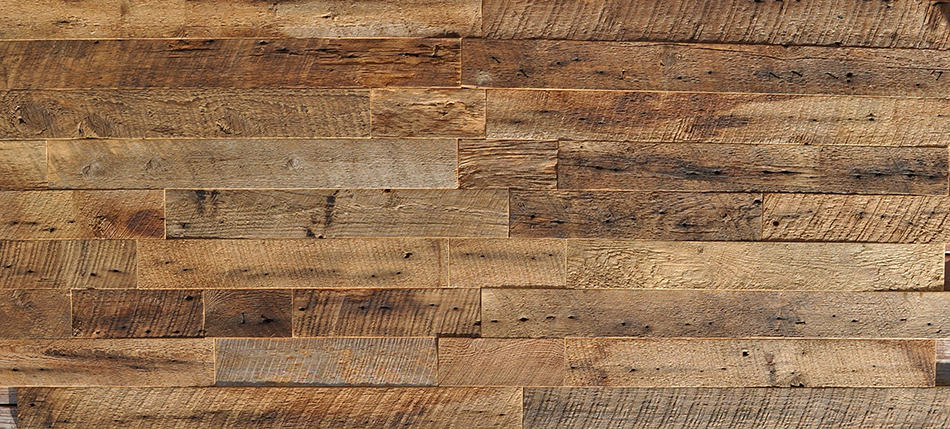 Choosing reclaimed wood over new wood paneling can add character and texture to your home's interiors. Reclaimed wood allows you to add your own signature to the panel by staining it the color you like and having it finished the way you want. Of course, one of the biggest advantages to reclaimed wood is its history and elegance, which MDF paneling will never achieve. You can see this type of wood paneling in rustic homes and barn structures, so it's not surprising to see why this traditional-looking wall paneling has become popular since the 13th century. In fact, many old churches and factories still feature old wood wall paneling with real nail holes, saw marks, and knots. All these are the hallmarks of traditional wood wall paneling in old buildings. If you are an expert DIYer, you can transform your walls by sourcing the planks from old buildings or local suppliers before installing them yourself to save money. 
3. Board and Batten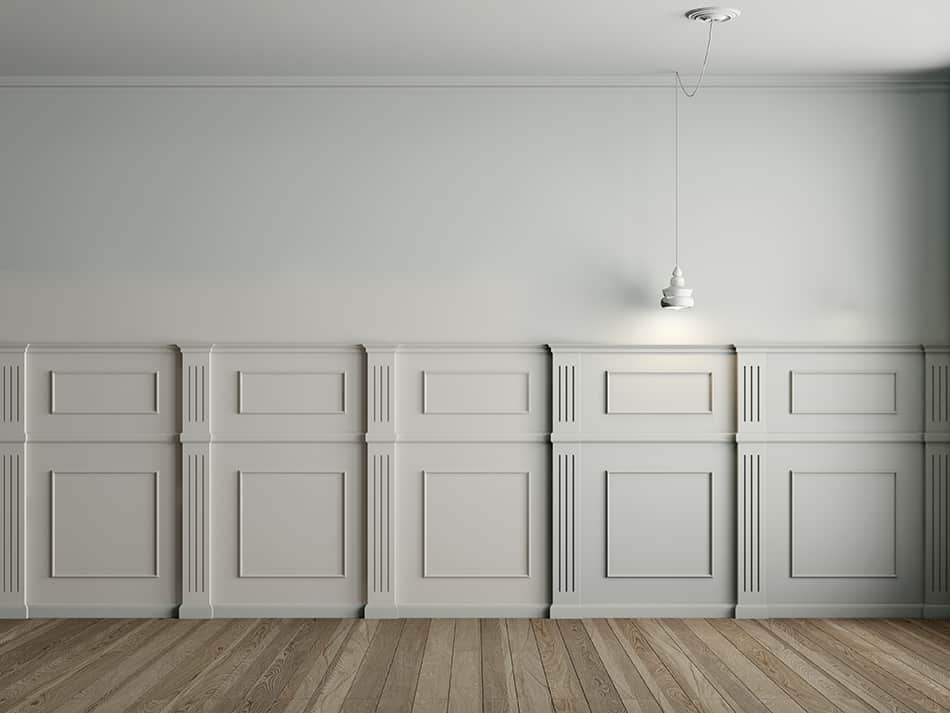 Board and batten was originally used for siding on barns. This type of wainscoting features paneling on the lower part of the wall rather than the entire surface. The alternating wide MDF or engineered wood panel strips are called battens. Horizontal rails of molding are applied between the upper and lower part of the panels. Nails or adhesives are used to mount the wide panels vertically on the wall before covering the seams with battens. Traditionally, board and batten paneling consisted of hardwood planks that ran vertically on the exterior wall. These planks were installed against an adjoining panel without lapping. The seam and the nails were then covered with a small strip of wood.
These days, you will commonly see two types of board and batten. One is made up of real wooden panels on top of the board and batten framework. The other is an imitation type of board and batten, which is created on plywood or drywall instead of real wood panels. The latter is obviously cheaper to install.
This wainscoting type of wood paneling generally appears in kitchens, laundry rooms, bathrooms, and just about anywhere that requires a blend of modern and rustic interior design. 
4. Beadboard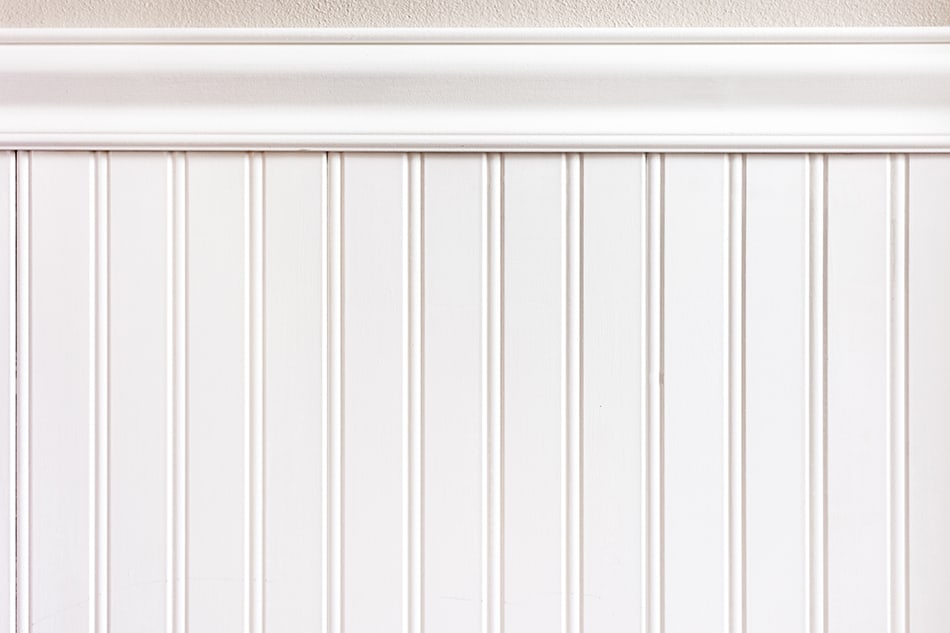 Beadboard wall paneling was first introduced in Victorian times. The vertical, narrow wooden stiles that interlock in a tongue and groove pattern is a typical description of this wood wall paneling system. The protruding edge of the planks (tongue) fits into its neighboring slot (groove). While skilled craftsmen mounted these stiles one by one in the horizontal rails, nowadays, you can find ready-made beadboard panels made from vinyl, MDF, or real wood. All you need to do is simply glue or nail the planks to the wall.
This type of wood wall paneling is inexpensive and full of charm, plus there are many styles of beadboard ceilings and walls you can choose from with various qualities and widths. The most common width is the V-bead option. You can install beadboard paneling on an entire wall, halfway up, or even on your kitchen and bathroom ceiling. It's traditional and timeless that oozes character.   
5. Flat Panels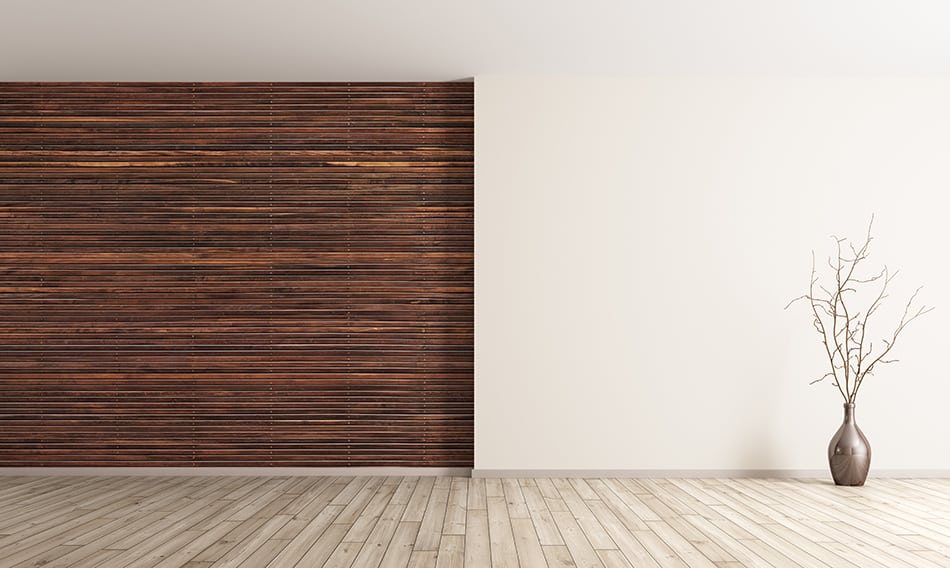 Flat panels are a combination of trim planks that frame a flat wall. The flat wall can be drywall or high-quality plywood types. This is a classic type of wainscoting that has elegance and luxury written all over it. Flat panels look incredible in both modern and traditional interiors, especially if you opt for walnut or oak paneling in your home library. The custom work of this type of paneling adds value to a home and communicates classic luxe. But it's best to leave the installation part to the professionals. 
6. Raised Panels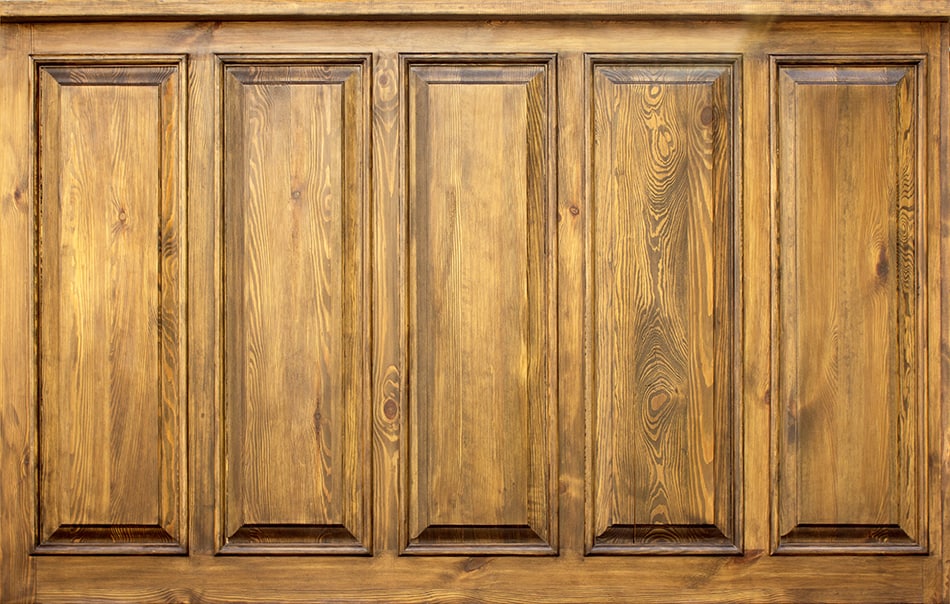 Another aesthetically appealing type of wainscoting is raised panel that was first popularized in the Colonial era during the 17th century. Almost all Queen Anne-style homes feature raised panel wainscoting in the form of vertical stiles and horizontal molding. These panels were often seen in the homes of the wealthy because of the high amount of effort that went into designing the panels.
When you look at raised panels, they give the illusion of a protruding narrow shelf from the base of the wall as you can see in this example. The installation process involves alternating MDF or wood panels with vertical stiles and upper or lower molding made from the same material. The result is a traditional and tasteful wall paneling that is best suited for formal living or dining rooms.  
7. Shiplap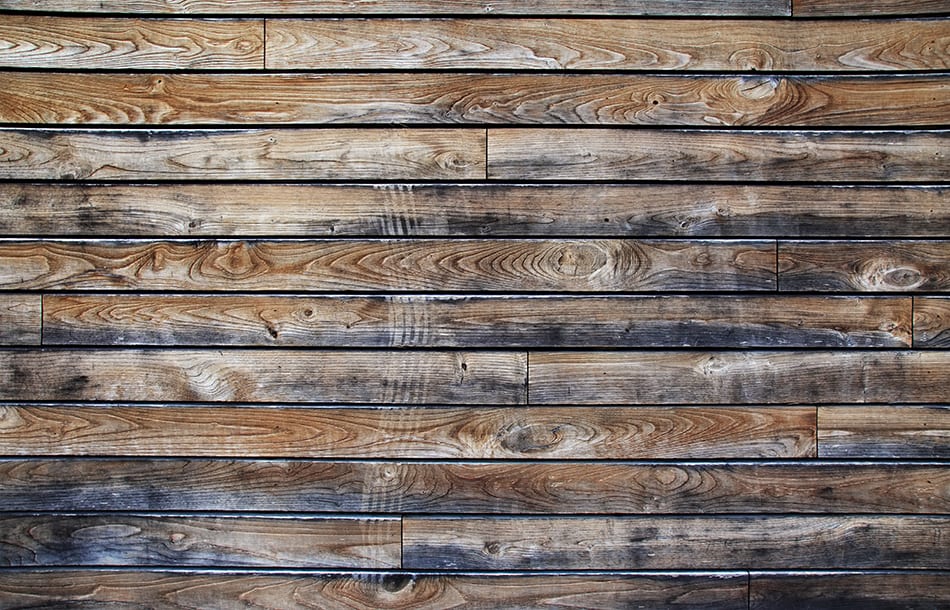 Shiplap originally featured as wall panels in 19th century boats with notched edges. These panels overlap as they are joined to create a watertight seal. By the early 20th century, as interior design evolved, shiplap wall paneling featured deep seams and notched panels. These planks are made of MDF or wood and are either installed vertically side by side or horizontally stacked on top of one another. This rustic-style wall paneling makes the most impact when it's installed in the kitchen or living room. 
8. Tile Board Paneling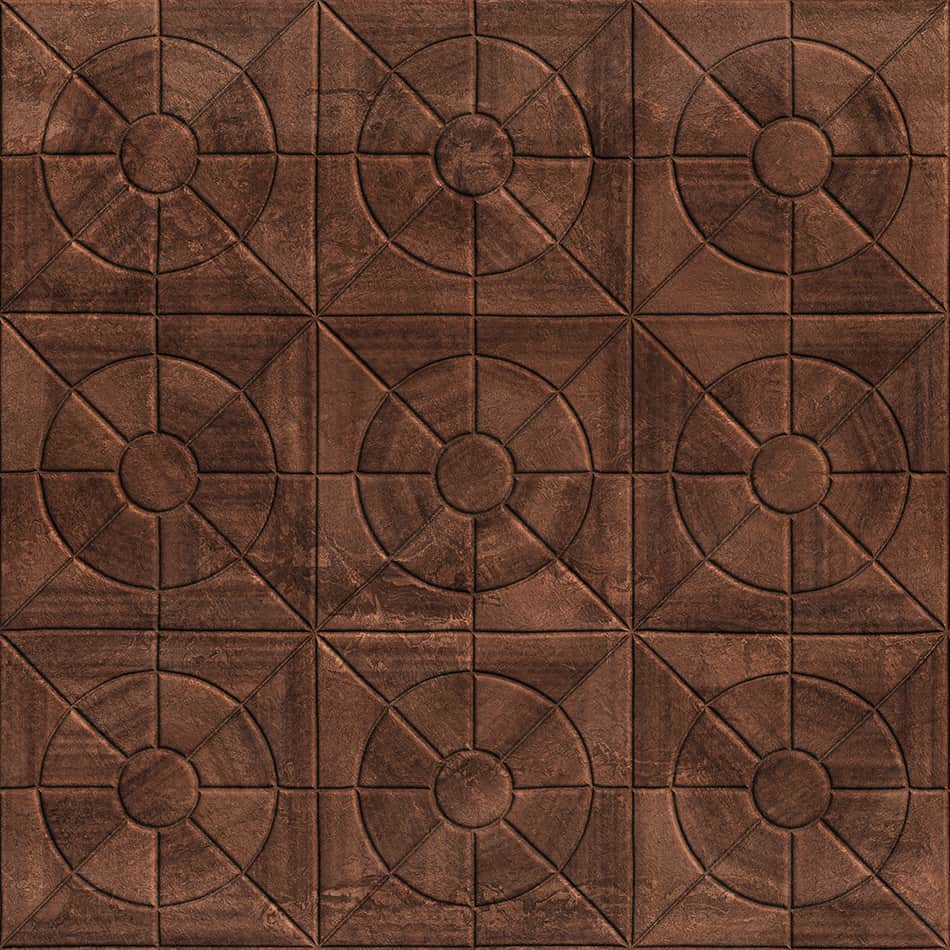 Tile board paneling is made from MDF with a layer of melamine to make it look like porcelain tile. These tiles mimic tile joints and are easy and quick to install. Conceptually,  the smaller the size of the wall panel, the more frames you will need, which can be labor intensive. Therefore, it's best to use the tile board paneling on half of the wall rather than the entire surface in the kitchens or living rooms.
9. Horizontal Wood Panels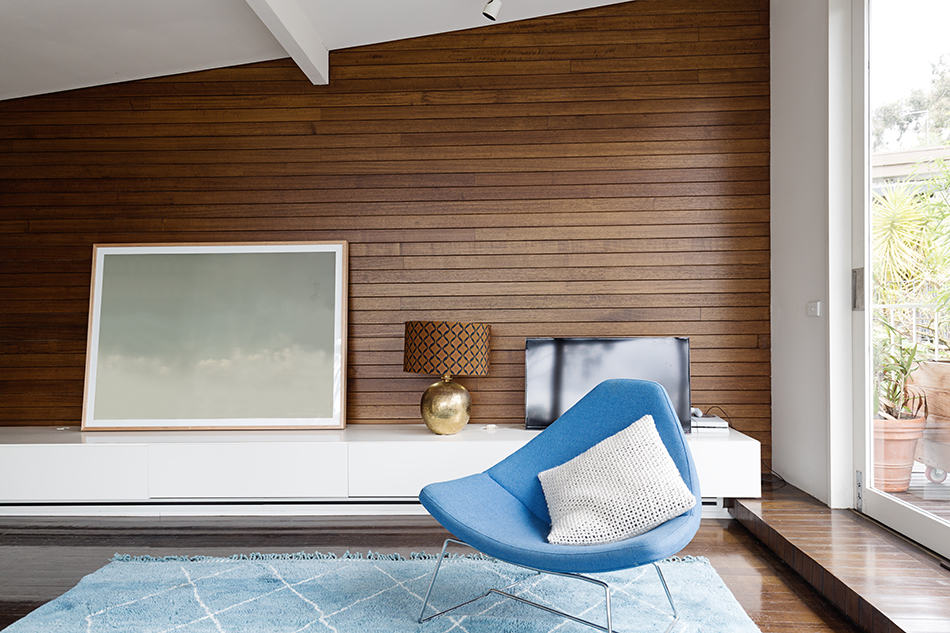 Horizontal wall panels don't take much to look super elegant and charming. Whilst they are popularly used in the exterior siding of homes, you'll often see the modern versions on the interior wall panels of both modern and traditional homes. The installation is easy as all you need to do is lay the planks horizontally on top of the vertical sleepers with 3-inch-wide hardwood strips. This DIY-friendly paneling technique is inexpensive and doesn't require hauling large sheets of wood. If your budget can stretch, opt for mid-range priced hardwood, such as cedar. 
Final Thoughts 
If you're still in two minds about choosing wood paneling for your interior walls because of their drawbacks or dated appearance, you should know that there are many lacquers, paints, and wood sealing products to protect your panels for several years. What's more, you can change the color of your panels whenever you want to remodel your interior space. With proper maintenance and routine cleaning, interior wooden panels can last for many decades in both contemporary and traditional homes.