When choosing the best exterior paint color for a house with a gray roof, it is important to consider the material of your home and the overall look you're trying to achieve. There are some exterior colors that suit a brick house with a gray roof better than a stone one.
That said, your gray roof plays a major role in bringing the whole look together, and since gray is a highly popular roof color for both traditional and modern style homes, you should think carefully about the exterior paint color. A gray roof can help accentuate a home's exterior design, but there are also trim and accent colors you need to take into consideration.
In this guide, we'll take a look at the most compatible exterior colors for homes with gray roofs as well as some useful tips for coordinating colors with dark and light gray roofs.
Exterior Color Ideas that Work with Gray Roof
White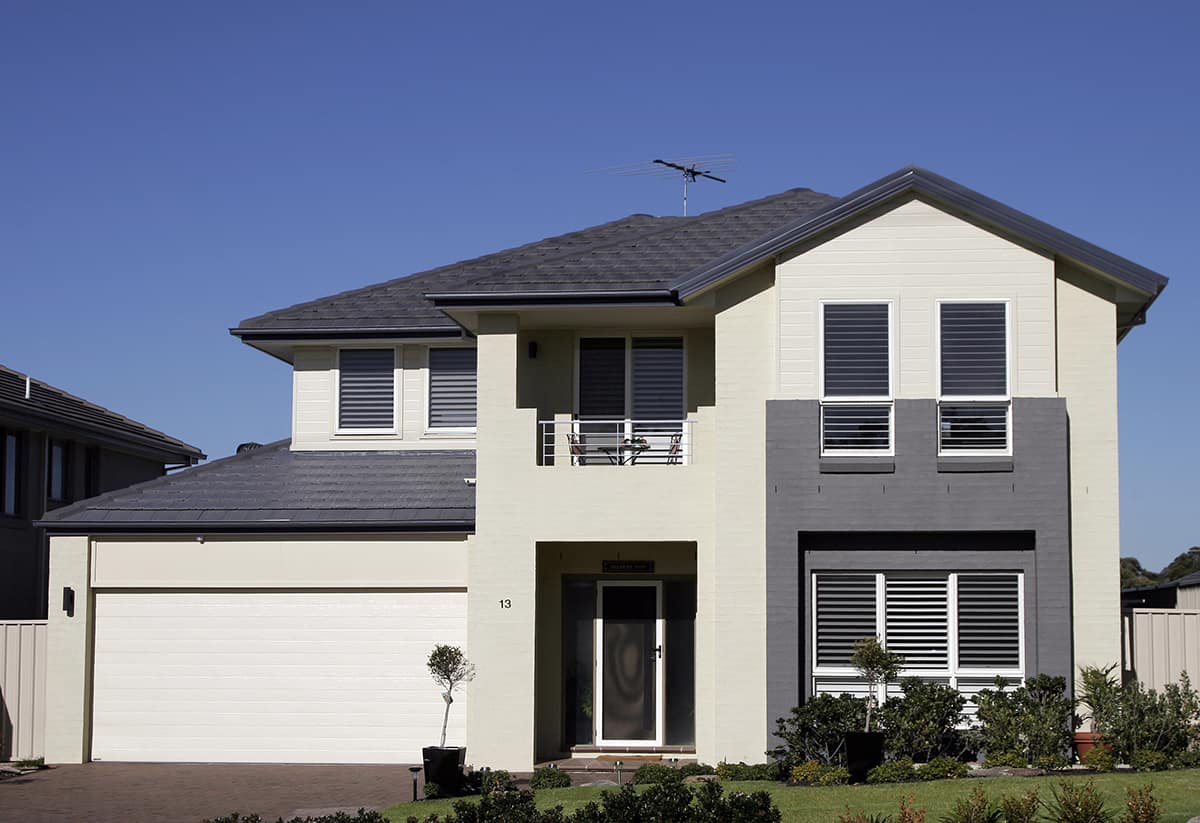 We all know the versatility of white and how well it goes with every other color imaginable. A white exterior with a dark or light gray roof is a truly stunning look. Although the pairing of gray and white palette is simple, it works a treat on classic style homes as well as modern ones.
If you find white too bright, opt for cream as a softer alternative. You can always include white for the trim as added contrast. Since white doesn't clash with any other color, it works well with a number of other neutral hues, including gray roofs.
Green
Some gray roof shingles have a green undertone, which makes them perfect with green siding. A soft or pale shade of green like olive or sage works beautifully with a gray roof. This helps create a subtle exterior design using a solid gray roof with pale green paint.
Our favorite shade of green that looks fabulous with light gray shingles is olive. This hue is especially stunning for homes in wooded areas or ones surrounded by plenty of landscaping.
The combination of cool gray with warm green is an ultimate exterior design color palette to boost curb appeal.
Blue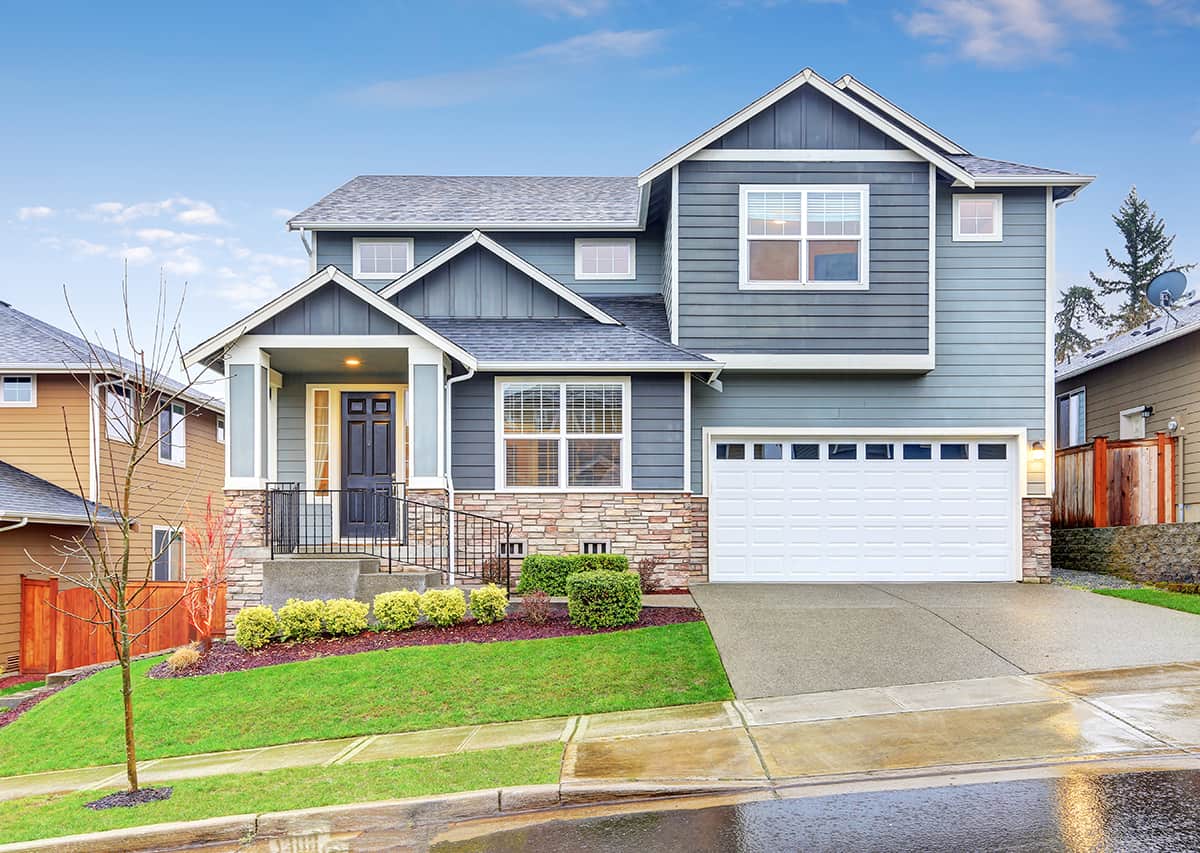 Blue is an attractive paint color for a house with gray roof shingles. Whether your roof shingles are a medium-toned or dark-toned gray, this color combination can be especially attractive on traditional style homes.
Blue is a direct contrast to gray, but there are also gray shingles with bluish undertones that work just as well. A pastel or light blue exterior paint gives your home a uniform look while highlighting the dark gray shingles. This color combo is ideal for larger, traditional style homes.
Tan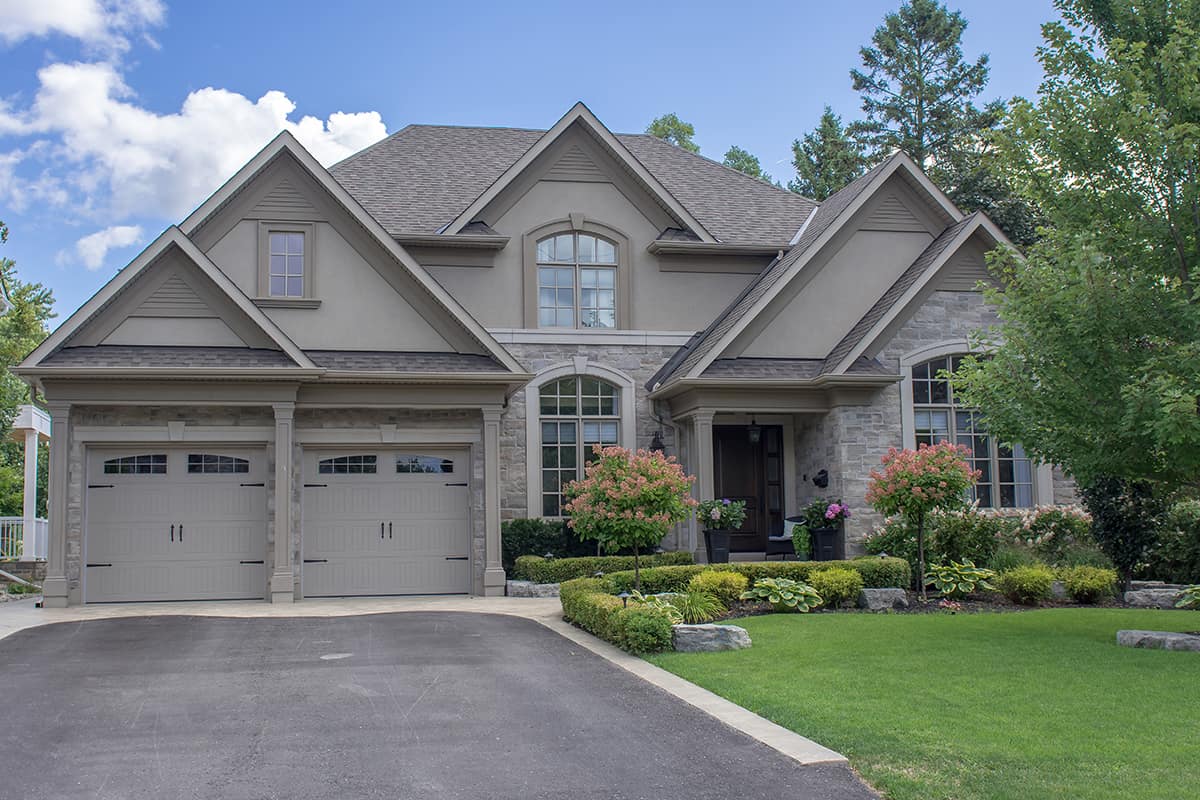 Tan is a combination of gray, brown and beige, which gives your home's exterior a soft finish. This neutral paint color promises to bring character to homes with gray roofs. Tan has a gray undertone, which works splendidly with gray shingles.
Tan goes well with both light and dark gray roofs as it's an easy color to work with. For large, modern homes like the one shown here, you can blend your tan exterior with stone accents and gray trim to combine with your gray roof. A darker gray roof goes particularly well with a tan siding as per this photo.
Yellow
Pairing a gray roof with yellow siding works on all style houses. But you're more likely to see this color combo on traditional homes. A sunny shade of yellow goes particularly well with light gray roofs, but for an edgier look, opt for a bright shade of yellow with charcoal gray shingles.
That said, even muted shades like mustard work great with grayish brown roof shingles. And as for the trim or accent colors, keep them monochromatic by picking a light or dark shade of yellow.
Gray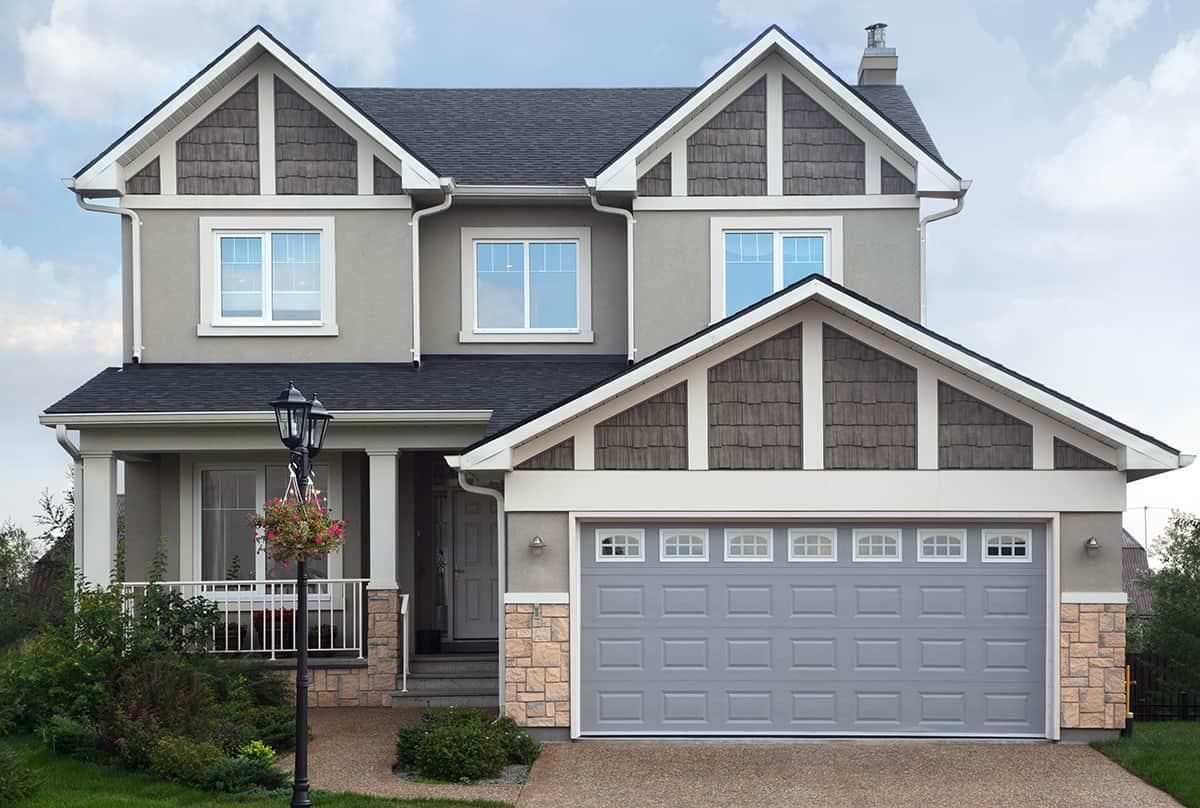 There is no doubt that a monochromatic color scheme always works well on both traditional and modern homes. When you opt for a gray roof with gray siding, your trim and accent colors will play a major role in your home's curb appeal.
The idea is to avoid a flat look just because you've chosen gray with gray. Creating depth is the key in this color so make sure you don't use the exact same shade for both the roof and the siding.
If your gray colors are too identical, your home's exterior may end up looking too heavy or bland. There must be some definition between your exterior paint color and the roof.
To use the monochromatic color scheme successfully, pay attention to the undertones of your gray roof. After all, you want to bring out the neutral color by painting your home's exterior a similar tone to match the hue. For example, a warm taupe for the exterior works perfectly with a light gray roof.
Bricks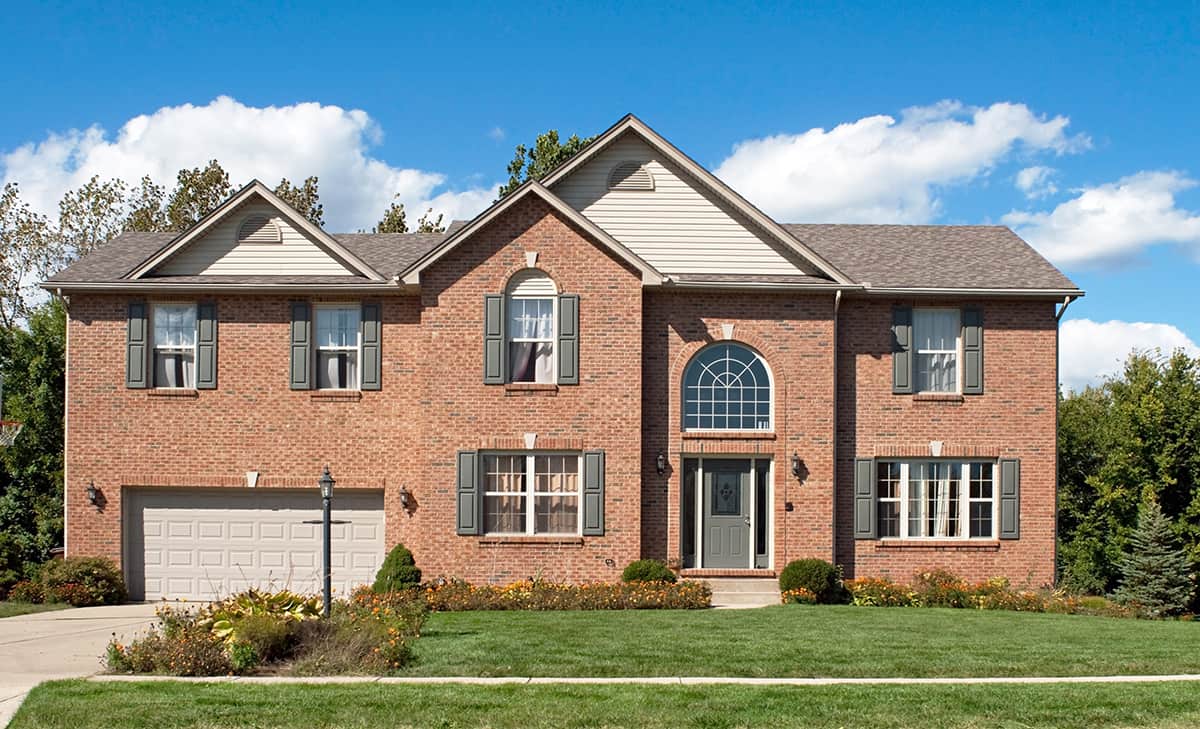 A brick home looks beautiful with gray shingles, no matter what shade of brick the exterior has. Red or white bricks can look stylish with a gray roof, but you may also opt for orange or gray bricks.
Gray or black shutters tie the whole look together in this color scheme, but we wouldn't recommend beige or brown bricks as they make the gray roof appear too heavy.
An orange or white brick house goes particularly well with dark gray roof shingles as the siding brightens up the neutral shingles. For a little more refinement, introduce some pastel greens as the trim or accent in order to further balance the colors and bring warmth to your home.
This modern brick house features gray shutters that blend in with the gray roof shingles and matching front door. The white garage door has brightened up the exterior, not forgetting the green landscaping.
Red
Since gray is an understated, muted color that usually sits in the background, you can introduce a bold, vivid red to visually enhance your home's exterior design. Any shade of red will work with both dark and light gray shingles, but to make the siding more noticable, a medium shade of gray works better for the roof.
Intense shades of red like cherry tend to stand out more when paired with a light gray roof. If you have charcoal gray shingles, however, you may want to choose a lighter shade of red instead. And as for the accent or trim color, black is the most eye-catching and elegant color you can go with.
Exterior Paint Colors to Avoid for a Gray Roof
Subtle exterior paint colors, such as light brown or beige are not the best options for homes with gray roofs. These earthy colors can make your house with a gray roof appear washed out or bland.
Ideally, you'll want contrasting colors that make your home's exterior stand out a little rather than get lost in the background.
Which Exterior Paint Color Goes with a Light Grey Roof?
Softer colors coordinate better with light gray roofs. Yellows, olive greens, light grays and light blues brighten up a house with a light gray roof.
Plus you can add other light tones to the trim and entry doors to accentuate your light gray roof. The best front door colors for a house with light gray roof include yellows, blues and reds.
What House Color Goes with Charcoal Gray Roof?
For dark gray roofs, consider painting your home's exterior a crisp white shade or a warm shade of blue.
Charcoal gray goes well with bright, vivid colors like yellows for added charm or neutral hues like light gray. You can include plenty of white trim to boost your exterior's look and accentuate the dark gray roof.
Should Exterior Trim Color Match the Gray Roof?
Exterior trim can be anything from your front door and window frames to shutters and other elements. But the trim color doesn't have to match your gray roof as it's often coordinated with the exterior or siding paint color.
By matching your trim with the siding, you can create a more unified look. That said, there is nothing wrong with choosing contrasting colors to make your home stand out a little.
Conclusion
With a gray roof, you have lots of options for exterior paint colors. Whether you choose cool tones like blue or white, or you opt for warmer hues like tan, red or green, your home can get a boost of curb appeal with the right color scheme.
Don't forget to play around with the trim colors based on the tone of your gray roof. Also keep in mind the overall size appearance of your home as you don't want darker paint colors for small exteriors.
In addition, dark gray roofs retain heat while light gray repels it. Similarly, light exterior colors work best in warmer climates so you should take these into account when deciding on replacing your roof shingles and repainting your home.