A gray bed can be matched with almost any color scheme for a sleek, modern design. But when it comes to deciding what color dresser works best with a gray bed, white isn't the only option.
There are many cool and warm tones that go with light or dark gray beds. So whether you are looking for the perfect dresser color to go with your dark gray bedding or a light gray bed frame, you are sure to find a number of options here.
Take a look at our best examples of dresser colors that work with light or dark gray beds to create a welcoming vibe:
Dresser Color Ideas that Go with a Gray Bed
White for a Clean Look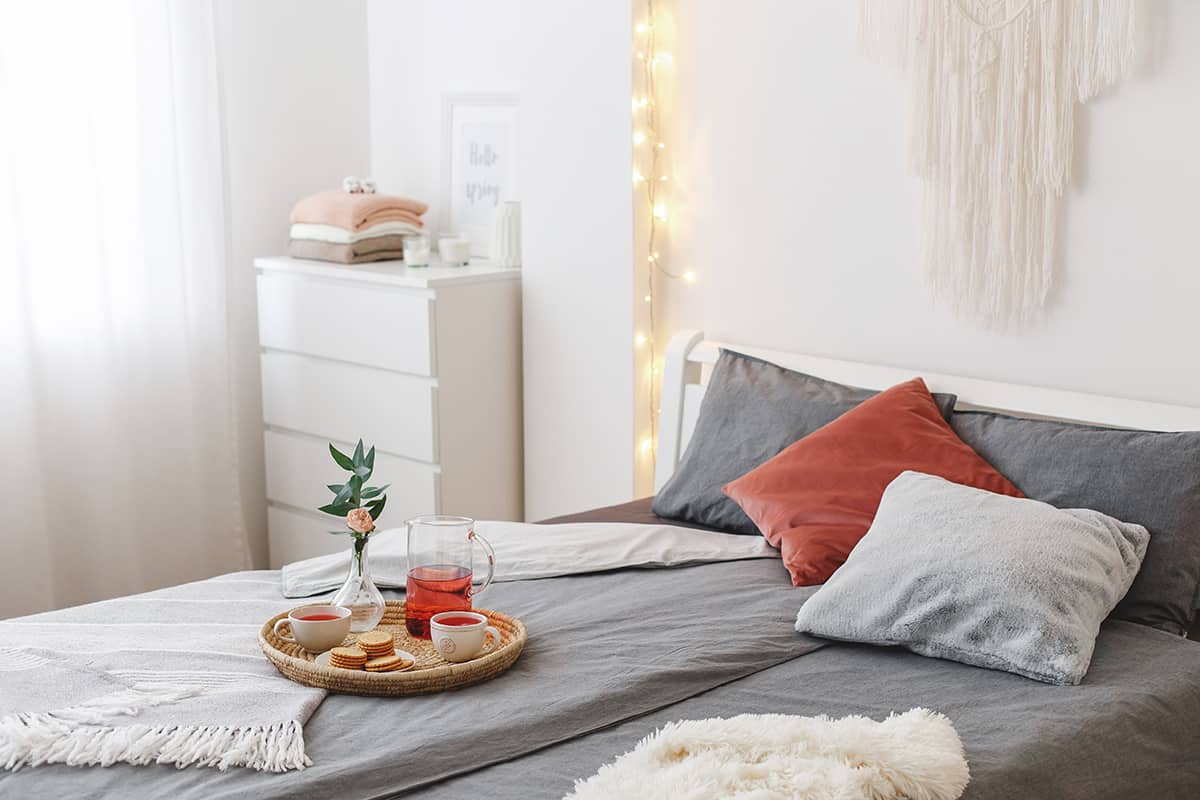 As white is a neutral color, it has the ability to work with any other shade. A dark gray bed with a white dresser provides a clean, crisp look in a cozy bedroom. Both these colors work very well together as they belong to the same family.
White is, after all, the safest option that won't clash with the gray bed and other furniture items in your bedroom. So if you're after a clean, soft design, choose a white dresser to brighten up your gray bedroom as pictured here.
Green as a Warm, Sophisticated Pairing
A bright green shade is a beautiful dresser color to pair with your light or dark gray bed. This warm dresser color is reminiscent of nature and brings a sense of the outdoors to the bedroom. Since you want your personal space to feel warm and cozy, we think a dark green dresser is the perfect color to pair with a light gray bed.
You can even include natural wicker furniture or indoor plants to your bedroom for an outdoorsy feel. Green is a color that emits peace and tranquility, thus a great choice for the bedroom. Forest green is one particularly attractive shade that pairs well with a light gray bed.
Black as an Ultra Modern Choice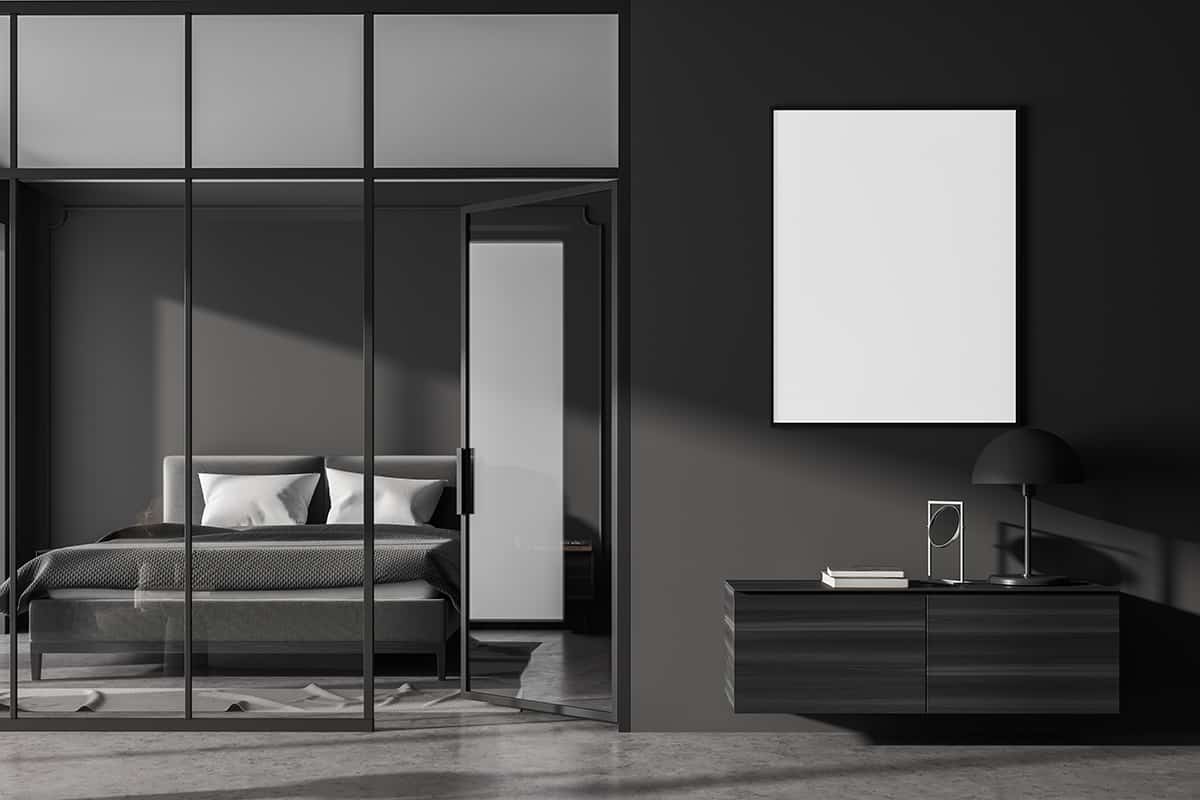 For an ultra chic bedroom design, how about trying a black dresser with a dark gray bed? These colors are both neutral, yet vivid enough to make a dramatic statement. Pair them with a gold nightstand or bedside table to make your bedroom look even more exciting and visually interesting.
This chic bedroom with a dark gray bed and black dresser looks gorgeous without feeling heavy thanks to the tall walls and high ceilings.
Opt for Monochromatic with a Gray Shade Lighter or Darker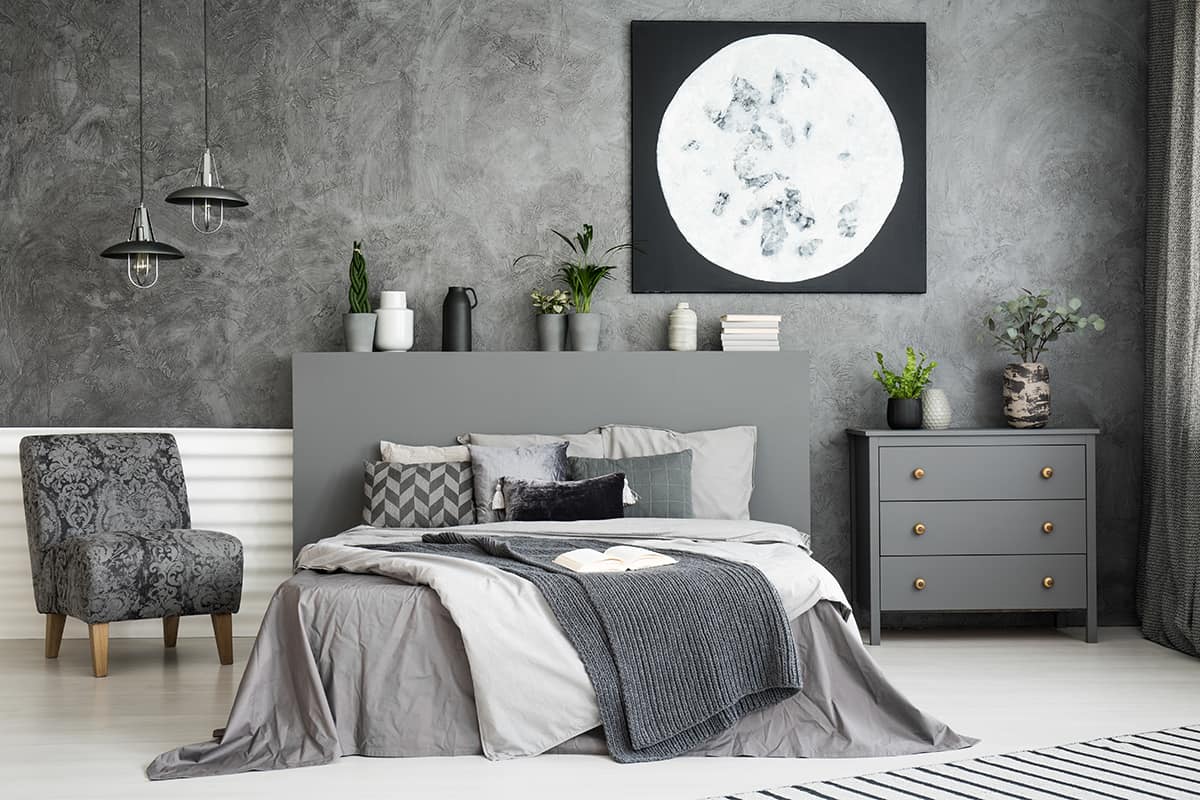 Monochromatic interiors are all about creating a layered tone using the same color palette. So whether you have a light or dark gray bed, a dresser in the same shade or a darker tone of gray will work very well as you're about to see here…
Light Gray Bed with Dark Gray Dresser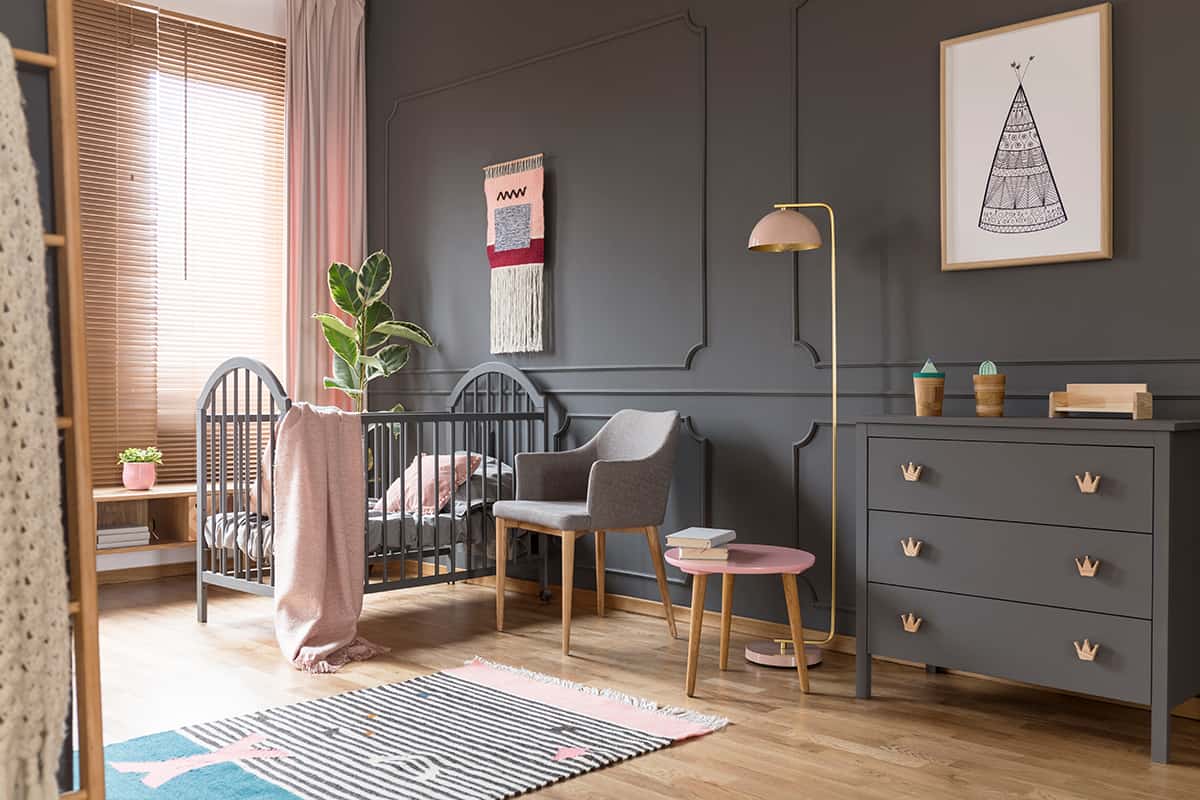 Dark gray may look dramatic, but most homeowners prefer this modern color pairing with their gray bed. This is because dark gray has a certain charming quality that can create a restful and stylish haven in the bedroom. Whether you want this color dresser for your own bedroom or for the nursery, a monochromatic design is a sure fire way to make a dramatic, yet peaceful approach.
In bedrooms with lack of natural light, you may want to pair a light gray bed with a dark gray dresser for a perception of depth. This will make your bedroom or nursery appear larger.
To avoid a bland look, add pops of color like pink pillows or wooden side tables as these will brighten up the gray bed and gray dresser.
The dark gray dresser pictured in this nursery is dressed with pink and wooden textures in order to break up the monotonous gray pairing. This nursery is stylish and exciting thanks to the pops of furnishing colors and light brown flooring. Even the dark gray walls don't feel closed in here since there is natural light entering the room as well as little pops of color throughout the room.
Light Gray Bed with Light Gray Dresser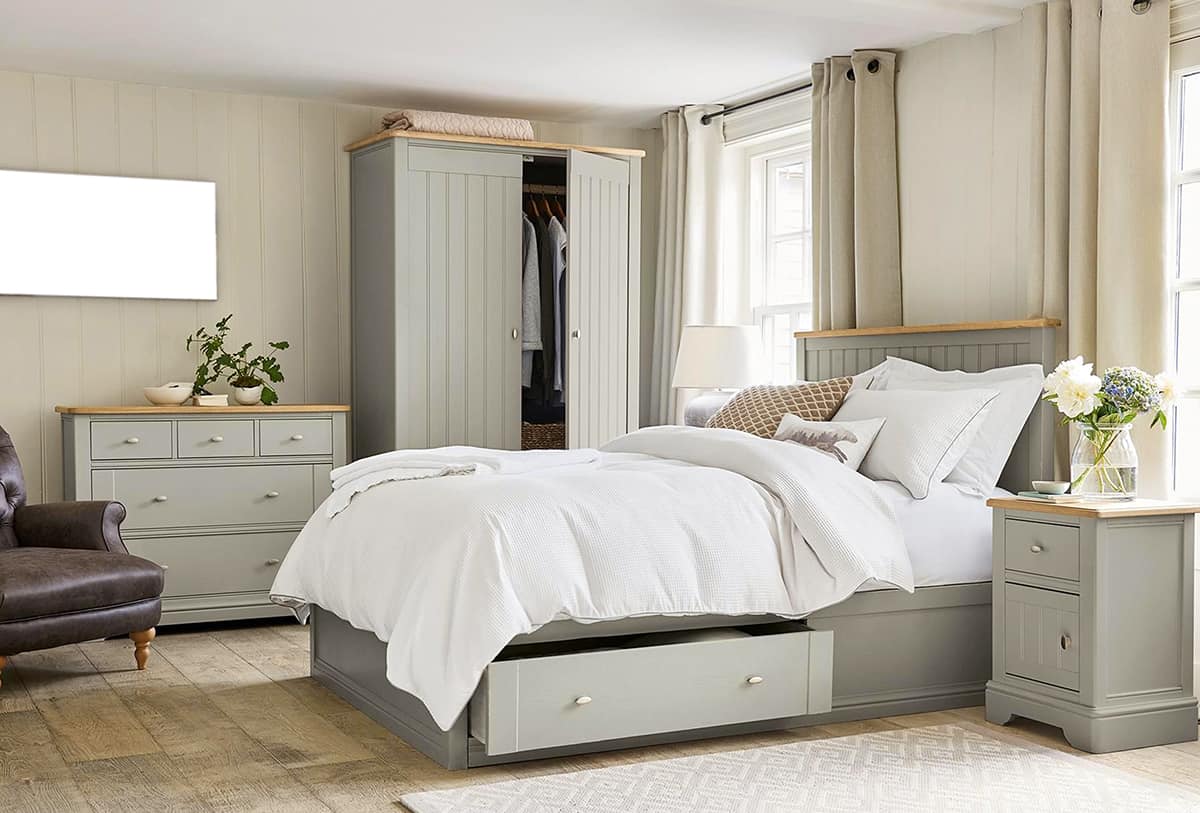 For a calming and softer alternative to dark gray, a light shade is an excellent option to create a bright and airy space. A light gray dresser with a matching bed color plays with a monochromatic look that leaves room for experimentation. For example, you can add multiple tones of gray for texture and visual interest, or pair the light gray with white fixtures in order to draw the eye upwards. This idea works especially well in small bedrooms with limited floor space.
Since light gray is a neutral hue, it lessens the harshness of powerful, bold colors like charcoal gray. This is ideal for anyone who wants a softer aesthetic for their bedroom design.
In this example, the light gray dresser paired with the light gray bed makes this small bedroom feel cozier. For added depth and variation, you can try two or three shades of gray hues.
Pink for a Soothing Pop of Color
For a gentle pop of color, try a pink dresser with a gray bed as a trendy and soothing combination. Dusty pink is one such shade that goes well with dark or light gray as it also boasts a cool undertone. There are also other pale pink shades that act as an in-between with light and dark gray tones. These include: salmon, flamingo and watermelon.
Aside from a dresser in soft pink color, this feminine hue also works well as a bedroom accessory. Pink is one of those colors that lets your personality shine, especially when it's paired with a calming gray. In girls' bedrooms, a pink dresser is the most preferred color with a gray bed.
Beautiful Blue as a Cool Tone Match
If you are fortunate enough to have a large bedroom with high ceilings, a beautiful dresser color that pairs well with gray is a dark blue tone. We particularly like a wooden bed frame with dark gray wooden headboard and light gray bedding paired with an elegant navy dresser as shown here.
This large, open bedroom features a dark blue wall and large windows that prevent the space from feeling dark or dingy.
Unstained Wood for a Rustic Feel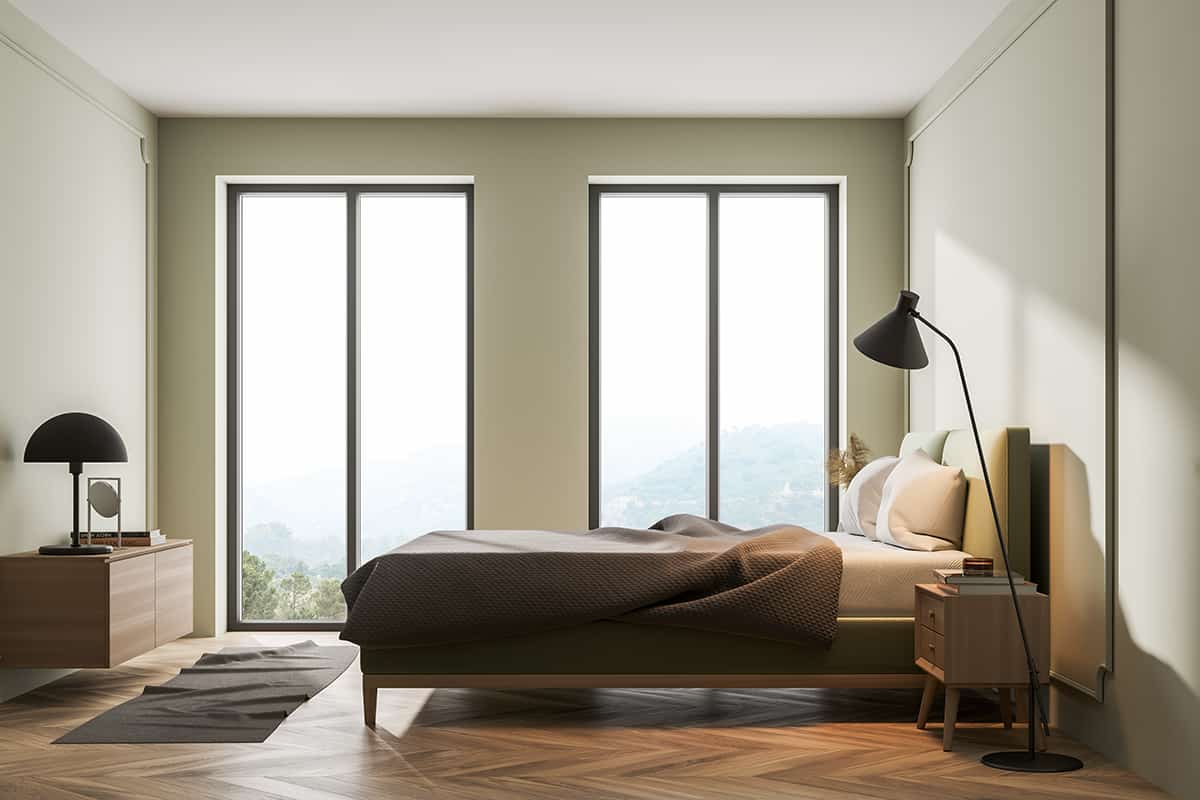 For those who are a fan of traditional wooden bedroom furniture, why not pair your gray bed with an unstained, natural wooden dresser!
A dresser like this is perfect for rustic or farmhouse style bedrooms, but as you can see in this picture, it can also be incorporated with a modern bedroom. You can add aesthetically appealing accessories to this mix in order to boost your bedroom's vibrant feel.
Sleek Cherrywood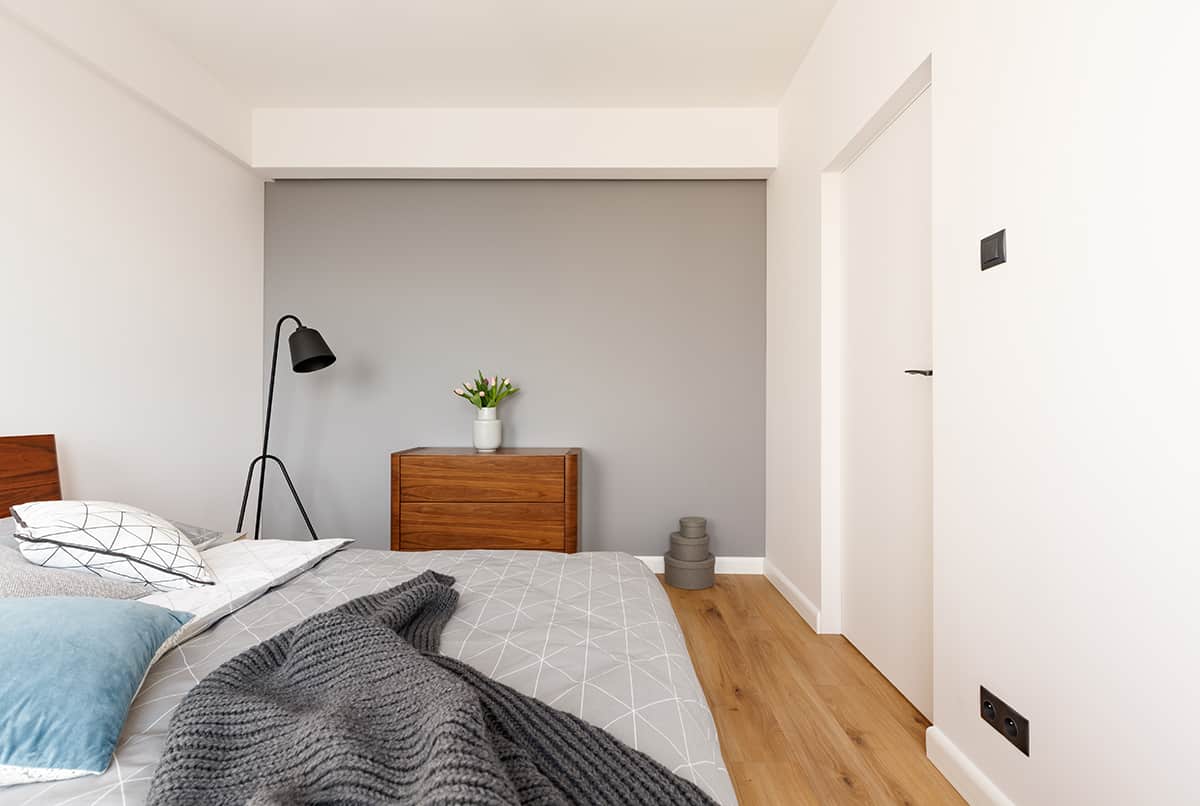 For a more sleek look, a cherrywood dresser is a great choice to bring out the beauty of your bedroom with a gray bed. You can either pick a large size cherrywood dresser as the focal point of the bedroom or place a corner one to make your gray bed stand out.
This wooden dresser boasts elegant sophistication that emits a warm feel thanks to its light brown tone. The enchanting dresser provides a welcoming ambiance and makes a great option for those who don't want a monochromatic look in their bedrooms. Whether your bedroom is in modern or traditional style, you are sure to love the warm feel of a wooden dresser!
Coffee Brown
Another classic wooden bedroom dresser color is coffee brown. When you have a dresser in this color, your gray bed can act as a neutral backdrop. A dresser's purpose isn't just for storing your clothes.
The surface on the top can also store your essentials, so it makes sense to choose an antique style dark brown wooden dresser like the one shown here. It is the ideal choice for English style bedrooms. The gray bed can be as simple as a gray headboard or a bed frame with white or beige bedding.
In Conclusion
While you're most likely to find a white dresser In a modern bedroom with a gray bed, there are many other color options that will work just as beautifully. Our above ideas prove how bold or vivid dresser colors can bring out the coziness of a gray bed as well as neutral shades like black and grays.
Even brown wood can bring a warm, comfortable ambiance to a traditional style bedroom with a gray bed. We hope our dresser color ideas have inspired you to create the bedroom design of your dreams!