Blue is a cool-toned color that looks fabulous with just about any other color scheme. As the world's favorite color, it is popularly seen in bedrooms for a tranquil vibe. When combined with gray, this pairing can bring a sophisticated feel to the room. But why should you go for a gray and blue bedroom combination?
Not only are these two cool-toned colors bold and popular, but they also evoke a relaxing ambiance when used in the bedroom. From darker shades to pale hues, the combination of blue and gray offers depth and calmness to your sleeping area.
Whether you use these colors for the bedding or furniture, to refresh your sleeping space, be sure to pick the correct hues to radiate the ambiance you wish to create for your bedroom. To give you some ideas, take inspiration from our guide right here:
Gray and Blue Bedroom Ideas with Photos
Add Bold or Contrasting Pillows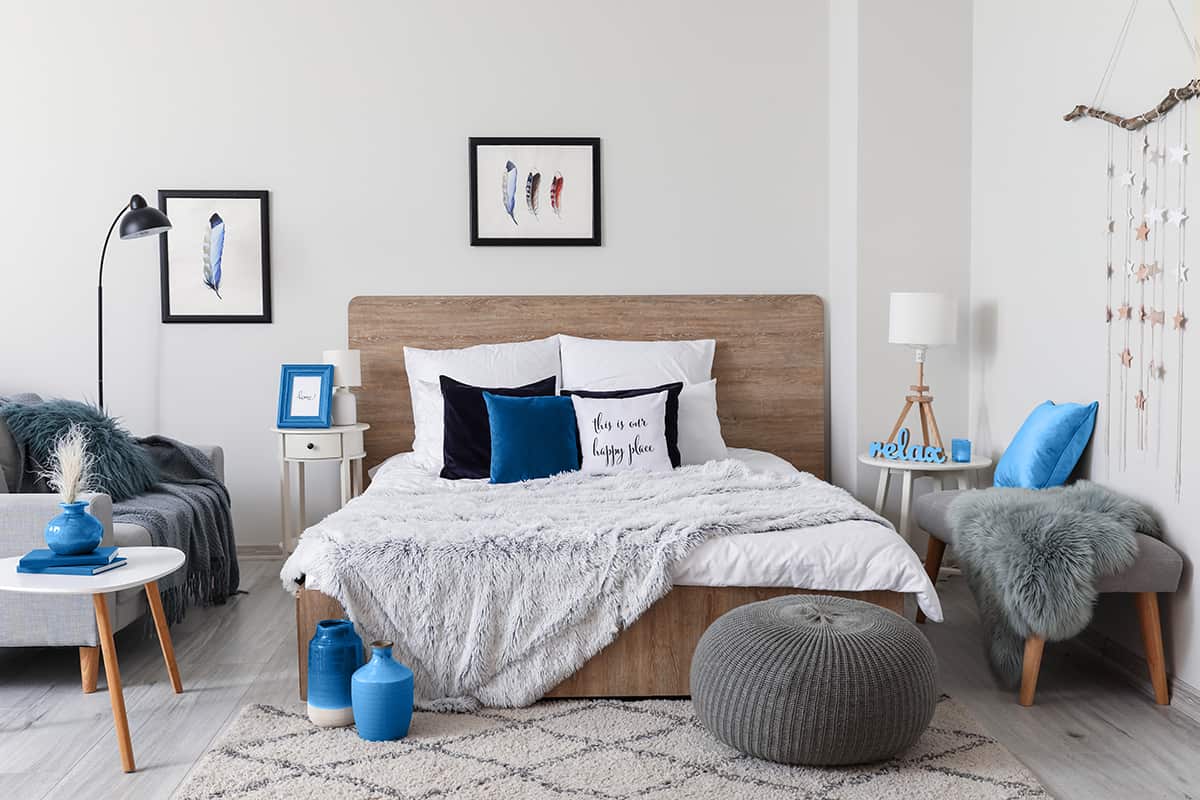 Solid-colored pillows can bring a bold pop to a gray and blue bedroom. When you want to add dimension to your sleeping space, include contrasting pillow colors to match your bedroom's existing theme.
This is the most inexpensive way to create a little drama in your space. Go with black, white, and blue pillows together with gray textures as shown in this example.
Create a Feature Wall Behind the Bed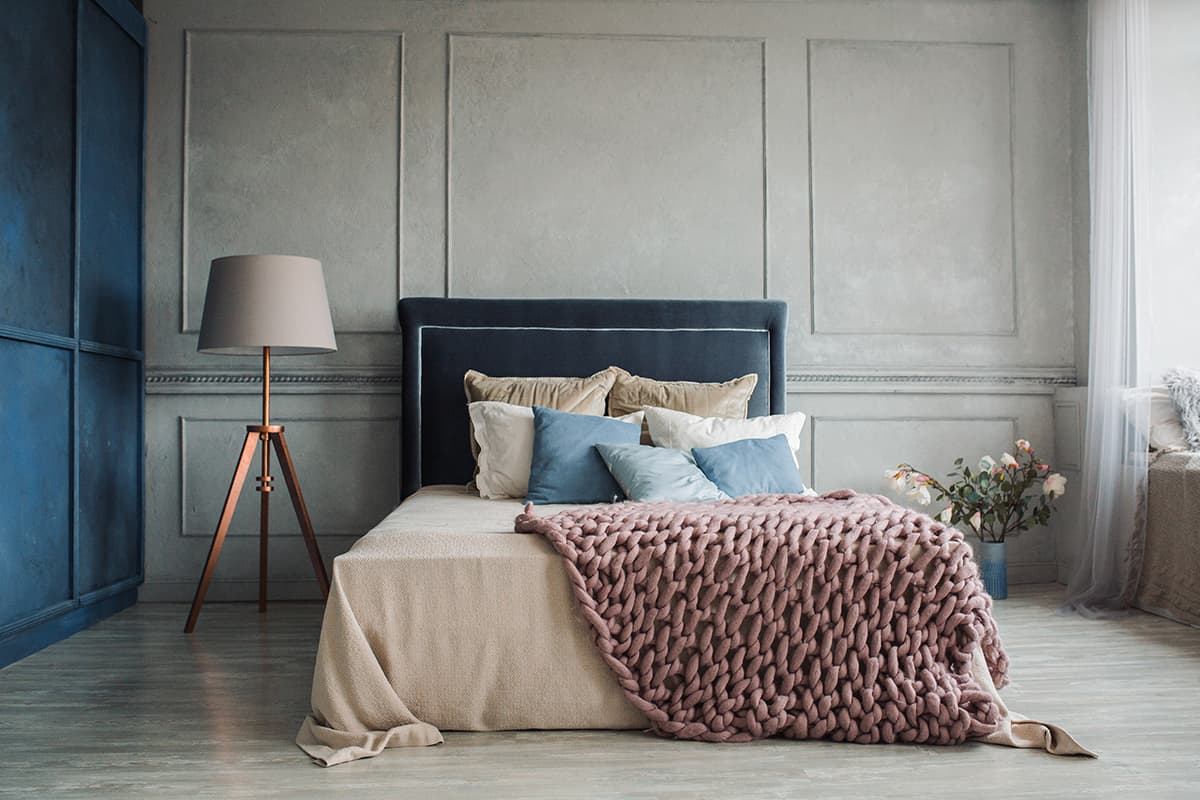 A warm shade of gray for the accent wall behind your bed can make the blue bedroom appear larger by brightening up the space. When there is plenty of natural lighting, the large gray feature wall can stand out as the backdrop to the bed.
You can display a large piece of artwork on the painted accent wall or let the interesting details of the wall stand out. Feature walls that are painted gray can be the striking element of a blue bedroom as they draw the eye toward the bold blue. In this case, a navy headboard is the highlight of the bedroom with a gray accent wall. The lighter color bedding sits in the background, allowing the rich blue and gray to take center stage.
In this example, the dark blue headboard and gray feature wall look so elegant together, without the need to hang anything on the wall. This keeps the entire focus on the bed, thus emitting a comfortable and relaxed vibe without distraction.
For a Tranquil Vibe, Pair White with Gray and Blue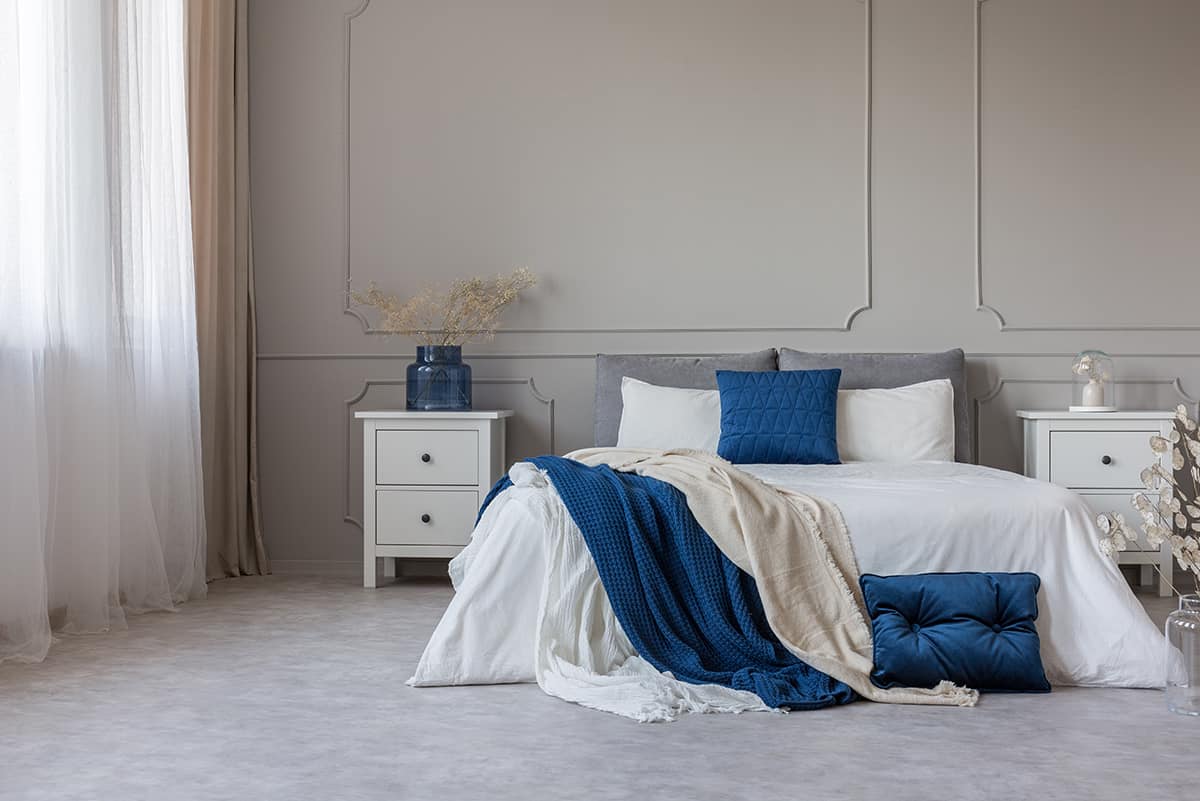 White has a tendency to instantly brighten up any space. When paired with a warm-toned gray and bold blue, it can create a crisp, tranquil vibe. Whether you use white as the feature wall, furniture, or decor, it can balance out the cool blue as you can see here.
In this bedroom, the white bedding and furniture boldly stand out together with the bright blue, leaving the soft gray firmly in the background.
Include Natural Accents for Warmth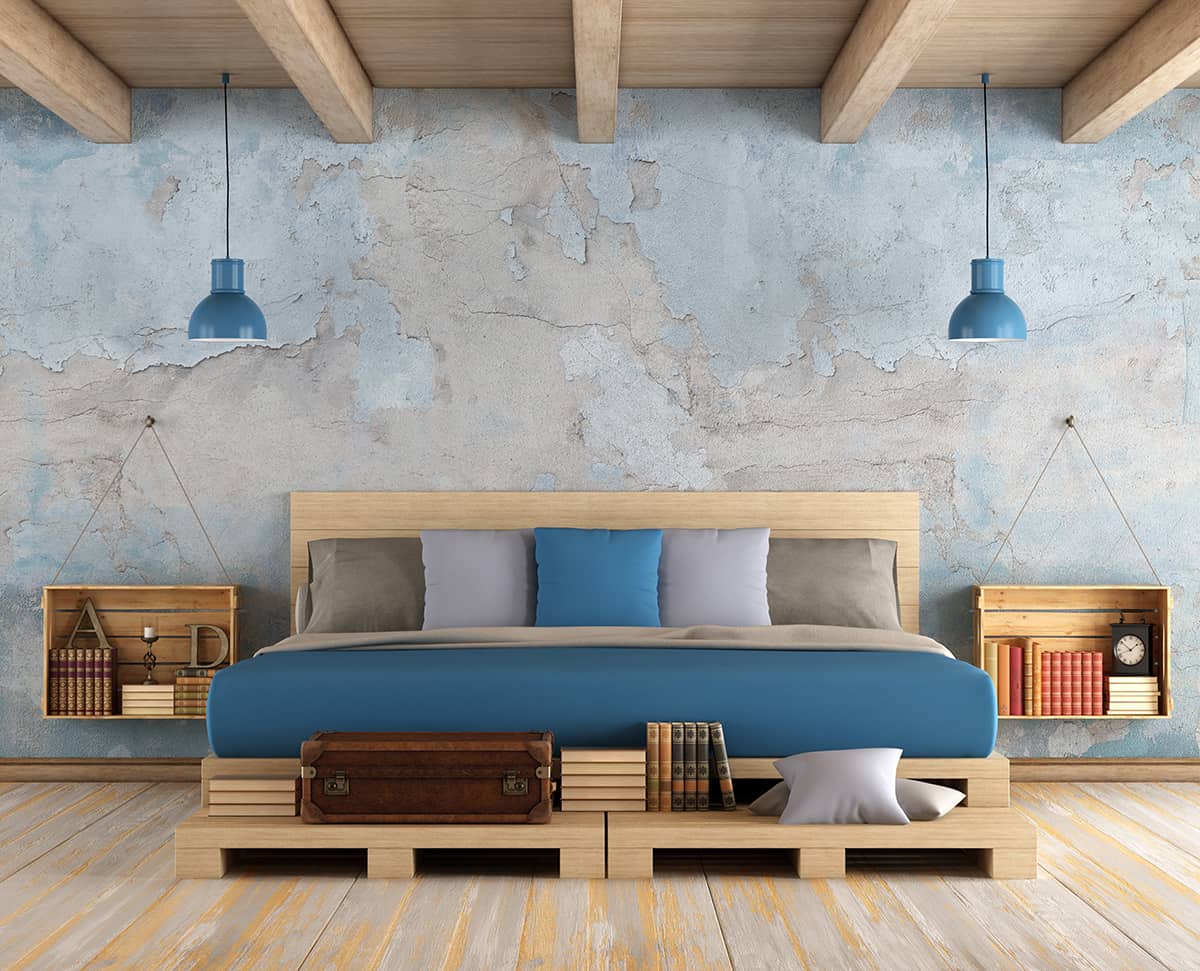 When you have a blue and gray bedroom, it can appear a little cold or unwelcoming. For a dose of warmth, include unstained wood furniture or bamboo as the natural elements of a cool-toned bedroom.
These pieces will bring an amazing depth and texture to your space for a cozy, comfortable look.
Mix and Match Shapes and Patterns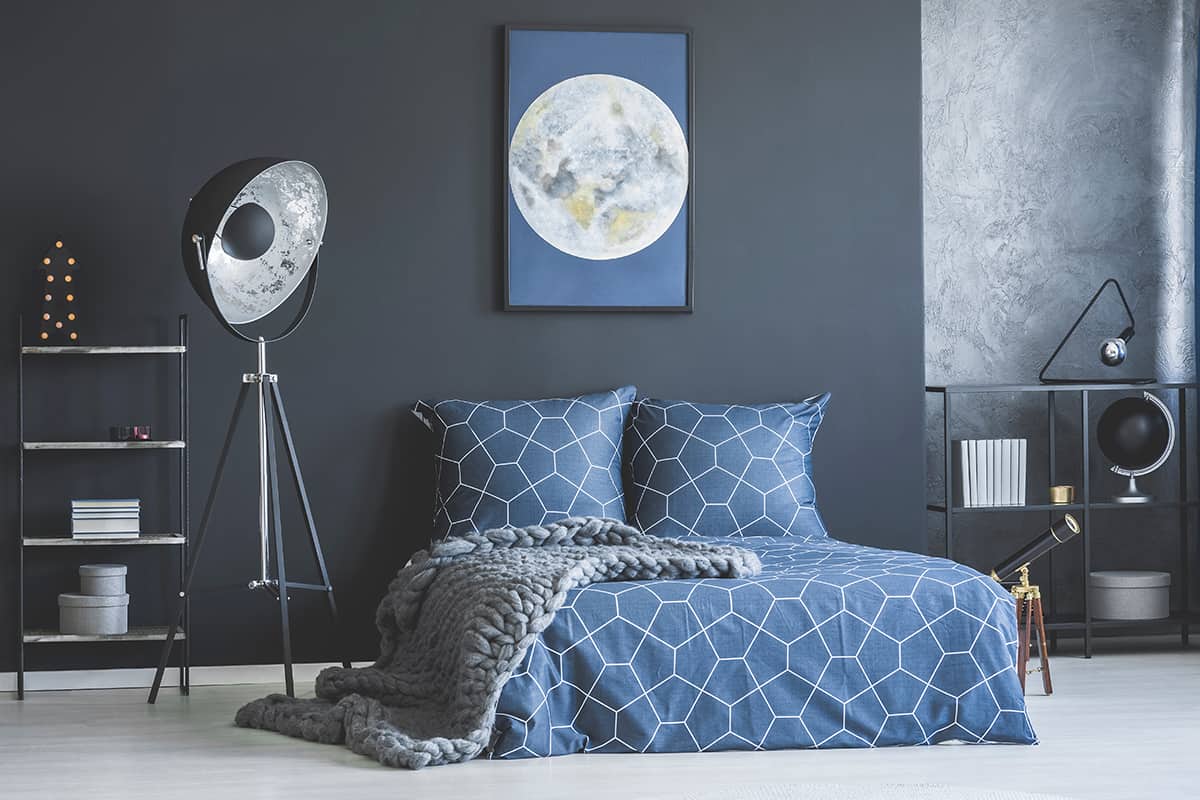 Shapes and patterns are undoubtedly an excellent way to keep the focus on the gray and blue bedroom. Simply add these elements for the bedding or for something more elaborate, and create a feature wall using patterned wallpaper. There are plenty of options when it comes to adding a mix of matching shapes and patterns to your blue and gray bedroom tones. These elements bring a contrast to the colors and inject visual interest into the sleeping space.
When you're choosing shapes and patterns for your gray and blue bedroom, it pays to be daring. Instead of playing it safe and displaying a few different prints, opt for blanket and pillow patterns. You may also experiment with patterned rugs and odd-shaped furniture. As long as the color palette works with blue and gray, the result can be visually stunning.
Use Warm Grays to Balance the Cool Blue
The key to bringing together a gray and blue bedroom without creating a cold color scheme is to pick the right shade of gray.
Warm grays complement cool blues nicely, so if you want a more tranquil atmosphere in your bedroom, pair a warm shade of gray (pewter or repose gray) with a bold shade of blue like cobalt. This combination helps avoid a negative or moody color palette.
Soften the Cool Tones with a Neutral Rug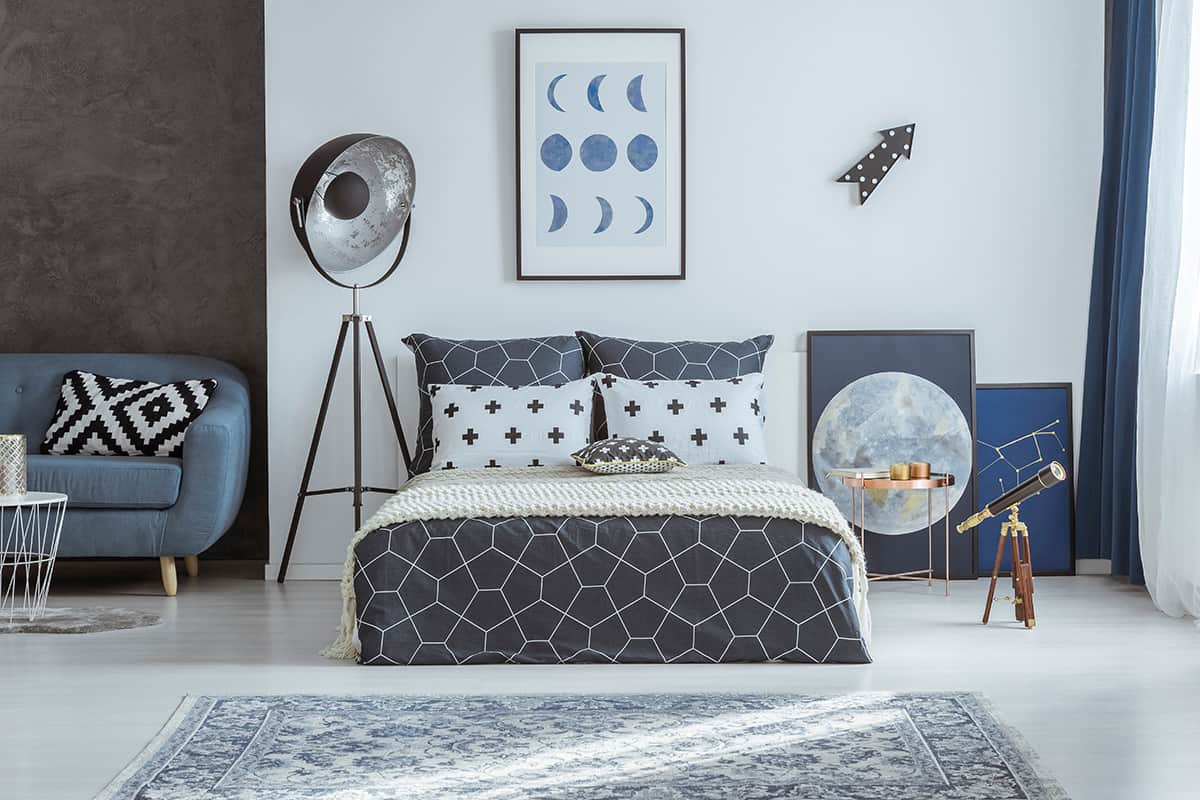 A soft, neutral rug will offer the final touch to a comforting gray and blue bedroom. A popular, and complementary shade for the rug can be greige, which is a combination of gray and beige to complement your gray and blue color scheme. The rug adds texture to the bold blue and gray bedroom by making it feel cozy. This soft hue is a warm alternative to crisp white.
The neutral rug is not only a warm addition to a blue and gray bedroom, but can also be accompanied by bright-colored blankets and pillows for a pop of color.
Paint the Ceiling Blue for Serenity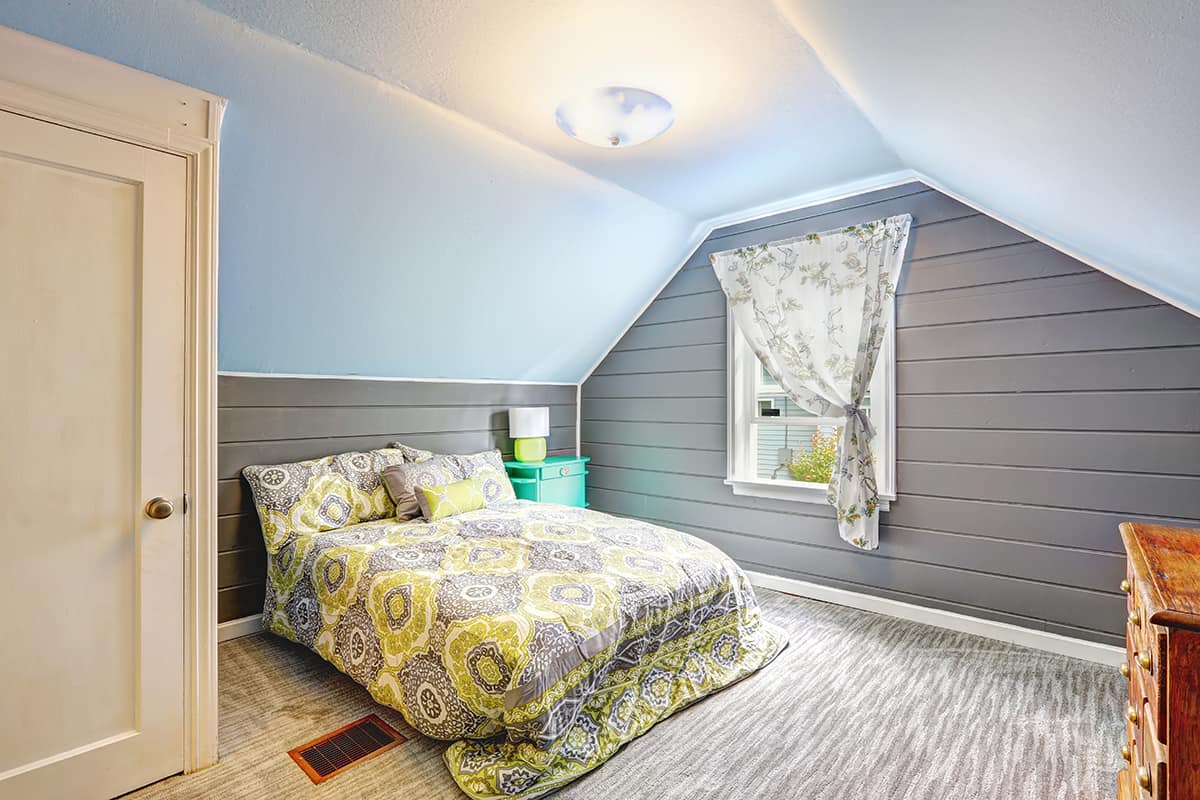 While light blue may not be the first choice for a bedroom's ceiling color, its calming vibe can bring the gray bedroom nicely together. Pale blue looks amazing as the paint color of a gray bedroom and it plays a positive effect on the mood.
A soft blue ceiling mimics the blue sky and gives us the feeling of being in nature as we sleep. This serene color is the perfect way to help us feel calm and more relaxed. A pale blue ceiling in the bedroom is best paired with dark gray walls for a dramatic effect.
Add an Accent Color for Vibrance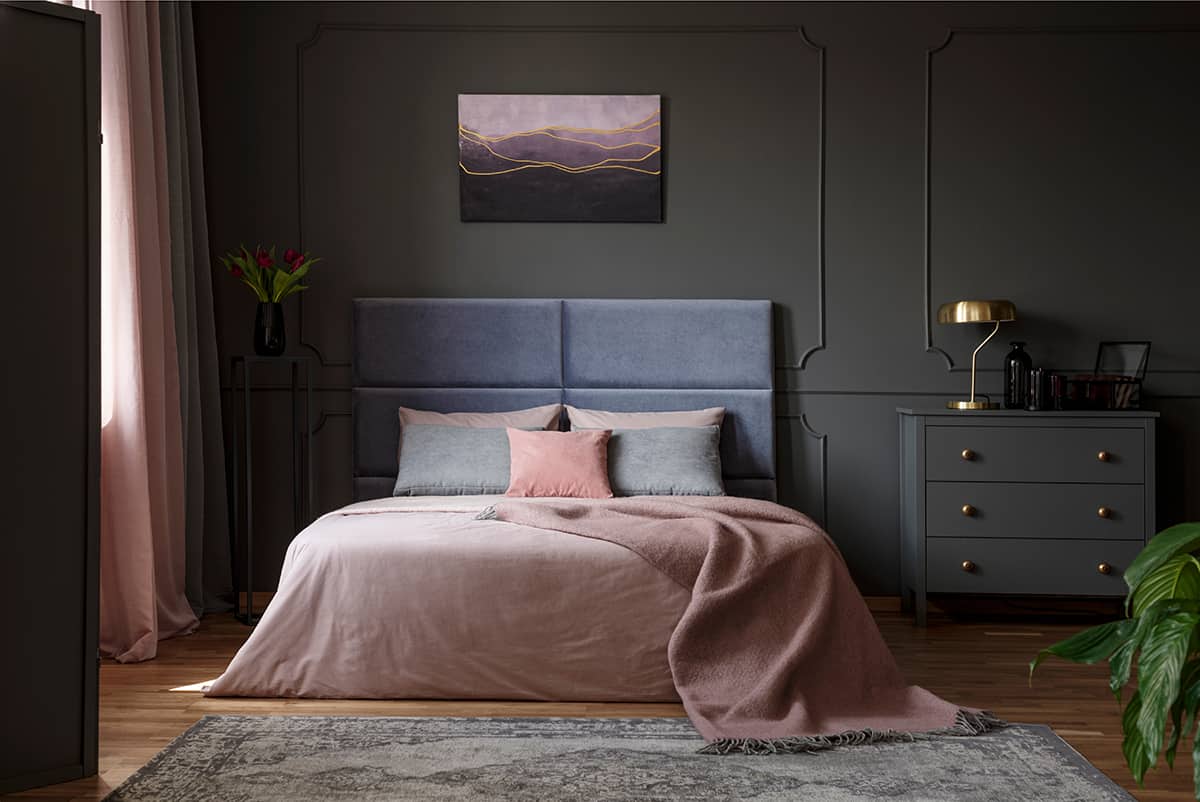 Adding a third color to a gray and blue bedroom is a great choice as it helps warm the cool-toned palette and make the space pop. Pale pink is one such color that contrasts dark blue and gray. This accent color goes with any shade of blue and gray, including silvery gray and steel blue.
The neutrality of gray naturally complements a vast range of warm-toned hues. When you pair it with a cool blue shade like navy, a third accent color will lighten up your bedroom as shown here.
Accompany the Blue and Gray with Greenery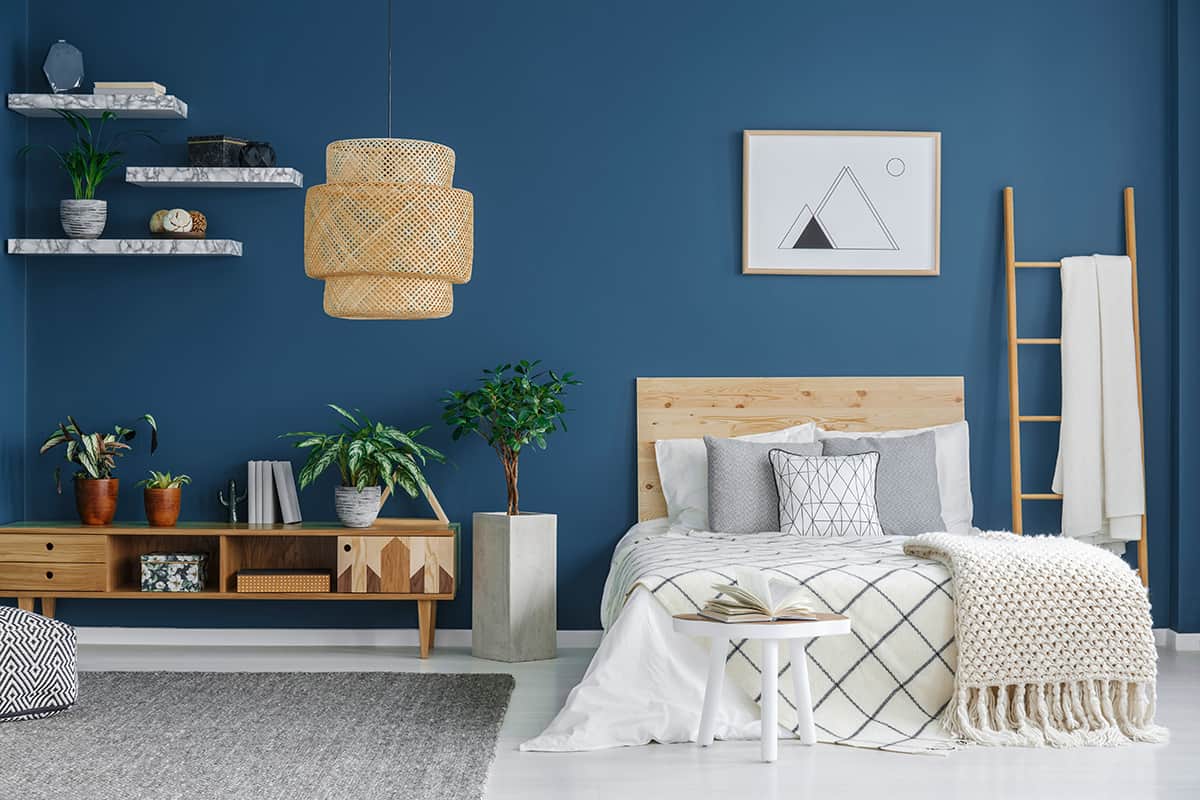 Indoor plants are a relaxing companion to a blue and gray bedroom. Whether you like low-maintenance succulents or lush geraniums, you can add a botanical garden to your colorful bedroom. There are lots of easy-to-care-for indoor potted plants you can bring to your blue and gray bedroom. Place them on the bedside, on the floor, or hang them on the walls. Plants complement both the earthy tones of cool blue shades and gray, plus they contribute to a tranquil atmosphere.
See how cozy this gray and blue bedroom looks thanks to the abundance of plants on the shelves and bedside table. This bedroom emits a natural, earthy vibe, especially with the unstained wooden headboard and furniture that complement the plants.
What Shades of Gray Go with Blue?
All shades of gray provide a beautiful backdrop to both light and dark blue. Since both gray and blue are cool-toned colors with similar undertones, they can be paired naturally in any room.
But if you must go with a specific gray shade, consider pale grays like greige or pewter for navy or royal blue, and pewter for lighter blue shades like sky blue. When pairing light grays with blue, the trick is to choose a warm gray with a deep, rich blue shade like navy in order to avoid your space feeling too cold.
Look for clay-like pastel grays instead of harsher shades like charcoal. The latter doesn't contrast against dark blue very well and can turn the space into a negative atmosphere.
Keep in mind a living or sleeping space should feel warm and welcoming, in which you feel relaxed and comfortable so a cold-toned color palette won't be a good idea. Stick with warm-toned grays to pair with rich blues for a cozy, inviting feel.