Salmon is a pink-orange shade named after the color of the flesh of this freshwater fish. It is neither subtle nor bright and instead sits somewhere between the two.
As a color that is made up of both pink and orange, the main contrasting colors of salmon are green and blue. This is because green is the opposite of pink on the color wheel, and blue is the opposite of orange on the color wheel. Contrasting shades are great for bringing the best out of each color and also for ensuring a nice balance between the two.
Let's uncover ways to use salmon in home decor, and some great color pairings with salmon.
Using Salmon in Home Decor
Salmon is a color that most people tend to love or hate, and it can inspire extreme reactions from people. Because of this, if you are a lover of salmon, you might want to use it sparingly to avoid making guests or potential future buyers of your home from being put off.
However, if you can't get enough of this color, then there are plenty of ways to fully commit to a salmon color scheme.
Wall Paint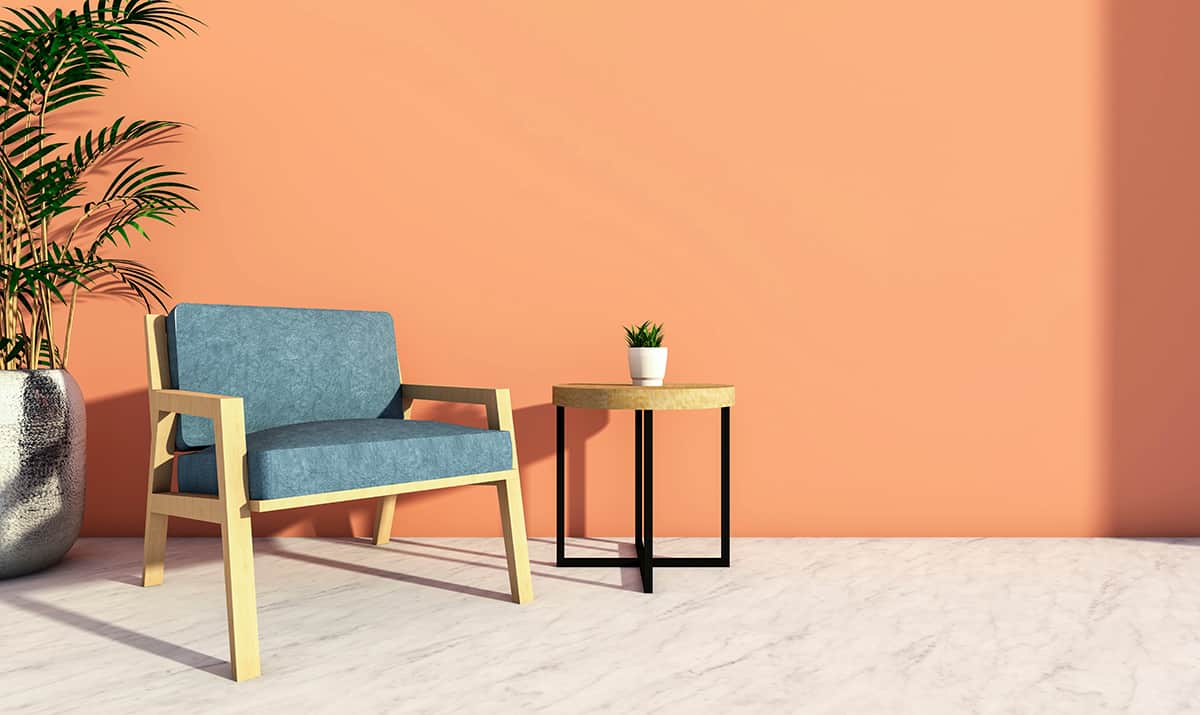 Salmon is a very distinctive color that can make a bold statement when used as a wall paint. You can paint an entire room in this color and use other shades for furnishings to tone it down or use contrasting shades to celebrate it.
However, if a full room of salmon walls feels too overwhelming, try a feature wall in salmon by painting one wall in salmon and the rest in cream or white.
Furniture Paint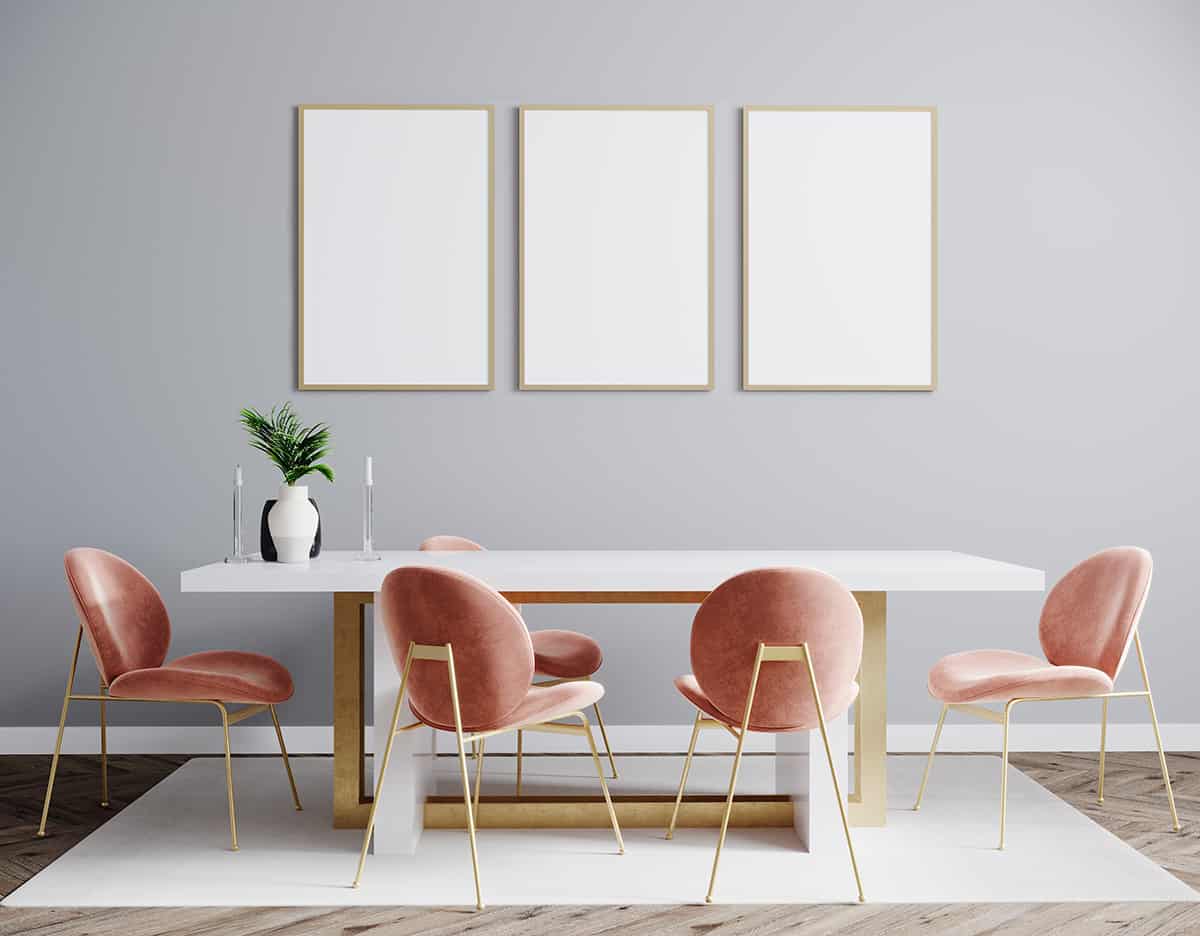 Upcycling furniture is a fun hobby, and you can also update the look of your home at a minimal cost. To add a quirky touch to a dining room, paint old dining chairs in salmon furniture paint, but leave the dining table in natural wood or paint it a contrasting color.
Most types of furniture can be updated using furniture paint, including coffee tables, shelving units, bed frames, and nightstands. Salmon-painted furniture can look striking in a neutral-colored room or in a room that is predominantly blue.
Wallpaper
Add a bold splash of color to a room with an accent wall by using a wallpaper featuring a salmon pattern. Floral prints work nicely with salmon, as do geometric patterns. You can use offcuts of leftover wallpaper to make pieces of art on the wall by framing squares of it to hang up.
Accessories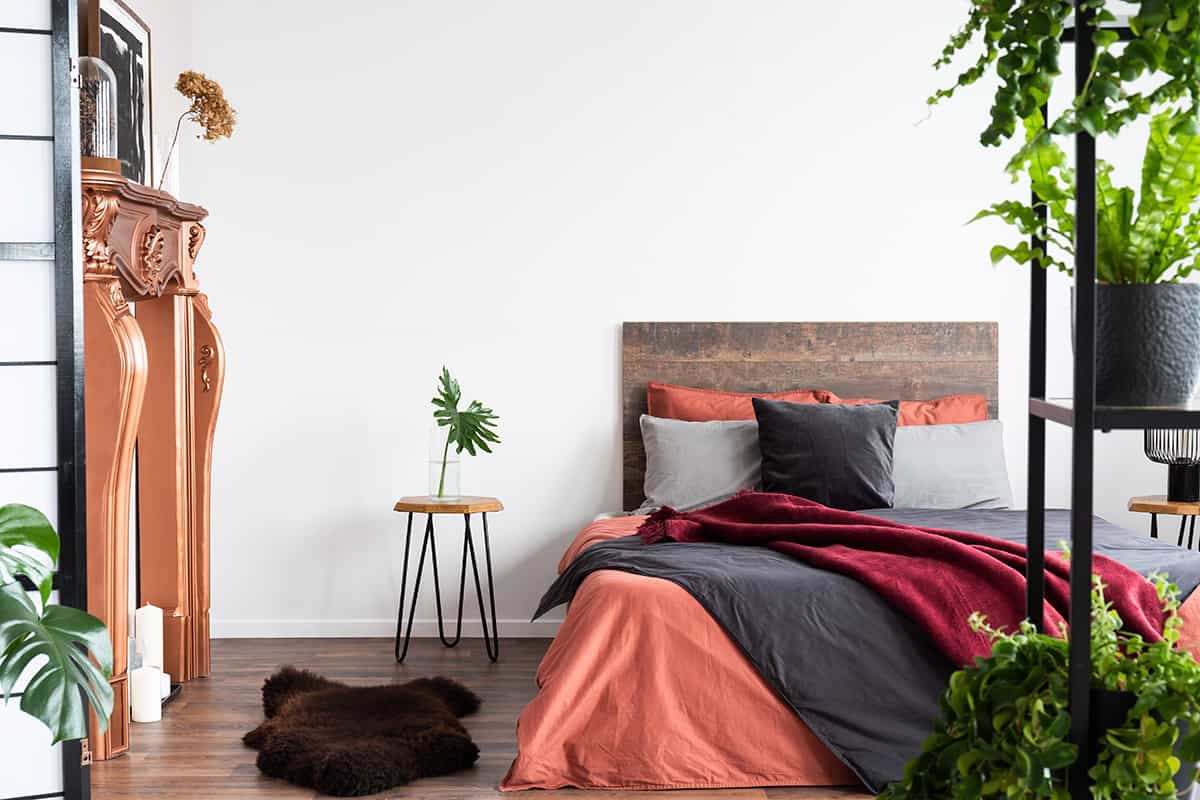 If large amounts of salmon pink sound too extreme, choose this as a color for accessories instead. Touches of salmon pink can add a fun and quirky feel to a room in the way of cushions, ornaments, plant pots, or artwork.
Colors that Go with Salmon
Salmon + Teal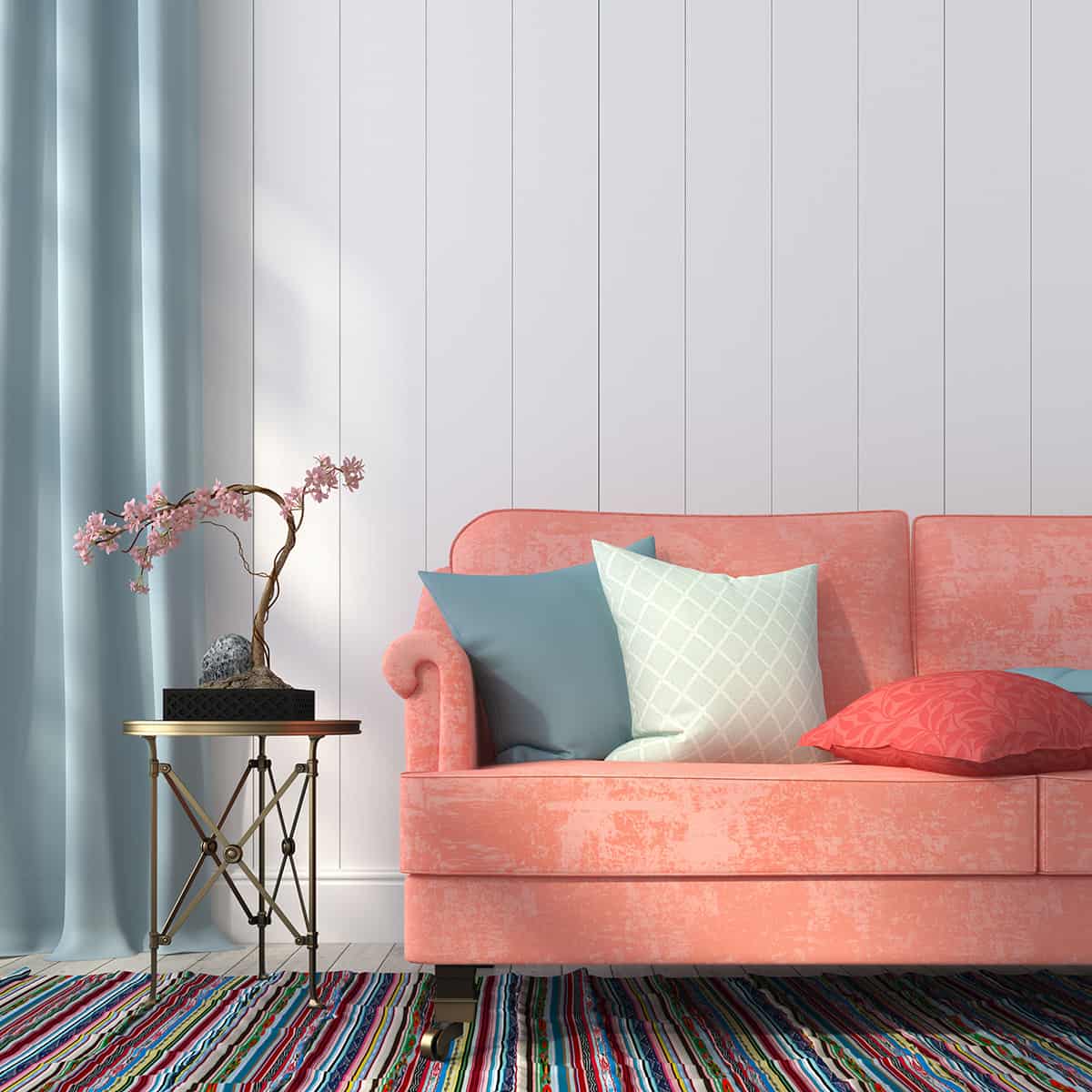 Teal creates a really vibrant contrast with salmon because it is a bright and heavily saturated color that combines blue and green. The mix of blue and green makes it the perfect contrast for salmon, which is made from orange and pink because blue and green are the opposite colors to orange and pink on the color wheel.
This color scheme is a nice choice in a modern loft apartment space, a living room, or a bedroom, and it can be used in a variety of styles. Embrace an art deco theme with these colors, or use them sparingly in a room painted entirely in white for a modern art gallery-style space.
Salmon + Navy Blue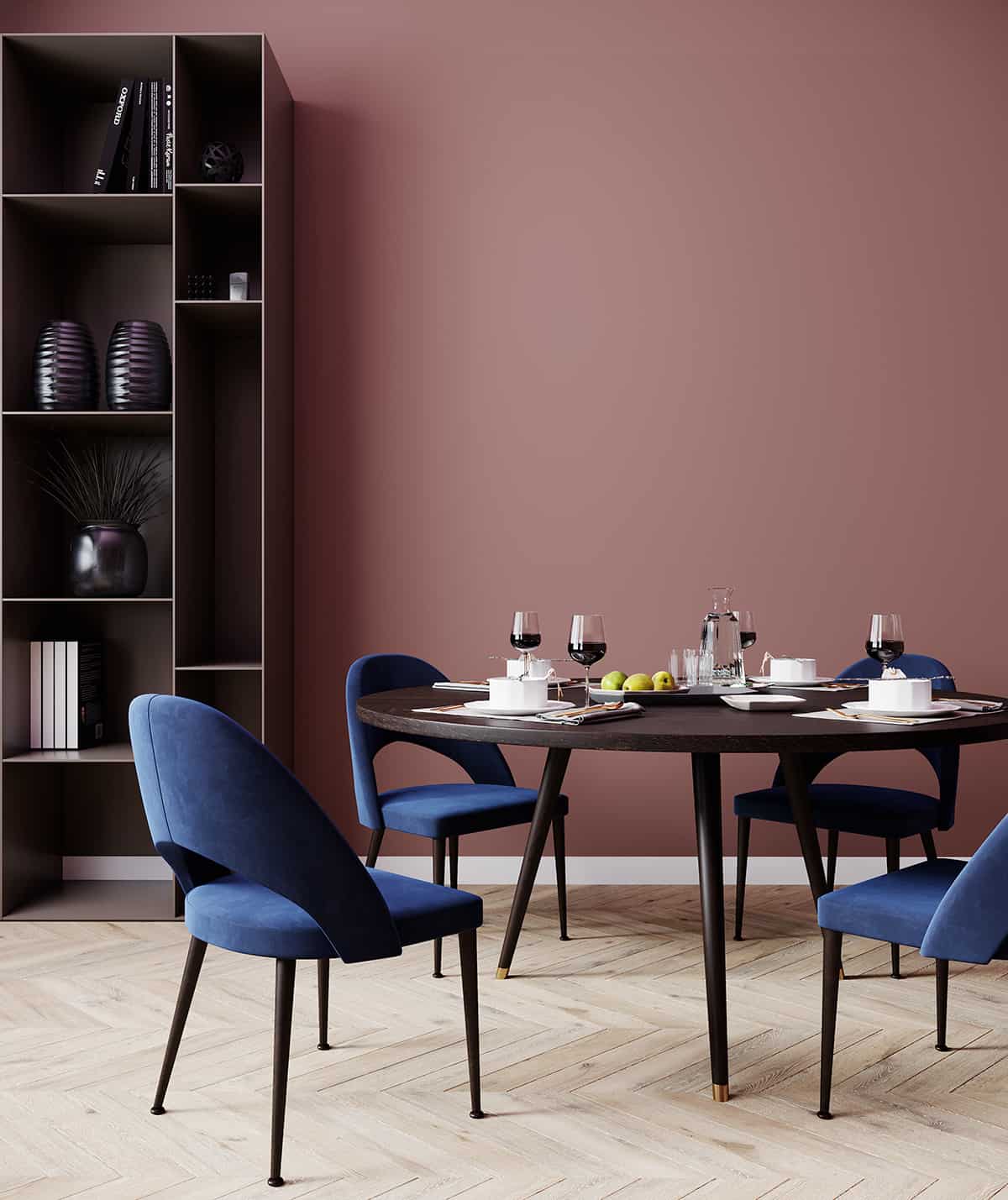 Navy blue is a great choice of color to pair with salmon because the blue offers a contrast, while the darkness of the color works to mute the salmon slightly and create a more subtle look. You can create a modern glam look with these shades by also adding gold or copper into the mix and focusing on luxurious fabrics.
Navy blue is a nice shade to use for the darker trend that is popular at the moment, which can be brought to life with salmon-colored accents. Paint walls in an eggshell finish dark navy blue and select contemporary style furniture such as a velvet chaise longue in salmon with gold metal legs. Top this with navy faux fur cushions or a thick knit woven blanket.
These colors work perfectly with gray and white marble, such as Carrara marble, so they can make for a really sophisticated yet playful color scheme in a bathroom or kitchen. Paint bathroom walls in coral and then opt for navy blue towels and a navy vanity unit with a gray and white marble countertop.
In a kitchen, consider pale gray walls and navy cabinets, with a marble countertop or backsplash, and highlights of salmon such as salmon coffee and tea canisters or a salmon-colored toaster oven.
Salmon + Emerald Green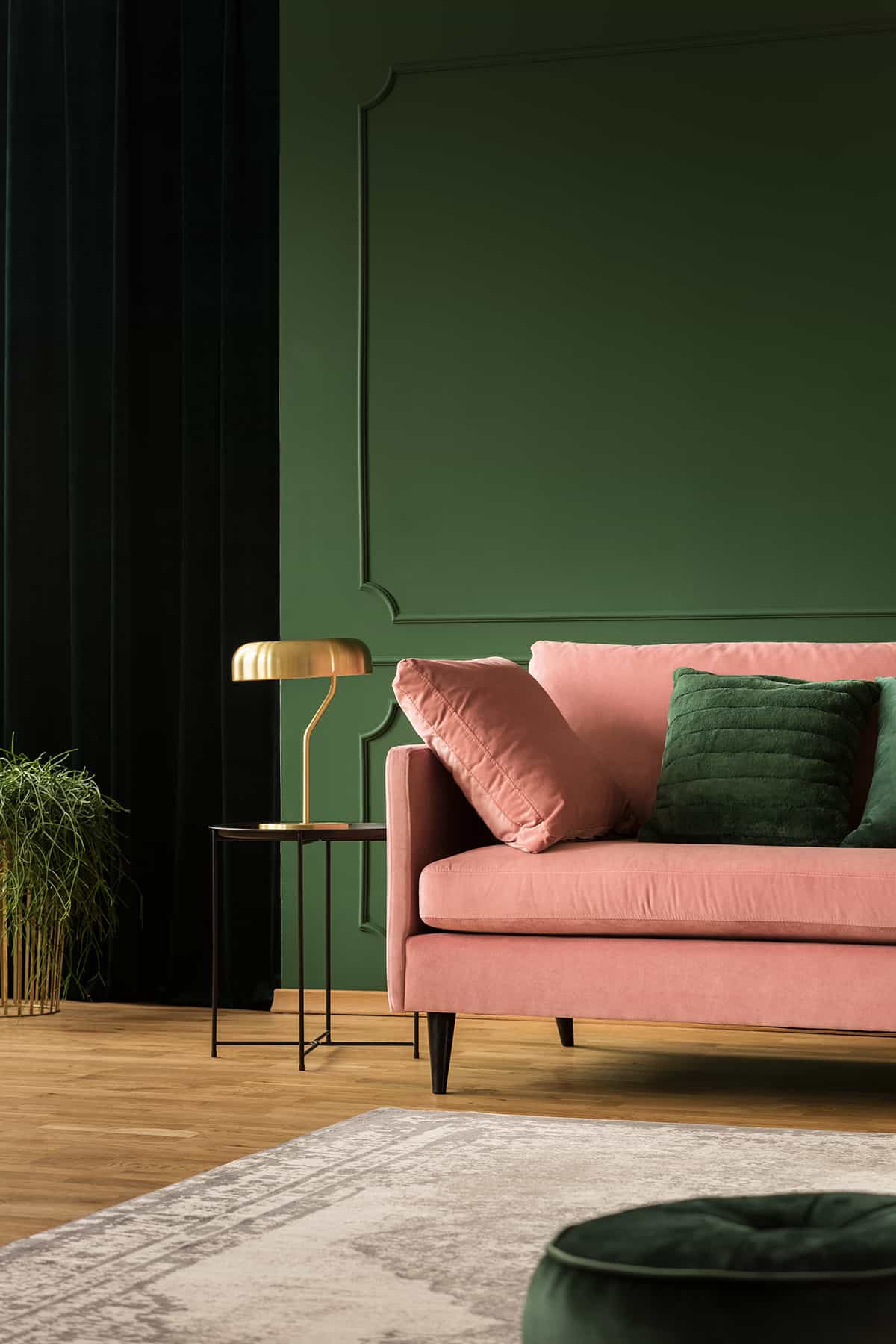 Emerald green is very on-trend right now, and it is usually paired with mustard yellow or dusky pink. If you want to try out a more unlikely combination for a less obvious color scheme, opt for salmon with emerald green. Salmon is a really strong contrasting shade for emerald green, but it will make for a slightly more quirky finish compared with the more subdued contrasting shade options.
If you want a more vibrant look in an emerald green room, then salmon is an ideal accent shade. It can be used for a bohemian style or if you just want a brighter contrast. Emerald green works best in sumptuous fabrics such as suede and velvet, so use salmon in other luxurious textures to ensure there is a continuation of style.
A salmon-colored accent chair would be bold and striking in a room with emerald green walls and could be tied into the color scheme with other small decor items such as salmon-colored candles or a bunch of salmon-colored faux flowers in a glass vase.
Salmon + Mauve
Salmon and mauve are a pretty pairing, especially if you choose a pastel shade of salmon. Find floral fabrics which incorporate both of these colors on a cream or white background, and use these in a traditional antique decor or a country cottage-style home.
Small hints of lemon yellow would also be a nice addition to this color scheme, highlighting the summer freshness of these shades.
Salmon + Sage Green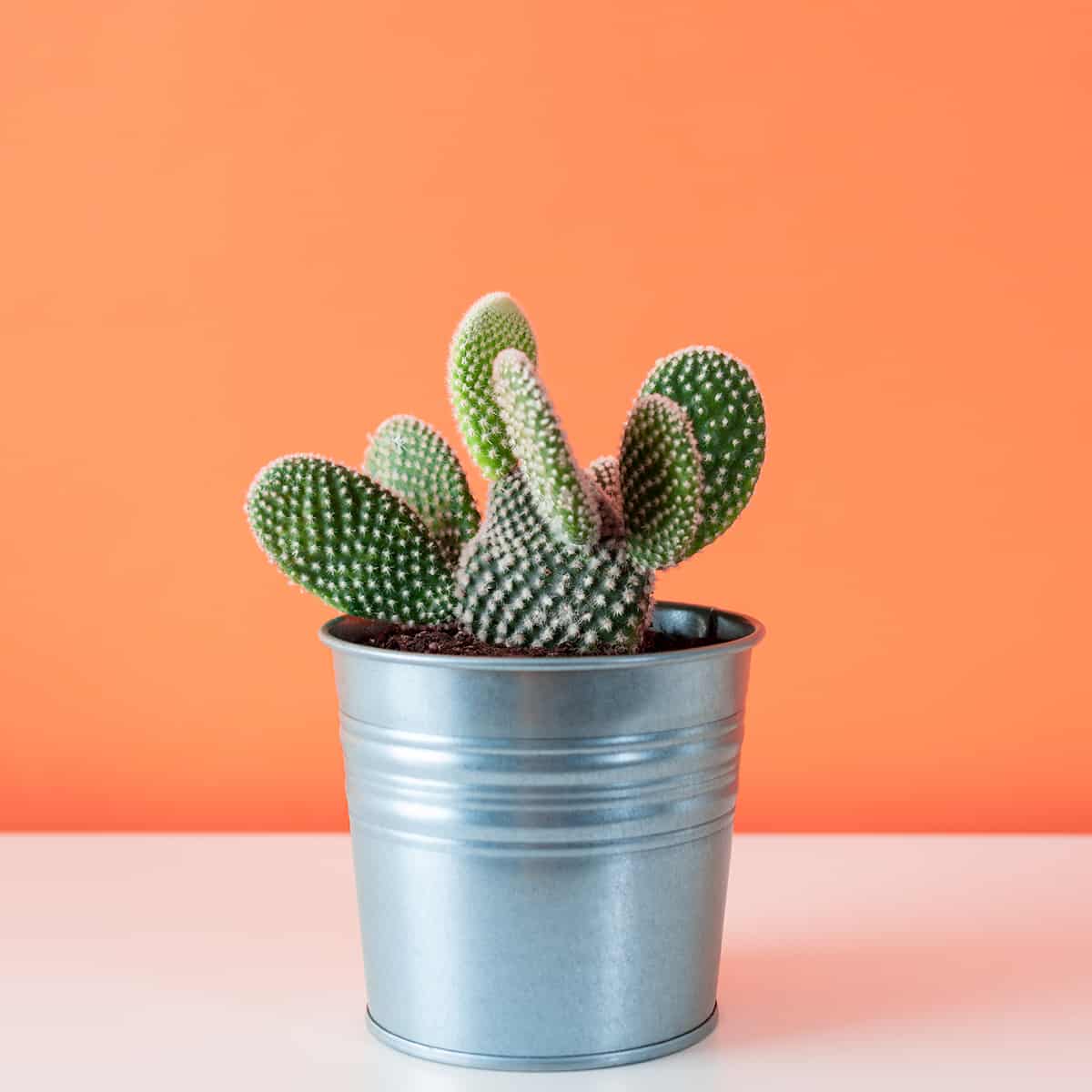 Sage green is a pale shade of gray-green that is a little earthy, but it also has an invigorating feel as it has similarities with mint green.
For a playful and less formal look, for example, in a child's bedroom, sage green and salmon are a nice pairing. They can be used as a duo or have a third neutral color added for a more airy feel.
Salmon + Aqua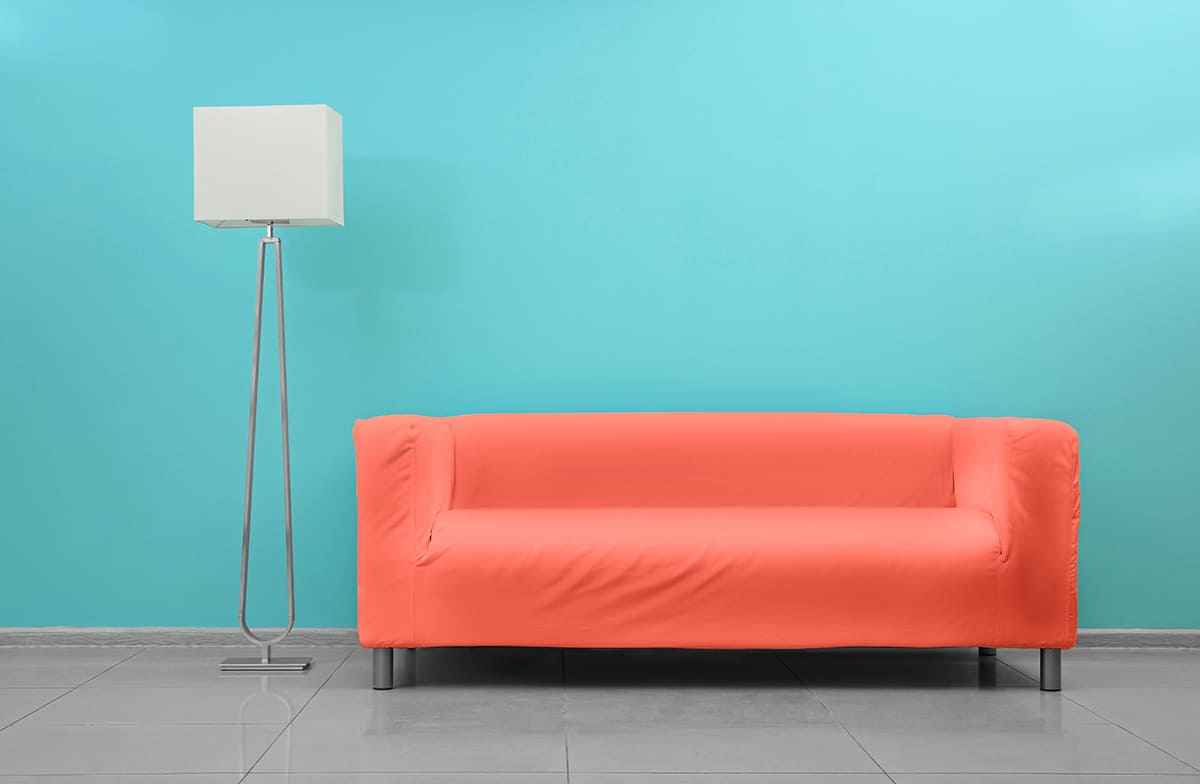 Aqua is a shade of green-blue, though it falls closer to the blue side of the spectrum than green. Aqua and salmon make for a refreshing update on a coastal-themed color palette when used along with white or a soft off-white. Choose casual textile textures such as linen and cotton to embrace a laid-back feel.
A contemporary coastal space would look great with aqua-painted walls, white sofas, and salmon-colored cushions and curtains. Enhance the coastal vibe with themed decor items such as a salmon-colored dish displaying seashells or an aqua and white striped rug.
As aqua and salmon are both quite vivid shades, they are best used with a third neutral color to help break them up a little and serve as a balancing color, and also ensure that the room doesn't feel too overstimulating. White or pale gray would work well as a base color for aqua and salmon, or a soft beige would also be a good option.
See more aqua color combinations in our article on colors that go with aqua.
Salmon + Khaki Green
Khaki green is a gray-green with a yellow undertone. It is similar to olive green but slightly darker and provides a nice muted contrast to the pink elements of salmon. Salmon is a great color pairing with khaki green for a Scandinavian style.
Use khaki green and white to create a subdued base and then use accents of salmon to bring a splash of personality to the space. If you feel the salmon is too much of a feminine shade, khaki green balances this out really well as it has an earthy, dusty feel.
Khaki green accents would also work well in a salmon-colored room to create an exotic feel. For example, a salmon wallpaper with a khaki green leaf print bordered by khaki green curtains would make for a modern take on a tropical theme.
Salmon + Black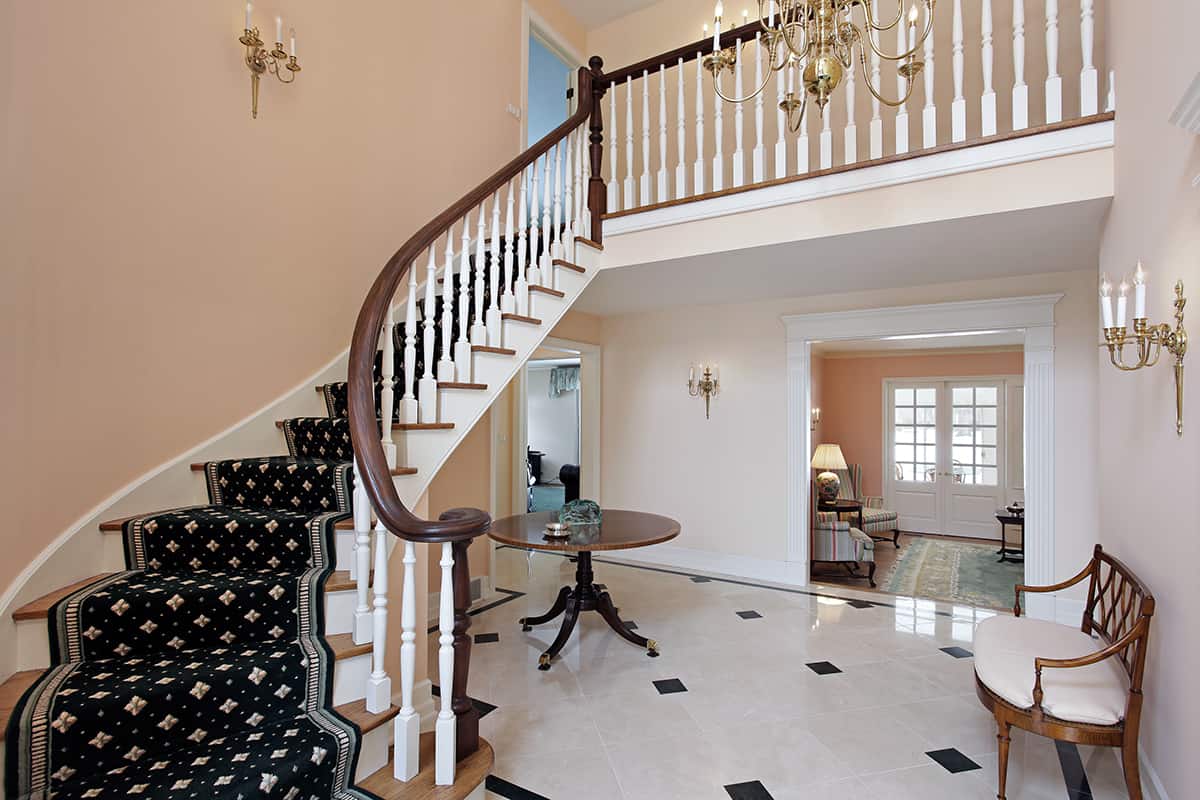 Basically, salmon will work perfectly well with neutrals like black, white, and beige. So if you're unsure what colors to pair, black is one excellent option.
The room in this design has a nice color combination of salmon upstairs walls, black stair carpet, and beige downstairs walls. To be safe and not to overwhelm the space, black should be used for some decorative or accent items like stair rails, rugs, sofa legs, etc.
Salmon + Eggplant
Eggplant is a deep shade of purple, which will provide a nice shade contrast with salmon because salmon is bright while the eggplant is dark. Despite a bold color like black, the two colors between salmon and eggplant can make for a strong feminine vibe.
Use eggplant as the main color in a space for a moody atmosphere and add highlights of salmon to lift the feel slightly, or use eggplant accents in a salmon-colored room to help ground the space. An eggplant rug or an eggplant-colored sofa will make a bold statement and bring a more edgy feel to a salmon room.